Clothing sounds synthesized using the approach from our SIGGRAPH 2012 paper, and PhD thesis work by Steven S. An.
http://www.cs.cornell.edu/projects/Sound/cloth/
Steven S. An , Doug L. James, and Steve Marschner, Motion-driven Concatenative Synthesis of Cloth Sounds, ACM Transactions on Graphics (SIGGRAPH 2012), August 2012.
Abstract: We present a practical data-driven method for automatically synthesizing plausible soundtracks for physics-based cloth animations running at graphics rates. Given a cloth animation, we analyze the deformations and use motion events to drive crumpling and friction sound models estimated from cloth measurements. We synthesize a low-quality sound signal, which is then used as a target signal for a concatenative sound synthesis (CSS) process. CSS selects a sequence of microsound units, very short segments, from a database of recorded cloth sounds, which best match the synthesized target sound in a low-dimensional feature-space after applying a hand-tuned warping function. The selected microsound units are con- catenated together to produce the final cloth sound with minimal filtering. Our approach avoids expensive physics-based synthesis of cloth sound, instead relying on cloth recordings and our motion-driven CSS approach for realism. We demonstrate its effectiveness on a variety of cloth animations involving various materials and character motions, including first-person virtual clothing with binaural sound.
Scape
Available now for iPad
http://www.generativemusic.com
Scape makes music that thinks for itself. From Brian Eno and Peter Chilvers, creators of Bloom, Scape is a new form of album which offers users deep access to its musical elements. These can be endlessly recombined to behave intelligently: reacting to each other, changing mood together, making new sonic spaces.
Can machines create original music? Scape is our answer to that question: it employs some of the sounds, processes and compositional rules that we have been using for many years and applies them in fresh combinations, to create new music. Scape makes music that thinks for itself.
- Brian Eno, Peter Chilvers
Includes 15 original scapes
Scapes can be saved into a gallery and added to a playlist
Plays in background of other apps (excluding iPad 1)
Generates random scapes
Scapes can be shared by email
Supports AirPlay and Retina display
Headphones or external speakers recommended
Brian Eno
Synthesiser, found sound, bells, bass guitar, strategies, images, art direction
Peter Chilvers
Synthesiser, chapman stick, structures, probability networks, additional images, software design
Impaktor is a drum modeller from Beep Street (www.beepstreet.com) that uses the mic input as an impulse to generate and trigger drum synthesis.
"I started playing it on my desk, then triggered by my tabla, and finally with TC-11 alongside."
Background info:
It has been a while since I uploaded my last video for obvious and sometimes not so obvious reasons. But last night this dreamy piece came up and I want to share it with you.
The music is dedicated to my beloved girlfriend Anne. On 9/11 we celebrated our second anniversary together. She means everything to me and I hope we can live together for a very long time.
The piece starts with two 8 step sequences from rows 1 and 2 of the Synthesizers.com Q960 sequencer. The 2 rows are manually alternated using the Q962 sequential switch. Row 3 of the Q960 sequencer modulates the Ian Fritz 5Pulser. After that the Nord Wave comes in and then an 8 step sequence from row 2 on the Doepfer MAQ16/3 driving the self build Modular. The Pipe Organ preset from the Korg PE-1000 is used to play the chords. The solo is performed on the Nord Lead 1. Anne used my iPhone 4 to film this video.
You can download/see/hear the video and music from my website.
This tutorial is intended to help people who are already familiar with synthesis, to get more out of PPG WaveGenerator! If you haven't already you should watch Wolfgang's tutorials: http://www.youtube.com/user/PPGWavegenerator
Visit the site for more Music App News, Reviews & Tutorials: http://discchord.com
This lesson explores wavetable synthesis and looks at different ways of playing with Animoog. This should be helpful for people using PPG Wavegenerator and other wavetable synths too! Visit the site a free pack of Animoog Timbres and details on how to make your own: http://discchord.com/blog/2012/8/25/official-unofficial-animoog-timbres-plus-…
Wavetable synthesis was pioneered by Wolfgang Palm in his PPG synths of the 70s and 80s. With wavetable synthesis, a library of relatively complex wave shapes, rather than sine, square or triangle waves, are used as building blocks of sounds. Dynamic sounds can be created by mixing or morphing between different wave shapes.

Note that Moog calls the heart of Animoog its 'Anisotropic Synthesis Engine', which combines elements of wavetable synthesis and subtractive synthesis. Animoog lets you animate the modulation of your wavetable source(s), and then lets you filter the result with virtual-analog filters.
A brief guide to sound synthesis / how synthesisers (synthesizers) work. Using a Doepfer A-100 modular synthesiser, I demonstrate CV pitch and gate signals, oscillators, attenuators, mixers, ADSR envelope generators and filters.
seqSQUARED is a do it yourself ("DIY") kit and eurorack assembled module for analog modular synthesis. It will be available shortly in multiple package options:
- Fully assembled and tested Eurorack module
- Eurorack kit (for DIY)
- Universal kit (for DIY)
- Bare PCB + Microcontroller (for DIY)
It takes up to four sequencers' CV and Gate as input and allows you to arrange them into larger patterns up to 32 steps in length. It generates patterns much the same way you would in Fruity Loops or other software, except with analog hardware.
It is a perfect companion to an array of hexinverter.net sympleSEQs!
It works very similarly to the many sequential switches available on the market today, like the Doepfer A-151 or Fonitronik switch, except that it is programmable. Meaning, you can program arbitrary patterns of sequences to make musical arrangements, not just go A, B, C, D, repeat, like with most sequential switches.
This module is meant to FEEL analog. It uses potentiometers and 5mm LEDs, NOT LCDs or menu-driven editing. Because of this analog user interface, it is quite fast and painless to program once you have used it for a few minutes.
Once everything has settled down after pre-orders are shipped, kits and modules will be available in hexinverter.net's online shop as well, at: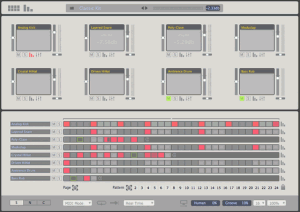 AudioSpillage has announced Elecktroid, a drum machine instrument plug-in for Mac OS X. A fusion of drum synth and and drum sampler with a custom designed rhythm sequencer.
Elecktroid combines drum synthesis, sample playback and step sequencer functionality in a single integrated package.

Elecktroid is a direct replacement for the MiniSpillage2 plugin which has now been discontinued. Customers who have already ordered MiniSpillage2 will automatically receive a full license for Elecktroid when released.
Elecktroid features
8 drum pads.
8 sequencer tracks.
24 MIDI playable patterns.
Full velocity and parameter control graph editing.
Assign trigger-probability value to any sequencer step.
Humanize and groove quantize control.
4 drum synthesis models (BassDrum, SnareDrum, WoodDrum and Hi-Hat).
1 sample and 1 drum synth per pad.
Or 2 samples per pad (without the synth).
Velocity cross-fade between sample and synth (or between 2 samples).
8 sound outputs.
Distortion, filter and lo-fi FX on each pad.
2 LFOS (6 waveforms) per pad.
3 ADSR envelopes per pad.
64-bit DSP processing.
Elecktroid for Mac (AU) is available to pre-order now at 20% off, priced £35 GBP / €45 EUR / $55 USD (regular £45 GBP / €56 EUR / $69 USD). Expected release date is August 8th, 2012.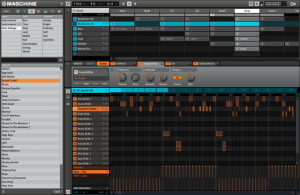 Native Instruments today introduced Raw Voltage – a new Maschine Expansion which features the sound of a huge modular synthesizer system. Raw Voltage contains kits, instruments and patterns based on the organic sound characteristics of analog synthesis.
Here are all the details from NI:
Sampled from a one-of-a-kind analog modular system, RAW VOLTAGE has a wide sonic scope, inspired in part by experimental and avant-garde electronica. The drum and percussion sounds are punchy, loud and direct, while the sampled basses, leads, pads and soundscapes are rich in detail and analog atmosphere.
The expansion also includes 140 expertly-programmed patterns, providing a wide selection of styles from broken, jagged rhythms to steady, flowing grooves.
Raw Voltage is based on a unique custom modular system used and created by Norwegian synthesist Roger Grønberg (Frodebeats). The system includes modules from Modcan, MOTM, Oakley, CGS, STG, Encore, Buchla plus many unique custom and DIY modules, as well as analog synthesizers like Arp Odyssey/2600 and Korg MiniKorg 700s.
A compact version of Raw Voltage is also available for iMaschine for iPhone.
Raw Voltage is available at the NI Online Shop for $59/49 EUR. For owners of iMASCHINE, the compact version of Raw Voltage is available via in-app purchase for $0.99/0,79 EUR.