The Moog Foundation has really been busy over night – uploading some 20+ videos, below you will find a snapshot on what you can explore on their Youtube channel
This is the introductory video for the Bob Moog Foundation/macProVideo series "The Foundation of Synthesis." In it, Marc Doty sets the stage for the intent of these videos, which is an integrative instruction which not only describes synthesizer function and operation, but also gives a historical foundation for the functionalities and their implementation.
Pulse Width Modulation is a pleasing aural effect generated by the voltage-controlled adjustment of the width of a square wave. In this Foundation of Synthesis video, Marc demonstrates this function on several classic synthesizers. The video includes an oscilloscope, which shows you exactly what is happening when the width of the square wave output of the oscillator is changed!
In this part of the 3rd Tutorial of the Foundation of Synthesis, Marc outlines the history of the filter from its origin in the telephone to its application in electronic devices in order to give a firm understanding of how the filter came to be an important part of modern synthesizers. The filter is a function which removes harmonics from a sound. Since harmonics define the timbre of the sound, this is a fast and easy way to create new timbres.
Control voltage is the concept synthesis had waited for for 60 years. This technology united the synthesizer into a single device as well as allowed that device to become fully controllable and automated. Control voltage was a revolution in synthesis. In this video, Marc gives a short history to this amazing development.
The Ambisphere soundbank for Rayblaster.
Coming soon: 150 fresh new ambient presets for Rayblaster.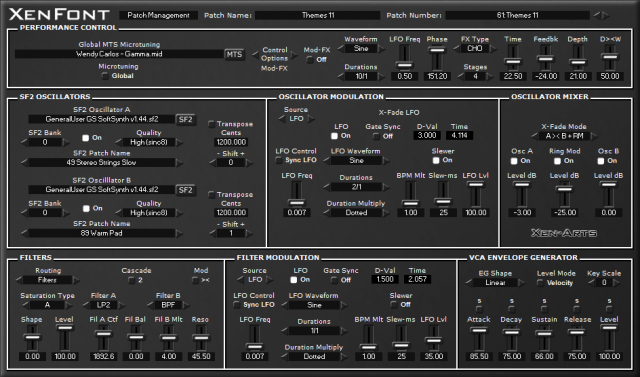 Xen-Arts has released XenFont – a two oscillator, hybrid SF2 SoundFont & Subtractive Synthesis VST for Windows.
It features full-controller MIDI Pitch Microtuning, using the MTS (MIDI Tuning Standard) format, where any MIDI Note Number can be freely microtuned to any desired pitch across the MIDI range, enabling computer musicians and composers to explore the expressive possibilities of composing music with alternative intonation systems.
XenFont is 'a microtonal sound-designer's SF2 sample-based synthesizer', with a carefully designed workflow for quickly creating powerful sounding and musical useful timbres. The instrument lets you load your own SF2 SoundFont files. Routing the SF2 SoundFont Oscillators through the internal synthesis functions of the VSTi, provides a way to radically transform the original sounds and create new synthesized timbres.
XenFont is also an educational tool for learning about computer music sound-design, sampling and subtractive sound synthesis, as well as musical instrument intonation (aka microtuning and xenharmonics).
Key Features:
Load your own SF2 SoundFonts into a fully microtonal, hybrid sampling & subtractive synthesis based VSTi.
A 'knob-less' design featuring slider controls only, which enables intuitive direct control with a computer mouse.
A dedicated control signal system mapped to the most important synthesis functions.
Settings are made by typing values into fields, dropdown lists, left-and-right arrows, switches and sliders.
Specify precise microtonal pitch-bend settings.
Features arbitrary microtonal oscillator transposition settings.
Velocity modulation of harmonics enables dynamically playing harmonics of the fundamental pitch.
Envelope generators with per-stage ADSR keyboard tracking.
Kurzweil KORE 64 ROM expansion for Kurzweil PC3 and PC3K demonstration
The KORE 64™ ROM option represents a complete expansion and reimagining of the PC3 and PC3K's sonic potential (not for the PC3LE). Pushing the limits of V.A.S.T. synthesis for both realistic and experimental electronic sounds, KORE 64™ adds over 300 new programs, including stunning new Synths, Electric Guitars, Horns, Drums and Percussion. With KORE 64™ installed, the PC3/K built-in program library now totals over 1400 presets!
Tone2 Rayblaster Feature Overview
Rayblaster employs a new synthesis technique called Impulse Modelling Synthesis (IMS)
Opposed to using looped waveforms, Impulse Modelling Synthesis creates its sound by using short bursts of energy, which are then combined to form its sound. Allowing free manipulation of pitch, time and timbre in real-time, to create complex compositions.
IMS no longer requires a separate filter section, its oscillators can authentically mimic the filter sound of other synthesizers and filters, using one of the factory impulse presets or by simply importing one of your own impulses. RayBlaster is capable of modelling both the sound of existing filters, as well as create completely new artificial filters, exclusive to Rayblaster.
Next to importing filter characteristics into its oscillators, Rayblaster also offers resynthesize options to import the waveform of any other source or synthesizer. By using one of the quick importers, or by directly importing your sample into one of Rayblaster's four oscillators, providing a large amount of possible wave-shapes, all capable of being morphed in real-time.
RayBlaster ships with an inspiring library of over 500 outstanding presets from some of the world's top sound designers. Many complex sounds such as arpeggiators, vocals or drumloops automatically synchronize to the BPM.
For fast & easy access to the specific sound you desire, all sounds are arranged into categories, making them easy to locate whether for live performance or within a professional studio environment.
For more information on Rayblaster and our other products, please visit the Tone2 website at http://www.tone2.com
More info here – http://bit.ly/XFjhIO
8 years in the making, Secrets of Subtractive Synthesis is a 200+ page book, which is accompanied by four DVDs with over 10 hours of content. Written by Rob Papen, the book gives an in-depth insight into his approach of working with subtractive synthesis — the most commonly used method of synthesis.
Rob Papen is a globally renowned sound designer whose sounds and virtual synthesizers, including Predator, Blue and Blade, to name just a few, are used and loved by many synthesizer players and music producers.
Initially based on the Reaktor Oki Computer Factory Instrument by James Walker Hall and Timothy Lamb, this semi-modular device includes stacked macros, S+H, 2 arpeggiators, 12 envelopes, 6 step-sequencers, 2 multi-breakpoint EGs, 16 syncable LFOs, 36 patchers, FM, oscillator sync, separate polyphonic panning for 7 individual audio paths, multiwave/wave-table/granular synthesis, 9 filters, 3 independent portamento processors, CC-1 recorder, patcher range modulation (unipolar and bipolar) for Macro control and many presets.
Short intro video to show Tone2′s new synthesis called IMS and the forthcoming release of Tone2 Rayblaster.
Tone2 tells us that Impulse Modeling Synthesis (IMS) is a radically new and different approach to synthetic sound generation, based on the latest research in psychoacoustics. It's first exponent, Rayblaster creates its characterful sound from many short bursts of energy, then combined to form a more complex sound.
Tone2 says that this innovative and unique approach to synthesis is very close to what happens within the human inner ear, sounds more authentic and gives you access to a wide range of sounds.
Features
Revolutionary new synthesis method
Access completely new sonic territory
High-end sound quality
Create professional sounds with character and impossible with any other synthesizer
Lets your music stand out from the crowd!
Professional sound quality that is never muddy and fits well into the mix
Sounds more detailed, pleasant, fat and louder than conventional synths
Independent control over pitch, timing and timbre
Filter import: Mimic filters of other synthesizers or create your own fantasy filters.
Resynthesis allows easy import & manipulation of your own sounds
Huge sonic range and very flexible
Easy to use & fun to play
Over 500 ready-to-use sounds by professional designers
Psychoacoustic processing
Expandability
Low CPU
Fair price
Pricing and Availability:
Rayblaster will out for Mac & PC in December 2012
More information: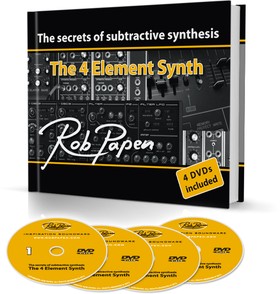 Rob Papen has announced The secrets of subtractive synthesis "The 4 Element Synth", a sound design book and DVD set.
Rob Papen is a globally renowned sound designer whose sounds and virtual synthesizers are used and loved by many synthesizer players and music producers.

This 200+ page book, which is accompanied by four DVDs with over 10 hours of content, gives an in-depth insight into his approach of working with subtractive synthesis.

In 2001, Rob Papen began giving exclusive masterclasses teaching 'synthesizer sound design" in his studio. For these training sessions, Rob developed his own method to explain the secrets of subtractive synthesis, called "The 4 Element Synth". This masterclass training is now transformed into a combined book and DVD package that also delivers numerous 'tips and tricks' which will help you to design and tweak your own sounds. Throughout the masterclass, a variety of hardware and software synthesizers are explored.

We are sure this synthesizer sound design training is an eye-opener for every synthesizer player, from novice to pro. A must have for everyone who takes his sounds seriously!
The secrets of subtractive synthesis is expected tho ship in November/Early December, 2012, priced at 74 EUR/$89 USD (excl. shipping).
Additional videos for this title: http://j.mp/SZauJ3
The Foundation Of Synthesis 104: Control Voltage by The Bob Moog Foundation
Video 1 of 22 for The Foundation Of Synthesis 104: Control Voltage
Marc Dotylead educator for The Bob Moog Foundationis back with a series of tutorials in this course on Voltage Control.
But what is Voltage Control and how do you use it in the world of hardware synths? Well, here's the story: In the early days of sound synthesis, if you wanted your sounds to change or evolve in any way whatsoever, you had to do it manually. Need the pitch to go up? Grab the the oscillator knob and turn it! Want the volume to change? Again, grab the volume knob! What about sequencing a series of notes? Well, before voltage control, you had to record every pitch onto magnetic tape and cut them all together in the order and rhythm that you wanted. It was hard work to create electronic music way back when!
Voltage control forever changed all that! And in this course Marc Doty shows how different hardware synth designers harness the power of VCs to transform and supercharge electronic music composition. Taken one step further you'll see how Voltage Control was the mother of MIDI… and we all know how powerful MIDI is!
Bob Moog was an early pioneer and inventor of voltage-controlled analog synthesizers. He revolutionized the music industry and his ideas, inventions and musical instruments have dominated the sound of music for more than 30 years. Aside from being an innovator, Dr. Bob was an outspoken advocate of education. The Bob Moog Foundation, created by his daughter, Michelle Moog-Kousa, continues his legacy with Dr. Bob's SoundSchool, the preservation of his inventions and the development of the Moogseumthe only museum of its kind dedicated to the advancement of sonic education. We hope you will help support the BMF's efforts by watching these courses with the knowledge that a large portion of the proceeds go to support their awesome efforts!
So sit back, hit the play button, and proceed on your journey into the Foundation of Synthesis with Marc Doty, and the Bob Moog Foundation. Be sure to watch all 6 of the BMF's courses on filters, modulation, oscillators, sound design and more!
More info on this title: http://j.mp/SZauJ3