Initially based on the Reaktor Oki Computer Factory Instrument by James Walker Hall and Timothy Lamb, this semi-modular device includes stacked macros, S+H, 2 arpeggiators, 12 envelopes, 6 step-sequencers, 2 multi-breakpoint EGs, 16 syncable LFOs, 36 patchers, FM, oscillator sync, separate polyphonic panning for 7 individual audio paths, multiwave/wave-table/granular synthesis, 9 filters, 3 independent portamento processors, CC-1 recorder, patcher range modulation (unipolar and bipolar) for Macro control and many presets.
Short intro video to show Tone2′s new synthesis called IMS and the forthcoming release of Tone2 Rayblaster.
Tone2 tells us that Impulse Modeling Synthesis (IMS) is a radically new and different approach to synthetic sound generation, based on the latest research in psychoacoustics. It's first exponent, Rayblaster creates its characterful sound from many short bursts of energy, then combined to form a more complex sound.
Tone2 says that this innovative and unique approach to synthesis is very close to what happens within the human inner ear, sounds more authentic and gives you access to a wide range of sounds.
Features
Revolutionary new synthesis method
Access completely new sonic territory
High-end sound quality
Create professional sounds with character and impossible with any other synthesizer
Lets your music stand out from the crowd!
Professional sound quality that is never muddy and fits well into the mix
Sounds more detailed, pleasant, fat and louder than conventional synths
Independent control over pitch, timing and timbre
Filter import: Mimic filters of other synthesizers or create your own fantasy filters.
Resynthesis allows easy import & manipulation of your own sounds
Huge sonic range and very flexible
Easy to use & fun to play
Over 500 ready-to-use sounds by professional designers
Psychoacoustic processing
Expandability
Low CPU
Fair price
Pricing and Availability:
Rayblaster will out for Mac & PC in December 2012
More information: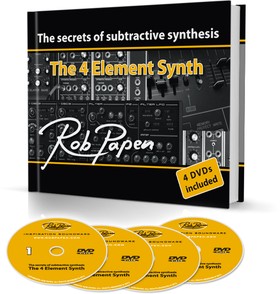 Rob Papen has announced The secrets of subtractive synthesis "The 4 Element Synth", a sound design book and DVD set.
Rob Papen is a globally renowned sound designer whose sounds and virtual synthesizers are used and loved by many synthesizer players and music producers.

This 200+ page book, which is accompanied by four DVDs with over 10 hours of content, gives an in-depth insight into his approach of working with subtractive synthesis.

In 2001, Rob Papen began giving exclusive masterclasses teaching 'synthesizer sound design" in his studio. For these training sessions, Rob developed his own method to explain the secrets of subtractive synthesis, called "The 4 Element Synth". This masterclass training is now transformed into a combined book and DVD package that also delivers numerous 'tips and tricks' which will help you to design and tweak your own sounds. Throughout the masterclass, a variety of hardware and software synthesizers are explored.

We are sure this synthesizer sound design training is an eye-opener for every synthesizer player, from novice to pro. A must have for everyone who takes his sounds seriously!
The secrets of subtractive synthesis is expected tho ship in November/Early December, 2012, priced at 74 EUR/$89 USD (excl. shipping).
Additional videos for this title: http://j.mp/SZauJ3
The Foundation Of Synthesis 104: Control Voltage by The Bob Moog Foundation
Video 1 of 22 for The Foundation Of Synthesis 104: Control Voltage
Marc Dotylead educator for The Bob Moog Foundationis back with a series of tutorials in this course on Voltage Control.
But what is Voltage Control and how do you use it in the world of hardware synths? Well, here's the story: In the early days of sound synthesis, if you wanted your sounds to change or evolve in any way whatsoever, you had to do it manually. Need the pitch to go up? Grab the the oscillator knob and turn it! Want the volume to change? Again, grab the volume knob! What about sequencing a series of notes? Well, before voltage control, you had to record every pitch onto magnetic tape and cut them all together in the order and rhythm that you wanted. It was hard work to create electronic music way back when!
Voltage control forever changed all that! And in this course Marc Doty shows how different hardware synth designers harness the power of VCs to transform and supercharge electronic music composition. Taken one step further you'll see how Voltage Control was the mother of MIDI… and we all know how powerful MIDI is!
Bob Moog was an early pioneer and inventor of voltage-controlled analog synthesizers. He revolutionized the music industry and his ideas, inventions and musical instruments have dominated the sound of music for more than 30 years. Aside from being an innovator, Dr. Bob was an outspoken advocate of education. The Bob Moog Foundation, created by his daughter, Michelle Moog-Kousa, continues his legacy with Dr. Bob's SoundSchool, the preservation of his inventions and the development of the Moogseumthe only museum of its kind dedicated to the advancement of sonic education. We hope you will help support the BMF's efforts by watching these courses with the knowledge that a large portion of the proceeds go to support their awesome efforts!
So sit back, hit the play button, and proceed on your journey into the Foundation of Synthesis with Marc Doty, and the Bob Moog Foundation. Be sure to watch all 6 of the BMF's courses on filters, modulation, oscillators, sound design and more!
More info on this title: http://j.mp/SZauJ3
In this video Arjen Schat demonstrates how to create flute sounds with the Moog Little Phatty. He starts from the calibration patch (CA CALIBRATION) as usual and create a flute sound as he goes.
In this video Arjen Schatt demonstrates how to create bass sounds with the Moog Little Phatty. He starts from the calibration patch (CA CALIBRATION) as usual and create a bass sound as I go.
In this video Arjen Schat demonstrates how to create lead sounds with the Moog Little Phatty. Arjen starts from the calibration patch (CA CALIBRATION) again and create a lead sound as he goes. Quick note: He syncs the oscillators to get a sharper sound. For a wider sound you can leave the oscillators un-synced.
Clothing sounds synthesized using the approach from our SIGGRAPH 2012 paper, and PhD thesis work by Steven S. An.
http://www.cs.cornell.edu/projects/Sound/cloth/
Steven S. An , Doug L. James, and Steve Marschner, Motion-driven Concatenative Synthesis of Cloth Sounds, ACM Transactions on Graphics (SIGGRAPH 2012), August 2012.
Abstract: We present a practical data-driven method for automatically synthesizing plausible soundtracks for physics-based cloth animations running at graphics rates. Given a cloth animation, we analyze the deformations and use motion events to drive crumpling and friction sound models estimated from cloth measurements. We synthesize a low-quality sound signal, which is then used as a target signal for a concatenative sound synthesis (CSS) process. CSS selects a sequence of microsound units, very short segments, from a database of recorded cloth sounds, which best match the synthesized target sound in a low-dimensional feature-space after applying a hand-tuned warping function. The selected microsound units are con- catenated together to produce the final cloth sound with minimal filtering. Our approach avoids expensive physics-based synthesis of cloth sound, instead relying on cloth recordings and our motion-driven CSS approach for realism. We demonstrate its effectiveness on a variety of cloth animations involving various materials and character motions, including first-person virtual clothing with binaural sound.
Scape
Available now for iPad
http://www.generativemusic.com
Scape makes music that thinks for itself. From Brian Eno and Peter Chilvers, creators of Bloom, Scape is a new form of album which offers users deep access to its musical elements. These can be endlessly recombined to behave intelligently: reacting to each other, changing mood together, making new sonic spaces.
Can machines create original music? Scape is our answer to that question: it employs some of the sounds, processes and compositional rules that we have been using for many years and applies them in fresh combinations, to create new music. Scape makes music that thinks for itself.
- Brian Eno, Peter Chilvers
Includes 15 original scapes
Scapes can be saved into a gallery and added to a playlist
Plays in background of other apps (excluding iPad 1)
Generates random scapes
Scapes can be shared by email
Supports AirPlay and Retina display
Headphones or external speakers recommended
Brian Eno
Synthesiser, found sound, bells, bass guitar, strategies, images, art direction
Peter Chilvers
Synthesiser, chapman stick, structures, probability networks, additional images, software design
Impaktor is a drum modeller from Beep Street (www.beepstreet.com) that uses the mic input as an impulse to generate and trigger drum synthesis.
"I started playing it on my desk, then triggered by my tabla, and finally with TC-11 alongside."