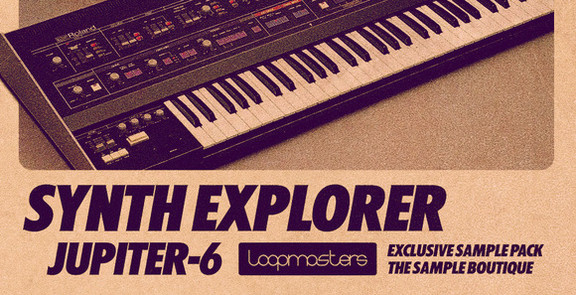 Loopmasters has launched Synth Explorer – Jupiter-6, the first title in a new series of royalty free loops and one shot samples that pay tribute to legendary synthesizers and drum machines.
First up for the Synth Explorer collection is the classic Roland Jupiter 6. First introduced to the world in 1983 the Jupiter 6 was one of the first analogue synthesisers to adopt MIDI and is considered to be a solid 12 oscillator analogue workhorse with a distinctive but fully capable palette of sounds ranging from Ambient Drones, Smooth Pads, Analog Leads to Techy Blips and Noises.

Synth Explorer – Jupiter 6 has been produced using a mint condition Roland Jupiter 6 owned by one careful, well known producer, recorded live through a TL Audio C-1 dual valve compressor and a Neve 8801 channel strip to capture the pure sonic delight of this vintage synth beauty.

This edition of Vintage Explorer sees a wealth of Loop and one shot samples aimed towards the soulful spectrums of electronic music production with a slight angle towards Italo Disco, Funk, Nu Disco and Deep House as well as more experimental down tempo genres.
Synth Explorer Jupiter-6 features
356 MB content, 24-bit quality.
Includes 41 arp loops, 24 music loops, 25 bass loops, 16 bass multi samples, 37 sfx hits, 41 chord hits, 34 synth stabs.
90 REX2 files.
114 soft sampler patches for Kontakt, HALion, EXS24, NN-XT and sfz formats.
The sample pack is available for purchase for £14.95 GBP.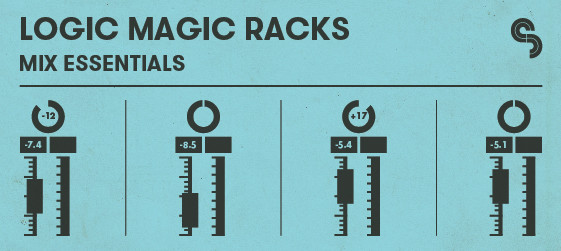 Sample Magic has announced the release of a collection of Logic racks for mixing and a new sample pack by Radio Slave.
Compiled by Logic expert and long-time SM sound designer Sami Liuski,Magic Logic Racks: Mix Essentials is the ultimate pairing of workflow optimiser and creative mix tool, allowing you to make intuitive production tweaks to the pivotal components of a track faster than ever before.
Want to take your tracks to the next level and make the most of Logic's powerful tools – all with simple and intuitive macro controls?

Fire up Logic Magic Racks: Mix Essentials – five powerful Logic Smart Control channel strip chains designed for intuitive and precision sculpting of any track's key elements.
The Logic pack costs £9.90 GBP.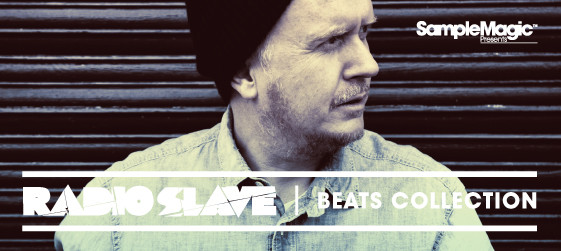 From his marathon DJ sets through to his epic elongated productions, Matt Edwards' Radio Slave moniker is all about the groove. With the Beats Collection pack he hones in on the beat, exclusively serving up stacks of raw rhythms, warehouse grooves and jack-hammer drum hits.
After his best-selling debut, Radio Slave returns with a fresh collection of hypnotic grooves, tribal-infused rhythms and driving beats synonymous with his revered releases for the likes of Rekids, NonPlus and Perlon.

The groove master serves up raw rhythms, warehouse workouts and exclusive drum kits direct from his unreleased Radio Slave archives.
The sample pack is available for £14.90 GBP.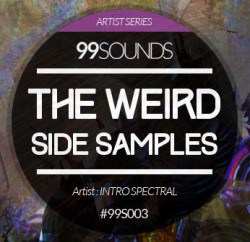 99Sounds has released The Weird Side Samples– a free glitch sound effects library.
The Weird Side Samples is a free collection of glitch samples, weird sound effects and abstract sonic textures produced by Johan Ekelove aka Introspectral.
The author describes this sound collection as "a sonic exploration through hidden worlds afloat on a metaphysical plane".
Contents:
182 audio samples in total
19 atmospheric sounds
29 sonic movements
17 percussive elements
69 tech samples
31 sonic textures
17 vox samples
24-bit WAV format
44.1 kHz Stereo
284 MB size on disk
174 MB download size (RAR archive)
The Weird Side Samples are available as a free download at 99sounds.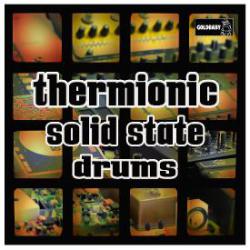 Goldbaby has introduced Thermionic Solid State Drums, drums and FX created using a collection of 11 old and new analog drum machines and 6 synths.
Samples were recorded through a 1073 pre, then a Fat Bustard II valve mixer and various other high end studio gear.
Lots of the sounds have multiple samples for velocity mapping. Most of the kicks and congas are tuned. Also included are a bunch of analog sourced layering tools which are incredibly useful for beefing up kicks, adding sizzle to snares or transient clicks to kicks…
Drum machines used: CR8000 (Modded), Tempest, Tanzbar, DRM1 mkIII, M.Brane, Volca Beats, Mrs Bass Drum, Andromeda Space Rockers, Clap Trap, Thunderclap, Space Drum, D1000 (Valve drum machine).
Synths used: Prophet 12, PERfourMER, Leipzig-S, Analog Four, MS20, SH101
Contents:
5070 x 24 bit wav samples
38 x Bonus Rex loops
With support for Maschine, Geist, Battery 3, EXS-24, Reason Refill
Instruments used to create Thermionic Solid State Drums.http://www.goldbaby.co.nz/tssd.html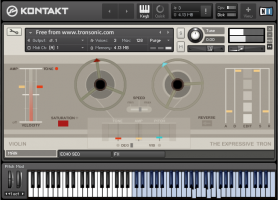 Tronsonic has released The Expressive Tron, a free sample library for Native Instruments Kontakt (5.2.1+).
The Expressive Tron features 4 tape banks from an original (un-serviced) Mellotron M400: Flute, Strings, Cello and Male Choir:
These are not pristine Mellotron samples – re-recorded to worn tape for characterful sound design.
Utilises Tronsonic's 'microtape plus' format, which features tape echo style sequencer and fx section.
5 patches per bank; 5 multi patches.
Visit tronsonic.com for your free download – no need to register.
For full details visit: http://www.timespace.com/product/AW2-…
Dark Ambient is the second in the series of Analogue Workshop sample libraries from renowned sound designer Ian Boddy. Featuring 300 samples and over 500 Kontakt patches culled from his collection of vintage and analogue modular synths, these sounds dwell very much in the darker realms of ambience and electronic music.
The patches run the full gamut from subsonic drones, evolving pads and haunting modulations to weird, surreal atmospheres. The one-shot section contains a range of crunchy, deep, weird short percussive sounds and FX that can be used to spice up any drum kit or add impact to key moments in your musical compositions.
A new custom designed graphical interface has been scripted in Kontakt to provide even more variation & programming opportunities in the way the sounds are presented. This is rounded out by a set of impulse responses for the convolution reverb taken directly from analogue modules such as spring reverbs & bucket-brigade delays to further enhance the overall sound character.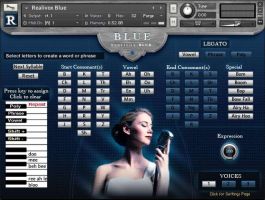 Realitone has released Realivox Blue. Realivox Blue is a solo female vocalist sampled into Kontakt, and features a word/phrase builder which allows the user to type in their own words. Over 12,000 samples are used to make the wordbuilder work.
True sampled legato is employed, for smooth transitions in legato phrases. Legato can be either monophonic or polyphonic.
Also featured is the ability to double or triple the voices, useful for either creating an ensemble, or to simply thicken a lead voice. Combined with the polyphonic legato feature, Realivox Blue can emulate small choirs in a single instance.
Optionally available in Kontakt Player format.
Price: $149. Introductory price is $99.95 for users who own the full version of Kontakt, or $114.95 for users preferring the Kontakt Player version.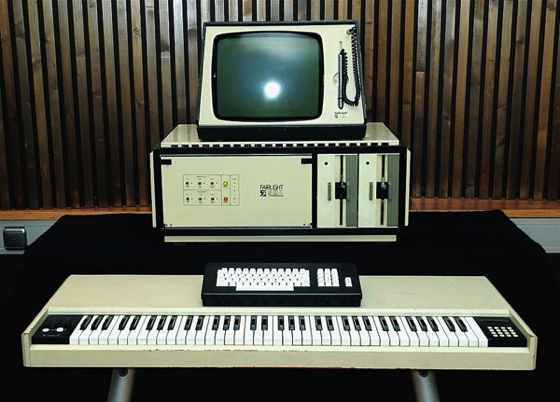 Nord has announced a major addition to the Nord Sample Library, the sounds of the legendary Fairlight digital sampler.
The Fairlight was the first commercially available polyphonic sampler when launched back in 1979 and it opened up the doors of sampling to many artists and producer during the 80′s.
The 300+ sounds in this collection were all sampled from a newly overhauled Fairlight CMI System IIx, with detailed mapping to capture the characteristic Fairlight sound. The Nord Sample Library is compatible with the Nord Wave, Nord Electro 3/4, Nord Piano 2 and Nord Stage 2.
Ueberschall announces the availability of Wonky Toys.
Elastik Inspire series brings you Wonky Toys, a sound collection that captures the character and mood of sub-genres such as wonkystep, streetbass, aquacrunk or purple sound. Wonky Toys includes drum and percussion loops to give you a complex, and sometimes unusual, rhythmic feel in a meld of hip hop and dubstep influences. Pre-mixed loops and single track drum recordings as well as additional drum mixes processed for a lo-fi and dirty sound will get you started while you can build your track with a range of dark and disturbed instrument loops and sound FX. Instruments include synth-based basses, chords, leads, arps, pads and FX while there are also more conventional instruments such as guitars, brass and strings to colour your sound. A series of sound FX, processed vocal samples, a huge variety of percussion and 8-bit sounds round out the collection giving you all you need to start your next wonky cut.
Complex rhythms with a dark and dirty edge
This 1.14 GB-Library does not contain conventional construction kits. Rather, Wonky Toys is a pool of ideas consisting of 445 loops to be freely combined. So to speak, this library is a single huge construction kit.
The content has been carefully edited for modern productions with high standards while meeting high demands to flexibility at the same time. The soundbanks modular inspire structure allows the content to be used in various productions, from film dubbing, web and apps to other music projects. In addition, the library offers all samples to create authentic styles – delivered in highest quality as you can expect from Ueberschall.
Unsettling sounds to define the mood.
Ueberschalls Elastik Inspire Series redefines the workflow when using loop libraries. All loops and tonal phrases of Wonky Toys and all other Inspire products will match perfectly to each other, even across different genres. Each sample is automatically stretched and fitted to the current song tempo. Using Ueberschall's Elastik 2 player and its elaborated tagging-system enables you to create new tracks almost on the fly – fast, easy and clearly laid out.
In addition, you may instantly exchange loops of the same instrument-group using the intelligent random-replacement-function. All Inspire Libraries contain so-called Inspire Kits. These kits offer a combination of instruments, which can then be varied immediately using the random function.The results are always perfectly matched as all samples of the Elastik Inspire-series are carefully adjusted and designed for this purpose. This leads to endless new ideas and inspiration for millions of new tracks.
The perfect mix of hip hop and dubstep influences
The Elastik player is ideal for loop-based music production. All loops in Wonky Toys can be customized with just a few clicks to match any existing projects in speed and pitch. The browser manages all installed Elastik libraries together, so you have all the available loops in instant access. This means that not only loops of one, but all installed Elastik libraries can be combined with each other. Effects such as Resample, Reverse, Formant and multimode filters also allow effective editing of the loops for creative sound design.
Price: EUR 49.00
Visit: ueberschall.com/en/product/205/Wonky-Toys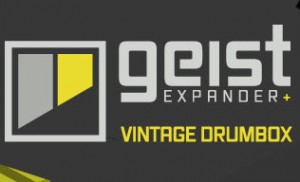 Geist Expander: Vintage DrumBox is a collection of synthesized analogue drum samples for FXpansion's Geist. Created by Mr Hoodie from The Groove Criminals, Vintage DrumBox is the result of obsessively sampling a set of strange, esoteric and crusty old machines. FXpansion says that the included sounds are warm, rounded and perfect as an antidote or accompaniment to more modern timbres. The pack also features a bonus selection of riffs and arps from some classic analogue synths.
Some highlights of Vintage DrumBox include early preset accompaniment and organ-top boxes like the Hammond AutoVari and Watford Rhythm Generator, Amdek and Electro Harmonix percussion tone generators and rare drum machines such as the Vermona DRM-1. Legendary analogue BBD delay, tape echoes and spring reverbs are judiciously used to add further textures and flavours.
Vintage DrumBox features loops, kits and presets for FXpansion's Geist software. Samples are supplied in 24-bit 44.1kHz WAV and RX2 formats and can be loaded into any software or hardware that supports them.
Content:
Geist Expander with analogue drum samples
Over 1200 WAV samples
Over 500 RX2 loops
Kit, Engine and full Presets
5 Pattern Banks
Pricing and Availability:
Pricing is USD $29.00, EUR €25.00, GBP £22.00 inc VAT for all registered Geist owners.