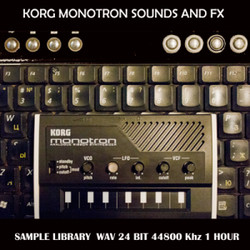 Softrave announced Korg Monotron Sounds and FX, a collection of analog synth samples and effects from the Monotron synthesizer by Korg.
This library represents 1 hours of recording mono 24 bit 44800 Khz flow of noise effects weird bleeps basses and fx

I did not make any loops, special melodies sample banks or any improvements. You are welcome to do that by yourself in a way it fits your sampler or DAW. I think you can find at least 1000 really cool analog sounds , loops & special effects in this recording
The sample pack is available to purchase for $9.99 USD / 7.39 EUR.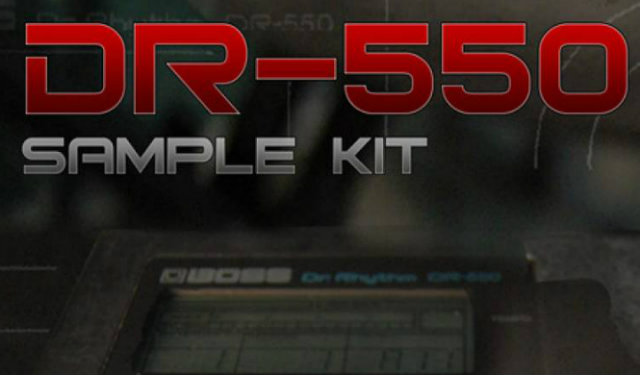 Desert Sound Studios tells us that their free DR-550 Kit features every sample of the Boss DR-550 digital drum machine in 24-bit WAV format. They say that samples were captured with a Fosusrite ISA preamp and RME converters.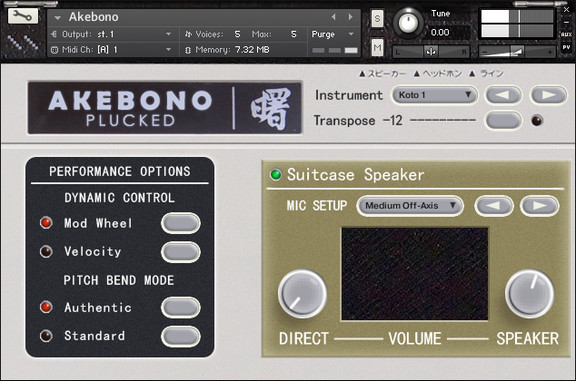 Icebreaker Audio has announced the Akebono Collection, a sample-based emulation of the Akebono Koto Synthesizer, a unique suitcase instrument from Japan.
Akebono was released exclusively in Japan some time in the 1980s. It was designed as a portable practice instrument for Koto players, and as such it features many unique features that are intended to make performing in the traditional style a lot easier than using a MIDI keyboard.

All sounds were meticulously sampled and integrated into in a custom Kontakt instrument that emulates the performance options available on the original hardware.
Akebono Collection features
All 15 instrument sounds and 13 percussion sounds sampled.
24-bit 48kHz sample quality.
Original performance features emulated with custom scripts.
7 impulse responses of the original speaker.
5 custom and easy-to-use effects: Amp, EQ, Mod, Echo, and Dynamics.
The Akebono Collection for Kontakt is available to purchase for £12.50 GBP. Requires full version of Kontakt 4 or 5.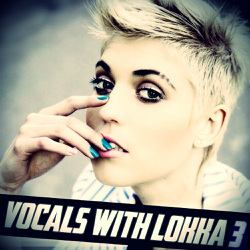 Function Loops has launched Vocals With Lokka 3, a new sample library featuring 700MB of vocal samples by Lokka.
"Vocals With Lokka 3″ will provide you all the professional tools for vocal music production, covering most of the EDM genres. The whole content is 100% royalty-free.

Inside you will find vocal loops and snippets (dry and wet versions), full vocal acappellas (dry and wet versions), musical loops (dry and wet versions) plus MIDI files and also full musical mixdowns for quick edit and remix. Also a bonus folder has been included with five drum loops from the demos.

In addition, you will also find a Raw Extra Dry folder for each Kit, where some of the raw and not edited vocals are located, as well as backing vocals and more. All of these options will give you the maximum flexibility while working on your productions. That's why this sample pack is suitable both for beginners and professionals.So get ready for the winter studio sessions with 'Vocals With Lokka 3′!
The sample pack is available to purchase for $29.90 USD.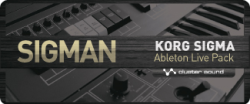 Cluster Sound has released Sigman, a multi-sample Live Pack based on the vintage Korg Sigma. Sigman is a multi-sample Live Pack primarily designed for raw analog basses & leads.
THE SOURCE
In the late 70′s Korg experimented with a machine for players looking for a simpler alternative to knobby synthesizers. The result was the Sigma, a bi-timbric semi-preset synth with rocker-tabs, micro knobs and two X-Y joystic controls. The Korg Sigma is based on 19 VCOs grouped in two discrete sections (Synthe and Instrument) that can be cross-modulated and filtered with a LP/HP Filter. Each VCO is equipped with a single dedicated control including Korg35 filter circuits for shaping the sounds.
THE PACK
Sigman is based on 30 multi-sample recordings obtained by sampling the VCO presets and custom cross-modulated sounds. Sigman delivers 90 inspiring and meticulously crafted Live Racks with dedicated macro controls, part of which simulate the ring-modulator, the joystic filter and the single VCO knobs of the original Sigma.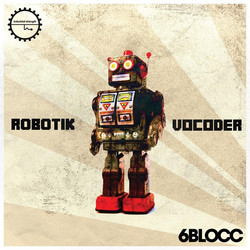 Industrial Strength Records has launched Robotik Vocoder, a sample pack by producer 6Blocc.
Master producer 6Blocc fires off another round ammo with 800 samples of pure vocoder madness. This Industrial Strength vocal pack is a one-stop sound source for red-hot robotic vocoder effects.

6Blocc Robotik Vocoder comes collect with short, medium, and long vocal phrases. All phrases were processed through the legendary Roland Vocoder, the machine that gained fame through antics in Electro and early West Coast Hip-Hop. From classic lines (we couldn't forget to drop the bass) to fresh new inventions of the vocal madmind, you'll find the words to carry the energy of your next production through any twist and turn.

These 24-bit, 44.1 kHz WAV files are ready to lock and load without a hitch. Hear them rip in any EDM, Electro, Techno, Trap, Hip-Hop and House production. We left plenty of headroom so you can add your own effects without maxing out the capacity for sheer craziness.
6Blocc Robotik Vocoder features
802 Vocal Samples (24-bit), 500 MB content in total.
Includes 51 Cities & Countries Vocal Samples, 71 Club Tools Vocals, 71 DnB Jungle Vocals, 32 DnB Jungle FX Vocals, 66 Dubstep Trap Vocals, 30 Dubstep Trap FX Vocals, 81 Electro Vocals, 28 Electro Fx Vocals, 93 Hardcore Techno Vocals, 37 Hardcore Techno FX Vocals, 127 House Funk Vocals, 81 House Funk FX Vocals, 33 Talking Synth Stabs.
The sample pack is available from Loopmasters for £19.95 GBP.
Mellotron sample recorded from an iPad running Super Manetron.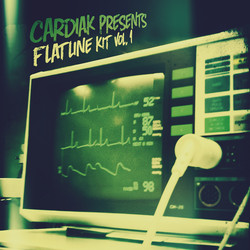 The Drum Broker has released Flatline Kit Vol. 1, a drum kit sample pack by Cardiak.
Fresh from the lab at HeartFelt Productions Platinum Producer Cardiak brings you the official "Flatline Kit Vol. 1″.

Well known in the production world for massive amounts of hits with the hardest drums and neck snapping snares, Cardi has given you gold. Cardiak's actually library of his own snares and claps are sure to have you pushing out bangers that slap hard in no time. This kit is a great selection of 808′s that will quake your neighbor's neighbor and trademark stabs from some of your favorite tracks.

Forget the rest, this is the official kit straight from Cardiak himself.
Flatline Kit Vol. 1 features
4 808′s.
11 Claps.
13 Fills.
38 Kicks.
7 Loops.
13 Percussive Elements.
6 SFX Transitions.
58 Snares.
5 Stabs.
The sample pack is available to purchase for $24.99 USD.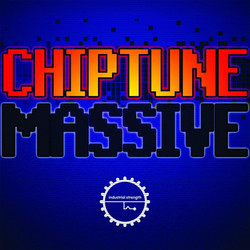 Industrial Strength has launched Chiptune Massive, a sound library featuring loops, samples, and patches for the Massive & FM8 synthesizer instruments by Native Instruments.
Our new collection was made from the ground up to provide you with a truly unique selection of quirky 24 Bit audio samples and game ready patches for Ni Massive and NI Fm-8. (Included in the Main Pack Only)

This pack is a one stop shop for sequences that you can play by just hitting one key on your midi keyboard Controller while using Ni Massive. Yes, all your favorite sounding old school video game style sequences all at just one finger tip.

We even thru in over 200 Chiptune Audio files and a dope set of Growls, Wobbles and Leads for you to rip apart. Each sample has loads of head room for you to rework and really use with your own Fx. Everything you here in the demo is in the pack and way more.
Chiptune Massive features
1.37GB content, 24 bit quality.
70 NI Massive Presets, 31 NI FM-8 Presets.
244 Apple Loops.
Includes 137 Chiptune Loops, 119 Drum Loops, 119 High Hat Loops, 25 Chiptune Bass Loops, 117 Chiptune Vocals, 24 Speak n Spell Vocals, 86 Bass Shots, 41 Mettel Synsonics Drums, 9 Virus TI Drums, 52 MT-52 Shots, 39 Casio Cz 101 Samples, 62 Moog Perc Shots, 11 Moog Fx, 60 Moog Lazors, 18 Long Moog Fx, 24 Moog White Noise Fx, 5 Edm Claps, 5 Edm Kicks, 10 Blips, 10 Closed Hats, 30 Kick Drums, 10 Open Hats, 20 Snare Drums, 26 ISR Fx.
7 Ni Battery 4 Kits, 1 Mattel NI Battery 4 Kit, 2 ISR Battery 4 Kits (96 Additional Samples), 1 Maschine Kit.
The sound pack is available to purchase for £24.95 GBP.
Free Ableton Live Pack #95 features samples of the Roland Juno 106. Those samples were constructed into an Ableton Live instrument rack to create a lush beautifully vintage sounding pad.
Free Download: http://bit.ly/freesynth95
Collection of over 20 Roland Juno 106 Ableton Instrument Racks: http://afrodjmac.com/2012/04/14/rolan…
Visit his site for more stuff like this, including Live Instrument downloads, tutorials and music! http://www.afrodjmac.com