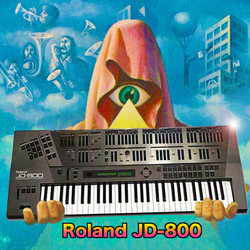 Legowelt has released a free sample pack featuring 350 samples from the 1992 JD-800 flagship synthesizer from Roland.
The JD-800 is Roland's answer to half a decade of hard-to-program synthesizers. Covered in sliders that act as dedicated editors just like a classic analog synth, the JD-800 is an extremely programmable and hands-on digital synthesizer. It is also an interesting and great sounding digital synth with incredible flexibility and control. Internal ROM based waveforms are combined to build your sounds. The sounds are based on Roland's D-50, but updated for the nineties with multimode filters – uncommon but welcome at the time.
Colossal Juicy Thick Basses, bizarre unearthly pads, uncanny strings, mystifying effects, entrancing chords and lots lots more all ready for u to use in your sampler, DAW, tracker, workstation, MPC, Octatrack or whatever u use Let the creative juices drip from your sampler Rub yourself in the sap of this giant beast and break through the event horizon of music production
The sample pack is a free (203MB) download at Legowelt.
A quick, simple piece 'acemonw' put together using the Spectralis 2 Sample Library V2 from Radikal Technologies.
"I routed the bass sample through the LP and MM analog filters and used noise for some extra parts, otherwise… this was completely done using only the sample library."
About the Spectralis 2:
Spectralis 2 is the even more powerful successor of Radikals sophisticated Hybrid Synthesizer. With up to 4 GB sample memory and tons of new features Radikal raises the bar again for our competition. Never stop the sequencer engine again with our fully redesigned sequencer engine that allows for on the fly realtime sequencing. Quick Sound Selection for every part – your most favorite sounds are just one fingertip away. Transpose your patterns and step sequences with the attached keyboard. There is only one thing, we left untouched in our new design – the sound engine. Still the warmest and richest sound out there with the power of a modular synthesizer in a box.
The Spectralis 2 hybrid synth, fueled by the latest DSP- and true analog technology, delivers maximum tonal capabilities and leads you into a radical new world of sounds full of life and animation. The Spectralis 2 oscillator section takes sound design to new extremes. The 4 oscillators offer continuously variable waveshapes plus time linearity modulation, FM, PM, oscillator synchronisation, bit reduction and independent pitch and volume envelopes. The self resonating filters, a 4 pole lowpass and a 2 pole multimode filter with LP, HP, BP and notch outputs, use two highly improved true analog circuit designs to overcome the restrictions of modelling based synths.
The way players can interact with the destinctive user interface makes the Spectralis 2 hybrid synthesizer a killer live instrument with unbeatable richness and stunning flexibility. The synthesis engine takes advantage of a sophisticated step sequencing system – 32 independent parameter control lines with up to 192 steps let you explore an universe of previously unheard rhythmic effects and atmospheric textures. Punchy high resolution envelopes, are the cutting edge of todays synthesizer technology. They are the perfect weapon for the creation of floor pounding kicks, state of the art sequencer staccatos and numerous percussion effects.
Sampling card RME Fireface 400 usb.
FORMAT: wav
41,000 hertz 16 bit samples
Number of samples: 68
MFB Kult, a sample based drumcomputer that collect many samples of famous drummachines from the 80's
In MFB's own words about the machine:
On the occasion of MFB's 25th anniversary, we are proud to announce something special. Since 1979 four rhythm machines were developed and produced: MFB-301, MFB-501, MFB-512 and MFB-612. In Germany these devices are very popular, since the inexpensive machines contained interesting rhythms for rock musicians. MFB digitized some of these sounds, and a multiple sounds of other far common rhythm machines. All these samples are packed into the memory of the MFB-KULT. The 192 sounds are divided in 16 sets, whereby each set contains 12 sounds. Since not every each rhythm machine had 12 sounds, a set consists of sounds of up to three rhythm machines. On a keyboard each set has one octave, so that a 4 octave keyboard or each MIDI channel has four sound sets.
Sounds from following drummachines and devices are available: Boss 55, Casio PT-68, Casio VL-1, CR-78, CR-8000, Drumtracks, Drumulator, El. Harmonix, Hohner, Korg DDD1, Korg-220, KPR-77, Linn 1, MFB-401, MFB-501, MFB-512, MFB-612, Pearl SC-40, Rhythm Ace, Simmons Clap, Simmons SDS, TR-606, TR-727, TR-808, TR-909 and Vermona.
With each sound the volume and the panorama can be programmed. Beyond that the Attack time and the release time can be programmed for each sound. Since the sounds cannot be longer than the original sample, with longer release the compression is increased. The sounds can be played naturally also individually over the tracer. The sound can be stopped with an automatic controller .
Additionally an integrated Sequencer is available, which can play some rhythms of the MFB-501. The speed is adjustable. The MFB-KULT has an stereo output. Additionally there is the MIDI IN. As current supply a plug power pack is provided.

Hark back to the heyday of classic rock and one instrument stands above the rest, a 350lb behemoth that would forever change the way we think about making music. At the heart of this monster was an array of tape machines, one per note on the attached keyboard, each playing a uniquely recorded sound. With only 8 seconds of tape per key and a cumbersome frame this machine had its limitations but was nonetheless impressive for its time, boasting a multitimbral and truly polyphonic 'engine'. Instantly made famous by the Beatles hit 'Strawberry Fields Forever' and used by countless others including The Moody Blues, Rolling Stones, and prog rock legends Yes, this was the 'must-have' sound of the 60's. While its use fell out of fashion the implications it made have become fundamental to modern music production.
With Mello we've aimed to deliver a complete and authentic recreation of this prolific instrument. Dozens of original tapes were multi-sampled on 3 different machines in order to give you the best representation of each of the 28 available sounds. To capture the live experience the key noise and inner mechanical sounds were stereo recorded, including tape noise and key-off sounds, and are all mixable to taste.
To make Mello even more versatile we've added a few tricks of our own, including an analog-modeled tape delay, reverb, a custom unison mode to give you stereo sound without unwanted transposition or chorusing, a switchable multimode filter, a 3-band EQ and more.
With these classics Flute, Brass, Celesta, Choir, Strings, Organs, Guitars, Piano and many more, Mello delivers a warm and buttery tone indistinguishable from the original and is, in every way we could make it, a perfect tribute to the quintessential studio instrument of the 60's.
Features:
• Pristine and comprehensive sample library from 3 original machines
• Mixable key and mechanical noise for authentic experience
• Switchable keyboard range (original or extended)
• Stereo modes including custom unison
• Switchable multimode filter with cutoff and resonance
• ADSR envelopes for amplitude and filter with velocity sensitivity
• 3-band EQ with sweepable mid frequency
• Built-in Sparkverb
• Analog-modeled tape delay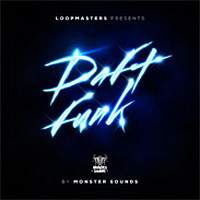 Monster Sounds has launched Daft Funk, a sample pack featuring lovingly crafted riffs, loops, beats and multi's all busting with the distinctive bumping swagger that we all know and love as the grooving soulful sound of French electronica.
Some of the most iconic dance music of the last 20 years has come from the shores of France leading the filter electro sound, basing the tracks around a straight four to the floor groove with a heavy disco funk soul influence, but bringing a contemporary electronic sound into the mix with house production techniques and sounds.

Many of these popular releases have relied on sampling the main groove from records to capture the live feel and vibes from the original 70s and 80s classic records' which is a risky business and can lead to long legal battles if the sample is not cleared – with Daft Funk you can avoid these hassles and get straight to the funk!

We have thrown down a huge set of grooves, from beats to bass lines, keys and funky guitar licks that Niles himself would be proud of. Mixing the full grooves together then give you the chance to filter and mash them up as if you were sampling from a record which is the key to capturing the sound of sampling records, as the way your filters react to the full loops is much more authentic if all the instruments are playing together. To give you full flexibility we have given many of the grooves split down in to individual parts also to allow you to build your own grooves.
Daft Funk is available to purchase for £29.95 GBP. Individual parts are sold separately.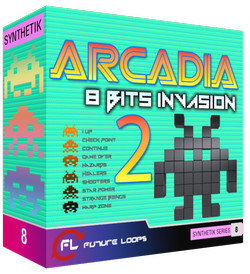 Future Loops has announced the release of Arcadia – 8 Bits Invasion 2, the second volume from its collection of retro gaming inspired sound effects.
"Arcadia – 8 Bits Invasion 2″ features another assortment of noises, lasers, boops, beeps, blips and tracker synths divided in 10 classic gaming categories: Checkpoint, Star Power, Healers, 1-Up, Game Over, Hazards, Strange Beings, Continue, Shooters and Warp Zone.

With over 500 samples, "Arcadia – 8 Bits Invasion 2″ is available in WAV format and 100% Royalty-Free.
The sample pack costs 19.95 EUR. It is currently available to purchase with an introductory Summer discount.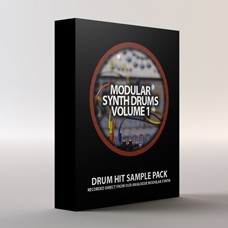 Minimal System Instruments has announced the release of its Modular Synth Drums Volume 1 sample library.
Modular Synth Drums Volume 1 is a drum sample pack that was born from intensive and great fun recording sessions with the huge Minimal System modular synth setup over a number of years.

This sample pack consists of 85 recorded 24-bit analogue drum samples which have been designed from the ground up using modular system and treated through a selection of our favourite outboard signal processors. Modular Synth Drums Volume 1 is a flexible electronic drum sample library for modern music production.
The sample pack is available to purchase for the introductory price of £1.99 GBP.
All sounds are from the Arturia Minibrute. Spatial effects were created on the hats,toms, and bells, using the Electro-Harmonix Deluxe Memory Man and the Vermona Vintage Spring Reverb.
These sounds are free for you to use, but not to sell as a sample library.
Link for the Individual Sounds: docs.google.com/file/d/0BzLbZ1FMX…/edit?usp=sharing
If you like them, please follow my page and visit my shop at: www.darksideofthetune.com/shop.php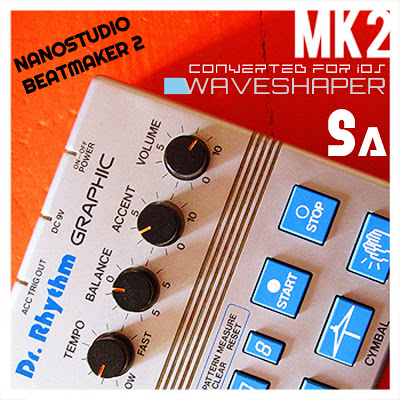 The Boss DR-110 is a cute little drum machine from the early 80s, the last analogue one made by Roland. 
The overall sound is very reminiscent to the much praised TR-808 and TR-606. The DR-110 will give you that classic, sought-after sound but with some slight difference and much character. 

Plasticid MkII takes this sample pack one step further, with 120 new samples gathered in 18 kits. This new version aims at coloration and expands the sonic palette of the DR-110, processing it using vintage hardware to shape it up nicely. The cymbals are spitting, the bassdrum is kicking, and the snare and claps tones ranging from dark to bright make each kit acting like a rebirth for the mighty DR-110! Great care has been taken about recording a semi open hat sample for even more expression.
Converted and exclusively available for iOS use (Nanostudio and Beatmaker 2) from Sunsine Audio. Please visit http://waveshaper.12r.org/ for original Wav file versions.
*Requires Beatmaker 2 or Nanostudio*
Format:
• 120 One Hit Samples
• 18 Kits
• 18 .bmkz files for Beatmaker 2
• 18 .trg files for Nanostudio
• Easy Installation Instructions
Price: $3.40