50 Ableton Live Instruments, created with samples from the Arturia MiniBrute. This collection of analog synth instruments takes the power of the MiniBrute and combines it with that of Ableton Live. Extremely playable and useful instruments with tons of effects and macro knobs for control.
Available at: http://afrodjmac.spinshop.com
New iPad audio chopper app. See http://www.touchsynth.com for more information.
iterator is an inspiring sample based musical instrument with a stylistic interface. The premise is simple: The x-axis controls the sample playback position. The y-axis controls the repeat speed. The result is surprisingly musical.
Create your own soundscapes using any of the built-in 75+ samples from over 25 artists, including Richard Devine, Parallel Worlds, Toppobrillo, Atomic Shadow, and many more. Or, supply your own .mp3s through iTunes.
Just a quick run through the features of the new Tyme Sefari Mk2, details below:
I used a sample from the Radiohead song Idioteque to messabout with, hope this gives some people some idea of what can be achieved with this module. Of course this is a mere snapshot of what it can do and the vast amount of CV control possible with this module leads to some exceptionally creative manipulation of samples.
DJ, Producer, engineer and Sample creator Dom Kane takes us on a tour of his studio.
More Info: http://www.native-instruments.com/actionstrings
Action Strings is the epic, orchestral sound of blockbuster movies, made simple via immaculately sampled and easily playable phrases. With a truly natural sound, over 14 GB of live-recorded string phrases are ready to add big screen suspense and drama to your movie or game scores — or even spice up your rock, pop and R'n'B tracks.
Sample Collection for BeatMaker 2 by Intua:
32 drum kits with over 400 samples, 64 audio loops, 37 demo pattern
More infos: www.app-sound.com
Developer Music Airport has released a new virtual analog modular synthesizer for iOS, TANSU.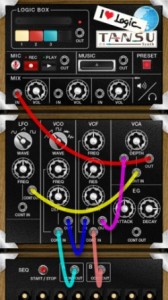 The sounds that were sampled and used for the VCO (Voltage Controlled
Oscillator) come from the actual "TANSU" owned by Hideki Matsutake (Yellow Magic Orchestra, Logic System).
Primary Functions:
LOGIC BOX - Sound effects such as Shepard Tone and rhythms from music by LOGIC SYSTEM
have been made directly into the sound source.
MUSIC - You can use your iPhones own music library as a sound source. (However,
certain tracks which are covered under DRM may not be used).
Microphone function - You can use sounds which have been recorded with microphone.
Preset function - You can explore the potential of the TANSU Synth from various demo patterns. Moreover, it can be utilized as a tutorial for beginners.
VCO (Voltage Controlled Oscillator), VCF (Voltage Controlled Filter), VCA
(Voltage Controlled Amplifier), LFO (Low Frequency Oscillator), EG (Envelope
Generator)
Enhance the basic functionality of an analog synthesizer. (Various sound
processing is possible.)
2 channel 8 step analog sequencer!
Connect patch cord to create original sounds
Three sound sources can be mixed by a three-channel mixer
Note: TANSU has a major downside because of it used of sampled material. The developer notes "Commercial use of the works created by using this application is subject to the copyright clearance from right holders."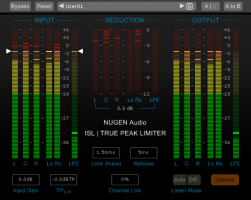 NUGEN Audio has launched ISL, an inter-sample True-Peak limiter that gives complete control over peak levels in audio signals from mono to 5.1. ISL diverges from traditional approaches to limiting by measuring inter-sample peaks and allowing the user to set the true-peak limit, rather than the traditional threshold at which limiting begins. By measuring and correcting for inter-sample levels, ISL protects against distortion that can be introduced when codecs such as mp3 and AAC are applied downstream. Like all NUGEN Audio tools, ISL is intuitive to use and lets audio professionals mix with their ears, leaving ISL to ensure compliance with loudness standards. Designed for the transparent limiting of relatively dynamic high-quality audio, ISL can also be used to hard-limit and reduce dynamic range where required.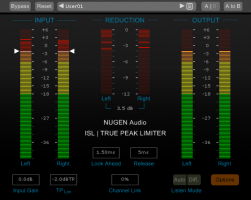 Using the standardized true-peak algorithms of ITU-R B.S. 1770 and related standards, ISL is suitable for post-production and broadcast applications. Features include comprehensive dBTP metering, adjustable channel linking, support for audio formats from mono to 5.1, adjustable ballistics, color splits, and peak indicators.
"I recently finished a "Between the Ears" program for BBC Radio 3 using ISL, and I found it completely transparent. I deliberately tried pushing it hard and it just works, even with much more gain reduction than I would normally consider using in this context. The NUGEN Audio ISL True Peak Limiter is now my limiter of choice for all my broadcast work," said independent post production engineer Mike Thornton.
ISL is part of NUGEN Audio's new range of innovative and easy-to-use loudness correction tools, which includes VisLM and LM-Correct.
ISL is RTAS, Audiosuite, AU and VST-compatible and available in 32-bit and 64-bit versions for OS X and Windows at $249.
More information about ISL and other NUGEN Audio products is available at www.nugenaudio.com.
Make Noise Phonogene and Echophon manipulating a sample from Kraftwerk's "Boing Boom Tschak". Totally insane!
Phonogene output is routed to a doepfer A-119 which extracts the gate signal and then is fed back into the ping input on a 4ms PEG, then those env outs are fed recursively into the phonogene, final out into Echophon then Intellijel Mutamix.
Jordan Passmore demo of the Roland TR-808, Akai MPC-60 and Roland SC-880. SC-880 is playing the rave patches, MPC-60 is loaded full of TR-909 samples and is also sequencing 909/synth, TR-808 is doing 808. All held together by a Garfield Nano Doc Sync/Clock adapter. All sounds are mixed live on an old Studiomaster mixing board; from there they pass through an Electra EQ, then finally into my Native Instruments Kore Audio Interface. The SCC-80 has an analog delay attached to it, which when I'm out of the shot, I'm usually messing with. I also have a Behringer Virtualizer Pro Reverb on an effects send (a bit of the 909 and SC-880 are send to this).
The MPC-60 loaded with 909 samples is pretty hard to beat for completely cutting through a mix. I personally love the 808 so of course I threw that on top as well. The SC-880 is very interesting and totally useful (multitimbral and full of many very usable effects). I found these patches on it and decided to do a short demo from there.