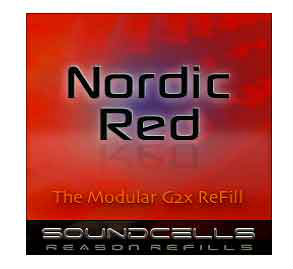 Soundcells has released Nordic Red version 2, a ReFill based on samples from the Nord Modular G2x synthesiser. They believe that it is especially great for film scores, game music, ambient and experimental music.
Version 2 adds 250 Mb of new Nord Modular G2 samples, new combinator patches and changes in detail.
Nordic Red v2 Contents:
•  140+ impressive combinator patches.
•  170+ NNXT patches containing the basic patches which were used to build the combinators.
•  850+ 44 khz 24bit samples, 1.3 GB uncompressed.
•  Great for film scores, game music, ambient & drones but also modern dance styles.
•  11 demo files with 'tutorialesque' value are included.
Pricing and Availability:
Introductory price is 18.90 EUR (normally 24.90 EUR).
'Prepare yourself for a journey where your creativity can reach new levels' – this statement from the 'Welcome' section of the G2 manual is a perfect description of what you can expect from the Nordic Red ReFill. The ability to create an unlimited range of individual sounds will not only provide you with "otherworldly" atmospheric stuff, the deepest textures and great keys, but also with surprisingly "in-your-face" bass patches and wonderful pads when diving into this ReFill. The "self-playing" patches (called "Noodles" in the G2), for example, are great starting points to create some ultra-deep atmospheric textures – an ideal entry for composing film scores or game music. Or simply pitch down the samples to listen to the "hidden magic" inside these up to 90 seconds long 'Noodle' recordings. Version 2 adds 20 combinator patches based on 250 mb of new Modular G2 samples …
Here is a 38 Min look at what makes Kontakt 5 a monster power-house of a sample playback plug-in. Also showing how cool it is to take samples from other Kontakt 5 libraries and load them into the MegaMacho Drums Interface for tons of sonic mayhem!  MegaMacho Drums comes out July 1st, 2013!
How to use SampleWiz to create real-time sampling effects for the Radiohead song "Everything In Its Right Place"
The Washington & Lee University Electronic Music Ensemble (EME) performed the Radiohead song "Everything In Its Right Place" in their Fall '12 concert. This video describes how they utilized an iPad app called SampleWiz to mimic the real-time sampling effects used by Radiohead in this song. EME members Matt Kinderman '16 and Rodes Brown '13 explain and demonstrate these techniques.
Under the direction of Graham Spice, the EME capitalizes on the strengths of its individual members. This ensemble calls upon its performers to utilize their instrumental or vocal talents in new ways incorporating electronic music. In addition, those students who specialize in composition, engineering, and production are given the opportunity to showcase their skills in the creation and performance of this contemporary music. A strong visual element is also included in their concerts provided by computer-generated video projections.
This video demonstrates how a Garageband song created collaboratively using sample loops of Sweet Home Alabama on a mac and an ipad Garageband easily converted into a series of Roland MC-808 compatible sample loops and transferred quickly onto the MC-808.
1. The song is put together collaboratively using Garageband on the Mac and iPad
http://www.youtube.com/watch?v=qDIosK…
2. The samples are then extracted from the song using the fixed1t Garageband Archive audio sample extractor
http://www.youtube.com/watch?v=Zhj88r…
The samples are then reviewed to check their type using the fixed1t audio samples data lister
http://www.youtube.com/watch?v=gNMJEc…
The Samples are then converted into WAV, little endian files and renamed in line with the MC-808 fast sample loading convention, using the fixed1t Garageband to MC-808 sample convertor.
The video then shows you have to get the sample quickly onto the MC-808 and play them.
Please rate the video and leave comments.
Cheers fixed1t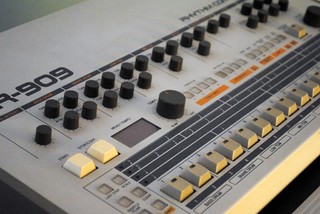 Tonebuilder has introduced Driven Machine Drums: FR-909, a free sample pack featuring the sounds of the Roland TR-909 drum machine.
This is a new capture/take on the ever popular TR-909, this time combining outboard vintage NOS tubes and body compression in parallel.
Those signals are then combined and fed into a high-end mastering equalizer to further glue, shape, and focus the sound.

The entire 549 sound collection in 16-bit, 44.1kHz WAV format is available here, complimentary.
The download is available from the Tonebuilder Facebook page (no Facebook account required).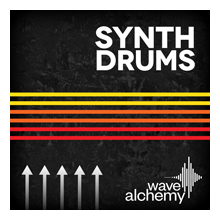 Ten Vintage synthesizers expertly programmed to create a ground-breaking Drum Library, our most comprehensive and intricately designed to date. Incorporating all-time classic analogue machines with modern High-End processing hardware and production techniques…
Introducing Synth Drums, offering over 5900 cutting edge, totally unique drum samples and percussive hits, each carefully crafted by hand, on a sound-by-sound basis.
Synths used in the creation of Synth Drums:
Roland Jupiter 8
Roland System-100 (101, 102, 104)
Sequential Circuits Prophet 5 Rev 2
Sequential Circuits Pro One
Korg MS-20
ARP Odyssey MK1
Moog Minimoog Model D
Oberheim OB8
Roland Juno 106
Roland SH-09
"We've designed this library to be as flexible as possible: as well as the extensive processed section, the unprocessed source samples are also included as they were originally recorded – straight-from-the-synth. A third section includes selected samples bounced through special processes to add character, tone, warmth and punch, using Vinyl and Reel-to-Reel ¼ inch Tape with multiple saturation levels.
We feel that this attention to detail will translate into a unique, creative and useful addition to any electronic music producer's toolkit."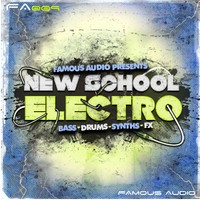 Famous Audio has launched its New School Electro sample pack.
'Famous Audio' offers you full of pure electro madness featuring more filthy and phat basslines, super stereo chord & leads, crunchy vocal cuts, huge sleazy synths, headroom filling kicks, phat ass drums and crazy effects ready for that drag & drop action available in any DAW!

This pack provides you with that current electro sound that rocking the dancefloors today. Inspiration from the biggest electronic artist in the World from Skrillex, Knife Party, Feed Me etc.. If you are a Electro House, Complextro or Dubstep producer looking for next generation sounds and samples to merge into your music and to take your production level up a notch, then you should definitely spend some time with this pack..

You can expect to find here with 709MB of material spread over 303 loops & samples including amazing synths, freaky leads, distorted basses, talking baselines, monster growls, fattest drums and more.. All loops are key and tempo labeled so you can fit them into your workflow easily and/or mix and match with your other content.
The sample pack costs £29.95 GBP.
Here are the hottest vocal samples for your tracks, Ableton Live Ready. Enjoy the Swag YOLO!
Visit AfroDJMac's site for more stuff like this, including Live Instrument downloads, tutorials and music! http://www.afrodjmac.com
http://apps4idevices.com/read/caelestis
Caelestis is a sample based generative music app that creates unique and very interesting results. It uses bouncing balls that generate notes as they bounce off the walls of the three different shaped rooms. The sound balls can be initiated at any velocity, and the shaped rooms can be rotated at different speeds to create interesting combinations. Each sample can be pitched by semitone increments, and assigned to one of three octave ranges. It is a free app with a $0.99 in-app purchase for importing and exporting samples and recordings. I should note that all file management is accessed through the Audio Copy section, and for referencing tempo, you need to run a drum app in the background. But I have to say that I find this app to be very impressive, with a great range of features, and it's very easy to use. The unique layers of sounds and rhythms really make Caelestis … A Killer App!
Review by Nick Trass
SoundIron has introduced Ambius 2: Systematik – a flexible and adaptive sample based atmospheric synth, details below:
We wanted a broad collection of richly nuanced flavors with the ability to freely layer, blend and reshape a wide mix of percussive, tonal and textural elements into custom multi-layered dynamic and evolving instruments. We wanted a unified and powerful interface to combine detailed performance and tone shaping controls with a wide pallet of experimental and environmental convolution effects. We wanted a built-in tempo-locking step-sequenced filter and LFO engine that could be adapted to just about any other GUI control parameter on the fly without missing a beat. Ambius 2 is all of that and much more.
Here's a video introduction to Ambius 2:
A detailed walk-through video and tutorial of Soundiron's new Ambius 2: Systematik library. This cutting-edge hybrid synthetic/organic lead, pad, texture and ambience design library is built on powerful new adaptive groove-building tools and inspiring performance shaping features that you won't find anywhere else. Create and tweak your own multi-layered instrument concepts with nearly 5GB of freely mixable content and dozens of unique presets, each with nearly limitless creative potential.
http://www.soundiron.com/instruments/ambiences/ambius2/