Surdos & Snares – authentic sounding and controllable drum sample library for Kontakt.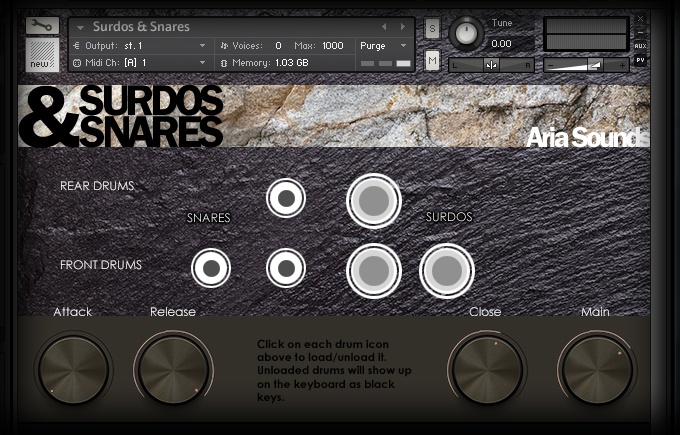 Aria Sounds has released Surdos & Snares, an authentic sounding, flexible and controllable drum sample library for Native Instruments Kontakt.
ARIA Sounds are proud to present "Surdos & Snares", a percussion ensemble consisting of three snares and three surdo drums, all placed in the displayed formation, and reproduced faithfully, so you can play these drums, and they will sound in these positions.

We have absolutely pushed the variation and authenticity to the limit with this library. There are 127 dynamic layers per hit/technique/key in these drums, which provides even more benefits than the obvious lack of repetition, or the dreaded "machine-gun effect".
Surdos & Snares features
127 velocity layers for ultimate realism.
Ensemble of 6 individually playable drums.
Faithful 3D sound/reproduction of ech drum's position in the hall.
Variety of techniques per drum, including soft mallets, sticks, rims, hands, different brushes.
Close and main mic positions.
Over 6GB of samples.
Surdos & Snares for Kontakt 4 and 5 (full version) is available at a 50% discount for a limited time (regular £39.99 GBP).
Comments