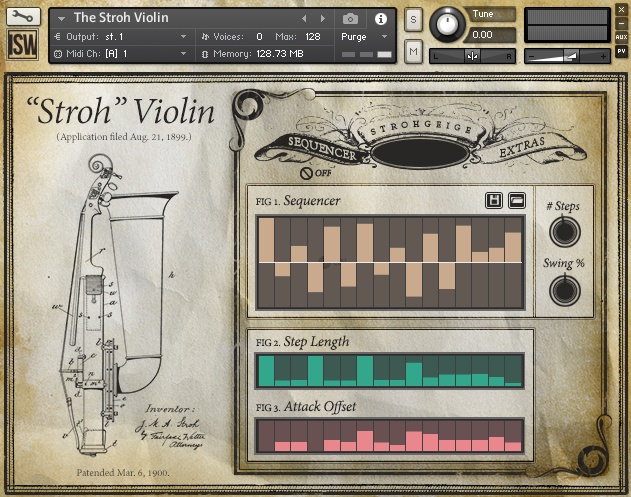 Impact Soundworks has announced the release of the Stroh Violin, a curious acoustic instrument invented by electrical engineer John Matthias Augustus Stroh.
Stroh conceived of a violin constructed with a metal resonator and horn, producing a louder, brighter sound compared to a traditional wood violin. He patented his design in 1899.

While this unique modification of the violin never overtook the popularity of perhaps the most classic orchestral instrument, the stroh violin is played by musicians worldwide – particularly in Europe – for folk music. It is beloved for street performance, thanks to its powerful tone that requires no amplification to be heard even in a noisy area.

Naturally, we sampled it! The Impact Soundworks Stroh Violin features this instrument in a single, elegant, lightweight Kontakt patch with modern trimmings like a sequencer and 'grit' effects. The result is a fun and surprisingly versatile virtual instrument, great for everything from rhythmic underscore ostinato to comical pizzicato, folk mockups and more. Special thanks to performer Kalle Ricken and designer Richie Albert!
Stroh Violin features
Authentic multisampled stroh violin.
3x dynamic layers / up to 5x round robins.
Sustain, spiccato & pizzicato articulations.
Customizable mapping.
3-layer rhythmic sequencer / gate.
Quick controls for grit, dirt and vinyl.
Lightweight and fun to use.
The Stroh Violin for Kontakt is available as a free download. Requires Kontakt 5.4+ full version.
Dream Audio Tools has announced the release of LFO Piano for Native Instruments Kontakt.

LFO Piano features a classic Rhodes MkII Electric Piano sampled using a true analog pedal rig, including a warm and raw sounding handmade analog tremolo and analog cabinet emulation pedals. This setup gives LFO Piano an unique timbre and a raw unpolished character. It is is designed to fit with many musical styles, including RnB, Hip Hop, Cinematic and Pop.
The library includes two complete sets, separately recorded with pedal tremolo on and off. There are controls to activate additional designed effects, including Phaser, Chorus, Delay Reverb and Rotary.
Introductory price: €19,90.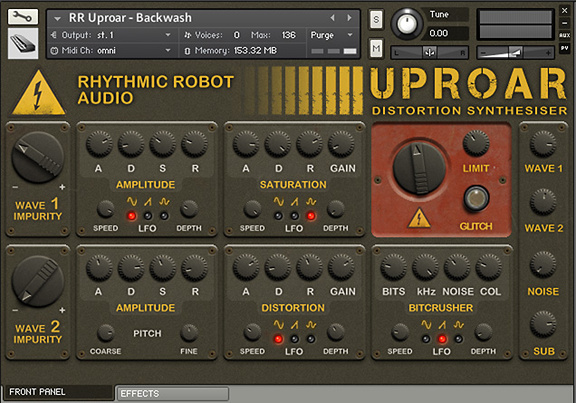 Rhythmic Robot has announced the release of Uproar, a unique distortion-based analogue synthesizer instrument for Native Instruments Kontakt.
Continuing our campaign to rid the world of same-sounding soft synths, we bring you Uproar – a machine that turns traditional analogue synthesis on its head. Instead of filtering harmonically rich waves, Uproar distorts and energises smoother waveforms until they break free of their restraints and go rampaging through downtown New York, smashing everything in their way.

Uproar doesn't just add distortion – it puts that distortion under the control of ADR envelopes and dedicated LFOs, so that you can create evolving synth patches full of movement and character. Want your pad to have a slowly-building glow of saturation at the same time that its bit depth is spiralling up and down via a sinewave LFO? Want your lead to scream and then subside as its Distortion gain is automatically reduced? Want your synth lines to emerge gradually from a burbling fizz of reduced bits? We've got you covered.

Uproar doesn't just do angry. It can also take trad subtractive synth staples and give them a new lease of life, giving you classic sounds with a fresh twist. It's great for adding air and harmonic overtone to your sound (with no filters, you never lose that high-frequency breathiness). It can be surprisingly subtle at times (but ssshh, don't tell it). The base waveforms blend between smooth sines and more complex, erratic waves which we made by eBowing an electric guitar strings: great for more organic, uneven sounds.
Uproar features
Twin detunable waveform generators: blend between pure sines and erratic, complex eBow guitar strings.
Three independent distortion types under LFO and envelope control for moving, shifting, evolving harmonic spectra.
Perfect for high-energy, aggressive synth sounds, or subtler tones with an unusual, airy edge.
Uproar is available at an introductory 15% discount until March 13th, 2015, after which it will be £20 GBP plus VAT.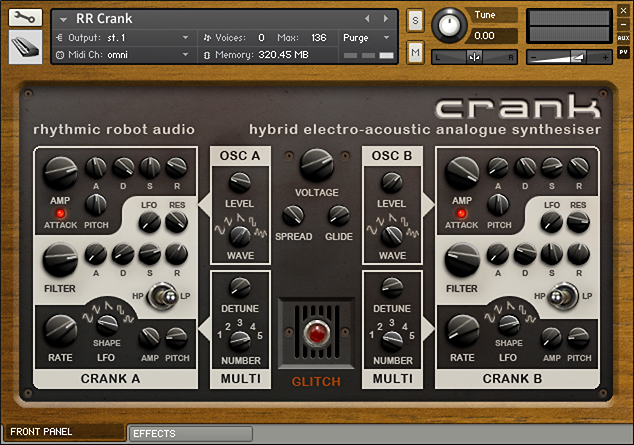 Rhythmic Robot Audio has released Crank, a hybrid synthesiser for Kontakt melding acoustic and electronic sources in a 4-oscillator architecture.
Crank takes over six hundred samples of an Eastern European stringed hurdy-gurdy – and places them at the heart of a four-oscillator analogue synthesiser framework ideally suited to the creation of strange, eerie, evolving patches.
The acoustic hurdy-gurdy produces its sounds by rubbing a rosined wooden wheel over a series of violin-style strings: the sound is half violin, half hand-cranked barrel organ and can be both plaintive and raw-sounding. Rhythmic Robot has sampled a hurdy-gurdy extensively to create the basic tones for Crank, and named the instrument after the handle that the player cranks round to make the hurdy-gurdy play.
The twin Crank oscillators are independently controllable, with dual filters, envelopes, pitch control, LFOs and so on; they also run in tandem with twin Analogue Oscillators, adding some classic analogue waves to the tonal palette. The characteristic attack "squeal" of the acoustic hurdy-gurdy can be turned on or off individually, and the sound sources mixed and blended to create haunting and evocative instruments that sound "almost real."
Features:
Twin Crank oscillators drawn from extensive samples of the hurdy-gurdy.
Twin Analogue oscillators sampled from the Roland SH7 flagship analogue synth.
Twin flavours of noise: classic white noise, plus vinyl-style crackle.
Extensive LFO modulation of pitch, amplitude and filter cutoff, independently for both Cranks.
The Rhythmic Robot GLITCH button to randomise the instrument in musically inspiring ways.
Price: £24.95 – Crank is available now from Rhythmic Robot, at an introductory special-offer price of £19.95. Requires Kontakt v.4.2.3 or later to run (including all versions of Kontakt 5). Kontakt Player is not supported.
Buy BOCS Kontakt Synth Here!
http://www.sampleism.com/audiowarpc/a…
BOCS (Boards Of Canada Synthesis) is a Kontakt sample pack consisting of ten pads inspired by the electronic duo Boards of Canada. It's refreshingly different compared to previous efforts from various sample packs and vst synths.
The reason why?
These sounds have been created via the methods used by the group themselves. Vintage analog synths, 4-tracks, valve amps even VHS recorders were used to create a sample bank more authentic than anything we've heard before.
These sounds have a dirty, dusty, and dream like quality just like that elusive Boards of Canada sound. Weighing in at just under 1 gig you can be guaranteed a truly professional sound to use for your next stunning track.
BOCS Volume 1 Sample pack requires the fully working version of Kontakt 5 to work. The purchased download consists of 10 Kontakt NKI files.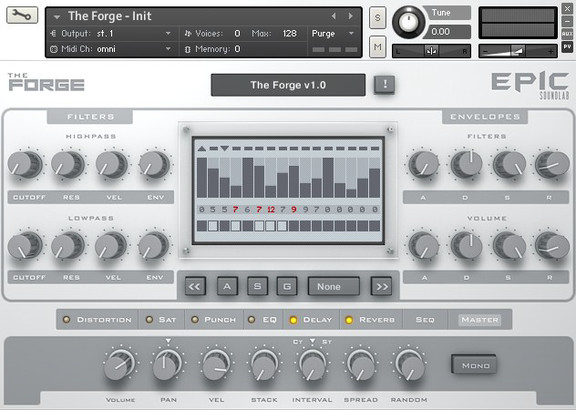 Epic SoundLab has launched with the release of The Forge, a hybrid scoring instrument library for Native Instruments Kontakt.
The Forge is a powerful yet intuitive sample library aimed at Film, TV and Games composers.

It is designed to offer a flexible environment to customize every sound and making your own.
The Forge features
Advanced User Interface.
Arpeggiator.
Polyphonic Sequencer.
Rhythmic Gater.
Unison / Voices Stack.
Resonant Delay.
Dual Engine Reverb.
Over 200 Kontakt patches.
Over 3GB of open WAV files.
MIDI Files.
Customize your own samples.
The Forge is available for purchase for the introductory price of $149 USD/119 EUR/£95 GBP until November 1st, 2014 (regular $189 USD/149 EUR/£119 GBP). Requires full version of Kontakt 5.1 or higher.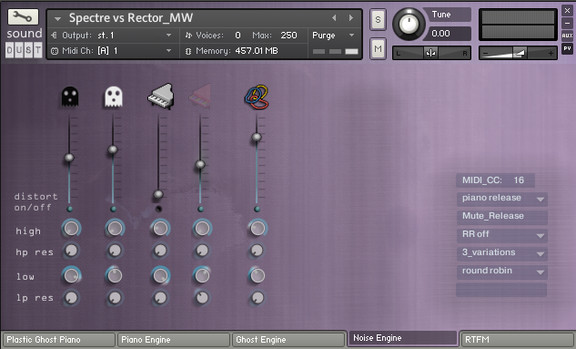 Sound Dust has launched Plastic Ghost Piano, a convolution based hybrid piano instrument for Native Instruments Kontakt.
The piano sample set was made by sending bursts of controlled noise through unsuspecting piano samples used as convolution reverb impulses.

Plastic Ghost Piano is designed to be a warm, analogue sounding hybrid piano with real character and lots of sonic possibilities that range from warm, woody and expressive acoustic piano to "blissed out orchestral shoegaze haze".
Plastic Ghost Piano features
549MB of 24-bit samples with up to 23 velocity levels per note.
Advanced architecture with automatable control of everything.
Sample start control.
Ghost Engine with per voice algorithmic reverb.
Noise Engine with per voice distortion and filtering.
69 specially created convolution reverb impulses recorded from real spaces, expensive hardware, and some less obvious sources including a Roland Space Echo, Lexicon reverb and the stage of Glyndebourne Opera House.
6 deeply multisampled sound articulations; Dark Ghost convolution, Pale Ghost convolution, Hohner Pianet, Convolved "plastic" piano, palm mute Stratocaster and Release Piano.
Leslie effect, cabinet modelling and morphing EQ.
Selectable and adjustable release group.
Round robin sample swapping.
MIDI timing jitter.
25 "starter" presets.
Built-in instruction manual.
The library is available for the introductory price of £20 until October 18th, 2014 (regular £25 GBP). Requires full version of Kontakt 4 or above.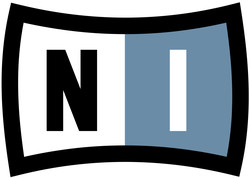 Native Instruments has released updates for Battery, Kontakt & Kontakt Player, and Reaktor & Reaktor Player.
Changes in Battery v4.1.4
Added advanced Komplete KONTROL integration.
Fixed an issue with kits being replaced when loading a host session with the kit-preview button enabled.
Other minor fixes.
Discontinued Mac OS X 10.7 support with this update.
Discontinued RTAS support with this update.
Changes in Kontakt v5.4.1
Added advanced Komplete KONTROL integration.
Added Snapshot system for Instruments.
Added load_array mode 2, nka files can now be stored in the resource container.
Fixed crashes.
Improved CPU performance in certain scenarios.
Discontinued Mac OS X 10.7 support with this update.
Discontinued RTAS support with this update.
Changes in Reaktor v5.9.2
Support for Komplete KONTROL S-SERIES.
Automation Module.
HW Control Module.
Various improvements and bug fixes.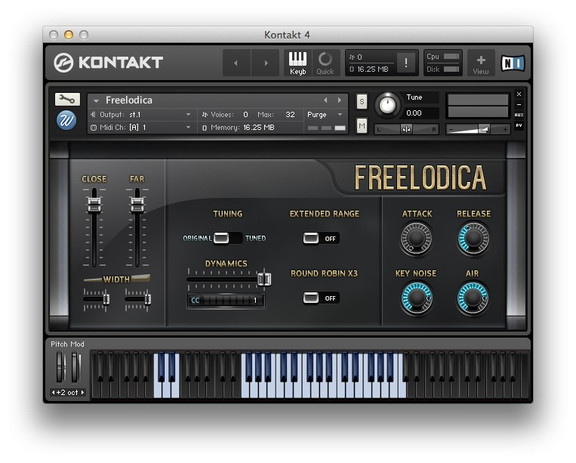 Wavesfactory has announced the release of Freelodica, a free sampled 32 keys Hohner Melodica for Native Instruments Kontakt.
2 microphone positions with stereo width controls. Envelope, key-noise and air volume control. 3x optional round robin and extended range. Original tuning and perfect tuned samples. Dynamics controlled by any CC. Breath noises included for more realism.

We also modeled the imperfect behaviour of the instrument so there is no either sonic or playable difference between The Freelodica and the real thing.
Freelodica features
Stereo WAV files, 44.1KHz 24bit.
3x optional round robin.
120Mb downloaded.
2 microphone positions with stereo controls.
Original tuning and digitally tuned versions.
Envelope, key noise and breath controls.
Dynamics controlled by any CC.
Real behaviour modelled.
The download is available for free exclusively at Wavesfactory.com. Requires Kontakt full version 4.2.4 or higher.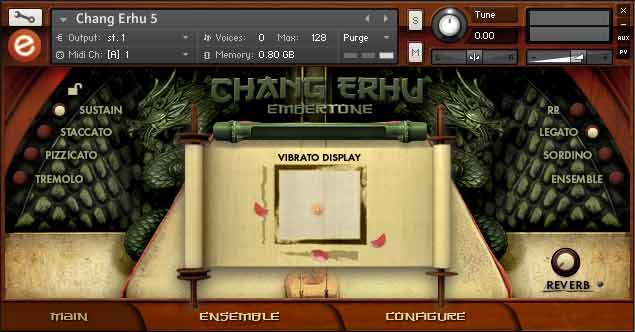 Embertone has launched Chang Erhu, a deep sampled erhu instrument for Native Instruments Kontakt.
The erhu is a two-stringed, bowed musical instrument. It may also be called a "southern fiddle", and sometimes known in the Western world as the "Chinese violin" or a "Chinese two-stringed fiddle". It is used as a solo instrument as well as in small ensembles and large orchestras. It is the most popular of the huqin family of traditional bowed string instruments used by various ethnic groups of China. A very versatile instrument, the erhu is used in both traditional and contemporary music arrangements, such as in pop, rock, jazz, etc.

Our Erhu can create profoundly expressive and beautiful music, and it's also sooooo much fun to play. Its flexibility and out-of-the-box sound is undeniable! …and we don't think there's a virtual erhu out there to match it!

Chang Erhu features
True legato programming with 2x true round robin.
Bow Change, Slurs, Portamentos.
Custom Kontakt scripting by Andreas Lemke.
Control over vibrato speed and intensity.
3200+ recorded samples.
1.6 GB installed.
Sample resolution: 44.1Khz/16-bit stereo/mono (recorded 96KHz/24-bit).
Chang Erhu is available for purchase for $80 USD (16-bit) / $85 (24-bit & 16-bit). Requires full version of Kontakt 4/5.