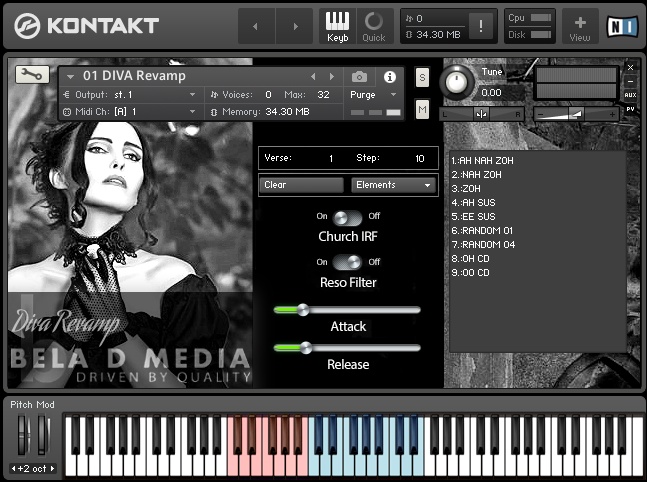 Bela D Media has announced release of Diva Revamp 2015, a female vocal library for Native Instruments Kontakt.
DIVA Classical Female Soloist was created in 2003 and is the very first product every produced by Bela D Media. Since that time, DIVA has sold world-wide and is used by many top composers for film, television and videos games. In the States, often one would be hard-pressed to not to hear DIVA in use on many popular television stations – even to this day. We are extremely proud of this and always consider it to be an honor when a composer (professional or other wise) finds a place for our work in their arsenal of digital tools.

Welcome you to DIVA REVAMP 2015. Once again we have trimmed the digital fat and employed our Vocal Tools style scripting features and GUI to complete this special version. Features include, sample offset polyphonic legato, creation and storage of custom vocal verses, attack and release control per vocal step and real-time playback sequencing.
The library is available for purchase for $150 USD. Users of the Diva Bundle and/or the original Diva Revamp (full version) will received a crossgrade offer. Requires Kontakt 4/5 full version.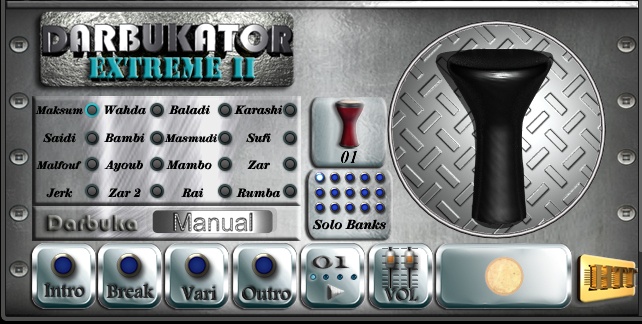 Human Touch Technology has released Darbukator Extreme II, a percussion instrument for Native Instruments Kontakt.
Darbukator Extreme II is a classic arranger for playing oriental Percussion styles with some unique features

Manual / automatic improvisation.
Loops time lock (legato mode)
Random Breaks
Multi Doffs and Doholla for each style (group instruments)

Darbukator Extreme II can be used alone or with other percussion modules. The improvisation generator can add the live feel to any ethic percussion track. All styles and improvisations based on live loops, not single shots.

We sampled the playing technics and improvisation from top percussionists in the Middle East, we got tons of ideas, some of the loops are 8 bars long variations, the possibilities are endless.
Darbukator Extreme II is available for purchase for $89 USD ex. VAT. Requires Kontakt v5.3 or higher, full version.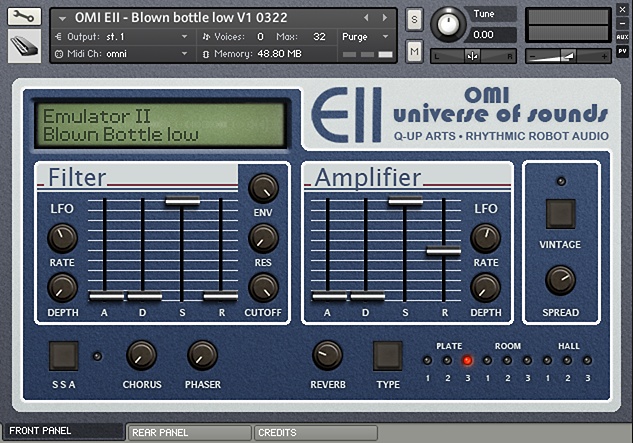 Rhythmic Robot has announced the release of Emulator II OMI Universe of Sounds: Vol 1, an instrument library for Native Instruments Kontakt featuring classic sampled sounds that defined a generation.
Back in the 80s, the sampler that took the studio world by storm was the Emulator II. Far more affordable than a Synclavier or a Fairlight, its crunchy 8-bit samples and clever companding output convertors made for an awesomely in-your-face sound that punched its way through countless hit mixes. Artists like Pink Floyd, Peter Gabriel, Tears for Fears, Thomas Dolby, Philip Glass, Eurythmics, Pet Shop Boys, Vangelis and dozens more put the EII's signature sound to work on their tracks. It's not overstating it to say it helped define the sound of a generation of music.

'I'm a fan of this Rhythmic Robot outfit. Using their instruments is like discovering a lost tribe in the digital jungle… pure, but slightly uncivilized.' – Stephen Hague, producer (Peter Gabriel, Erasure, Pet Shop Boys, Robbie Williams, Melanie C, New Order, etc.)

Key to the EII's success was a phenomenal aftermarket library of professionally-recorded samples. The factory library itself was excellent, but the soundset that really expanded the possibilities of the instrument was OMI's Universe of Sounds – a mammoth swathe of patches covering keys, basses, strings, orchestral, synths, ethnic, drums, percussion, brass… everything you needed to bring your track to life. When we first approached the idea of sampling an EII, it was this library we wanted to sample.

Now, in collaboration with and with the blessing of Doug Morton – the guy who actually recorded those OMI samples back in the 80s, and who remains their copyright owner – we bring you the OMI Universe of Sounds, in all its glory. We've sampled every note of every patch (over 31,700 samples in all!) out of a reconditioned Emulator II, to preserve the exact sound of the EII's D-to-A convertors and sample interpolation process. We've meticulously preserved original looping behaviour, velocity layers and sample switching. In short, what you hear when you play this instrument is the sound of an EII in its heyday.
Emulator II OMI Universe of Sounds: Vol 1 features
31,700 individual samples.
33Gb original 24-bit.
21Gb uncompressed 16-bit.
11.33Gb compressed .ncw format.
541 individual instruments, including 14 Bass, 18 Bells & Chimes, 52 Brass, 51 Drums, 59 Ethnic & Folk, 8 FX, 36 Guitar, 38 Piano & Keys, 77 Orchestral, 41 Percussion, 61 Strings, 76 Synth, 12 Vocal.
Additional Kontakt Multis taking the EII's sounds in exciting new directions.
The sample library is available for purchase for the introductory price of £85 GBP + VAT through July 31st, 2015 (regular £99 GBP).
Jeremiah Pena has released Photosynthesis Vol 1 – Sphere and Photosynthesis Engine for Kontakt.
Photosynthesis Vol 1 – Sphere is a sample library aimed at film/game composers, producers, and musicians who need evolving pads, dark soundscapes, rhythmic underscore, and creative instrument effects. The sounds are inspired by ambient music, post-rock, and artists like Jon Hopkins, Sigur Ros, Ólafur Arnalds, This Will Destroy You, and M83.
Sphere includes 127 Kontakt instruments, a 1.85GB library of samples in .wav format, and 16 Guitar Rig 5 Pro presets. The instruments come in six categories:
21 Organic Instruments.
31 Pads.
27 Rhythmic Instruments.
16 Soundscapes.
13 Synths.
19 Unprocessed Instruments.
Price: $35. Full Kontakt 5.1.0 or later is required to run the library.
Photosynthesis Engine is a free interface for Kontakt designed to make creating your own Kontakt instruments easy. Import samples, then manipulate them with sound shaping envelopes, filters, 10 effects, and a rhythm section featuring a step sequencer, filter sequencer, and 4 LFO's.
Price: Free. Full Kontakt 5.1.0 or later is required to run the engine.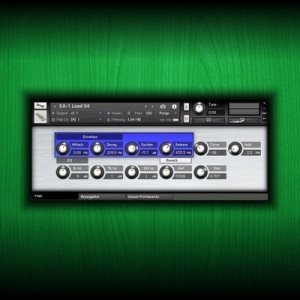 Samplescience has announced the release of EA-K, an instrument collection for Native Instruments Kontakt 5, featuring the sound of the Korg EA-1.
Want slick leads and deep sub bass? It's all here in this compact Kontakt 5 instruments collection.

Have the total control with EA-K scripted interface! Controls included: ADSR, 3 bands EQ, arpeggiator, union, portamento, and Reverb.

Although EA-K is best suited for minimal techno production, famous artists such as Throbbing Gristle, Orbital, Daft Punk, Like A Tim, Crystal Distortion and Cirrus have use the EA-1 to create other genre of music.
EA-K features
11 Kontakt 5 instruments.
Universal 24 bit WAV files included.
The library is available from Sampleism for two weeks only, priced at £4.99 GBP.
Virtual drum machine for Kontakt, where sequencer program is being derived from a text string.
see: http://waveforms.fairlyconfusing.net/…
Soniocipher, is one completely unnecessary tool, which can convert a text string to machine drum sequence. The practical uses of this device are severely limited, as there is no backward conversion tool. However, it makes noises and it has blinking lights, so it's quite fun for those, who enjoy such activities.

The machine is quite simple to use, you use virtual keyboard to type in text, then press "enter" to decode it into sound sequence. "Play" button in upper right corner starts sequence playback.
Sonocipher is free to download for Kontakt 4.24 or newer (full version). Download includes samples.
We go through the voices and features of Realivox Ladies, our vocal instrument for Kontakt. For more info, please visit us at:
http://realitone.com
Realitone says that the updated Realivox Ladies is designed to be a vocal sample library, that you can play on your keyboard, that sounds smooth and real. 
Here's what's new in version 2.0:
This collection of 5 solo singers with full legato now has almost double the articulations, as well as 6 ending consonants.   This makes 25,000 samples, up from 16,000.
Singers can now also be combined to form ensembles, all in a single instance.
Also featured is a new Poyphopnic Legato mode.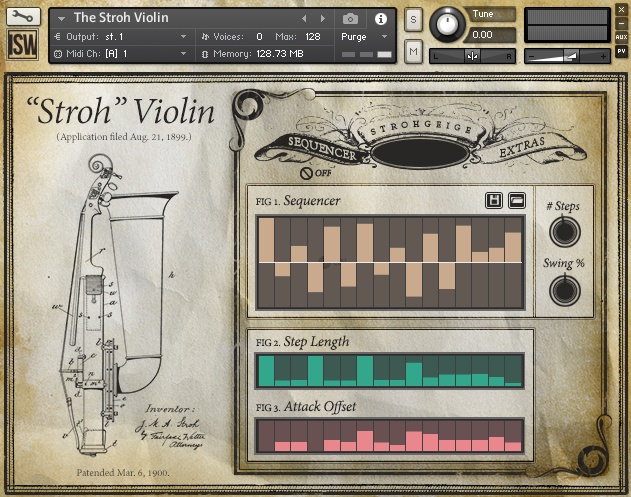 Impact Soundworks has announced the release of the Stroh Violin, a curious acoustic instrument invented by electrical engineer John Matthias Augustus Stroh.
Stroh conceived of a violin constructed with a metal resonator and horn, producing a louder, brighter sound compared to a traditional wood violin. He patented his design in 1899.

While this unique modification of the violin never overtook the popularity of perhaps the most classic orchestral instrument, the stroh violin is played by musicians worldwide – particularly in Europe – for folk music. It is beloved for street performance, thanks to its powerful tone that requires no amplification to be heard even in a noisy area.

Naturally, we sampled it! The Impact Soundworks Stroh Violin features this instrument in a single, elegant, lightweight Kontakt patch with modern trimmings like a sequencer and 'grit' effects. The result is a fun and surprisingly versatile virtual instrument, great for everything from rhythmic underscore ostinato to comical pizzicato, folk mockups and more. Special thanks to performer Kalle Ricken and designer Richie Albert!
Stroh Violin features
Authentic multisampled stroh violin.
3x dynamic layers / up to 5x round robins.
Sustain, spiccato & pizzicato articulations.
Customizable mapping.
3-layer rhythmic sequencer / gate.
Quick controls for grit, dirt and vinyl.
Lightweight and fun to use.
The Stroh Violin for Kontakt is available as a free download. Requires Kontakt 5.4+ full version.
Dream Audio Tools has announced the release of LFO Piano for Native Instruments Kontakt.

LFO Piano features a classic Rhodes MkII Electric Piano sampled using a true analog pedal rig, including a warm and raw sounding handmade analog tremolo and analog cabinet emulation pedals. This setup gives LFO Piano an unique timbre and a raw unpolished character. It is is designed to fit with many musical styles, including RnB, Hip Hop, Cinematic and Pop.
The library includes two complete sets, separately recorded with pedal tremolo on and off. There are controls to activate additional designed effects, including Phaser, Chorus, Delay Reverb and Rotary.
Introductory price: €19,90.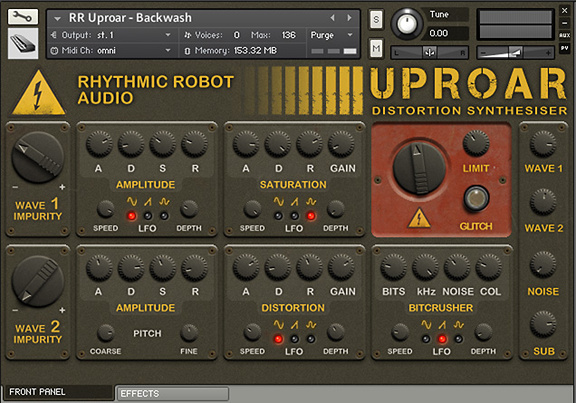 Rhythmic Robot has announced the release of Uproar, a unique distortion-based analogue synthesizer instrument for Native Instruments Kontakt.
Continuing our campaign to rid the world of same-sounding soft synths, we bring you Uproar – a machine that turns traditional analogue synthesis on its head. Instead of filtering harmonically rich waves, Uproar distorts and energises smoother waveforms until they break free of their restraints and go rampaging through downtown New York, smashing everything in their way.

Uproar doesn't just add distortion – it puts that distortion under the control of ADR envelopes and dedicated LFOs, so that you can create evolving synth patches full of movement and character. Want your pad to have a slowly-building glow of saturation at the same time that its bit depth is spiralling up and down via a sinewave LFO? Want your lead to scream and then subside as its Distortion gain is automatically reduced? Want your synth lines to emerge gradually from a burbling fizz of reduced bits? We've got you covered.

Uproar doesn't just do angry. It can also take trad subtractive synth staples and give them a new lease of life, giving you classic sounds with a fresh twist. It's great for adding air and harmonic overtone to your sound (with no filters, you never lose that high-frequency breathiness). It can be surprisingly subtle at times (but ssshh, don't tell it). The base waveforms blend between smooth sines and more complex, erratic waves which we made by eBowing an electric guitar strings: great for more organic, uneven sounds.
Uproar features
Twin detunable waveform generators: blend between pure sines and erratic, complex eBow guitar strings.
Three independent distortion types under LFO and envelope control for moving, shifting, evolving harmonic spectra.
Perfect for high-energy, aggressive synth sounds, or subtler tones with an unusual, airy edge.
Uproar is available at an introductory 15% discount until March 13th, 2015, after which it will be £20 GBP plus VAT.