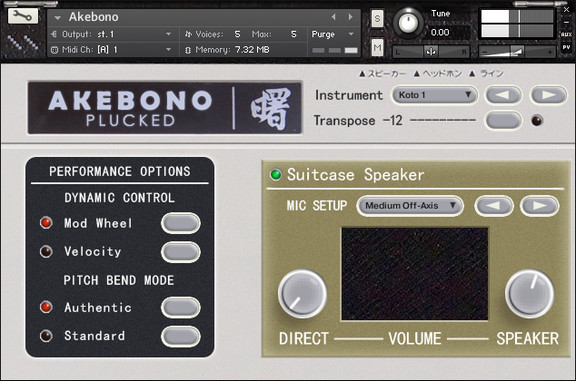 Icebreaker Audio has announced the Akebono Collection, a sample-based emulation of the Akebono Koto Synthesizer, a unique suitcase instrument from Japan.
Akebono was released exclusively in Japan some time in the 1980s. It was designed as a portable practice instrument for Koto players, and as such it features many unique features that are intended to make performing in the traditional style a lot easier than using a MIDI keyboard.

All sounds were meticulously sampled and integrated into in a custom Kontakt instrument that emulates the performance options available on the original hardware.
Akebono Collection features
All 15 instrument sounds and 13 percussion sounds sampled.
24-bit 48kHz sample quality.
Original performance features emulated with custom scripts.
7 impulse responses of the original speaker.
5 custom and easy-to-use effects: Amp, EQ, Mod, Echo, and Dynamics.
The Akebono Collection for Kontakt is available to purchase for £12.50 GBP. Requires full version of Kontakt 4 or 5.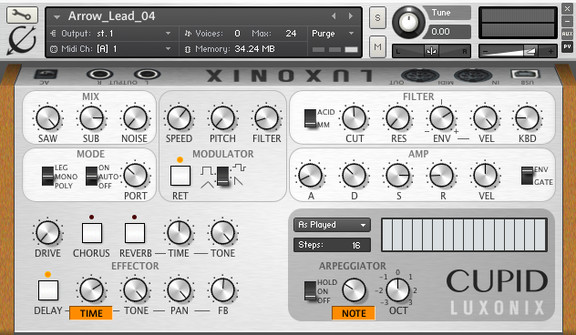 Luxonix has launched Cupid, a virtual analog synthesizer instrument for Native Instruments Kontakt.
Cupid is a sample library for Kontakt of a virtual analog synth. Cupid has easy to use user interface on one screen without a complex menu diving. So you can direct handling and quick sound making.

For good sound quality, we mapped perfectly looped high resolution 24-bit waves into all chromatic key map. So Cupid plays equal sound quality by each keys all octaves.
Cupid features
Easy to use user interface on one screen without complex menu diving.
Mapped high resolution 24-bit waves into all chromatic key map.
Can mix with three waveforms level – Saw, Sub oscillator, Noise.
Uniquely designed Sub oscillator wave.
Very wide value and extreme pitch range Modulator.
Switchable two low-pass filters.
Easy to control arpeggiator, unison and effectors.
166 .NKI / 85 .NKM Kontakt instrument presets for Kontakt 5.
186 samples, 24-bit / 44.1 kHz .NCW format samples (Lossless compression).
About 53 MB installed.
Cupid for Kontakt is available to purchase for the introductory price of $29.90 USD until December 31st, 2013 (regular $39.90 USD).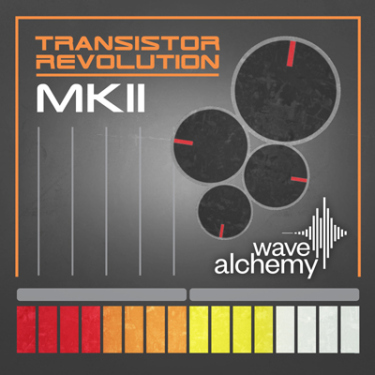 Wave Alchemy has announced the release of Transistor Revolution MKII, their re-creation, for Native Instruments' Kontakt 5 Player, of the iconic TR-808 and TR-909 drum machines.
TR MKII has been "fully redesigned and re-scripted from the ground up." Designers have tweaked the workflow and added a new, more intuitive graphical interface, a 'TR style' 16-track step sequencer, unified instruments for both the 808 and 909, a dedicated 10-track mixer with individual processing, reverb / delay sends, volume control and pan for each drum sound, a master tape section with individual tape saturation per sound, and so on.
Pricing and Availability. Wave Alchemy's Transistor Revolution MKII is available from Wave Alchemy for £89.95 – $137US. Existing owners of the previous version, Transistor Revolution MKI, can upgrade to TR MKII for £10 ($16US).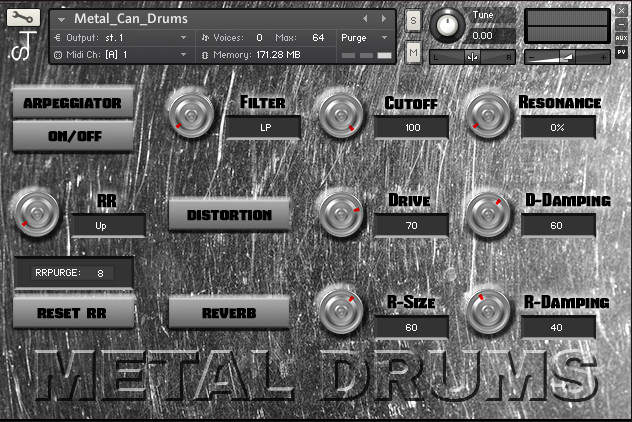 Syntone has announced Metal Can Drums, a virtual instrument library for Native Instruments Kontakt.
Metal is an interesting material. On the one hand, you can hit it to create a sharp attack and barely any release. But on the other hand, you can tap it and get a long, rattly sound.

That is the concept for the Metal Can Drums library: to provide a set of metal drums that give you the best of both worlds. The library comes with 8 round robin, 7-8 velocity layers, 33 different types of hits from 4 different types of cans and custom scripting, including a custom-made arpeggiator.
Metal Can Drums features
8 round robin, 7-8 velocity layers.
33 different types of hits from 4 different types of cans.
Custom-scripting, including an arpeggiator.
48kHz/24-bit quality.
1.35GB (572MB compressed).
Requires Kontakt 4.2.4+ full version.
The library is available to purchase for the introductory price of $20 AUD until December 9th, 2013 (regular $40 AUD).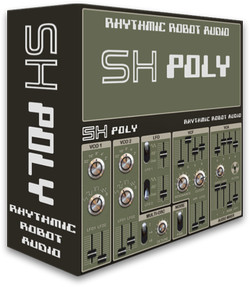 Rhythmic Robot has released SH Poly, a classic analogue subtractive synth for Native Instruments Kontakt, sampled from Roland's 70′s flagship synthesizer, the SH7.
It features two main oscillators accessing six different waveforms between them, plus a white / pink noise generator, dual LFOs with sine, ramp or randomised output, and a host of modulation possibilities.

The two main oscillators can be thickened further using the Multi-Osc feature, which adds multiple extra detonable oscillators – up to a maximum of ten, for an intense, stacked, "supersaw" style sound. SH Poly also features a selection of 70s-inspired effects and Rhythmic Robot's trademark Glitch button, which randomises the instrument in a musically-aware fashion, making generating your own patches extremely simple. The user interface is closely modelled on the classic Roland signature graphics and colour palette.

The original SH7 was a powerhouse monosynth that crowned Roland's lineup in the late 70s. SH Poly takes that amazing sound and crams it into a poly machine: rich, lush pads and thick basses can be dialled up with ease; bubbling leads and squelchy riffs are right there too. The sound is characteristically dense, warm and rich, especially with the Over Load control turned up and a little dose of Multi-Osc.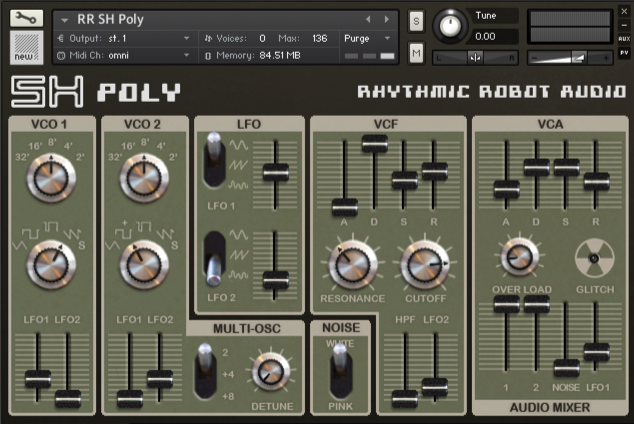 SH Poly features
Classic twin-oscillator subtractive synthesis in a Roland-inspired framework.
Multiple samples of authentic SH7 oscillators.
58 factory patches to start you off.
"Multi-Osc" allows extra oscillators to be switched in for a hugely rich, intense sound.
"Glitch" button for instant, musically-randomised inspiration.
The Poly SH for Kontakt is available to purchase for the introductory price of £13.45 GBP (regular £14.95 GBP).
Kontakt 5 instrument based on the Crumar Trilogy.
Lots of great sounds made on a real Trilogy and placed under the control of a custom kontakt 5 user interface.
2GB of samples including the great Trilogy Organs and Ensemble sounds plus lots of raw analogue sounds fron the Trilogy synth section.
All sounds made with microtape 18 – Dromeda Strains, for Native Instruments Kontakt 5.1.0 (full version)
Tritone digital API560 eq used on master bus.
135 different sci-fi synth effects mapped to every key, made with the Korg Polysix – in WAV format.
Inspired by the soundtrack by Gil Mellé to the 1971 cult sci-fi classic 'The Andromeda Strain',
much sonic mileage can be attained from these
samples through experimentation with the various microtape controls and effects.
Contains 24 presets (both looped and un-looped
versions of the sounds).
Recorded to vintage tape at 7ips .
KONTAKT 5.1.0 ONLY (FULL VERSION)
www.tronsonic.com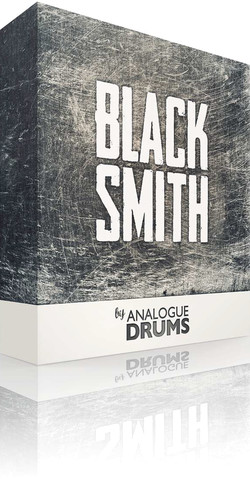 Analogue Drums has launched BlackSmith, a virtual drum instrument for Native Instruments Kontakt.
BlackSmith is a modern metal workhorse with an aggressive yet toneful sound. This kit will lay an unshakable foundation for any metal track, or any other genre where a tight punchy articulate kit is called for.

BlackSmith gives you several mic layers to blend to your taste, easily taking the sound of the kit from clean and tight to spacious or dirty with the push of a fader. Three swappable snare variations help fit the kit to your track.

The kit we sampled is a top-of-the-line Sonor SQ2 Acrylic set, with three snare options, and classic Zildjian A Custom cymbals. The kit was sampled in Melbourne's Sing Sing South studio, a medium sized tracking room.
BlackSmith features
Multi-sampling: each kit component contains up to 7 velocity layers for expressive detail and dynamics, and 6x round-robin hits for every single zone for realistic performances.
Mic layers: 6x individually controllable mic layers: Close mics, Overheads, Room mics, Smash mic, Kick Sub, and Snare-Bottom
eKit mode switch to 'eKit' mode when using a Roland V-Drum kit, or leave set to 'Keyboard mode' for direct MIDI sequencing. The layout is General MIDI (GM) compatible.
Output routing: stereo and multi-channel output versions provided.
Sensitivity control: increase the sensitivity of the kit for more intricate and subtle performances or leave it set to full dynamic range for heavier tracks.
Presets: for quickly accessing different sounds.
Trigger maps: for sound replacement: kick, snare, toms – each with separated mic layers
BlackSmith is available to purchase for $29 USD. Requires Kontakt 4.2+ full retail version.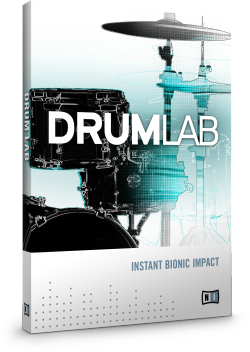 Native Instruments has released Drum Lab, an "advanced drum layering instrument" with an intuitive workflow designed for fast results for use with their Kontakt 5 Player (included in free Komplete Players), or Kontakt 5.
Drum Lab combines acoustic and electronic drum samples with a "groove library" of over 900 patterns for fast groove production.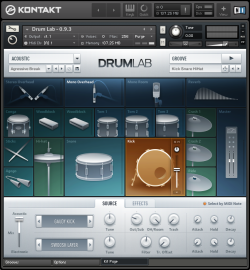 Drum Lab creates a hybridized layering technique from the combination of the organic sound of acoustic drums with the weight and punch of electronic samples. Drum Lab's acoustic layer is made up of 38 individual drums, each recorded in three different rooms with high-end vintage and modern equipment on analog tape. For Drum Lab's electronic component 380 drum hits were sampled from a range of classic and modern drum machines, then matched, phase aligned, faded, and pitched to blend with the acoustic drum samples.
Drum Lab's interface provides all sound-shaping controls (TRANSIENT MASTER, SOLID EQ, G COMP, an optimized drum compressor, and a rich convolution reverb) directly on the front panel. Producers can choose individual acoustic and electronic layers, blend them via slider, and adjust details with some of Native Instruments' studio effects listed above. Drum Lab also integrates perfectly with Native Instruments' Maschine for the ultimate in hybrid drum groove production.
Feeling Groovy. Drum Lab also delivers some authentic grooves. A new set of patterns were recorded by a professional drummer, then converted to MIDI files and arranged by genre in Drum Lab's groove library. Users can drag-and-drop these patterns into their sessions, using the software's unique visual display to line up grooves in their tracks for added visual reference when creating beats.
Native Instruments' Drum Lab is available now from the NI Online Shop for $99 / 99 Euro / ¥ 9800.
Modular synth and Kontakt 5, details below:
Some ideas on the bass line sequence were to use the triple switch for ratchet timing. I used the Q960 for a pitch source, the Q963 Trigger Bus for note gate and switching in a double on beat 6. The faster 1/16th ratchet was randomly selected by a Yves Usson Random Gates module.
Two Q106′s were used with 32′ sawtooth and 16′ PWM. The filter was a Q150 Transistor Ladder Filter in -24dB. I routed a split line output from the filter through a VCA controlled by a slow LFO and back into the filter for boosted body which came and went. The output from the Q150 then went to a Q107 State Variable Filter. The Q107 had two slow LFO's slightly modifying the resonance and frequency center. There was a third tap off the Q106′s sine wave through another VCA into the Q107 filter.This sine wave was slowly coming and going with an LFO which brought up the deep bass tone.
The midrange piano-like sound was a combination of two Q106′s controlled by an STG VMS and a Q119 row. The filter was an Oakley SVF in LP mode.
The percussive sound was noise through an Oakley Diode Ladder Filter with it's center frequency modified by a quantized random voltage from a Sputnik WCRS. The trigger to the Oakley envelope generator was from an STG TMS. output skip timing was a Cynthia LPG under gate control from a row of the Moon 563 Trigger Bus.
A fast arpeggiation line was from the Future Retro Mobius into a Double-Dekka Ultrasonic VCO then through an EG, VCA and delay pedal.
The played chord parts are using Kontakt5 with three instances of Hollow Sun's Vintage Strings VP330 choir, Polymoog Vox Humana and Arp Solina brass. Recorded in Cubase and edited in Final Cut Pro. All in one track.
Such Is the Path to the Stars!