This is a video demonstration of Commodore 64 Synthesizer Sessions DELUXE, a KVR Developer Challenge 2012 entry created by Bedroom Producers Blog and Rhythmic Robot.
Commodore 64 Synthesizer Sessions DELUXE is a free sample library for Kontakt 4, SFZ and Zampler. It contains 411 audio samples recorded directly from three different versions of the Commodore 64 home computer.
Download: http://www.kvraudio.com/kvr-developer-challenge/2012/#dc12-6588
The Commodore 64 Synthesizer Sessions Deluxe sample library contains 30 individual instrument patches. These patches cover a range of well known Commodore 64 era video game sounds, as well as some classic synth sounds which were recreated using the SID chip.
Our goal was to capture the true character of the SID chip, from its beautiful analog filter to the gritty digital oscillators. The 30 included patches are only a starting point, from which the users can further sculpt the sounds using the included SFZ, NKI and Zampler mappings.
Background information below:
Playing with one of the multi patches.
Apologies for the breaking up of the audio – levels were a bit high…
DCO can be used as a companion synth with Tronto.
www.tronsonic.com
Sample library of the Korg Delta DL-50 analogue synth.
Available for Kontakt 4 and 5.
All the raw oscillators and strings have been sampled and a library of sounds made on a real Delta have been sampled.
Over 200 presets included.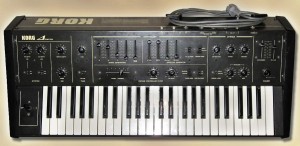 Korg's Delta is an analog semi-poly synth/string machine, basically a slimmed down version of the Korg Trident. Though limited in the range of sounds compared with other synths of the same genre, the sheer quality of the sound from this little beastie really does make it something of a marvel. It can be found used for cheap and is worth it for the retro synth strings and fat bass synth tones.
The synth is split into two sections, Strings and Synth, for which there are separate audio outputs along with a combined output for headphones or mixing. Each section has its own controls. The String section has two pitch sliders (16′ and 8′) along with two tone controls (Bass and Treble) and variable Attack and Release controls to modify the sound. The Synth section has four pitch sliders (16′, 8′, 4′ and 2′). There is also a white noise generator along with a very effective 24dB/oct low pass filter (high pass and band pass options are included too) and full ADSR controls. The synth has no memory storage or MIDI, however it does has voltage control and gate ins and outs.
The string sounds are very basic but with its separate outputs and when mixed together with the polysynth you do get that classic 'layered' sound which is useful enough on this synth; and it's fully polyphonic, so you wont be running out of notes! There is a handy joystick to the left of the 49-note keyboard for pitch bending and modulation capabilities. The construction is solid and heavy partly due to the implementation of a wooden base but also because it was designed for heavy usage on the road. Added bonuses: noise modulation, stereo out (strings/synth split), and the ability to combine synth and strings or turn off oscillators in the mixer section.
Recorded through vintage valves to Clean 1 inch tape.
Artificial tape damage created by the 'degrader'.
For Native Instruments Kontakt 4.2.4 or later, and in wav format.
www.tronsonic.com
A small selection of presets from the 'vintage' bank, one of 10 banks supplied with Tronto for Kontakt 5.
This video shows a little of the versatility of Tronto, with interpretations of some classic and much loved electric pianos from the past, with a few twists here and there.
The only external effect used is Echo from Psp audioware. This delay is a favourite of mine, as it's tape delay characteristics complement Tronsonic's libraries very well.
http://www.tronsonic.com/#/tronto-for-kontakt-5/4568455166
http://www.pspaudioware.com/plugins/delays/psp_echo/
Free 30-Band Graphic Equalizer

Mildon Studios has released a free 30-Band Graphic Equalizer VST plug-in for Windows with a look that blends perfectly with Cubase.
Pricing and Availability:
Free download
More information:
AudioThing has released TX-101 for Native Instruments Kontakt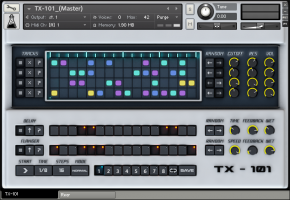 TX-101 is a 4-track sequencer designed for the creation of evolving rhythm patterns. Each track has 4 different samples (for a total of 16 samples), including organic glitches and metal hits. It is possible to store eight presets that can be joined and looped together to build a 128 steps sequence (16×8). It is also possible to sequence Delay and Flanger effects as two additional tracks. Both parameters (cutoff, resonance, effects) and steps can be randomized separately.
There are 6 different variations (.nki instruments) of TX-101 for different mood/styles. The modulation wheel is also assigned to a different set of parameters for each instrument.
Details:
Sequencer: 4 Tracks and 16 Steps + tracks for Delay and Flanger.
8 Patterns presets.
6 Kontakt Instruments (.nki) presets.
Mod. Wheel assigned to different parameters for each preset.
Size: 16 MB installed / 9 MB Download.
Price: $18. TX-101 is available for the introductory price of $14 until October 11th, 2012.
Native Instruments Kontakt 4.2.4+ full version is required.
Cableguys Curve 2
Curve 2 out now!
FULLY FUNCTIONAL DEMO: http://www.cableguys.de/downloads.html
MORE INFO: http://www.cableguys.de/curve.html
Curve is a software synthesizer with an irresistible waveform editor, huge sound library and slick interface. Ideal for both experimentation and detailed tweaking at an excellent sound quality.
• Sound Features - Curve features aliasing-free oscillators with custom waveforms, noise generation and broad FM options. Waveform crossfades provide for changing timbres; a comprehensive unison mode delivers fat lead sounds, wide pads and massive sound. Drawable LFOs deliver everything from melodic and rhythmic patterns to dubstep wobbles and punishing bit-crushing effects. Flexible filter routing, a feature-rich mono mode plus legato and glide, are all designed for great depth of control.
• Preset Library - Curve's preset library is a shared online database, providing a constant source of inspirational sound. Public preset sharing allows an ever-increasing number of great presets, public preset voting will help you manage the vast number of sounds, all from within the plugin. Curve ships with an excerpt of this ever-growing sound library. Macro knobs let you explore vast sound variations quickly, for quick access to those parameters that define the core of a sound.
• Elegant Interface - Curve shows you everything important at a glance, featuring high contrasts and a fresh color scheme. Inbuilt MIDI assignment allows you to set up external MIDI controllers quickly.
• Curve Community - Since the first beta of Curve 1.0, the Curve community has steered the synthesizer's future by submitting feature requests, comments and bug reports, and by sharing presets. Curve 2 is the result of our users submitting wishes and uploading great sounds. Big thanks to all of you!"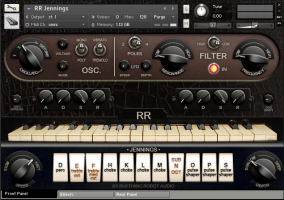 Rhythmic Robot Audio has released Jennings, a Kontakt software version of an early all-valve synthesizer designed in 1946.
The original Jennings Univox was played by The Beatles during their early sets at the Cavern in Liverpool, and by the Tornadoes, who used it to create the signature synth sound of their 1962 synth-pop hit Telstar.
It was designed by Tom Jennings who went on to form Vox amplifiers, and comprised a valve-based oscillator which could be run through a series of wave shapers, filters and EQs controlled by tab switches on its front panel, capable of creating over 2000 variations on the basic waveform. Vibrato added movement to the sound, while a knee lever controlling volume allowed the player to manage swells and tremolo wobbles in real time. The sound was output through a dedicated speaker cabinet into which the keyboard packed for transportation, making it a real alternative to other more cumbersome valve-based synthesisers like the Hammond Novachord for gigging bands.
The Jennings Univox was similar to the Clavioline, another valve-based portable synth, but differed in its use of a sawtooth variant as its source waveform where the Clavioline used a square-wave variant. It is this valve-based sawtooth, rich in harmonic overtones and minor valve instabilities, that gave the Univox its uniquely warm analogue sound.
The Rhythmic Robot software version of Jennings starts with a meticulous recreation of the original instrument based around 24-bit, 20-second chromatic samples of a professionally restored Univox and using a combination of multiple sample sets and convolved IR maps to simulate the behaviour of all of the Univox's control tabs. Key click samples and a full sample set of the "Sub Octave" tab can be trimmed in level relative to the main wave forms, allowing more comprehensive balancing of the Univox's tone.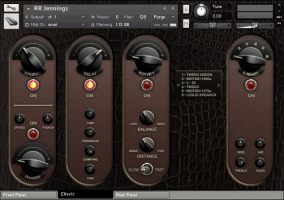 For musicians wanting to explore the start of the synth era with complete authenticity, a "compliance mode" can be enabled to allow the user quickly and easily to dial in patches which conform exactly to the standards of the 1946 original. Patches designed in "compliance mode" sound indistinguishable from the original hardware Univox. However, for anyone wanting to go beyond the limitations of the original, Jennings extends the capabilities of the Univox considerably, adding polyphony, dual oscillators (drawing on different sample sets for a richer tone), a multi-mode resonant filter with LFO, precise control over envelopes (including attack curves) and a comprehensive effects section incorporating Chorus, Phaser, Echo, Rotary Speaker simulation and Amp Cab modelling.
Accessing these effects and additional controls allows the user to create patches using a familiar subtractive synthesis model, but drawing on Jennings's front-panel tabs to create a base palette of over 2000 "oscillators". Any tab combination can be used as the starting point for a patch and then doubled up, detuned, filtered, effected and so forth. The result of this versatility is that Jennings is capable of creating both authentic, 1946-accurate tones in "compliance mode", and modern synthetic patches with a signature valve character, all from one clearly laid-out graphic UI.
Jennings is available now from www.rhythmicrobot.com priced at £59.95.
Features:
24-bit, 20-second samples of a professionally-restored Jennings Univox.
All-valve waveforms.
Convolved IR maps and multiple sample sets combine to recreate all front-panel tabs.
One or two oscillators, with detune and Osc Spread control for stereo width.
Multi-mode resonant filter switchable between 2-pole (12dB/octave) and 4-pole (24dB/octave), high or low pass.
Filter and Amplitude envelopes; Amplitude envelope with specific attack-curve control (for "sucky" or "snappy" attacks).
Filter LFO and switchable Amplitude (tremolo) / Pitch (vibrato) LFO, with adjustable ramp time.
Full effects section with Chorus, Phaser, Delay, Rotary Speaker and Amp Cab simulator.
Stereo Widening in combination with Osc Spread maps keys across the stereo sound field.
"Compliance Mode" makes creating authentic 1946-style patches simple.
Jennings requires Kontakt version 4.2.3 or later (including Kontakt 5). Not compatible with Kontakt player.
(Via KVR)

Background information from Rheyne:
Download or stream the audio at SoundCloud: http://snd.sc/JOvWMs
A live looping improv jam with a Fender Rhodes, Moog Prodigy, and an Akai MPD26 controlling a custom kit in NI's Kontakt. An iPod Touch is controlling the reverb mix on the Rhodes through Lemur, and the first loop from the Rhodes is recorded in Ableton's looper controlled by a MIDI Fighter 3D. A Novation Launchpad is controlling the recording and playback of loops in Ableton Live. An MXR Wylde Overdrive is connected to the Rhodes. All audio is passed through a PreSonus 1818VSL connected to a Macbook Pro running Ableton Live.
All loops are recorded live.
A demonstration of some of the features and sounds from Tronto. The aim of this synth was to make it as analogue and characterful as possible, sampling the waveforms through vintage valves to quarter inch tape.
Available very soon from : www.tronsonic.com
Sign up to the site to be eligible for a 50% introductory discount (terms to be announced).
More sounds from Tronsonic:
Never been a KONTAKT fan myself, but I guess it's still worth celebrating
Get more info and special offers here:
http://www.native-instruments.com/10yearsofkontakt
See some of KONTAKT's most illustrious and high profile fans deliver
their birthday greeting to the industry-leading software sampler.
Includes testimonials by artists such as Jean Michel Jarre, Chris Lowe,
Roger Lyons, and Cliff Martinez, as well as sound design partners
Heavyocity, Abbey Road, Scarbee and Soniccouture.