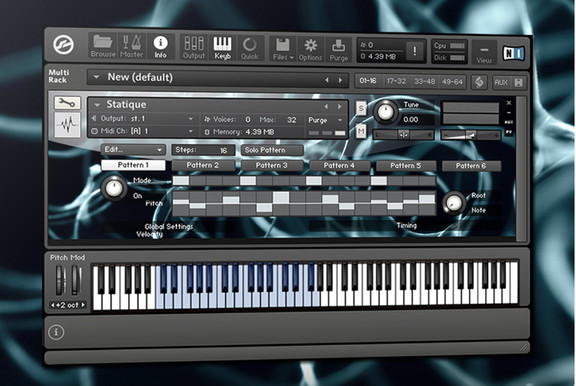 Audiomodern has announced the release of Statique, a free glitch & cuts rhythm generator for Native Instruments Kontakt.
Statique is a sequencer based pattern generator which is best suited to give your music production a contemporary percussive fundament.

You can easily create groovy electronic patterns or add-on loops built out of bits, cuts, glitches and blips!
Statique is a free download at Audiomodern (email registration required).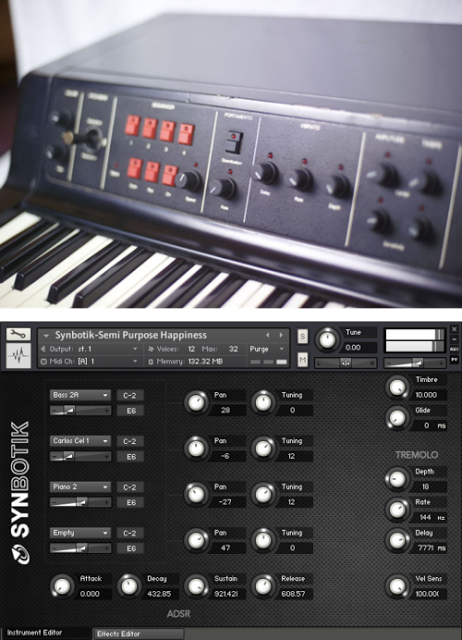 Puremagnetik has released Synbotik – A library of DK Synergy sounds for Ableton Live, Kontakt and Logic.
Synbotik brings the famous old-school, early digital flavor of the DK Synergy into this decade. With only an estimated 100 units still functioning in the world, this is a rare piece of synthesizer history that has now been reprogrammed for Ableton Live, Kontakt and Logic. It even includes the legendary program cartridges inspired by Wendy Carlos.
Synbotik Features
• Raw "cartridge" programs based on the original Synergy sounds.
• Expertly crafted Ableton Live Racks with easy edit Macros.
• A selection of Ableton "Push Ready" Racked presets for sound design inspiration.
• A custom Kontakt KSP GUI that puts the original instrument's functionality at your fingertips.
• Raw "cartridge" waveforms and "multi" programs for Apple Logic's EXS sampler.
System Requirements
• Requires Ableton Live 9.1 and higher, Logic 10 and higher, or Kontakt 5 and higher
• 700 Megabytes (MB) of free hard disk space
Synbotik is available for USD $15 athttp://tmblr.co/ZChkUy1Cet1Yy
For more information, visit http://www.puremagnetik.com
Inspired by a legendary 4 voice Japanese analogue synth of the late 70s.
All sounds in this video made with the J4.
Purchase at www.synthmagic.co.uk or www.tronsonic.com
Full version of Native Instruments Kontakt 5.2.1 or later required.
Features:
2  sets of samples  – one  recorded 'DI', with a NEVE* style pre-amp/eq and boutique valve mixer at 48khz/24 bit. The second set uses the same method as well as being recorded to brand new 'old-stock' tape at 15ips on a Studer* A807 quarter inch reel-to-reel recorder.
Over 330 patches
Single oscillator analogue style synth with 6 waveforms, sub square wave and noise generator.
Syncable 16 step sequencer system with Filter, Resonance, Velocity and Chord sequencer
Syncable Arpeggiator
Syncable main LFO and VCF S/H LFO
Overdrive function via relationship between 'Volume' and 'Level' controls.
Sub LFO
Dual Polarity Keytrack
Unison, Portamento and Mono mode
4 Voice or Full Polyphony
Pitch Bend and Mod Wheel routing system
Delay, high quality 'Mixbus' Compressor, 'Tape Compressor', Ensemble and choice of 3 Reverbs.
Pricing and Availability:
£19.99 limited offer until May 1st (normally £29.99)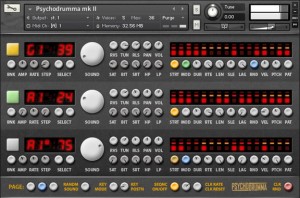 Fairly Confusing Waveforms has launched Psychodrumma mk II, an updated version of the "chaos management workstation" instrument for Native Instruments Kontakt.
Psychodrumma mark II is reworked and expanded version of Psychodrumma, fantasy, neo-retro drum machine/music generator for Kontakt 4 sampler. It can act as a drum machine and generate random rhythmic, ambient or melody patterns.

It is based on matrix of nine synchronized step sequencers, and a meta-sequecer. Most of settings can be programmed automatically by randomizers, creating strange machine music. It has plenty of knobs and a lot of flashing lights.
Changes in Psychodrumma mk II
Algorithmic mode, makes it possible to playback or loop sequences of random events.
Music box, tunes melodic samples to defined pattern, to create melody sequences.
Reworked and expanded sound banks, including third tonal bank to use for generating melodies.
Saving and loading presets, presets can then be sequenced in meta-sequencer, to create tracks inside the machine, preset-set can be then saved to file.
Automated effects rack.
Psychodrumma mk II is available with the purchase of The Sounds of SzcZ, vol​.​2, Psychodrumma, available from Bandcamp (name your price).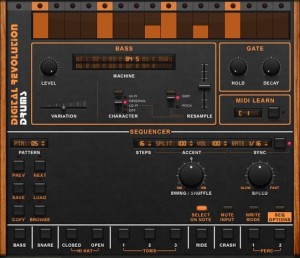 Wave Alchemy has introduced Digital Revolution, an upcoming drum machine instrument library for Native Instruments Kontakt.
Since the release and subsequent update of Transistor Revolution MKII we have been busy behind the scenes working on a brand new instrument which is inspired by the classic digital drum machines of the past…

Powered by 'Revolution Engine' technology our forthcoming Digital Revolution virtual instrument puts vintage digital drum sounds from the 1980′s at your fingertips.

We have faithfully captured the unique sound of 9 iconic digital drum machines spanning from 1980 to 1989, including all sample variations of the original drum machines, tune, decay and various other settings. Each drum sound has also been re-sampled multiple times through an iconic 'grey' 12-bit sampler to allow for real-time re-sample/grit modes which can easily be selected from the instrument interface.
Digital Revolution features
9 classic digital drum machines and 3 bonus analogue machines.
New 'Character Mode' allowing real-time selection of Lo-Fi (re-sampled), Hi-Fi and Original sound sources.
Sequence patterns quickly and easily using the 'Revolution Engine' step sequencer.
Mix and match drum sounds from 12 iconic drum machines in real-time and dynamically browse any available sound either by machine or drum voice.
Assign the same percussion sound to multiple voices to quickly play and sequence melodic patterns.
Easy synchronization with any host or DAW.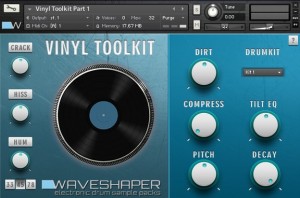 WaveShaper has announced the release of Vinyl Toolkit, a drum instrument library for Native Instruments Kontakt.
The Vinyl Toolkit is a collection of 200 one-shot drum samples taken from vinyl records from various eras, chopped and sliced with love to be production-ready. This is not just a sample collection but a versatile Kontakt instrument with a comprehensive featureset and fast sound-shaping tools.

This instrument was developped in tight collaboration between WaveShaper and Sampleism, and is available to buy for 12.99 on Sampleism.
May you be into dubstep, footwork, hip hop, soul, funk, trip hop, dub, trap, crunk, jungle, skweee, drum & bass, rock or any other genre you will be at home with Vinyl Toolkit !
Vinyl Toolkit features
Fast workflow:

The samples are already mapped into 6 different kits.
5 FX with single-knob action let you quickly fine-tune and shape the sound to taste.

Great sound quality:

hand-picked selection of sounds, with vintage character but also punch and versatility.
24bit, 48khz stereo WAV files built into a Kontakt instrument.
You can add even more grit and vintage flavour by dialing in some hiss, crackles and hum.
The sample library is available to purchase from Sampleism, priced at £12.99 GBP.
Four additional drum sample packs are now also available as Kontakt versions on Sampleism: Monokken, MR-10 (Grey Matter), Stix305 and Aluminium/White Metal, which is now mkII with improved samples.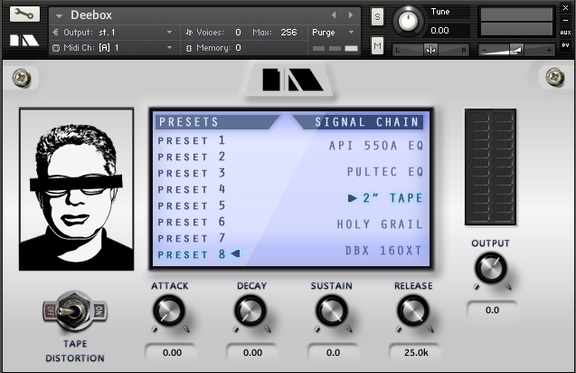 100 Akres has announced Deebox Chopra, a new sample library in Native Instruments Kontakt and Wav formats.
Deebox Chopra is a drum rompler which features drum sounds from an iconic 80s drum machine run through a series of high quality analog outboard gear to 2″ tape to add a bit of "hiss" and extra warmth.

The easy to use LCD interface allows you to choose between eight signal chains that were pre-tweaked by our engineer to bring out different tones of the recorded electronic drum kit. These presets range from clean with low hiss to gritty tape distortion with a flick of the tape distortion switch.
Deebox Chopra features
49 drum sounds, 8 different signal chains.
Recording chain used includes: 2″ tape machine, DBX 160xt , API 550 eq, Pultec eq, and a Holy Grail pedal.
Attack, Decay, Sustain, and Release knobs available for further drum tweaking (Kontakt version only).
Tape distortion switch for extra crunch added to the drum sounds (Kontakt version only).
The library is available to purchase for $19 USD (Kontakt) / $14 USD (Wav).
Preview of the presets from Soundsdivine's MM+ synthesizer for Kontakt .
Based on the Moog Memorymoog Plus .
MM+ features
3 Oscillators.
31 Waveforms.
2 Filters.
2 Aux Envelopes.
1 Programmable Arpeggiator.
3 Monophonic Pitch Sequencers.
2 Additional Sequencers.
25 Custom Impulse Responses.
5 FX inc. Transient Shaper / Phaser / Delays & Reverb.
6.97GB (compressed) samples from the Moog MemoryMoog.
200+ Presets.
The sample library is available to purchase for 79 EUR incl. VAT.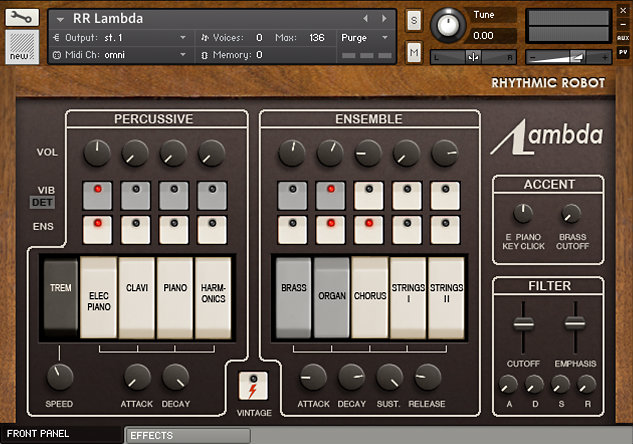 Rhythmic Robot has introduced Lambda, a virtual instrument library for Native Instruments Kontakt featuring the sounds of the Korg Lambda ES50 poly-synthesizer.
The original Lambda, produced in 1979, was a preset-based synthesiser with genuine polyphony, two banks of preset tabs, and some unusual (and musically useful) touches like two filter circuits, one dedicated to the Brass patch; a separate key-click control for the Electric Piano patch; a global filter; and, unusually for its time, a stereo "chorus-phase" effect which output on twin jacks. This stereo effect, plus detunable oscillators in the synth section, gave the Lambda a typically rich, thick analogue sound and made it a coveted classic.

The Rhythmic Robot version builds on the capabilities of the original but allows the user to switch in a "vintage" mode, restricting the software to the hardware's behaviour, for creating authentic patches. The more modern updates to the original include resonance on the global filter circuit, a full ADSR amp envelope, a dedicated AR envelope for the percussive sounds, a battery of additional vintage-style effects, velocity sensitivity and individual level trims for the preset patches – allowing combinations of sound impossible on the original.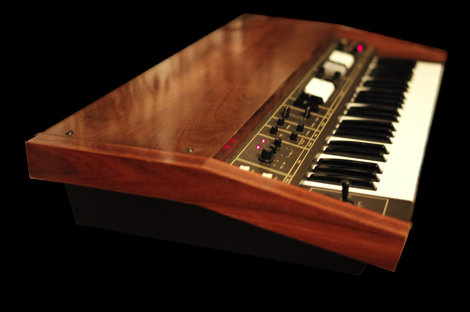 Lambda features
The rich, fluid tone of the Korg Lambda analogue synthesiser.
Vintage Mode: absolute authenticity, restricting controls and features to those present on the original hardware.
Contemporary Mode: advanced flexibility with individual instrument-level control, for sounds not possible on the original.
738 24-bit samples of every Lambda tone and all its variations: 2.4Gb total.
Includes 30 factory presets covering basses, pads, synths and keys.
Individual control over instrument levels allows sound-blending for rich, luxurious sounds.
Stereo Chorus-Phase effect sampled from the original machine: lush, swirling and complex.
A selection of vintage-style effects including Phaser, Leslie speaker, Amp Cab simulator and Reverb.
The library is available to purchase for the introductory price of £29.95 GBP (RRP £34.95 GBP). Requires full version Kontakt version 4.2.3 or higher.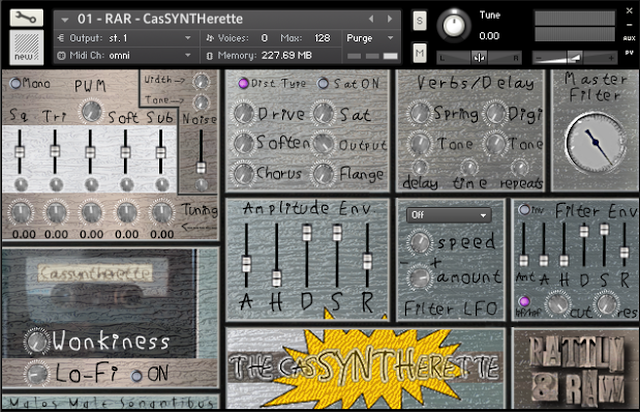 Rattly and Raw has announced the release of The CaSYNTHerette, a virtual instrument library for Native Instruments Kontakt.
TWO synths, one using waveforms from classic synthesisers sampled from a very rare, stable, full range cassette recorder with loads of character and the other using waveforms sampled using the dirty, noisy Cassamplerette recording mechanism.

Whilst the Cassamplerette was looped and single shot recordings of real instruments, the CasSYNTHerette is a fully functional synthesis instrument using waveforms from some classic synth oscillators recorded and looped onto different cassette tape systems.
The CaSYNTHerette features
FOUR cassette tape-based waveform oscillator faders: Square, Triangle, PWM and Soft (a combination wave from a classic synth).
Additional SUB oscillator fader!
Tape cassette noise fader with stereo and tone controls.
Individual waveform tuning via tape speed controls!
Individual waveform pans.
HP/LP Filter + lfo + envelope.
Amplitude envelope.
x2 custom convolution reverbs with tone control. One very rare cranky vintage spring verb and one old spacey hardware digital verb!
Fully controllable delay.
Two state distortion control with 'soften' control.
Saturation control.
LoFi (Bitcrush) control.
Chorus and Flanger controls.
Wonkiness control – magnify the cassette tape wobbliness!
Switchable MONO/POLY.
Loads of PRESETS!
The library is available to purchase for £20 GBP.