Download Free Sample Library by Crypto Cipher – Indian Kontakt Instruments and Sound Designed Instruments.
http://www.cryptocipher.in/?page_id=4
Crypto Cipher Audio Lab has released a free sample library for Kontakt, featuring Indian instruments. 
List Of Instruments and Audio Content:
Double Sided Hand Drum Sample Size : 12 MB , 250 Samples, This is a multisampled Instrument – 10 RR with Low , Mid and High Velocities. Play with the script to get beautiful patterns.
ThingamaKit – SFX Instrument. Sample Size :- 70 MB , 170 Samples, Scripted.
Pambai – Rare South Indian Percussion. Sample Size :- 60 MB , 270 Samples. Multisampled Instrument , Scripted.
Tabla Mouth Percussion / Thunderous Raga Voice Samples – Audio Wave Format.
Mouth Shots(Tabla Mouth Percussion) – Scripted/Mod-wheel Controls Speed ((Kontakt 5.3+ Needed))
Indian Harmonium Scripted – One the the Instrument from Our Bollywood Harmonium Pack.
Tabla Loops – Wave/REX/Kontakt
A patch from Voices Of Ragas Vol-1 (Kontakt 5.3+ Needed)
Sound Design Instruments
Violin Raga Phrases Instrument ( A patch from Bollywood Harmoniums Product)
CL-Projects releases OSA (Old School Arps) for Kontakt 5.1 and higher.
Here's what they say: "Imagine yourself in a cellar, filled with vintage synthesizers and analog sequencers, flashing lights, knobs and faders everywhere, playing Berlin School electronic music. If you don't have any of that equipment to your disposal, this library is the next best thing. It tries to bring some of that sound and feeling to your home and studio by supplying vintage arpeggio patches."
The Berlin School electronic genre of music was first made in Berlin in the 1970s, hence the name, by electronic music artists like Tangerine Dream, Klaus Schulze and Ashra. Typical for this type of music are the evolving, atmospheric and hypnotic layered sequencer textures. The sound consists basically of ambient elements combined with short, repeating sequenced runs of notes, which gives the music a rhythmic element.
OSA is a Kontakt 5 library aimed at this genre of electronic music from the 1970s and 1980s and consists of vintage arpeggios, and a few modern ones too. Inspired by musicians like Jean Michel Jarre, Tangerine Dream, Klaus Schulze, Michael Hoenig and countless others.
Library Features:
For Kontakt 5.1 and higher (Full version).
24-bit 44.100 kHz ncw samples.
50 different waveforms per oscillator.
24 samples per patch, 12 per oscillator (76 notes).
Velocity and Aftertouch responsive.
6 folders containing a total of 151 patches.
Patches divided into Straight, Triplets and One Shot (separate folders).
4 Effects: Reverb, Delay, Chorus & Phaser.
Time and Speed parameters sync to Host tempo (Delay, Chorus and Phaser).
All parameters on 1 page.
Price: £19.99.
More info on the OSA product page: www.cl-projects-sound-design.com/osa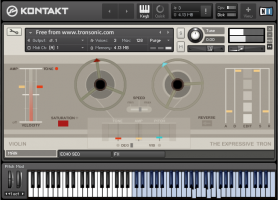 Tronsonic has released The Expressive Tron, a free sample library for Native Instruments Kontakt (5.2.1+).
The Expressive Tron features 4 tape banks from an original (un-serviced) Mellotron M400: Flute, Strings, Cello and Male Choir:
These are not pristine Mellotron samples – re-recorded to worn tape for characterful sound design.
Utilises Tronsonic's 'microtape plus' format, which features tape echo style sequencer and fx section.
5 patches per bank; 5 multi patches.
Visit tronsonic.com for your free download – no need to register.
AudioThing has released Tank Drum for Kontakt 5, a new virtual instrument based on samples from a steel tongue drum.
Also called hang drums, these instruments are usually made out of propane tanks with tongues of different sizes and tuned in different scales.
The instrument sampled features 8 tongues and is tuned in E minor pentatonic. It was played both with hands and rubber mallets, along with some sound effects with hands and brushes. The sound has a long release and is rich in harmonics.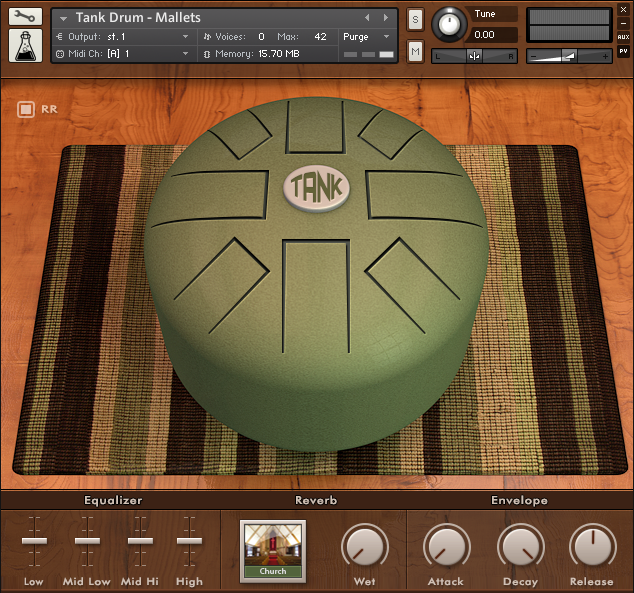 Specifications:
7 Kontakt Instruments (.nki)
5 Round Robin samples
3 Velocity Layers
7 Custom Impulse Responses
274 Samples (44.1kHz / 24Bit)
Formats: Kontakt 5 and WAV
ARPOLOGY
The next step in music!
www.samplelogic.com/products/arpology
Sample Logic has released an updated version of Arpology – its Kontakt-based 'sonic animation tool'.
Here's what Sample Logic has to say about Arpology version 1.1:
Sample Logic is excited to release a very important enhancement to ARPOLOGY with Version 1.1 update. Now ARPOLOGY is not only an amazing sample library of 550+ instruments and multis spanning all musical genres, but is also a MIDI effect with the ability to transfer Step Animator patterns to any virtual instrument loaded in a DAW. This means you can drive all of your virtual instruments with the creative power of ARPOLOGY's Step Animator.
In addition to MIDI Drag & Drop, this free update now allows up to 128 steps and contains an on/off button to use the instruments without arpeggiation.
Arpology for Kontakt is available for US $399.99.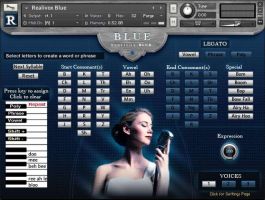 Realitone has released Realivox Blue. Realivox Blue is a solo female vocalist sampled into Kontakt, and features a word/phrase builder which allows the user to type in their own words. Over 12,000 samples are used to make the wordbuilder work.
True sampled legato is employed, for smooth transitions in legato phrases. Legato can be either monophonic or polyphonic.
Also featured is the ability to double or triple the voices, useful for either creating an ensemble, or to simply thicken a lead voice. Combined with the polyphonic legato feature, Realivox Blue can emulate small choirs in a single instance.
Optionally available in Kontakt Player format.
Price: $149. Introductory price is $99.95 for users who own the full version of Kontakt, or $114.95 for users preferring the Kontakt Player version.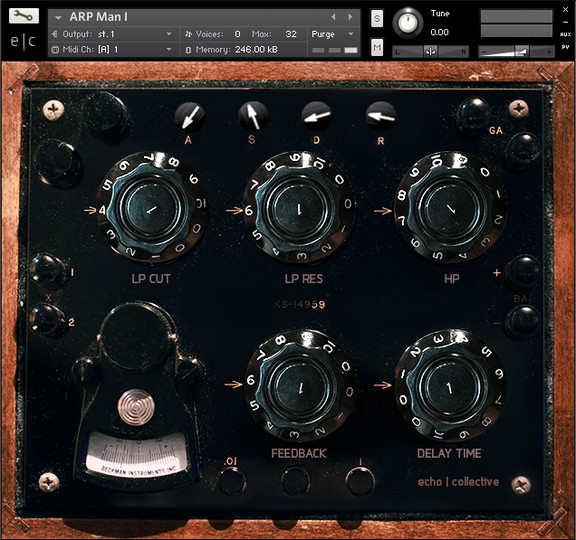 echo|collective has announced Signal Return, a performable Kontakt instrument and soundset designed to create a wide variety of interesting and textured sounds.
All of the source material comes from recordings of various devices feeding back into themselves either electrically or acoustically. No software based speaker emulators or distortions were used in the creation of these sounds.

We covered all of the classic forms of feedback including an SM58 through a PA, an electric guitar through a tube amped miked with an SM57 and a Royer 121, a set of Sony headphones feeding into themselves, and a pair of Uniden walkie talkies with both mics open too close to one another.

We also did a series of line level loops with devices like a sansamp bass driver DI, a Danelectro Honeytone amp, and a Roland Cube amp. The line level loops were also run through guitar pedals and pitch/delay plugins to further bend and distort the looped signals.
Signal Return features
24 bit 96k metadata tagged wav files.
Soundminer embedded spectrograms created with iZotope RX3.
250+ unique recordings.
4.8 total Gb of sounds.
22 Kontakt fully programmed unlocked .nki files.
.nki files require full version of NI Kontakt 5.0 or higher.
The library is available for purchase for $20 USD.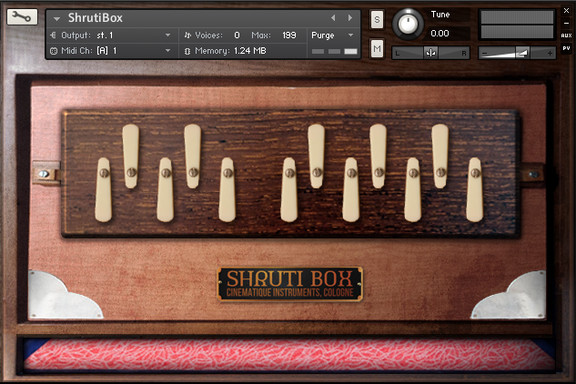 Cinematique Instruments has announced Shruti Box, a Kontakt instrument library featuring traditional drones and a shruti-sizer.
The Shruti Box is a traditional Indian instrument which works on a system of bellows. It is a keyless version of the harmonium, which was invented for the specifc purpose of producing drone sounds. On the front it has 12 valves to control the pitch. The instrument is generally used to accompany other instruments in rehearsal sessions or concerts of classical Indian music. But the shruti box is enjoying a renaissance in the West amongst traditional and contemporary musicians who are using it for a range of different styles.

We carefully sampled the individual notes, even the noises which are produced by the bellow and paid special attention to capture the unique character of a Shruti Box which can described as rough and vibrant. Traditionally the Shruti Box has a range of 13 notes which we expanded up to 3 full octaves. In order to get a realistic Shruti sound and enrich the sound with vividness we provided two kinds of pump action which can be switched on separately. We also added distortion, chorus and a rotary simulation to shape the sound as well as a special sustain mode which will play an endless drone. All these features are giving the Shruti Box nice options to shape the sound.

But that's not all! We thought how could we push the Shruti Box forward to much more versatility? And that's why invented the Shruti-Sizer:
If you turn around the Shruti Box you are getting to a complete different interface which has nothing to do with the traditionally Shruti Box. It reminds you to an old synthesizer look with knobs, symbols and an oscilloscope. It is a complex LFO modulation section. You can modulate several parameter by four different wave forms with a variable speed. It puts the Shruti Box to another level and lets you create individual pad sounds an even constantly evolving rhythmic textures.

The result of it all is a unique instrument and a perfect supplement to the Cinematique Instruments family.
The library is available for purchase for 28 EUR. Requires Kontakt 4.22 or higher, full version.
All sounds are 100% Arpology!
The Next Step In Music
www.samplelogic.com/products/arpology
Arpology, recently announced by Sonic Faction, is available for download today. A virtual instrument for Native Instruments' Kontakt, Arpology is dedicated to arpeggiated/sequenced instruments.
The core of Arpology has been designed around Sample Logic's Step Animator – a step sequencer and arpeggiator, combined into a single engine for animating complex melodic and rhythmic patterns on a per-step basis.
The first video, above, takes an in-depth look at Arpology's features and how they can be used.
Darker Digital has released Kickboxer for Kontakt 5.
Kickboxer is designed around the sound of analog 808 drum machines processed with high end outboard gear – designed to deliver punchy transients and analog overtones.
On top of an analog 808 kit, Kickboxer includes many other analog drum and digital synth bass sounds. Kickboxer's internal step sequencer features a piano roll for basslines, a gated reverb and other sequenced effects.
The GUI also includes controls for transistor and tube distortion, tape saturation, a ladder filter, a convolution reverb and a bus compressor.
Price: $99. There is a $69 introductory offer until June 19th, 2014, at the Darker Digital online store.