Time lapse build of the Sonic-Potions LXR digital drum synthesizer and some messing around with it for the first time. All sounds come from the LXR and the Shruthi-1. The Shruthi is slaved to the LXR and is just playing the equivalent midi notes as the drum sounds. The LXR is being run through a hardwire RV-7 pedal (seen directly north of the LXR). I am sure that this is only scratching the surface of the LXR's capabilities.
BFD3 is the third generation of FXpansion's flagship software acoustic drum studio: new levels of realism and ground-breaking features in an intuitive redesigned engine, here's what they have to say about it:
With stunning new kits with mix-ready presets and modelling technology for tom resonance and cymbal swells, BFD3's audio engine delivers uncompromising detail while using lossless compression for efficiency. The revamped interface has a new mixer and sound browser for the easiest BFD experience yet.
BFD3's kits were recorded at two world-class studios with varied recording chains and room ambience making a huge amount of sounds possible. The library includes expressive articulations, a brushed kit and processed drum presets for fast custom kit-building. BFD3 also contains a powerful built-in environment for pattern creation and editing, complete with a range of performances by legendary drummers for effortless production of drum tracks indistinguishable from the real thing.
Availability & Pricing
BFD3 is available on a USB 2.0 flash drive or as a download product from the FXpansion web shop as well as through our international dealer partners.
Pricing is USD $349.00, EUR €269.00, GBP £229.00.
BFD3 Upgrade is available for all registered BFD2 owners for USD $199.00, EUR €155.00, GBP £129.00 for the USB flash drive version and USD $149, EUR €115, GBP £99 for the download version.
All prices are inclusive of VAT where applicable.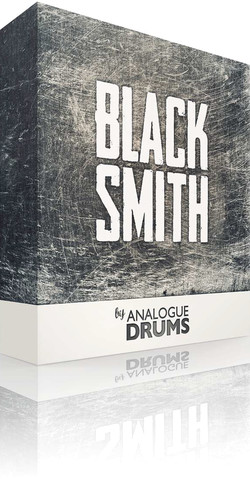 Analogue Drums has launched BlackSmith, a virtual drum instrument for Native Instruments Kontakt.
BlackSmith is a modern metal workhorse with an aggressive yet toneful sound. This kit will lay an unshakable foundation for any metal track, or any other genre where a tight punchy articulate kit is called for.

BlackSmith gives you several mic layers to blend to your taste, easily taking the sound of the kit from clean and tight to spacious or dirty with the push of a fader. Three swappable snare variations help fit the kit to your track.

The kit we sampled is a top-of-the-line Sonor SQ2 Acrylic set, with three snare options, and classic Zildjian A Custom cymbals. The kit was sampled in Melbourne's Sing Sing South studio, a medium sized tracking room.
BlackSmith features
Multi-sampling: each kit component contains up to 7 velocity layers for expressive detail and dynamics, and 6x round-robin hits for every single zone for realistic performances.
Mic layers: 6x individually controllable mic layers: Close mics, Overheads, Room mics, Smash mic, Kick Sub, and Snare-Bottom
eKit mode switch to 'eKit' mode when using a Roland V-Drum kit, or leave set to 'Keyboard mode' for direct MIDI sequencing. The layout is General MIDI (GM) compatible.
Output routing: stereo and multi-channel output versions provided.
Sensitivity control: increase the sensitivity of the kit for more intricate and subtle performances or leave it set to full dynamic range for heavier tracks.
Presets: for quickly accessing different sounds.
Trigger maps: for sound replacement: kick, snare, toms – each with separated mic layers
BlackSmith is available to purchase for $29 USD. Requires Kontakt 4.2+ full retail version.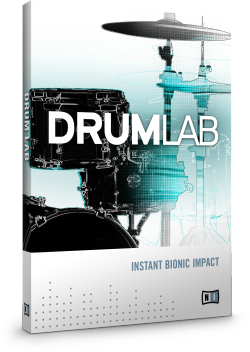 Native Instruments has released Drum Lab, an "advanced drum layering instrument" with an intuitive workflow designed for fast results for use with their Kontakt 5 Player (included in free Komplete Players), or Kontakt 5.
Drum Lab combines acoustic and electronic drum samples with a "groove library" of over 900 patterns for fast groove production.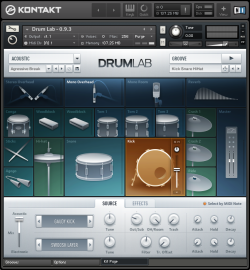 Drum Lab creates a hybridized layering technique from the combination of the organic sound of acoustic drums with the weight and punch of electronic samples. Drum Lab's acoustic layer is made up of 38 individual drums, each recorded in three different rooms with high-end vintage and modern equipment on analog tape. For Drum Lab's electronic component 380 drum hits were sampled from a range of classic and modern drum machines, then matched, phase aligned, faded, and pitched to blend with the acoustic drum samples.
Drum Lab's interface provides all sound-shaping controls (TRANSIENT MASTER, SOLID EQ, G COMP, an optimized drum compressor, and a rich convolution reverb) directly on the front panel. Producers can choose individual acoustic and electronic layers, blend them via slider, and adjust details with some of Native Instruments' studio effects listed above. Drum Lab also integrates perfectly with Native Instruments' Maschine for the ultimate in hybrid drum groove production.
Feeling Groovy. Drum Lab also delivers some authentic grooves. A new set of patterns were recorded by a professional drummer, then converted to MIDI files and arranged by genre in Drum Lab's groove library. Users can drag-and-drop these patterns into their sessions, using the software's unique visual display to line up grooves in their tracks for added visual reference when creating beats.
Native Instruments' Drum Lab is available now from the NI Online Shop for $99 / 99 Euro / ¥ 9800.
drum pattern on the ARP 2500.
"Had Stephan in yesterday working on a new Natural Habitats track. We set up the ARP2500 and made some drum sounds. It really is an amazing instrument the 2500. Here is a live tweak I did a bit later messing with a snare drum type sound. There is absolutely no reverb added to this, it is all done with the envelope generator and various filters and white noise. The rest of the loop is done with cross-mod vcos and the sequencers. Listen on headphones"
see http://myblogitsfullofstars.blogspot…. for more
A free VST virtual analog drum synthesizer with eight outputs, a separate effects section featuring a granulator and waveshaper for each output pair, MIDI automation and flexible sound design capabilities.
EXD-80 can produce a wide variety of drum and percussion sounds, from emulations of classic drum machines to mangled, glitchy madness. All sounds are synthesized, no samples are used. It is suitable for many EDM styles including electro, glitch, industrial, ambient, dubstep, drum & bass and hip hop.
To download the VST plugin or hear an audio demo go to:
http://www.thirdharmonic.net/exd80-fr…

Odo Synths has launched a first beta version of its Dream Drums synthesizer instrument for Windows.
NEXT update will have a noise synth
distortion for all the synths
Multi outs
Midilearn
The beta is available to download for Windows (VST).
Background video description:
Why use samples or drum machines if you already have the necessary equipment to create drum sounds. Making your own drum sounds is both fun and more personal.
In this video I've used a Korg MS-20 for snare drum. The MS-20 is perfect for making snare, clap sounds thanks to the resonant hi-pass filter. The kick is programmed on a Sequential Circuits Pro~One by Jonas Sjöström. The Pro~One is great for kicks and can do Speak&Spell (Vince Clarke) kicks and all the way up to 909.
Hi-hats are made by a Yamaha CS-30, the CS synths hi-pass/band-pass filter is perfect for making hi-hats. The best CS synth for making hi-hats is the CS-10… hard to find snappier envelopes. I don't own a CS-10 anymore so I had to use a CS-30. The trigg to the CS-30 seems to be messed up, the hi-hat some times starts and stops…
Since the MS-20 was occupied making snare-sounds I had to use a Synthesizer.com to make the hand-clap. Not as easy as making a hand clap on a MS-20 but I think it sounds pretty ok. I will record another video when I create a hand clap on a .com.
Effects used in the video is a Klark Teknik DN-780 and a Sony MU-R201
In 1970 Bob Moog built for Eric Siday an electronic drum synthesizer with the following modules:
– 701Drum Synthesizer
– 702 Percussion Synthesizer
– 903 Noise
– 912 Enveloppe Follower
– Programmer
– Wheels encoder
– Keyboard controller
The 701 and 702 modules are prototypes never and went in production.
It seems that there are some missing modules from the original configuration.
This unique system is owned now by the " Museum of music"
located in Paris France.
About Eric Siday
Eric siday was born in the suburb of London in 1905.
When he was 14 he received the Prosper Sainton scholarship at the Royal Academy of Music, London.
His first steady bread was playing for the "local cinema" silent movies.
He was composer and arranger and realized musics for commercials and jingles for radios ( ABC / CBS / Pepsi cola / American express )
In 1947 he composed a violin concerto in the "Bop" Jazz idiom.
He created his own recording studio (surely one of the first home studio).
In the middle 50's, he was aware of electronic music – John Cage (the prepared piano) and the French Music Concrete .
He was the fisrt to apply electronics sounds in commercials .
He used : Ondes Martenot / Ondioline / Violon amplified / Céleste / Moog Modular
and this unique Moog Percussion synthesizer.
He was the second customer of Bob Moog and bring a great support to the Moog company.
Background video description:
Here is my first video of the "R.A. Moog 701 Drum Synthesizer". I managed to get some sounds out of it – even though it was meant to *work* with the full "one-off" system as built by Bob in 1970. I think in the system it might behave a little more "drum-like"…!?! Ha!
Native Instruments REAKTOR's Aerobic just begs to be used inside MASCHINE. There are any number of ways to use Aerobic inside Maschine, but let's look at two specifically: 1) as a drum synth whose individual hits can be triggered by MASCHINE's Pads, and 2) as a DJ-style loop-mixing setup.