"A fellow VSE'r was needing helping syncing his Pro One to his LinnDrum, so I thought I make a quick tutorial video. Remember to enter the LAST note of your sequence into the ProOne's sequencer FIRST (thanks Howard Jones for that tip)."
Austrialian tech house producer, live remixer and finger drummer Bass Kleph shares some of his tips and tricks he uses when building a performance on his Maschine.
Learn more about Maschine here: http://bit.ly/PjED9I
Check out Bass Kleph's site here: http://www.basskleph.com/
Impaktor for iPhone and iPad (universal app) is a drum synthesizer that you trigger with your device's built in microphone. The app is EXTREMELY accurate in perceiving the volume (velocity) of the notes you play, and even can trigger different tones from the synth with different sounds. "The real acoustical impulses from the built-in microphone are used as an excitation source for advanced sound modules that simulates behavior of membranes, cymbals, metallophones or strings. This makes Impaktor a highly responsive and expressive instrument."
NOISEPAD
Noisepad is a user friendly drum computer, sequencer and beat creator made specifically for live performances and instant result.
It has been designed to give you the most functionality and fun without having to go through a steep learning curve. After installation you'll find 5 preloaded soundbanks of 12 samples each, ready to start the beat making. You'll be bouncing your head within 5 minutes, that's a promise!
The onboard sequencer allows you to program up to 12 patterns on-the-fly, each with their own duration (1 — 99 bars). Switching between patterns is seamless; the sequencer makes sure the next pattern starts when the current has finished. Apply effects to the pattern, mute samples or have them playing solo on your command. Adjust the Beats Per Minute with precision or by tapping at the speed of the beat and add a bit of swing to make the beat feel just right.
It adds a new dimension to your live-sets, parties and all places where you want to make noise. Synchronize the BPM with the music you're playing and add a little bit of your own flavor to it, or simply trigger the samples by hand. Real-time effects such as pitch, delay, cut-off, phase, reverb and bit-crush will bring your noise to life.
Organize the samples into your own custom soundbanks using the built-in organizer. Once you're done playing with the packaged samples, the in-app shop provides additional soundpacks to discover or you can load your own samples using iTunes File Sharing for unlimited possibilities.
Noisepad v1.0 was released in 2011 by iPhonk a division of MediaGROE BV
WHAT'S NEW
version 2.0
Organize samples
- Organize samples into Soundbanks, drag 'n drop them onto buttons and swap them around
- Create as many Soundbanks as you like
- Overview of all Soundbanks, purchased Soundpacks and custom samples
- Rename or remove Soundbanks
- Rename user samples
Sequencer / Record
- Real-time sequencer: record your beats on the fly
- Record up to 12 patterns, each with own variable length (1 – 99 bars)
- Export pattern to WAV file
- Erase single instrument from pattern or the whole pattern at once
- Switch seamlessly between patterns: the next pattern is started after the current finishes
- Copy / Paste patterns to other slots by holding the pattern button
- Configurable BPM and Swing
- Tap button to adjust BPM easilly
- Toggle FX: effects applied to both pattern + tap pads or only tap pads
- Jam with the tap pads while the pattern repeats
New Soundpacks in the shop
- Bong-ra Hardcore
- Bong-ra Drum 'n' Bass
- Bong-ra Dubstep
- Loopbased We Love 808
- Loopbased Dirty South Flava
Other
- Two new *free* preloaded soundpacks
- Hold: press down starts sample, release stops it
- Set the volume of each sample individually
- Mute individual samples or let one sample play solo with a single button press
FEATURE LIST
Soundbanks
- Each bank holds 12 samples
- Load unlimited samples, switching between banks doesn't stop samples
- User samples: Use file sharing in iTunes
( .caf / .wav / .mp3 / .aif audio files, 22khz / 44khz / 48khz, stereo/mono )
- Organize samples into Soundbanks, drag 'n drop them onto buttons and swap them around
- Create as many Soundbanks as you like
- Overview of all Soundbanks, purchased Soundpacks and user samples
- Rename or remove Soundbanks
- Rename user samples
Shop
- Buy Sound Packs from various artists / producers for just $ 0,99 cent per pack.
Sequencer
- Play: real-time sequencer
- Rec: Record your beats on the fly
- Metronome: keeps you on-beat while recording
- Effects: Toggle effects on/off for patterns
- Pattern: Record up to 12 patterns, each with own variable length (1 — 99 bars)
- Erase: Single instrument or pattern
- Hold patterns for 2 sec. to copy and / or paste pattern

Rhythm settings
- BPM: Set BPM manually
- Tap: Tap button for BPM
- Bars: Each pattern has variable length (1-99 bars)
- Swing: Set amount of swing (0% – 100%)
Export/Import
- Export individual patterns to a .wav file
- Share samples/patterns between apps with AudioCopy/Paste
Sample settings
- Cut: Triggered sample cuts previous sample
- Hold: Press down start / release stop sample
- Volume: Set the volume for each sample
- Mute: Mute individual samples
- Solo: Play a sample solo
- Mic-in: Record mic-in audio for sample *soon available*
Effects panel
- Pitch: Slide bar from 0% to -100% or +100%.
- Delay: Slide bar from 0% to 100%
- Reverb: Slide bar from 0% to 100%
- Cut-off: Slide bar from 0% to 100%
- Phase: Slide bar from 0% to 100%
- Crush: Slide bar from 0% to 100%
- Dry / wet: Set effect strength from 0 t
Demo of a classic vintage and rare drum synth – Bias BS-2 Drum Percussion: Bias (Ishibashi Japan) Drum Analog Synth Module.
After months of repair SynthMania are ready to explore the capabilities of the Simmons SDSV. The SDS-5 (or SDS-V) was a really popular system, used by many of the big names in the 80′s. It was 'module' based so you could start with 5 modules and expand it to 6 or 7 in total.There was also different types of modules, toms, bass drum, snare and hi hat. Also it had 'patch memories', of sorts anyway. These were basically trimmers that were recessed below the panel. You could also use it in a 'free' mode where the sound you had was the sound set on the knobs.
After 11 months in the repair shop the Simmons SDSV is fixed. To celebrate the event, I'm testing the SDSV to explore some of the typical Italo sounds of the early / mid '80s. The SSL Alpha-Link audio interface's MADI port is also broken at the moment so I'm recording this audio through the computer's internal sound card… I'll create a better Simmons demo once I fix the audio interface. This is not a full song, just some noodling on the Simmons and JP-8 to test the SDSV sounds (which are great!)
A moody, slower demo of the Simmons SDSV, the Roland TR-808, and Roland Jupiter-8 using some classic-sounding sounds. The TR-808 drives the Simmons and the JP-8′s arpeggiator, the rest is improvised in real time. The filter of the JP-8 is set at -24dB and tweaked in real time. Again, due to my main audio interface being broken, I'm using the computer's internal audio card, sorry for the floor noise.
Simmons SDSV, TR-808, Jupiter-8, Minimoog
Here is a demo with the Juno 60 and LinnDrum doing some 80′s-ish, HI-NRG drums and basslines. The two were ran through a Roland MMP-2 Preamp/Compressor, then the SPDIF of that went straight into my Allen & Heath Xone DX.
The Linndrum hits extremely hard and is a complete joy to use. The Juno-60 is locking onto the trigger out of the Linn which allows for quick timing on basslines.
Impaktor is a drum synthesizer with a vast sonic palette, that turns any surface into a playable percussion instrument.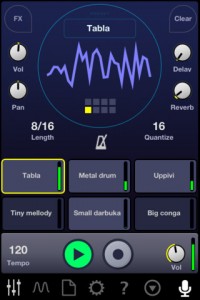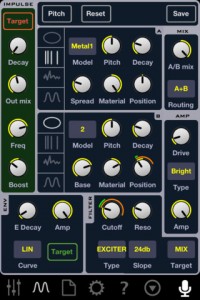 You just slap your desk like you would a real drum. The real acoustical impulses from the built-in microphone are used as an excitation source for advanced sound modules that simulates behavior of membranes, cymbals, metallophones or strings. This makes Impaktor a highly responsive and expressive instrument. With semi-modular architecture and several types of synthesis, Impaktor can produce a wide range of tones, from acoustic, like Tabla, Djembe, Marimba, Cymbals, Metal bars to electronic or industrial sounds. Enjoy the most realistic virtual drumming experience available for mobile devices!
* Works with iPhone 4, 4S, iPod Touch 4th gen and all iPads
* The app requires headphones. Works best with headphones without built-in microphone.
SYNTHESIZER
- Synthesis: physical modeling, frequency modulation, noise shaping
- Semi-modular architecture; 2 modules with configurable routing
- 2 modulation sources: velocity and lfo-envelope. Almost every parameter can be modulated
- Multimode filter, harmonic exciter and several types of amplifiers
- Over 90 presets available, more coming soon
- No samples used
- Ultra low latency
RECORDER
- 6 tracks audio recorder
- True 3d panning
- Auto-quantization with configurable time-signature
- Reverb and Delay effects
- Audio-copy and wave export
THIS IS THE SYNCHIME CLONE HOOKED UP TO A MINI 8 ANALOG SEQUENCER
This is a clone of a 1980′s analog drum synth called a Synchime, others in the series include Syntom and synbal. This clone also has a CV input which is not on the original Synchime.