The basic thought of the bluebox is simple. If you want to play different sounds you just hit the triggers like on a drum set. If you want to play different notes then it's just to press the keys like on a piano. And if you want to edit a sound it's just like an old analog synthesizer, you just press the key to listen and turn the knob.
Early preview of Loopy 2′s new drum sequencer, built over the last three days.
No percussion type icons yet, but the rest is basically there:
- Full zoom/pan interface for use on an iPhone screen (although this was the simulator, operated with a mouse cursor).
- Two velocity levels available for each cell (127 volume levels supported in the back end, but not in the interface yet)
- 12 instruments
- Custom sound set support, so you can built your own kit from your own sample set and import it into Loopy
This is unlikely to be in Loopy 2.0, but expect it around version 2.1.
Last year I build a drum module based on schematics from the 'Electronic Drum Cookbook' by Thomas Henry. I build it on breadboard but never got around to test it yet. Yesterday someone was filming my studio here so I couldn't work on my main desk for a while and decided to give the module a go. I hooked it up to my sequencers in the modular setup and got to test them in the process as well. We took some shots of this as well and last night I decided to make a little video from it. The noise coming from it is not spectacular but it was just a proof of concept. I made this video in Sony Vegas and that was also a test run for me. I plan to make more video's in the future for you to enjoy. The music on this video is from a track called 'Mercury' that a made for a sampler CD last year. You can listen to the whole track on my website. Look for the SchallPlatte 12 sampler CD.
http://www.youtube.com/watch?v=MjFoa0UaZCA
Finger Pro has introduced MoDrum Rhythm Composer (App Store link) – a $6.99 beatmaking app for iOS:
Equipped with five percussion synthesizers, step sequencer and trigger pads, MoDrum provides everything needed to create outstanding drum loops with your iPod touch, iPhone or iPad!
The MoDrum Rhythm Composer produces authentic, punchy beats without the use of sampled sounds; his drum synth modules generates them in real-time. A range of parameters is available to let you control sound characteristics.
The built-in audio export function allows you to share your grooves with compatible apps or software running on your computer.
Features:
Five analog modeling sound modules (Bass Drum, Snare Drum, Closed Hihat, Open Hihat, Ride Cymbal)
Sequencer with 32 steps and global accent pattern
Beat clock with tap tempo and rhythmic shuffle (swing)
Distortion master effect
WAVE file export via Pasteboard, E-Mail or iTunes File Sharing
Universal support for iPod touch, iPhone and iPad
Via ST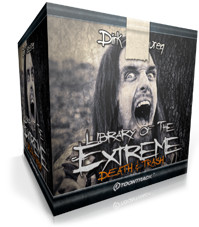 Toontrack has announced the release of Death & Trash, the second installment of Dirk Verbeuren's Library of the Extreme MIDI drum grooves.
The new "Library of the Extreme – Death & Thrash" has all the beats that youd need, meaning the Skank beats, the Carpet Rolls, the D-Beats, all the double-bass stuff, etc, etc. Together with "Library of the Extreme – Blasts & Fills" this pack makes a really unique encyclopedia of metal beats!

This MIDI pack is not for the faint of heart, or the musically meek. We're talking about a collection of MIDI grooves that will pummel your tracks into oblivion. This is the perfect marriage of speed and power.
Library of the Extreme – Death & Thrash is available to purchase for 15 EUR.
More information: Toontrack / Library of the Extreme – Death & Thrash
Loopbased has released a new kick drum library called "Deep and Hard Kicks", more info from Loopbased below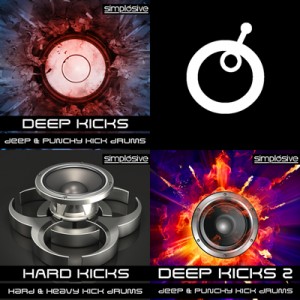 Simplosive's line of kick drum libraries is still extremely popular. With the "Deep and Hard Kicks Bundle" now all 3 best-selling sample packs are available together and for an insane price.
You save 50% (!) compared to buying all 3 packs individually.
"Deep Kicks 1+2″ includes a whopping 1000 kick drums suitable for Tech, House, Minimal, Electro, Trance and even Ambient.
"Hard Kicks" features another 500 heavy kicks treated with high-end digital filters to create some nasty bass drums for Hardstyle, Hardcore, Jumpstyle, Gabber and Dubstep.
Get those 1.500 kick drums now for half the price.
Price: 30 Euro
http://www.loopbased.com/techno-minimal-loops/deep-and-hard-kicks-bundle.html
Bluezone has released a samples pack Arctic Drum and Bass, check out below for details
Bluezone Corporation is proud to present Arctic Drum and Bass. This new Drum and Bass sample pack has been meticulously prepared and covers a broad range of audio samples, including drum loops, syncopations, deep bass lines, synth loops, atmospheric sounds, sound effects and looped synth pads recorded at 160 bpm. This new sound library comes with free usage rights and is sure to get your creative juices flowing for original Drum n Bass compositions, jingles and soundtracks.
After the release of Austral Drum and Bass, Bluezone Corporation adds to its extensive percussion range with this new resource-packed collection: Arctic Drum and Bass. Easy to use and adapt, the 126 loops and samples contained in this set have been worked to provide the highest quality, not just in musical ideas and themes but also in the stereo spread. Recorded at 160 bpm, the rhythms will provide solid foundations for your compositions.  Arctic Drum and Bass gives you tons of tight kicks, hi-hats, rides and snares, synth loops ranging from calm to high-octane, as well as loads of rich atmospheric sounds. Backed with complex and varied sound effects, this pack's warm sounds will be a perfect addition to your library.
Suitable for style such as: DNB, Breaks, Dubstep, music for video games, TV series, Soundtrack, Hardstyle, Experimental and more.
Price: €10.95
Digital Voltage Drums is LIVE Pack based around 24bit drum samples from our faithful KORG MS-20 Synth.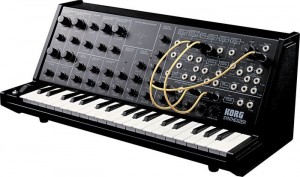 All the samples have been programmed on the MS-20 from the ground up and treated with the utmost care to provide you with pristine and unique sounds you wont find anywhere else.This is our most comprehensive pack to date as it includes 6 unique LIVE sets,  6 Drum Racks, 77 samples, 58 midi clips as well as unique FX such as our Geiger and 3F-Sat.The samples and FX have been grouped within the racks and have useful macro controls assigned to them to broaden the pallet of sounds you can produce.There is a great deal to explore in Digital Voltage Drums.Also included are all the original samples used in 24bit wav format so you can edit change and make your own unique drum racks or instruments with them.Plus as a bonus the Pack also contains 707 Voltage Grit, a variation on the original 707 drum machine.
Korg has announced the Wavedrum Black, a limited edition of the acclaimed dynamic percussion synthesizer.
Korg's award-winning Wavedrum Dynamic Percussion Synthesizer has drawn international praise for its organic interface, realism, comprehensive arsenal of percussion sounds spanning the globe, and innovative synth sounds. Now the Wavedrum is available in a limited edition black color with a solid black metallic rim and an exclusive BLACK SUEDE™ Remo drum head – projecting a different vibe than the aura of the original silver.
Wavedrum features
2nd Generation Dynamic Percussion Synthesizer provides unparalleled expressiveness.
Innovative technology combines DSP synthesis and PCM playback.
Two playing surfaces – traditional drumhead and advanced rim areas – offer unprecedented expression and a familiar feel with hands, sticks or mallets.
Transducer pickup and pressure sensor system responds to every performance nuance and gesture and every playing style.
100 preset programs offer traditional drum and percussion sounds, plus new and unique sounds.
100 user programs for storing customized sounds and settings.
Live Mode stores up to 12 favorite programs for instant recall.
100 loop phrases of various genres allow Wavedrum users to jam along.
Headphone output for silent practice.
AUX input allows the monitoring or mixing in of any audio source; CD, MP3, even a second WAVEDRUM!
Versatile, compact, light-weight design; use as an individual instrument, or mixed in with a traditional kit, or any performance/percussion rig.
The Korg Wavedrum Black will be available in November 2010.
More information: Korg / Wavedrum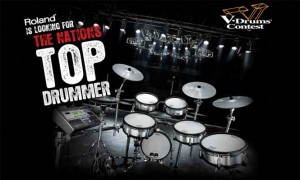 Roland U.S. is looking for the nation's best drummer with the 2010 V-Drums Contest. Here's their press release with all the details…
Co-sponsored by DRUM! magazine, Remo, Drum Workshop, and Blue Man Group, the V-Drums Contest gives drummers the chance to compete at the local, regional, and national level with solo drum performances on the TD-20SX V-Pro® Series V-Drums, and win professional percussion gear and swag along the way.
Start by submitting a digital audition to qualify for one of 28 preliminary competitions to be held at a local music retailer, and the result could be a slot in the regional competition, or even the National Finals in Las Vegas, Nevada. Entries will be judged and selected by Roland U.S., who will be looking for musicianship, stage presence, and creative uses of technology in drum performances.
Digital auditions are being taken now through August 31, 2010, at www.RolandUS.com/VDrumsContest
Digital Audition – August 1st – August 31st
Visit www.RolandUS.com/VDrumsContest
to enter at one of 28 preliminary locations.
15 contestants per location will be chosen to compete in preliminary round
Preliminary Round – September 14th
One winner from each preliminary location will be chosen to compete in regional round
Preliminary Winner Prize:
RMP-5 Rhythm Coach®
PDS-2 Pad Stand
Goodie Bags sponsored by Remo, Drum Workshop, DRUM!, and Blue Man Group
Regional Round – October 5th
One winner from each regional round will be chosen to compete in the National Finals
Regional Winner Prize:
OCTAPADâ"¢ SPD-30 Percussion Pad
PDS-10 Pad Stand
Gift Bags sponsored by Remo, Drum Workshop, DRUM!, and Blue Man Group
National Finals – November 4th
Sam Ash Music – Las Vegas, Nevada
Celebrity Judges from Co-Sponsors, Drum Artists
Guest performances by Blue Man Group and Thomas Lang
Grand Prize Winner
TD-20SX V-Pro Series V-Drums Kit
PM-30 Personal Monitor Amplifier
DW 9000-Series: Hi-Hat Stand, Snare Stand, Double Pedal, Throne
Remo Custom shell wraps
Second Place
TD-9SX V-Tour® Series V-Drums Kit
DW 5000-Series: Double Pedal, Throne
More information: