An overview of all the features on my "Teensy Synth".
You can find the materials to make this synthesizer in the Arduino Projects section of www.brianpeters.net
Hear this synthesizer in action with 4 other chip-based synthesizers:
https://www.youtube.com/watch?v=D0git…
https://www.youtube.com/watch?v=ZfXdt…
Checking out the brand new Atmegatron synthesizers from Soulsby. It's a crazy little desktop synth with tons of waveforms, 15 filter types, the ability to upload your own waveforms, and even change or hack the OS to turn it into a totally different synthesizer! It has a very different front panel so we go through the layout as well as the sounds and I even show you a few of the unreleased OS versions as well as the official Atcyclatron OS which turns it into a wavetable cyclling synth!
Get the synth here: http://soulsbysynths.com/atmegatron-c…
Read the full review here: http://soundsandgear.com/soulsby-atme…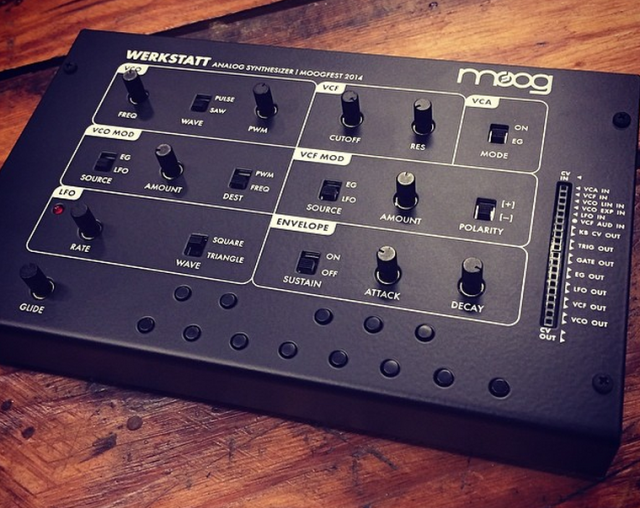 Moogfest has released this sneak preview image of the new Moog Werkstatt Analog Synthesizer, with a couple of interesting features:
Along the right-hand side, there is a break-out patch-bay, allowing modular patching of the Werkstatt; and
Along the bottom, there's a button-style keyboard.
"Werkstatt" means "workshop" in German, so the DIY function is probable. The architecture is a single-oscillator monosynth, switchable between saw waves and PWM. Both the filter and oscillator mod can be set to either an independent LFO or the envelope. Attack / Decay / sustain switch controls the envelope. The most interesting feature is the analog patch bay along the right-hand side of the unit, implemented as a simple header strip. This should suggest semi-modular capabilities by patching with jumper wires. A prototype shot shows those jumpers in action and a 1/4″ jack plug for audio coming out the back.
Background video description from 'alternatingbitmusic': I think its cool how a monosynth can spit out such an array of sounds at once. I started a sound that had a percussive element to it and I thought I'd share with you all. Everything you hear is live from the FutureRetro XS, with CV in from a sequencer for voltage & gate only. The final output has a touch of delay for flavor. Enjoy.
Humanoid Sound Systems lets us know that the Enzyme Player VST/AU synth plugin contains the complete synthesis engine from their Enzyme synth, which has won awards for its innovative design and sound, and has all the essentials for music creation (access to all of the parameters, and the saving of presets is available with the full version).
They say that the synth uses a unique combination of wavetable and physical modeling synthesis to create rich, dynamic musical timbres. Hybrid Scanned / FM synthesis is also on offer for even more sonic possibilities.
Alba Ecstasy has released a new patch library for Sunrizer, 69 Trance Presets:
69 patches for Sunrizer synthesizer for iPad (iPhone) TRANCE style: plucks, leads, vibrating pads. 100% royalty free!
Store link: http://www.albaecstasy.ro/sunrizer-pr…
ADSR Sounds say that BASSIC is a Reaktor synth made with the modern electronic producer in mind. They say that they created BASSIC with one thing in mind – Simplicity.
"Stripped of all the things that can distract or confuse when designing killer bass music instruments, BASSIC has all the basic components needed to create professional sounds in just a matter of minutes! No more spending countless hours dialling in settings across parameters that aren't even necessary. No more complex routing decisions. And no more time spent on things that only seem to derail the creative process!"
Download BASSIC here – http://adsrsounds.com/product/presets…

In this video, I show how to use my newest ensemble, Bassic, which can be bought here:
This video covers the layout and use of the Voicing controls to create huge, aggressive, bass sounds with ease.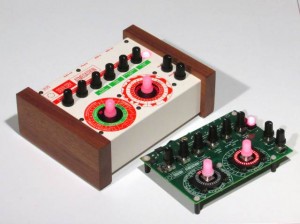 Soulsby Synthesizers has released the Atmegatron – a new 8-bit monosynth. It's the debut product from Soulsby Synthesizers.
The Atmegatron combines the sounds of 1980s home computers with the flexibility and power of a modern synthesizer.
The Atmegatron is built on the open source Arduino platform. This means that the synthesis engine can be completely changed by uploading software to the synth. One minute it's a monosynth, the next it's a drum machine. Soulsby Synths plans to relese new and completely free software versions over the coming months.
Features:
32 waveforms
15 digital filter types
2 ADSR envelopes
1 LFO with 16 waveforms
an arpeggiator with 15 patterns and
loads of fx including phaser, distortion and the unique Wavecrusher.
16 preset sounds and unlimited preset expandability via the Atmegatron Librarian software available for Mac or PC.
The Atmegatron is available in two versions:
Atmegatron Complete – £255 ex VAT & delivery.
Atmegatron Synthesizer
Power Supply
Printed 32 page colour manual
Quick reference guide
The Atmegatron Complete is housed in a beautiful white aluminium chassis with real walnut side panels.
Atmegatron PCB – £127 ex VAT & delivery.
Atmegatron Synthesizer PCB
Power Supply
Quick reference guide
The Atmegatron PCB comes with nylon pillars to keep the PCB raised from its resting surface. The PCB is perfect for programmers and hackers, but is not suitable for outside of the home due to its fragility.
Dark Synth by Amazing Noises is an innovative new Max for Live synthesizer that marries the vast possibilities of additive synthesis with a super-intuitive interface. As a great starting point for immersive sound-shaping, Dark Synth will introduce you to new horizons in sound design.
Learn more and get Dark Synth athttps://www.ableton.com/en/packs/dark…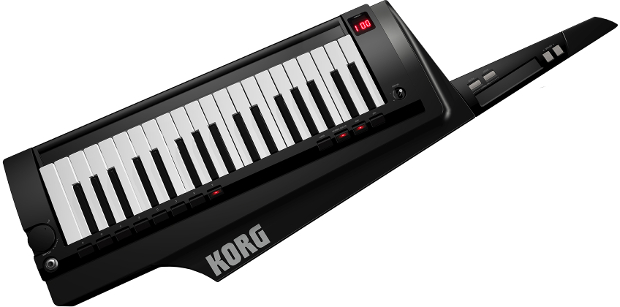 Korg is debuting the RK-100S synth/controller for the 30th anniversary of the original RK-100. Korg's latest keytar offering provides an alternative to traditional keyboards by allowing players to step out from behind a keyboard and into the spotlight.
Housed in a stylish, solid wood body, the battery-powered RK100S offers a number of additional updates from the original model. Equipped with a full palate of keyboard sounds from the built-in microKORG XL+ engine, it enables users to perform in a wide variety of music genres wherever inspiration may strike. It also functions as a USB/MIDI controller, as well as a vocoder.
There are 200 programs available in the onboard MMT sound generation system, including a broad range of oscillator algorithms such as the characteristic sawtooth and square waves found in analog synthesizers, plus formant waveforms, noise, and classic PCM/DWGS waveforms.
In addition to the 37-note slim keyboard (as featured on the Korg MS-20 Mini), a short ribbon controller on the neck and a long ribbon controller in front of the key bed are included for controlling parameters such as pitch and filter. The long ribbon runs the entire length of the key bed and can also be used to play scales over three octaves. Also included is a built-in arpeggiator, with six arpeggios available. Notes in the arpeggiator can be individually switched on/off, for even more rhythmic variation.
The RK-100S comes equipped with a vocoder function that lets players use their voice, via the optional headset mic, to process the sound of the oscillator.
The Korg RK-100S synth/controller runs on six AA batteries or the optional AD adaptor and is available in a choice of three colors: red, white and black. It will be available June 2014, with U.S. pricing to be announced shortly. For more information, please visit www.korg.com .
Appearing in 1984, the RK-100 remote keyboard broke the chains of keyboardists, setting them free to perform as they liked. It allowed the keyboard player to challenge the vocalist or guitarist for the main role on stage. Now, thirty years later, the RK has been resurrected. Although beautiful curved surfaces have been added, the essence of the original and very popular design is unchanged. What had been a somewhat large and heavy body has been made more compact and lightweight thanks to modern components such as a slim keyboard. While the original required an external sound module, the new RK-100S contains a built-in analog modeling sound generator. New features and functions include two ribbon controllers, an arpeggiator, and a vocoder, and there are also "favorite" buttons that allow you to register frequently-used sounds for one-touch selection. The RK-100S is your choice for smarter, more active, and more enjoyable performance. Enjoy play anywhere performance utilizing AA batteries. The RK-100S Remote Keyboard is available in White, Black & Red.
For more information on the KORG RK-100S, head over to http://www.Korg.com
Like Us – https://www.facebook.com/korgusa
Follow Us – https://www.twitter.com/korgusa