NAMM 2014: Korg's New Keytar Korg reimagines their RK-100S Synth/Controller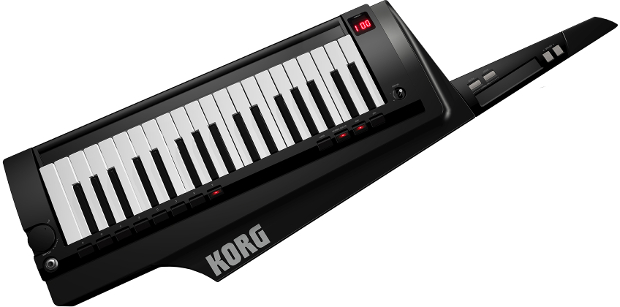 Korg is debuting the RK-100S synth/controller for the 30th anniversary of the original RK-100. Korg's latest keytar offering provides an alternative to traditional keyboards by allowing players to step out from behind a keyboard and into the spotlight.
Housed in a stylish, solid wood body, the battery-powered RK100S offers a number of additional updates from the original model. Equipped with a full palate of keyboard sounds from the built-in microKORG XL+ engine, it enables users to perform in a wide variety of music genres wherever inspiration may strike. It also functions as a USB/MIDI controller, as well as a vocoder.
There are 200 programs available in the onboard MMT sound generation system, including a broad range of oscillator algorithms such as the characteristic sawtooth and square waves found in analog synthesizers, plus formant waveforms, noise, and classic PCM/DWGS waveforms.
In addition to the 37-note slim keyboard (as featured on the Korg MS-20 Mini), a short ribbon controller on the neck and a long ribbon controller in front of the key bed are included for controlling parameters such as pitch and filter. The long ribbon runs the entire length of the key bed and can also be used to play scales over three octaves. Also included is a built-in arpeggiator, with six arpeggios available. Notes in the arpeggiator can be individually switched on/off, for even more rhythmic variation.
The RK-100S comes equipped with a vocoder function that lets players use their voice, via the optional headset mic, to process the sound of the oscillator.
The Korg RK-100S synth/controller runs on six AA batteries or the optional AD adaptor and is available in a choice of three colors: red, white and black. It will be available June 2014, with U.S. pricing to be announced shortly. For more information, please visit www.korg.com .
Appearing in 1984, the RK-100 remote keyboard broke the chains of keyboardists, setting them free to perform as they liked. It allowed the keyboard player to challenge the vocalist or guitarist for the main role on stage. Now, thirty years later, the RK has been resurrected. Although beautiful curved surfaces have been added, the essence of the original and very popular design is unchanged. What had been a somewhat large and heavy body has been made more compact and lightweight thanks to modern components such as a slim keyboard. While the original required an external sound module, the new RK-100S contains a built-in analog modeling sound generator. New features and functions include two ribbon controllers, an arpeggiator, and a vocoder, and there are also "favorite" buttons that allow you to register frequently-used sounds for one-touch selection. The RK-100S is your choice for smarter, more active, and more enjoyable performance. Enjoy play anywhere performance utilizing AA batteries. The RK-100S Remote Keyboard is available in White, Black & Red.
For more information on the KORG RK-100S, head over to http://www.Korg.com
Like Us – https://www.facebook.com/korgusa
Follow Us – https://www.twitter.com/korgusa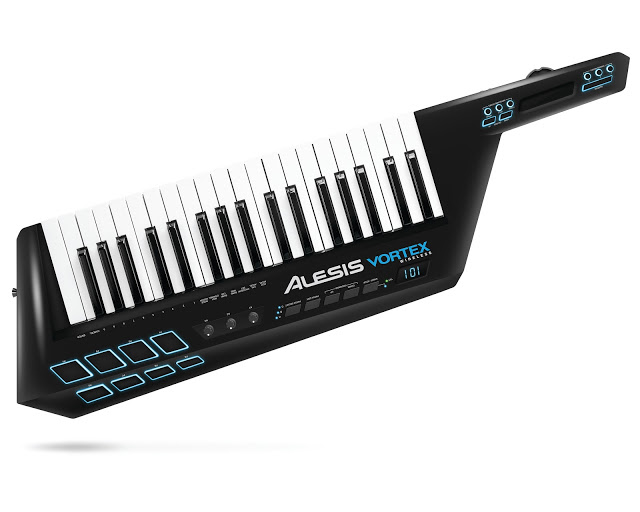 Alesis has introduced a $199 wireless Keytar controller, the Alesis Vortex Wireless, all the details below:
VORTEX WIRELESS
USB/Midi Keytar Controller With Accelerometer
Combines onstage mobility with expressive control
37 velocity-sensitive keys with aftertouch
8 velocity-sensitive trigger/drum pads
USB dongle creates a wireless connection to any Mac/PC
Volume slider, pitch wheel, ribbon controller, sustain pedal jack
USB, battery, or external power; USB/MIDI + MIDI outputs
Includes SONiVOX Vortex I DVI and Ableton™ Live Lite Alesis Edition
Press release:
"ALESIS VORTEX WIRELESS KEYTAR OFFERS TRUE ONSTAGE MOBILITY FOR ALL KEYBOARD PLAYERS
The popular Alesis Vortex has been updated with wireless USB MIDI
Cumberland, RI, USA – January 22, 2014. Alesis, a leading manufacturer of instruments and tools for today's musician, announces the new Vortex Wireless USB MIDI keyboard controller with accelerometer.
A keytar for the modern performer, Vortex Wireless delivers unprecedented control and expression by transmitting MIDI via a wireless USB connection for dynamic on-stage freedom, and includes the virtual synthesizer plug-in Vortex-I Digital Virtual Instrument from acclaimed software creator SONiVOX. In addition to 37 velocity sensitive keys with aftertouch—the keyboard features an assignable accelerometer (tilt-sensor) in the neck that can translate gestures into additional controls—adding vibrato when the neck is pulled up, for example. For additional control, Vortex Wireless provides 8 drum/trigger pads, 3 assignable knobs, a multi- mode ribbon controller, pitch bend wheel, and a volume slider.
Plugging the included USB receiver dongle into any MAC or PC establishes a live USB/MIDI link with the Vortex Wireless. There is also a standard MIDI output (5-pin) mounted in the Vortex Wireless for connecting to other MIDI-enabled equipment, such as a favorite hardware synthesizer. Vortex Wireless can run on batteries, USB bus power, or can be powered using an optional AC adaptor. Each Vortex Wireless also includes a USB cable with extension for the USB receiver dongle and 4 x AA batteries, so users can begin playing right away.
In addition, the Vyzex Vortex Patch Editor Software is also provided, making it easy to create, edit, and backup patches to your computer. AbletonTM Live Lite 8 Alesis Edition is also included.
Alesis Vortex Wireless Keytar Highlights:
'Nearly every keytar or remote keyboard has required a cable of one sort or another, be it power, MIDI, audio, or USB" said Nate Lane, Product Manager at Alesis. "With the Vortex Wireless, the player is truly free to move about at will. This onstage freedom allows the player to make the most of the onboard accelerometer and other extensive controls to create an original, expressive performance without the hassle of cables on stage.'
Combines expressive control with onstage mobility
37 velocity-sensitive keys with aftertouch
8 velocity-sensitive trigger/drum pads
USB dongle creates a wireless connection to any Mac/PC
Volume slider, pitch wheel, ribbon controller, sustain pedal jack
USB, battery, or external power; USB MIDI + 5-pin MIDI outputs
Includes SONiVOX Vortex I DVI and AbletonTM Live Lite Alesis Edition
Vortex Wireless will be available with an estimated street price of $199.99 USD
Alesis will present the Vortex Wireless at the 2014 NAMM Show in Hall A, Booth 6700, January
23-26 in Anaheim, California. For more information, visit: www.alesis.com/WNAMM2014"
Mitchell Sigman talks about the innovative accelerometer control in the new Alesis Vortex Keytar Controller.
Watch for a full review in the June issue of Keyboard Magazine.

I am personally not very keen on keytars – I think they are quite a silly hybrid between the two and this one is not even a proper synth merely a controller, but for those of you who enjoy these, here's a brand new one from Alesis featured at the ongoing WNAMM show:
Alesis Vortex, the first USB/MIDI keytar controller.
The Vortex offers an extensive array of touch-sensitive keys and velocity-sensitive pads on a pearlescent white body, and octave and pitch controls on its neck.
The Vortex includes features something that they say has never been found on any keytar before: both traditional MIDI and USB MIDI. This should let you use the Vortex with any MIDI hardware or software instruments on Mac, PC, and iPad. The Vortex also comes mapped for popular software synths and DAWs.
The Vortex also features a MIDI-assignable accelerometer – so you can control virtually any parameter by moving the Vortex's neck: volume swells, amazing pitch bends, vibratos, filter cutoffs and more.
Features:
The first USB keytar controller—works with all of your software instruments & synths on Mac, PC, & iOS devices
USB and traditional MIDI jacks for use with virtually any synth, sound module, or other MIDI hardware or software
Embedded, MIDI-assignable accelerometer for performance parameter control by tilting the neck
Thumb-controlled volume slider, sustain button and pitch-bend wheel on neck
Finger-controlled MIDI-assignable touchstrip, sustain, and octave-control buttons on neck
37 velocity-sensitive keys with aftertouch for compact, yet complete melodic range
Eight velocity-sensitive drum pads/sample triggers enable you to create beats or trigger clips
Large transport & patch-select controls for instant access
Includes strap; standard guitar strap pegs are compatible with virtually any strap
Bus powered when USB-connected to Mac or PC; battery compartment for use with MIDI modules and iOS devices
Availability and pricing for the Alesis Vortex Keytar USB MIDI Controller are to be announced.
Check out Yoshiaki kicking in with Kitara, which was delivered to him only 2 weeks ago for beta testing.
The Misa digital guitar is an experimental new instrument, similar to an electric guitar in shape, but with an interface designed to easily and intuitively control digital audio.

Most musicians today use some form of audio synthesis or sampling in their music. Virtually any type of sound can be created using these methods. Traditionally, digital piano keyboards have been the dominant instrument for controlling these sounds real-time in a musical setting.
At Misa, we provide a new instrument that not only unites traditional guitar playing technique with digital sound, but allows digital guitarists to use playing techniques that are not possible or comfortable on a digital keyboard.
How it works:
The Misa Kitara consists of three main components: a full fretboard, a multi-touch screen and an onboard polyphonic synthesizer with sounds and effects. The kitara's neck has 24 frets, but instead of strings each fret contains buttons. You play notes by touching on the screen. The position and movement of your touch determine how the sound is generated and processed. You can apply a number of digital effects, including distortion, delay and modulation, and you can control these effects through the touch panel interface. You can save sounds as presets, and you can swap preset files online. You can assign one sound to all six strings, or assign different sounds to different strings. The kitara can control compatible MIDI devices too. Everything is configurable. It runs Linux and is open source.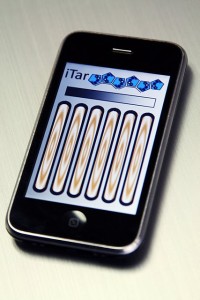 Ztar developer Starr Labs has introduced iTar, an upcoming controller app for iPhone and iPad:
We here at Starr Labs have been working on the iTar, a MIDI guitar/instrument application for the iPhone and iPad.
The more we labor over what we want the iTar to accomplish, the more we expand its scope of control, programmability, customization, and interactivity. Think pages of customizable control screen surfaces with dozens of controller and trigger types, arranged and implemented however you like.
That said, we invite any serious programmers/developers to join us in the iTar conversation.
Seriously, contact Harvey Starr harvey (at) starrlabs.com and be a part of the Starr Labs team that unveils the best MIDI guitar/instrument application onto the world, the iTar!
More info here: site.
The New Keytar Leads Collection on Ax-Synth comprehends many patch from Dream Theater inspiration and some good other patch too to perform the best live experience of your entire life!
You should be able to install quickly and easily thourgh any Ax-Synth Editor…only a few minutes and you'll be ready to start!
Patch list:
Liquidator.a8e = Liquid style Lead
Liquidator 2.a8e = Another Liquid style Lead
Dv8 Lead.a8e = Lead Based on the Ytse'Jam Lead (Kevin Moore)
Dv8 Lead2.a8e = Variant of the Ytse' Moore Lead
Wailing Keytar.a8e = Lead (solo) based on the Wailing Guitar Lead (from Jd-800)
Jd8 Groove.a8e = Wailing Keytar, Poly version
Waveblowbear Keytar.a8e = Pad style sound, based on the Metropolis PT1 intro (kevin moore)
Perc-Vox Stacs.a8e = Percussive sound, based on Learning to Live starting sound (kevin moore)
Shine on Me Crazy Keytar (Lead).a8e = Pad & Lead inspirated by Pink Floyd song)
Patched by S4K team
Performed by Ultimauro
http://www.space4keys.com
http://www.keyboardsolo.com"
Jan Hammer rocks out with his Fairlight and Yamaha KX5 remote keyboard on BBC Rock School series 2 from 1987
About:
Jan Hammer (born 17 April 1948, in Prague, then Czechoslovakia, today the Czech Republic) is a composer, pianist and keyboardist. He is probably best known for playing keyboards with the Mahavishnu Orchestra in the early 70s, as well as his "Miami Vice Theme" and "Crockett's Theme", from the popular 1980s US television program, Miami Vice.
Hammer has collaborated with some of the era's most influential musicians such as Jeff Beck, Al Di Meola, Mick Jagger, Carlos Santana, Stanley Clarke, Neal Schon, Steve Lukather, and Elvin Jones among many others. He has composed and produced at least 14 original motion picture soundtracks, the music for 90 episodes of Miami Vice and 20 episodes of the popular British television series Chancer.
His compositions have won him several Grammy awards.