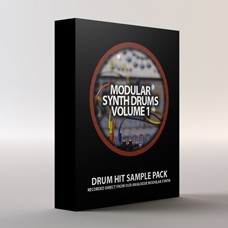 Minimal System Instruments has announced the release of its Modular Synth Drums Volume 1 sample library.
Modular Synth Drums Volume 1 is a drum sample pack that was born from intensive and great fun recording sessions with the huge Minimal System modular synth setup over a number of years.

This sample pack consists of 85 recorded 24-bit analogue drum samples which have been designed from the ground up using modular system and treated through a selection of our favourite outboard signal processors. Modular Synth Drums Volume 1 is a flexible electronic drum sample library for modern music production.
The sample pack is available to purchase for the introductory price of £1.99 GBP.
Showing at Devotion Gallery on August 2nd at 7pm in Brooklyn!
Along with past and present felt designs.
m.facebook.com/events/640142289329927/
areyoudevoted.com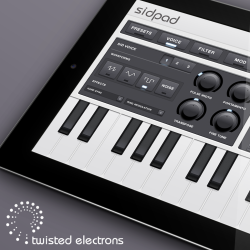 Alex Smith has introduced Sidpad – an 8-bit style chiptune synth for the iPad.
Features:
3 Voice Synthesizer – Over 40 controllable parameters to create a wide range of 8 bit chip-tune sounds. All knobs are MIDI controllable.
Multimode Filter – includes Type, Cutoff, Resonance and customizable Cutoff Envelope
Flexible Modulation – Hand draw up to 4 graphs and assign them to the synth's parameters to add movement and expression to your sound
Wavetable Editor – The 16 step wavetable editor lets you set up sound effects and arpeggiated melodies. You can sequence notes and waveform changes either as one shot or in a loop and vary the speed
Help Mode – Every feature is explained via the help button to get you up and running with SidPad regardless of your synthesizer experience.
Sidpad is a free download right here >>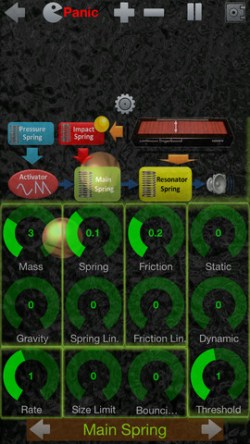 Christophe Duquesne has released Anckorage Spring  –  a new physical modeling synth for IOS (iPhone,iPad and iPod).
Anckorage Spring is based on "the simulation of a set of connected mass- spring, integrating non-linearities, fluid and static friction, mechanical limits, gravity and bouncing."
It is designed to be controlled by a continuous controller but can be used with a regular keyboard or directly from the device screen or from other core MIDI apps. According to Duquesne, a continuous controller will provide a much more accurate control of the model.
The mains ideas behind Anckorage Spring are:
Being able to tweak real world parameter like Mass, Force, Gravity, etc. instead of tweaking usual electronic parameters,
Not only try to mimic real world, but also allow very "unusual" things like modulating a Mass and changing the Gravity,
Emphasis control and expression using the physical parameters,
Open a new world of sound to experiment with….
Features:
Real physical modeling sound engine
Fully editable physical model
88 200 Hz internal sampling rate
Special Haken Continuum compliance
Playable by any midi device
Core midi base (therefore including virtual midi and network midi compliance)
On device touch control
Rich preset management
Preset exchange mechanism (through iTunes Share)
All parameters controllable by MIDI CC
Audiobus compliant
Station X , is the amazing cute little monophonic analogue synth from Analogue Solutions. There are 6 sequences in total, status indicators show fx's when used.
Fx List
Sonalksis Stereo Tool ( convert mono to stereo )
Arts Acoustic Reverb
X-Delay (Orion native DAW fx)
Tube Distortion (Orion native DAW fx)
A free VST virtual analog drum synthesizer with eight outputs, a separate effects section featuring a granulator and waveshaper for each output pair, MIDI automation and flexible sound design capabilities.
EXD-80 can produce a wide variety of drum and percussion sounds, from emulations of classic drum machines to mangled, glitchy madness. All sounds are synthesized, no samples are used. It is suitable for many EDM styles including electro, glitch, industrial, ambient, dubstep, drum & bass and hip hop.
To download the VST plugin or hear an audio demo go to:
http://www.thirdharmonic.net/exd80-fr…
The Groovesizer is an arduino-based DIY 32-step sequencer / synth – the project is based around a custom PCB that in it current form features 4 rows of 8 tactile switches and leds – the final version will add a fifth row of buttons and leds dedicated to control functions. It features an embedded hackduino, an 8-bit DAC option, an LM386 amp output, MIDI in/out/sync and is configurable to work with some of the most popular existing arduino audio projects. Firmware can be updated from the arduino IDE, either via an AVR ISP programmer, or by flashing the chip on an arduino board and swapping it out. Furthest along in its development is the Alpha firmware which features a 3 oscillator monosynth. Other firmware will include the Bravo which borrows code from the Bleeplabs Bleepdrum https://www.sparkfun.com/products/11606 , the Charlie, based around the Illutron 4-voice wavetable synth http://www.instructables.com/id/Turn-… , and the Delta, based on the original Groovesizer with the auduino synth engine http://www.youtube.com/watch?v=9zsxWf…
The complete kit with PCB and all components will be sold for around US$100 – follow the progress on this project at http://groovesizer.com
Native Instruments REAKTOR's Aerobic just begs to be used inside MASCHINE. There are any number of ways to use Aerobic inside Maschine, but let's look at two specifically: 1) as a drum synth whose individual hits can be triggered by MASCHINE's Pads, and 2) as a DJ-style loop-mixing setup.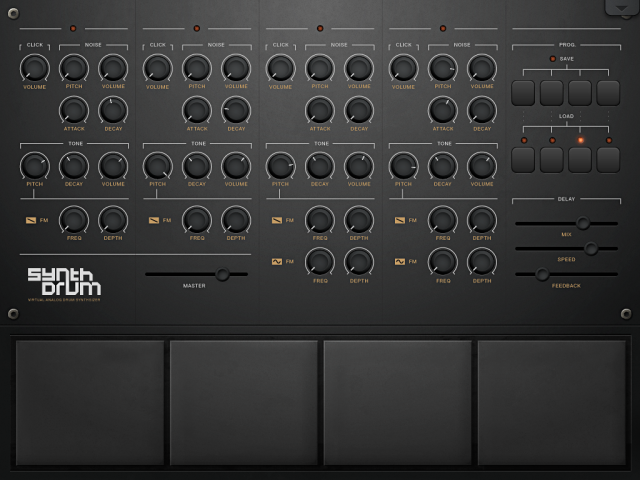 DesignByPaul has released SynthDrum Pad – a free pad-controlled drum synthesizer for the iPad.
Features:
Virtual Analog Drum Synthesizer
4 Pads
4 Voices
3 Signal generators per voice; Noise, Click and Tone
Modify pads 3 & 4 with Frequency Modulation
4 Save/Load slots
Delay unit (with infinite looping capabilities)
Here's an audio demo:
Capable of creating vintage drum sounds such as the 808 to contemporary percussion for modern electronic dance music. SynthDrum Pads can also make melodic tones for warm bass and interesting tones.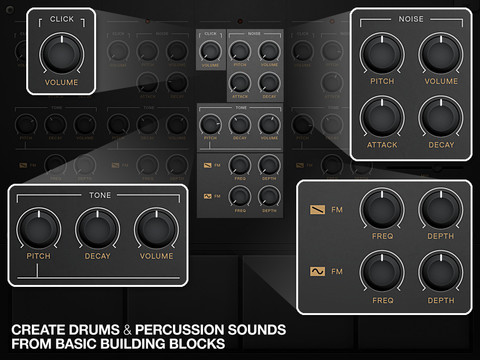 Here's the SOLAR SYNTH in full sunlight, the shade & indoors. It's the mini synth for all seasons and never needs batteries or external power! Get yours only @ chamberofsounds.com
Marcomm pitch type description below:
Since the beginning of time, mankind has been trying to harness the sun's energy, and process it into something exponentially larger. Centuries later, in the year 2013, COS brings you, synthesis created entirely by the sun, handheld synthesis, that will never require a battery or external power of any kind, a sound device that will carry you through anywhere, even when the grid goes down, and the zombie apocalypse begins. Introducing the SOLAR SYNTH!
Harness the power of the sun and surroundings to generate ambient drones and cosmic waves. Tune the three oscillators at just the right frequency, and interact with nature. Flip on the photocell, and use light to filter the pulsating waves of sound. Communicate with animals and aliens alike, outdoors or indoors.
SOLAR SYNTH works with any incoming light, even surprisingly low levels, which makes for some tasty, power-starved sounds. The LED displays how much power your light source is generating.
Go green with the revolutionary SOLAR SYNTH, make batteries a thing of the past and experience the freedom of handheld synthesis. There'll only be a limited number of these beasts, so don't miss out.
Features:
• oscillators: 3
• power: 9V solar panel
• trigger: momentary-latching
• range: many, many octaves
• output: 1/4″
• function: to take your sound anywhere & interact with nature
Price: $225