Introducing Robotic Drums, a new Universal iOS app by Big Robot Studios.
Robotic Drums is a drum synthesizer with a probability sequencer.
It features:
– 6 analog-modeled synth voices with realtime control
– A probability sequencer for each voice
– Dropbox support
– Midi-clock sync support
– AudioBus support
– Quantized patterns switching
– An optimized, simple UI
For more info see: http://bigrobotstudios.com or find it on the App Store.
The Spectralis 2 in action, for more info on the machine read below:
Spectralis 2 is the even more powerful successor of Radikals sophisticated Hybrid Synthesizer. With up to 4 GB sample memory and tons of new features Radikal raises the bar again for our competition. Never stop the sequencer engine again with our fully redesigned sequencer engine that allows for on the fly realtime sequencing.
Quick Sound Selection for every part – your most favorite sounds are just one fingertip away. Transpose your patterns and step sequences with the attached keyboard. There is only one thing, we left untouched in our new design – the sound engine. Still the warmest and richest sound out there with the power of a modular synthesizer in a box.
The Spectralis 2 hybrid synth, fueled by the latest DSP- and true analog technology, delivers maximum tonal capabilities and leads you into a radical new world of sounds full of life and animation. The Spectralis 2 oscillator section takes sound design to new extremes. The 4 oscillators offer continuously variable waveshapes plus time linearity modulation, FM, PM, oscillator synchronisation, bit reduction and independent pitch and volume envelopes. The self resonating filters, a 4 pole lowpass and a 2 pole multimode filter with LP, HP, BP and notch outputs, use two highly improved true analog circuit designs to overcome the restrictions of modelling based synths.
The way players can interact with the destinc-tive user interface makes the Spectralis 2 hybrid synthesizer a killer live instrument with unbeatable richness and stunning flexibility. The synthesis engine takes advantage of a sophisticated step sequencing system – 32 independent parameter control lines with up to 192 steps let you explore an universe of previously unheard rhythmic effects and atmospheric textures. Punchy high resolution envelopes, are the cutting edge of todays synthesizer technology. They are the perfect weapon for the creation of floor pounding kicks, state of the art sequencer staccatos and numerous percussion effects.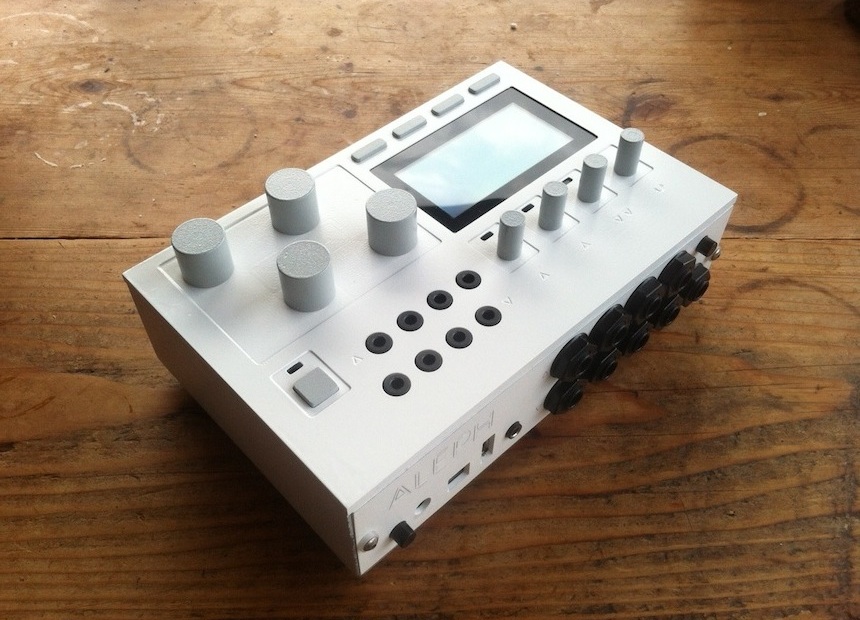 Ezra Buchla (son of Donald) and Brian Crabtree of Monome have made a Linux based open source device for "everything" called Aleph.
with connectors for monome, soundplane and shnth
100 will be made – it will be $1.4k – and it has 4 CV outputs as well.
runs BF533 DSP, programmed in C under Linux –
first in will be:
a looper,
a digital synth,
a sampler and
a drummachine
-> Forum • Aleph Crabtree/Buchla.
-> http://monome.org/aleph
The BX-13-MICRO is a most advanced, yet easiest to use, vintage 24-pin to 13-pin Roland guitar synthesizer bus converter.
The BX-13-MICRO tackles the problem of controlling the level of the normal guitar by including a voltage-controlled amplifier inside the BX-13, doing the same job as the voltage controlled amplifiers found inside a GR-500, GR-300 or GR-700.
And here is an added plus: no loss of tone as you turn the guitar volume down! The advanced VCA design does not roll off tone like a passive volume control. You get the full range of tone at any volume.
With an entirely redesigned circuit, the transparently converts the 24-pin format to the 13-pin format, and there are no levels to adjust, no additional cables, just clean, analog signal processing with no latency.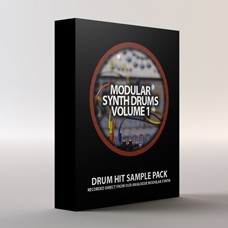 Minimal System Instruments has announced the release of its Modular Synth Drums Volume 1 sample library.
Modular Synth Drums Volume 1 is a drum sample pack that was born from intensive and great fun recording sessions with the huge Minimal System modular synth setup over a number of years.

This sample pack consists of 85 recorded 24-bit analogue drum samples which have been designed from the ground up using modular system and treated through a selection of our favourite outboard signal processors. Modular Synth Drums Volume 1 is a flexible electronic drum sample library for modern music production.
The sample pack is available to purchase for the introductory price of £1.99 GBP.
Showing at Devotion Gallery on August 2nd at 7pm in Brooklyn!
Along with past and present felt designs.
m.facebook.com/events/640142289329927/
areyoudevoted.com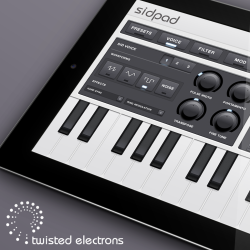 Alex Smith has introduced Sidpad – an 8-bit style chiptune synth for the iPad.
Features:
3 Voice Synthesizer – Over 40 controllable parameters to create a wide range of 8 bit chip-tune sounds. All knobs are MIDI controllable.
Multimode Filter – includes Type, Cutoff, Resonance and customizable Cutoff Envelope
Flexible Modulation – Hand draw up to 4 graphs and assign them to the synth's parameters to add movement and expression to your sound
Wavetable Editor – The 16 step wavetable editor lets you set up sound effects and arpeggiated melodies. You can sequence notes and waveform changes either as one shot or in a loop and vary the speed
Help Mode – Every feature is explained via the help button to get you up and running with SidPad regardless of your synthesizer experience.
Sidpad is a free download right here >>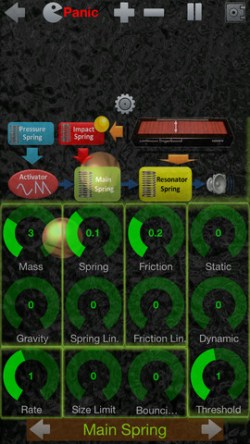 Christophe Duquesne has released Anckorage Spring  –  a new physical modeling synth for IOS (iPhone,iPad and iPod).
Anckorage Spring is based on "the simulation of a set of connected mass- spring, integrating non-linearities, fluid and static friction, mechanical limits, gravity and bouncing."
It is designed to be controlled by a continuous controller but can be used with a regular keyboard or directly from the device screen or from other core MIDI apps. According to Duquesne, a continuous controller will provide a much more accurate control of the model.
The mains ideas behind Anckorage Spring are:
Being able to tweak real world parameter like Mass, Force, Gravity, etc. instead of tweaking usual electronic parameters,
Not only try to mimic real world, but also allow very "unusual" things like modulating a Mass and changing the Gravity,
Emphasis control and expression using the physical parameters,
Open a new world of sound to experiment with….
Features:
Real physical modeling sound engine
Fully editable physical model
88 200 Hz internal sampling rate
Special Haken Continuum compliance
Playable by any midi device
Core midi base (therefore including virtual midi and network midi compliance)
On device touch control
Rich preset management
Preset exchange mechanism (through iTunes Share)
All parameters controllable by MIDI CC
Audiobus compliant
Station X , is the amazing cute little monophonic analogue synth from Analogue Solutions. There are 6 sequences in total, status indicators show fx's when used.
Fx List
Sonalksis Stereo Tool ( convert mono to stereo )
Arts Acoustic Reverb
X-Delay (Orion native DAW fx)
Tube Distortion (Orion native DAW fx)
A free VST virtual analog drum synthesizer with eight outputs, a separate effects section featuring a granulator and waveshaper for each output pair, MIDI automation and flexible sound design capabilities.
EXD-80 can produce a wide variety of drum and percussion sounds, from emulations of classic drum machines to mangled, glitchy madness. All sounds are synthesized, no samples are used. It is suitable for many EDM styles including electro, glitch, industrial, ambient, dubstep, drum & bass and hip hop.
To download the VST plugin or hear an audio demo go to:
http://www.thirdharmonic.net/exd80-fr…