Station X , is the amazing cute little monophonic analogue synth from Analogue Solutions. There are 6 sequences in total, status indicators show fx's when used.
Fx List
Sonalksis Stereo Tool ( convert mono to stereo )
Arts Acoustic Reverb
X-Delay (Orion native DAW fx)
Tube Distortion (Orion native DAW fx)
A free VST virtual analog drum synthesizer with eight outputs, a separate effects section featuring a granulator and waveshaper for each output pair, MIDI automation and flexible sound design capabilities.
EXD-80 can produce a wide variety of drum and percussion sounds, from emulations of classic drum machines to mangled, glitchy madness. All sounds are synthesized, no samples are used. It is suitable for many EDM styles including electro, glitch, industrial, ambient, dubstep, drum & bass and hip hop.
To download the VST plugin or hear an audio demo go to:
http://www.thirdharmonic.net/exd80-fr…
The Groovesizer is an arduino-based DIY 32-step sequencer / synth – the project is based around a custom PCB that in it current form features 4 rows of 8 tactile switches and leds – the final version will add a fifth row of buttons and leds dedicated to control functions. It features an embedded hackduino, an 8-bit DAC option, an LM386 amp output, MIDI in/out/sync and is configurable to work with some of the most popular existing arduino audio projects. Firmware can be updated from the arduino IDE, either via an AVR ISP programmer, or by flashing the chip on an arduino board and swapping it out. Furthest along in its development is the Alpha firmware which features a 3 oscillator monosynth. Other firmware will include the Bravo which borrows code from the Bleeplabs Bleepdrum https://www.sparkfun.com/products/11606 , the Charlie, based around the Illutron 4-voice wavetable synth http://www.instructables.com/id/Turn-… , and the Delta, based on the original Groovesizer with the auduino synth engine http://www.youtube.com/watch?v=9zsxWf…
The complete kit with PCB and all components will be sold for around US$100 – follow the progress on this project at http://groovesizer.com
Native Instruments REAKTOR's Aerobic just begs to be used inside MASCHINE. There are any number of ways to use Aerobic inside Maschine, but let's look at two specifically: 1) as a drum synth whose individual hits can be triggered by MASCHINE's Pads, and 2) as a DJ-style loop-mixing setup.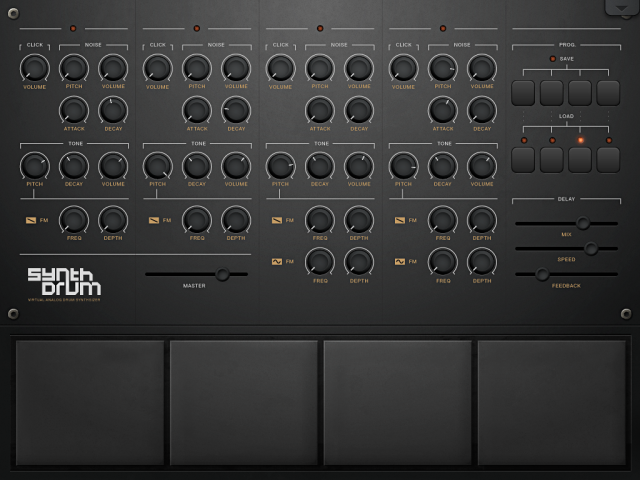 DesignByPaul has released SynthDrum Pad – a free pad-controlled drum synthesizer for the iPad.
Features:
Virtual Analog Drum Synthesizer
4 Pads
4 Voices
3 Signal generators per voice; Noise, Click and Tone
Modify pads 3 & 4 with Frequency Modulation
4 Save/Load slots
Delay unit (with infinite looping capabilities)
Here's an audio demo:
Capable of creating vintage drum sounds such as the 808 to contemporary percussion for modern electronic dance music. SynthDrum Pads can also make melodic tones for warm bass and interesting tones.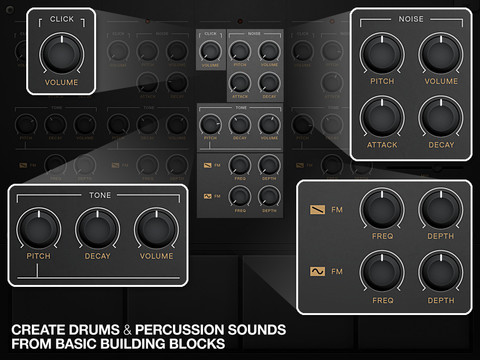 Here's the SOLAR SYNTH in full sunlight, the shade & indoors. It's the mini synth for all seasons and never needs batteries or external power! Get yours only @ chamberofsounds.com
Marcomm pitch type description below:
Since the beginning of time, mankind has been trying to harness the sun's energy, and process it into something exponentially larger. Centuries later, in the year 2013, COS brings you, synthesis created entirely by the sun, handheld synthesis, that will never require a battery or external power of any kind, a sound device that will carry you through anywhere, even when the grid goes down, and the zombie apocalypse begins. Introducing the SOLAR SYNTH!
Harness the power of the sun and surroundings to generate ambient drones and cosmic waves. Tune the three oscillators at just the right frequency, and interact with nature. Flip on the photocell, and use light to filter the pulsating waves of sound. Communicate with animals and aliens alike, outdoors or indoors.
SOLAR SYNTH works with any incoming light, even surprisingly low levels, which makes for some tasty, power-starved sounds. The LED displays how much power your light source is generating.
Go green with the revolutionary SOLAR SYNTH, make batteries a thing of the past and experience the freedom of handheld synthesis. There'll only be a limited number of these beasts, so don't miss out.
Features:
• oscillators: 3
• power: 9V solar panel
• trigger: momentary-latching
• range: many, many octaves
• output: 1/4″
• function: to take your sound anywhere & interact with nature
Price: $225
The extremely popular OP-1 gets a well deserved OS update, details below:
(Introductory NOTE: This is a longer original introduction to the new OS that I put together. It has outdated graphics that have since been polished. This is one example of what takes place during beta testing. All sound features are unchanged. There is a much more in depth level of explanation of operation of the new OS here and it would be a shame to have this sit on a shelf… so here you go.)
This video is an introduction and demo of the May 2013 OS update to the amazing Teenage Engineering OP-1 synthesizer music machine. In this update two astounding new features are added in the form of the "DNA" synthesizer engine and the "CWO" Frequency Shifting Delay. The DNA engine is a noise engine capable of complete aggression and fax machine battle while at the same time possessing the ability for harmonic tonal leads and chords. The CWO FX is a Frequency Shifter with a wide range that make it possible to do phasing, flanging, chorus, tremelo, ring mod and comb filter types of sounds. You have to hear it to believe it. CWO also represents the first partnership by Teenage Engineering with an outside developer to co-op code to add to the OP-1's already heavy arsenal of sound capability. This developer is the one and only sonic master mind Magnus Lidström of Sonic Charge. I hope you enjoy the video and the demo. Most of your questions will be answered in the video and I try to do my best balancing act between info and sound. Soon you will be able to upload this OS yourself and I look forward to hearing (and seeing) what you can create with this as well as part of the OP community.
Note: This is a pre-release build and final features may vary slightly from those shown in these clips. All music is original and no creative rights have been infringed upon in the making of this video
Impaktor is a drum synthesizer with a vast sonic palette, that turns any surface into a playable percussion instrument.
You just slap your desk like you would a real drum. The real acoustical impulses from the built-in microphone are used as an excitation source for advanced sound modules that simulates behavior of membranes, cymbals, metallophones or strings. This makes Impaktor a highly responsive and expressive instrument.
With semi-modular architecture and several types of synthesis, Impaktor can produce a wide range of tones, from acoustic, like Tabla, Djembe, Marimba, Cymbals, Metal bars to electronic or industrial sounds.
– Synthesis: physical modeling, frequency modulation, noise shaping
– Semi-modular architecture; 2 modules with configurable routing
– 2 modulation sources: velocity and lfo-envelope. Almost every parameter can be modulated
– Multimode filter, harmonic exciter and several types of amplifiers
– Over 90 presets available, more coming soon
– No samples used
– Ultra low latency
"A look at his great retro synth being used with Audiobus"
http://apps4idevices.com/read/bebot-r…
Bebot is a feature packed polyphonic synthesiser that was the very first music app to fully utilise the full touch screen to control the sound. It has a single oscillator with 4 waveform choices and a sub oscillator with another 4 waveform options, including both one and two octave options below the main oscillator. It also offers distortion, chorus and echo effects, as well as y axis expression within the settable timbre/resonant range, and great sounding filters. There are 25 presets to get started with, but you can also save your own creations. It comes with scale presets and the option to create your own custom scales so you can simply slide your finger across the screen without playing the wrong notes. Another great feature is the ability to Autotune each note to varying degrees or choose not to use Autotune to get that great fretless sound. Bebot also is AudioBus compatible for use in the input slot, so you can directly record your performances into other compatible apps. The video below runs through most of the preset sounds and then continues on to explore all of the other options available, and the audio track shows a few examples of the expressiveness of the app using a few preset sounds. Bebot is a very impressive synth with great expressive control, and with AudioBus compatibility it is definitely a must-have synth, which makes it … A Killer App!Review by Nick Trass