Needless to say – you cannot actually play it (as we have been informed), but still – pretty nice watch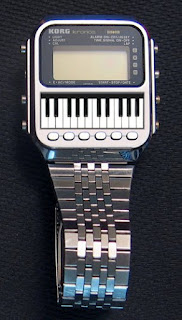 Demo of a classic vintage and rare drum synth – Bias BS-2 Drum Percussion: Bias (Ishibashi Japan) Drum Analog Synth Module.
The MXR 185 is a great American drum machine from 1983. It has individual outputs for drumsounds. The crispy 8-bit samples sound great. The built in sequencer has a "tight" groove, it grooves like hell!
Know more about the MXR 185 Drum synth:
MXR were major innovators during the '70s with their ground breaking effects pedals such as the Phase 100 phase shifter that defined the beautiful, swirling guitar and electric piano sounds of the decade.
They also produced distortion pedals, sustain pedals and more…. products that set the standard for stomp boxes even today.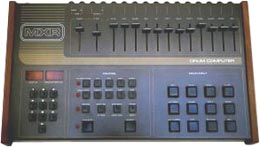 They also introduced us to the idea of a pitch shifters and harmonisers (not be confused with today's pitch correction devices).
Their products weren't cheap but they exuded quality and had a great sound and an MXR Phase 100 pedal is probably now worth more than it originally sold for!
However, as technology progressed, MXR's fortunes began to dwindle. Looking for ideas to generate revenue, MXR couldn't resist the lure of the growing (and lucrative) drum machine market. Linn and Emu had been seen to be very successful with their products and, technically, the concept wasn't exactly rocket science at the time…. a programmable sequencer that issued triggers to fire off crude 8-bit drum samples stored in ROM chips! Nowadays, this might be a course project for a college engineering student! And so in the mid 80s, they released their MXR 185 Drum Computer.
On the surface, it looked great. Twelve 'real' drum sounds each with their own pad at an affordable price. None of the pads were velocity sensitive – you needed to use the ACCENT button for dynamics (but this was typical for the time). However, each sound also had its own individual output and level slider. Whereas the Emu Drumulator compromised in these areas, the MXR was more like a Linn in terms of dedicated pads and controls.
The MXR 185 also had some interesting innovations in the user interface.
Here's the newest version of the Jupiter III synth. It has a redesigned PCB, linear pots, a larger piezo pickup, and an LED power indicator – making it more dynamic, and much ballsier. It's being triggered by both the TCM & hand. Some clips are dry, and others are running through our LSD (light sensitive delay) pedal.
Get your space on, only @ chamberofsounds.com
Features:
• circuit: fully analog
• trigger: large internal piezo or audio input
• power: 9V battery or A/C adapter
• function: touch-sensitive percussion synth & optical theremin
• range: many, many octaves
Price: $275
The rePatcher is an Arduino shield that gives you a hardware interface
to control and "repatch" your Pure Data and MAX/MSP patches
It has 6 general purpose potentiometers for modifying parameters in your patch
and a 6 x 6 patchbay matrix
rePatcher made by
http://www.openmusiclabs.com/projects/repatcher/
wiki:
http://wiki.openmusiclabs.com/wiki/Repatcher
Here's something cool a six track loop recorder type drum machine for iOS
Available in a few days. Watch twitter.com/beepstreet
———————————————
Check Sunrizer synth demo:
http://www.youtube.com/watch?v=s068C-D-LJw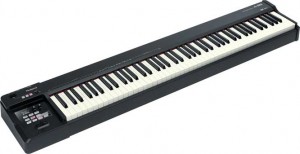 Roland has announced the A-88 and A-49 MIDI Keyboard Controllers, two all-new controllers that combine pro playability with mobile convenience. The piano-action A-88 and synth-action A-49 feature high-quality keyboards along with a slim, light design that's ideal for today's on-the-go musicians. They also offer USB, MIDI, and Apple iPad compatibility, as well as onboard control of Roland's SuperNATURAL-powered synths such as the INTEGRA-7, JUPITER-80, and JUPITER-50.
There's no shortage of keyboard controllers on the market, but most have playability that's far below the quality found in high-end digital pianos and synthesizers. With the A-88 and A-49, Roland is pleased to offer keyboard controllers that play like pro-level instruments, giving musicians mobile convenience with no compromises. From the bedroom studio to the big stage, these controllers truly deliver inspiring playability and top-level performance.
The A-88 features 88 full-size weighted keys and Roland's acclaimed Ivory Feel-G Keyboard with Escapement. This is the same Progressive Hammer Action keyboard found in many Roland stage and home pianos, and allows users to play software-based pianos, soft-synths, and sound modules with an authentic grand piano touch. In addition, the white keys are built with a moisture-absorbing material that replicates the feel of real ivory. Even with its premium hammer-action keyboard, the A-88 is light, portable, and easy for gigging musicians to transport.
Born for mobile use, the A-49 features road-tough construction yet is extremely lightweight (under six pounds). The 49 full-size velocity-sensitive keys have a rounded shape for a comfortable touch, along with many enhancements to reduce noise and increase playability. All these features add up to a premium keyboard that even the most discerning pros will appreciate.
Both the A-88 and A-49 include many performance features, including a pitch bend/mod lever, D-BEAM controller, user-assignable knobs and switches, and OCTAVE and TRANSPOSE buttons. The A-88 also has DUAL/SPLIT, UPPER, and LOWER buttons for splitting and layering tones on its full-size keyboard.
The dedicated SuperNATURAL mode button on the controllers unlocks a host of unique sound-selection features when connected to a Roland SuperNATURAL instrument such as the new INTEGRA-7 sound module or the JUPITER-80 and -50 synths.
The A-88 and A-49 offer USB and MIDI OUT connectors, along with jacks for connecting optional expression and hold pedals. Both controllers can be powered via a computer's USB bus, while the A-88 can also be powered with an accessory AC adapter. Additionally, the A-49 and A-88 are three-OS compatible, with Mac and iOS music apps on the iPad via Apple iPad Camera Connection Kit, and a SONAR X1 LE DAW software bundle with both controllers, giving Windows users a ready-to-go music production environment.
The A-88 and A-49 come standard in a handsome black finish. The A-49 is also available in white, a perfect companion color for users of the white-finish iPad.

Roland says that, wth the development of SuperNATURAL sound and Behavior Modeling technology, they have blurred the boundary between acoustic and electronic instruments. Built upon these core technologies, they tell us that the new INTEGRA-7 gives musicians a gold mine of the latest SuperNATURAL sounds in a fast-access, fully stocked 16-part module. The powerhouse rack comprises a "greatest hits" collection of sounds from Roland's flagship keyboards and V-Drums modules, plus a coveted lineup from the legacy SRX library. It also introduces a new technology called Motional Surround, a 17-part ambience engine that lets you graphically control the distance and position of each part within 360-degree sound field.
 "With the immense power of the INTEGRA-7, you can create amazingly realistic and detailed orchestral arrangements, immersive, spatial sounds, and beyond."
Features
Flagship synth module with over 6,000 sounds built in
The latest SuperNATURAL sounds with enhanced Behavior Modeling technology for expressive acoustic instruments and accurate reproduction of performance articulations
Powerful SuperNATURAL synth engine with fat analog synth models and vintage filter types
Dynamic SuperNATURAL drum engine with natural tonal change derived from Roland V-Drums
Producer's "must-have" SRX Expansion sound library built in; all 12 SRX titles included
Dedicated multi-effects and EQ for each part (16 parts), plus dedicated COMP+EQ (use six simultaneously) for drums and ambience parameters for SuperNATURAL drum kits
Innovative 17-part Motional Surround ambience engine for stereo, headphone, and 5.1-channel output
INTEGRA-7 Editor for iPad and Motional Surround VSTi Editor for SONAR software
The fourth in our series of bite-sized tutorials aimed at users of u-he's Diva, this one is all about the ever-popular "pulse width modulation" (PWM) effect. PWM was traditionally used to add tonal movement — especially useful for synths that only had one oscillator e.g. ARP Axxe.
Act I – standard PWM: How to set up typical cyclic PWM in the various oscillator models. The ratio between the upper and lower levels ("mark space ratio") of a rectangular waveform is slowly modulated by an LFO. Note: One of the sawtooth waveforms in the "DCO" oscillator model also delivers a similar effect, but I neglected to demonstrated it in this video!
Act II – the very first PWM is likely to have been an attempt to emulate the satisfying "zippy" sound of two detuned sawtooth waves, one of which is inverted. Because the Triple VCO model features a Ramp wave (i.e. inverted sawtooth), it's worth trying this out in Diva. A taste of history, this method is my personal favourite.
Even if your 2-oscillator hardware synth didn't have a ramp wave, you could still make similar sounds by detuning two pulse waves – as shown here.
Act III – "sync" i.e. oscillator synchronization means that the phase of a slave oscillator is reset by a master oscillator. If you modulate the pitch of the slave within a very narrow range, you can get effects that are very similar to PWM. This method requires some practise…
Homework: how dense can can make your PWM sound by stacking and detuning 2 voices (no more), and using the Voice modulator to offset pulse widths and even the LFO rate? Read that again…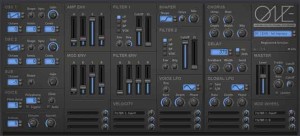 Kilohearts lets us know that kHs ONE was not designed to be a fat analog beast with a massive warm sound… that just happened anyway. A spokesperson told us,
"We have put a lot of time and effort into making oscillators and filters of the highest quality which gives kHs ONE a pleasantly warm and analog sound. Working with professional musicians and producers throughout the development process, we have made sure that the sound meets their high standards."
kHs ONE is available as VST and AudioUnit plug-ins. Both 32 bit and 64 bit versions are available on MacOS X and Windows operating systems.
Features
2 Oscillators (saw/square/noise)
Sub oscillator
2 Filters
Per voice wave shaper
2 LFOs
3 Envelopes (amp/filter/mod)
8 voice unison
24 voice polyphony
Env/LFO legato on/off
Portamento/Glide
Onboard FX: Chorus, Delay, Equalizer and Limiter
Pricing and Availability:
79 Euros
More information: