A dreamy, relaxing space ambient drone electronic music soundscape played live on Novation Supernova 2 keyboard synthesizer. Utilizing comb filter, reverb, delay, resonance, sync skew, filter & envelope adjustments.
Performed live, no external processing. Excerpt from a longer session.
FOR PART 1 CLICK HERE: http://www.youtube.com/watch?v=lhs-LguPTx8
A voyage into the heart of the Hohner (Logan) String Melody II from the year 1979.
Exploration by Marko Ettlich (RetroSound)
fully polyphonic analog string keyboard made in Italia
three basic sounds: Violin, Viola and Cello + Bass and Perc
ensemble effect
49 keys
used by The Twins, Neuronium, Yello and more
About the Logan: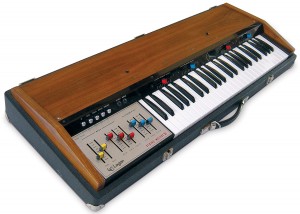 The String Melody is an Italian string synthesizer from Logan Electronics, first released in 1973. At first, success was lukewarm as Logan Electronics was relatively unknown. But in 1977 a slightly updated 'mark II' model was released and Logan Electronics began to see some commercial success from the sales of this instrument. As a result, almost all String Melodies floating around out there today are the 'mark II' version, as the original is quite rare. Also of note: outside of Italy, the String Melody was distributed by Hohner International, so you will find them labeled either the Hohner or Logan String Melody.
There are three basic sounds available: 'Violin', 'Viola' and 'Cello'. These three sounds are actually all the same sound, just in three different octaves. The keyboard is permanently split in the middle, with the lower half called Bass and the upper called Treble. There are three drawbar volume sliders for each of the three sounds in the Bass region (the red sliders), and another three sliders for the three sounds in the Treble region (the blue sliders). This allows you to mix in as much of each sound in either section of the keyboard as you want for some really customized string combinations!
But wait, there is more! There are another two additional sounds on-board: 'Bass' and 'Perc'. These sounds are only available in the Bass region of the keyboard (the yellow sliders). The name of the 'Perc' sound is a little misleading though, as it is still a bass string sound—it's just that it is a percussive sub-bass sound with a fast attack.
The only other control sliders are for two sets of Attack and Release (called 'Sustain' on the String Melody). One set controls the Bass region and the other allows for independent control of the Treble region. In back there is a single 1/4 inch mono audio output and a volume control pedal input. But that is it—no CV or Gate options here.
On the 'mark I' there is a button called 'Orchestra' which acts sort of like an ensemble effect Preset, recalling its own mix-levels and attack/decay settings in which all the tone sliders are at full volume. This is where the 'mark II' version differs from the original—it added four new ensemble effect Presets: 'O', 'ACC.', 'SOLO', and 'ORGAN'. You must have at least one of these effect Presets on at all times – it uses those old-fashioned push buttons where engaging one button disengages whatever button was previously engaged, so at least one button is always engaged. The 'O' setting is a subtle chorus effect. The 'ACC' (Accordion) is the closest thing to no ensemble effect, leaving the strings sounding their driest. 'SOLO' is a vibrato-like effect with some chorusing. 'ORGAN' is a really nice chorus that's almost phaser-like.
The String Melody is a pure string synth, and has a really great sound. Being Italian, it sounds quite different from similar types of string synths from Roland (Japan) and ARP (USA), and many would say the String Melody has the best sound of them all! It may not have as much editable flexibility as the others, but it sounds so good—it truly does what it was meant to do, and does it just right! It is built into a durable heavy flight-case with wood paneling, a handle, and even a cover! Considering that it is a niche instrument, they seem to maintain a relatively low second-hand market price. Which means if you can find one, you'd better jump at the chance to acquire it, because samples still can't beat the real thing! (Via VSE)
A quick look at the LCD in action with the 1.0 release of the RetroCade Synth software.
For more information visit:
http://retrocade.gadgetfactory.net
The R-R-R-R-RetroCade Synth from Gadget Factory. This exciting new hardware synthesizer is built on Gadget Factory's own Papilio platform, and is designed with both hardware hackers and musicians in mind. Musicians will love the ease of use and extreme retro glitchiness that the Retrocade has to offer. Hackers will love that it is open-source, and is designed to be HACKED. Either way, you're in luck. You will find no better, more flexible synthesizer at this price point anywhere else!
The RetroCade Synth boasts the capability to play the built-in Commodore 64 SID chip, the Yamaha YM-2149 chip, and .mod files – all at the same time! The RetroCade Synth can be played via any external MIDI control interface or via your favorite audio/ sequencing software. We have built a custom VST software dashboard which gives you visual control over all the various parameters the synth has to offer!
Introducing Chroma, a unique sequenced monosynth for Reaktor featuring sound and sequence morphing and multiple control methods – use your mouse, a MIDI controller, Konkreet Performer, TouchOSC or Lemur.
available now at http://www.reaktortips.com/2012/12/chroma-and-gris-gris-sequenced-monster.html
Chroma is a performance oriented monosequencer and VA carefully tuned for ergonomic ease of use and glitch free operation in standalone and plugin mode. Slur features in Chroma match up with legato and glide features in the Gris-Gris synth to create a slinky sinuous note articulation.
Sequences can be created and controlled via mouse, MIDI, Konkreet Performer, TouchOSC and Lemur. Since there is now full OSC support in the Reaktor plugin version, you can do everything with Chroma in your preferred DAW that you can do stand-alone. A dream come true!
TouchOSC and Lemur templates are included in the package but there's something special about Konkreet Performer that sets things on fire when it's paired with Chroma and Gris Gris, a certain magic in the way it morphs and distorts sound. It is my firmly held opinion that not nearly enough people use KP and if you want something really special and unusual on your iPad you should rush right over to  Konkreet Labs or head straight for the App Store and buy a license.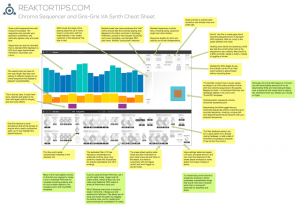 Chroma is 24.99 USD and can be purchased and downloaded immediately. Remember, Chroma is a Reaktor ensemble and requires a full installation of Reaktor 5.8.0, not just Reaktor player.
Toby has produced & remixed over 100 songs and is known for his punchy synths, pulsing arpeggios and searing lead sounds. The Synth Essentials pack is perfect to give any project a modern edge.
Info – http://www.image-line.com/documents/toby_emerson_synth_essentials.html
Below the comments to the video from MacBeth:
This is the first demo of the complimentary synth to the micromac series. 4 Oscillators, Dual State Variable Filter and 4 Envelope generators should get you started, The touch keyboard rounds it up! See you at NAMM '13!
This video features a prototype of a new synth called XOR and is actually a true digital polyphonic synthesizer, details below:
thanks to Tim Barrass for the amazing Mozzi library
sensorium.github.com/Mozzi/
Arduino programming compatible – running on atmega 328
open source
standuino.eu/devices/instruments/xor-synth/
based on fraAngelico synthesizer
Features:
-MIDI Input
-polyphony 6 voices
-velocity sensitive
-selectable wavetable (sine,saw,triangle,noise)
-selectable bitoperator that modulates the wave (xor, or, and)
-overflow distortion
-envelope
-lfo
-presets
Shake the Disease (Martin Gore demo) cover.
"I noticed he recorded it mainly with a Yamaha DX7. In fact, he used six cartridge preset sounds (that I switched live). So I decided to recreate it. None of the backtrack sounds were recorded with MIDI or other clock resources."
All sounds (*unless stated): Yamaha DX7.
Bassline synth: Roland Promars MRS-2
Drumbox: Boss DR55 (sampled)
Backtrack recorded on a Revox B77 MkII.
Composed by Martin L. Gore
A small synth box with 2 light sensitive Oscillators modulated by 2 pot controllable LFOs.
Circuit using a single 40106 CMOS chip freeformed (no circuit board) inside a re-purposed incandescent light bulb.
Amplification is from a single LM 358 deadbug style under the wooden control panel.
Speaker is a tweeter from a car stereo. Powered from a 9V battery.
Fun to play in the sunshine aswell.
Sound recorded with the camera mic.
Sorry for the out of focus, had trouble with the cam.