While perusing the vast NAMM convention this year I bumped into the Mode Machines booth which is offering a lot of cool designs. I briefly plugged in and sampled some of the new SID synthesizer, which utilizes the classic Atari Commodore 64 SID chip as it's sound source.
Here Comes The Schmidt Polysynth – Video Just because..
Mr Schmidt has made this synth to be  a Super Synth – and indeed it appears to be just that. This is definitely a case of, if you have to ask how much this is, then you cant afford it. It has presets, it has 7 filters (3 ladder type, 4 state variable 12 dB set up as 2 'dual filters') and 4 Oscs – each osc is a bit different. Something like 107 knobs on the thing!
Here is a demonstration of the sound and functionality of the Yamaha CS-50's filter section.
Synth X by Way Out Ware, programmed by Jim Heintz
Demo by Mackenzie Starr
Jim Heintz, showing his SynthX 2 being used with the Ion AllStar Guitar MIDI controller. With SynthX being used in this mode, you can change tunings and string assignment to increase its flexibility. SynthX is compatible with the iPad 1, but working with the Ion controller requires iPad 2 or better.
"My final results from my Mutable Instruments Anushri build. Sound is all Anushri with a generous helping of reverb. Great kit, well engineered, fine for newbies like me. Get yours today, way fun."
Anushri is a monosynth like no other. In addition to its analog VCO/VCF/VCA and digital modulation sources, it includes a fun and immediate note sequencer with step-by-step recording, and a gritty 8-bit drum machine with a truly original control interface.
Just like its elder sister the Shruthi, Anushri is not designed for industrial assembly but is instead sold as a kit – you can assemble it, modify it, expand it and service it without any specialized expensive equipment. Open source firmware and schematics give you full access, control and ownership of its circuitry and code.
WEJAAM – iOS MUSIC GENERATOR
Make your own music Electro, Techno, House … and share a Jam with friends.
Loop-based music sequencer specially designed for playing live, it is associated with an innovative and powerful randomization tool.
WEJAAM allows you to take great pleasure in making music without being a musician.
CREATE
It's very simple to make a beat, just select from the Djaam library or you also can pick up from the World Jaam community the only think you have to do it's to create you beat using the hit editor, add sound, delete sound that's so easy…
LIVE
Give you access to a 5 pads controllers instead than knob in this way you will control simple your feeling with your finger on the screen, we also record your live session.
MASTERING
WEJAAM's complete mastering system in a single integrated app includes Limiter, Reverb, Delay, Flanger, Equalizer, Chorus, Distortion.
​Based on feedback and requests gathered from mastering professionals, Wejaam advanced includes exclusive controls and features.
RANDOM
Random your imagination
With this exclusive features you can easily have access to one million of possibilities, during your live performance run and tap to the random bar to bring up a new pattern idea.
RECORD
Ready to go now ?
Make your own song within minutes and sound like a pro just record your live and create the best traxx ever. Then upload the song and share your mix all around the world.
FEATURES
• Sequencer 6 patterns of 32 notes.
• 6-channel instrument (synthesizer or sampler).
• 1 parametric Filter by channel.
• 2 effect sends per channel (Delay, Reverb, Flanger, Chorus, Overdrive).
• 3-band equalizer.
• Output limiter.
• Export recordings and programs with iTunes.
• Bluetooth Synchronization allows you to play with another person and have the same audio output on each device.
LegoTone Synth
ClearTone Synth with LFO inside a nice lego project box with a house, dog, flowers, LEDs and a female figure drinking away to the synths excellent sound!
.fd. online
Facebook – http://www.facebook.com/pages/freeform-delusion/144587583120
Twitter – http://twitter.com/#!/freeformd
eBay – http://www.ebay.co.uk/sch/freeform-delusion/m.html
A dreamy, relaxing space ambient drone electronic music soundscape played live on Novation Supernova 2 keyboard synthesizer. Utilizing comb filter, reverb, delay, resonance, sync skew, filter & envelope adjustments.
Performed live, no external processing. Excerpt from a longer session.
FOR PART 1 CLICK HERE: http://www.youtube.com/watch?v=lhs-LguPTx8
A voyage into the heart of the Hohner (Logan) String Melody II from the year 1979.
Exploration by Marko Ettlich (RetroSound)
fully polyphonic analog string keyboard made in Italia
three basic sounds: Violin, Viola and Cello + Bass and Perc
ensemble effect
49 keys
used by The Twins, Neuronium, Yello and more
About the Logan: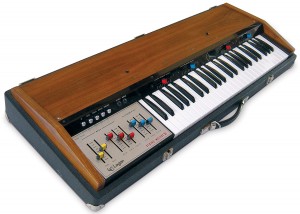 The String Melody is an Italian string synthesizer from Logan Electronics, first released in 1973. At first, success was lukewarm as Logan Electronics was relatively unknown. But in 1977 a slightly updated 'mark II' model was released and Logan Electronics began to see some commercial success from the sales of this instrument. As a result, almost all String Melodies floating around out there today are the 'mark II' version, as the original is quite rare. Also of note: outside of Italy, the String Melody was distributed by Hohner International, so you will find them labeled either the Hohner or Logan String Melody.
There are three basic sounds available: 'Violin', 'Viola' and 'Cello'. These three sounds are actually all the same sound, just in three different octaves. The keyboard is permanently split in the middle, with the lower half called Bass and the upper called Treble. There are three drawbar volume sliders for each of the three sounds in the Bass region (the red sliders), and another three sliders for the three sounds in the Treble region (the blue sliders). This allows you to mix in as much of each sound in either section of the keyboard as you want for some really customized string combinations!
But wait, there is more! There are another two additional sounds on-board: 'Bass' and 'Perc'. These sounds are only available in the Bass region of the keyboard (the yellow sliders). The name of the 'Perc' sound is a little misleading though, as it is still a bass string sound—it's just that it is a percussive sub-bass sound with a fast attack.
The only other control sliders are for two sets of Attack and Release (called 'Sustain' on the String Melody). One set controls the Bass region and the other allows for independent control of the Treble region. In back there is a single 1/4 inch mono audio output and a volume control pedal input. But that is it—no CV or Gate options here.
On the 'mark I' there is a button called 'Orchestra' which acts sort of like an ensemble effect Preset, recalling its own mix-levels and attack/decay settings in which all the tone sliders are at full volume. This is where the 'mark II' version differs from the original—it added four new ensemble effect Presets: 'O', 'ACC.', 'SOLO', and 'ORGAN'. You must have at least one of these effect Presets on at all times – it uses those old-fashioned push buttons where engaging one button disengages whatever button was previously engaged, so at least one button is always engaged. The 'O' setting is a subtle chorus effect. The 'ACC' (Accordion) is the closest thing to no ensemble effect, leaving the strings sounding their driest. 'SOLO' is a vibrato-like effect with some chorusing. 'ORGAN' is a really nice chorus that's almost phaser-like.
The String Melody is a pure string synth, and has a really great sound. Being Italian, it sounds quite different from similar types of string synths from Roland (Japan) and ARP (USA), and many would say the String Melody has the best sound of them all! It may not have as much editable flexibility as the others, but it sounds so good—it truly does what it was meant to do, and does it just right! It is built into a durable heavy flight-case with wood paneling, a handle, and even a cover! Considering that it is a niche instrument, they seem to maintain a relatively low second-hand market price. Which means if you can find one, you'd better jump at the chance to acquire it, because samples still can't beat the real thing! (Via VSE)