A quick look at the LCD in action with the 1.0 release of the RetroCade Synth software.
For more information visit:
http://retrocade.gadgetfactory.net
The R-R-R-R-RetroCade Synth from Gadget Factory. This exciting new hardware synthesizer is built on Gadget Factory's own Papilio platform, and is designed with both hardware hackers and musicians in mind. Musicians will love the ease of use and extreme retro glitchiness that the Retrocade has to offer. Hackers will love that it is open-source, and is designed to be HACKED. Either way, you're in luck. You will find no better, more flexible synthesizer at this price point anywhere else!
The RetroCade Synth boasts the capability to play the built-in Commodore 64 SID chip, the Yamaha YM-2149 chip, and .mod files – all at the same time! The RetroCade Synth can be played via any external MIDI control interface or via your favorite audio/ sequencing software. We have built a custom VST software dashboard which gives you visual control over all the various parameters the synth has to offer!
Introducing Chroma, a unique sequenced monosynth for Reaktor featuring sound and sequence morphing and multiple control methods – use your mouse, a MIDI controller, Konkreet Performer, TouchOSC or Lemur.
available now at http://www.reaktortips.com/2012/12/chroma-and-gris-gris-sequenced-monster.html
Chroma is a performance oriented monosequencer and VA carefully tuned for ergonomic ease of use and glitch free operation in standalone and plugin mode. Slur features in Chroma match up with legato and glide features in the Gris-Gris synth to create a slinky sinuous note articulation.
Sequences can be created and controlled via mouse, MIDI, Konkreet Performer, TouchOSC and Lemur. Since there is now full OSC support in the Reaktor plugin version, you can do everything with Chroma in your preferred DAW that you can do stand-alone. A dream come true!
TouchOSC and Lemur templates are included in the package but there's something special about Konkreet Performer that sets things on fire when it's paired with Chroma and Gris Gris, a certain magic in the way it morphs and distorts sound. It is my firmly held opinion that not nearly enough people use KP and if you want something really special and unusual on your iPad you should rush right over to  Konkreet Labs or head straight for the App Store and buy a license.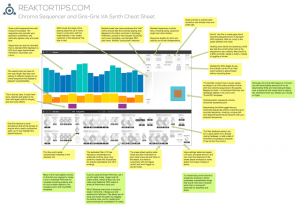 Chroma is 24.99 USD and can be purchased and downloaded immediately. Remember, Chroma is a Reaktor ensemble and requires a full installation of Reaktor 5.8.0, not just Reaktor player.
Toby has produced & remixed over 100 songs and is known for his punchy synths, pulsing arpeggios and searing lead sounds. The Synth Essentials pack is perfect to give any project a modern edge.
Info – http://www.image-line.com/documents/toby_emerson_synth_essentials.html
Below the comments to the video from MacBeth:
This is the first demo of the complimentary synth to the micromac series. 4 Oscillators, Dual State Variable Filter and 4 Envelope generators should get you started, The touch keyboard rounds it up! See you at NAMM '13!
This video features a prototype of a new synth called XOR and is actually a true digital polyphonic synthesizer, details below:
thanks to Tim Barrass for the amazing Mozzi library
sensorium.github.com/Mozzi/
Arduino programming compatible – running on atmega 328
open source
standuino.eu/devices/instruments/xor-synth/
based on fraAngelico synthesizer
Features:
-MIDI Input
-polyphony 6 voices
-velocity sensitive
-selectable wavetable (sine,saw,triangle,noise)
-selectable bitoperator that modulates the wave (xor, or, and)
-overflow distortion
-envelope
-lfo
-presets
Shake the Disease (Martin Gore demo) cover.
"I noticed he recorded it mainly with a Yamaha DX7. In fact, he used six cartridge preset sounds (that I switched live). So I decided to recreate it. None of the backtrack sounds were recorded with MIDI or other clock resources."
All sounds (*unless stated): Yamaha DX7.
Bassline synth: Roland Promars MRS-2
Drumbox: Boss DR55 (sampled)
Backtrack recorded on a Revox B77 MkII.
Composed by Martin L. Gore
A small synth box with 2 light sensitive Oscillators modulated by 2 pot controllable LFOs.
Circuit using a single 40106 CMOS chip freeformed (no circuit board) inside a re-purposed incandescent light bulb.
Amplification is from a single LM 358 deadbug style under the wooden control panel.
Speaker is a tweeter from a car stereo. Powered from a 9V battery.
Fun to play in the sunshine aswell.
Sound recorded with the camera mic.
Sorry for the out of focus, had trouble with the cam.

Audio Spillage has released Elecktroid which they describe as an 'Electronic Machine Funk Instrument'. It's a fusion of drum synth and and drum sampler with a custom designed rhythm sequencer. Here's what they have to say about it:
Elecktroid effortlessly blends synthesis and sample playback in a single integrated package. Combine the depth and power of drum synthesis with your existing sample collections and sync both to a brand new rhythm oriented step sequencer with more than a few tricks up its digital sleeves.
Synthetic Heart
Pulsing away deep inside Elecktroid you'll find 4 of our exclusive drum synthesis models: BassDrum, WoodDrum, HiHat and Snare. The drum synths are 100% algorithmic and utilise high quality DSP code for a deep, powerful and punchy sound. The synthesis algorithms can be used as the basis of an entire rhythm track on their own or layered with samples to add weight, depth and character to your existing sound sets and rhythms.
Sampler Spine
The backbone of Elecktroid is a high quality low CPU sample playback engine. Load up your favourite samples via the simple drag and drop interface. Refresh and re-animate your existing collection with the pitch envelope, modulation, distortion, filter and graphic loop editing capabilities. Elecktroid can velocity cross-fade between 2 samples per pad and accepts WAV, AIFF and CAF format files.
Sequencer Brain
The new rhythm oriented step sequencer brings Elecktroid to life right inside your DAW. Forget about stale lifeless rhythms. Elecktroid features custom track lengths and step trigger probability controls opening the door to a world of non-repetitive poly-rhythmic beats. Inject groove and humanoid feel to suit. Elecktroid's sequencer is a resolution-independent design so patterns play at the correct tempo regardless of step length (16th, 32nd etc). Elecktroid also features graphic velocity and parameter control graph editing.
Pricing and Availability:
$55 (20% off intro offer)
More information: