Sidpad – new 8-bit style chiptune synth for iPad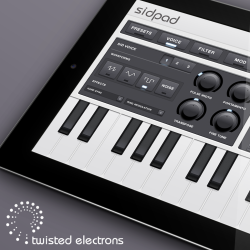 Alex Smith has introduced Sidpad – an 8-bit style chiptune synth for the iPad.
Features:
3 Voice Synthesizer – Over 40 controllable parameters to create a wide range of 8 bit chip-tune sounds. All knobs are MIDI controllable.
Multimode Filter – includes Type, Cutoff, Resonance and customizable Cutoff Envelope
Flexible Modulation – Hand draw up to 4 graphs and assign them to the synth's parameters to add movement and expression to your sound
Wavetable Editor – The 16 step wavetable editor lets you set up sound effects and arpeggiated melodies. You can sequence notes and waveform changes either as one shot or in a loop and vary the speed
Help Mode – Every feature is explained via the help button to get you up and running with SidPad regardless of your synthesizer experience.
Sidpad is a free download right here >>
Comments