This is a demo of the Soulsby Synthesizers ATMegatron 8-bit synth. Enjoy!
Opening titles for Europe In 8 Bits documentary.
Direction, Design, Animation & Music: Device
EUROPE IN 8 BITS is a documentary directed by Javier Polo that explores the world of chip music, a new musical trend that is growing exponentially throughout Europe. The stars of this musical movement reveal to us how to reuse old videogames hardware like Nintendo's GameBoy, NES, Atari ST, Amiga and the Commodore 64 to turn them into a tool capable of creating a new sound, a modern tempo and an innovative musical style. This is a new way of interpreting music performed by a great many artists who show their skills in turning these "limited" machines designed for leisure in the 80's into surprising musical instruments and graphical tools. It will leave nobody indifferent.
Watch the documentary: vimeo.com/ondemand/europein8bits
8 bits drum VST plugin, by DSK Music.
Features:
– 8 sound slots (C3 to C4 white keys)
– Pitch control for each sample
– Level and pan control
– 6 full kits + extra sounds
– Midi automation
– Velocity response
– Preset selector
Info and download: http://www.dskmusic.com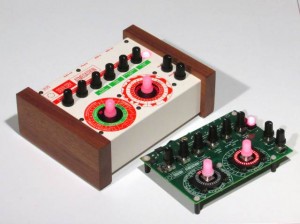 Soulsby Synthesizers has released the Atmegatron – a new 8-bit monosynth. It's the debut product from Soulsby Synthesizers.
The Atmegatron combines the sounds of 1980s home computers with the flexibility and power of a modern synthesizer.
The Atmegatron is built on the open source Arduino platform. This means that the synthesis engine can be completely changed by uploading software to the synth. One minute it's a monosynth, the next it's a drum machine. Soulsby Synths plans to relese new and completely free software versions over the coming months.
Features:
32 waveforms
15 digital filter types
2 ADSR envelopes
1 LFO with 16 waveforms
an arpeggiator with 15 patterns and
loads of fx including phaser, distortion and the unique Wavecrusher.
16 preset sounds and unlimited preset expandability via the Atmegatron Librarian software available for Mac or PC.
The Atmegatron is available in two versions:
Atmegatron Complete – £255 ex VAT & delivery.
Atmegatron Synthesizer
Power Supply
Printed 32 page colour manual
Quick reference guide
The Atmegatron Complete is housed in a beautiful white aluminium chassis with real walnut side panels.
Atmegatron PCB – £127 ex VAT & delivery.
Atmegatron Synthesizer PCB
Power Supply
Quick reference guide
The Atmegatron PCB comes with nylon pillars to keep the PCB raised from its resting surface. The PCB is perfect for programmers and hackers, but is not suitable for outside of the home due to its fragility.
Powerful blend of sweet retro 8bit/SID/chip tune sounds in up-beat electro bass song flavored with Asian vibes. RETRObit meshes the retro sounds in chip music with the modern electronica and techno world of today
Googlish from Japanese:
"8bit Harmonica by Fufu NES
It is a harmonica that you can play the 8bit sound.
=====
Office workers to challenge electronic work Good luck Saturday and Sunday.
Site that show, what you moved somehow.
http://www.ugoita.com/"
"I try to harmonica, the NES that was a long time ago Fufu well. I was particular that using the sound chip which is used for the NES of fact, it sounds like more NES. Harmonica sound high as it goes from left to right sound, I made three types of harmonica melody of the game indulge in the good feeling harmonica ringing and sound effects Koin ♪, and wherever you blowing blows."
Note this is the first basami sentaku post.
http://www.alyjameslab.com
HD audio https://soundcloud.com/alyjameslab/se…
SUPER PSG VST IS OUT NOW! Full SPECS in the free user manual (on the website).
SPSG is not simply an ultra accurate SN76489 emulator, it adds many extended features to squeeze to most of the sound chip and a huge user friendly GUI! It is a fantastic synth suitable for chip music and SEGA nostalgic pleasure and also a powerful 8-bit tool for modern music production.
"It is a fantastic synth suitable for chip music and SEGA nostalgic pleasure and also a powerful 8-bit tool for modern music production. The SN76489 PSG was the natural buddy of YM2612 FM chip on the Sega Megadrive console but it was the principal and only sound chip of the legendary Sega Master System. I grew up playing some great games on the Master System too. So, I thought it also deserves the same kind of attention and accuracy I did with the FMDrive VSTi. You may think, the SN76489 chip is basically square waves & noise… but there is more…clever programming tricks can unlock some awesome potential!"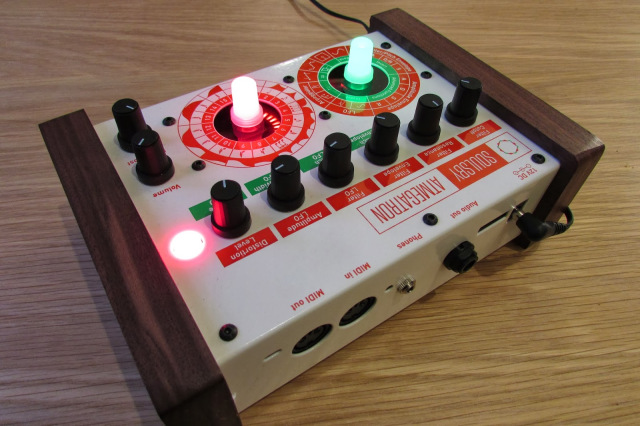 Soulsby Synthesizers has finalized the design of the Atmegatron synthesizer – "a revolutionary new synth module that combines classic 8-bit sounds with exciting new features."
It is expected to be available in February, with PCB and Complete options.
Enjoy
This is 'R3D electronics' cover of Da Funk by Daft Punk. It was made using LSDJ for Game Boy.
Enjoy!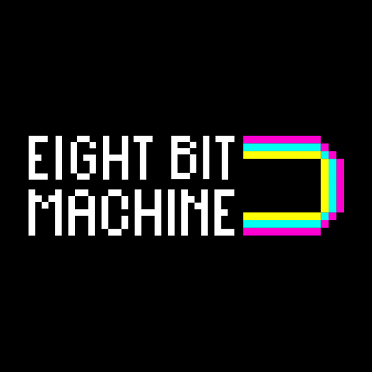 Eight Bit Machine is an electronic music/multimedia project started by Chris Kobusch (also 'Distorted Reality') in September 2013. It combines classic sounds, themes and visuals from the early digital age with electronic music and IDM. The first release is the digital single "80s Child" which was officially released October 6, 2013.
The official music video for "80s Child"  incorporates audio and video fragments from a lot of 1980s movies, songs, computer games and even a political speech, reflecting the spectrum of 80s zeitgeist and future visions of the 80s. Says Chris Kobusch: "Musically '80s Child' is a potpourri of influences – it combines fast break beat type rhythms, an Acid bassline and a catchy synth hook which is inspired by a tune from an 80s computer game. Further the incorporated vocal samples of the video version are reminiscent of the early days of sampling technology."
The single is available on iTunes, Amazon, Spotify, Shazam and other platforms and was released on Kobusch' own digital label Clock Rate Productions.