The Automaphone is a robotic synth that scans a4 pictures and turns them into songs, each song is different but the Automaphone has a unique glitchy 8 bit sound at its heart.
More info here: http://grandtippler.wix.com/rarebeast…
The Automaphone is a robotic synth that scans a4 pictures and turns them into songs.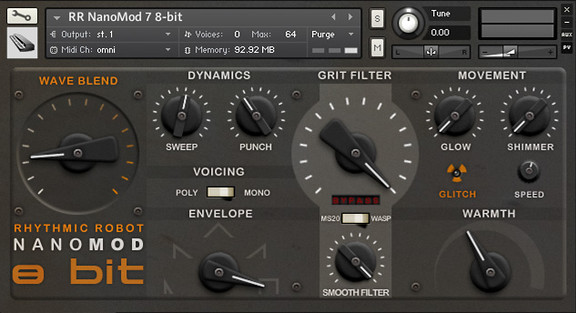 Rhythmic Robot has launched NanoMod 8-bit, a free instrument library for Native Instruments Kontakt.
NanoMod 8-bit is a simple but versatile Kontakt synthesiser based on vintage 8-bit polysynths, featuring an "intelligent" interface that allows the user to adjust multiple parameters with single controls. It is offered as part of the KVR Developers' Challenge 2014.

NanoMod 8-bit brings the simplicity of Rhythmic Robot's NanoMod interface to bear on the crusty, gritty, aliased sounds of classic 8-bit synthesisers of the early to mid 80s. Using source waves taken from vintage Ensoniq hardware and a front-end incorporating convolved Wasp and MS20 filters, this NanoMod is aimed squarely at big, powerful polysynth sounds – everything from warm and evolving pads to screaming leads.
The library is a free download, released as an entry to the KVR Developer Challenge 2014.
This is an edited version of my original 8-bit Matrix trimmed for time and with some changes to sound effects that were bugging me.
If you're curious, you can see the original at
https://www.youtube.com/watch?v=c61q2…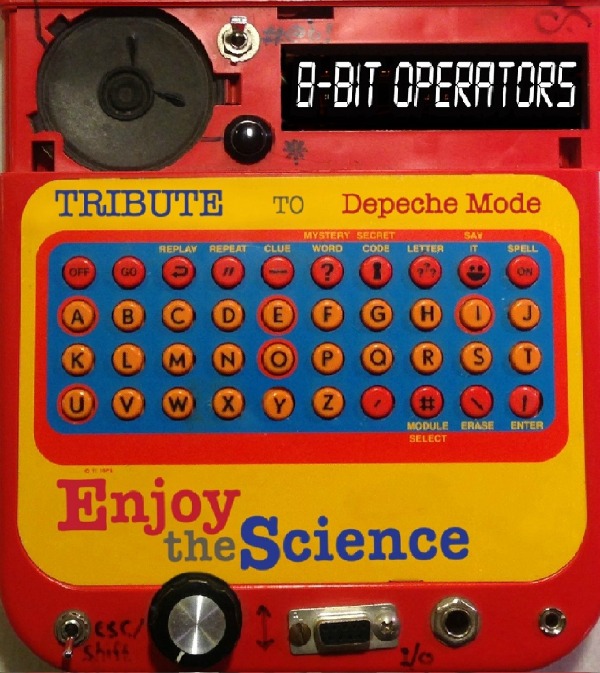 15-track collection of "highly musical, lo-bit video-game hardware re-imaginings" of some of the band's best-known songs from the past 30 years.
The album is due out June 10 and includes acts such as gameboymusicclub, ComputeHer, crashfaster, GOTO80 and Naomi Sampler, with tracks covered ranging from "But Not Tonight" and "Behind the Wheel" to "Boys Say  Go," "Dreaming of Me," "Never Let Me Down Again" and more.
Tracklist: 8-Bit Operators, Enjoy the Science: Tribute to Depeche Mode
1. Bacalao, "But Not Tonight"
2. Herbert Weixelbaum, "Enjoy The Silence"
3. GOTO80, "Boys Say Go"
4. Matt Nida feat. Lisa Schumann, "Policy of Truth"
5. ComputeHer, "Strangelove"
6. gwEm, "Martyr"
7. Laker feat. ONTBG, "Clean"
8. 8-Bit Operators, "Photographic" (Megamix)
9. Patokai, "New Life"
10. Aonami, "(Set Me Free) Remotivate Me"
11. crashfaster, "Never Let Me Down Again"
12. gameboymusicclub, "Dreaming Of Me"
13. Naomi Sample, "Somebody"
14. Yerzmyey, "I Just Can't Get Enough"
15. Inverse Phase, "Behind The Wheel"
The album, to be released on CD and digitally, is available for pre-order now.
The video demonstrates The Atmegadrum, an 8-bit 16-part 16-step drum machine.
Watch this video to find out how to upload the Atmegadrum software to the Atmegatron: http://youtu.be/-JT9BsZm2bg
Go to http://soulsbysynths.com/ to find out more about the Atmegatron.
Checking out the brand new Atmegatron synthesizers from Soulsby. It's a crazy little desktop synth with tons of waveforms, 15 filter types, the ability to upload your own waveforms, and even change or hack the OS to turn it into a totally different synthesizer! It has a very different front panel so we go through the layout as well as the sounds and I even show you a few of the unreleased OS versions as well as the official Atcyclatron OS which turns it into a wavetable cyclling synth!
Get the synth here: http://soulsbysynths.com/atmegatron-c…
Read the full review here: http://soundsandgear.com/soulsby-atme…
This is a demo of the Soulsby Synthesizers ATMegatron 8-bit synth. Enjoy!
Opening titles for Europe In 8 Bits documentary.
Direction, Design, Animation & Music: Device
EUROPE IN 8 BITS is a documentary directed by Javier Polo that explores the world of chip music, a new musical trend that is growing exponentially throughout Europe. The stars of this musical movement reveal to us how to reuse old videogames hardware like Nintendo's GameBoy, NES, Atari ST, Amiga and the Commodore 64 to turn them into a tool capable of creating a new sound, a modern tempo and an innovative musical style. This is a new way of interpreting music performed by a great many artists who show their skills in turning these "limited" machines designed for leisure in the 80's into surprising musical instruments and graphical tools. It will leave nobody indifferent.
Watch the documentary: vimeo.com/ondemand/europein8bits
8 bits drum VST plugin, by DSK Music.
Features:
– 8 sound slots (C3 to C4 white keys)
– Pitch control for each sample
– Level and pan control
– 6 full kits + extra sounds
– Midi automation
– Velocity response
– Preset selector
Info and download: http://www.dskmusic.com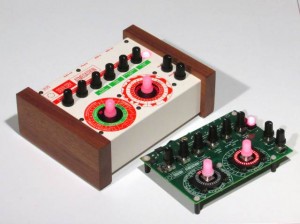 Soulsby Synthesizers has released the Atmegatron – a new 8-bit monosynth. It's the debut product from Soulsby Synthesizers.
The Atmegatron combines the sounds of 1980s home computers with the flexibility and power of a modern synthesizer.
The Atmegatron is built on the open source Arduino platform. This means that the synthesis engine can be completely changed by uploading software to the synth. One minute it's a monosynth, the next it's a drum machine. Soulsby Synths plans to relese new and completely free software versions over the coming months.
Features:
32 waveforms
15 digital filter types
2 ADSR envelopes
1 LFO with 16 waveforms
an arpeggiator with 15 patterns and
loads of fx including phaser, distortion and the unique Wavecrusher.
16 preset sounds and unlimited preset expandability via the Atmegatron Librarian software available for Mac or PC.
The Atmegatron is available in two versions:
Atmegatron Complete – £255 ex VAT & delivery.
Atmegatron Synthesizer
Power Supply
Printed 32 page colour manual
Quick reference guide
The Atmegatron Complete is housed in a beautiful white aluminium chassis with real walnut side panels.
Atmegatron PCB – £127 ex VAT & delivery.
Atmegatron Synthesizer PCB
Power Supply
Quick reference guide
The Atmegatron PCB comes with nylon pillars to keep the PCB raised from its resting surface. The PCB is perfect for programmers and hackers, but is not suitable for outside of the home due to its fragility.