Powerful blend of sweet retro 8bit/SID/chip tune sounds in up-beat electro bass song flavored with Asian vibes. RETRObit meshes the retro sounds in chip music with the modern electronica and techno world of today
Googlish from Japanese:
"8bit Harmonica by Fufu NES
It is a harmonica that you can play the 8bit sound.
=====
Office workers to challenge electronic work Good luck Saturday and Sunday.
Site that show, what you moved somehow.
http://www.ugoita.com/"
"I try to harmonica, the NES that was a long time ago Fufu well. I was particular that using the sound chip which is used for the NES of fact, it sounds like more NES. Harmonica sound high as it goes from left to right sound, I made three types of harmonica melody of the game indulge in the good feeling harmonica ringing and sound effects Koin ♪, and wherever you blowing blows."
Note this is the first basami sentaku post.
http://www.alyjameslab.com
HD audio https://soundcloud.com/alyjameslab/se…
SUPER PSG VST IS OUT NOW! Full SPECS in the free user manual (on the website).
SPSG is not simply an ultra accurate SN76489 emulator, it adds many extended features to squeeze to most of the sound chip and a huge user friendly GUI! It is a fantastic synth suitable for chip music and SEGA nostalgic pleasure and also a powerful 8-bit tool for modern music production.
"It is a fantastic synth suitable for chip music and SEGA nostalgic pleasure and also a powerful 8-bit tool for modern music production. The SN76489 PSG was the natural buddy of YM2612 FM chip on the Sega Megadrive console but it was the principal and only sound chip of the legendary Sega Master System. I grew up playing some great games on the Master System too. So, I thought it also deserves the same kind of attention and accuracy I did with the FMDrive VSTi. You may think, the SN76489 chip is basically square waves & noise… but there is more…clever programming tricks can unlock some awesome potential!"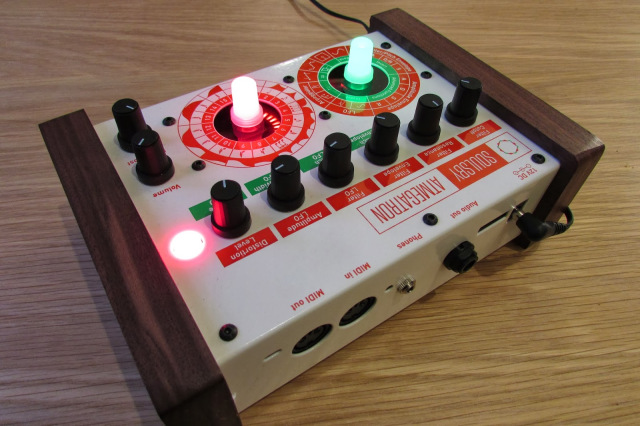 Soulsby Synthesizers has finalized the design of the Atmegatron synthesizer – "a revolutionary new synth module that combines classic 8-bit sounds with exciting new features."
It is expected to be available in February, with PCB and Complete options.
Enjoy
This is 'R3D electronics' cover of Da Funk by Daft Punk. It was made using LSDJ for Game Boy.
Enjoy!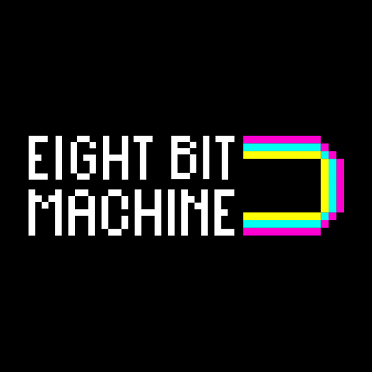 Eight Bit Machine is an electronic music/multimedia project started by Chris Kobusch (also 'Distorted Reality') in September 2013. It combines classic sounds, themes and visuals from the early digital age with electronic music and IDM. The first release is the digital single "80s Child" which was officially released October 6, 2013.
The official music video for "80s Child"  incorporates audio and video fragments from a lot of 1980s movies, songs, computer games and even a political speech, reflecting the spectrum of 80s zeitgeist and future visions of the 80s. Says Chris Kobusch: "Musically '80s Child' is a potpourri of influences – it combines fast break beat type rhythms, an Acid bassline and a catchy synth hook which is inspired by a tune from an 80s computer game. Further the incorporated vocal samples of the video version are reminiscent of the early days of sampling technology."

The single is available on iTunes, Amazon, Spotify, Shazam and other platforms and was released on Kobusch' own digital label Clock Rate Productions.
Kompositkrut rocks with a C64, details below:
Yo I remade the Monkey Island after a request. And I made a little demo or something to watch wile listening.
The song is composed in the native c64 tracker SID Wizzard 1.4 (by Hermit)
http://csdb.dk/release/?id=115599
The visuals are coded by me and I used Kick Assembler (by Camelot), Notepad++ and Charpad (by subchrist) for the gfx. The program visualisates the 3 voice on the SID
http://csdb.dk/release/?id=89532
http://csdb.dk/release/?id=101863
Yea and I crunched my program with BongoCruncher by Samar Productions
http://csdb.dk/release/?id=115758
Sorry for the poor video quality I recorded it via my Video capturing device, I will make my self a s-video cable. That might give me some higher video quality.
I will uppload the SID and the prg to CSDB after I done some adjustments

http://groovesizer.com
A demo of infinite random mode, accents, and pattern chaining on the Groovesizer Alpha.
The Groovesizer (pronounced groove-a-sizer) is a DIY 8-bit audio platform. It's a musical chameleon that can take on a number of different roles from sequencer to synth, drum machine, or midi controller. Exactly what the Groovesizer is at a given moment depends on the firmware it's running. Existing firmware can be freely hacked, or new firmware developed using the beginner friendly Arduino IDE. Firmware is loaded to the board directly from the Arduino IDE, either via an AVR ISP programmer, or by flashing the Atmega chip on an Arduino board and swapping it out.

The Groovesizer is based around a custom PCB that features 6 potentiometers and  5 rows of 8 tactile switches and leds  (4 rows for the sequencer / trigger buttons and 1 row dedicated to control functions). It features an integrated Arduino clone, an 8-bit DAC option, an LM386 amp output, MIDI in/out/sync and is configurable to work with some of the most popular existing Arduino audio projects.

Furthest along in its development is the Alpha firmware which features a 3 oscillator monosynth attached to a 32-step sequencer with 112 memory locations to store patches and patterns.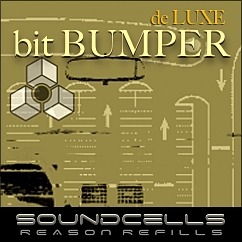 "bitBUMPER deluxe v3" – the ultimate 4 and 8 bit Pandora Box filled with hundreds of low bit surprises.
This ReFill is your best friend when you´re looking for inspiring new sounds with a character and a bite. To catch this character some amazing sources were sampled: RozzBox One v2, QuadraSID, the old grey Gameboy from 1989 with "Nanoloop 1" and "Littlesounddj", the Gameboy Advance SP from 2003 with "Nanoloop 2" and the Nintendo DS Lite from 2006 with "DS Electroplankton" and "Korg DS-10".
Version 3 adds new rex loops, 20 new combinator & 25 NNXT patches, as also lots of new samples …
bitBUMPER deluxe v3 Contents:
• 382 combinator patches.
• 185 NNXT patches, 138 rex loops, 650 unique samples.
• 12 demo tracks in Reason format included.
Offering price per unit is 27,90 ,- EUR (normal price is 39,90 ,- EUR)
AfroDJMac explores Ableton Push from an 8bit perspective, details below:
As a guitar player, I'm really enjoying Ableton Push's chromatic note mode. The intervals are just like on guitar, so this new instrument feels very familiar! Here's some goofing around.
Songs: "Crazy Train" Ozzy Osbourne – "Purple Haze" Jimi Hendrix – "Ain't Talking Bout Love" Van Halen
Visit my site for more stuff like this, including Live Instrument downloads, tutorials and music! http://www.afrodjmac.com
AfroDJMac
http://www.facebook.com/afrodjmac
http://www.twitter.com/afrodjmac
http://www.afrodjmac.tumblr.com