SNES ROM invite for Blip Tokyo 2012. Tested on real hardware.
http://tokyo.blipfestival.org
Try the ROM in your favorite emulator : It looks/sounds much better in there I promise!
https://dl.dropbox.com/u/21912138/BlipFestivalTokyo2012.sfc
"Spent more time than I'd like to admit getting this thing going! Lots of video tricks – the SNES hardware is pretty sweet (HDMA) but mode7 is tough! I have a pretty good development setup now."
GREETS TO 68KREW! – AGA – TMB – NO CARRIER – CTRIX – MONODEER – 2 PLAYER PRODUCTIONS – SOUNDBYTES CREW – HEXAWE – BLEO – HERRPROF – HEOSPHOROS – LIKELUKE – PT!H! – 8STATIC – KRIS KEYSER – EMI – MATTHECHT – DUSTMOP – ROCHESTER CHIP – ABRASIVE – FUNKYSAUCE – SECNARF – DAURAGON – LUMAR – DOOLS – KRUGS – ANIMAL-STYLE – CHEAPSHOT
FOR ALL YOU C64 FANS OUT THERE, ENJOY 😀
Video info:
I've been a big fan of the Commodore 64 since its release way back in 1982. As 2012 is the '64's 30th anniversary, I wanted to produce something in honour of this great little machine that has given me countless hours of pleasure, frustration, and head-banging! Here it is. For reasons of time and space, I had to cut a few scenes that were originally planned (and have been created) but I will probably use them in another C64 video in the near future.
If you're able to recognise all the games/references in this video then you truly are an Old School Commodore geek. I'm proud of you!
Please check this description out again shortly, as I'll be uploading some HD Windows desktop wallpapers featuring many of the 3D models used in this video, plus some more that didn't make it into the final edit.
Credits:
Video by Mike Berry, AKA The Kernal.
Music from Terra Cresta, arranged and remixed by Jess D. Skov-Nielsen.
Originally composed by Martin Galway.
Thanks to Jess D. Skov-Nielsen for giving his kind permission to use his music.
Thanks also to David "Jazzcat" Simmons for helping to supply most of the group/scener logos.
Minimalistic 8-bit techno with Nanoloop & Line6 EchoPark.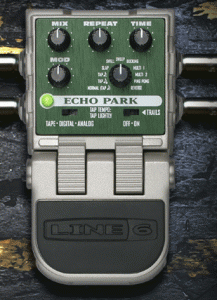 Based on the award-winning DL4™ Delay Modeler, Echo Park™ is loaded with unbelievable sounding models including Analog, Tape, and Digital Delay. Different delay patterns such as slap, ping pong, swell, and sweep can be adjusted with the twist of a knob, and the Mod dial can be tweaked for even more variations. Also features Tap Tempo and stereo ins and outs.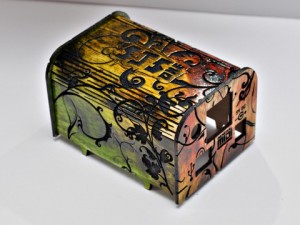 Here's a new treat for 8bit synth fans, check out the SJS-ONE.
SJS-ONE is a software defined 8-bit mono synthesizer with a dual (series) MAX261, switch-cap filter, which we are, as far as we know, the only ones to use at this point in a DIY-synthesizer.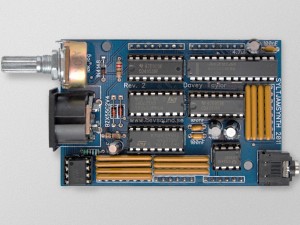 The synthesizer has some interesting history that has certainly colored its development and ultimately it's sound. The initial version was developed as an instructional workshop for a synth-event called SyltJam in 2011. The workshop idea was to show people how quickly you can design the basic hardware and software required to produce a platform for versatile audio and music generation.
As it turned out, people liked it's sound so much that we decided to refine the design – which more or less involved adding peripheral components to increase configurability and improve on stability and ESD, ground-mismatch and noise sensitivity while keeping the actual design minimal and simplistic.
It's beginnings are as humble as it's production – less than 50 of these have been made available and all parts are hand assembled and hand soldered, while the manual is hand drawn and cases hand painted.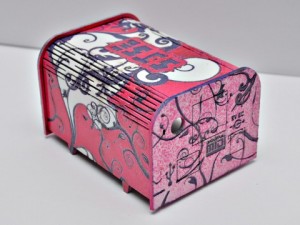 Perhaps the most unique aspect of this synth is the choice of digital platform – the Arduino. We did not want to build something static and opted to keep the Arduino instead of adding an on-board microcontroller. Because this will make it so much easier to modify the functionality of the synth firmware provided by us, or to write your own software with a completely unique sound using the vast community support that is available for the Arduino platform.
All aspects of the synth can be fully controlled by designing your own custom firmware and we sincerely hope that people will share their firmware in the spirit of the open source and hardware that inspired us to drive this project from idea to final product.
Link:
http://devsound.se/2012/sjs-one
Pretty Eight Machine is NIN's Pretty Hate Machine album, re-invented in its entirety by Inverse Phase on eight different 8-bit systems.
Sound configurations include: SID/6581 (Commodore 64), POKEY (Atari 800), straight 2A03 (NES), AY/SCC+ (MSX+Metal Gear 2 or Snatcher cartridge), SN76489 (Sega Master System), 2A03+VRC6 (Famicom+Castlevania 3 cartridge), LR35902 (Game Boy), and OPLL (MSX-MUSIC or Japanese Sega Master System).
Pretty Eight Machine is available at the Inverse Phase Bandcamp page.
Time for another retro machine to be featured, this time it is the classic Solton drum machine:
The Solton Programmer 24 is a programmable drum machine with 8-bit samples and integrated arranger, which uses analog sounds (bass, solo synth). It also has a polyphonic string-ensemble and polyphonic organ.
You can program your grooves with bass line and solo synth! It was produced in Italy in 1985 by Ketron. It has a tight timing, single outputs and MIDI. All you hear in this video is a Solton Programmer 24.
The Solton Programmer is heard on the Italo-Disco single "Fotonovela" from Ivan. A great little box for eighties music!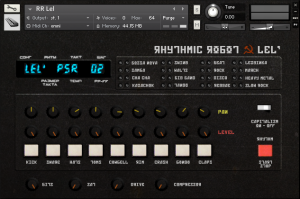 Rhythmic Robot has released LEL, a sampled recreation of the Soviet 8-bit sampled drum machine, the Lel' PSR.
The hardware Lel' was programmable but shipped with 32 onboard preset rhythms which made use of its 12 8-bit samples. It also featured a useful Accent control for introducing variation into programmed and preset rhythms.
LEL recreates both the 12 samples and the 32 preset rhythms, which have been time-sliced to sync automatically to the host DAW's tempo. They can be triggered by MIDI note or from the front panel of the Lel itself. All preset rhythms are freely combinable and can be "stacked" to create new polyrhythms. In addition to pan and level controls for each of the kit pieces, the unit also features an effects block with bit-crushing, saturation, drive distortion and compression modules.
A front-panel switch swaps the graphics between authentic Cyrillic lettering and an English translation.
The Lel sound is 8-bit, with short, gritty samples. It suits a wide variety of modern musical styles, while the preset rhythms include not only staples such as Rock, Reggae and Heavy Metal, but also authentic Russian styles such as Kazachok and Lezginka.
Features:
12 kit pieces (kick, snare, hats etc) sampled in both non-accented and accented variants, at full 24-bit.
32 preset original rhythms sampled in stereo and time-sliced to sync to host DAW.
Preset rhythms freely combinable in any permutation.
Pan, level, bit-depth, tape saturation, drive distortion and output compression built in.
Unusual non-western rhythms included in the preset list.
Front panel switchable between Russian and English lettering.
Price: £5.95. Available direct from Rhythmic Robot. Requires Kontakt version 4.2.3 and higher (including Kontakt 5 and above). Not compatible with Kontakt player.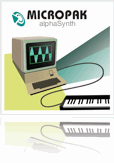 A library of old-school computer sounds captured from a late 1970s 8-bit Apple ][ with an Alpha Syntauri music system."
The Alpha Syntauri was a music system designed around the expansion capabilities of the Apple ][. The hardware consisted of an external piano-style keyboard, with a 3-card set that plugged into the Apple ][, including a keyboard interface card, and the two-board Mountain Computer Music System. Software was designed to support music composition and performance.
Puremagnetik has captured the 8-bit charm of this early home computer music system and reprogrammed everything for the modern music workstation. Whether you are looking for aliased chippy sounds, lo-fi leads or quirky percussion, alphaSynth brings one of the best things about 1982 right to your desktop!
Available at Puremagnetik
This set comes from Chris Randall of Analog Industries & Audio Damage, with more to follow: "It is a heavily re-tooled and much improved version of the sample set I used to have here that I made from the alphaSyntauri. They are much, much better at that sort of thing than I, what with doing it for a living and all, and the alphaSynth set is available in several formats, including Live Rack, Kontakt, and ESX Universal.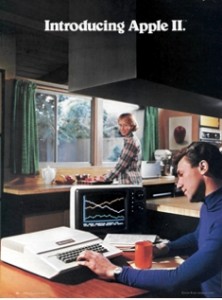 "I've made a bunch of other samples for them with various pieces of Apple ][ based kit, and you can watch out for those in the future."

alphaSynth Features:
• Over 20 multi-sampled instruments with expressive articulations
• Hundreds of expertly recorded multi-samples
• Advanced Ableton Live Racks with customized Macro Controls
• Kontakt KSP easy edit GUI
• Logic EXS version includes Channel Strip Settings with Logic effect
• EXS Universal file format for easy importing into any audio host
Chip Music Maker is a "Power Up" for your iPhone or iPad! Fun, Easy to Use, and authentic 8 / 16 bit sounds
No time to delve into the big and serious music apps?
PixiTracker is what you need! It is a simple and fun tool to quickly create musical sketches or chip tunes. Without requiring a lot of musical knowledge!
Features:
* high quality 16bit sampler and pattern based sequencer (tracker);
* unlimited number of patterns;
* several packs with unique sounds;
* MIDI keyboard support;
* mic/line-in recording;
* Wi-Fi export/import;
* export to WAV;
* audio copy/paste;
* iTunes File Sharing;
* true warm pixel interface!
More info here:
www.blipfestival.org
www.2playerproductions.com