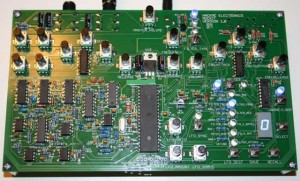 HackMe Electronics has announced that the Rockit synth – their DIY 8-bit synthesizer project – has shipped.
Rockit is an open source analog-digital hybrid synth, created by Matt Heins. Heins says that he's shipped about 175 Rockits in some for (assembled, kits or PCBs). The Rockit is now available assembled for $229, or as a kit for $139.
Features:
Two Mixable Oscillators with 16 Waveshapes/Sounds and Detune
Analog Voltage-Controlled Amplifier with ADSR controls
Digitally Controlled Analog Filter with Selectable Low/Band/High Pass and External Audio Input and Independent Envelope
Two LFOs with 16 Waveshapes and 6 Destinations Each
MIDI In and Out
Open Source C Code with an AVR Microcontroller
16 Slots for Patch Save and Recall
You can preview the sound of the Rockit synthesizer below:
Rytmik Retrobits is an application for creating rhythmical and melodic themes and for composing whole songs. Its user interface blends the fast and well-arranged interface of classic drum machines with flexible pattern interface of popular trackers and with modern sound library. It contains more than 180 carefully selected authentic retro sound samples of electronic drums, percussions, bass, melodic instruments and effects from 8-bit and 16-bit computers and classic consoles.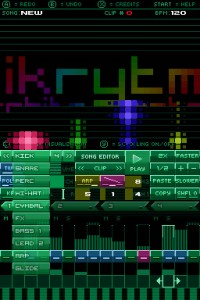 With Rytmik Retrobits you can quickly and easily create the basic building stone – an audio clip. It consists of musical notations for up to four instruments that you may transpose, select their location in the stereo field, and modify their volume, reverse, shuffle (rhythm twist) and polyphony (with extended polyphony handling), chorus/widening stereo effect, echo and arpeggiator. You may arbitrarily combine up to 128 such clips in four tracks and create complex pieces of music. Moreover, you have a collection of 10 pre-made compositions at your disposal from which you may quickly compose your own pieces.
Available in the Nintendo DS shop
Weekend chip tune treat, well I guess you shouldn't miss the video below either then from mind.in.a.box

80 channels of chiptune hardware.
little-scale and Dot.AY: Music for Eight SEGA Mega Drives
http://little-scale.blogspot.com/
"Trying out a drum sample and synthesizer to get that 8-bit music feeling sort of. Kind of works.

I'm going to do some more test on this. All sounds are directly from the OP-1″
OP-1 is the all-in-one portable Synthesizer, Sampler and Controller. With additional features like the FM Radio and an assignable G-Force sensor for motion controlled effects. With OP-1's built-in Tape feature you are able to record everything you do on to the 4 tracks, with overdubbing, reverse recording. 8 built-in synthesizer engines, multiple effects and LFO's. And some really unique sequencers ready to explore.
Connect it to your computer and control your DAW with the common play, stop, rec, forward and rewind. Use the 4 rotary encoders and 8 x 2 dedicated quick keys for fast selections.
Image below? Just a bonus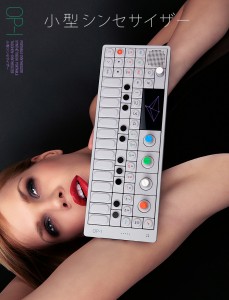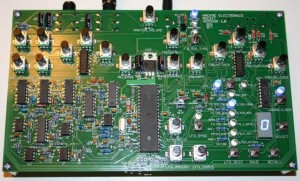 Hack Me Electronics has announced that that the Rockit synthesizer – a DIY 8-bit synthesizer project – is ready for launch:
The PCBs have arrived. I built Rockit #1 and it worked the first time I powered it up. It just doesn't get any better than that!
I'm getting ready with shipping materials (not sure why none of that occurred to me before now!). Look out for a notice from Kickstarter because I'll need to get people's address.
I don't want everyone to get too excited to fast because I've got a lot of work to do to get it to you. I'm going to mix in all three versions into my schedule, shipping some bare bones, some kits, and some assembled units as I go.
The software for version 1.0 is pretty much a wrap. There will be future versions with upgrades and updates, but like my friend says, "At some point in a design, somebody's gotta shoot the engineer." Well, that time has come. Time to put on my manufacturing hat and let these beasts out in the world. Cheers again and thanks for all the support.
The Rockit synth is a DIY synth designed to be "a source of gnarly full-blown synth sounds and, for hackers and electronics enthusiasts, Rockit will be an engaging electronics project and a platform for synth exploration."
Pricing for the Rockit 8-bit Synth ranges from $25 for a barebones kit to $200 for an assembled synth.
Details are available at the projects' Kickstarter site.
Specs:
Fully Open Source Hardware and Well-Commented C Software Design
Digital Analog Hybrid Circuitry
2 Digital Oscillators with 16 waveshapes, updateable to more
2 Low Frequency Modulation Oscillators with 10 destinations
Innovative Digitally-Controlled Analog Filter with Low-Pass, Band-Pass, and High-Pass with Envelope Control and External Audio Input
Analog Voltage-Controlled Amplifier with Envelope Control
Drone/Loop Mode for Playing by Itself
19 Knobs to Twiddle and 8 Switches
Full MIDI Input and Output
Sound Patch Save and Recall
Shrimps performing their song "The Shrimps Shuffle".
Shrimps on Facebook – facebook.com/​5HR1MP5
rochesterchip.org/
Visuals by VJ PLZ ( facebook.com/​PLZfollow )
This footage was shot by Jim Dewitt at Rochester Chip #11 and edited by Nick Maynard.
Theme Music by Nick Maynard.
unfiltered nullsleep.
"Wave Function Collapse"
Nullsleep  is an American electronic musician and computer artist currently residing in New York City. In 1999 he co-founded the low-bit art collective 8bitpeoples, and has served as its lead director since its inception. Throughout the early 21st century he has worked to elevate chiptune music to a more reputable status, in spite of its perception as sometimes kitschy or retro. He is best known for his romantic, high-energy Game Boy pop songs
Official music video for Samo Sound Boy's "Shuffle Code"! Samo Sound Boy is the only west coast US based producer signed to Trouble & Bass is Samo Sound Boy who calls his home Los Angeles. Being the select member to hold it down for the west side, let us tell you that Samo is something special. Coming back with his 2nd release for T&B after his successful Heavy Bass Champions of the World Vol. VIII release, Samo has really taken his song writing, production and mixing skills to the next level with this Shuffle Code EP, containing two new fresh tracks. As you know from our back catalog, one of our favorite things to do is to seek out young and new talent and Samo has been one of the highlights of our roster in 2011, making his first appearances at SXSW, Miami Music Week, Coachella weekend and all around North America thanks to T&B Bookings!
Directed and Animated by Mykola Dosenko
myk31.com/​
Shuffle Code EP releases on Trouble & Bass on August 30th, 2011
troubleandbass.com/​artist/​samo-sound-boy/​shuffle-code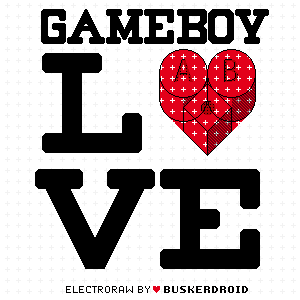 Gameboy Love EP is the new album by the hyperactive Italian chiptuner Buskerdroid. It comprises 5 tracks made exclusively using the LSDJ software.
This 16th original Da! Heard It Records production is back to the basics : 8bit music!
Buskerdroid offers his listeners some serious energy through his doped-up sounds. Taking no prisoners, he drags his Gameboy into the most unexpected corners by creating hybrid tracks combining 8bit and hardtek.
Gameboy Love EP will leave you breathless, it's short, clear and concise, leaving the listener in an over-excited, confused and crazed state of mind. The title track 3D(istortion), to mention just one,submerge the listener into an absurd universe thanks to its relentless rythm and throbbing melody.
Gameboy Love EP is meant for connoisseurs of the chiptune movement, but also for fanatics of much more violent electro styles.

In modern molecular biology, the genome is the entirety of an organism´s hereditary information. It is encoded either in DNA or in case of this fine ReFill it´s the AMIGA1200 encoded in Reason´s NNXT samples. The AMIGA1200 (code-named 'Channel Z') with it´s 8-bit Paula chip was extremely popular among producers all over the world in the early nineties. "Digital Genome" picks up the thread where Soundcells left with "bitBUMPER deluxe" with it´s funky, housy and spacy lo-fi character! Warm, gritty, sleezy, dangerous and nostalgic are the keywords. This ReFill can be used as a full workstation since everything the old Amiga had to offer is in there: basses, keys, lead synths, warm pads and enough drums and percussion to eat your heart out. And do not forget the wonderful FX section. The 170+ Genome combinators are conveniently built up with the right button functionality. Version 2 adds 25 new combinator patches, some minor additions/changes in detail as well as great new backdrops…
'Digital Genome v2' Contents:
• 178 combinator patches, great for many different styles of music.
• 6 different folders: Bass, FX, Keys, Leads, Miscellaneous, Pads.
• 189 NNXT patches containing the basic sounds which were used for the combinators.
• 230 original AMIGA1200 samples, 178 MB uncompressed.
• 21 fresh and great useable rex loops.
A web address to link to for more info and many "Digital Genome v2″ only MP3s:
Offering price is 23,90 ,- EUR until July 31 (normally 29,90,- EUR).