This compilation presents chiptune artists from many different styles.
Such as Glitch Hop, Breakbeat, Bassline, Dubstep, Dub, IDM, Ambient, Cumbia, Hardcore, Speedcore, Breakcore, Synth Punk, Digital Hardcore, Grindcore and Noise.
Available for Free Download on http://chipndamned.com
Trash80 ends the first night of Blip Festival with some snazzy sounds.
You can find Trash80 at http://trash80.net
Blip Festival Australia was presented by 8bitpeoples and SoundBytes.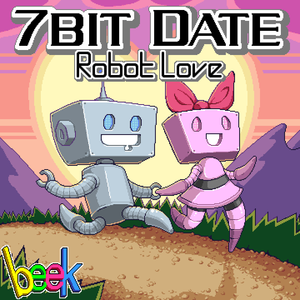 "7bit date: robot love is a collection of chips I began tracking in 2008, with one song reaching as far back as 1998. In 2008, having recently graduated from university, I reexamined my chiptune past and decided to get back in the game. Life carried on, and years later, I remembered my original goal of a new chipdisk release.. Here we are today, 2012!

For 7bit date, I didn't limit myself to traditional chip sounds. I make use of Amiga ST-XX samples in a few tracks — a process which rekindled some of my imagination, as I remembered this or that MOD from back in the day with each Amiga sample I came across. Another characteristic of my chips is to use no external/post-processing effects, just some occasional Schism filters, so the original .IT files will reproduce pretty close to the MP3.
All in all, folks can look forward to a varied collection of chippy goodness: funky, poppy, videogamey, with a splash of reggae and hiphop in a couple tracks"
— beek.
pyramidium (2:19)
archipelago (3:29)
lunar FREAK on) (2:12)
omega, omicron (3:20)
(robot) luvr's rock (2:20)
rearrraaange (0:39)
CHECK(me out)SUM (2:32)
3rd circuit reggae (2:00)
funknium (3:50)
doomkatek (0:49)
circuit break (3:03)
don't let 'em (4:21)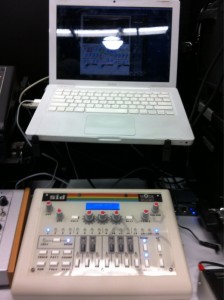 Here's an upcoming box from Mode Machines called SID. Apparently there's some controversy over it's design (link). Chris Randall took the photo above at NAMM. It should go for about $600 USD.
"SID is an 8-Bit desktop synthesizer with a double personality. It's simplistic layout and ease of use delivers pleasure at the first touch and it's familiar step sequencer will have you programming patterns and beats in no time. 3 expression knobs control the key features of each Patch for instant results. But don't let it's simplicity fool you: The supplied SID STUDIO SOFTWARE enables you to tweak every parameter under the hood! Draw and design your patches with instant feedback from the SID. Also check out the NERD-PANEL, a powerful interactive blueprint which enables you to address the chip one pin at a time – also a great educational tool." – modemachines.com
For more info: modemachines.com
I have not seen any video featuring this little nice app that is available for free on AppStore for the iPad/iPod. So I decided to make one, check it out below:
This is a really nice little 8bit drum app with several drum patterns and accompanying chip tunes. In the video I have not tried to do any performance drumming just showing what some of the sounds sound like, so please excuse out of sync drumming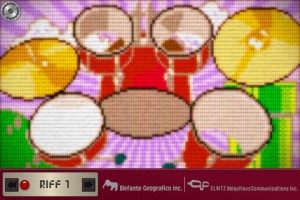 And best of all it is absolutely free
♬ 24 drum kit appropriate for 80′s Video game console,Home computer,Vintage Drum Machine,Rhythm Machine
(NES/FC,GENESIS/MD,GB-DBG,ATARI2600,C64,TR808/909,VL-1,Simmons SDS-V etc)
♬ 24 drum sets that is appropriate for Soul, Funk, R&B, and HIP HOP are prepared.
♬ 24 lesson riffs are collected.
♬ The drum can be played according to the accompaniment of iPod if it starts after it reproduces with iPod.
♬ Spec:
- Collection drum kit 24
- Collection lesson riff 24
* When the sound doesn't become it even if touching, it might be a manner mode as for the drum.
* Please confirm the volume setting of "Ring tone" by "Sound" of "Setting" application program when the lesson riff rings and it doesn't sound the drum.
Experimental synth for iOS.
http://www.warmplace.ru/soft/ios/
PixelWave is an experimental synth with old school pixel interface.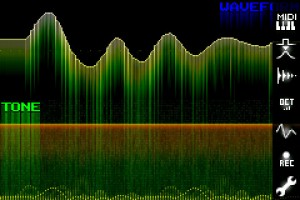 Key features:
• multitouch arpeggiator;
• it is possible to draw waveform and play it at the same time;
• recording;
• export to WAV (via iTunes File Sharing);
• copy to pasteboard;
• nine predefined waveforms;
• changeable number of octaves (from 2 to 6);
• Low-Pass filter (smoothing);
• MIDI IN support.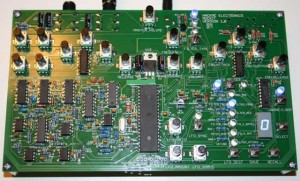 HackMe Electronics has announced that the Rockit synth – their DIY 8-bit synthesizer project – has shipped.
Rockit is an open source analog-digital hybrid synth, created by Matt Heins. Heins says that he's shipped about 175 Rockits in some for (assembled, kits or PCBs). The Rockit is now available assembled for $229, or as a kit for $139.
Features:
Two Mixable Oscillators with 16 Waveshapes/Sounds and Detune
Analog Voltage-Controlled Amplifier with ADSR controls
Digitally Controlled Analog Filter with Selectable Low/Band/High Pass and External Audio Input and Independent Envelope
Two LFOs with 16 Waveshapes and 6 Destinations Each
MIDI In and Out
Open Source C Code with an AVR Microcontroller
16 Slots for Patch Save and Recall
You can preview the sound of the Rockit synthesizer below:
Rytmik Retrobits is an application for creating rhythmical and melodic themes and for composing whole songs. Its user interface blends the fast and well-arranged interface of classic drum machines with flexible pattern interface of popular trackers and with modern sound library. It contains more than 180 carefully selected authentic retro sound samples of electronic drums, percussions, bass, melodic instruments and effects from 8-bit and 16-bit computers and classic consoles.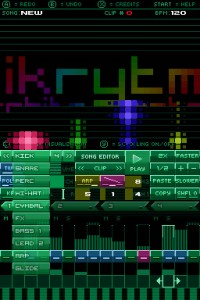 With Rytmik Retrobits you can quickly and easily create the basic building stone – an audio clip. It consists of musical notations for up to four instruments that you may transpose, select their location in the stereo field, and modify their volume, reverse, shuffle (rhythm twist) and polyphony (with extended polyphony handling), chorus/widening stereo effect, echo and arpeggiator. You may arbitrarily combine up to 128 such clips in four tracks and create complex pieces of music. Moreover, you have a collection of 10 pre-made compositions at your disposal from which you may quickly compose your own pieces.
Available in the Nintendo DS shop
Weekend chip tune treat, well I guess you shouldn't miss the video below either then from mind.in.a.box

80 channels of chiptune hardware.
little-scale and Dot.AY: Music for Eight SEGA Mega Drives
http://little-scale.blogspot.com/
"Trying out a drum sample and synthesizer to get that 8-bit music feeling sort of. Kind of works.

I'm going to do some more test on this. All sounds are directly from the OP-1″
OP-1 is the all-in-one portable Synthesizer, Sampler and Controller. With additional features like the FM Radio and an assignable G-Force sensor for motion controlled effects. With OP-1's built-in Tape feature you are able to record everything you do on to the 4 tracks, with overdubbing, reverse recording. 8 built-in synthesizer engines, multiple effects and LFO's. And some really unique sequencers ready to explore.
Connect it to your computer and control your DAW with the common play, stop, rec, forward and rewind. Use the 4 rotary encoders and 8 x 2 dedicated quick keys for fast selections.
Image below? Just a bonus