SJS-ONE – new 8-bit mono synthesizer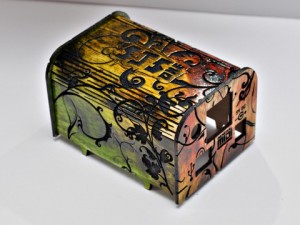 Here's a new treat for 8bit synth fans, check out the SJS-ONE.
SJS-ONE is a software defined 8-bit mono synthesizer with a dual (series) MAX261, switch-cap filter, which we are, as far as we know, the only ones to use at this point in a DIY-synthesizer.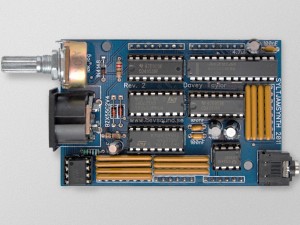 The synthesizer has some interesting history that has certainly colored its development and ultimately it's sound. The initial version was developed as an instructional workshop for a synth-event called SyltJam in 2011. The workshop idea was to show people how quickly you can design the basic hardware and software required to produce a platform for versatile audio and music generation.
As it turned out, people liked it's sound so much that we decided to refine the design – which more or less involved adding peripheral components to increase configurability and improve on stability and ESD, ground-mismatch and noise sensitivity while keeping the actual design minimal and simplistic.
It's beginnings are as humble as it's production – less than 50 of these have been made available and all parts are hand assembled and hand soldered, while the manual is hand drawn and cases hand painted.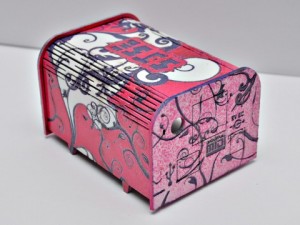 Perhaps the most unique aspect of this synth is the choice of digital platform – the Arduino. We did not want to build something static and opted to keep the Arduino instead of adding an on-board microcontroller. Because this will make it so much easier to modify the functionality of the synth firmware provided by us, or to write your own software with a completely unique sound using the vast community support that is available for the Arduino platform.
All aspects of the synth can be fully controlled by designing your own custom firmware and we sincerely hope that people will share their firmware in the spirit of the open source and hardware that inspired us to drive this project from idea to final product.
Link:
http://devsound.se/2012/sjs-one
Comments