Armed with only a JamStik, an iPad, a handful of apps, and a microphone – you can create some amazing music.
Check out http://www.jamstik.com for more info, or goto http://igg.me/at/JamStik/x/2880027 before July 9 to preorder via Indiegogo.
In "Get Lucky" we use:
Audiobus – http://audiob.us
Loopy HD – http://loopyapp.com
Animoog – http://www.moogmusic.com/products/app…
Sunrizer – http://beepstreet.com/sunrizer
Peter Vogel CMI – http://petervogelinstruments.com.au/ios/
Sampletank – http://www.ikmultimedia.com/products/…
iVoxel – http://www.virsyn.net/mobileapp/index…
@JamStik
http://www.facebook.com/JamStik
"Get Lucky" by Daft Punk on iTunes – https://itunes.apple.com/us/album/get…
Free mp3 : https://soundcloud.com/pvnova/evoluti…
ENGLISH SUBTITLES available for the speech at the end!
Projet de clip participatif – plus de détails ici : http://pvnova.over-blog.com/article-e…
This is a keyboard cover of Tron Legacy's original soundtrack by Daft Punk. Everything was played and recorded with the Moog Little Phatty Stage II.
"The SYNTHWAY address is for my brazilian blog… only in portuguese. :)The first part was a bit difficult to sync with the video, but I guess you can imagine that! I played the thing 2 times in a row while recording the MIDI file (with a little bit of quantize to keep the thing like an arpeggio).The knob tweaking part is showing a nice feature of the Little Phatty, named Pot Map. I'm changing 3 parameters of the filter in realtime… the modulation knob (not seen) is for the EG Amount, oscillator knob for resonance and the filter knob for cutoff.Third part, playing the melody while changing the OSC2 pitch, to get that nice OSC Sync effect. Nothing really special… added a very smooth delay in that lead, from EHX Deluxe Memory Boy.Fourth part, playing the melody in a different way, while using the modulation wheel for controlling filter cutoff, getting that nice wah-wah sound. This part is using the internal LP arpeggio for playing the high-pitched pattern. A little touch of delay in both synth lines.Didn't record it in video, but the deep bass and drum sounds were made with the LP. Everything was recorded thru Scarlett 2i2 in Logic Pro 9.I hope you enjoy!"
Background video description:
And finally, there's my version of the End Titles of Tron Legacy remade completely in a Nintendo DSi with Korg DS-10+ software. The audio was just recorded in DAW without post processing or effects adding.
Sorry for the mistakes while I'm playing, those keys are very tiny ahahaha.
Thanks for watching!!!
Daft Punk continues to feed us with teasers ans snippets for their upcoming album…Is the album really going to be that great even Guy-Manuel de Homem-Christo says "its supposed to really suck".
Stay tuned for Pitchfork's Cover Story on Daft Punk. Featuring images by Nabil.
A look at the collaborators behind Random Access Memories, the
new album from Daft Punk. Episode 1: Giorgio Moroder.
Pre-order on iTunes: http://smarturl.it/RAMiTunes
The Collaborators, a series by The Creators Project with direction from Ed Lachman. http://randomaccessmemories.com/
The Creators Project is a partnership between Intel and VICE:
http://thecreatorsproject.com/
Pre-Order Random Access Memories, in-store 5/21/13:
iTunes: http://smarturl.it/RAMiTunes
Amazon (CD/LP): http://smarturl.it/ram-amazon
Direct (CD/LP): http://www.myplaydirect.com/daft-punk
Background video description:
I tried adding in a simple effect in this one around 2:33 so check it out. Another of my favorite Daft Punk songs. Enjoy!
New set of videos that I've entirely devoted to Daft Punk! I did the songs that I think sounded best on floppy drives so that leaves out some of the songs I really wanted to do. This is the third of four videos. You can still access the last one early by visiting my FB page or spot on Abyssal Forums. Both links below.
Wallpaper Link: http://wallbase.cc/wallpaper/655328
Live recording from a studio somewhere in France
Keep it coming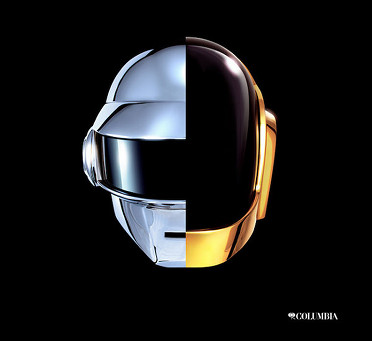 The French act Daft Punk are preparing their return to the dance scene… with an image. That's right, the big news today was a new image posted on their website, but the band also confirmed their new deal with record label Columbia. Apparently that was enough to make the official Daft Punk site crash.
Daft Punk are expected to release their 4th album somewhere in 2013 with new material hitting the download stores somewhere in Spring, if we have to believe collaborator Nile Rogers.
More info soon, hopefully with something more than an image.
Via SL