Background video description:
A synthy cover of the M83 x Big Black Delta remix of Daft Punk's "Fall"….using just the Prophet 12 splits and Tempest (in playlist mode). More music at http://peterdyer.net/
Once again, the creative and talented Carson Day jammed on this w/ me at Namm '13, tweaking the Tempest live, but since no video emerged of it, I wanted to share the sounds, as it was an absolute blast to play, and I've got to hand it back for now. I'll try to abstain from anymore Tron OST or covers of remixes for a while.

Daft Punk/Da Funk Program by Roland TB-303
Background description:
www.atomosynth.com
Hello this is my cover of Daft punk derezzed, using the AtomoSynth Krakken analog synthesizer for the lead (great for knob tweaking !!), a MkorgXL for the sub bass and Motif for the 909 drums, all sequenced by midi and recorded in Cubase in one take…
Remake of the Daft Punk Track 'Tron Legacy', created with G-Stomper 2.0 Drum Machine for Android using the new piano controls
(Device: Samsung Galaxy Tab 10.1)
"Big Respect to Daft Punk for creating this awesome Track."
G-Stomper is a highly optimized Drum Machine/Groovebox for doing electronic live performances on your Android device.
https://play.google.com/store/apps/details?id=com.planeth.gstomperdemo
https://play.google.com/store/apps/details?id=com.planeth.gstomper
Official Website:
http://www.planet-h.com/gstomper/
Chip tune version of Daft Punk's Tron Legacy:
"I loved the Tron films and Daft Punk, so I figured why not do a chiptune version 😀
BTW I made this with the sunvox app on my iPod, not my computer!"
—-Download Link Below—–
Tron Legacy Chiptune (FLAC):
http://www.mediafire.com/?nzhpyl7grro4lf0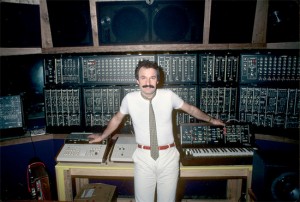 Synth and disco pop legend Giorgio Moroder has hooked up with Daft Punk during the recording of the French duo's new album.
During an interview at the International Music Summit in Ibiza, he revealed that he'd laid down a "rap", as part of the sessions for the long awaited follow up to Daft Punk's 2005 album Human After All. According to Moroder, the duo invited him to talk about his life in a vocal booth filled with a range of microphones old and new (all the way from the 60s to today). The engineer explained that the mic they would end up using would depend on what decade of his life he was talking about. When Moroder quizzed the engineer as to whether or not anyone would actually be able to tell the difference anyway, he was assured "They will know".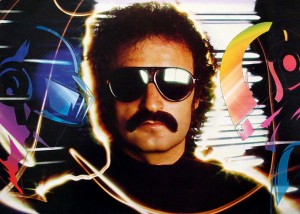 Such a painstaking/self-indulgent approach to one vocal performance might perhaps shed a little light on why the new album from the duo is taking so long to emerge. They're reported to have drafted in some other heavyweight names too – Nile Rodgers of Chic recently revealed that he's been involved, and earlier this year American songwriter Paul Williams (the man behind hits for the Carpenters, among others) mentioned that he had also been writing songs for the duo. No word yet on when the album in question is likely to arrive; more news when we have it.
Classic video from the "pioneer" of Disco.
Taken from the E=MC² album.
We of course all new that some people would enjoy the challenge to make some music on the Google Moog synth 😀
Daft Punk cover performed on today's interactive 'Google Doodle'.
Percussion performed on Korg Monotribe.
http://www.twitter.com/brettdomino
http://www.brettdomino.com
And by the way here's another one from Jordan Rudess:
And of course Moog has to try it out as well:
In celebration of Bob Moog's Birthday Google created a web based synthesizer for the world to enjoy. Moog's Chief engineer, Cyril Lance, overviews the doodle' s capabilities to help you get started crafting sounds. Now everyone can explore the wonders of subtractive synthesis and express their creativity by sculpting sounds. Remember, experimentation and learning will reward you with a lifetime of rich synthesizer experiences. #celebratebob
Enjoy !
And here are the details:
Hello. My name is Mars.
 Today we'll talk about vocal processing through a vocoder. Daft Punk have used this technique in many of their tracks.
I have searched for a long time to find a convenient and easy vocoder, and tried many different devices.

When we started work on the PLAYMA track "Cuz We Are PLAYMA", the vocals weren't catchy enough, and at the time I had not had the opportunity to ask some of my friends to record vocals for me. I decided to try recording them myself, even though I don't like my voice.
For the record, I used a standard iPod headset. That sounded funny and my voice was so wrong. Here I was not even in tune, but it's ok for this example.
To begin, compress the vocal track a little bit to cut some peaks in the sample, then use the vocoder effect.

In order to implement this effect, I first need to make a synth, which fills out my voice. For this I used a standard preset of "NI Massive" synth.
To create a melody for the synth, I copied the midi clip, which I used to lay down the guitar track.

The Vocoder effect is very simple to use. To make it work you just need to select the source channel as the Massive synth. After this you should tweak up the effect a little for a more pleasant sound.
Next, add a slight delay between the left and right channels to spread the stereo, and cut low frequency a little bit.
Thank you for watching. My name is Alexander Mars and this was my tutorial on "Daft Punk vocoder". If you are interested in professional, affordable music courses, head over to xssracademy.com. There you will also find more free video lessons and articles, so be sure to check it out. Click "Like" below if you enjoyed this video, see you soon!
Daft Punk – Aerodynamic performed by Carlo Castellano
Website: http://carlocastellano.cc
Facebook page: http://facebook.com/carlocastellano.cc
Mirror: http://vimeo.com/15997889
"Da Funk" was initially released as a 12 inch single in 1995 under the Soma Quality Recordings label with the B-side "Rollin' & Scratchin'" and again in late 1996 after the band signed with Virgin Records with the B-side "Musique", a track that later appeared in the album Musique Vol. 1 1993-2005. In an interview with Fredrik Strage for swedish magazine Pop #23 Bangalter reveal that "Da Funk" was made after listening to Westcoast G-Funk for weeks.
"It was around the time Warren G.'s "Regulate" was released and we wanted to make some sort of gangsta-rap and tried to murk our sounds as much as possible. However no one has ever compared it to hip-hop. We've heard that the drums sounds like Queen and The Clash, the melody is reminiscent of Giorgio Moroder, and the synthesizers sound like electro and thousand of other comparisons. No one agree with us that it sounds like hip-hop"
In September 2010 Pitchfork Media included the song at number 18 on their Top 200 Tracks of the 90s
Background information:
Buy my latest song here – http://www.beatport.com/track/vile-prankster-ryan-enzed-remix/2838739
Be sure to check out my music production forum – ryanenzed.com/forum
All I ask in return for all the free tutorials that I do for you guys is that you support /buy my new tracks when they come out on beatport – good deal right!? 😀