A short video demonstration of Delta Modulator VST/AU plugin by Xfer Records.
Xfer Records has released Delta Modulator, a free bitcrusher VST/AU plugin based on a signal modulation technique found in Nintendo NES video game console's delta modulation channel.
I just threw Delta Modulator together out of mild curiosity of how it sounded compared to traditional sr/bit-reduction.
more info: http://bedroomproducersblog.com/2012/06/03/delta-modulator-free-nintendo-nes-…
download: http://xferrecords.com/freeware/
"We are excited to announce the Ninstrument. This prototype includes two original Gameboys and a Nintendo Entertainment System. Some systems have to be heavily modified to fit into a 2U form factor. We believe this form factor will allow an expansion in use of these unique sounds in studios across the world. Here is the prototype video we promised. This video contains no Chip Maestro sounds. We wait patiently. If you have any questions or comments or ideas, let us know on our website."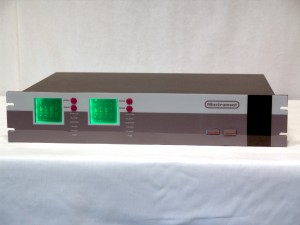 www.absolutextremes.com/ninstrument
What is a Ninstrument?
A Ninstrument is a custom built rack mountable sound module that can accommodate any number of vintage gaming systems to produce unique era centric sounds. We use only ORIGINAL HARDWARE in our systems. We don't use emulators or knock-off type products.
You can choose what systems you would like to have in your Ninstrument. Each system is custom made and tailored to you specifically. As you can imagine, having it personalized for you, means we build it for you. As such we are not shipping you a ready made product off of the shelf. It can be built in as little as four weeks, or take up to four months to build and test.
These original gaming systems are approaching 30 years in age. Due to this we sort through a lot of bad or malfunctioning gear to pick out the absolute best possible electronics to put in our systems. This also can mean we have a unit or system that can malfunction or stop working. We offer a service plan that will insure a trouble free working unit.
We use the best components possible to build our systems. Steel cabinets with aluminum and polycarbonate sandwiched front panels insure gig ready durability. High quality reverse printed, screen-printed Lexan front covers are one of the the most durable surfaces you can buy.
http://youtu.be/yggx-JtxbTY
Nintendo Wii Remote control Native Instruments Reaktor and Kore Player on eeePC701 with Ubuntu 10.4 and Wine in real time.
This video neatly describes how you effectively can turn your Nintendo into a drum machine
For Sale at: http://heavyw8bit.com/nes_drum_machine.php
BEATBOX will turn your Nintendo into a playable drum machine.
Features include:
- Ability to play live and record Drum Loops & Fills.
- Each Loop or Fill can contain up to 99 key presses.
- 4 Recordable Drum Loops
- 2 Recordable Drum Fills
- 2 Drum Kits, 8 samples each
- 4 Sample Frequencies
- TV or Monitor is not required.
- Works with original Nintendo controllers
This video shows a Netduino connected to a Arduino MIDI shield and a Nintendo DS touch screen. X controls filter cutoff and Y controls filter resonance, that in combination create some quite dramatic effects. Of course and MIDI control can be assigned to X or Y. Just add some software.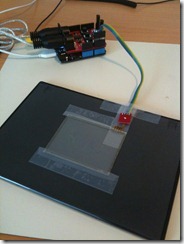 The prototype uses an off-the-shelf MIDI shield and a Nintendo DS touch screen connected piggy back on the shield.
The Netduino runs a simple "convert X/Y touch values to MIDI control changes" application. Right now it sends volume as X and modulation (in practice vibrato) as Y, but that's easy to change in the code. If no finger is touching the screen the last setting will stay. I also filter so that MIDI data is only sent when there's an actual change in any direction.
The touch screen is not very sensitive, but works as a demo of what can be achieved with no additional electronics beyond what's mentioned and very little software too.
KORG DS-10 is a music creation program for the Nintendo DS that emulates the Korg MS range of synthesizers. The DS-10 creates sound with two analogue synthesizer emulators, each with two Voltage-Controlled Oscillators (the Korg MS-10 had only one VCO). The VCOs feature a sawtooth, a pulse (with a non-modifiable pulse width), a triangle and a noise waveform. There is also a four part drum machine that uses the same sound creation techniques as the synthesizers. The sounds made by each of the synthesizer emulators are modified using virtual knobs to change the value of standard synthesizer parameters such as cutoff frequency and waveform shape. Additionally there is a screen where users can patch certain parameters to be modified by an LFO, the envelope generator, or VCO2. Those new to Korg synthesizers may find the original Korg MS-10 Manuals[4] useful in understanding the function of its components.
In this video:
100% Korg DS-10 European version (no PLUS version)
Flipnote Studio on Nintendo DSi XL + Nintendo 3DS
video recording: JVC Everio GZ-HM330
sound recording: Lenovo Laptop + Audacity
Until now I checked out Nintendo DSi music applications like RYTMIK, Rhythm Core Alpha, Music On: Drums and Music On: Retro Keyboard. This time I tried to make music with Korg DS 10.
Organised by composer Ondrej Pochyly, with funding from the National Arts Council and sponsored by Time+Space, The Exeter Classical Music Event will take place on 2nd July 2011 in the courtyard of Exeter Castle, Devon.
For computer musicians, Ondrej Pochyly´s performance of his ´Requiem for the Lost´ will no doubt prove to be one of the most interesting events of the day as he conducts an entirely ´virtual´ orchestra using Nintendo Wii remotes to control the tempo and dynamics.
See how he has created the Requiem and which virtual instruments he has used in this video including Cinesamples VOXOS and Vienna Symphonic Library products…
More information about the event can be found at:
http://www.timespace.com/events
AfroDJMac is a persistent man who made a promise to post something every week and so far he's keeping that promise. Nintendo Entertainment System is the sound source for this cartoon for New York based AfroDJMac's "Yea Yea Yea." This animation was created for the Nintendo EP, an album made up of songs created with an NES.
The Nintendo EP is a collection of songs I've made over the years, using my Nintendo Entertainment System as a sound source.  Some of these songs have since seen many different incarnations, such as the surf rock take that was Psycho Rainbow, but these are the original versions.  Sometimes you are inspired to make music because of thoughts, feelings, other songs you like, etc. These songs were inspired by the sound of the Nintendo.  Those familiar timbres are what really got these tracks off the ground, and from there the other aspects of songwriting were applied.  You'll hear guitars, basses, and drums, but I don't think these songs would have come to life without our little grey 8-bit friend.  Please feel free to download the EP and show your friends, put it on playlists, add to your blog, and give it to your uncle Otis who happens to have major connections in the music industry
Chip Tune aficionados and video game lovers rejoice; this weeks Ableton Live instrument rack was created with the sound card of a Nintendo Entertainment System, accessed via WayFar's MidiNES. (awesome piece of gear… http://www.wayfar.net ) It contains a pulse wave channel and a triangle wave channel. True to the original NES with some extra features. Very warm, familiar, gritty, dirty, and nostalgic.
Dirty, lo-fi, 8-bit, nostalgic.  This weeks Ableton Live Rack was created with the sound card of a Nintendo Entertainment System.  Maybe it's just because I grew up spending more time playing video games than I'd ever admit, but the bleeps and blips that come from this magical machine have a warmth and familiarity that hits home.  The samples that make up the virtual instrument were made by connecting a MidiNES cartridge to a Nintendo and sampling certain notes.First, allow me to explain how the Nintendo's sound engine works… There are five channels in total: 2 pulse wave channels, 1 triangle wave channel, a noise channel, and a sample channel. They are all monophonic, but each can play simultaneously, for a total of five sounds at once.  Considering the limitations of the NES, listen back to the music from some games (like Super Mario Bros. or The Legend of Zelda for example) and I think you'll agree, it's quite a show of the composer's creativity and songwriting skills.

So, what I am giving you are the Pulse wave channel and the Triangle wave channel.  The triangle wave channel does not offer much in the way of expression (not even volume control), but the pulse wave has four different duty cycles.  I have sampled all four.  I should also mention that there's a lot of buzz that comes out of the Nintendo, so I applied a De-noiser to clean things up a bit.  I personally don't think that the integrity of the sounds is affected; this synth is still pretty gritty.
Here is the download link for the rack.
Nintendo MAX controller square-wave synth with TURBO modulation.
http://www.HandmadeElectronicInstruments.com