A MIDI synthesizer is controlled by a Wiimote. As infrared source, a pocket lighter is used. It works also with a candle, a halogen lamp or most other IR sources. Up/down controlles the pitch of the oscillator, while left/right controlles the cutoff frequency of the
low-pass filter.
—————————————-
­————————-
https://sites.google.com/site/synthaq…
Both, a cuicuit-bent Korg Monotron and a Nanoloop (Synthesizer and Sequencer on Nintendo Gameboy) are synced by the trigger impulses sent by a Roland TR-626 drum computer.
This allows to filter the raw chiptune sound of Nanoloop by the analog filter of the Monotron. The retrigger of the Monotron LFO is the red wire. The sync mod is done like shown here: http://stevewoodward.posterous.com/lfo-reset-point-on-korg-monotron
More info: http://bit.ly/RTFril
Los Angeles-based producer and controllerist Yeuda Ben-Atar (better known as electronic music performer and beatmaker Side Brain) recently stopped by Dubspot NYC to explain and demonstrate how he utilizes a 1980s Nintendo video game system controller with Ableton Live. The Power Glove controller originally released in 1989, was the first peripheral interface controller to reproduce human hand movements on a television or computer screen in real time.
Yeuda grew up playing keyboards and guitars in the 90s, but as an avid gamer he has always searched for ways to incorporate his love of videogames with his music. In this interview, Yeuda talks about his influences and inspirations, controller designs and interface devices, the similarities between video games and digital audio workstations (DAWs), mapping the Power Glove to control Ableton Live, using Max for Live, using the computer as a musical instrument, and developing a unique voice and presentation within the crowded world of modern electronic music!
Here is a detailed video describing the features and use of the SYNTHBOY+.
Please refer to http://www.ninstrument.com for more information and to inquire or ask questions about the product.
Some of the features include, a very cool GBLFO filter effect by NeX for LSDJ.  Enhanced midi CC control of mGB, very efficient DB9 connector that contains all of the necessary connections, including data I/O – prosound and power.  We added perfboard so you can expand it with more upgrades and customize it to your liking. We hope you enjoy it as much as we have building it.
Listening to the sounds from the older gaming systems is a great way to both reminisce and create cool sounds for a song or just to have fun.  There is a large community that has been working with these sounds for many years and we thought we could make a hardware interface that would give more people the chance to play and hear these unique era centric sounds again.  From hard bass lines to awesome 8bit waves there will be something that everyone will enjoy.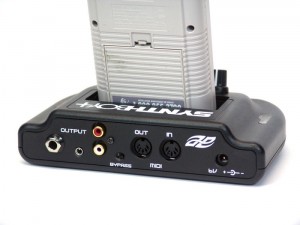 We have lots of audio connectors on the back of the synthboy+.  Whether you are an experienced DJ or connecting it to your home stereo there are plenty of options. We have midi in and out of the synthboy+ so you can connect a midi compatible keyboard and be able to directly play the Gameboy as an instrument.  If you don't wish to 'play' the Gameboy as a instrument, there is a tracker style program that allows you to enter in note information and the program will cycle through these notes and sounds. The knobs do different things depending on what you are doing.  If you are playing the Gameboy as a traditional instrument, the top three knobs allow you to quickly change parameters that will immediately effect the sound.  If you are using the tracker style program the bottom two knobs will allow you to manipulate the flow and style of your song in real time.
A short video demonstration of Delta Modulator VST/AU plugin by Xfer Records.
Xfer Records has released Delta Modulator, a free bitcrusher VST/AU plugin based on a signal modulation technique found in Nintendo NES video game console's delta modulation channel.
I just threw Delta Modulator together out of mild curiosity of how it sounded compared to traditional sr/bit-reduction.
more info: http://bedroomproducersblog.com/2012/06/03/delta-modulator-free-nintendo-nes-…
download: http://xferrecords.com/freeware/
"We are excited to announce the Ninstrument. This prototype includes two original Gameboys and a Nintendo Entertainment System. Some systems have to be heavily modified to fit into a 2U form factor. We believe this form factor will allow an expansion in use of these unique sounds in studios across the world. Here is the prototype video we promised. This video contains no Chip Maestro sounds. We wait patiently. If you have any questions or comments or ideas, let us know on our website."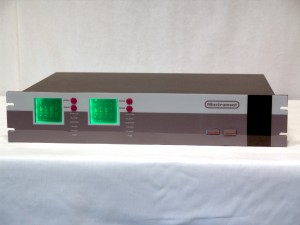 www.absolutextremes.com/ninstrument
What is a Ninstrument?
A Ninstrument is a custom built rack mountable sound module that can accommodate any number of vintage gaming systems to produce unique era centric sounds. We use only ORIGINAL HARDWARE in our systems. We don't use emulators or knock-off type products.
You can choose what systems you would like to have in your Ninstrument. Each system is custom made and tailored to you specifically. As you can imagine, having it personalized for you, means we build it for you. As such we are not shipping you a ready made product off of the shelf. It can be built in as little as four weeks, or take up to four months to build and test.
These original gaming systems are approaching 30 years in age. Due to this we sort through a lot of bad or malfunctioning gear to pick out the absolute best possible electronics to put in our systems. This also can mean we have a unit or system that can malfunction or stop working. We offer a service plan that will insure a trouble free working unit.
We use the best components possible to build our systems. Steel cabinets with aluminum and polycarbonate sandwiched front panels insure gig ready durability. High quality reverse printed, screen-printed Lexan front covers are one of the the most durable surfaces you can buy.
http://youtu.be/yggx-JtxbTY
Nintendo Wii Remote control Native Instruments Reaktor and Kore Player on eeePC701 with Ubuntu 10.4 and Wine in real time.
This video neatly describes how you effectively can turn your Nintendo into a drum machine
For Sale at: http://heavyw8bit.com/nes_drum_machine.php
BEATBOX will turn your Nintendo into a playable drum machine.
Features include:
– Ability to play live and record Drum Loops & Fills.
– Each Loop or Fill can contain up to 99 key presses.
– 4 Recordable Drum Loops
– 2 Recordable Drum Fills
– 2 Drum Kits, 8 samples each
– 4 Sample Frequencies
– TV or Monitor is not required.
– Works with original Nintendo controllers
This video shows a Netduino connected to a Arduino MIDI shield and a Nintendo DS touch screen. X controls filter cutoff and Y controls filter resonance, that in combination create some quite dramatic effects. Of course and MIDI control can be assigned to X or Y. Just add some software.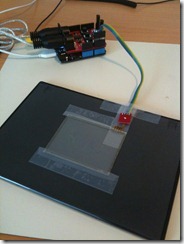 The prototype uses an off-the-shelf MIDI shield and a Nintendo DS touch screen connected piggy back on the shield.
The Netduino runs a simple "convert X/Y touch values to MIDI control changes" application. Right now it sends volume as X and modulation (in practice vibrato) as Y, but that's easy to change in the code. If no finger is touching the screen the last setting will stay. I also filter so that MIDI data is only sent when there's an actual change in any direction.
The touch screen is not very sensitive, but works as a demo of what can be achieved with no additional electronics beyond what's mentioned and very little software too.