Ninstrument Prototype I
"We are excited to announce the Ninstrument. This prototype includes two original Gameboys and a Nintendo Entertainment System. Some systems have to be heavily modified to fit into a 2U form factor. We believe this form factor will allow an expansion in use of these unique sounds in studios across the world. Here is the prototype video we promised. This video contains no Chip Maestro sounds. We wait patiently. If you have any questions or comments or ideas, let us know on our website."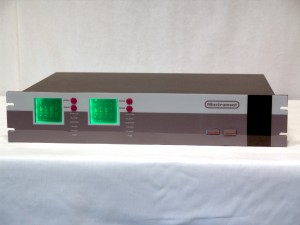 www.absolutextremes.com/ninstrument
What is a Ninstrument?
A Ninstrument is a custom built rack mountable sound module that can accommodate any number of vintage gaming systems to produce unique era centric sounds. We use only ORIGINAL HARDWARE in our systems. We don't use emulators or knock-off type products.
You can choose what systems you would like to have in your Ninstrument. Each system is custom made and tailored to you specifically. As you can imagine, having it personalized for you, means we build it for you. As such we are not shipping you a ready made product off of the shelf. It can be built in as little as four weeks, or take up to four months to build and test.
These original gaming systems are approaching 30 years in age. Due to this we sort through a lot of bad or malfunctioning gear to pick out the absolute best possible electronics to put in our systems. This also can mean we have a unit or system that can malfunction or stop working. We offer a service plan that will insure a trouble free working unit.
We use the best components possible to build our systems. Steel cabinets with aluminum and polycarbonate sandwiched front panels insure gig ready durability. High quality reverse printed, screen-printed Lexan front covers are one of the the most durable surfaces you can buy.
Comments