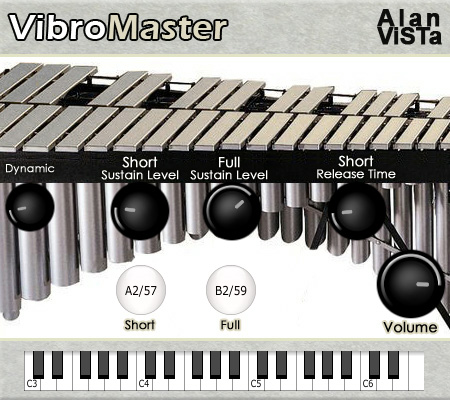 VibroMaster is a sampled vibraphone containing 42 stereo samples from the
University of Iowa Electronic Music Studios public domain library.
You can use a sustain pedal to play with full release notes,
but if you don't have one, you can switch from Short to Full release
with the midi notes A2 (57) for short and B2 (59) for full.
These 2 notes can be triggered from the GUI.
– 42 stereo 24 bit samples.
– 2 groups: Short / Full release.
– Release time control for the short group.
– Sustain levels for each group.
– Amplitude dynamic range control.
– Main volume.
-Ugly GUI.
Available in :
VST 32 and 64 bit for Windows
VST for Mac
Audio Unit for Mac
FREE Kick Drum VSTi synthesizer…NO SAMPLES just synthesis.
Download for free with no limitations athttp://hintonandfairchild.co.uk/bigro…

BIGROOMKIXSYNTH is a VSTi specifically created for making Kick Drums and Bass Drums. Unlike the competition, this is a true Synth, it uses no samples only 100% synthesis to achieve a thick meaty UMPH to your track with ultimate control to the sound.
he sound is split into 4 sections, SUB, BODY, TRANSIENT and HAT/NOISE with lots of controls to fine-tune each characteristic of the layer. It has a compressor an EQ boost and a Key Select…you can even change the background colour…… Below you can get more details on the controls.
The Synth is FREE to use and share providing you do not try and sell it yourself.
easy#toolz has released Mormox Imitate, a free synthesizer instrument plug-in for Windows.
Its an "Emulation" of a very new Hardware-synth from Greece, called "Murmux Initate"
And it has a very "simple" Structure at Original: 2 Oscillators with Subosc, 2 waves (Saw and Pulse)
Lowpass-Filter, simple LFO, 2 Envelopes (one AD, one ADSR)… thats all

My "Emu" has some extra Features, indeed, i have tried to receive the brilliantly easy structure.
Mormox Imitate is available to download for Windows (VST) as freeware as part of the KVR Developer Challenge 2014.

Acrobatics has released Mate, a free synthesizer instrument for Windows.
Mate is a hands-on, simple desktop musicians friend, inspired by synthesizers of the seventies and eighties.

It produces original synth tones and reproduces strings, pianos, basses, organs and bells patches with ease, but it can also explore wild and spacey atmos using its flexible modulation options and smart programming.
Mate features
32-bit ultra-optimized code, zero latency, samplerate independent engine.
All sample rates supported.
Each control is fully recordable and automatable in host.
Most knobs & switches receive external MIDI control changes.
Mate for Windows (VST) is available to download from KVR Audio as part of the Developer Challenge 2014.
AfroDJMac has released Univox Bass Lucy, a free Live Pack featuring a sampled Univox bass from the 70′s.
Free Download @ http://bit.ly/freesynth107
Multi-sampled bass guitar instrument for Ableton Live. Created from samples of a Univox Bass guitar. The bass can be heard on this track: https://soundcloud.com/afrodjmac/id-n…

Visit AfroDJMac's site for more stuff like this, including Live Instrument downloads, tutorials and music! http://www.afrodjmac.com
I've had a lot of experience recording this bass, and I'm often torn on how to best record it. Running it through a bass amp is usually my first choice, but I also really like how it sounds coming out of my guitar amp. So what I did while sampling was run the bass through an SWR bass amp and my Fender Deluxe tube guitar amp. Also, I put up an AKG C414 mic in the room to capture both amps simultaneously. On the Ableton device, you can mix the three signals together to meet your taste.

When you pluck a string on a bass, it will always sound slightly different. So to emulate that, I recorded 3 different samples of each note that I recorded. I set the LFO in Sampler to play any of these three samples at random. That means that any melody you play will always sound slightly different. Even a MIDI clip will never loop in exactly the same way with the same samples. You will always get a bit of subtle variation, just as you would with a real bass player.

Sinevibes has released a free Audio Unit plugin –Atom. Atom is a filter with focus on dynamic, tempo-synchronised modulation. It features five different resonant filter types each with three slope settings – up to super-steep -48 dB/octave.
It has two modulators which feature multiple waveforms and run at rates from 1/128 note to 16 bars. Thanks to the chaos function which randomises the amplitude of each modulator cycle, as well as lag switch that smoothens the waveform curves, Atom allows a user to create lively, elaborate filter effects.
Atom is the first Sinevibes plugin to feature a new interface design language that is designed to cleanly present internal components and logical or audio connections between them..
Features:
Multi-mode filter with five types and –12/24/48 dB/octave slope steepness.
Dual modulators with eight waveforms, per-cycle chaos function and shape lag on/off switch.
Advanced transport sync algorithm with support for tempo and time signature automation.
Extensive use of OS X Core Animation and Accelerate frameworks for hardware-accelerated graphics and audio processing.
Price: Free.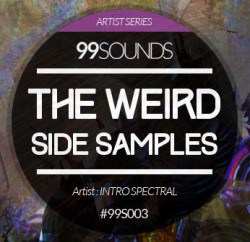 99Sounds has released The Weird Side Samples– a free glitch sound effects library.
The Weird Side Samples is a free collection of glitch samples, weird sound effects and abstract sonic textures produced by Johan Ekelove aka Introspectral.
The author describes this sound collection as "a sonic exploration through hidden worlds afloat on a metaphysical plane".
Contents:
182 audio samples in total
19 atmospheric sounds
29 sonic movements
17 percussive elements
69 tech samples
31 sonic textures
17 vox samples
24-bit WAV format
44.1 kHz Stereo
284 MB size on disk
174 MB download size (RAR archive)
The Weird Side Samples are available as a free download at 99sounds.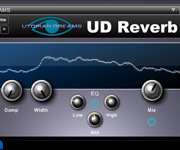 California contemporary jazz band Utopian Dreams has released a collection of free VST plugins for Windows.
The VST's include:
You can download the free Windows VST plugins from the UD site.
Remember dial tones, ring back tones, busy signals? This Free Ableton Live Instrument gives you samples of them all, so you can use them in your own productions.
Free download: http://bit.ly/freesynth106
Visit his site for more stuff like this, including Live Instrument downloads, tutorials and music! http://www.afrodjmac.com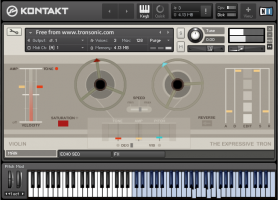 Tronsonic has released The Expressive Tron, a free sample library for Native Instruments Kontakt (5.2.1+).
The Expressive Tron features 4 tape banks from an original (un-serviced) Mellotron M400: Flute, Strings, Cello and Male Choir:
These are not pristine Mellotron samples – re-recorded to worn tape for characterful sound design.
Utilises Tronsonic's 'microtape plus' format, which features tape echo style sequencer and fx section.
5 patches per bank; 5 multi patches.
Visit tronsonic.com for your free download – no need to register.