B. Serrano has launched Selena, a free synthesizer instrument for Windows.
Downsized version of Horus.
Just strings, but not only…
Full MIDI learn
32 voices polyphonic
CPU friendly
The plug-in is available for Windows (VST).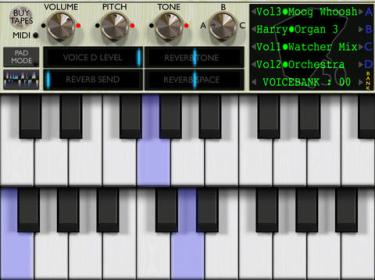 Omenie has released M3000 Free Edition – a 'freemium' virtual Mellotron for the iPad.
M3000 Free Edition is a fully-functional recreation of Streetly Electronics' M4000 tape-replay instrument. Compared to the full version, the app offers just 5 tapes from Streetly Electronics' production library, all authentic mellotron voices. In-App Purchases allow the full voice set of the 50th Anniversary Edition to be downloaded, and many other voices as well.
Apart from the limited voice set included with the app, no functionality is removed in this free edition. MIDI and AudioBus is fully functional, including 'Two Trons' mode where 2 different MIDI channels can control the A/B/C and D voices.
M3000 Free Edition is a free download

Shoogle Studios has announced Shoogler, a free Max for Live filter device.
To celebrate the launch of our new Max for Live course we're giving away this incredible multimode filter device! Featuring:

2 Independent Filter Units
Low Pass, High Pass, Band Pass, Band Stop and Peak filter types
4x standard LFO's and 1x combo to modulate cutoff, Q and gain
Full Push compatibility!
The Shoogler device is a free download (requires Facebook like).
Shoogler is an incredibly powerful dual-multimode filter with extensive modulation possibilities. It was developed by Shoogle Studios M4L guru Robert Goldie to demonstrate the type of effect you will be able to build after completing our new Max for Live: Introducer course.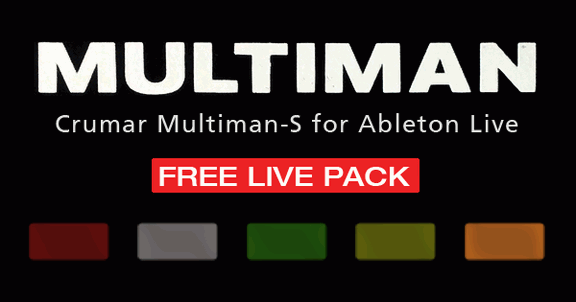 Cluster Sound has announced Multiman, a free Ableton Live library featuring the sounds of the Multiman-S string synthesizer.
Released in the 1977 by the Italian Crumar, the Multiman-S (called Orchestrator in the USA) is a fully polyphonic orchestral string synthesizer. Used by artists like Klaus Schulze, Tangerine Dream and Kraftwerk, this vintage analog machine appears both in '70s rock songs and old school electronic tracks.

Multiman is a Live Pack is based on 5 multi-sample recordings obtained by sampling the five preset sounds: Brass, Piano, Clavichord, Cello and Violin. Multiman delivers 25 Live Presets each of which consists of 61 perfecly looped samples (each note of the 5-octave keyboard).
Multiman features
140 MB conent, 24-bits/44.1kHz.
6 multi-sample recordings (332 samples).
One sample per note (5 octaves).
Perfect loop-points (no crossfading).
25 Live Presets.
Sampler/Simpler compatible.
The sound pack is a free download at Cluster Sound. Requires Ableton Live 9.
Humanoid Sound Systems lets us know that the Enzyme Player VST/AU synth plugin contains the complete synthesis engine from their Enzyme synth, which has won awards for its innovative design and sound, and has all the essentials for music creation (access to all of the parameters, and the saving of presets is available with the full version).
They say that the synth uses a unique combination of wavetable and physical modeling synthesis to create rich, dynamic musical timbres. Hybrid Scanned / FM synthesis is also on offer for even more sonic possibilities.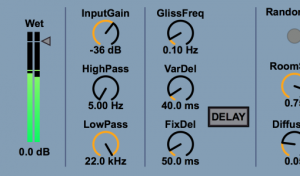 Amazing Noises has released GliderVerb, a free Max for Live device.
GliderVerb is a "reverberator with glissandos" simulating a room gradually changing its shape. It is an expanded version of an algorithm created by James McCartney for his Supercollider 2 programming language.
The original algorithm had no user-variable parameters: this device adds a series of parameters to create a wide palette of effects; from evolving reverberations to granular disintegration to smooth resonances.
GliderVerb is available to download at no charge. Requires Live 9 and Max for Live.
8 bits drum VST plugin, by DSK Music.
Features:
– 8 sound slots (C3 to C4 white keys)
– Pitch control for each sample
– Level and pan control
– 6 full kits + extra sounds
– Midi automation
– Velocity response
– Preset selector
Info and download: http://www.dskmusic.com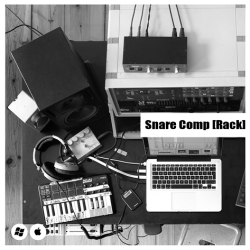 Audiomodern has release Snare Comp [Rack] – a free download for Ableton Live.
The free Live rack is described as 'a hard snare compressor'.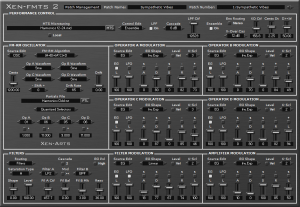 Xen-Arts has released Xen-FMTS 2, a 4-Operator FM Synthesis with a specialized set of features for computer musicians interested in exploring the expressive possibilities of making music with alternative intonation systems. It includes 115 patches, 55 microtunings and 56 partials files.
Microtuning:
Internally loads and externally receives both MTS (MIDI Tuning Standard) Bulk Dump and Single Note Microtuning Files.
Operator ratios can easily be set to values that are coincident with the microtuning being used, thereby producing intonation related sidebands in the timbre of the instrument.
Microtonal pitch-bend ranges may be configured in cents, harmonics and superparticular ratios.
Arbitrary microtonal pitch shifting makes it possible to easily pitch transpose the oscillators in both octave and non-octave increments.
FM-RM Oscillator:
4 Operator FM Synthesis with Ring-Modulation.
57 Operator Algorithms.
11 different Operator Waveforms.
Analog Pitch Drift Emulator.
Transposition by cents offsets.
Partials text files may be used to quantize the frequency ratios of the operators to user specified values.
Velocity-to-Harmonics Modulation enables oscillators to dynamically sound harmonics of the fundamental pitch.
Modulators:
Seven dedicated hybrid modulators for Operators A, B, C, D, Filters, Amplifier and Pitch.
Each modulator includes an ADSR style envelope generator, and an LFO which can be switched to run at audio-rate.
Each ADSR Envelope Generator features Per-Stage Keyboard Tracking.
LFOs can either be synchronized to the host DAW tempo or set in Hertz. They include 24 Waveforms, a Slewer and can be switched to run at audio-rate.
Filter Section:
Pre-Filter Saturation Stage with 20 Saturation Types.
Two Independent Filters with Six Filter Types: LP4, LP2, HPF, BPF, BRF, APF.
One and Two Stage Filter Cascade.
Performance Control:
Full controller MIDI Pitch Microtuning with MTS (MIDI Tuning Standard).
MTS Support for both Single Note and Bulk Dump.
Loads MTS Microtuning Format Files Internally and Receives MTS Externally.
Local (Per-Patch) and Global Microtuning (Static Microtuning for All Patches).
Microtunings can be loaded from any directory on hard drives or storage devices connected to the PC.
12 Note Polyphonic.
Monophonic Legato Mode.
Monophonic Portamento.
Microtonal Pitch Bend.
Vibrato.
Effects include Chorus, Lowpass Filter Cascade (Warm Filter) with 6 dB to 48 dB per-octave filters and Stereo Ensemble.
Price: Free.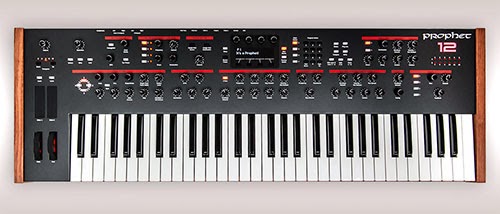 Francis Preve has released a free instrument for Ableton Live, based on Dave Smith's new Prophet 12 synthesizer.
Here's what Preve has to say about the free Live instrument:
Dave Smith's Prophet 12 is one of the most buzzworthy keyboards of 2013. It's arguably the deepest analog-hybrid polysynth ever released – and since all of my previous packs have used single note samples, I decided to create a pack entirely from chord stabs.