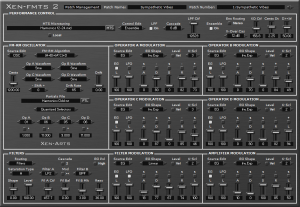 Xen-Arts has released Xen-FMTS 2, a 4-Operator FM Synthesis with a specialized set of features for computer musicians interested in exploring the expressive possibilities of making music with alternative intonation systems. It includes 115 patches, 55 microtunings and 56 partials files.
Microtuning:
Internally loads and externally receives both MTS (MIDI Tuning Standard) Bulk Dump and Single Note Microtuning Files.
Operator ratios can easily be set to values that are coincident with the microtuning being used, thereby producing intonation related sidebands in the timbre of the instrument.
Microtonal pitch-bend ranges may be configured in cents, harmonics and superparticular ratios.
Arbitrary microtonal pitch shifting makes it possible to easily pitch transpose the oscillators in both octave and non-octave increments.
FM-RM Oscillator:
4 Operator FM Synthesis with Ring-Modulation.
57 Operator Algorithms.
11 different Operator Waveforms.
Analog Pitch Drift Emulator.
Transposition by cents offsets.
Partials text files may be used to quantize the frequency ratios of the operators to user specified values.
Velocity-to-Harmonics Modulation enables oscillators to dynamically sound harmonics of the fundamental pitch.
Modulators:
Seven dedicated hybrid modulators for Operators A, B, C, D, Filters, Amplifier and Pitch.
Each modulator includes an ADSR style envelope generator, and an LFO which can be switched to run at audio-rate.
Each ADSR Envelope Generator features Per-Stage Keyboard Tracking.
LFOs can either be synchronized to the host DAW tempo or set in Hertz. They include 24 Waveforms, a Slewer and can be switched to run at audio-rate.
Filter Section:
Pre-Filter Saturation Stage with 20 Saturation Types.
Two Independent Filters with Six Filter Types: LP4, LP2, HPF, BPF, BRF, APF.
One and Two Stage Filter Cascade.
Performance Control:
Full controller MIDI Pitch Microtuning with MTS (MIDI Tuning Standard).
MTS Support for both Single Note and Bulk Dump.
Loads MTS Microtuning Format Files Internally and Receives MTS Externally.
Local (Per-Patch) and Global Microtuning (Static Microtuning for All Patches).
Microtunings can be loaded from any directory on hard drives or storage devices connected to the PC.
12 Note Polyphonic.
Monophonic Legato Mode.
Monophonic Portamento.
Microtonal Pitch Bend.
Vibrato.
Effects include Chorus, Lowpass Filter Cascade (Warm Filter) with 6 dB to 48 dB per-octave filters and Stereo Ensemble.
Price: Free.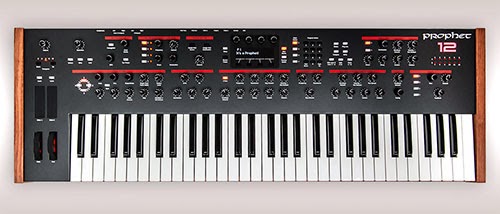 Francis Preve has released a free instrument for Ableton Live, based on Dave Smith's new Prophet 12 synthesizer.
Here's what Preve has to say about the free Live instrument:
Dave Smith's Prophet 12 is one of the most buzzworthy keyboards of 2013. It's arguably the deepest analog-hybrid polysynth ever released – and since all of my previous packs have used single note samples, I decided to create a pack entirely from chord stabs.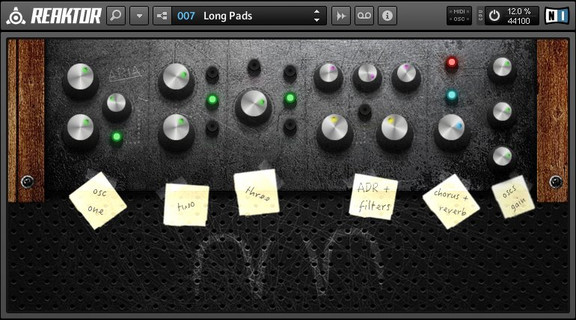 Need a Name has introduced Aria, a free synthesizer instrument for Native Instruments Reaktor.
Hey guys, I released a new Reaktor ensemble named Aria, it's an experimental synthesizer.

The synth is mostly enjoyable when playing it with a dynamic keyboard, 'cause filters are modulated by velocity.
Aria is a free download at Need a Name. Requires Reaktor full version.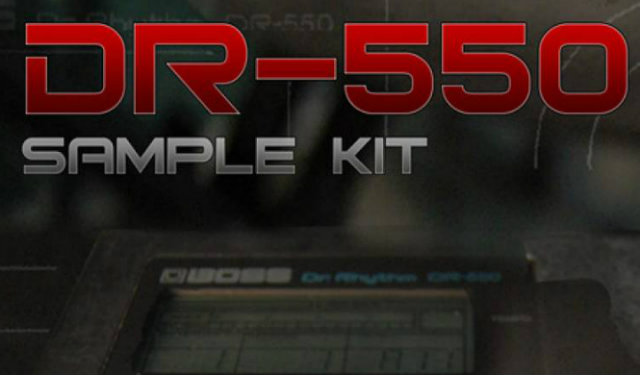 Desert Sound Studios tells us that their free DR-550 Kit features every sample of the Boss DR-550 digital drum machine in 24-bit WAV format. They say that samples were captured with a Fosusrite ISA preamp and RME converters.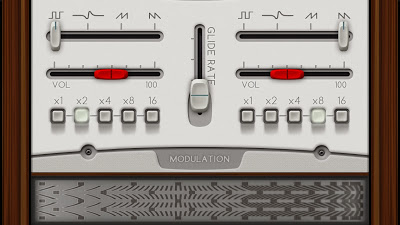 The 432Hz Synth is a Must For Every Music Love Fan Out There!
Features:
Oscillator A'
Oscillator A Waveforms:

Square, Sine, Sow, Revers Sow.

Oscillator A Volume.
Oscillator A Step:
Oscillator B'
Oscillator B Waveforms:

Square, Sine, Sow, Reverse Sow.

Oscillator B Volume.
Oscillator B Step:
Modulation'
Cutoff.
Resonance.
LFO Waveforms:

Square, Sine, Sow, Reverse Sow.

LFO Amount.
LFO Rate.
LFO mode:
Arpeggiator'
Arpeggiator Step:

Up, Down, Up & Down, Random.

Octaves, 1 To 5.
Arpeggiator Rate.
Volume Envelope'

Attack, Decay, Sustain, Release.

Filter Envelope'

Attack, Decay, Sustain, Release.

Oscillator B Fine Tune'
Oscillator A-B Sync.
Semis.
Cents.
Warning Before Use:
Please Volume Down, The Gain is +10db : )
Also The 432Hz Synth Has No Rules, Only Pure Fun. Enjoy!
Powered by Oren Fridman – Promobeat™. This Synth Dedicated To Mr Allen Porter Behind This Open Source Code.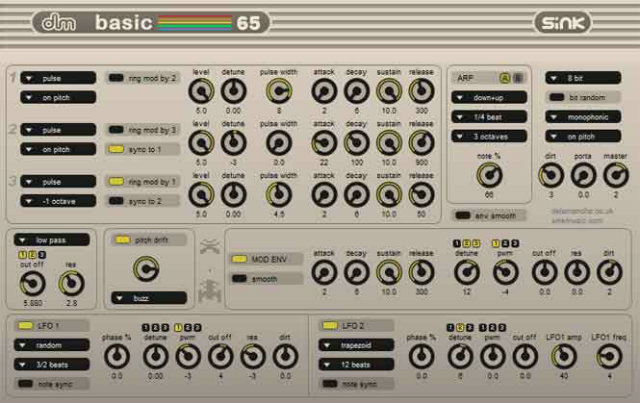 de la Mancha is continuing to put synths that were previously available for purchase online as free downloads. The latest is a monophonic synth, basic 65, inspired by the classic 80s home computer, the Commodore 64 and its legendary SID chip. Building on the waveforms and signal path of this famous chip, basic 65 adds further features and options to take things a step further. Here's more details:
The double arpeggiator allows complex versions of that retro 8-bit game sound and the modulation options inspire experimentation via the mod envelope and 2 comprehensive LFOs. Pulse width modulation, ring modulation and oscillator detune/sync are key ingredients in the signature sound. Throw in some pitch drift, bit drift, a sprinkle of dirt and randomisation and you have a wide range of lofi, chiptune, retro-tastic sounds at your disposal.
This version is the update to the popular basic 64, redesigned from scratch, with many improvements, new features and all new presets. basic 65 was co-developed with sink, who also made the amazing presets.
Features
Monophonic synth in VST format for Windows based hosts
3 oscillators with pulse, saw, triangle and noise waveforms
Pulse width can be modulated by envelope or both LFOs
Each oscillator can be sync'd to another and/or ring modulated by another
Each oscillator has its own ADSR envelope and can be routed to filter individually
Resonant filter with low pass, high pass, band pass and notch modes
2 tempo-sync Arpeggiators in series for complex arp sounds
Arp tempo, range and note length can be adjusted
Modulation envelope can control pulse width and pitch of individual oscillators as well as filter and dirt
2 tempo-sync LFOs with wide range of waveforms, including random
Both LFOs can control pulse width and pitch of individual oscillators
One LFO also controls filter and dirt, the other can modulate the depth and speed of the first LFO
Envelopes are non-linear and can be retriggered from zero or smoothed on each new note
Pitch drift models instability with variable depth and frequency
Options for 4, 6, 8, 12 or 16 bit audio with randomising feature
Developed with SE 1.1, so no problems with multiple instances
128 presets by sink covering arps, leads, bass, drums and lofi sounds
Pricing and Availability:
basic65 VSTi for Windows used to be a payware plugin, but is now free to download. However, if you like and use any de la Mancha plugins, please consider donating to Cancer Research UK in order to help care for and find a cure for cancer sufferers.
Easily create your own Multi Band FX by dropping them into this Ableton Live Audio Effect Rack. Free Download of 4 Audio Effect Racks for Ableton Live.
Download Link: http://bit.ly/freesynth97
This is a free Ableton Live Pack consisting of 2 instrument racks created from samples of the Casio CT-101 vintage synthesizer.
Download Link: http://bit.ly/freesynth96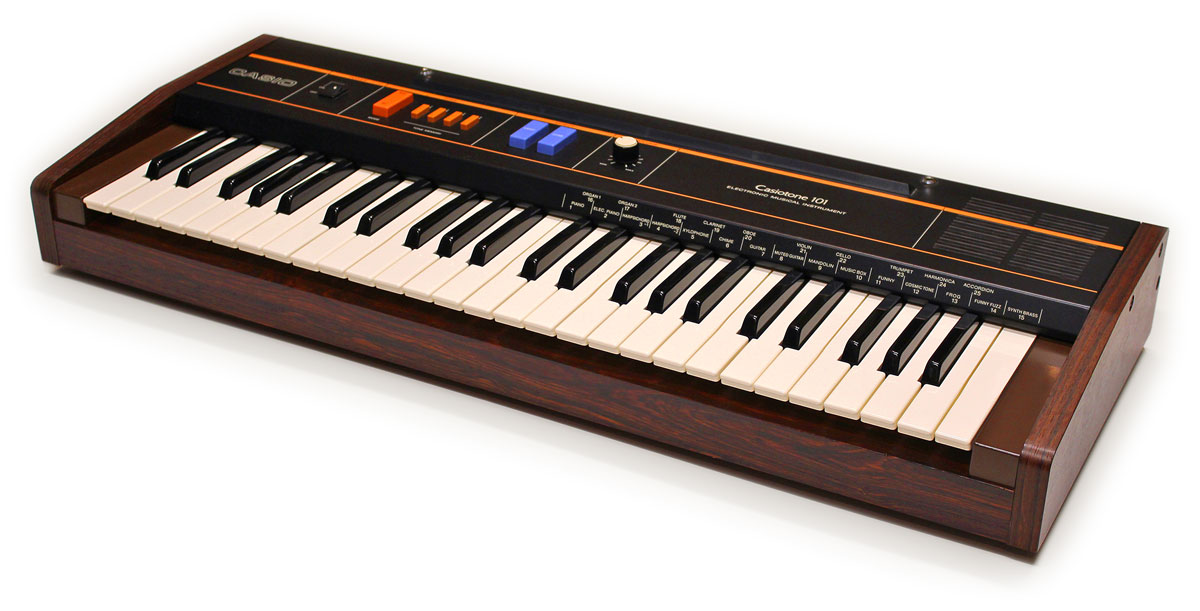 The CasioTone 101 (CT-101) is a VERY basic analog synth from Casio circa 1981. The keyboard has 49 full-size keys and is finished in satin black painted metal, has wooden end-cheeks and a wood grain finish underneath the front of the keys. It gives your studio a good analog/vintage feel. Most sounds are very basic and fairly unusable. However, its organ tones are pretty good as well as its 'Cosmic Tone' patch, which uses two oscillators tuned an octave apart, and as the keys are held down, the sound drops an octave as oscillator 1 fades up, and oscillator 2 fades down.
Free Ableton Live Pack #95 features samples of the Roland Juno 106. Those samples were constructed into an Ableton Live instrument rack to create a lush beautifully vintage sounding pad.
Free Download: http://bit.ly/freesynth95
Collection of over 20 Roland Juno 106 Ableton Instrument Racks: http://afrodjmac.com/2012/04/14/rolan…
Visit his site for more stuff like this, including Live Instrument downloads, tutorials and music! http://www.afrodjmac.com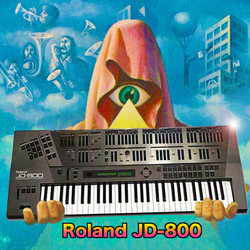 Legowelt has released a free sample pack featuring 350 samples from the 1992 JD-800 flagship synthesizer from Roland.
The JD-800 is Roland's answer to half a decade of hard-to-program synthesizers. Covered in sliders that act as dedicated editors just like a classic analog synth, the JD-800 is an extremely programmable and hands-on digital synthesizer. It is also an interesting and great sounding digital synth with incredible flexibility and control. Internal ROM based waveforms are combined to build your sounds. The sounds are based on Roland's D-50, but updated for the nineties with multimode filters – uncommon but welcome at the time.
Colossal Juicy Thick Basses, bizarre unearthly pads, uncanny strings, mystifying effects, entrancing chords and lots lots more all ready for u to use in your sampler, DAW, tracker, workstation, MPC, Octatrack or whatever u use Let the creative juices drip from your sampler Rub yourself in the sap of this giant beast and break through the event horizon of music production
The sample pack is a free (203MB) download at Legowelt.