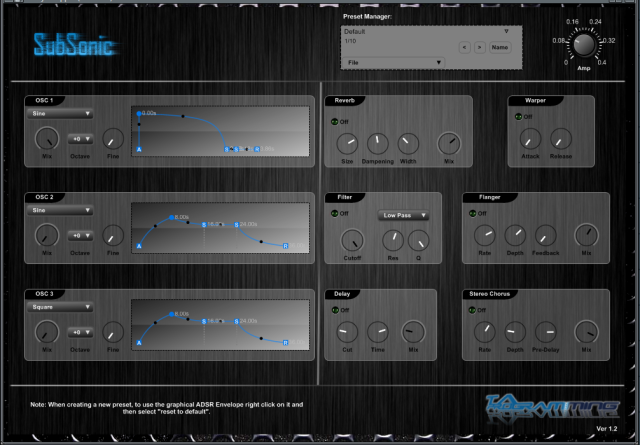 TA Programming has released a new free subtractive software synthesizer, SubSonic.
Features:
3 Oscillators (Sine, Sawtooth, Triangle, Square, Noise) with detune
Graphical ADSR Envelope
Multiple filter selection: Low Pass, High Pass, Band Pass, Band Reject, and Peaking.
Fully customisable reverb module
Delay Module for standard Echo delay effects.
Stereo Chorus
The Flanger module is versatile and powerful, combining overall sound of the 3 oscillators and using a sine wave to phase invert the sounds before adding feedback. This can give 'unearthly sci-fi like textures'.
The Warper: This module is an envelope modulator. Aviss notes that some 'wacky timbres can' be made using this.
Amp
Fan of Teenage Engineering's OP1 – then check this one out from AfroDJMac
Free Ableton Pack Download @ http://bit.ly/freesynth77
Tutorial on how to create drum fills and variations, plus two free Ableton Live Racks. The OP-1 Drum Rack was made with the synthesizer engines on Teenage Engineering's OP-1, and the effect rack is designed for easy drum fills and changes.
Dan-D makes some free presets for everyone!
Turn your iPad/iPhone into an expressive synthesizer studio with stunning sound quality! Alchemy is perfect whether you're developing song ideas on the go or in the studio. Now includes 4-track sequencing, Audiobus support, and more.
Available now on the App Store:
https://itunes.apple.com/gb/app/alche…
Details:
Powerful, expressive synthesizer
• Synths, basses, piano, strings, guitar, drum kits and more
• Incredibly high quality sound – hear it to believe it!
• Huge variety of sounds thanks to sampler, VA, granular and additive synthesis
Intuitive song sketch pad
• 4-Track Sequencer with mixer and solo/mute
• Drum Pads – create your own beats
• 8 Songs included – have fun remixing tracks
Easily create living, breathing instruments with the Remix Pad
• Morph between synth variations to create your own sound
• Tilt and Inertia offer a fun physical way to control the synth
• 16 Performance Controls so you can easily tweak sounds to fit your music
Sound like a virtuoso with the easy keyboard
• Velocity sensitivity and per note filter sweeps
• Keyboard scales and one touch chords – sound great with your eyes closed
• External MIDI keyboard support
Integrate Alchemy with your other apps
• Audiobus – integrate Alchemy with your mobile studio
• Copy and Paste
Expandable with a wide range of instrument sound libraries
• 30 sounds included with 35 more free when you register
• 10 in-app purchase Sound Libraries available including Dubstep, Ambient and Dream Voices
• Each library contains 50 sounds (a massive 400 variations)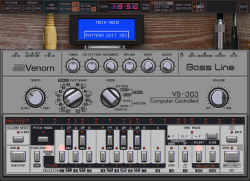 Venom VB-303 is a free software synth that simulates the iconic sound of the Roland TB-303 bass synthesizer.
It's Windows only – so sorry all you Mac users out there (including myself)
It's available for download here.
Here's a user video demo:
Go get it
Here are the hottest vocal samples for your tracks, Ableton Live Ready. Enjoy the Swag YOLO!
Visit AfroDJMac's site for more stuff like this, including Live Instrument downloads, tutorials and music! http://www.afrodjmac.com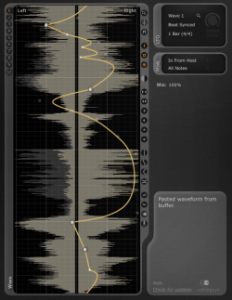 CableGuys has released PanCake 2 – an plugin that allows you to create flexible pan modulations.
Key Features:
Free, and available for both PC and Mac.
Creative Modulation Tool: Create complex pan modulations with ease.
Unique Waveform Drawing Capabilities:Construct your own modulation curves in a very intuitive manner. Waveforms can be easily drawn using soft or hard control points, thus producing gentle transitions or sharp bends in the waveform.
Customized Waveforms: Up to 10 customized waveforms can be stored.
LFO Speed: LFO speed can be set free-running from 0.02 Hz to 5.24 kHz. It can also be set in rhythmic units synced to the host sequencer, from a fast 1/128 note modulation up to 32 bars.
Always in Sync: The LFO will always stay in sync, even when you make tempo changes in your host software, or jump ahead to different parts of your track.
Complete Parameter Control via Automation: Absolutely everything in PanCake can be automated. Even the shape of the modulating waveform can be automated. And if you want to use more than four modulation curves in a song, you can automate the plugin to switch between them.
New in version 2: A precise display of channel left/right volume for helpful visual control, an option to trigger the LFO via MIDI notes, a dry/wet control, plus a redesigned interface.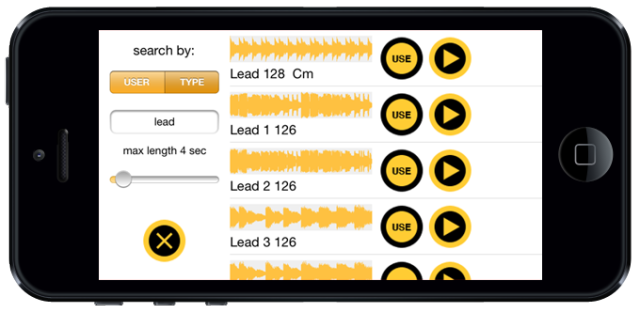 Brio Taliaferro, Alessandro Contini & Daniele Guevara have released CloudSynth – a free app that lets you browse and play sounds from SoundCloud.
Features:
Search sounds by name, user and duration
Pre-listen and select the sound
SAMPLER MODE: play the sound at different pitch
SYNTH MODE: select a portion of the waveform and create new unexpected granular sounds
Rotate the iPhone to modulate Reverb and Delay
It's available as a free download here >>
Free Ableton Live Pack #70: Rusty Fender Rhodes Pack by AfroDJMac and Robert Chambers. This free Ableton Live Instrument Rack was created with samples from a Fender Rhodes electric piano.
Free Download @ http://bit.ly/freesynth70
Robert Chambers: http://soundcloud.com/robertchambers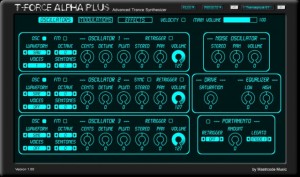 Alpha Plus is a free 'advanced trance synthesizer' for Windows.
It's a three-oscillator subtractive/FM synth with built-in delay and reverb.
Details and audio demos for Alpha Plus below:
Features:
Synthesis: Subtractive/FM.
3 Multiwave Oscillators with voice control (adjustable from 1 to 8 voices per osc), adjustable stereo width and panning, with Sine, Saw, Ramp (reversed Saw), Triangle, Pulse (square with PWM) waveforms and retrigger option for each oscillator (with "retrigger off" the oscillator is in free running mode, the oscillator starts with random phase positions everytime played a note, with "retrigger on" the oscillator's phase starts from position 0 everytime played a note.
1 Noise Oscillator with adjustable stereo width and volume.
1 Resonance Four Pole State Variable Filter, switchable between Low Pass, High Pass, Bandpass and switchable 12/24 dB slope, Resonance can be driven up to self oscillation.
1 ADSR Filter Envelope.
1 ADSR Amp Envelope.
2 ADSR Mod Envelopes.
2 host syncable LFOs.
Adjustable Drive function for Saturation/Distortion.
two band Low Freq/High Freq Equalizer.
Bitcrusher.
Portamento.
32 step Envelope Controlled Trance Gate.
Velocity control (on/off).
Dual Delay, switchable between Stereo mode and Ping-pong mode (right and left channels have their own tempo settings).
Stereo Reverb.
integrated Sidechain FX, optional with internal bpm synced triggering or external triggering via MIDI In (triggered by MIDI Note On, on MIDI channel 2). Note: see the manual of Your DAW for informations how to route a second MIDI Track to a VST/VSTi, because some DAW's have different ways of MIDI routing.
all functions fully automatable.