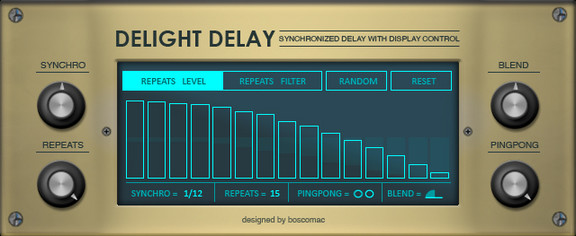 Boscomac has announced the release of Delight Delay, a free delay effect ensemble for Native Instruments Reaktor.
DELIGHT DELAY is a pattern-based delay controlled by a sequencer.

A central display allows you to set the level and filtering rehearsals and so draw a pattern. You can set the number of repetitions (1 to 15) determine the tempo (1/4 to 1/32), adjust the stereo (mono or pingpong) and adjust the blend.

Very easy to use, this delay grooves with guitars, runs with synths, installs synchronized vibes and many other things …
The ensemble is a free download for Reaktor (requires full version). Donations are appreciated.
Free Drum Rack for Ableton Live featuring Korg Volca Beats samples!
Free Download @ http://bit.ly/freesynth92
*Requires Ableton Live 9*
Visit AfroDJMac's site for more stuff like this, including Live Instrument downloads, tutorials and music! http://www.afrodjmac.com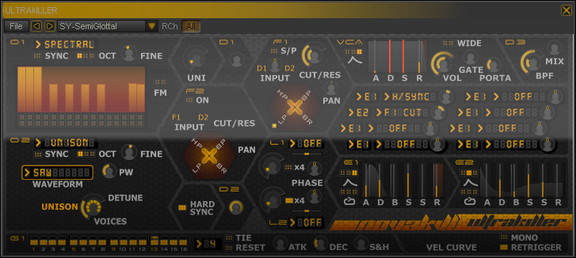 Novakill has announced that its Ultrakiller synthesizer instrument for Windows is now available as freeware.
ULTRAkILLER is NOVAkILL's latest uber-synth.

It has two oscillators, each of which offers multiple forms of synthesis. They run through two independant multi-mode filters with multiple routing opportunities. Three envelopes, two LFO and a modulation matrix make for almost endless possibilities.

You can now download it for free.
The Ultrakiller plug-in is available for Windows VST (32-bit).
Sampling card RME Fireface 400 usb.
FORMAT: wav
41,000 hertz 16 bit samples
Number of samples: 68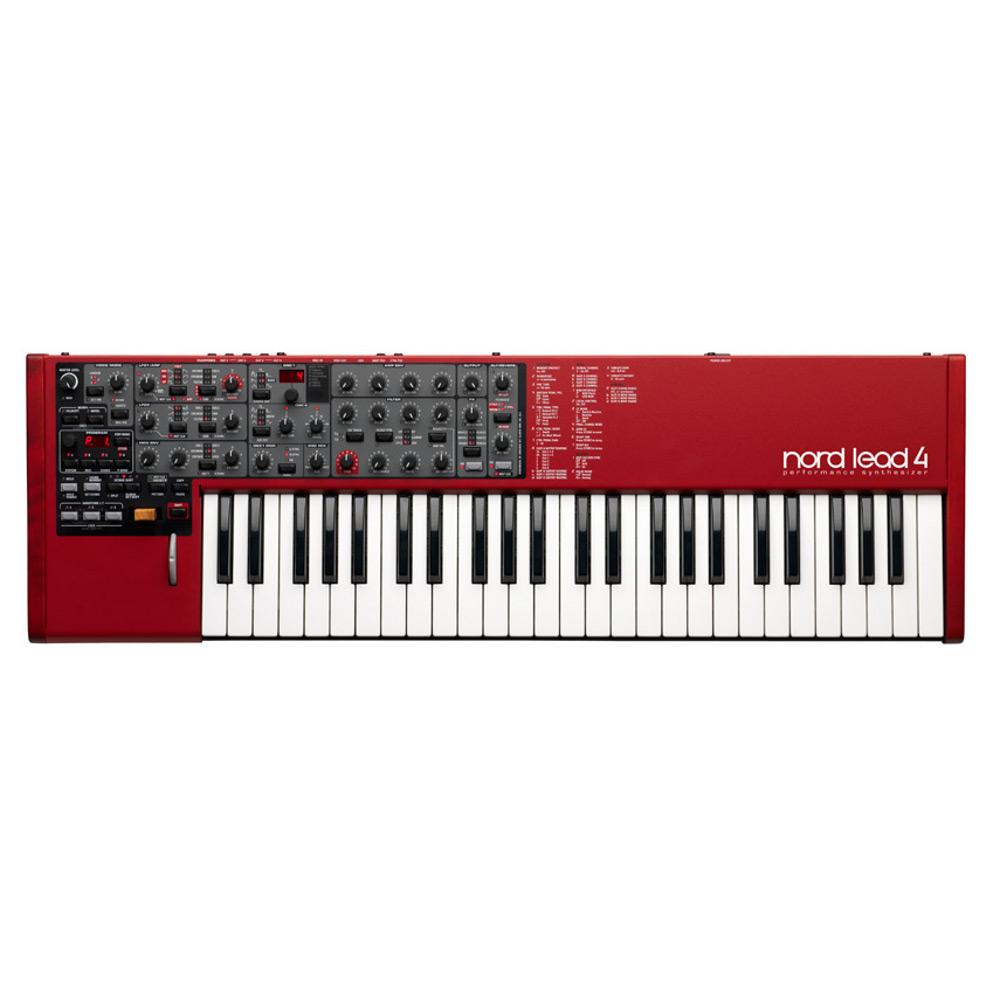 Nord has announced six new artist sound banks for the new Lead 4 and Lead 4R are now available for free download. They tell us that six very different sound designers have created a wide range of new sounds covering everything from classic analogue vintage leads and pads, FM pianos, evil distorted rave basses and complex performance patches with multilayered synchronized arpeggiating monsters and much more.
The sound creators are ASL SoundLab, Federico Solazzo, Åke Danielson, Palle Dahlstedt, Kristofer Ulfves and Ulf "Vinyl" Stenberg.
The sounds are compatible with the Nord Lead 4 and the Nord Lead 4R and are transferred using the Nord Sound Manager.
Free download from the Nord Lead 4 Program Library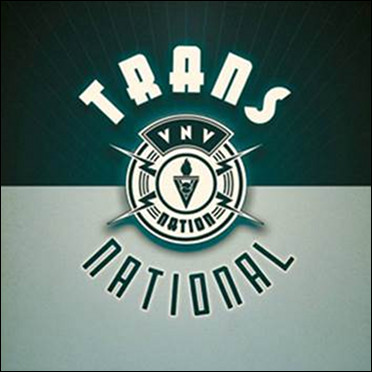 Available now is a free download of the track "Retaliate" taken from VNV Nation's new forthcoming album "Transnational". You can download it below.
Out October 4th the new VNV Nation album "Transnational" is the follow-up to the 2011 release "Automatic". The release will be followed by a world tour that kicks off in Germany.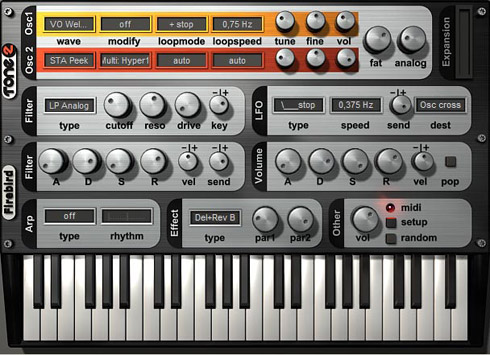 Tone2 Audiosoftware has released its FireBird 2 software synthesizer instrument for Windows as a free download.
Here's what they have to say about the free soft synth:
After seven years of faithful service, the time has come to set the bird free. Firebird itself has become vintage and even though it's no longer profitable to remain a commercial product, we feel that more people should deserve an opportunity to enjoy this sometimes heavily underestimated synthesizer.
Which is why we decided to release one last update and turn the product into freeware (previously $79). We want to say a big THANK YOU to all customers who supported the development of Firebird and other Tone2 products, by purchasing our software.
FireBird 2 for Windows is a free download here >>
Features
Very easy to program and easy to use

A unique sounding synthesis: Harmonic content morphing (HCM)

High sound quality: Warm, transparent

437 hand picked presets included, over 1000 sounds available

84 oscillator types containing 18,000 morphable waveforms

38 different filter types

True stereo mode, 4x unison mode, and up to 8 oscillators per voice

Can sound like other synthesis methods – additive, subtractive, AM, FM, phase distortion, supersaw, vocoder, sync

Can sound like natural instruments like piano, brass, organs…

23 spectral manipulations or "modifiers" can be applied to the oscillators

21 arpeggiator types

13 effect types

Skinable user interface

J1000 has released two new free VST plug-ins for Windows. Here's the details:
MQ55
Parametric mixing equalizer based on MQ57. Most of the functions are the same, except that MQ55 operates only in stereo mode, has more flexible pass filters and has gain ratio that acts like dry/wet control. This is my go-to EQ for music production.
SX36
Three-band stereo processor that separates audio into low, mid and high frequencies and lets you manipulate their stereo properties – width and panning or rotation. Crossover points are easily adjusted with single knob. It has simple meters for each range showing correlation or panning. High-pass filter cuts unwanted frequencies on side channel for more stable bass.
All sounds are from the Arturia Minibrute. Spatial effects were created on the hats,toms, and bells, using the Electro-Harmonix Deluxe Memory Man and the Vermona Vintage Spring Reverb.
These sounds are free for you to use, but not to sell as a sample library.
Link for the Individual Sounds: docs.google.com/file/d/0BzLbZ1FMX…/edit?usp=sharing
If you like them, please follow my page and visit my shop at: www.darksideofthetune.com/shop.php
Here is a simple yet deep Vocal Effect Rack for Ableton Live 9. It has many common effects and some tools to help fight feedback.
AfroDJMac uses a variation of this exact rack for my live performances. It's a lot of fun and can add a lot of excitement to your performances.
Free Download: http://bit.ly/freesynth85
Visit his site for more stuff like this, including Live Instrument downloads, tutorials and music! http://www.afrodjmac.com