April 23, 2014 · Posted in
Uncategorized
·
Comments Off

on DRG – new Dual Rhythm Generator for Max for Live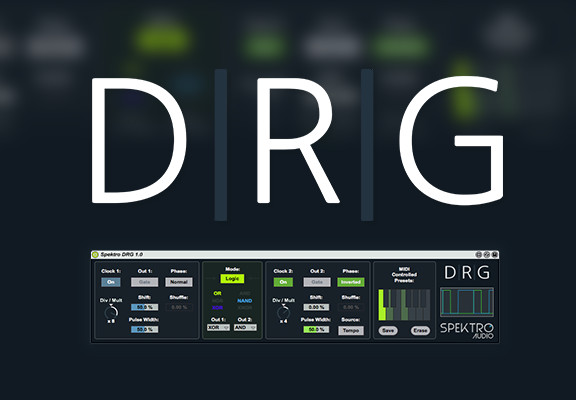 Spektro Audio has released DRG – Dual Rhythm Generator, a Max for Live device capable of generating clocks and rhythms that can be used with analog synthesizers and drum machines via control voltage.
By using a combination of two clock generators and an optional boolean logic operator, DRG can generate anything from simple clock divisions to complex rhythms.
DRG is great for clocking analog sequencers, triggering envelopes, sequencing drum modules and etc.
DRG can be used in different situations. The workflow was thought out to work great both in the studio and in live concerts. Everything on the front panel, from the simple layout to the LEDs colors, was design to give you instant feedback of whats going on. Features such as the MIDI Controlled Presets let's you add variation to your track and change the settings using either MIDI clips or any MIDI controller.
DRG requires an audio interface with DC-Coupled outputs or an Expert Sleepers ES-3 / ES-4 / ES-40 module.
DRG is available for purchase for $9.99 USD.
March 27, 2014 · Posted in
Uncategorized
·
Comments Off

on GliderVerb – new free Max for Live device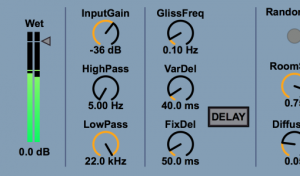 Amazing Noises has released GliderVerb, a free Max for Live device.
GliderVerb is a "reverberator with glissandos" simulating a room gradually changing its shape. It is an expanded version of an algorithm created by James McCartney for his Supercollider 2 programming language.
The original algorithm had no user-variable parameters: this device adds a series of parameters to create a wide palette of effects; from evolving reverberations to granular disintegration to smooth resonances.
GliderVerb is available to download at no charge. Requires Live 9 and Max for Live.
February 13, 2014 · Posted in
Uncategorized
·
Comments Off

on Dark Synth by Amazing Noises
Dark Synth by Amazing Noises is an innovative new Max for Live synthesizer that marries the vast possibilities of additive synthesis with a super-intuitive interface. As a great starting point for immersive sound-shaping, Dark Synth will introduce you to new horizons in sound design.
Learn more and get Dark Synth athttps://www.ableton.com/en/packs/dark…
December 7, 2013 · Posted in
Uncategorized
·
Comments Off

on Tinysizer FM Percussion & MF104M delay
FM percussion patch on the Tinysizer. Using Waveshaping + linear FM (Frequency Modulation). No filtering. Pattern made with Max for Live mono-sequencer (Ableton 9) controlled with nanoKontrol2
October 15, 2013 · Posted in
Uncategorized
·
Comments Off

on Spektro Komplex – new MaxforLive monophonic synthesizer

Spektro Komplex is a MaxforLive monophonic synthesizer designed to create complex and unique sounds. Like the Buchla 261e module, Komplex uses two oscillators to produce FM sounds. What really makes this synth stand out is it's habilities to morph the waveform of the first oscillator (carrier) and use a different waveform for the second oscillator (modulator).
The frequency of the second oscillator (modulator) is calculated based on the operation:
Oscillator 1 Frequency (operation) Ratio = Oscillator 2 Frequency
For example: If the frequency of the first oscillator is 220Hz, the operation is set to multiplication, and the ratio is set to 2, the frequency of the second oscillator will be 440Hz. A variable offset can also be added to the resulting frequency.
3 different effects that can be used to further manipulate the sound:
– Shape: fold, wrap or clip the signal.
– Overdrive
– Spread: creates a stereo-widening effect by delaying the right channel.
You can use Spektro Komplex to create anything from classic FM bass to metallic percussion sounds. It's also a great tool for sound designer who want to create complex synthetic sounds."
You can find it here: http://www.spektroaudio.com/komplex
June 19, 2013 · Posted in
Uncategorized
·
Comments Off

on Livid Base: Experimenting with Max for Live
Livid started some experiments with Max For Live step sequencers and the Livid Base. These are extremely rudimentary, but because they can be accessed with Device control, they are very powerful and easy to work with. Control of these step sequencers is as simple as pointing the controller to the device using the Base Remote Script for Ableton Live 9 in Device mode. One you navigate to a module, it acts as a "super device" handing off the pads and sliders to the Max for Live patch. While these little toys won't be a "final" product, we'll have something for you to play with soon!
February 14, 2013 · Posted in
Uncategorized
·
Comments Off

on Experimental: The Box
Real-time physics, lighting, and sound design using Max 6 and Ableton Live. Recorded using syphon.
Each ball is assigned a MIDI note that is sent to Ableton whenever the ball collides with another object. MIDI velocity is determined by the speed of the ball on impact. Gravity changes with several LFO objects, along with an attractive force in the middle of the scene.
January 11, 2013 · Posted in
Uncategorized
·
Comments Off

on Korg NanoPad Sequencer
Korg NanoPad Sequencer
—
A simple, proof-of-concept sequencer that can be applied to a range of drum pad controller models.
8 pads are used for sequencing.
4 pads are used for selecting between four different sequences, running simultaneously at different related tempo subdivisions.
The XY pad is used to store MIDI CC data for each step for each sequence, and as thus can be used to automate a range of parameters, increasing the available expression for such a setup.
Download the example Live set that I used here: http://milkcrate.com.au/_other/downloads/live_packs/nanopad%20seq%20example%2…
Download the Max patch here: http://milkcrate.com.au/_other/downloads/live_packs/NanoPad%20Sequencer.zip
—
http://www.little-scale.blogspot.com.au/
December 1, 2012 · Posted in
Uncategorized
·
Comments Off

on Livid CNTRL:R Ableton Live Remote Script Tutorial
Here's what Livid Instruments has to say about the video:
We've been so excited about the Stepp:rs that we've never really given a tutorial about the main part of the CNTRL:R Live script.
This video demonstrates, in a dry-but-clear manner, the CNTRL:R in Ableton Live, using the Livid remote script available at
blog.lividinstruments.com/2011/04/20/controller-apps/
This script provides control over clip triggering, master volume and pre-hear, track volume and pan, sends and returns, device controls, as well as a lot of other controls to navigate and control your session. We also demonstrate the use of the User MIDI Map slots and how to use those to map to and easily play a drum rack. There's lots of ways to control effects in your set, and we cover them all.
Written documentation of this Ableton Live Remote Script is at
wiki.lividinstruments.com/wiki/CNTRLR_Ableton_Live_Remote_Script
Also discussed is the CNTRL:R to Drum rack MIDI Effect which is documented here:
wiki.lividinstruments.com/wiki/CNTRLR_To_Drum_Rack_Ableton_Live_Effect
Featured in the video is the Soundhack +delay VST plugin available (along with other great plugins) for free at soundhack.com
If you want to learn more about using the Max for Live step sequencers, those are covered in other videos on our youtube and vimeo channels.
November 17, 2012 · Posted in
Uncategorized
·
Comments Off

on Controllerism: MOLDOVER – NOT YOUR MIRROR
Background description:
We had Moldover "The Godfather of Controllerism" stop by Knocksville while he was on his SuperVillain Fall Tour and asked him to perform for us an exclusive unreleased song. Be on the lookout for his upcoming album it's going to be unlike any of his past projects. Evolution is a beautiful cycle.
Both the guitar and mic controllers are prototypes I made for my recently completed Super Villain Tour. The microphone attachment is called The Mojito. It's simply eight arcade buttons built onto a steel clamp that I use to control vocal effects. The guitar is an instrument I'm developing with Visionary Instruments named The RoboCaster (after a well known cyborg/guitar). It's got every sensor I thought might be cool to have on there including accelerometers, an infrared emitter-detector, and a keyboard mod-wheel. This video highlights how I've mapped arcade buttons and a joystick to different intervals on a pitch shifter. Both controllers are tons of fun to play and have forced me to seriously re-approach how I play and sing.

The software I'm using is is Live, Max4Live & [Native Instruments] Guitar Rig. The song Not Your Mirror is from my forthcoming album FourTrack (kickstarter coming soon!). Grady Shon produced the video with help from Ben Shim & KnockSteady crew.
Learn more about Moldover
http://moldover.com/