Learn how to use Ableton Live's External Audio Effect Device. It allows you to use hardware gear and effects inside your computer. It's very handy for some creative sound design!
Visit his site for more stuff like this, including Live Instrument downloads, tutorials and music! http://www.afrodjmac.com
AfroDJMac
http://www.facebook.com/afrodjmac
http://www.twitter.com/afrodjmac
http://www.afrodjmac.tumblr.com
Keyboardist Zac Baird demonstrates how he uses the Moog Werkstatt analog synthesizer within Ableton Live DAW software. After the video, click the link above for even more info on the Moog Werkstatt and Ableton Live.
Generative Music with Ableton Live
http://en.wikipedia.org/wiki/Generati…
Dsi Prophet 08 launching clips in Ableton Live
Moog Voyager + Moog MF Delay
Moog Little Phatty
DSI Evolver
Akai VX 90
Roland Alpha Juno 2
Novation Bass Station 2
Jomox AirBase 99
Lexicon MX 300
TC Electronic M 350
Boss CE 20
Korg Monotron Filter on Cymbals
Allen & Heath Zed 428
Some quick examples using an iConnectMIDI4+ to run digital audio from Animoog directly into Ableton Live. The great audio quality of Animoog (coupled with the digital audio pipe that iConnect provides) makes for some great sound design when combined with effects like those in Ableton.
Learn more at www.experimentalsynth.com
Xmonsta has introduced Pull, a new touchscreen device editor for Ableton Live 9.
Built in Max For Live and based on the Lemur iPad app, Pull is a designed to be a fast and efficient workflow tool for sound designers, producers and mixing/mastering engineers.
Pull allows you to edit full-screen versions of every Ableton Live device (over 60 Lemur templates) directly from your iPad. It follows any device that is currently selected and displays a large, multi-touch template on the iPad for editing.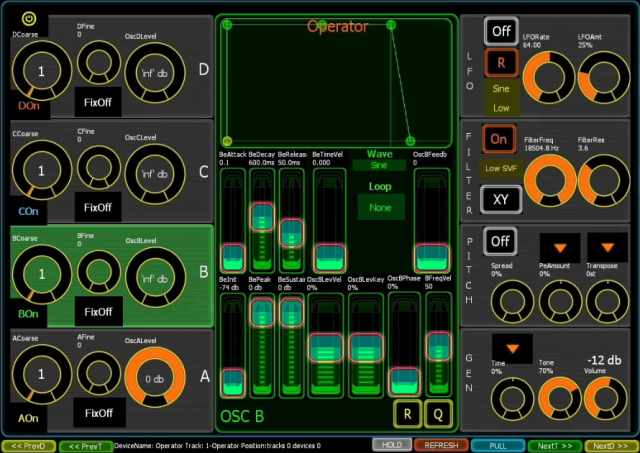 HERE – http://www.xmonsta.com/new-releases/p…
After a full year of development, we're excited to release a new iPad Touchscreen Device Editor for Ableton – called PULL.
In a nutshell, this software allows you to edit fullscreen versions of every ableton device from your iPad . It follows any device that is currently selected and displays a very large, multi-touch template on the iPad for editing.
We noticed that while there are some great controllers for Ableton, most of these lack intuitiveness when editing devices (only allowing you to edit the 8 banks of parameters at a time, using generic knobs).
PULL is set to change this, providing much larger, full screen, multi-touch versions that are designed to look just like Ableton devices.
The software uses a combination of Ableton, Max for live and the Lemur iPad app to achieve this.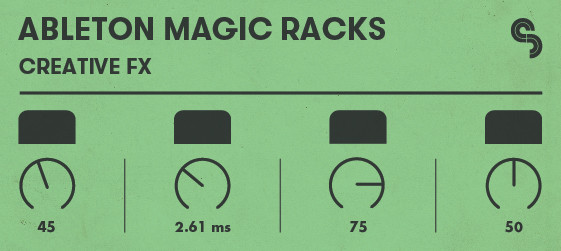 The Ableton Magic Racks: Creative FX pack features 5 powerful Ableton racks for complex FX processing and creation.
Take your FX creation and manipulation to the next level with the third instalment of our best-selling Ableton Magic Racks series.

Creative FX serves up five unique racks designed for intricate FX processing with the most intuitive of macro controls.
The Creative FX pack is available for purchase for £9.90 GBP.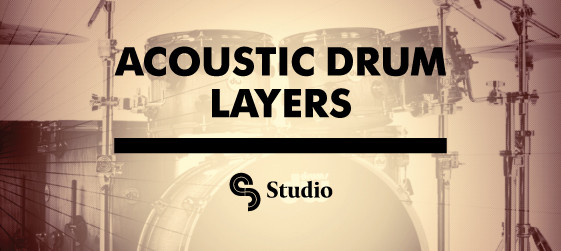 Acoustic Drum Layers features a collection of live drum layers, grooves, textures, fills and more.
Drums sounding flat? Rhythms lacking groove? Acoustic Drum Layers is here to save the day with 175 superlative live drum layers, rhythms, textures and fills primed to inject a humanistic feel and acoustic timbres into the most tired of programmed beats.
The Acoustic Drum Layers sample pack costs £14.90 GBP.
AfroDJMac has released Univox Bass Lucy, a free Live Pack featuring a sampled Univox bass from the 70′s.
Free Download @ http://bit.ly/freesynth107
Multi-sampled bass guitar instrument for Ableton Live. Created from samples of a Univox Bass guitar. The bass can be heard on this track: https://soundcloud.com/afrodjmac/id-n…

Visit AfroDJMac's site for more stuff like this, including Live Instrument downloads, tutorials and music! http://www.afrodjmac.com
I've had a lot of experience recording this bass, and I'm often torn on how to best record it. Running it through a bass amp is usually my first choice, but I also really like how it sounds coming out of my guitar amp. So what I did while sampling was run the bass through an SWR bass amp and my Fender Deluxe tube guitar amp. Also, I put up an AKG C414 mic in the room to capture both amps simultaneously. On the Ableton device, you can mix the three signals together to meet your taste.

When you pluck a string on a bass, it will always sound slightly different. So to emulate that, I recorded 3 different samples of each note that I recorded. I set the LFO in Sampler to play any of these three samples at random. That means that any melody you play will always sound slightly different. Even a MIDI clip will never loop in exactly the same way with the same samples. You will always get a bit of subtle variation, just as you would with a real bass player.
Novation has introduced the Launch Control XL – a new MIDI controller that they call 'the ultimate controller for Ableton Live'.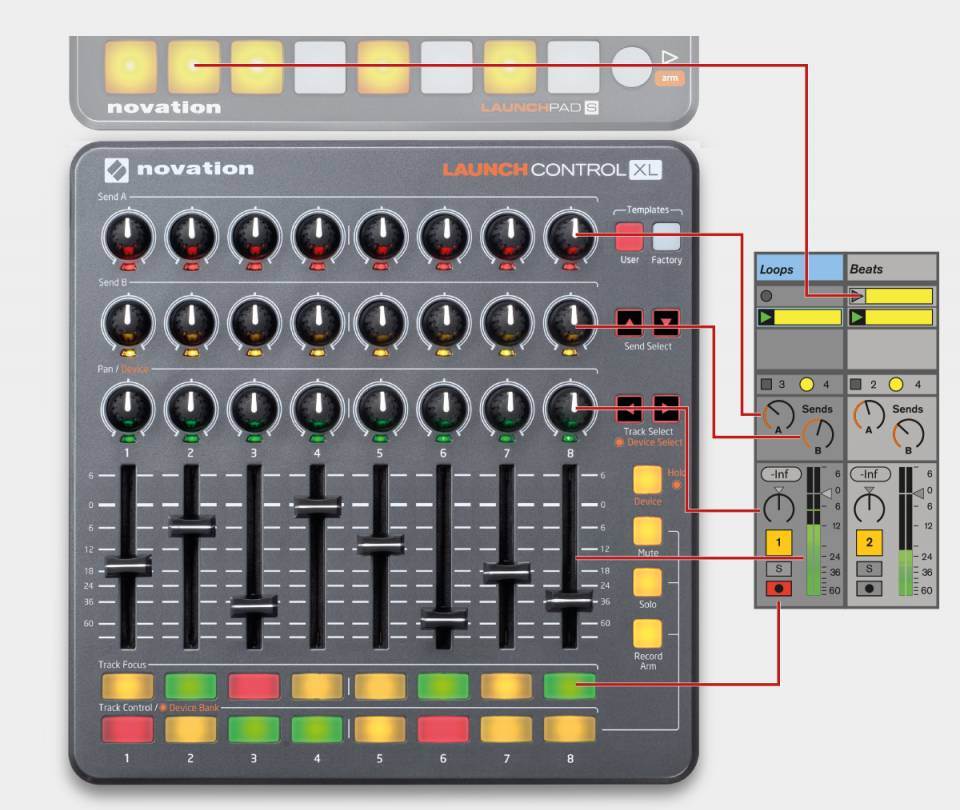 According to Novation, the Launch Control XL helps you focus more on your music and less on your laptop, by providing 16 buttons, 24 knobs and eight faders, all of which integrate seamlessly with Live.
Features:
Hands-on control over Ableton Live
Tweak your sound using 24 knobs with multicoloured indicators
Precise control over levels with eight rugged faders
Create your own control layouts, by freely assigning any control to any function in Ableton
Plug straight into Mac, PC or iPad and start performing
16 multi-colour buttons for immediate track focus and key mixer controls
Includes Ableton Live Lite software and Loopmasters sample collection
Control MIDI-compatible iOS software via Camera Connection Kit
Launch Control is powered via USB bus power
Remember dial tones, ring back tones, busy signals? This Free Ableton Live Instrument gives you samples of them all, so you can use them in your own productions.
Free download: http://bit.ly/freesynth106
Visit his site for more stuff like this, including Live Instrument downloads, tutorials and music! http://www.afrodjmac.com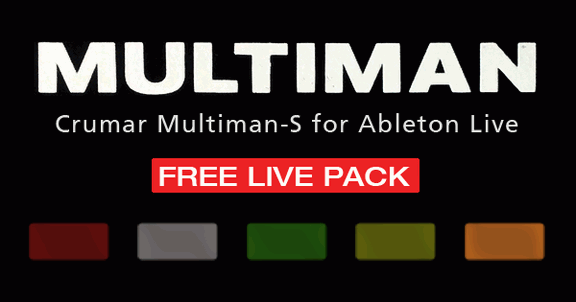 Cluster Sound has announced Multiman, a free Ableton Live library featuring the sounds of the Multiman-S string synthesizer.
Released in the 1977 by the Italian Crumar, the Multiman-S (called Orchestrator in the USA) is a fully polyphonic orchestral string synthesizer. Used by artists like Klaus Schulze, Tangerine Dream and Kraftwerk, this vintage analog machine appears both in '70s rock songs and old school electronic tracks.

Multiman is a Live Pack is based on 5 multi-sample recordings obtained by sampling the five preset sounds: Brass, Piano, Clavichord, Cello and Violin. Multiman delivers 25 Live Presets each of which consists of 61 perfecly looped samples (each note of the 5-octave keyboard).
Multiman features
140 MB conent, 24-bits/44.1kHz.
6 multi-sample recordings (332 samples).
One sample per note (5 octaves).
Perfect loop-points (no crossfading).
25 Live Presets.
Sampler/Simpler compatible.
The sound pack is a free download at Cluster Sound. Requires Ableton Live 9.