January 9, 2011 · Posted in
Uncategorized
·
Comments Off

on I Am T-Pain Mic makes you sound like, who else, T-Pain
Not sure if you ned one, but in case you do need to sound like T-Pain here you go
T-Pain talks to the Los Angeles Times about his new I Am T-Pain Mic at the Consumer Electronics Show in Las Vegas. The microphone is a follow up to the I Am T-Pain iPhone and iPod Touch app.
January 8, 2011 · Posted in
Uncategorized
·
Comments Off

on iRig Mic – handheld microphone for iOS
Another "i – something" has been added to the world of music and iOS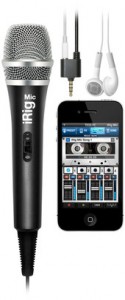 IK Multimedia has announced the iRig Mic, the first quality condenser handheld microphone for the iPhone®, iPod touch® and iPad®.
iRig Mic is ideal for the singer, vocalist and songwriter on the move, but also perfect for recording speeches, instruments, performances or any other sound sources in the studio, on stage or in the field. Musicians will be able to record and accurately reproduce acoustic instruments, amplified instruments or even band performances and concerts. Non-musicians will have an indispensable tool for recording high quality podcasts, speeches, lessons, interviews, video soundtracks or any other source that can be recorded on the go with their mobile device.
iRig Mic features
Ideal for all vocal applications from singing to speech.
Great for all types of sound recording or processing in music or any other audio application.
Quality condenser-electret unidirectional capsule.
Dual mini-jack connector allows real-time monitoring on headphones, speakers, mixers and PAs.
Rugged, durable metal housing.
Easy to set-up for any sound source.
Can be handheld or placed on a standard mic stand.
Compatible with any iPhone, iPod touch (with mic input) and iPad.
iRig Mic includes apps for singers, songwriters, and speakers, and can also be used with any other app that uses the microphone input of the iPhone, iPod Touch or iPad for audio input.
iRig Mic will be shipping in the first quarter of 2011 for $59.99 USD /€49.99 EUR (excluding taxes). Pre-orders are available from the IK Multimedia online store.
More information: IK Multimedia / iRig Mic
September 14, 2010 · Posted in
Uncategorized
·
Comments Off

on Good old Telefunken mics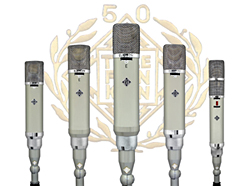 Telefunken Elektroakustik in South Windsor, Conn., is celebrating the 50th anniversary of the ELA M 250/251, 250E/251E, and 270 microphones with exclusive commemorative system package, featuring leather-bound flight cases that bear an embroidered 50th anniversary logo, and a cable stand-mount bearing the same gold diamond badge as found on the original models.
The ELA M 250/251 models include the extremely rare AC701 vacuum tube, while the E Series and stereo model feature the 6072a tube. "We are including extra NOS tubes for the 250E/251E and 270 systems so that these mics will be good for another 50 years," says Toni Fishman, president and founder of Telefunken Elektroakustik. The company states that due to the extremely rare nature of the AC701 tube, extras will not be provided for the ELA M 250/251 system, while adding that it will keep a large private stock for its customers for future warranty service and repair needs.
Telefunken Elektroakustik states that these 50th anniversary editions will ship through the end of 2011.
Visit Telefunken Elektroakustik at www.t-funk.com.
August 8, 2010 · Posted in
Uncategorized
·
Comments Off

on Sylo Synthesiser features live time-stretching technology
Sylo Synthesizer is a free iPad synth that  lets you build sounds from basic waveforms, or capture them using the iPad's built-in microphone.
Sylo Synthesiser features live time-stretching technology based on granular synthesis, and a suite of filters.
Options include:
Speed up or slow down a recorded sound to use as an instrument
With a regular wavetable synthesiser, higher-pitched notes are also faster, like chipmunks, and lower-pitched notes are also slower, as though they are moving through treacle, Enable "Sync Speed" feature, though, and lower or higher-pitched notes still play back at the same speed, keeping them in sync with each other
Adjust the speed control even while you're playing notes: Slow, stop or even rewind the sound in the middle of notes — without changing the pitch
Granular synthesis allows you to create instruments or effects from a recording, that do not sound like the original, yet retain its realistic, natural sound
Frequency modulation, ring modulation, echo/delay, distortion, and a low-pass filter with resonance control are available
Sylo Synthesiser is a teaser for Sylo Synthesizer Pro, which adds these features:
Use existing audio files as the building-blocks of your instrument: import audio from wave, aiff, mp3 and aac/m4a files
Save recordings to your iPad or to Dropbox1 online storage
Save your new instruments to the preset list for fast acces
If you're new to the world of recording or performing music, chances are you'll need to buy a microphone soon. It's a hard choice to make — there's a lot of options, even for those on a small budget!
In this guide, you'll learn the things you need to know before shopping for a microphone. It's important to keep in mind a few small things — but after that, the microphone world is yours for the taking!
Before you begin…
The first thing to keep in mind is your budget. Keep this simple saying in mind, even before you set your budget: the better the source, the better the recording. If you're recording a decent-sounding instrument or voice, you can probably bet that even a cheaper microphone will sound acceptable. Learn to tune your instrument well, and take some of our advice on treating the acoustics in your room. You'll find that the added trouble to make your recording circumstances perfect will reflect in your recording!
Budget
Unless you have limitless resources, budget should be a concern of yours on your mic purchase. Budget at least 25% of your budget for a studio for microphones, more if you can.
You don't have to spend the best to get "the best" sound. A lot of microphones are considered "homages" — microphones that replicate a certain characteristic of a historic microphone. These are generally sold by small manufacturers, and carry a much lower price than the original.
Also, don't be tempted to overspend; a great instrument or voice will sound great on a modest-priced microphone.
Dynamic or Condenser: What are you recording?
Dynamic microphones generally sound best on guitar cabinets and close-miced drums; you'll also find some exceptional dynamics that sound best on voice. There's also condenser microphones; these sound best on vocals, acoustic instruments, and room/drum overhead micing.
If you can only afford one microphone, consider a high-quality condenser. You can find many within the $100-300 price range.
If you can afford it, a great "utility" condenser along with a great dynamic microphone will cover almost all of your recording bases. If you can only afford one, a good condenser microphone will do.
Does your mixer or interface offer phantom power?
If you choose a condenser microphone, you'll require a 48volt phantom power source on your mixer or recording interface. If you don't have this, it'll be an extra cost you have to incur on your purchase.
Many companies manufacture 48volt phantom power supplies; these will cost you between $100 (for plug-in models), to $250-300 (for elaborate battery-powered solutions).
It simply depends on your resources; if you don't have built-in phantom, and can't afford to add the capability to your system, chances are a dynamic microphone is best for you.
One or two microphones?
Depending on your needs, you may require two microphones for stereo recording.
If your ultimate goal is recording live concerts, rehearsals, or recitals, you might want a stereo pair of condenser microphones. These can be had for a variety of price ranges, from the $100-200 range to many thousands of dollars. Some of the best — companies like Earthworks, Neumann, and DPA — offer models to suit all price ranges.
Don't forget to budget money for mounting systems (t-bars, as they're called) and extra cabling to make your two-track recording work.
December 27, 2008 · Posted in
Electronic Music
·
Comments Off

on A whole new approach to kick drum microphone
Kelly Concepts presents the Kelly SHU Composite, the latest addition to the Kelly SHU line of suspended kick drum microphone mounts.
Stage vibrations and low-end transfer can rob an amplified kick drum of its full sonic potential. A shock-mounted kick drum microphone platform is one logical defense against these unwanted mechanical interferences. This innovative new system promises to isolate the kick drum microphone from the drum and the stage that the drum sits on, both at the same time.
The economical new Composite series SHU mounts are injection molded using lightweight yet tough high-density reinforced compounds. The system fits any size or depth of kick drum, utilizing the drum's existing tuning hardware as attachment points for solid rubber isolation cords. The system accepts any standard kick drum microphone which is designed to fit on a conventional boom stand.
The Kelly SHU™ is a whole new approach to kick drum microphone mounting systems. Both internal and external installations of the system utilize the bass drum's pre-existing hardware, which then becomes the framework for an integrated kick drum microphone shock mount and isolation support system.
The Kelly SHU™ provides your favorite standard kick drum microphone the shock-mounted, suspended platform needed to ward off stage vibration, low-end soundwave transfer and other mechanical interferences from clouding up your kick drum signal. The lengthy isolation cords provide an effective disconnection of the microphone from the kick drum and the stage that the kick drum sits on, both at the same time.
The KELLY SHU™ kick drum microphone mounting system will eliminate the requirement of a separate stand, boom arm and bulky counter-weight for the kick drum microphone. Not only does the system save you valuable floor space, but you'll also save time at set-up because the microphone can stay with the drum during transport. The Kelly SHU™ will stay in place, remaining positioned exactly where you want it every time you move and set up the drums! Just plug in and GO!
The Kelly SHU™ provides countless mounting positions – the adjustment possibilities are virtual unlimited! The system can be installed either inside the drum or on the front of the drum with both installations having equal benefit of the isolation and shockmount properties of our suspended system. Detailed instructions for both installation options are included with each system.
A few minutes, a tool to fit your interior tuning lug hardware screws and a pair of scissors is all you need to install The Kelly SHU™. It really couldn't be easier! For external installation, the scissors alone will get the job done. The Kelly SHU™ accepts standard XLR bass drum microphones and clips with no drilling required for installation!