Good old Telefunken mics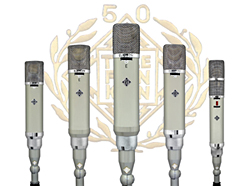 Telefunken Elektroakustik in South Windsor, Conn., is celebrating the 50th anniversary of the ELA M 250/251, 250E/251E, and 270 microphones with exclusive commemorative system package, featuring leather-bound flight cases that bear an embroidered 50th anniversary logo, and a cable stand-mount bearing the same gold diamond badge as found on the original models.
The ELA M 250/251 models include the extremely rare AC701 vacuum tube, while the E Series and stereo model feature the 6072a tube. "We are including extra NOS tubes for the 250E/251E and 270 systems so that these mics will be good for another 50 years," says Toni Fishman, president and founder of Telefunken Elektroakustik. The company states that due to the extremely rare nature of the AC701 tube, extras will not be provided for the ELA M 250/251 system, while adding that it will keep a large private stock for its customers for future warranty service and repair needs.
Telefunken Elektroakustik states that these 50th anniversary editions will ship through the end of 2011.
Visit Telefunken Elektroakustik at www.t-funk.com.
Comments