"Nadsat" by David Baron. For Moog Modular 3p Synthesizer (with sequencer). Recorded at Sun Mountain Studios, Boiceville, NY
This is a solo ambient trip of the fabulous Clavia Nord Modular G2 in the world of the blurred.
Read the manual here:
http://www.image-line.com/support/FLH…
Get the installer here (log in or create an account to get access):
http://support.image-line.com/redirec…
The music has been made using a Moog Slim Phatty and an analog modular system including an A-115 and an Echophon.
Quick reactions and exploration of the FutureRetro XS semi-modular analog synthesizer.
Product description:
The XS is a true semi-modular analog synthesizer with a universe of sonic possibilities just waiting to be discovered. Our versatile design allows it to be used as either a rackmount or desktop instrument, and its compact size makes it ideal for musicians on the go.
In its simplest form, the XS is an extremely powerful monophonic synthesizer including 46 controls with internal signal routings pre-wired to allow the unit to act similarly to traditional synthesizers. The unit also provides 7 inputs and 11 outputs that can be connected in various ways to override the pre-wired signal routings, interface the unit with other instruments in a modular fashion, and even process external audio.
The XS can be controlled by both MIDI and CV/Gate control signals simultaneously in a variety of ways. It can also act as a MIDI to CV/Gate converter with outputs, including CV/Gate/Mod Wheel/Velocity signals for controlling other analog instruments.
With a single unit you can easily create basslines, leads, drones, percussion, and sound effects. Connect multiple units together to form larger systems and the possibilities are endless.
The XS provides 2 ultra stable, wide range voltage-controlled oscillators, each capable of covering a range of 0.5 Hz to 100 kHz. Oscillator A generates saw and square waveforms. Oscillator B generates sine, triangle, saw, pulse width/square waveforms, and its own sub oscillator waveform, which can be 1/2, 1/4, or 1/8 the frequency of the main waveform. The pulse width shape of Oscillator B can be set manually or modulated with an internal or external control voltage, and Oscillator B can also sync its frequency to Oscillator A. Each oscillator can be frequency-modulated independently by both internal and external signals to create more complex waveforms. The XS also provides a white noise source and ring modulator that can be used on the internal oscillators or an external source. Dedicated outputs are provided for the waveform select controls A, B, and C.
A dedicated LFO generates triangle, saw, square, and random waveforms to modulate internal parameters, or external circuits as well with its dedicated output. The LFO can act in a free-running mode, or sync its rate to divisions of an external MIDI clock. When synced to an external MIDI clock, the LFO can be used to generate analog clock signals at various synced rates for stepping analog sequencers or arpeggiators in time with modern sequencers.
The mixer section sets the levels of the oscillator waveforms, sub oscillator waveforms, white noise source, ring modulator, or any external audio signal to be sent to the input of the filter.
The 2-pole multimode filter provides 4 filter types, including lowpass, bandpass, highpass, and notch settings, each capable of covering a range from 5 Hz to 18 kHz. With high resonance settings, the filter will self-oscillate, allowing it to act as an additional audio source. The cutoff frequency can be modulated by both internal and external signals, and the filter's input and output can be overdriven independently, giving it unique tone characteristics. A dedicated output for the filter is also provided.
The XS includes our unique Velocity-sensitive ADSR type envelope with additional attack and decay time settings for accented envelopes. It's like having two envelopes in one, and it's capable of some truly funky sounds. This is the main modulation envelope internally routed to the modify the oscillators and filter. The envelope can be triggered by internal or external logic signals. Both normal and inverted polarity envelopes are available at the output.
And finally, a voltage-controlled amplifier is provided to process the amplitude of signals. The amplifier normally affects the filter's output but it can also be used to process external audio signals. The amplifier has its own dedicated envelope with four selectable shapes, Velocity-sensitive amplitude, and independent accent times. The amplifier also has a volume control for attenuating signals sent to the main output.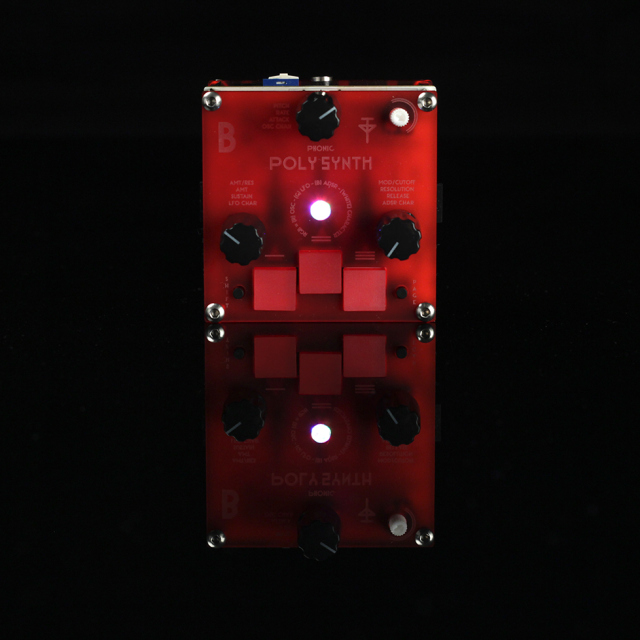 Bastl Instruments has introduced Trinity, a new line of inexpensive modular grooveboxes.
Here's what they have to say about the Trinity modules:
Trinity is a universal musical instrument and original sounding modular groovebox. It can function as any type of digital synthesizer, sequencer, controller, arpeggiator or almost anything that can be programmed into a micro-controller.
Trinity is designed to be connected and combined with other Trinities of different functions in a chain, so you can create your own music making environment. It is ready to communicate with the outer world via MIDI and different sync and CV methods using MIDI Bastl.
We have developed 4 different instruments for Trinity which work great together. They are sequencer, drum synthesizer, polyphonic synthesizer and monophonic FM synthesizer.
All Trinity instruments have the same starting price: 60 Euro for assembled instruments and 45 Euro for a DIY kit. And they're open-source, DIY, hackable and repairable.
Features:
simple interface which makes it playable musical instrument
available assembled or as a soldering kit
MIDI native (note,CC) , MIDI jack and almost endless sync possibilities by MIDI Bastl
software reprogrammable by Arduino (breakout for standard FTDi USB)
hardware expandable and hackable ? including breakouts for sensors or more buttons
chain connectors to share power, audio and communication within more Trinity/Bastl instruments
user memmory for storing presets and patterns (exportable, transferable)
stylish lasercut replacable enclosure with instrument labels
adjustable volume
mono, 16385 hz, 14 bit ? double PWM sound generation
TRS Jack 3.5mm audio output able to drive headphones
powered from 9V battery or 9V positive polarity power supply (2.1 mm) or from the Trinity chain (use switch to select)
running Mozzi library and Bastl library for Arduino
Nord Modular + Boss DR660 _________ Tascam 22-2
Background video description:
Just acquired the Tanzbar! Here it is in action controlling the PMF with the CV/GATE outs from Tanzbar to PMF.
This time the only drum sound from the Tanzbär (which is mainly used as a CV sequencer) is the fantastic BD2, a 808 style bass drum. The other drum sounds are generated by the small modular system Tinysizer & the Mikrozwerg. Both synths are patched into each other. At the second half of the recording I am using LFO tool by Xfer Records to filter the VCO 2 of the Tinysizer.
This demo goes through using the Nord Modular (0:00) and G2 (6:00) editors on the Surface Pro.
If you want to just know "Does the Surface Pro work well with these editors?" my answer is 'yes, but…'
The 'but' being that it seemed most useful using the pen throughout. While I at first felt that your fingers would work fine for knob twisting and such, even on the Nord Modular editor (not G2), I looked back at the video and felt that my finger still had trouble catching the knobs. However, I would say WITH the pen, you would have very little trouble using the editors. I hope you enjoyed the video and that it provided you with some insight into this combination. Please let me know if you have any questions. Thank you