Melodic drone development with generative percussion from the hidden hand of Noatikl for iOS.
Modular, Minibrute, BC-9, Nord Drum2 and Eventide stomp boxes. Direct recording.
Background video description from 'alternatingbitmusic': I think its cool how a monosynth can spit out such an array of sounds at once. I started a sound that had a percussive element to it and I thought I'd share with you all. Everything you hear is live from the FutureRetro XS, with CV in from a sequencer for voltage & gate only. The final output has a touch of delay for flavor. Enjoy.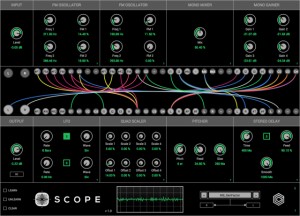 Glitchmachines has released Scope, a modular sound generator and effects processing plugin, for Mac & Windows, that is geared toward experimental sound design and electronic music production.
Scope's open-ended graphical patching system and diverse set of modules let you create a custom audio processing environment, capable of a very broad range of effects.
Features:
Fully patchable modular sound generator and signal processor
Sample library with 1500+ modular SFX in 24bit/96khz .wav
26 Modules ranging from Oscillators & Delays to LFOs & Mixers
Freely configurable module slots and signal flow
Tactile graphical patching system with virtual patch cables
Real-time animated audio analyzers and visualizers
160 patches from 8 cutting-edge sound designers and artists
Cross-platform compatibility (PC/Mac – VST/AU 32bit & 64bit)
This is Overview video going over the SCOPE plugin and included modular synthesizer sample library.
This is a basic tutorial video showing how to set up a couple of basic patches in Scope.
We worked with 6 of the best module manufacturers to put together the Eurorack system used to generate all the content. Our goal was to create a functional counterpart to Scope; something you can't easily achieve with a computer that interacts well with the plugin and gives you a new palette of sounds to work with right out of the box.

Focused on the darker side of modular synthesis, sound designer Ivo Ivanov created a collection of compelling effects that are equally distinctive and indicative of the depth of Eurorack's prodigious sonic landscape.
This video is showing behind the scenes footage from the making of the modular synthesizer sample library included with Scope.
This video is showing behind the scenes footage from the making of the modular synthesizer sample library included with Scope.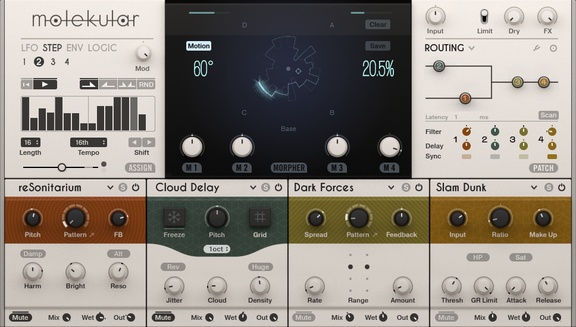 Native Instruments has released Molekular, a modular multi-effects system for the flagship synthesis studio REAKTOR 5 or the free REAKTOR 5 PLAYER.
MOLEKULAR features slots for up to four effect modules and near-limitless routing options for unique effect arrangements. Modules include a pitch and resonator section for transforming percussive sounds into melodic arpeggios. Delay, stutter, and glitch modules allow users to create new rhythmic structures or turn any incoming signal into washed-out soundscapes. Eight modulation effects offer incredible sonic versatility for augmenting tone – from classic modulation effects like flanger and chorus to yet-unheard effects such as a purposefully broken pitch shifter to create unusual new textures. Six dynamic and distortion effects include a 16-stage wave folder and a DSP that tracks a signal's pitch to control a variable waveform oscillator. MOLEKULAR also comes with essential 'bread and butter' effects for additional sonic adjustments and finetuning.

MOLEKULAR features 16 modulation sources, which can be routed to any parameter within the effects system. Modulators include four customizable LFOs and four step sequencers for emphasizing any part of the meter with rhythms from simple eighth notes to odd metric subdivisions. What's more, MOLEKULAR includes analog modular-inspired trigger sequencers – each with a dedicated envelope and an envelope follower to set accents or add bursts of effects to any production. A logic module adds an irregular, organic feel to the structure of sound sources with any degree of precision or chaos. Frequency-based parameters can be quantized to custom scales and it's even possible to route one modulator into another producing unusual, constantly evolving modulation structures.

By using the Morphing Field, it is possible to drastically twist the results via the interactive display. Producers can assign a starting point, define four master mutations and easily morph between them in real time – a new and near-limitless approach to performing with effects. The morpher can also be controlled by any of the modulation sources. Though highly advanced technology works under the hood, MOLEKULAR is straightforward to use, and also comes with a multitude of presets of highly inventive effects ready to use as creative starting points.
Molekular is available for $149 USD / 149 EUR / £129 GBP.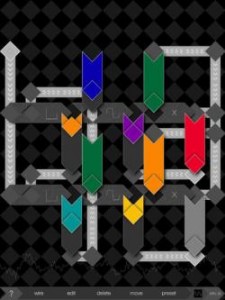 Alexey Nadzharov has introduced rrarrow – described as an 'experimental modular audio effect and noise machine' for the iPad.
Features:
Simplicity – The interface is simplified for faster assembly and more flexible connectivity – you can assemble your effect very fast and control all the processing parameters with the audio signal!
Feedback capabilities – You can add feedbacks to the audio chain to get some chaotic noise sounds .
Twelve blocks for audio processing:

Sine generator. Basic oscillator with sine waveform
Signal multiplier
Delay
Frequency shifter
Envelope follower
Lorenz attractor
Quantizer
Sample-and-hold
Reverb
Special Lowpass filter
Clipper
Nonlinear shaper (for self-oscillating circuit)

Audiobus support. Now you can stream live audio directly to other Audiobus-compatible apps! See http://audiob.us for more information. Works as input and filter.
Background audio support: enabled when connected to Audiobus and user switchable otherwise.
"Nadsat" by David Baron. For Moog Modular 3p Synthesizer (with sequencer). Recorded at Sun Mountain Studios, Boiceville, NY
This is a solo ambient trip of the fabulous Clavia Nord Modular G2 in the world of the blurred.
Read the manual here:
http://www.image-line.com/support/FLH…
Get the installer here (log in or create an account to get access):
http://support.image-line.com/redirec…
The music has been made using a Moog Slim Phatty and an analog modular system including an A-115 and an Echophon.
Quick reactions and exploration of the FutureRetro XS semi-modular analog synthesizer.
Product description:
The XS is a true semi-modular analog synthesizer with a universe of sonic possibilities just waiting to be discovered. Our versatile design allows it to be used as either a rackmount or desktop instrument, and its compact size makes it ideal for musicians on the go.
In its simplest form, the XS is an extremely powerful monophonic synthesizer including 46 controls with internal signal routings pre-wired to allow the unit to act similarly to traditional synthesizers. The unit also provides 7 inputs and 11 outputs that can be connected in various ways to override the pre-wired signal routings, interface the unit with other instruments in a modular fashion, and even process external audio.
The XS can be controlled by both MIDI and CV/Gate control signals simultaneously in a variety of ways. It can also act as a MIDI to CV/Gate converter with outputs, including CV/Gate/Mod Wheel/Velocity signals for controlling other analog instruments.
With a single unit you can easily create basslines, leads, drones, percussion, and sound effects. Connect multiple units together to form larger systems and the possibilities are endless.
The XS provides 2 ultra stable, wide range voltage-controlled oscillators, each capable of covering a range of 0.5 Hz to 100 kHz. Oscillator A generates saw and square waveforms. Oscillator B generates sine, triangle, saw, pulse width/square waveforms, and its own sub oscillator waveform, which can be 1/2, 1/4, or 1/8 the frequency of the main waveform. The pulse width shape of Oscillator B can be set manually or modulated with an internal or external control voltage, and Oscillator B can also sync its frequency to Oscillator A. Each oscillator can be frequency-modulated independently by both internal and external signals to create more complex waveforms. The XS also provides a white noise source and ring modulator that can be used on the internal oscillators or an external source. Dedicated outputs are provided for the waveform select controls A, B, and C.
A dedicated LFO generates triangle, saw, square, and random waveforms to modulate internal parameters, or external circuits as well with its dedicated output. The LFO can act in a free-running mode, or sync its rate to divisions of an external MIDI clock. When synced to an external MIDI clock, the LFO can be used to generate analog clock signals at various synced rates for stepping analog sequencers or arpeggiators in time with modern sequencers.
The mixer section sets the levels of the oscillator waveforms, sub oscillator waveforms, white noise source, ring modulator, or any external audio signal to be sent to the input of the filter.
The 2-pole multimode filter provides 4 filter types, including lowpass, bandpass, highpass, and notch settings, each capable of covering a range from 5 Hz to 18 kHz. With high resonance settings, the filter will self-oscillate, allowing it to act as an additional audio source. The cutoff frequency can be modulated by both internal and external signals, and the filter's input and output can be overdriven independently, giving it unique tone characteristics. A dedicated output for the filter is also provided.
The XS includes our unique Velocity-sensitive ADSR type envelope with additional attack and decay time settings for accented envelopes. It's like having two envelopes in one, and it's capable of some truly funky sounds. This is the main modulation envelope internally routed to the modify the oscillators and filter. The envelope can be triggered by internal or external logic signals. Both normal and inverted polarity envelopes are available at the output.
And finally, a voltage-controlled amplifier is provided to process the amplitude of signals. The amplifier normally affects the filter's output but it can also be used to process external audio signals. The amplifier has its own dedicated envelope with four selectable shapes, Velocity-sensitive amplitude, and independent accent times. The amplifier also has a volume control for attenuating signals sent to the main output.