Here's a presentation of the new Roland FA-08 at the NAMM Show 2014.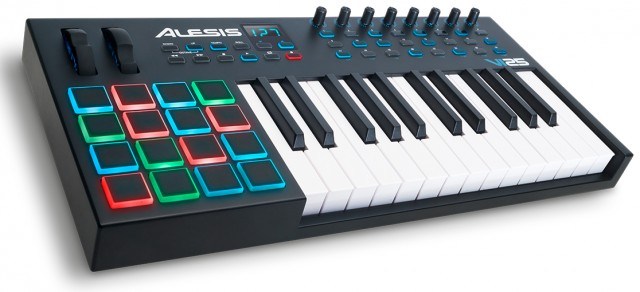 Alesis has introduced the new V Series and VI Series of full-size keyboard/pad controllers:
The new Alesis V Series (V61, V49, V25) combine velocity-sensitive keys with eight drum/trigger pads. Blue LEDs illuminate the pads, as well as the four assignable knobs and buttons. Assignments may be made quickly via the MIDI Learn feature. Octave shift keys provide access to the entire note range. A single USB cable provides both a power and data connection to nearly any computer.
The Alesis VI Series (VI61, VI49, VI25) add semi-weighted keys and aftertouch. The pad count has been increased to 16, with multi-color illumination. This layout provides intensive command over the clip trigger workflow of top DAW and compositional software. The internal clock offers drum roll, tempo, and sync capabilities. An optional power supply and a standard MIDI output allow for stand-alone use.

Alesis V Series Highlights:
Full size, flat-front keys (25, 49, or 61)
Pitch Bend and Modulation Wheels
8 Pads with blue LED illumination
4 Assignable knobs and buttons
Sustain pedal input
USB MIDI
Alesis VI Series Highlights:
Full size, flat-front keys (25, 49, or 61)
Semi-weighted keys with Aftertouch
Pitch Bend & Modulation Wheels
16 Pads with Multi-color LED illumination
VI25: 8 knobs, 24 buttons
VI49: 12 knobs, 36 buttons
VI61: 16 knobs, 48 buttons
Transport and Present up/down buttons
Sustain pedal input
USD MIDI, MIDI Out
Internal Clock for sync, tempo, rolls, etc.
The V and VI Series will have the following respective estimated street prices, V25 ($79.99 USD), V49 ($99.99 USD), V61 ($149.99 USD), VI25 ($169.99 USD), VI49 ($199.99 USD), and VI61 ($249.99 USD).
Dave Bryce checks out Roland's first new workstation since the Fantom-G, the FA series.
Roland has announced two new workstation keyboards, the FA-08 and FA-06, which it says meet the needs of anyone who wants an instrument that they can use both on stage and in the studio.
Featuring a built-in audio interface, DAW integration, more than 2000 sounds from the Integra-7 sound module and an 88-note weighted action keyboard, the FA-08 weighs in at 16kg. It comes with a 16-track sequencer, and each of the 16 available parts can access its own effects engine, which sports 67 effect types. The UK price is £1529.
Full specs are below. The FA-06 boasts very similar specs but comes with a 61-note velocity-sensitive keyboard. It retails for £975. You can find out more about both models on the Roland website.
Featuring a huge selection of Roland's best sounds, a 16-track sequencer, seamless DAW integration, an easy-to-use sampler, and much more, the new FA series completely reimagines the music workstation for effortless real-time power, ultra-fast workflow, and maximum versatility.
FA-06 (61-Key)
http://www.rolandconnect.com/product….
FA-08 (88-Key)
http://www.rolandconnect.com/product….
We took a very quick test using the Casio XW-P1 with the Burn from GSi.
This a test to show the functionality of the Octave-Plateau VPK-5 Keyboard and the Voyetra 8 Synthesizer Module working.
We used a XLR cable as needed for the keyboard controller input. For audio output we used a dual mono TS to single TRS cable going through a mixer and amplifier. And also used the mono output through a powered monitor.
Reviewer, EDM producer, and DJ Francis Preve takes a look at Novation's latest pad/clip controller for Ableton Live and Image-Line FL Studio. Read the full review in our February 2014 issue.
Reviewer, EDM producer, and DJ Francis Preve takes a look at Novation's latest keys-meet-pads MIDI controllers for Ableton Live and Image-Line FL Studio. Read the full review in our February 2014 issue.
M-Audio's top of the range MIDI controllers to replace the Axiom Pro. Quite a change in concept – see what we make of it.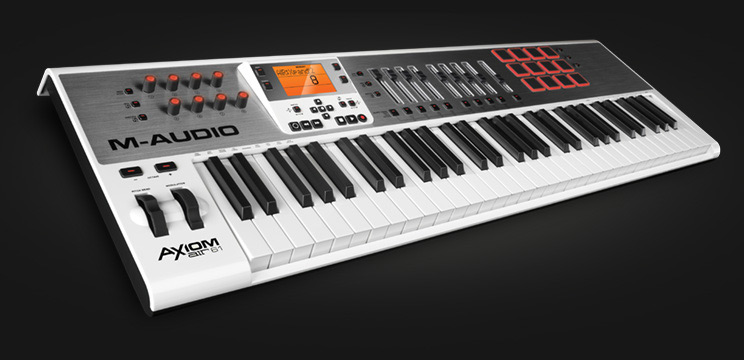 About the Axiom Air 61 (marketing pitch):
Take command of your studio while achieving higher levels of musical expression with Axiom® AIR 61 from M-Audio®. Offering unprecedented control, Axiom® AIR 61 brings together unmatched ease-of-use plus empowering software to form the ultimate studio centerpiece. Stretch out and play your best on 61 semi-weighted piano-style keys—with aftertouch. The illuminated pads are velocity sensitive and even respond to pressure. Experience total hands-on control of your sessions using assignable LED lit buttons and rotary encoder knobs, long-throw faders, plus an array of dedicated transport and software navigation buttons. HyperControl® interactive controller mapping unites your hardware and software so you can start working faster. Completing this powerful package are two complementary software selections: Avid® Pro Tools® Express and Ignite by AIR music creation software. Together, they deliver a comprehensive path for transforming the ideas in your head into a finished piece of music.
Launchkey Mini is an exciting new compact mini-key instrument/controller featuring 16 velocity sensitive, three colour illuminated launch pads – use them to launch loops, sounds, effects, transport controls, and more.
Launchkey Mini also features a 25-note keyboard, eight assignable rotary controls, seven function buttons, and a further two performance buttons. Compact and portable, Launchkey Mini is great for producing and performing at home or on stage.
—
Launchkey Mini key features:
'Go anywhere, play anywhere'
– Ultra-lightweight and easy to carry
– Fully powered by iPad® or USB
• 25-note mini-keyboard
• 16 velocity sensitive, three colour launch pads
• Knobs and buttons for total control
• Fully-integrated with Novation apps for iPad
• Hands-on control of included synths and music software on Mac and PC
For more details, check out the product page here:
http://global.novationmusic.com/midi-…
—
Performance courtesy of Peter Lyons -
Testing the Super Synthesis Super 37 modular keyboard……..
Super 37 midi out to Technosaurus Microcon II midi input. Square wave out. Super 37 keyscan module gate out to HexVCA channel 1. keyscan 1v/oct out to TipTop Z3000. Square wave out. keyscan velocity out to Z3000 pulse width modulation in. No filter on the Z3000 square wave out to HexVCA channel 1. Mild area effect from mixer on synth sounds. Korg ER-1 mkII percussion.
"Thank you to David at Super Synthesis for customizing my Super 37 for me and helping me to adapt my Padouk endpanels to the Super 37 without through hole mounting. BTW, the QuickLok QL-400 stand for the larger MPC series machines is a perfect fit and highly recommended for your Super 37."
About the synth:
The Ion Analog Modeling Synthesizer is one fat-sounding digital synth! Using Alesis' proprietary DSP Analog Modeling technology with a 500 MIPS processor (500 million instructions per second), every knob and button is tweakable in real-time giving you the feel and sound of a true analog oldie.
The Ion has 8-voice polyphony with 3 oscillators per voice, and is 4-part multi-timbral. It offers continuously variable wave shapes (sine waves can morph into square waves), plus osc-sync and FM synthesis. 16 filter types are included, along with two LFOs, Sample & Hold, and an Arpeggiator-all of which sync to MIDI clock. A powerful and intuitive modulation matrix is built in, as well as a 40-band vocoder that does not use up any polyphony. External stereo audio can be processed through the filters, effects, or the vocoder.
Though not a true analog like the Andromeda A6, the Ion is capable of creating a wide variety of sounds from warm thick analog pads all the way to gritty monophonic leads and basses, as well as some funky and realistic sound effects. The Ion also simulates the best of the classic analogs such as Oberheims, Roland Jupiters, Arps, Moogs, etc, largely due to its great filters – there is hardly any aliasing even on the highest tones. The Ion also comes equipped with not one but two modulation wheels, both assignable to mods in the mod matrix (LFOs only assignable to mod wheel 1). The Ion has an amazing range of tonal possibilities.
The chic design, layout, and large backlit screen make editing on the Ion a dream! The Modulation Matrix is easy to understand and can route any modulation parameter to almost every component of the Ion!! All parameter knobs (excluding master volume & menu knob) are 360 degree pots allowing you to twist all the day long! A 160×160 graphic display provides instant visual feedback as a parameter is edited. Along with having 512 patch settings (all user-rewritable), the Ion has 64 multi-timbral setups. All parameters including arpeggiator settings are stored with each preset.
The ION keyboard contains 49 velocity-sensitive keys, 4 analog outputs and 2 stereo analog inputs (all balanced and using 24-bit conversion), 4 individual insert effects, a stereo master multi-FX processor, and an internal universal power supply. Expression and sustain pedal ports as well as headphone jacks are also there. For those who want a versatile synth and can't afford the A6, this is the synth for you – arguably one of the best 'virtual-analog' synths for awesome, analogue-like sounds.