Launchkey Mini is an exciting new compact mini-key instrument/controller featuring 16 velocity sensitive, three colour illuminated launch pads – use them to launch loops, sounds, effects, transport controls, and more.
Launchkey Mini also features a 25-note keyboard, eight assignable rotary controls, seven function buttons, and a further two performance buttons. Compact and portable, Launchkey Mini is great for producing and performing at home or on stage.
—
Launchkey Mini key features:
'Go anywhere, play anywhere'
– Ultra-lightweight and easy to carry
– Fully powered by iPad® or USB
• 25-note mini-keyboard
• 16 velocity sensitive, three colour launch pads
• Knobs and buttons for total control
• Fully-integrated with Novation apps for iPad
• Hands-on control of included synths and music software on Mac and PC
For more details, check out the product page here:
http://global.novationmusic.com/midi-…
—
Performance courtesy of Peter Lyons –
Testing the Super Synthesis Super 37 modular keyboard……..
Super 37 midi out to Technosaurus Microcon II midi input. Square wave out. Super 37 keyscan module gate out to HexVCA channel 1. keyscan 1v/oct out to TipTop Z3000. Square wave out. keyscan velocity out to Z3000 pulse width modulation in. No filter on the Z3000 square wave out to HexVCA channel 1. Mild area effect from mixer on synth sounds. Korg ER-1 mkII percussion.
"Thank you to David at Super Synthesis for customizing my Super 37 for me and helping me to adapt my Padouk endpanels to the Super 37 without through hole mounting. BTW, the QuickLok QL-400 stand for the larger MPC series machines is a perfect fit and highly recommended for your Super 37."
About the synth:
The Ion Analog Modeling Synthesizer is one fat-sounding digital synth! Using Alesis' proprietary DSP Analog Modeling technology with a 500 MIPS processor (500 million instructions per second), every knob and button is tweakable in real-time giving you the feel and sound of a true analog oldie.
The Ion has 8-voice polyphony with 3 oscillators per voice, and is 4-part multi-timbral. It offers continuously variable wave shapes (sine waves can morph into square waves), plus osc-sync and FM synthesis. 16 filter types are included, along with two LFOs, Sample & Hold, and an Arpeggiator-all of which sync to MIDI clock. A powerful and intuitive modulation matrix is built in, as well as a 40-band vocoder that does not use up any polyphony. External stereo audio can be processed through the filters, effects, or the vocoder.
Though not a true analog like the Andromeda A6, the Ion is capable of creating a wide variety of sounds from warm thick analog pads all the way to gritty monophonic leads and basses, as well as some funky and realistic sound effects. The Ion also simulates the best of the classic analogs such as Oberheims, Roland Jupiters, Arps, Moogs, etc, largely due to its great filters – there is hardly any aliasing even on the highest tones. The Ion also comes equipped with not one but two modulation wheels, both assignable to mods in the mod matrix (LFOs only assignable to mod wheel 1). The Ion has an amazing range of tonal possibilities.
The chic design, layout, and large backlit screen make editing on the Ion a dream! The Modulation Matrix is easy to understand and can route any modulation parameter to almost every component of the Ion!! All parameter knobs (excluding master volume & menu knob) are 360 degree pots allowing you to twist all the day long! A 160×160 graphic display provides instant visual feedback as a parameter is edited. Along with having 512 patch settings (all user-rewritable), the Ion has 64 multi-timbral setups. All parameters including arpeggiator settings are stored with each preset.
The ION keyboard contains 49 velocity-sensitive keys, 4 analog outputs and 2 stereo analog inputs (all balanced and using 24-bit conversion), 4 individual insert effects, a stereo master multi-FX processor, and an internal universal power supply. Expression and sustain pedal ports as well as headphone jacks are also there. For those who want a versatile synth and can't afford the A6, this is the synth for you – arguably one of the best 'virtual-analog' synths for awesome, analogue-like sounds.
Sonic explores Propellerhead's Thor alongside the CME Xkey, video description below:
I know its been a while, but we managed to get Gaz and Nick in the same room for long enough to shoot this episode in which we take a look at the CME Xkey which has affordable polyphonic aftertouch,plus we look at Propellerheads Thor Polysonic synthesizer
Circuit Bent Kawasaki toy keyboard.
Onboard resonant filter from Ray Wilson's Weird sound generator.
Onboard pt2399 delay.
Variable LFO on the filter.
Huge pitch bend range.
3 distortion bend knobs.
Special DJ style "TRansformer" button.
Check out
http://thecircuitmolester.blogspot.com/
for more info
Polyphonic aftertouch is a rare feature on modern keyboards, but the TouchKeys can map any sensor dimension (X or Y position, contact area) to polyphonic aftertouch. This makes the TouchKeys great for controlling classic synth sounds like the CS-80 (emulated here by Arturia). But the possibilities also go beyond the capabilities of the original CS-80 to include full polyphonic control of the pitch and timbre of each note.
Time for a new circuit bending video, details below:
Playtime Keyboard
switched mono 1/4inch jack output
white LED
red LED
power starve control
pitch up/down control
hi-fi boost
Monotribe Sync input with 4 rotary glitch switch to select which button glitch you want. The Monotribe triggers various buttons on the keyboard to make it sound glitch – video to follow for that
.fd. online
Facebook – freeform delusion
Twitter – https://twitter.com/freeformd
eBay – Search for – Circuit Bent
My older Circuit Bending channel – http://youtube.com/eecouk
Background video description:
Messing around with the new Mopho. Sorry about the motion, I'm not used to the head mount camera (GoPro Hero 3). Hope nobody gets seasick. This is a Korg ER1 thru a Korg KP3. Dave Smith Mopho keyboard thru a Rogue analog chorus, Behringer vintage analog delay and Digidelay and then the Infinity Looper pedal. You can also see my home made breakout pedal that gives the reverse capability. Send on the mixer is a Hardwire RV7 reverb pedal. No other FX or EQ were added. As you can tell, I love the reverse on the looper and the aftertouch on the Mopho. Everything is midi synced.
Although I can honestly say that the PA900 is not on top of my wishlist, this video is still quite a nice intro to the new keyboard from KORG, details below:
Specifically designed to help you perform and create music, the PA900 is the latest addition to Korg's renowned Professional Arranger line. With a new palate of sounds designed to please any audience, as well as an enormous range of Styles covering music genres from around the world, PA900 is the perfect companion for the discerning performer or songwriter.
The Pa900 sound engine uses double the PCM memory of the best-selling Pa600 and extends the amount of User PCM to 192MB. The number of user Style locations has also expanded, to cover almost every style imaginable. An improved built-in speaker system delivers it all with clear, rich sound. These new features are complemented by powerful functionality, an intuitive user interface and an array of features such as a TC Helicon Vocal Harmonizer, an MP3 player & recorder, a Dual Sequencer with crossfader, and Video output to display song lyrics, all designed to enhance any performance. A robust color TouchView screen plus Korg's DNC (Defined Nuance Control) system–for expressively recreating instrument articulation–round out the offerings.
For more information, head over to http://www.korg.com/pa900.
Keyboard Magazine's editor Stephen Fortner demos the MiniLab, a library of virtual analog soft synths from Arturia's V-Collection. It's bundled with a custom controller that pre-maps all knob assignments. All for $99.
Arturia's product description below: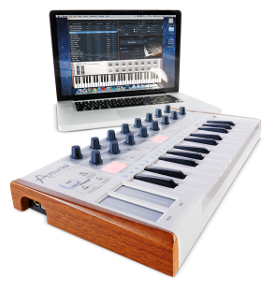 Arturia's MiniLab USB Controller marries the style you love with the hands-on control and portability you need to take your studio wherever you go.
Made for the musician on the go or the performer with limited space, the MiniLab gives you a great depth of features in a portable package that is sturdy and looks great.
Combined with the Analog Lab software, you get a real hybrid synthesizer that comes with a collection of 5000 sounds from the Modular V, CS-80V, Mini V, Arp 2600V, Jupiter 8V, Prophet V, Oberheim SEM V, and Wurlitzer V.
MAIN FEATURES:
25 note velocity sensitive mini keyboard.
16 encoders
16 pads (two banks of 8 pads/buttons)
Pitchbend/Modulation touch strip
Footswitch input
Recessed full sized USB jack
Bus powered, Class compliant
Works with iPAD (camera connection kit required)
Comes with Analog Lab software
5000 sounds from the best synths and keyboards