Moog Moogerfooger Cluster Flux MF-108M, with feedback at maximum, can be "played" from MIDI Notes On/Off. In this video, the sound source is, as usual, the Acidlab.de MIAMI Analog Drum Machine; the frequency/time of MF-108M is played with Novation SL25 MkII MIDI master keyboard.
Shooted with an iPhone, audio in glorious mono.
The clock frequency of Moog Moogerfooger MF-104M analog BBD delay can be severely down scaled from external MIDI control. So, you can use the MF-104M as a grunge/glitch/hack/drone machine on every audio source. On this (dirty and short and easy) video bits, MF-104M is munching the Acidlab MIAMI analog drum machine.
Jordan Rudess 2012 Christmas message with the NUmotion Revo-1 circular keyboard.
"I hope everyones Christmas and New Years is wonderful!! For some additional Xmas spirit check out my Christmas Sky album! https://itunes.apple.com/us/album/christmas-sky/id411608772"
A dreamy, relaxing space ambient drone electronic music soundscape played live on Novation Supernova 2 keyboard synthesizer. Utilizing comb filter, reverb, delay, resonance, sync skew, filter & envelope adjustments.
Performed live, no external processing. Excerpt from a longer session.
FOR PART 1 CLICK HERE: http://www.youtube.com/watch?v=lhs-LguPTx8
KORG has uploaded a series of videos featuring their arranger keyboard PA600, the first one featured above, details below:
The Pa600 is an affordable, compact, and powerful addition to Korg's internationally acclaimed PA series. Providing you with the most up-to-date collection of quality sound and styles combined, the PA600 is a perfect songwriting and performance partner. It even has the option to include custom sound and performance sets (sold separately) from around the world – a true first!
Pa600 Features:

Enhanced RX (Real eXperience) and DNC (Defined Nuance Control) sound engine offers improved realism and vivid sound.
Massive internal Factory PCM provides an extraordinarily powerful wave memory, delivering amazingly high quality sounds.
Two assignable switches and a four-way joystick ensure total control for the many available levels of sound articulation (DNC).
Two versions of Pa600 are available: International and Quarter Tone button variations. Both feature an elegantly designed and compact cabinet, including a pristine amplification system.
Large, bright, backlit TouchView™ color TFT display (800×480).
Easy layout and intuitive graphical interface with new Search function for easy retrieval of any musical resource or file.
New resource selection feature with copy/paste, rename and delete.
Over 360 factory Styles, each including three Intros/Endings, four variations and four Fill In + Break, plus ten Favorite and three User banks for storage of your favorite customized or user created Styles.
Enhanced Guitar Mode 2 for even more realistic guitar parts, plus synchronized pads.
Chord Sequencer function that can record any chord progression on-the-fly.
Improved General Midi set for Standard Midi Files, compatibility with popular lyric formats including graphical (+G), plus Text Viewer, Marker and Score.
MP3 player with Transpose and Tempo Change.
4 Stereo Master Effects (125 FX algorithms).
Fully programmable SongBook database based on Styles, SMF, karaoke, and MP3, with instant recall of any song setting and user-definable custom lists.
Localized Pa600 and Pa600QT data (sold separately) provides Sounds and Styles relevant to specific countries and regions.
Includes accessory DVD with USB-MIDI drivers, video manual, and additional Style content, including the complete "Real Drums" and "Turkish/Arabic World" collections
The Pa600 is a brilliant Professional Arranger that distills the sonic essence and functionality of the Pa series into a compact and affordable new instrument. Like its big brothers – the Pa800 and the Pa3X – the Pa600 uses our RX (Real eXperience) and DNC (Defined Nuance Control) technology to deliver sound quality that's unprecedented in an arranger keyboard. With its new compact cabinet, large TFT color TouchView display, enormous factory and user PCM memory, huge style database and excellent amplification system, Korg has raised the standard of excellence in the entry-level price range. Listen and Believe.

The Nord Electro 4 SW73 has twice the memory capacity of its predecessor, Nord Electro 3 SeventyThree, letting you use more sounds from the Nord Piano and Sample Libraries. The Organ section has been upgraded to the latest Tone Wheel engine from Nord's dual manual organ Nord C2D, including a new 122 Rotary speaker simulation and Drive.
The Nord Electro 4 SW73 joins the Nord Electro 4 HP and Nord Electro 4D SW61, introduced earlier in 2012.
Key features:
73 Semi-Weighted Waterfall (F-F)
Digital LED Drawbars
380 MB memory for Nord Piano Library sounds
128 MB memory for Nord Sample Library sounds
C2D Tone wheel engine with 122 Rotary simulation and Drive
Delay Effect with Tap-Tempo
4 Dynamic Response Curves
Long Release
4 Live Locations
Nord Sound Manager 6.x support for Bundles
USB MIDI
Audio demos:
The Electro 4 SW73 is priced at 1,999 EURO / US MAP 2,399 USD and is shipping in December 2012, and to US & Canada in January 2013. See the Nord site for more info >>
Keith McMillen Instruments has uploaded a new video featuring their new controller QuNexus – playing alongside a Clavia Nord
Below the comments to the video from MacBeth:
This is the first demo of the complimentary synth to the micromac series. 4 Oscillators, Dual State Variable Filter and 4 Envelope generators should get you started, The touch keyboard rounds it up! See you at NAMM '13!
Video featuring the recently announced QuNexus Key Controller, the marketing pitch below:
QuNexus is a vividly illuminated keyboard that is both fun for beginners and a must have for modern musicians. 25 vividly illuminated, touch-sensitive keys invite the beginner to explore, and provide valuable performance feedback for the professional. Smart Sensor keys detect pressure, location, and velocity giving you unprecedented musical control.
Great for beginners and educators
Together with popular software apps, beginners can learn to play quickly and easily with QuNexus' game-like blue and white glowing keys, creating a fun and interactive learning experience. Now anyone can play the piano.
Pro functionality
QuNexus is the first keyboard controller to unite four generations of synthesis: MIDI, Control Voltage, OSC and USB.
"Though unconventional, QuNexus' sensor keys are faster and more accurate than my other keyboard controllers" Lauren Urroz (Keyboardist-DJ-Producer)
25 Smart Sensor Keys detect Pressure, Location, and Velocity
Polyphonic Aftertouch
7 Octave range
Pitch Bend Pad
2 CV/Gate Inputs
Gate and 3 CV Outputs (16-bit)
Blue and White LED Illumination with 16 levels of brightness
Portable: 14 oz, 3.5″ x 10″ x .5 "
Plug and Play: USB powered, no drivers needed
MacOS, Windows, iOS, Android, Linux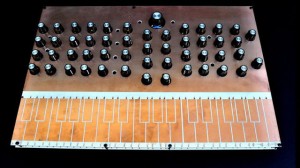 Modular synthesis maestro Ken MacBeth, has revealed this yet-unnamed instrument on Facebook this weekend. Of the new design, MacBeth says that it has "four oscillators, two noise generators, one LFO, a dual stage variable filter, four envelope generators, two VCAs (Stereo) and a stereo tape delay".
It seems that this synth is something that Ken has had in mind for a while, too: "It's been a long term development over years," he says. "The micromac series has been designed for those who wish for the vintage 'Moog-like' sound – this is a completely different design!"
No news on when we can expect the synth to come to market, but SBC will be monitoring its progress.
The ever inventing Jordan Rudess (Dream Theatre) is exploring his own apps, details below:
A fun look at the apps created by Wizdom Music.
Our website is: http://www.wizdommusic.com/
You can now follow us on twitter at @wizdommusicapps
The keyboard I'm using is IK Multimedia's iRig keyboard.
It plugs directly into my iOS devices and does not need additional power or a midi interface! Also I used the awesome Looptastic app by Soundtrends for some backing track help.
Geo Synthesizer, SpaceWiz, MorphWiz and SampleWiz