All sounds, instruments (except the vocals) and FX processing used in the music featured in this clip are made only with the Pa900. (written and performed by Marco Parisi).
Korg debuts the new High Performance Arranger in the acclaimed PA-Series, the Pa900. The Pa900 has plenty of new sounds (featuring Defined Nuance Control for extra realism) which will impress any audience, as well as an enormous range of styles covering music genres from all over the world. Combine this with powerful functionality, an intuitive user interface and rich, powerful sound and you have an Arranger for the most demanding performer.
For more information on the Pa900, head over to http://www.korg.com/pa900.
More KORG PA900 videos right here >>
Pa900 Highlights
Enhanced RX (Real eXperience) sound engine offers improved realism and expressiveness
Massive internal ROM; can accommodate up to 192 MB of user PCM data; provides a powerful wave memory, delivering incredible sound quality
Three assignable switches and a four-way joystick ensure total control for the sound articulation levels (DNC – Defined Nuance Control)
61 key semi–weighted keyboard action with velocity and aftertouch
Slim and compact lightweight design
Large TouchView™ 7" TFT display
Easy layout and intuitive graphical interface with new Search function for quickly locating musical resources
2-way speaker system provides powerful, clear sound
Improved Style and Performance selection; over 400 factory Styles, each with 4 variations and 4 Fill Ins + Break, plus 15 user banks for nearly-unlimited storage of your favorite customized or user-created Styles and settings
Enhanced Guitar Mode 2 for even more realistic guitar parts
Chord Sequencer function records any chord progression on-the-fly
4 Stereo Master Effects (125 FX Types) + 2 Global Effects (Limiter, EQ)
TC Helicon 3-voice Vocal Processor with 4 dedicated effects
Double MP3/MIDI file players with recording capability, X-Fader and Vocal Remover
Enhanced compatibility with lyrics in graphical format (+G) for MP3
Enhanced sound compatibility for GM and GS songs
Fully-programmable SongBook database based on Styles, SMF, Karaoke, MP3 with instant recall of any song setting. User-definable custom lists. Filtering and ordering options.
Multi-language extended character set. Lyrics can be showed in their original languages (except the Oriental and the Arabic Languages*).
New SoundFont import function
Mass Storage with Micro SD
CasioTron Beats re-creates the rhythm patterns found on the vintage home keyboards of the 70's and 80's. These popular keyboards were analogue and have now become collectors items because of their warm sound.
This particular version takes the drum sounds from the then popular Casiotone MT-70 which although was more modern than the earlier models, it is still analogue as you will be able to tell from the sound.
Remember those bossa-nova and samba beats? Well here they are!
The rarest manufactured instrument – the extinct and impossible to find Birotron playing worn out mixed tapes of string section, brass, violas, choir, and flutes across the keyboard.
The Birotron (pronounced By-ro-tron) is a tape replay keyboard conceived by Dave Biro of Yalesville, Connecticut, USA, and funded by Rick Wakeman of the progressive-rock group Yes, and Campbell Soup Company-Pepperidge Farm Foods in the mid-late 1970s. A Mellotron-like instrument in the prototype stage, and intended for mass production – it was featured on a hit single and used on several albums and tours. It appeared in advertisements and received press in several newspapers as the next 'latest and greatest' keyboard instrument. It also received over 1000 advance orders from many prominent musicians worldwide including members of the Beatles and Led Zeppelin. Despite this success, it is now generally considered the world's rarest keyboard instrument in the genres of pop/rock music. It also retains the highest selling price for any Mellotron related keyboard, and since its inception, has been one of the most difficult to find, seldom seen, and least recorded instruments in the entire world.
"The musician is Chris Dale who very kindly let me do the video.
So what did this instrument sound like with a decent set of unworn tapes???? That is a mystery…..Sadly we may never know."
Casio's Mike Martin answers questions and takes a tour of the Privia Pro PX-5S. Recorded on 6/19/2013 – Captured Live on Ustream at http://www.ustream.tv/casiomusicgear
Background video description:
Four years ago somebody suggested that I should do "Milkway Promenade" by Milkways.
Well, better late than never!
Anyways – not milkways – I play it on a small collection of small Yamaha keyboards. Most of them works with FM synthesis except the PSS-12 that uses Advanced Wave Memory.
Background video description:
Most of my small keyboards are from Casio. But I do have a Collection of small Yamaha keyboards too. Here I use some of them to play the Classic Kraftwerk song "Computer Love".
You might notice that on the PC-100 keyboard the notes doesn't seem to match the keys I am playing. The reason is that I had to use the transpose knob to be able to get the notes as high as I wanted them. So on this particular keyboard I am playing in another key than on the others.
Background video description:
A few people have asked for more DW-8000 videos, so here you go. It's just a quick, live improvisation with a nice DW-8000 resonant pad with slow LFO detuning, the standard DX bass, and a LinnDrum pattern.
Roland keyboard specialist Ed Diaz demonstrates the Roland V-Combo VR-09 Performance Keyboard at Kraft Music.
About the keyboard in Roland's own words:
Travel-ready, affordable, and outfitted with top-level Roland sounds, the V-Combo VR-09 is the ideal all-in-one solution for performing keyboard players. Dedicated piano, organ, and synth sound engines—organized in three intuitive blocks on the front panel—provide all the essential tones you need, right under your fingertips. The powerful real-time controls give you maximum expression on stage, with nine sliders for tone shaping and a large array of knobs and buttons for tweaking the seven simultaneous effects and various parameters. Other great features include an onboard looper, a drum section stocked with a library of rhythms for practice and jamming, and more. With its versatile sound selection, inspiring operation, and smart user interface, the V-Combo VR-09 is a dream come true for gigging musicians.
Professional keyboard with instant-access operation for performing musicians
Light and mobile; battery or AC power
Pro-quality acoustic and electric pianos, including grand piano with 88-note stereo multi-sampling
SuperNATURAL-powered Virtual Tone Wheel organ with nine harmonic bars, plus newly developed transistor-type '60s organ tone
Wide range of synth tones, from vintage classics to modern essentials
Seven simultaneous effects with dedicated real-time controls
Looper and built-in rhythm patterns; WAV/MP3/SMF song playback via optional USB memory
Free VR-09 Editor app available for iPad
Back in August 2007, Keyboard got a look at Page McConnell's onstage rig. See and hear his array of vintage and analog gear.
Page McConnell is an American multi-instrumentalist most noted for his work as a songwriter and keyboardist with the American rock band Phish. In addition to being a member of Phish since 1985, McConnell has had several other musical liaisons during his career, including a trio named Vida Blue. He released his first solo album, featuring original compositions, in 2007.
We go hands-on with the digital Mellotron re-creation that the keyboard world is abuzz about. Boutique one-trick pony? Maybe, but it does that one trick so exceptionally well that it's getting attention from the likes of Rami Jaffee (Wallflowers, Foo Fighters).
Some specifications:
It is a 24 bit digital uncompressed audio playback unit with ca 100 Mellotron and Chamberlin sounds built in. Extra cartridges will be available with 100 sounds each. It has a custom built full Mellotron style wood keyboard with depth sensitivity and polyphonic aftertouch out via MIDI. The front panel user inteface has 2 TFT-displays of high quality and are capable of showing pictures of the actual instruments. The dimensions of the cabinet are 34″x19.5″5.25″ (86x50x13.5cm) (WxDxH).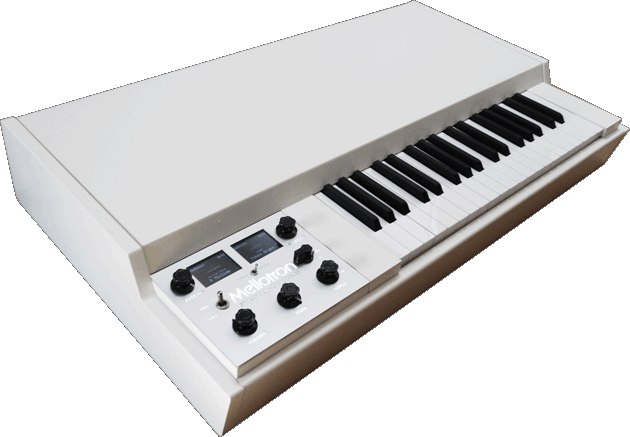 Here is some more info about the M4000D:

Mellotron style wooden keyboard with depth sensitivity and polyphonic aftertouch via MIDI out.
100 original Mellotron and Chamberlin lead sounds included, with IMMEDIATE access.
The sounds are taken from the original first-generation tape library giving the same sound quality as the original Mellotrons made in the 60s and 70s.
It has our very advanced and in-house developed streaming technology for uncompressed 24 bit audio reproduction.
The software and audio engine has taken 3 years to develop, but our concept of the digital Mellotron has been in development since the mid 90s. We bought parts of the original inventory from a company called 'Mellotron Digital'.
Furniture quality cabinet with hinged lid.
Expansion slot gives you 100 extra sounds on special compact flash cards, all from the original archives. There will be ca 8 expansion cards released with a large variety of sounds.
Two high-quality TFT displays and a backlit laser cut front panel.
Our very advanced and in-house developed streaming technology for uncompressed 24 bit audio reproduction.
Three gold plated balanced XLR outputs, all other connectors are gold plated for maximum reliablilty.
Dimensions: 859x501x135 mm, weight 17.5 kg.