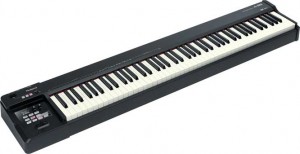 Roland has announced the A-88 and A-49 MIDI Keyboard Controllers, two all-new controllers that combine pro playability with mobile convenience. The piano-action A-88 and synth-action A-49 feature high-quality keyboards along with a slim, light design that's ideal for today's on-the-go musicians. They also offer USB, MIDI, and Apple iPad compatibility, as well as onboard control of Roland's SuperNATURAL-powered synths such as the INTEGRA-7, JUPITER-80, and JUPITER-50.
There's no shortage of keyboard controllers on the market, but most have playability that's far below the quality found in high-end digital pianos and synthesizers. With the A-88 and A-49, Roland is pleased to offer keyboard controllers that play like pro-level instruments, giving musicians mobile convenience with no compromises. From the bedroom studio to the big stage, these controllers truly deliver inspiring playability and top-level performance.
The A-88 features 88 full-size weighted keys and Roland's acclaimed Ivory Feel-G Keyboard with Escapement. This is the same Progressive Hammer Action keyboard found in many Roland stage and home pianos, and allows users to play software-based pianos, soft-synths, and sound modules with an authentic grand piano touch. In addition, the white keys are built with a moisture-absorbing material that replicates the feel of real ivory. Even with its premium hammer-action keyboard, the A-88 is light, portable, and easy for gigging musicians to transport.
Born for mobile use, the A-49 features road-tough construction yet is extremely lightweight (under six pounds). The 49 full-size velocity-sensitive keys have a rounded shape for a comfortable touch, along with many enhancements to reduce noise and increase playability. All these features add up to a premium keyboard that even the most discerning pros will appreciate.
Both the A-88 and A-49 include many performance features, including a pitch bend/mod lever, D-BEAM controller, user-assignable knobs and switches, and OCTAVE and TRANSPOSE buttons. The A-88 also has DUAL/SPLIT, UPPER, and LOWER buttons for splitting and layering tones on its full-size keyboard.
The dedicated SuperNATURAL mode button on the controllers unlocks a host of unique sound-selection features when connected to a Roland SuperNATURAL instrument such as the new INTEGRA-7 sound module or the JUPITER-80 and -50 synths.
The A-88 and A-49 offer USB and MIDI OUT connectors, along with jacks for connecting optional expression and hold pedals. Both controllers can be powered via a computer's USB bus, while the A-88 can also be powered with an accessory AC adapter. Additionally, the A-49 and A-88 are three-OS compatible, with Mac and iOS music apps on the iPad via Apple iPad Camera Connection Kit, and a SONAR X1 LE DAW software bundle with both controllers, giving Windows users a ready-to-go music production environment.
The A-88 and A-49 come standard in a handsome black finish. The A-49 is also available in white, a perfect companion color for users of the white-finish iPad.

Roland says that, wth the development of SuperNATURAL sound and Behavior Modeling technology, they have blurred the boundary between acoustic and electronic instruments. Built upon these core technologies, they tell us that the new INTEGRA-7 gives musicians a gold mine of the latest SuperNATURAL sounds in a fast-access, fully stocked 16-part module. The powerhouse rack comprises a "greatest hits" collection of sounds from Roland's flagship keyboards and V-Drums modules, plus a coveted lineup from the legacy SRX library. It also introduces a new technology called Motional Surround, a 17-part ambience engine that lets you graphically control the distance and position of each part within 360-degree sound field.
 "With the immense power of the INTEGRA-7, you can create amazingly realistic and detailed orchestral arrangements, immersive, spatial sounds, and beyond."
Features
Flagship synth module with over 6,000 sounds built in
The latest SuperNATURAL sounds with enhanced Behavior Modeling technology for expressive acoustic instruments and accurate reproduction of performance articulations
Powerful SuperNATURAL synth engine with fat analog synth models and vintage filter types
Dynamic SuperNATURAL drum engine with natural tonal change derived from Roland V-Drums
Producer's "must-have" SRX Expansion sound library built in; all 12 SRX titles included
Dedicated multi-effects and EQ for each part (16 parts), plus dedicated COMP+EQ (use six simultaneously) for drums and ambience parameters for SuperNATURAL drum kits
Innovative 17-part Motional Surround ambience engine for stereo, headphone, and 5.1-channel output
INTEGRA-7 Editor for iPad and Motional Surround VSTi Editor for SONAR software
Founded in the late '60s/early '70s by Mario Crucianelli, Crumar was an Italian company that became very famous in its time mainly by their synths, keyboards and organs (both in compact or not so compact models). Mario was brother from Pierro Crucianelli, president of Elka – another very well known Italian company. Crumar existed until 1987 and the company's golden age was in the second half of the '70s, when they put on the market their "Pianoman" and "Stringman" models (1974) and later the model that combined the two machines in one, the "Multiman" model (1977).  Even with this machines achieving a great reputation on the market, for me Crumar's coolest instruments are the "Hammond organ clones" made from 1974 on which had a great sound, very close to Hammond organs, but much more compact and easier to carry than the originals.
The Crumar Toccata organ was released in 1981 as a more compact version of all previous models of these "Hammond clones", more specifically the model T1/C (whose main difference was having one extra octave – higher than the Toccata's four octaves – and drawbars, like that ones from Hammond organs). The Crumar Toccata organ was manufactured until 1986.
Mix and match different microphone perspectives, add professional effects and advanced envelopes to create truly unique sounds. Two years in the making, Addictive Keys is the ultimate blend of engineering, innovative design and creative expression. The standalone version is perfect for spontaneous jamming and live performances and the plug-in version support all major DAW hosts.
Description:
Addictive Keys is a powerful tool for musicians, producers and songwriters, setting a new standard for virtual keyboard instruments.
Please visit www.xlnaudio.com for more info.
Music: "Another Day" written and performed by Marching Band
www.marchingband.se
Music iPad App – first look at some of the features of the Yamaha Synth Drum Pad.
"My first impressions are that this is one mother of an app. The sonic possibilities are great, although I'm a little in awe of it."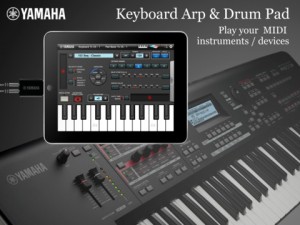 Overview
Keyboard Arp & Drum Pad is a Core MIDI application that transmits notes to external MIDI instruments and includes a keyboard, arpeggiator and assignable drum pads. You can play the built-in keyboard, trigger arps and play various patterns of instruments like drum, keyboard, or guitar. Also the drum pads let you play drum phrases or assign the multiple notes on one pad and play chords. You can set the Keyboard Arp and Drum Pad to different channels so you can play drum beats and pad chords along with the sequence phrases run by the arpeggiator.
*Yamaha MOTIF XF offers you WiFi connectivity which enables wireless control.
*If you use the Yamaha i-MX1 iPhone/iPad MIDI Interface, you can connect to any MIDI instrument.
Features
Keyboard Arpeggiator
- You can choose from 342 arps including many different instrument categories.
- Each arp phrase can be modified in real time for swing, beat stretch, octave range and variation
Drum Pad
- Each of the 16 Drum Pads can have up to 5 notes with assignable velocities, so you can play chords or layered percussion with one pad.
- You can even split the pads in half and assign different notes or velocities to the left side and right sides of the pad.
- A learn mode makes it easy to program the pads directly from the MOTIF XF.
- 64 user templates
Tap Tempo
- A Tap Tempo feature allows you to quickly set the Tempo of the arps
Ribbon Controller
- A Ribbon Controller let's you control Velocity, Pitch and 2 Assignable Parameters
*For the detailed information please refer to the following url.
http://4wrd.it/YAMAHASYNTH
*In order to have the WiFi connection, you need to get an OS updater for MOTIF XF from http://4wrd.it/YAMAHASYNTH and buy a compatible Wi-Fi USB adapter.
"organfairy" has uploaded this new video featuring the Vicount organ:
"This used to be an ordinary home organ. But I converted it into a portable model that sits on a stand. It's now so lightweight that I can carry it under one arm. But if you look what's inside this late 1980′s organ you can see why: Two circuit boards, a small transformer, two rows of thin plastic keys, and some rubber buttons. That's it.
I have had it for twelve years and while I rarely used it as a lead instrument it found it's way into many of my recordings.
This musical item is one of the few examples I have where the Viscount plays both melody, bass, and rhythm. The song is called Dove and I have been told that it was a hit for an Italian singer that called herself Moony. The other parts of arrangement is played on Yamaha HE-8 organ and Roland JX-8P synthesizer. I recorded it in 2003 on my Fostex 8-channel tape machine."
Dave Smith takes us through the Mopho X4 synth, below are the details:
It's a polyphonic Mopho keyboard!
Mopho x4 is the newest addition to DSI's revered line of analog subtractive synthesizers. Building upon the same award winning voice architecture of the Mopho and Mopho Keyboard, the Mopho x4 boasts huge sound and 4 voice polyphony in an ideally sized, portable, and elegantly designed package. Use it to create huge unison basses, creamy leads, maniacal sequences, and ethereal pads.
4 times the voice 4 your pleasure
Each of Mopho x4′s four voices is composed of two analog oscillators, two sub octave generators, selectable 2- or 4-pole famed Curtis low-pass filter, three 5-stage envelope generators, four LFOs, a re-latchable arpeggiator, and a 16 x 4 step sequencer. Its voice also comes packed with 20 modulation sources and almost 50 destinations!
FM the filter to create metallic bell-like sounds and use the feedback path to add subtle or destructive harmonic content to your sound. Mopho x4′s 100% analog signal path is powerful, monstrous, and sonically dynamic!
Work less, play more
Mopho x4 is intuitive and inviting. Every parameter is fully programmable and editable from the front panel. The controls are logically laid out, lending themselves to quick access so you can tweak knobs without missing a beat.
The x4′s full sized 44-note semi-weighted keyboard has aftertouch and velocity sensitivity. The sturdy full sized pitch and mod wheels are freely assignable and sport smooth reliable action.
It grows with you
Expand Mopho x4′s polyphony using it's Poly Chain port. Mopho, Tetra, and Prophet '08 can all be connected to the x4 to increase its voice count. You can Poly Chain up to three Tetras with Mopho x4 to create a 16 voice analog super synth!
The Mopho x4!
Dave Smith Instruments is the only company pioneering and producing fully programmable polyphonic analog synthesizers. In fact Dave's been at it for 35 years!
Designed and manufactured in San Francisco, Mopho x4 has the high quality sound and build for which DSI is renowned. From its feature packed analog voices and unmatched sonic versatility to its refined design and engaging interface, you won't find a polyphonic analog synthesizer like this anywhere else.
Mobile Keys™ are the first keyboards that directly connect to iOS devices plus Mac and PC computers—so you can use the same great-feeling controller any time you want to create. See how easy it is to start an idea using Core MIDI apps on your mobile device, then finish it on your Mac or PC using software such as GarageBand.
Demo of Dave Smith Instruments Mono Evolver Keyboard. All sounds programmed by WC Olo Garb. Video editing by WC Olo Garb.
This is a demo of the touch keyboard that MacBeth is working on.
Gone is the physical stylus- now a finger with a small piece of foil is acting as the actuator! It's fun and it works. The touch keyboard is playing the MacBeth micromac desktop unit via it's CV inputs. I'm using a fair bit of sample and hold- LFO1 S&H is sampling the LFO2 Triangle wave- is sounds a little bit like sequences or arpeggios. I'm also usin the CV from the touch keyboard to control the speed of LFO1- at the very bottom of the keyboard- it's 0 Volts- at the top it's about 3 and half volts- so the LFO speeds up and slows down accordinly. I hope that you enjoy the product development!
More from MacBeth:
Here is a very short video fearuring a small two octave stylus control keyboard! The outputs are Glide 1 (1v/octave), Glide 2 (1V/Octave), Standard 1VOctave, Negative (reverse going) 1V/Octave and finaqly +5V gate. The keyboard is driving the soon to be released MacBeth micromac analogue synthesizer. It's a handy accessory for any modular synthesizer user! The copper plate that I'm using is highly reflective!