WNAMM13: Wheelharp Up Close Video From Antiquity Music
The Wheelharp is a groundbreaking keyboard musical instrument that gives the player the ability to orchestrate a full chromatic scale of sixty-one (61) actual bowed strings at one's own fingertips, almost like having a real chamber string orchestra at hand.
With an exotic profile and stunning rosette appointments, the Wheelharp's appearance is equally as breathtaking as its audible character. It is available in a Radial Model (curved keyboard) and a Linear Model (traditional straight keyboard), and in several ranges.
It utilizes a patent-pending action and bridge to translate the player's subtle fingerings into a range of bowing intensities, and comes equipped with a damper system and electronic pickup system, allowing individuals to sculpt astonishingly beautiful and complex sounds. For musicians, composers, and studios that seek to create the natural sound of classical string instruments while avoiding the frequently sterile quality of digital string synthesizers and samples, or for those looking to foray into new sonic territory, the Wheelharp presents a truly exciting opportunity.
Novation LaunchKey Video – iPad integration, app switching and more
Launchkey is a range of 25, 49 and 61 note keyboard controllers with up to 50 physical controls including 16 velocity-sensitive multi-colour launch pads that trigger and stop clips – and launch scenes – in Ableton Live. As well as enabling hands-on control of your DAW's mixer, instruments and more, Launchkey is an integrated software/hardware instrument. The control surface has been designed to work tightly alongside two intuitive apps for iPad: the Launchkey app and the Launchpad app* – plus the powerful V-Station & Bass Station synth plug-ins for Mac and Windows.
Future Music get a demo of the new Novation Launchkey controller keyboard and the accompanying iOS apps.
Nate from Akai Professional shows of the new Max 25 MIDI keyboard controller at Winter NAMM 2013.
Nate from M-Audio shows us their latest keyboard controller the M-Audio Axiom Air 25.
New M-Audio Keyboards Controller range extended with three new Axiom AIR models
Travel-ready, affordable, and outfitted with top-level Roland sounds, the V-Combo VR-09 is the ideal all-in-one solution for performing keyboard players. Dedicated piano, organ, and synth sound engines—organized in three intuitive blocks on the front panel—provide all the essential tones you need, right under your fingertips. The powerful real-time controls give you maximum expression on stage, with nine sliders for tone shaping and a large array of knobs and buttons for tweaking the seven simultaneous effects and various parameters. Other great features include an onboard looper, a drum section stocked with a library of rhythms for practice and jamming, and more. With its versatile sound selection, inspiring operation, and smart user interface, the V-Combo VR-09 is a dream come true for gigging musicians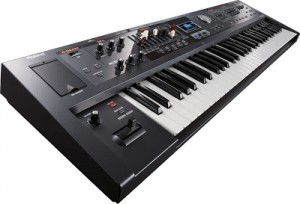 Professional keyboard with instant-access operation for performing musicians
Light and mobile; battery or AC power
Pro-quality acoustic and electric pianos, including grand piano with 88-note stereo multi-sampling
SuperNATURAL-powered Virtual Tone Wheel organ with nine harmonic bars, plus newly developed transistor-type '60s organ tone
Wide range of synth tones, from vintage classics to modern essentials
Seven simultaneous effects with dedicated real-time controls
Looper and built-in rhythm patterns; WAV/MP3/SMF song playback via optional USB memory
Free VR-09 Editor app available for iPad
Intuitive Operation for Expressive Stage Performance
The V-Combo VR-09 was designed from the ground up with the needs of live players in mind. An intuitive front-panel layout and clear LCD screen offers quick access to Roland's top piano, organ, and synth sound engines, along with plenty of real-time controls for expressive tone manipulation. Seven simultaneous effects include rotary, delay, reverb, tone, overdrive, compressor, and customizable MFX, with dedicated knobs that tweak multiple parameters with a single twist for powerful sound shaping with minimal effort. The smart interface makes it simple to set up splits and layers on the fly, and to save all your keyboard settings in user memory locations for instant recall on stage.

Pro Acoustic and Electric Pianos
Piano is a cornerstone sound for live playing, and the V-Combo VR-09 is filled with a wide selection for covering all musical styles. The gorgeous acoustic grand piano features 88-note stereo multi-sampling, delivering pro-level tone that rivals Roland's dedicated stage pianos. Many popular vintage E. Piano sounds are onboard as well, along with complimentary effects such as vintage phaser and tremolo. The compressor—accessible via a dedicated, easy-to-reach knob—transparently boosts the level of the piano sounds, ensuring that your playing always cuts through when performing in loud bands.
World-Class Organs
Roland's renowned SuperNATURAL technology powers the V-Combo VR-09's classic tonewheel organs, while nine harmonic bars provide authentic real-time performance control. A newly developed transistor-type organ is also included, offering the unique sound of combo instruments from the 1960s. The 61-note keyboard has an extremely fast response, perfect for essential organ techniques such as trill, sputter, glissando, and percussive hits. Rotary speaker and amp simulators reproduce the characteristics of vintage organ speaker cabinets and overdriven tube circuits with astounding realism, while a new "Twin Rotary" option delivers a deep, aggressive effect never before heard.
Vintage and Modern Synth Tones
The V-Combo VR-09 is packed with a ton of ready-to-play synthesizer sounds, from vintage analog classics like JUNO strings and '80s synth brass to textured, modern-era digital tones and beyond. Front-panel controllers allow you to tweak the synth tones intuitively in real time, including convenient ADR and cutoff/resonance adjustment with the harmonic bars in the ORGAN block. Onboard effects like "Bit Crash" provide the ability to create modern synth voices for current dance music, including dubstep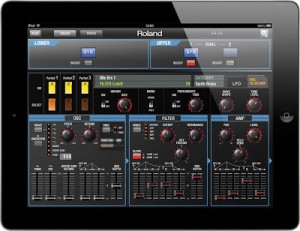 VR-09 Editor for iPad
The free VR-09 Editor app for iPad gives you powerful, intuitive control of the organ and synth sound engines via your tablet's full-color touchscreen interface. Quickly edit organ sounds and customize vintage tonewheel characteristics such as leakage, click noise, and rotary speed, and easily access synth sounds to build custom tones and layers. After tweaking sounds at home, you can take your iPad to the gig and use the app for extra real-time control on stage. Convenient, cable-free communication between the V-Combo VR-09 and iPad is simple to set up with Roland Wireless Connect. Alternately, you can link up with a USB cable via Apple's iPad Camera Connection Kit.
http://www.rolandconnect.com/product.php?p=vr-09
01. (00:00 – ) Overview
02. (01:33 – ) Piano Ballad
03. (02:09 – ) E.Piano with 80s Pop Music
04. (03:30 – ) Piano and Pad Split (Dual), Write Registration
05. (04:40 – ) Funky Groove with Clav
06. (05:48 – ) Dance Music with Tweaks
07. (07:02 – ) Dance Track by Looper
08. (08:53 – ) Rock Organ and Progressive Rock Organ
09. (10:47 – ) Jazz Organ
10. (11:48 – ) Transistor Organ with 60sPop Music
11. (12:28 – ) VR-09 Editor (Organ mode)
12. (13:14 – ) VR-09 Editor (Synth mode)
Performed by Keiki Uto, Japan
Antiquity Music is premiering the Wheelharp, a keyboard musical instrument that gives the player the ability to 'orchestrate' with a chromatic scale of sixty-one 61 actual bowed strings at one's own fingertips.
When the player presses any key on the Wheelharp, the action moves the selected key's respective string toward a rotating wheel with a rosined edge, thereby bowing the string.
With the right pedal, the player controls the speed of a motor that turns the wheel, which varies the bowing speed of the wheel against the string and thus changes the dynamic effect. For instance, the wheel speed and the key depth can both be used to create swells and decrescendos. The action for each note can easily be removed as necessary for maintenance or string replacement.
The left pedal controls a full damper system that extends across the strings. An electromagnetic pickup floats above the strings and a piezoelectric pickup is mounted to the soundboard, allowing for the player to fully control the amplified timbre of the Wheelharp.
Moog Moogerfooger Cluster Flux MF-108M, with feedback at maximum, can be "played" from MIDI Notes On/Off. In this video, the sound source is, as usual, the Acidlab.de MIAMI Analog Drum Machine; the frequency/time of MF-108M is played with Novation SL25 MkII MIDI master keyboard.
Shooted with an iPhone, audio in glorious mono.
The clock frequency of Moog Moogerfooger MF-104M analog BBD delay can be severely down scaled from external MIDI control. So, you can use the MF-104M as a grunge/glitch/hack/drone machine on every audio source. On this (dirty and short and easy) video bits, MF-104M is munching the Acidlab MIAMI analog drum machine.
Jordan Rudess 2012 Christmas message with the NUmotion Revo-1 circular keyboard.
"I hope everyones Christmas and New Years is wonderful!! For some additional Xmas spirit check out my Christmas Sky album! https://itunes.apple.com/us/album/christmas-sky/id411608772"
A dreamy, relaxing space ambient drone electronic music soundscape played live on Novation Supernova 2 keyboard synthesizer. Utilizing comb filter, reverb, delay, resonance, sync skew, filter & envelope adjustments.
Performed live, no external processing. Excerpt from a longer session.
FOR PART 1 CLICK HERE: http://www.youtube.com/watch?v=lhs-LguPTx8
KORG has uploaded a series of videos featuring their arranger keyboard PA600, the first one featured above, details below:
The Pa600 is an affordable, compact, and powerful addition to Korg's internationally acclaimed PA series. Providing you with the most up-to-date collection of quality sound and styles combined, the PA600 is a perfect songwriting and performance partner. It even has the option to include custom sound and performance sets (sold separately) from around the world – a true first!
Pa600 Features:

Enhanced RX (Real eXperience) and DNC (Defined Nuance Control) sound engine offers improved realism and vivid sound.
Massive internal Factory PCM provides an extraordinarily powerful wave memory, delivering amazingly high quality sounds.
Two assignable switches and a four-way joystick ensure total control for the many available levels of sound articulation (DNC).
Two versions of Pa600 are available: International and Quarter Tone button variations. Both feature an elegantly designed and compact cabinet, including a pristine amplification system.
Large, bright, backlit TouchView™ color TFT display (800×480).
Easy layout and intuitive graphical interface with new Search function for easy retrieval of any musical resource or file.
New resource selection feature with copy/paste, rename and delete.
Over 360 factory Styles, each including three Intros/Endings, four variations and four Fill In + Break, plus ten Favorite and three User banks for storage of your favorite customized or user created Styles.
Enhanced Guitar Mode 2 for even more realistic guitar parts, plus synchronized pads.
Chord Sequencer function that can record any chord progression on-the-fly.
Improved General Midi set for Standard Midi Files, compatibility with popular lyric formats including graphical (+G), plus Text Viewer, Marker and Score.
MP3 player with Transpose and Tempo Change.
4 Stereo Master Effects (125 FX algorithms).
Fully programmable SongBook database based on Styles, SMF, karaoke, and MP3, with instant recall of any song setting and user-definable custom lists.
Localized Pa600 and Pa600QT data (sold separately) provides Sounds and Styles relevant to specific countries and regions.
Includes accessory DVD with USB-MIDI drivers, video manual, and additional Style content, including the complete "Real Drums" and "Turkish/Arabic World" collections
The Pa600 is a brilliant Professional Arranger that distills the sonic essence and functionality of the Pa series into a compact and affordable new instrument. Like its big brothers – the Pa800 and the Pa3X – the Pa600 uses our RX (Real eXperience) and DNC (Defined Nuance Control) technology to deliver sound quality that's unprecedented in an arranger keyboard. With its new compact cabinet, large TFT color TouchView display, enormous factory and user PCM memory, huge style database and excellent amplification system, Korg has raised the standard of excellence in the entry-level price range. Listen and Believe.

The Nord Electro 4 SW73 has twice the memory capacity of its predecessor, Nord Electro 3 SeventyThree, letting you use more sounds from the Nord Piano and Sample Libraries. The Organ section has been upgraded to the latest Tone Wheel engine from Nord's dual manual organ Nord C2D, including a new 122 Rotary speaker simulation and Drive.
The Nord Electro 4 SW73 joins the Nord Electro 4 HP and Nord Electro 4D SW61, introduced earlier in 2012.
Key features:
73 Semi-Weighted Waterfall (F-F)
Digital LED Drawbars
380 MB memory for Nord Piano Library sounds
128 MB memory for Nord Sample Library sounds
C2D Tone wheel engine with 122 Rotary simulation and Drive
Delay Effect with Tap-Tempo
4 Dynamic Response Curves
Long Release
4 Live Locations
Nord Sound Manager 6.x support for Bundles
USB MIDI
Audio demos:
The Electro 4 SW73 is priced at 1,999 EURO / US MAP 2,399 USD and is shipping in December 2012, and to US & Canada in January 2013. See the Nord site for more info >>