Jordan takes us on a quick tour of his studio showing of his keyboards
You can view Jordan's PledgeMusic campaign at:
www.pledgemusic.com/projects/jordanrudess
Keyboard magazines first hands-on time with Roland's surprisingly affordable (under $999 street) new combo keyboard, which puts organ sounds first but also does great piano, EP, Clav, and synth sounds. It also offers lots of controls for realtime parameter tweaking (with the drawbars doubling as filter and envelope controls on synth sounds–cool!), and super-easy splitting and layering on the fly. Read the full review in our July 2013 issue.
Dan "Polymoog" Stesco demos the new Korg microSTATION keyboard, showcasing some of the sounds he engineered for it.
http://www.korg.com/microstation
Keio organ – Korg
MicroStation offers unprecedented portability, the stunning sound of Korg's EDS-i synth engine (M3, M50), dual arpeggiators, and phenomenal effects; all the tools you would expect in a keyboard/workstation housed in a smaller – and extremely affordable – package.
Whether performing or composing, the on-board sequencer can be anything from an extra set of hands or a powerful drum machine up to a full-blown MIDI production suite. Loop Recording, Grid Sequencing, Song Templates, and One-Step recording features make it easy for anyone to achieve professional results.
Roland says:
A World of Music at Your Command
The BK-9 Backing Keyboard is the new flagship instrument in the acclaimed BK series, bringing together sensational sounds, top-class rhythms, and an incredible selection of premium features.
For more details: http://www.rolandconnect.com/product….
Yamaha's SK-series are combo-keyboards with synthesizer, organ, brass and string sections. The SK-10 was the first of the SK-series, released in 1979 – the SK-20, 30 and 50D followed in 1980, and the SK-15 in 1981, possibly as a replacement for the SK-10. The SK-10 is the only one in the series that does not incorporate a synth section, but has organ, brass and string sections that can all be played together for more interesting combinations. Very sturdy casing, 4-octave and fully polyphonic the features also include a leslie simulator, vibrato, attack and sustain rocker switches, a slider for 'brilliance' and a one-octave transpose switch. Not exactly feature-laden, but a lovely string synth sound. Interestingly, they are often referred to as 'analog', but in fact do have a digital section. Its organ has one of the early implementations of Yamaha's FM technology in a very limited form, concurrent with the GS-1/2 development platforms which eventually led to the DX series.
"Just a quick-and-dirty demo of the Yamaha SK-15 Synthesizer. Please excuse my poor playing skills, I was just making stuff up to show off the various sounds the machine is capable of making. This particular machine I stripped down and nearly completely rebuilt, making more than a few changes in the audio pathway."
The DSI Evolver in action, details below:
Single patch drone on the DSI Mono Evolver keyboard, one shot recording, no editing.
VCA is held open with max VCA level with tweaking and editing of various parameters during recording. More details below..
Making extensive use of the modulation routings of all 4 LFOs, FM and RM of the digital oscillators and one of the sequencers switching the wave shape of one of the digital oscillators. Strange pitching effects courtesy of S&H modulation of the delay time on 2 of the delay lines built into the MEK. Nastiness courtesy of the tuned feedback circuit.
All running through Sonnox Oxford reverb for a bit of atmosphere, shame I didn't have a Roland Space Echo.
Film is edited segments of Voyage to the Planet of Prehistoric Women courtesy of http://archive.org/details/Voyagetoth…
This one goes out to Atomic Shadow. – http://www.atomicshadow.com/
Jordan: "About to leave for SXSW and practice a little Seaboard!"
Evolved from the piano keyboard, the Seaboard is a new musical instrument which bridges the gap between acoustic and digital music by putting the control of pitch, volume and timbre right at your fingertips.
The piano keyboard meets the future in a revolutionary new approach to music
The Seaboard is a radically new musical instrument based on the design of a piano keyboard. Its patent-pending approach brings together a traditional approach to making music with cutting edge digital technology in a way that is so intuitively tactile that you can play it with your eyes closed.

This approach enables performers, composers and producers to exert unprecedented real-time control of all the major characteristics of sound: volume, pitch and timbre. If you can play the piano you already know how to play the Seaboard, and it literally puts a new world of expressive possibilities right at your fingertips.
The core team brings together a wide range of skills – product, industrial and interaction design, software engineering, business management, and of course music production, administration, management, teaching, networking and strategy and a passion for creating more intuitive ways of making music.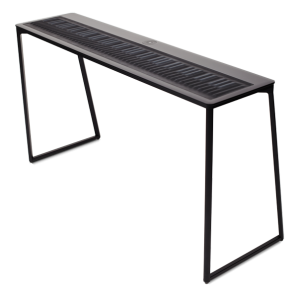 In early 2011, Seaboard successfully entered the Incubator.
More information on the Seeboard website"
"Evolved from the piano keyboard, the Seaboard is a new musical instrument which bridges the gap between acoustic and digital music by putting the control of pitch, volume and timbre right at your fingertips.
A limited edition of 88 GRANDs will be available for pre-order worldwide starting in April 2013. In recognition of its provenance, each will be named after a particular note on the piano keyboard, from A0 to C8.
Our cutting-edge SoundDial software gives you complete control of the Seaboard's sound and unprecedented integration between software and hardware.
Demo of Novation Supernova 2 synthesizer / keyboard.
Playing a dreamy, relaxing spacey ambient electronic music soundscape. Utilizing 3 oscillators, portamento, reverb, panning, tremolo, envelope and filter adjustments.
Live improvisation, no external processing. Excerpt from a longer session.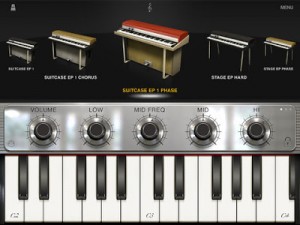 A new electric piano app for iPad, details below:
THE STUDIO QUALITY ELECTRIC PIANO APP: A COLLECTION OF 40 PROFESSIONAL SOUNDING INSTRUMENTS FOR YOUR IPAD
Turn your iPad into the ultimate electric piano instrument with an extraordinary collection of authentic electric pianos and vintage keyboards along with built-in recording! Use the iRig KEYS portable keyboard (www.irigkeys.com) or the iRig MIDI interface (www.irigmidi.com) to connect your external keyboard to your iPad, and you're ready to compose, rehearse, perform and record with the very best instruments for iPad.
The sequel to IK's acclaimed iGrand Piano app, iLectric Piano now puts a collector's dream gallery of history's best electric pianos, electric grands and clavinets right at your fingertips with studio-grade quality never before heard in app that stands up to the most powerful virtual instruments available on on a computer.
With high-definition samples across multiple velocities, iLectric Piano brings you the most playable, expressive and authentic sounding electric piano, electric grand and clavinet instruments available on a mobile device that you can play anytime and everywhere.
iLectric Piano gives you a collection of 20 world-class electric pianos, electric grands and clavs (including one by registering) along with a capable recorder and metronome. Add the Electric Piano Expansion Pack to add another 20 high-quality instruments.
Record your rehearsals or performances as MIDI with both overdubbing and punch-in capability, then export your track as audio via E-mail of File Sharing or Audio Copy to other iOS apps. With the built-in MIDI Recorder, you can change the tempo of your piece or even choose to use a different piano AFTER you've completed your performance! For composers of any level, the MIDI Recorder lets you capture and develop ideas anywhere your mobile life takes you. iLectric Piano also includes some professional MIDI performances to help you audition the various electric piano instruments or just ignite your own creative muse!
The easy-to-use instrument editor puts real-time controls on the panel just above the keys to let you adjust the EQ, the amount of reverb, the overdrive and your choice of 5 modulation effects (chorus, flanger, phaser, tremolo and auto pan). You can also adjust the tuning and transposition of the instrument. All edit knobs can be assigned to your choice of MIDI controllers for external fine-crafting of your instrument's sonic details. Virtual MIDI and MIDI Program Change are also supported.
iLectric Piano features:
20 world-class, multi-velocity electric piano, electric grand and clavinet instruments (including one by registering)
Expandable library of 20 additional studio-grade instruments instantly available via in-app purchase
Intuitive instrument and effect edit controls including 3-band EQ with sweepable mid, overdrive, reverb and choice of 5 modulation effects (chorus, flanger, phaser, tremolo and autopan) along with tuning and transpose
Export performances as audio via E-mail, File Sharing and Audio Copy
Large visual metronome with variable click volume and adjustable tempo
Virtual MIDI and MIDI Controller and MIDI Program Change support
Low-latency for real-time playing
Up to 48-voice polyphony on the latest devices
Designed to use with with iRig KEYS portable keyboard and iRig MIDI interface
The app is priced at $19.99