Ableton Push – more than a controller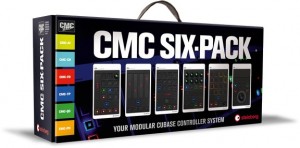 Steinberg has announced the release of the CMC Six-Pack, a new bundle deal comprising the award-winning CMC line-up of USB controllers.
"The CMC Six-Pack is the most flexible controller setup ever made for Cubase: it's a touch-based mixer; it's a handy pad controller; it's a transport control you won't want to miss after the first try," comments Stefan Schreiber, product marketing manager at Steinberg.

The CMC Six-Pack is made up of all six controllers designed to offer users a modular controller experience. Arranging the units in a way that best suits the personal needs when using Cubase makes the CMC series a very customizable hardware control system. Each of the six slim-sized USB controllers provides tactile control over Cubase features.
CMC Six-Pack features
Six unique micro controllers designed to take control of dedicated Cubase areas — faster and more convenient than with any other solution.
Modular system: combine multiple units to form an eminently powerful Cubase control station that exactly fits your needs; joint plate included for quick and easy connection.
Fully mirrored Cubase functionality: intuitive operation due to the adoption of the Cubase color scheme and icons.
Perfect ergonomics guarantee a unique level of handling quality — created to make your recording and live performance workflow more musical than ever.
Brings innovative technologies to your fingertips: illuminated, high-resolution touch controls and rotary encoders for detailed visual feedback.
Portable and compact: small enough to fit in your pocket, on a master keyboard or wherever desired
User-assignable functions for even more flexibility and tweaking options.
USB-powered: no additional power supply required.
Cross-platform compatible: OS X and Windows support.
Cubase AI download version included to start recording your music straight away.
The CMC Six-Pack is available from selected resellers and through the Steinberg Online Shop as long as stocks last, with a suggested retail price of 299 EUR including German VAT.
A custom MIDI controlled NES Gamepad controller.
We tap into homebrew titles created by stellar NES developers by syncing them with MCTRL. From midi controlled lightshows to cool retro 8 bit sounds all can be used effectively in any music studio or live club setting.
More information is available at www.Ninstrument.com
Take MIDI control of your NES (Nintendo Entertainment System) with the MCTRL (pronounced M-CONTROL) .  There are many homebrew audio/video titles for the NES that can't easily be synced with your traditional DAW or MIDI keyboard/device, until now.   MIDI 'IN', 'OUT' and 'THRU' allow you to seamlessly add this to your existing MIDI setup.  We have built the MCTRL out of durable ABS plastic, strong enough for the hard rigors of live shows. We use an original NES Gamepad that retains its full functionality and use.  We add a full feature MIDI pcb from HighlyLiquid.com that is fully powered from the Gamepad and requires no additional power interface.  We insure full NTSC and PAL compatability for all of our MCTRL's including the free Cartridges we include with every MCTRL sale.  You can resell your MCTRL and cartridge to anyone in the world and not have to worry about compatibility problems or issues.  The cartridges feature the Ciclone chip from RetroUSB.com.

The LED's light indicating what your MIDI device has triggered.  This makes it very easy to see exactly what is happening.  You can still use the Gamepad buttons simultaneously.
QuNexus was shown in the KMI booth at NAMM 2013. This video contains examples of the QuNexus NAMM demo:
- Channel Rotation (MIDI channel is assigned in the order that keys are pressed, allowing for poly-pitch bend).
- Hold Note function (useful for stacking chords or step sequencing).
- LED Arpeggiator Feedback (Ableton Live's arpeggiator is used to remotely control each of QuNexus' LEDs. Each of the 32 LEDs can be controlled by any MIDI device or DAW).
Dennis from Ableton goes over a few of the key features within their new DAW and performance controller, Ableton Push.
Atlanta's own Tech Beats gives us a live demo using Ableton Push.
"Push is a new instrument that solves an old problem: how to make a song from scratch. With hands-on control of melody and harmony, beats, sounds, and song structure, Push puts the fundamental elements of music making at your fingertips – and it fits in a backpack alongside your laptop. 64 pads give you multiple ways to make beats. Play, step sequence, and navigate your loop – all at the same time."
Mike Hosker of Arturia shows us the feature packed little Arturia MiniLab controller system – packing more controllers into its form that any comparable product in its price range!
It also comes with the Analog Lab software giving you over 5000 presets taken from Arturia's incredible V-Collection software package.
UK RRP £99 inc VAT
Full Details: http://www.arturia.com/evolution/en/products/MiniLab/intro.html
Find a UK Dealer: http://sourcedistribution.co.uk/dealers/area.asp?item=arturia
Arturia Minilab is a $99 controller that comes with Analog Factory soft synths and pre-mapped knobs. Sparkle is a hardware controller bundled with their complete Spark drum machine software, and is surprisingly easy to make beats on even for the untrained.
A demo of the brand new Korg KingKORG analogue modelling synthesizer.
Taking a look at the Numark Orbit – a wireless MIDI controller with an accelerometer, multi-couloured LED pads and a large rotary control.
Checking out the new mini drum machine and controller, SPARKLE. Plus FM get the low-down on the mini Arturia MINILAB controller and software bundle
New Casio Privia PX5S Synth powerhouse, piano and controller
From the press release:
The newly developed Privia Pro PX-5S is a genuine stage piano, advanced MIDI controller and performance workstation packed with functions that set it apart from other digital pianos. Equipped with Casio's new proprietary sound source, "AiR" (Acoustic and intelligent Resonator), the PX-5S delivers acoustic piano sounds with unmatched realism and detail. The power of AiR is also applied to an all new set of authentic vintage electric piano sounds and clavinets that is paired by a powerful new effects engine giving the PX-5S an arsenal of both acoustic and electric piano sounds.
In addition the PX-5S features a large assortment of fully programmable sounds, including Hex Layer tones derived from the award winning XW-P1 synthesizer.  Hex Layers can produce evocative synth sounds as well as complex acoustic and orchestral simulations.
The PX-5S is stage piano like no other.  In a remarkable 24 pound package it is also a four-zone performance controller, complete with 4 assignable knobs, 6 assignable sliders, 2 pedal inputs, pitch and modulation wheels. Four independent and programmable arpeggiators allow the PX-5S to expand in to sonic territory by creating an array of animated textures. An 8 track phrase sequencer allows the performer to trigger sequences and riffs which can be triggered and transpose and on the fly, allowing for unheard of performances by a single musician.
"The Privia PX-5S is a new breed of stage piano," said Schmidt. "Designed with a plethora of features ideal for any performing musician, the PX-5S is sure to raise the bar and caliber of stage pianos within the industry."
Casio's PX-5S even provides the ability to record a 44.1kHz .wav file directly to a USB thumb drive so that rehearsals, performances and moments of inspiration can be easily captured and shared.
The PX-5S can be purchased for an MSRP of $1,299 at select music dealers nationwide. For additional information regarding Casio's Privia line of digital pianos, please visit www.CasioMusicGear.com
Novation LaunchKey Video – iPad integration, app switching and more
Launchkey is a range of 25, 49 and 61 note keyboard controllers with up to 50 physical controls including 16 velocity-sensitive multi-colour launch pads that trigger and stop clips – and launch scenes – in Ableton Live. As well as enabling hands-on control of your DAW's mixer, instruments and more, Launchkey is an integrated software/hardware instrument. The control surface has been designed to work tightly alongside two intuitive apps for iPad: the Launchkey app and the Launchpad app* – plus the powerful V-Station & Bass Station synth plug-ins for Mac and Windows.
Future Music get a demo of the new Novation Launchkey controller keyboard and the accompanying iOS apps.