Novation has introduced the Launch Control XL – a new MIDI controller that they call 'the ultimate controller for Ableton Live'.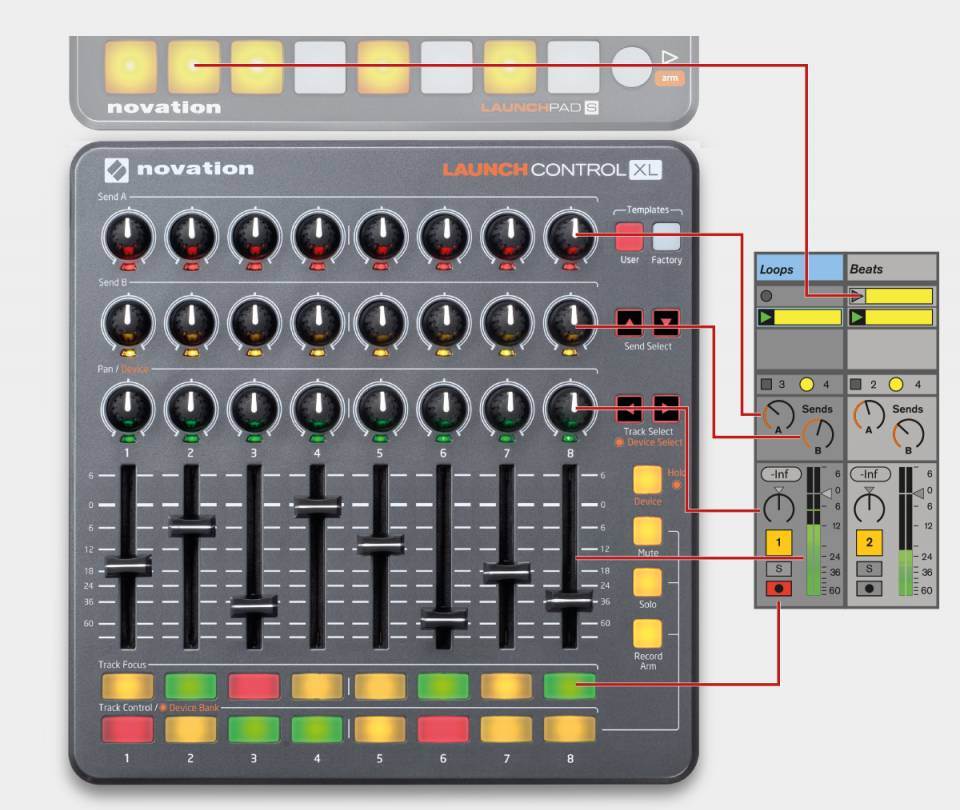 According to Novation, the Launch Control XL helps you focus more on your music and less on your laptop, by providing 16 buttons, 24 knobs and eight faders, all of which integrate seamlessly with Live.
Features:
Hands-on control over Ableton Live
Tweak your sound using 24 knobs with multicoloured indicators
Precise control over levels with eight rugged faders
Create your own control layouts, by freely assigning any control to any function in Ableton
Plug straight into Mac, PC or iPad and start performing
16 multi-colour buttons for immediate track focus and key mixer controls
Includes Ableton Live Lite software and Loopmasters sample collection
Control MIDI-compatible iOS software via Camera Connection Kit
Launch Control is powered via USB bus power
Tuna knobs are control knobs that stick to any touchscreen and let you control DJ and music making apps like you would with dedicated music hardware. Tuna Knobs are designed to give you the tactile precision you need when making music, while giving you the versatility of mobile applications.
Making music is the passion of millions of people and nowadays it's possible to make music anywhere due to great apps and accessible tablets. However the downside of using a touchscreen is that you miss the authentic feel of twisting a knob on professional DJ gear. Tuna Knobs wants to bring back that feeling to the tablet so you can enjoy the mobility and versatility of your touchscreen with the precise and expressive experience of professional hardware. On top of that Tuna Knobs are small enough to take with you wherever you go so you can transform your tablet into a true DJ station anywhere.
We need your pledge to make these a reality!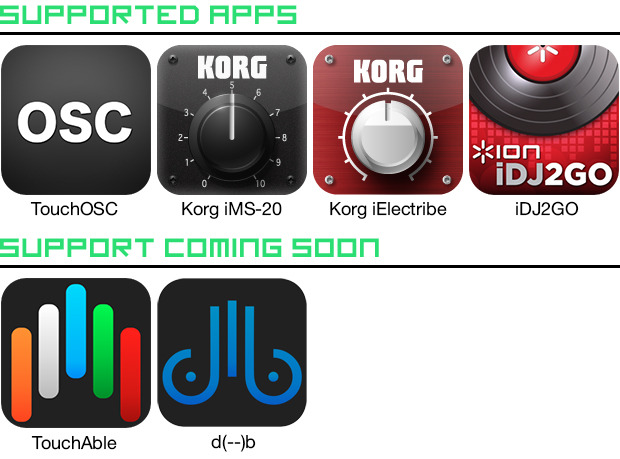 A Stylus in the shape of knob, with a small axis in the middle and a suction cup on the bottom. Made to control (music) apps with virtual knobs on every touchscreen device.
So Tuna Knobs stick to your touchscreen using a micro suction cup and translate a turning movement to a touch command. Simply stick them on your screen and you are ready to start twiddling away. Tuna Knobs use conductive rubber to translate turning a knobs into the right signal for your touchscreen, not dissimilar to how a stylus works.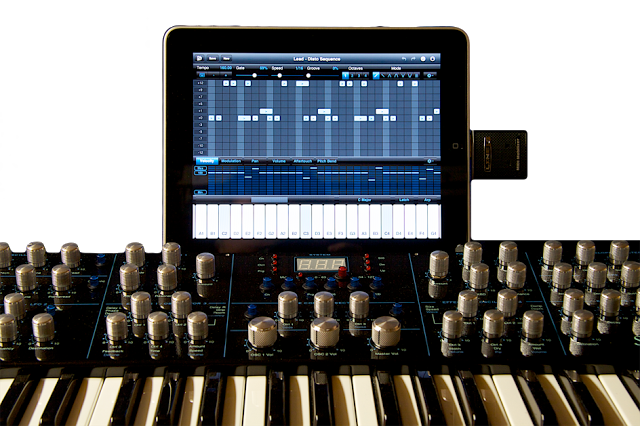 The universal Controller. Special designed for the iPad. The iPad works as a Step Sequencer via Midi In to the Controller. The Controller is pre-labeled for the most important parameters.

With the Midi touch App for the iPad you have up to 127 Parameters.

The Front Panel has a size for a 3 Octave Keyboard with Pitch Joystick and Modulation Knob. I choosed Aluminium Knobs for a better look.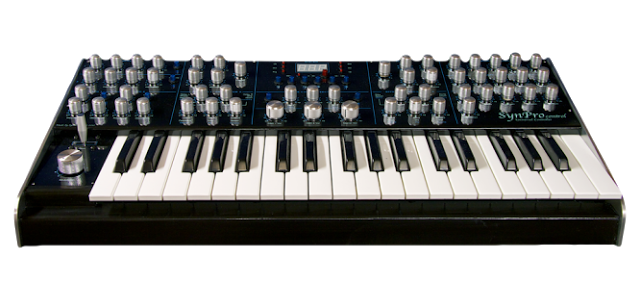 A MIDI controlled Necktie. This is accomplished by leveraging the Pinoccio Mesh Networking features and a Max4Live patch running on Ableton Live. More details in here:
http://mrbook.org/blog/2014/05/25/pin…
Adriano Clemente explains some production techniques and performs on the KORG taktile.
The KORG taktile / TRITON taktile are USB/MIDI controllers equipped with the same great-feeling, semi-weighted keyboard found on Korg's KingKorg and Krome. Taktiles are loaded with functions that make them fun to use. Of course, the taktile also delivers the functionality expected from a MIDI controller. It provides all of the basic controls such as sliders, switches, and transport controls, all to make Interfacing with your favorite DAWs and plug-ins a seamless experience.
In addition, TRITON taktile adds 512 sounds from the legendary KORG TRITON – KORG's best-selling Music Workstation. From your desktop to live stage performances, TRITON taktile is a USB MIDI controller that can be trusted in any performance situation.
For more information on the KORG taktile, head over tohttp://www.korg.com
This is a demo video for the CME X-key USB MIDI controller keyboard.
The MIDI controller works natively on Windows, OSX and iOS and doesn't require external power. It features pitch bend, modulation, sustain and octave up & down keys as well as 25 velocity sensitive full-size keys, which transmit polyphonic aftertouch. You can configure it via a free software application for Win, Mac OS and iPad.
CME Xkey Website:
http://www.cme-pro.com/xkey.html
Arturia Beatstep controlling .Moog Animoog
The Flux Link is an expressive performance control in iMPC Pro that lets you glitch and drop the beat of your Sequences.
iMPC Pro Log showcases the latest features from the freshest development build of iMPC Pro, the upcoming beat production iPad app from Akai Professional and Retronyms. A new video drops every week until we launch!
[Note: iMPC Pro is currently in development. All features are subject to change]
Follow Retronyms
http://www.facebook.com/retronyms
http://twitter.com/retronyms
Join the conversation with Akai Professional!http://www.facebook.com/akaipro
http://www.twitter.com/akai_pro
Maurizio De Cecco has released MidiBlob i- a performance oriented multi touch controller for the Waldorf Blofeld synthesizer.
This video is a demo of the MidiBlob for the Blofeld App on a nice arpeggiator based Blofeld patch. Right hand play the keyboard, not visible in the video, left hand use MidiBlob on the iPad to "play" the sound.
MidiBlob is a plug and play performance oriented multi touch controller for your Blofeld synthesizer. By manipulating a 3D scene (the Blob) with a set of very intuitive interaction MidiBlob can modify and control your synth sound to a depth that cannot be reached with traditional controllers. Filters, envelopes, modulations, wave characteristics are under direct control of your fingers, the iPad become an extension of your instrument. No configuration needed.
This video is a demo of the MidiBlob for the Blofeld App, used on a nice Blofeld Lead.
Right hand play the keyboard, not visible in the video, left hand use MidiBlob on the iPad to "play" the sound.
APC40 mkII
Ableton Performance Controller
Provides hands-on control of Ableton Live with visual feedback
Seamlessly integrates 1 to 1 with Ableton Live
5×8 clip-launch matrix with RGB feedback for clip status, color coding, and more
8 channel faders, 1 master fader, and 8 device controls map to Ableton directly
Send button cycles through all 8 send busses for advanced routing options
USB-powered and plug-and-play setup for maximum portability
A/B crossfader can be assigned on the fly for dynamic mixing
Revised knob layout with in-line controls for smarter workflow
Includes Ableton Live Lite, Hybrid 3 by AIR Music Tech, SONiVOX Twist, Prime Loops & Toolroom Records launch packs (downloads)
– See more at: http://www.akaipro…"
APC Key 25
Ableton Performance Controller with Keyboard
The first Ableton Live controller with keyboard for enhanced control
Seamlessly integrates 1 to 1 with Ableton Live
5×8 clip-launch matrix with tri-color lighting displays current clip status
25 synth-action mini keys for conventional composing and performing
8 knobs auto-map to Ableton Live to control volume, sends, and more
USB-powered and plug-and-play setup for maximum portability
Compact design for mobile performers and producers
Includes Ableton Live Lite, Hybrid 3 by AIR Music Tech, SONiVOX Twist, and Toolroom Records artist launch packs (downloads)
– See more at:http://www.akaipro…
APC Mini
Ableton Performance Controller
Ultra-portable all-in-one Ableton Live controller
Seamlessly integrates 1 to 1 with Ableton Live
8×8 clip-launch matrix with tri-color lighting displays current clip status
8 assignable faders + 1 master fader for hands-on control of Ableton Live
USB-powered and plug-in-play setup for maximum portability
Compact design for mobile performers and producers
Includes Ableton Live Lite, Hybrid 3 by AIR Music Tech and Toolroom Records artist launch packs (downloads)
– See more at:http://www.akaipro…
MPK261
Performance USB/MIDI Pad & Keyboard Controller
61 semi-weighted, full-size keys
16 MPC pads with RGB illuminated feedback; 4 pad banks
8 assignable control knobs; 3 knob banks
8 assignable faders; 3 fader banks
Able to send computer keyboard commands for pad assignable shortcuts
Updated control layout with backlit LCD screen
USB-MIDI with 5-pin MIDI input & output
Comprehensive transport & parameter controls for hands-on DAW integration
Pitch bend, modulation and octave controls for dynamic performances
Expression & sustain pedal jack inputs
Comprehensive production software package included: Ableton Live Lite, Hybrid 3 by AIR Music Tech, SONiVOX Twist 2.0, SONiVOX Eighty-Eight Ensemble and Akai Pro MPC Essentials
– See more at: http://www.akaipro…