APC40 mkII
Ableton Performance Controller
Provides hands-on control of Ableton Live with visual feedback
Seamlessly integrates 1 to 1 with Ableton Live
5×8 clip-launch matrix with RGB feedback for clip status, color coding, and more
8 channel faders, 1 master fader, and 8 device controls map to Ableton directly
Send button cycles through all 8 send busses for advanced routing options
USB-powered and plug-and-play setup for maximum portability
A/B crossfader can be assigned on the fly for dynamic mixing
Revised knob layout with in-line controls for smarter workflow
Includes Ableton Live Lite, Hybrid 3 by AIR Music Tech, SONiVOX Twist, Prime Loops & Toolroom Records launch packs (downloads)
– See more at: http://www.akaipro…"
APC Key 25
Ableton Performance Controller with Keyboard
The first Ableton Live controller with keyboard for enhanced control
Seamlessly integrates 1 to 1 with Ableton Live
5×8 clip-launch matrix with tri-color lighting displays current clip status
25 synth-action mini keys for conventional composing and performing
8 knobs auto-map to Ableton Live to control volume, sends, and more
USB-powered and plug-and-play setup for maximum portability
Compact design for mobile performers and producers
Includes Ableton Live Lite, Hybrid 3 by AIR Music Tech, SONiVOX Twist, and Toolroom Records artist launch packs (downloads)
– See more at:http://www.akaipro…
APC Mini
Ableton Performance Controller
Ultra-portable all-in-one Ableton Live controller
Seamlessly integrates 1 to 1 with Ableton Live
8×8 clip-launch matrix with tri-color lighting displays current clip status
8 assignable faders + 1 master fader for hands-on control of Ableton Live
USB-powered and plug-in-play setup for maximum portability
Compact design for mobile performers and producers
Includes Ableton Live Lite, Hybrid 3 by AIR Music Tech and Toolroom Records artist launch packs (downloads)
– See more at:http://www.akaipro…
MPK261
Performance USB/MIDI Pad & Keyboard Controller
61 semi-weighted, full-size keys
16 MPC pads with RGB illuminated feedback; 4 pad banks
8 assignable control knobs; 3 knob banks
8 assignable faders; 3 fader banks
Able to send computer keyboard commands for pad assignable shortcuts
Updated control layout with backlit LCD screen
USB-MIDI with 5-pin MIDI input & output
Comprehensive transport & parameter controls for hands-on DAW integration
Pitch bend, modulation and octave controls for dynamic performances
Expression & sustain pedal jack inputs
Comprehensive production software package included: Ableton Live Lite, Hybrid 3 by AIR Music Tech, SONiVOX Twist 2.0, SONiVOX Eighty-Eight Ensemble and Akai Pro MPC Essentials
– See more at: http://www.akaipro…
Product specialist Mike Greig popped in to show us just what can be done with Ableton's Push controller as the only interface. Did he succeed? Take a look.
LIVKONTROL – an Ableton Live controller previously available for iOS – is now available for Android devices.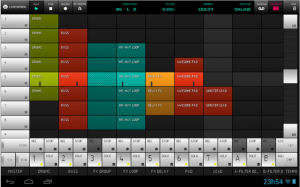 Here's what the developers have to say about it:
LIVKONTROL aims to deliver the best possible experience controlling Ableton Live remotely. Boasting an extremely simple yet functional design, all the main control features are at a distance of a finger. Alternative application views are toggled via multitouch gestures for a even simpler usage experience.
LIVKONTROL is also considered by users as the easier and most responsive Ableton Live remote controller for mobile devices due to it's plug & play connection to Ableton Live, using LKBRIDGE.
Features:
Remotely control your Live session
Easy to set up
Scrollable viewport for full scene access
Scene launch buttons with scene name
Clips reflect color, name, play status and position
8 MIDI sliders for custom MIDI assignment
Mute, stop, solo and arm tracks
Control track volumes and pan easily in a and space saving format
Interface lock feature
Song play, stop, record and tempo control
Metronome control
Tempo tap up and down
Quantization selection
Requirements:
In order to use LIVKONTROL, it is necessary to download and install LKBRIDGE, the required connection software. Windows and Mac OSX version are available.
LIVKONTROL for Android is available now, with a free version, a $9.99 basic version and a $29.99 Pro version.
Korg's new Taktile controllers include lots of, well, tactile control such as a KAOSS touchpad. There's even a model with built-in sounds from the classic Triton workstations.
The BeatStep is much more than a pad controller–it's a groove sequencer that features analog CV-gate as well as MIDI out. We saw one driving a vintage Oberheim SEM and grooving hard!
Enjoy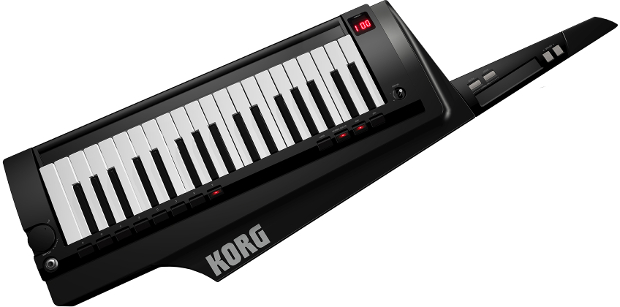 Korg is debuting the RK-100S synth/controller for the 30th anniversary of the original RK-100. Korg's latest keytar offering provides an alternative to traditional keyboards by allowing players to step out from behind a keyboard and into the spotlight.
Housed in a stylish, solid wood body, the battery-powered RK100S offers a number of additional updates from the original model. Equipped with a full palate of keyboard sounds from the built-in microKORG XL+ engine, it enables users to perform in a wide variety of music genres wherever inspiration may strike. It also functions as a USB/MIDI controller, as well as a vocoder.
There are 200 programs available in the onboard MMT sound generation system, including a broad range of oscillator algorithms such as the characteristic sawtooth and square waves found in analog synthesizers, plus formant waveforms, noise, and classic PCM/DWGS waveforms.
In addition to the 37-note slim keyboard (as featured on the Korg MS-20 Mini), a short ribbon controller on the neck and a long ribbon controller in front of the key bed are included for controlling parameters such as pitch and filter. The long ribbon runs the entire length of the key bed and can also be used to play scales over three octaves. Also included is a built-in arpeggiator, with six arpeggios available. Notes in the arpeggiator can be individually switched on/off, for even more rhythmic variation.
The RK-100S comes equipped with a vocoder function that lets players use their voice, via the optional headset mic, to process the sound of the oscillator.
The Korg RK-100S synth/controller runs on six AA batteries or the optional AD adaptor and is available in a choice of three colors: red, white and black. It will be available June 2014, with U.S. pricing to be announced shortly. For more information, please visit www.korg.com .
Appearing in 1984, the RK-100 remote keyboard broke the chains of keyboardists, setting them free to perform as they liked. It allowed the keyboard player to challenge the vocalist or guitarist for the main role on stage. Now, thirty years later, the RK has been resurrected. Although beautiful curved surfaces have been added, the essence of the original and very popular design is unchanged. What had been a somewhat large and heavy body has been made more compact and lightweight thanks to modern components such as a slim keyboard. While the original required an external sound module, the new RK-100S contains a built-in analog modeling sound generator. New features and functions include two ribbon controllers, an arpeggiator, and a vocoder, and there are also "favorite" buttons that allow you to register frequently-used sounds for one-touch selection. The RK-100S is your choice for smarter, more active, and more enjoyable performance. Enjoy play anywhere performance utilizing AA batteries. The RK-100S Remote Keyboard is available in White, Black & Red.
For more information on the KORG RK-100S, head over to http://www.Korg.com
Like Us – https://www.facebook.com/korgusa
Follow Us – https://www.twitter.com/korgusa
Arturia's Beatstep offers a new degree of functionality and performance for a portable pad controller. BeatStep is highly versatile, capable of triggering clips in such applications as Ableton Live, playing drums in conjunction with such applications as BFD or EZDrummer.
But BeatStep is also a 16-step analog sequencer for creating all kinds of musical phrases to be sent to analog synthesizers, MIDI drum machines, MIDI keyboard devices, or computer programs.
Its vast connectivity allows you to connect the BeatStep to a computer or iPAD using USB, a drum module using MIDI or an analog synthesizer equipped with CV/GATE.
more info:
http://www.arturia.com/evolution/en/p…
FM get a video demo of a new USB hardware step sequencer with CV and MIDI. Plus, see an update to the Spark software.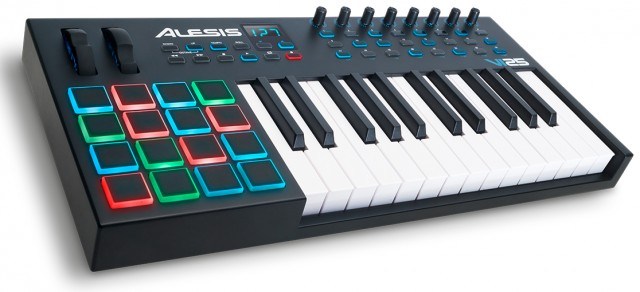 Alesis has introduced the new V Series and VI Series of full-size keyboard/pad controllers:
The new Alesis V Series (V61, V49, V25) combine velocity-sensitive keys with eight drum/trigger pads. Blue LEDs illuminate the pads, as well as the four assignable knobs and buttons. Assignments may be made quickly via the MIDI Learn feature. Octave shift keys provide access to the entire note range. A single USB cable provides both a power and data connection to nearly any computer.
The Alesis VI Series (VI61, VI49, VI25) add semi-weighted keys and aftertouch. The pad count has been increased to 16, with multi-color illumination. This layout provides intensive command over the clip trigger workflow of top DAW and compositional software. The internal clock offers drum roll, tempo, and sync capabilities. An optional power supply and a standard MIDI output allow for stand-alone use.

Alesis V Series Highlights:
Full size, flat-front keys (25, 49, or 61)
Pitch Bend and Modulation Wheels
8 Pads with blue LED illumination
4 Assignable knobs and buttons
Sustain pedal input
USB MIDI
Alesis VI Series Highlights:
Full size, flat-front keys (25, 49, or 61)
Semi-weighted keys with Aftertouch
Pitch Bend & Modulation Wheels
16 Pads with Multi-color LED illumination
VI25: 8 knobs, 24 buttons
VI49: 12 knobs, 36 buttons
VI61: 16 knobs, 48 buttons
Transport and Present up/down buttons
Sustain pedal input
USD MIDI, MIDI Out
Internal Clock for sync, tempo, rolls, etc.
The V and VI Series will have the following respective estimated street prices, V25 ($79.99 USD), V49 ($99.99 USD), V61 ($149.99 USD), VI25 ($169.99 USD), VI49 ($199.99 USD), and VI61 ($249.99 USD).
M-Audio's Trigger Finger was one of the first MPC pad style controller only devices. Its been a while since M-Audio revisited that particular model. At the NAMM 2014 show, they are introducing the Trigger Finger Pro.
Its a nice looking machine with a large, three line LCD monitor, 16 pads and MIDI and USN connections while still being bus-powered.
Available in the Spring 2014 at $399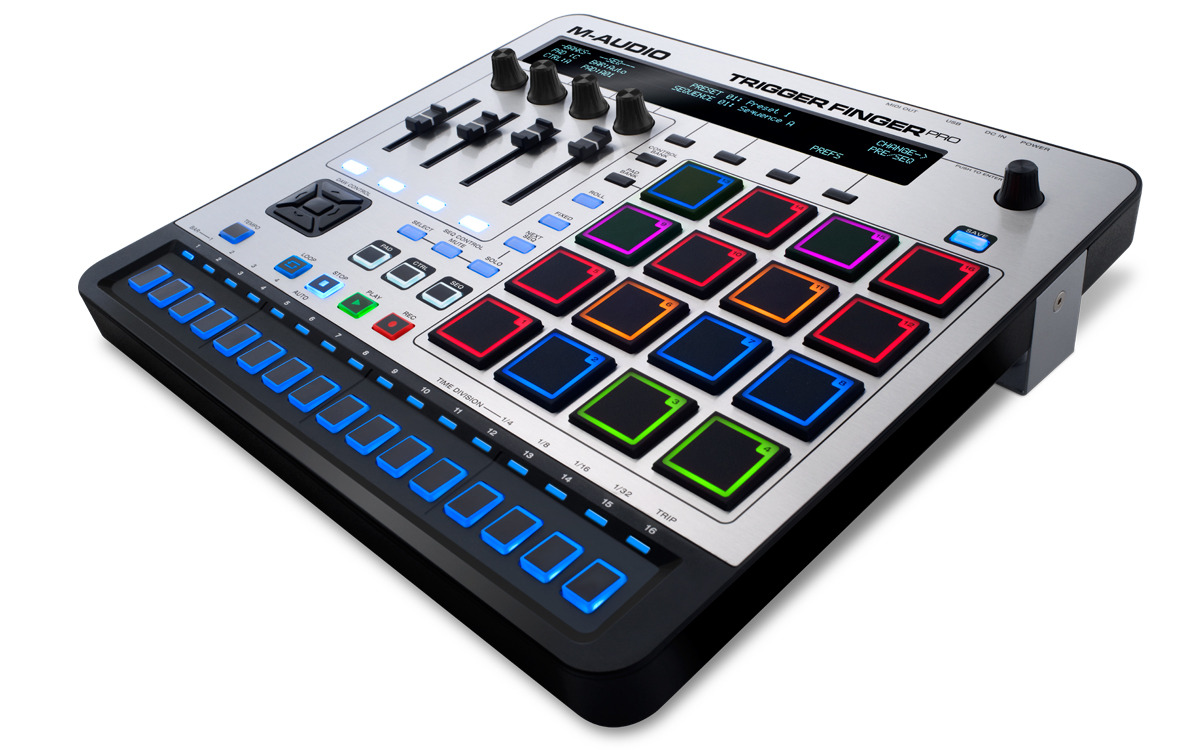 M-Audio unexpectedly brings out something that looks like NI Maschine but with 16-Step Sequencer Line – this is basically Drum Pads and a jam-type of sequencer like the Akai MAX49 has, so – this is still a controller not a groovebox or host or even a drummachine. that sequencer can not be reprogrammed but could be a cool tool if one could access it – it has built in midi as well to send the sequences somewhere. since M-Audio belongs to the Akai/Numark/Alesis Group (inMusic) this might be the same concept as the MAX Keyboards but as a pad controller. 4 memory banks – so really just for jamming.
More Information
Acoustica has released AeroMIDI 3D MIDI controller software for Mac & WIndows.
AeroMIDI uses 3D input devices, like the Leap Motion, to track your hand in space, allowing you to control any MIDI software or MIDI hardware. AeroMIDI lets you use your hands in 3D space to trigger notes and MIDI continuous controller messages.
AeroMIDI works with any MIDI software or hardware, and lets you control synthesizers, lighting rigs, DAWs, effects, virtual instruments, and any other MIDI-capable hardware or software.
We've added gestures and the new action cards that allow you much more flexibility. Control your music in 3D style today. Move or rotate your hands in 3D space to control parameters. Downloads are limited so download while you can. Download a copy at http://www.aeromidi.net/ . Note that this currently requires a Leap Motion Controller. (Other 3D controllers will be supported soon.)