Just a quick rundown of some MIDI controllers 'otemrellik' has built recently for ios music making fun.
Here are some helpful links:
https://github.com/unsymbol/teensy-mi…
http://little-scale.blogspot.com/2012…
I use the 2.0 Teensy board for all my projects:
http://www.pjrc.com/teensy/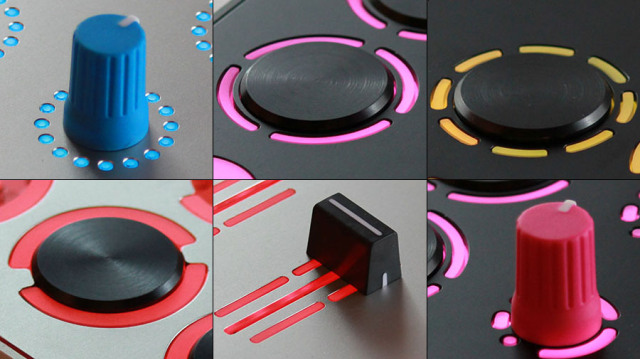 umidi – a new MIDI controller that's completely customizable.
Using a web-based interface, you can change the types of knobs, lights, switches and sliders on the controller, customize the colors and add designs. The components are high-end, and the case is CNC'd from a solid block of aluminum, which is then bead blasted and anodized. You can even customize the shapes and colors of the lighting around your controls.
Our goal is not to compete with mass produced products, We designed the umidi with no compromises on quality, structure of materials and components. That's why each controller is made from a single block of aluminum, less than 1 inch thick and uses only the best components. Each controller is unique, and hand built/tested by us.
Each umidi can have the up to 36 components, which include:
Knobs
Faders
Encoders
Jog Wheels
Aluminum Push Buttons
Drum Pads
Silicon Buttons
At the heart of umidi are 288 RGB LED's, which can be controlled to do whatever you want. This allows for music-driven lighting, button effects, visualizing mixing, millions of colors and other lighting effects.
When you've created your ideal layout, you can get your custom controller built to order.
Reviewer, EDM producer, and DJ Francis Preve takes a look at Novation's latest pad/clip controller for Ableton Live and Image-Line FL Studio. Read the full review in our February 2014 issue.
Reviewer, EDM producer, and DJ Francis Preve takes a look at Novation's latest keys-meet-pads MIDI controllers for Ableton Live and Image-Line FL Studio. Read the full review in our February 2014 issue.
Kits and enclosures are available at http://groovesizer.com
An introduction of the Foxtrot firmware for the Groovesizer platform. The Foxtrot firmware is a (mute) MIDI controller, specifically intended as a clip and scene for Ableton Live. The firmware is now available for download at the Groovesizer website.
BACK US ON KICKSTARTER: http://kck.st/17O9WOP
This is Palette. Palette is a freeform hardware interface. It offers hands-on control of your favorite software. Connect sliders, dials and buttons to create a controller that is made to fit you. Unlike a point and click interface or a glass touchscreen, these physical inputs give you precision and control that you can feel with your fingertips. Simply interact with Palette to adjust any feature within your software ranging from basic games to professional creative suites. Existing interfaces, assume that you work exactly the same as everyone else, but you design Palette to fit your unique workflow.
Setting up is as easy as plugging Palette into your laptop. It recognizes the software you're running and becomes a controller that will grow with your needs (–which means) matching your unique style no matter what gear you're using. Building Palette begins with the power module. Connect as many sliders, dials and buttons as you like and easily assign functions to them using the Palette Desktop App. You can load preset profiles or set them individually. This integration of hardware and software makes the platform easy for anyone to use. Palette connects you to your best work, in a way thats personal, and hands-on.
A new project, AUUG Motion Synth, explores the possibilities the iPhone and iPod touch, converting the devices into wearable motion-controlled instruments. Using it, you can control iOS synths, desktop music apps and even hardware.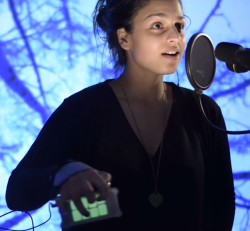 The platform is made up of three components:
The AUUG grip positions the screen of an iPhone or iPod touch to be played by the fingers and secures the device to the user's hand during motion: The AUUG app converts your iOS device's motion sensor data into signals for shaping sound, and transfers these signals to other iOS sound apps or external devices. The AUUG app does not produce its own sounds, but instead acts to control other iOS audio apps running on the same device (as well as external devices). The AUUG app can be installed on iPhones (4S and up) and iPod touch devices (5th generation and up). The AUUG cloud is online service at that allows AUUG app presets to be shared with other users, via your iPhone or iPod touch (no laptop or desktop needed).
Background video information:
Put your mouse and keyboard aside, or any other controller at hand. Yes, it's all about the hands and gestures. Together with Leap Motion's controller or depth cameras developed using the Intel perceptual technology SDK 2013, Cubase iC Air gives you the ability to control Cubase 7 and Cubase Artist 7 with the sole movement of your hands: adjust faders and EQ, navigate through arrangements, use transport controls and tweak virtually any control through gestures. Cubase iC Air lets you experience Cubase in an entirely new way.
M-Audio's top of the range MIDI controllers to replace the Axiom Pro. Quite a change in concept – see what we make of it.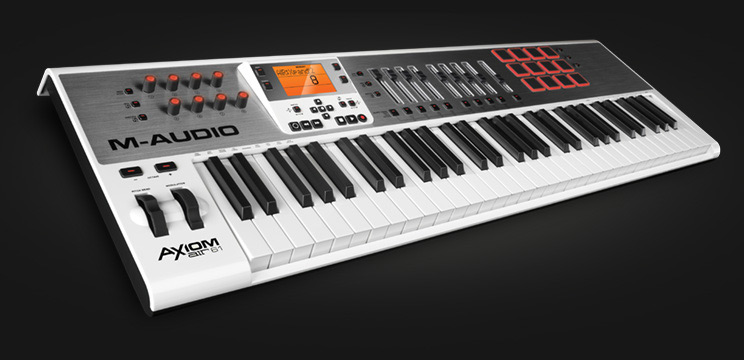 About the Axiom Air 61 (marketing pitch):
Take command of your studio while achieving higher levels of musical expression with Axiom® AIR 61 from M-Audio®. Offering unprecedented control, Axiom® AIR 61 brings together unmatched ease-of-use plus empowering software to form the ultimate studio centerpiece. Stretch out and play your best on 61 semi-weighted piano-style keys—with aftertouch. The illuminated pads are velocity sensitive and even respond to pressure. Experience total hands-on control of your sessions using assignable LED lit buttons and rotary encoder knobs, long-throw faders, plus an array of dedicated transport and software navigation buttons. HyperControl® interactive controller mapping unites your hardware and software so you can start working faster. Completing this powerful package are two complementary software selections: Avid® Pro Tools® Express and Ignite by AIR music creation software. Together, they deliver a comprehensive path for transforming the ideas in your head into a finished piece of music.
Sign up and learn more here: http://www.djtechtools.com/2013/11/03…
On the surface, each Midi Fighter Twister is equipped with 16 endless encoders, each with a push state, plus a full ring of LEDs. Capped off with 2 full-color LEDs at the bottom, each encoder can transform into a wide range of displays and functions depending on the mapping, configuration, or page. This provides infinite levels of control with clear visual feedback similar to a touch screen, while maintaining the tactile feel of a real knob.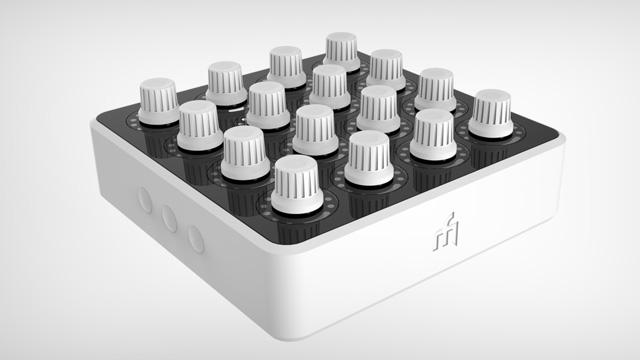 The possibilities – from Ableton control to Traktor effects – are endless, but to really showcase the potential of this dynamic work surface we decided to go a little nuts and create something totally next level.
The Clipper is a compact, portable and programmable LED-lit fingerboard that can remotely run an Ableton Live session. With 144 touch-sensitive buttons you can record and play a Live set in one area and perform guitar, bass, drums, add Live beat-repeats, whatever, in another area of the Lightboard. You can now record and play clips into the Live Session View interface and control Live at the tips of your fingers while you're moving across the stage or interacting with your audience. The Clipper's Lightboard offers 32,000 colors and can match the colors from the Live session running in your computer, and completely wirelessly when the AirPower option is installed.
This full-color LED fingerboard controller is also very versatile and can easily be programmed to display text messages, JPEGs, and animations. In addition to that, you can set up separate colored zones on the fingerboard to play bass, drums, piano, or any sounds using Live while connecting to hardware synths via MIDI.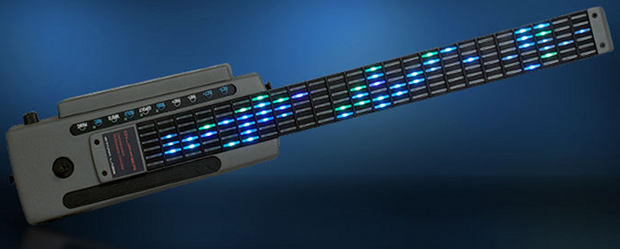 Gaining more popularity in the electronic music genre, Ztar fingerboard controllers are a welcome alternative for Electronic Music performers who want to interact with their audience. Noteworthy clientele include Pendulum and Excision as well as the Chemical Brothers, Linkin Park, Maroon5, Vernon Reid, Bob Weir, Lou Reed and many others. Electronic musicians and DJs can now better express themselves and interact with the audience with this advancement in MIDI controllers.
In addition to portability and convenience, the Clipper's LED fingerboard can be programmed to display text messages, JPEG images, animations and lighting FX in response to your touch or streamed in from an external computer. The fingerboard offers 32,000 colors that can be matched to your computer's Ableton Live session. Separate colored zones can also be set up on the fingerboard to play clips, bass, drums, piano, or any other sounds by using Live or connecting to hardware synths with MIDI. With 144 touch-sensitive keys, a live set can be recorded in one zone while solo performances can be played in another.
Ableton Live Portable Control Surface
At the core of the Clipper's lighting control is a library of lighting commands that can be programmed on the Clipper and performed directly by playing the Clipper's fretboard, drumpads, ribbon, knobs, joystick, and pedals. By connecting the Clipper's USB port to a computer, you can stream live lighting FX from Max-for-Live, any sequencer, or create your own software.
Now you can control all your sounds with animated colors at the tips of your fingers, and all while moving across the stage. This Ztar Clipper LightBoard Controller is unlike any other and offers an entirely new experience to electronic musicians everywhere.
The Clipper has a full complement of hardware and software features:
144 velocity-sensitive RGB LED keys with over 32,000 colors
6 programmable Knobs
6 Programmable touchpads for Notes, Chords, Loops, MIDI CC's, Lighting EFX
Embedded bi-directional MIDI Wireless capability as an option. Be completely cable-free!
Multi-purpose programmable Slider
4 way programmable joystick
Sustain and Volume Pedal inputs
MIDI I/O and USB2.
Onboard Programming interface
Easy user command set for controlling the LED lighting with any external MIDI sequencer or computer. Display and scroll text, images, and lighting effects. Get creative with Max for Live.
Embedded step sequencer and arpeggiator
Clipper – Clip-based Live Interactive Performance Controller
Price for the basic Clipper: $1695 MSRP, $1995 MSRP for the Clipper with bi-directional MIDI Wireless and Battery Pack