At popular request, Ean shares how he has the VU meters in Traktor mapped to four different channels on his Kontrol X1 controllers. Read more: http://www.djtechtools.com/2013/10/27…
The Hot Hand USB Wireless MIDI Controller bypasses traditional knobs and faders, allowing users to manipulate software parameters with wireless motion-control. Hot Hand USB delivers an entirely new method of dynamic control to DAW (digital audio workstations) or live-performance software like Ableton Live, Traktor, Reason, Serato DJ, and Logic/MainStage.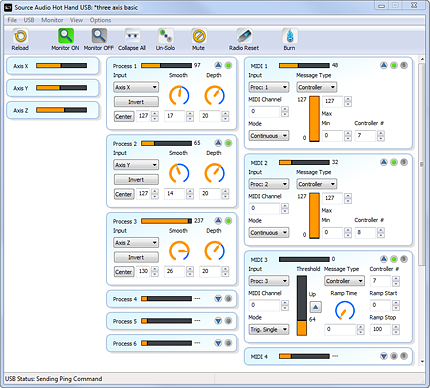 Wireless 3 axis motion sensor ring & USB receiver
Driverless USB MIDI operation for Windows/Mac
Rechargeable Lithium-ion battery for 6 hour usage time.
Capable of transmitting over 100 feet.
Works with any MIDI compatible audio software (Ableton, Reason, Logic, Traktor, etc).
MIDI script here: http://support.image-line.com/redirec…
Remixing using Deckadance 2 and the Numark N4 controller
Deckadance: http://www.image-line.com/documents/d…
Music Credits:
Deck A: Veela vocals – http://www.image-line.com/documents/p…
Deck C: Sacco – http://www.image-line.com/documents/p…
Deck D: Seamless – http://www.youtube.com/user/SeamlessR
The Propellerhead crew got a Hot Hand USB MIDI controller sent to the office. It's a wireless motion sensor you put on like a ring that can then control parameters via MIDI. Of course Mattias had to give it a try! Here he's controlling filter frequency, noise level and phase on a Subtractor.
And AskAudio has a new tutorial out: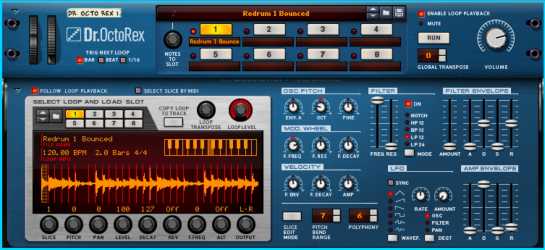 Reason 7: Creating REX Files
Oh, it's hard to believe it. The reason to own Recycle, that *ahem* older once-miracle of modern sampling has now past. No longer do you need to encode audio files in another application, outside of Reason. Now, you can convert audio files within Reason, into Rex files. Which, of course, are the loop files that Dr. Octo Rex eats for breakfast.

So, why, with Reason's amazing time stretching ability would this feature even be relevant? Well, if you've ever gone into the editor of Dr. Octo Rex, and have actually messed around with features like the Amp envelope, Filter envelope, or you've applied an LFO to a loop. Or, if you've ever modified the pan, pitch, or filter frequency of individual slices within a REX file… Well, you know you can take loops to a very different place.

In short, REX files are still amazing, relevant and because you can now easily create your own REX files life has gotten much better.

So, how do you do it?
Designed to create and control sound, light and video, Crystall Ball gives all your computer-aided creative work a new dimension. More than a controller, it is an intuitive, interactive and infinitely customisable tool.
In a studio or live, let your senses speak and give free rein to your stage performance!
Small Footage of Yeahr7ght playing the Crystall Ball
More infos: http://www.crystall-ball.com
Music: Yeahr7ght – http://soundcloud.com/yeahr7ght
Film making: Charlie Mars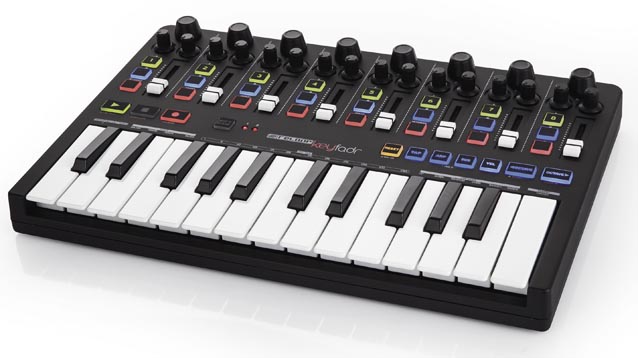 Reloop will disclose new studio products at the BPM Show. Reloop Keyfadr and Keypad are especially designed and optimized DAW controllers for Ableton Live 9. The Reloop Studio Keyfadr combines some of the most useful control functions for music production into a compact and versatile DAW controller for producers and performers using Ableton.
Aside from its extremely compact dimensions, which make the controller fit comfortably into almost any laptop bag, the Keyfadr offers users a variety of intuitive possibilities; from being a control station for studio projects through to being a creative tool for a live gig.
The Keyfadr is made up of 25 velocity-sensitive keys, 8 faders, 16 rotary knobs and 8 endless encoders with push function, making this USB MIDI controller an indispensable creative tool. A unique highlight of the Keyfadr is its ability to help create complex compositions on the fly. The internal arpeggiator can build vivid sequences with flexible quantization possibilities that give subtle nuance to your sound, whilst the chord mode can punch out different combinations at the strike of a single key. Scale mode helps you hit the right key every time by playing the correct tones matched to the chosen scale.
Ableton Live Lite 9 comes included with Keyfadr, and the controller is ready to plug-and-play once the software is installed; getting you set-up and running in seconds, without having to make your own complicated mappings. Creating a live performance is easy with Keyfadr, as Ableton's live clip view can be set to control all major clip and navigation commands using only the Keyfadr surface. Pressing 'shift' at any time allows you to set up a second scene, making it easy to switch between performance modes.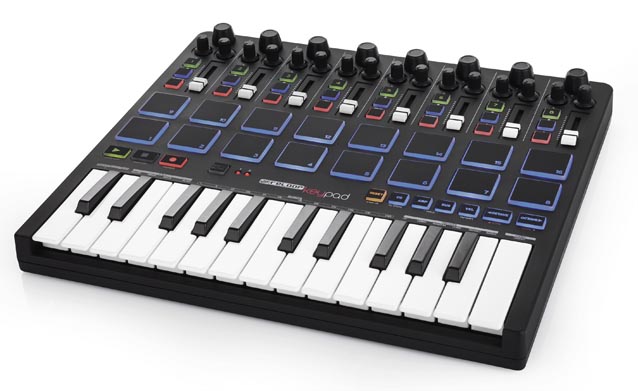 The Keypad is made up of 25 velocity-sensitive keys, 8 faders, 16 rotary knobs and 8 endless encoders with push function, making this USB MIDI controller an indispensable creative tool.
Features
– Combines the most useful functions for music production into one device
– Keyboard: 25 mini keys with 9 playable octaves
– Control section: 8 Channel faders with endless encoders (pan), including 2 control
– knobs, (send/return) and three backlit function buttons (mute, solo, rec)
– Full integration and easy plug and play for Ableton Live 9
– DAW transport controls (play, stop, rec, scene up/down, play/ stop clips, overdub, set marker, marker left/right, cycle, tap, metronome)
– On board appregiator with multiple modes and internal/external midi clock
– Chord feature: Easily play the most common chords in this versatile mode
– Scale mode: Choose from four different scales and always hit the right key
– Shift button for second layer control and choose between two performance scenes
– Fully USB powered controller requires no external power source
– Other midi mappings available as download
– Ableton Live 9 Lite included (value upgrade opportunity)
KEYPAD additional
– Drum pads: 16 velocity sensitive trigger pads with backlit LEDs
Impressions of the Nektar Panorama P1 USB MIDI Controller. The P1 works great with Reason or Cubase for a completely integrated experience.
"The enormous controlling power of Panorama P1 is contained in a compact case about the size of a 17″ laptop. An unrivalled amount of assignable controls makes Panorama the most comprehensive and fully featured MIDI controller around. 16 encoders, 9 45mm faders, 10 LED buttons, 28 buttons and a foot switch jack gives you immediate control of up to 61 parameters at any one time. Settings can be stored in 20 presets with individually save and loadable F-keys maps for more than 1200 combinations. The numbers may not matter but being in control does."
Launchkey Mini is an exciting new compact mini-key instrument/controller featuring 16 velocity sensitive, three colour illuminated launch pads – use them to launch loops, sounds, effects, transport controls, and more.
Launchkey Mini also features a 25-note keyboard, eight assignable rotary controls, seven function buttons, and a further two performance buttons. Compact and portable, Launchkey Mini is great for producing and performing at home or on stage.
—
Launchkey Mini key features:
'Go anywhere, play anywhere'
– Ultra-lightweight and easy to carry
– Fully powered by iPad® or USB
• 25-note mini-keyboard
• 16 velocity sensitive, three colour launch pads
• Knobs and buttons for total control
• Fully-integrated with Novation apps for iPad
• Hands-on control of included synths and music software on Mac and PC
For more details, check out the product page here:
http://global.novationmusic.com/midi-…
—
Performance courtesy of Peter Lyons -
Here's a sneak peek at the new TouchAble 2, details below:
touchAble – THE Ableton live controller app for iPad – available worldwide exclusively through the iTunes App Store: http://www.itunes.com/app/touchable
touchAble 2 will be a free update for all touchAble users
touchAble 2 introduces:
– Complete rebuild of the app
– New and faster Engine
– New Graphic interface
– New server
– New Template editor module : build your own controllers pages
– New Midi editor/ step sequencer
– New Isomorphic keyboard
– New Step Sequencer with Chord & Drum modes
– New Browser lets access to your library
– Complete rebuild of XY pad module
– Hundreds of new features, change and improvements
Full compatibility with Live 8 and Live 9, Intro, Standard & Suite.
touchAble provides a powerful, intuitive and reliable multitouch control solution for professional use.
touchAble includes templates for lives plugins and is fully compatible with vsts, audiounits and instruments.
touchAble is supported by many professional musicians, performers, djs and composers around the world, who use touchAble on stage or in studio.
Track by Le K http://www.le-k.org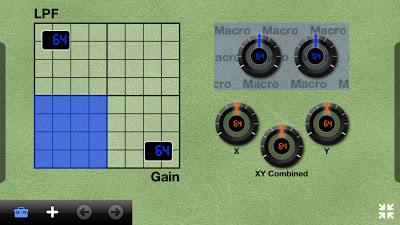 Dream, create and play your perfect MIDI controller with MIDI Designer.
"We're adored by Recording Magazine, loved by Sound on Sound, raved about by enthusiastic users, and winner of the Sonic Touch Gold Award for Best App. Trusted on stage by touring acts like Todd Rundgren, POSTYR and Electroband. Used in studios, theaters, VJ and DJ booths all around the world, MIDI Designer is also the platform for community- and professionally-sourced layouts for top-flight gear, including synths by Korg, Roland and Casio. If you can dream it, you can create it in MIDI Designer."
Sometimes you need a professional MIDI controller, but with just a few controls. MIDI Designer 12 provides the same rock-solid platform, ease of use and awesome playability with just 12 controls. Embrace the simplicity.
MIDI Designer is the top choice for controlling ANYTHING via MIDI—from hardware synths to DAWs, lighting rigs to other iOS apps:
Design your perfect controller using customizable knobs, sliders, XY pads, labels, panels and more
Choose background color, texture and LED color for up to 8 banks of 6 pages
Save, load and share your layouts and pages with other users
Send and receive all MIDI message types, including sysex, NRPN and 14-bit CC.
Connect any way CoreMIDI can: use Wi-Fi or hardware such as the Line6 MIDI Mobilizer II, iRig, iConnect, and others
Use supercontrols and subcontrols to create simple and complex relationships between controls
Full support for external hardware via the "Pedalboards Feature"
Presets and other features make a mature, reliable platform for your future development
MIDI Designer is easy to use, infinitely flexible and customizable, and battle-tested in performance. It's the most-respected MIDI controller for iOS.
The app is only $0.99 at the moment.