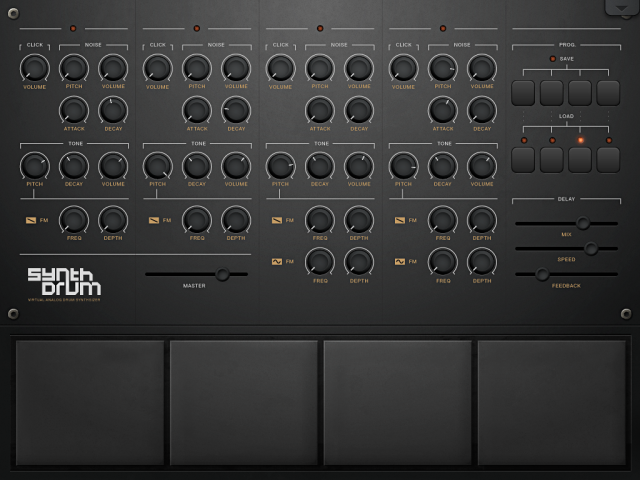 DesignByPaul has released SynthDrum Pad – a free pad-controlled drum synthesizer for the iPad.
Features:
Virtual Analog Drum Synthesizer
4 Pads
4 Voices
3 Signal generators per voice; Noise, Click and Tone
Modify pads 3 & 4 with Frequency Modulation
4 Save/Load slots
Delay unit (with infinite looping capabilities)
Here's an audio demo:
Capable of creating vintage drum sounds such as the 808 to contemporary percussion for modern electronic dance music. SynthDrum Pads can also make melodic tones for warm bass and interesting tones.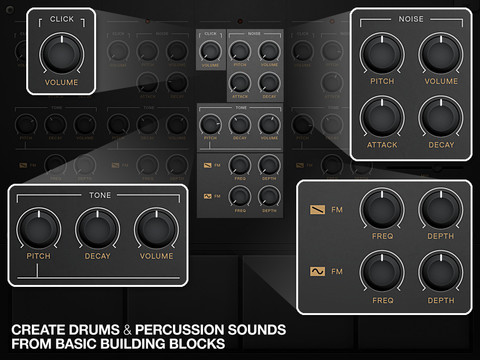 A test of the MIDI Ribbon Controller designed by Giuseppe Di Cillo.
"This is a prototype until I have all the rest of the project finished. The MIDI is implemented via an Arduino Uno R3 board and the sketch by Giuseppe. It is his first sketch prior to the more complex build with an LCD and menu dialog. Very simple and perfect for combining the MIDI output with a modular. I have since added a CV and GATE output to the modular panel which allows the ribbon controller to output analog and digital (MIDI) at the same time. This video doesn't show the later use of the modular analog signals."
The ribbon strips were made by Spectra Symbol and Interlink and were bought from Sparkfun dot com.
A detailed build guide and software for the Arduino can be found at Giuseppe's wonderful blog. coagula dot org.
Traktor Kontrol Z1 is coming soon – the ultra-compact, pro-grade 2-channel mixer, controller, and soundcard for Traktor DJ and Traktor Pro 2. Pre-order now. http://www.native-instruments.com/tra…
Hook it up to your iPad or iPhone for a fully-functional Traktor DJ rig, complete with track headphone cueing, super-intuitive control, and premium, club-ready sound. Or combine it with Traktor Kontrol X1 or F1 controllers for the ultimate mobile Traktor Pro 2 setup.
More on Traktor DJ:
http://www.native-instruments.com/tra…
The track in this video is 'Dilated' by XLII. Visit XLII on Facebook:
https://www.facebook.com/XLIImusic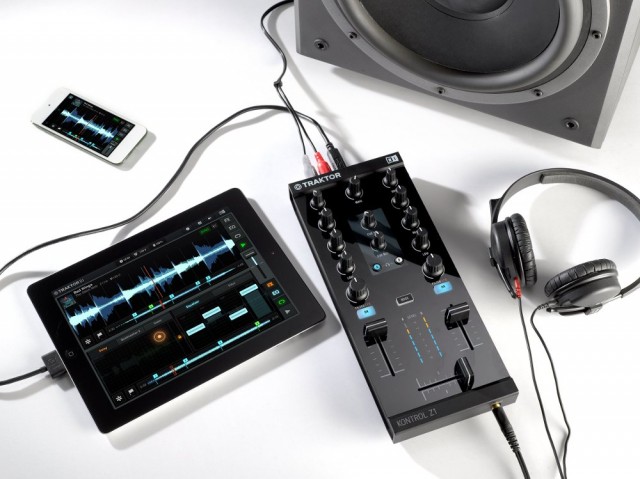 TRAKTOR KONTROL Z1 is the ultra-portable, professional DJ mixing controller forTRAKTOR DJ andTRAKTOR PRO 2. Its cue section lets you monitor and mix tracks with pro precision. Dedicated controls for two channels give you intuitive, tactile control over volume, EQ, filters, and effects. And the built-in audio interface delivers powerful, club-ready sound. Get total control and professional sound in a go-anywhere package – it's pro on the go.
Want to deliver floor-shaking DJ sets with TRAKTOR DJ? Connect your iPad or iPhone to the Z1 and get a complete two-deck DJ setup with ultimate tactile control. Cue up the next track in your headphones while the current track still plays for the crowd. Mix and EQ with pro-grade faders, knobs, and buttons. Apply filters and effects with the ultra-intuitive one sweep knob. The Z1 even charges your iOS device while you play, so you never have to worry about battery life when your set hits its peak.
TRAKTOR KONTROL Z1 works perfectly with TRAKTOR PRO 2 – plug in and instantly start mixing with hands-on control and premium, club-ready sound. You can also expand your mobile rig with additional creative possibilities: Add TRAKTOR KONTROL X1 to control effects, loops and transport functions like play and sync, and TRAKTOR KONTROL F1 for creative Remix Deck™ magic. Whatever your style, build your setup around TRAKTOR KONTROL Z1 and rock the club or the after-party with the most compact, portable TRAKTOR system ever.
This video demonstrates some of the wild possibilities with aftertouch and the Livid Base MIDI controller, including a novel way to integrate the iPhone with the Base. The 32 touch sensitive pads can output polyphonic aftertouch, so if your synth is great enough to use that (such as the Madrona Labs Aalto plugin), you've got some fantastic possibilities at your fingertips. Stay tuned: after the audio weirdness, there's a short explanation on how to quickly configure the Base using the online Editor.
Links:
lividinstruments.com/hardware_base.php
madronalabs.com/products/aalto
lividserver.com/editor
There are LEDs everywhere on the Livid Base. With the online editor, you can change the color of every LED, and save your setup to the Base so it always boots up with the colors you want. This tutorial shows you how to use the editor with the Base to change the colors on the drum pads.
Livid Artist Interviews Presents Alluxe (aka Laura Escudé). Alluxe stopped by our studio to perform a track from her new EP and with the BASE, her custom Ohm RGB, Ableton Live, Wii remote, and violin. She discusses her live performance setup with Livid founder Jay Smith, and explains the integration of her controllers. Check out part two of this video where she performs a track.
Experimenting with a few things here. Koushion step sequencer app controlling three Moog synths and a Moog MIDI-MuRF Moogerfooger. Drum track is from the Yamaha MO8 synced to the same clock. Koushion a MIDI step sequencer that allows you to easily program melodies and drum patterns using your existing hardware synthesizers, drum machine, or soft synths and samples in your DAW.
Learn more at www.experimentalsynth.com
Just a preview of the Brain Jr shields we will be releasing for the Brain jr. These shields will have one for a breakout, expanding the IO of the Brain jr. A Shield for connecting an omni board, and one for direct solder connections. Coming soon to lividinstruments.com
The Brain Jr. is a MIDI micro controller that lets you create your own custom MIDI controller. The three new shields are designed to make connecting other electronics to the Brain Jr. easier.
Live iPad controller from Liine and ST8 has been released.
LiveControl 2 gives you every single feature you need to jam, produce and perform with Ableton Live. The interface is divided across four pages: Launch, Modulate, Play and Sequencer. Each page is deep and feature-rich, while the layout is clear and intuitive. Compatible with both Live 8 and Live 9. Best of all, LiveControl 2 is completely free for all Lemur users.
Music: Tale Of Us – Another Earth (Minus 2013)
Launch
Launch drum clips while riding the fader on your piano track. Simultaneously open the FX strip for your vocals. View single channel strips or FX strips, or open the whole panel. Any combination is possible on the Launch page. Save and recall any combination of clips with the Presets function. Of course, you also get a complete transport section, including BPM, quantization and metronome controls.
Modulate
Control any effect or instrument, anywhere in your Live Set. Or control multiple devices at once. Assign up to 8 parameters to a traditional XY pad, or get creative with the four different types of modulation: LFO, Physics, Recorder and Presets. LFO allows you to tempo-sync any parameter to different wave shapes. Physics gives you control over the classic Lemur bouncing balls. Recorder lets you record, playback and edit your movements. Presets lets you save, recall and morph between modulation snapshots, Kapture-style!
Play
Play harmonies and melodies in key. The Play page is a harmonic grid that makes it easy to make music. Improvise by fingering patterns, without worrying about black and white piano keys. Quickly switch MIDI channel to change instrument. The layout includes a handy channel strip, giving you full control over MIDI expression (Pitch Bend, Mod Wheel), mixer settings (Volume, Pan, Effect Sends), or an FX strip with 8 macro knobs. Improvise your riff in the Play page, record into a MIDI clip, then switch over to the Sequencer page to edit your pattern.
Sequencer
Instead of using a mouse to point and click, how amazing would it be to tap, drag and touch the notes in the piano roll? LiveControl 2 lets you edit, improvise and perform MIDI clips. Draw notes, tweak the start and length, humanise the velocities. Over a dozen helpful tools to help you get creative: keys, scales, fold, chords, strum, reverse, invert, flip and more! Choose a key and scale to guide your melodies and use Quick Chord to instantly create harmonies.
Arpeggionome for iPhone: A New Musical Instrument for Controlling Arpeggios with the Touch of a Finger. Only $0.99 through May 31:http://itunes.com/apps/arpeggionomefo…
Arpeggionome for iPhone transforms your iPhone into a new and expressive musical instrument. Design intricate patterns of musical notes, then trigger those patterns at different pitches and speeds with an x-y matrix. Tilt the iPhone for accelerometer-controlled pitchbend and volume, and with the MIDI Upgrade in-app purchase, control other iOS MIDI apps, external MIDI gear, and computer software like never before.
MORE INFO: http://www.alexandernaut.com/arpeggio…
More info: http://blog.dubspot.com/logic-trap-3/
Matt Shadetek returns with another episode of Secret Knowledge, our video tutorial series of production tips, techniques and advice for Logic users. In this concluding chapter tutorial on trap drum programming, Shadetek explains how to put all the ingredients together in a mapped MIDI instrument so you can easily trigger kick, snare, hi-hats, and snare rolls. In case you missed the previous tutorials within this series, check out parts one and two.
In this tutorial Ryan Hemeon shows how to hook up an external midi controller and send the midi to two separate apps using MidiBridge. H uses Audiobus to keep the apps running in the background, iGrand and Magellan.