Keith McMillen Instruments has uploaded a new video featuring their new controller QuNexus – playing alongside a Clavia Nord
Video featuring the recently announced QuNexus Key Controller, the marketing pitch below:
QuNexus is a vividly illuminated keyboard that is both fun for beginners and a must have for modern musicians. 25 vividly illuminated, touch-sensitive keys invite the beginner to explore, and provide valuable performance feedback for the professional. Smart Sensor keys detect pressure, location, and velocity giving you unprecedented musical control.
Great for beginners and educators
Together with popular software apps, beginners can learn to play quickly and easily with QuNexus' game-like blue and white glowing keys, creating a fun and interactive learning experience. Now anyone can play the piano.
Pro functionality
QuNexus is the first keyboard controller to unite four generations of synthesis: MIDI, Control Voltage, OSC and USB.
"Though unconventional, QuNexus' sensor keys are faster and more accurate than my other keyboard controllers" Lauren Urroz (Keyboardist-DJ-Producer)
25 Smart Sensor Keys detect Pressure, Location, and Velocity
Polyphonic Aftertouch
7 Octave range
Pitch Bend Pad
2 CV/Gate Inputs
Gate and 3 CV Outputs (16-bit)
Blue and White LED Illumination with 16 levels of brightness
Portable: 14 oz, 3.5″ x 10″ x .5 "
Plug and Play: USB powered, no drivers needed
MacOS, Windows, iOS, Android, Linux
Artiphon has announce the INSTRUMENT 1 – an upcoming MIDI controller that they describe as 'the most advanced musical instrument for iOS. INSTRUMENT 1 is controller that's compatible with CoreMIDI iOS apps and designed to be a professional quality instrument. The body of the INSTRUMENT 1 is inspired by the forms of traditional stringed instruments and is cut from 'heirloom-quality' hardwood. It can be held in multiple familiar positions–from guitar and fiddle to lap steel and upright bass.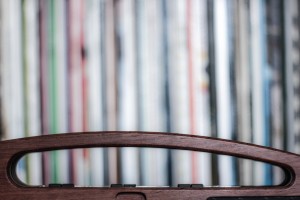 Artiphon INSTRUMENT 1 Specifications:
Compatible with any CoreMIDI-enabled iOS app and thousands of audio apps.
Patent-pending force-sensitive interface with six virtual frets and strings, and a strum section inspired by single-coil guitar pickups.
Accommodates five playing positions: guitar, mandolin, bass, violin, & lap steel.
High-quality onboard connections for headphones, microphone, ¼-inch stereo instrument cable, and MIDI in/out, and USB.
Controls for volume, instrument modes, and octave switching.
Rechargeable internal battery and 12v power input.
Integrated stereo speakers and a 30-watt, class-D amplifier.
Advanced control of multi-track recording apps including GarageBand, Pro Tools, and more.
Body carved of specialty hardwoods and bamboo from sustainable sources.
Designed and hand-built in Nashville, TN.
"We designed the INSTRUMENT 1 as a hybrid of pro-level components, ergonomic accessibility, and traditional instrument manufacturing techniques," says Artiphon founder Mike Butera. "It's been two years in the making and is unlike anything else on the market. We can't wait to see all the ways musicians put it to work in their creative processes."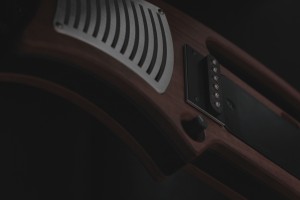 Note: The images shown here are based on an INSTRUMENT 1 prototype. The final prototype is nearly complete and production of the first units is planned for early 2013.
Price and Availability:
Artiphon will begin taking pre-orders for the INSTRUMENT 1 in the first quarter of 2013, at a price point under $1000.
Background description:
We had Moldover "The Godfather of Controllerism" stop by Knocksville while he was on his SuperVillain Fall Tour and asked him to perform for us an exclusive unreleased song. Be on the lookout for his upcoming album it's going to be unlike any of his past projects. Evolution is a beautiful cycle.
Both the guitar and mic controllers are prototypes I made for my recently completed Super Villain Tour. The microphone attachment is called The Mojito. It's simply eight arcade buttons built onto a steel clamp that I use to control vocal effects. The guitar is an instrument I'm developing with Visionary Instruments named The RoboCaster (after a well known cyborg/guitar). It's got every sensor I thought might be cool to have on there including accelerometers, an infrared emitter-detector, and a keyboard mod-wheel. This video highlights how I've mapped arcade buttons and a joystick to different intervals on a pitch shifter. Both controllers are tons of fun to play and have forced me to seriously re-approach how I play and sing.

The software I'm using is is Live, Max4Live & [Native Instruments] Guitar Rig. The song Not Your Mirror is from my forthcoming album FourTrack (kickstarter coming soon!). Grady Shon produced the video with help from Ben Shim & KnockSteady crew.
Learn more about Moldover
http://moldover.com/
A quick look at the Haken Continuum and Kyma sound engine. Thanks to Sally Sparks for the demo.
More at www.experimentalsynth.com
Get the project here – http://goo.gl/s9hFG a detailed tutorial here – http://www.youtube.com/watch?v=4oueAwfdMUo
The Fruity Envelope Controller allows you to link any target, plugin or FL Studio, to a range of envelopes that can be triggered from a MIDI keyboard or other controller. Perfect for live performance based automation or those cases where a plugin doesn't have enough of its own internal controllers.
This is a programmable midi controller that can be connected to your music software or a midi sound shield can be added and be completly stand alone.
More informations at; www.tabstrummer.com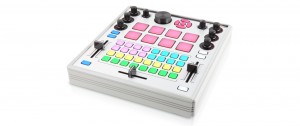 The Electrix Tweaker is a new performance controller for Ableton Live users and Traktor users.
The Tweaker includes a 32-button grid, velocity sensitive pads, push encoders with LED rings, in a 2 channel DJ mixer style interface, with bright multi color LED feedback.
Features:
2 Channel DJ mixer style interface
32 Button grid with multicolor LED feedback
8 Backlit velocity sensitive pads with aftertouch
6 Push encoders with LED rings
Intuitive navigation controls with 5-way selector and large push encoder
USB bus powered
MIDI In and Out ports
Removable height extension legs
Plug and play on Mac and PC
Dimensions: 11″ x 10.5″ x 1.75″ (279mm x 267mm x 44.5mm)
The Tweaker is USB Class Compliant in both Mac OS and Windows, and does not require any MIDI drivers for either platform. An additional set MIDI I/O ports are provided to connect other devices.
The Tweaker is available via the Electrix site for $399.99.
Now shipping! http://www.irigkeys.com for more information
Watch keyboard wizard Jordan Rudess of Dream Theater use iRig KEYS, iGrand Piano for iPad, and his own apps on multiple iOS devices!
The universal portable keyboard
iRig KEYS is the first ultra-slim and highly portable universal MIDI controller keyboard for iPhone, iPod touch, iPad and Mac/PC. iRig KEYS connects directly to the iOS device 30 pin dock connector or the USB port on your Mac/PC. It features 37 velocity-sensitive mini-keys — 3 full octave range plus one note, taking a minimal space on your desktop and can easily fit in a backpack or a carry-on bag.
iRig KEYS is Core MIDI and USB class compliant for a true plug-and-play experience both with iOS devices or Mac/PC, with no additional app, software or drivers to be installed to have it go and running. For total mobility, iRig KEYS is also an ultra-low power consumption unit.
iGrand Piano is the first concert-quality piano app, offering 18 gorgeous sounding, true-stereo, multisampled pianos, with fidelity that rivals the best professional piano instruments for Mac and PC, and a low-latency response that makes it feel like you're playing a real piano.
Sonic Logic is a modular MIDI controller for iPad, it allows you to make a MIDI setup live from your iPad and control an external DAW with it (like Ableton, Traktor, Logic Pro etc…)
It will be available in late November.
Find out more on Facebook: facebook.com/soniclogicapp