Behringer iSudio 202 and FCB1010 MIDI foot controller
Used Audiobus , Loopy HD as output and Jam up XT for guitar ,Rhythm Pad free for drums
Composed with Ableton Push // yehezkelraz.com
Controllerist Yehezkel Raz gives Ableton Push a workout on Paganini Etude for Push, a series of original variations on a theme by classical composer Niccolò Paganini.
The carefully redesigned DJ performance controller for TRAKTOR PRO 2 is coming soon. http://www.native-instruments.com/x1
Witness the evolution of TRAKTOR KONTROL X1. A new multi-purpose touch strip lets you nudge, needle drop, or get creative with loops and effects – at the swipe of a finger. Touch-sensitive encoders provide smart, reactive TRAKTOR integration. Command your decks as RGB back-lit buttons provide constant feedback, even in the darkest clubs.
Power, precision, and portability under maximum control – you've never felt closer to the music.
Featured music:
Jack Dixon & Rick Grant – Muted (ManMakeMusic / MMAKEM002)
George Fitzgerald – Hearts (ManMakeMusic / MMAKEM001)
October – Singularity Jump (Tanstaafl / TANS002)
Sneak preview from Sonic Logic version 1.2
The MIDI broadcast button allows you to map controls in your DAW easier and faster.
Download Sonic Logic for iPad here: https://itunes.apple.com/us/app/sonic…
App description below:
Sonic Logic is a modular MIDI controller allowing you to edit and control MIDI controller setups from your iPad.
Control Ableton Live, Logic Pro, Cubase, Protools, Traktor, and other popular DAWs right from your iPad.
Sonic Logic uses CoreMIDI to send MIDI signals so you can even hook it up to hardware synths using and iPad to MIDI cable.
Edit on your iPad! Super easy interface to create, edit, control, manipulate, assign MIDI controllers and notes live, using touch gestures. (No external editor needed).
Add Buttons, switches, toggle buttons, XY pads, sliders and text objects.
Their look and feel is meant to emulate real life controls, with real feedback.
* Create your MIDI controller easily from your iPad.
* Edit component's color, size, MIDI channel and controller number.
* Time advancing gestures for buttons, create a timed MIDI transition from 0 to 127 with just a press of a button.
* Control everything with multi touch.
* Snap to middle feature on sliders.
* Built in, editable templates.
* iCloud support, always stay synced with all your setups on any device.
* Low latency.
Music Radar demos NI's latest DJ controller, which works for both Traktor Pro 2 and Traktor DJ for iOS
It features mixer controls for two channels – each with faders and controls for gain, three-band EQ and a rotary which can be switched between controlling either Traktor's filter or one of the software's effects.

The Z1 also features a built-in audio interface, and allows tracks to be cued via an independent headphone output with its own volume and blend controls.
Keyboard Magazine's editor Stephen Fortner demos the MiniLab, a library of virtual analog soft synths from Arturia's V-Collection. It's bundled with a custom controller that pre-maps all knob assignments. All for $99.
Arturia's product description below: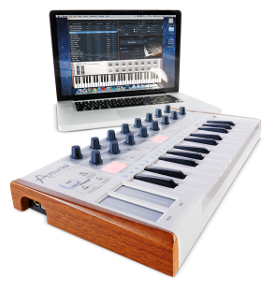 Arturia's MiniLab USB Controller marries the style you love with the hands-on control and portability you need to take your studio wherever you go.
Made for the musician on the go or the performer with limited space, the MiniLab gives you a great depth of features in a portable package that is sturdy and looks great.
Combined with the Analog Lab software, you get a real hybrid synthesizer that comes with a collection of 5000 sounds from the Modular V, CS-80V, Mini V, Arp 2600V, Jupiter 8V, Prophet V, Oberheim SEM V, and Wurlitzer V.
MAIN FEATURES:
25 note velocity sensitive mini keyboard.
16 encoders
16 pads (two banks of 8 pads/buttons)
Pitchbend/Modulation touch strip
Footswitch input
Recessed full sized USB jack
Bus powered, Class compliant
Works with iPAD (camera connection kit required)
Comes with Analog Lab software
5000 sounds from the best synths and keyboards
Bounce Back is a new feature for MIDI Designer 1.5.3 (coming in early July 2013). Bounce Back allows the user to define the 2nd Action Press for Button Groups.
Dream, create and play your perfect MIDI controller with award winning MIDI Designer: reviewed in Sound on Sound (June 2013), featured in Keyboard (May 2013), awarded Sonic Touch Gold Award for Best App (Episode 11 and featured in 23), loved by musicians, DJs, VJs, sound engineers, lighting and robotics experts the world over. If you can dream it, you can create it in MIDI Designer. Now available for iPad, iPhone and iPod touch.
Find out more at http://midiDesigner.com.
Arpeggionome Pro is a new musical instrument for controlling arpeggios with the touch of a finger. This video shows Arpeggionome Pro controlling Nave (via Virtual MIDI), and recorded by Cubasis (via Audiobus). Additionally, Arpeggionome Pro has the iPad's accelerometer mapped to control MIDI Note Velocity and Nave's filter's cutoff frequency.
PURCHASE APP
http://bit.ly/11QfXKz
MORE INFO
http://arpeggionome-pro.com.
iTRIGGER is a midi controller app for iPad. It allows you to control Ableton Live and other DJ software using your iPad over a wireless or usb connection. It allows you to launch clips and scenes and control many other features of Ableton.
POJ Studios enter the app world with iTRIGGER, a grid-based MIDI controller for iPad. It is designed specifically for use with Ableton Live but also works with other music software. iTRIGGER allows bi-directional communication to mix music, launch clips, change parameters like levels and panning, and provides feedback to the user through the multi-coloured grid display.

When the user first connects iTRIGGER to their computer either by WIFI or a compatible iPad midi accessory iTRIGGER becomes a standard x-y midi controller allowing the user to assign the buttons as they wish. Once iTRIGGER is correctly synced with Ableton Live all of the buttons are automatically assigned and lit up by the software in 4 separate modes, selectable within the app:

'CLIPS' mode: The 8×8 grid is assigned to an 8×8 area of clips from Live's 'Session View' with the buttons lighting up to signify whether a clip is loaded, playing or empty. The user can navigate their way around Live's 'Session View' using the directional buttons in the top corner of iTRIGGER and press the corresponding button to play clips or scenes using the scene play buttons at the end of each row.
MISC' mode: A miscellaneous set of controls including track levels, panning, effect levels, enable/disable track, cue track and track record.
'D.RACK' mode: For playing instruments using the 4×4 drum rack layout.
'X-Y' mode: For custom assignment using an X-Y layout.

iTRIGGER supports AirPlay to stream video performances live to compatible devices via WiFi. The app's background and button colours can be changed and the button images can be completely hidden against a black background for light shows.

iTRIGGER will be available in all regions from JUNE 22, 2013 exclusively on the iPad App Store. iTRIGGER will have a special week long launch price of $2.99 USD (priced accordingly in other regions) returning to the standard price of $7.99 USD on June 29.