October 3, 2013 · Posted in
Uncategorized
·
Comments Off

on More goodies from Image-Line: Deckadance 2 | Numark N4 Demo
MIDI script here: http://support.image-line.com/redirec…
Remixing using Deckadance 2 and the Numark N4 controller
Deckadance: http://www.image-line.com/documents/d…
Music Credits:
Deck A: Veela vocals – http://www.image-line.com/documents/p…
Deck C: Sacco – http://www.image-line.com/documents/p…
Deck D: Seamless – http://www.youtube.com/user/SeamlessR
January 26, 2013 · Posted in
Uncategorized
·
Comments Off

on More NAMM goodies: KingKORG, SPARKLE and Orbit
A demo of the brand new Korg KingKORG analogue modelling synthesizer.
Taking a look at the Numark Orbit – a wireless MIDI controller with an accelerometer, multi-couloured LED pads and a large rotary control.
Checking out the new mini drum machine and controller, SPARKLE. Plus FM get the low-down on the mini Arturia MINILAB controller and software bundle
July 23, 2011 · Posted in
Uncategorized
·
Comments Off

on SNAMM: New DJ Controller from Numark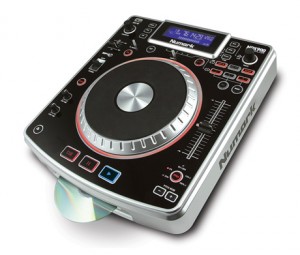 Numark has introduced the NDX900 DJ controller and MP3/CD/USB player at the 2011 Summer Namm Show in Nashville
Here's what they have to say about it:
The NDX900 DJ controller is capable of mixing music from virtually any digital source including a computer, audio CDs, MP3 CDs and even USB flash drives. NDX900 has a layout that is recognizable to DJs everywhere with a large, seven-inch touch-sensitive illuminated platter, smooth, frontloading CD drive, top-facing USB DJ controller port, powerful remixing, effects control, scratching, looping, and sampling capabilities, all in a chassis that has a solid feel and professional look. NDX900's Beat-synced DSP effects include chop, echo, filter, flanger, pan, and phaser with full control of the effects blend.
NDX900′s built-in audio interface works plug-and-play, allowing DJs to seamlessly integrate NDX900 with practically any computer and control virtually any DJ software. No drivers or external sound cards are required. With two NDX900s and a mixer of choice, DJs have a powerful and versatile digital DJ rig.
NDX900 includes Traktor LE 2 DJ Software and comes premapped for use with a variety of DJ software including Virtual DJ and Traktor 2 Pro, and is compatible with almost any MIDI compatible DJ software.
Details at the Numark site.
USB-MIDI DJ Controller with CD/MP3/USB player
Control software and play from CDs, MP3 CDs, or USB flash drives
Built-in USB computer audio interface
Includes Traktor 2 LE DJ Software
Premapped for use with Virtual DJ, Traktor, and compatible with virtually all MIDI compatible DJ software.
Beat-synced DSP effects with wet-dry fader: chop, echo, filter, flanger, pan, phaser
Smooth, fast, reliable, slot-loading drive
Large, seven-inch, touch-sensitive illuminated platter with auto-calibration
Control MIDI software with no timecode needed via USB
Automatic BPM analyzer and Tap tempo for manual BPM entry
Adjust pitch ±6, 12, 25, and 100%, or bend with pitch buttons
Key Lock holds pitch while you independently manipulate BPM
Seamless looping, sampling, and easily accessible hot cues
Large, backlit display for BPM, CD/MP3 text tags, and folder navigation