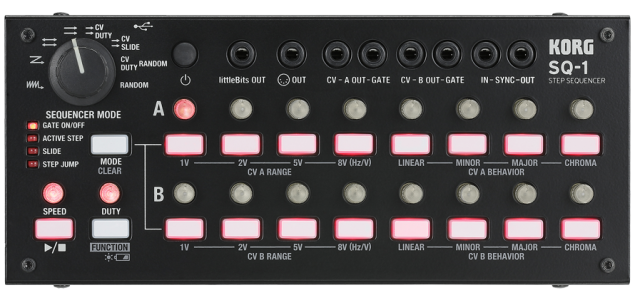 Korg has introduced the SQ-1 step sequencer, an updated take on the classic Korg SQ-10 step sequencer.
The Korg SQ-1 is a compact step sequencer with 2 x 8 steps. Its wealth of connection jacks allows it to be connected to the MS-20 and a variety of other synthesizers.
Both vintage analog synths and the latest compact synths can be controlled from the SQ-1.
Specifications:
Sequencer Mode – ALTERNATE, ORDER, PARALLEL TURN, PARALLEL ORDER, CV/DUTY, CV/SLIDE, CV/DUTY RADOM, RANDOM
Step Mode – GATE ON/OFF, ACTIVE STEP, SLIDE, STEP JUMP
Sequence Step Resolution – quarter notes, eighth notes, sixteenth notes
CV OUT Pitch – Linear, Minor, Major, Chromatic
CV OUT Voltage – 1V, 2V, 5V (Oct) 8V (Hz/V)
GATE OUT Polarity: + (positive polarity), – (negative polarity)
SYNC IN/OUT Polarity + (rise), – (fall)
Connectors

littleBits OUT jack (mini monaural phone jack)
OUT (MIDI OUT) jack (mini stereo phone jack)
CV – A OUT – GATE jack (mini monaural phone jack, CV OUT : Output Level 1V, 2V, 5V, 8[Hz/V], GATE OUT: output level 10V)
 CV – BOUT – GATE jack (mini monaural phone jack, CV OUT : Output Level 1V, 2V, 5V, 8[Hz/V], GATE OUT: Output Level 10V)
– IN – SYNC – OUT jack (mini monaural phone jack, SYNC IN: Max Input Level 20V,

SYNC OUT: Output Level 5V)
USB jack (type B, USB MIDI)
Power Supply – Two AA batteries (alkaline batteries recommended), or USB power
Battery Life – approximately 5 hours (when using alkaline batteries)
Dimension (W x D x H) – 93 x 84 x 63 mm/7.60″ x 3.31″ × 2.48″
Weight – 641 g/1.41 lbs.
Included Items – Two AA batteries for checking operation, mini plug – DIN cable
Options – Patch cable MS-CABLE-18
Pricing and availability for the Korg SQ-1 are to be announced.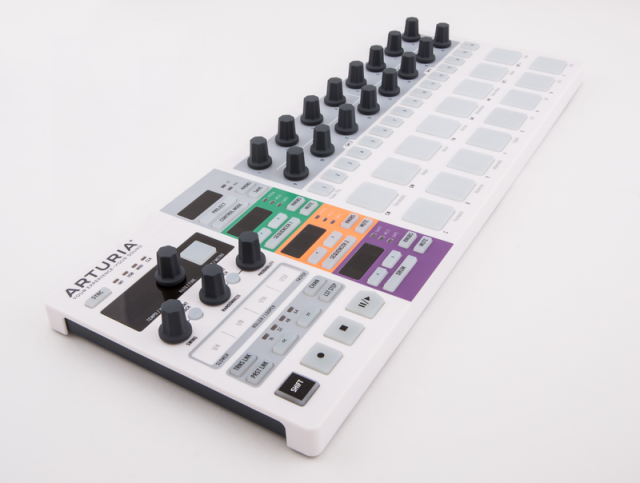 Arturia has introduced the BeatStep Pro — a flagship controller and dynamic performance step sequencer that they call 'a sequencing powerhouse'.
BeatStep Pro has been designed from the ground up to provide a hands-on hardware sequencing experience. It offers 16 touch-sensitive knobs, for entering of pitch, gate, velocity amounts, and timing shifts per step.
It includes two independent (colour-coded) monophonic step sequencers, each with dedicated displays to show the current playback position and bank length of the currently selected sequence. SEQUENCER 1 and SEQUENCER 2 have been greatly expanded with up to 64 steps per sequence, 16 sequences per project, and 16 projects, making BeatStep Pro one of the more powerful step sequencers ever made. each sequencer has its own 1V/Oct CV (Control Voltage) and (10V) GATE outputs to connect to suitably-equipped analogue synthesizers, together with a separate VELO (Velocity) output to allow for even more possibilities when working with a modular synth system setup.
An additional DRUM sequencer allows for 16 separate tracks of sequencing. Record in quantised realtime via the 16 pressure sensitive pads or use the 16 step buttons for a classic drum machine workflow. when working in SEQ1 and SEQ2 mode, the pads can control pitch transposition as well as accessing various musical scales — such as Chromatic, Major, Minor, Dorian, Mixolydian, Harm Minor, Blues, and also a User setting — while the DRUM sequencer itself also has eight DRUM GATES at its disposal (to send gate outputs from the corresponding pads for triggering external devices).
BeatStep Pro is also a controller. Switching from PROJECT to CONTROL MODE means users can trigger clips in their favourite DAW (Digital Audio Workstation), play drum sounds from an external module, or adjust parameters in their favourite plug-in. Possibilities are (almost) endless, limited only by (lack of) imagination.
Beatstep Pro also offers performance effects, including a realtime ROLLER/LOOPER touch strip; PROBABILITY, RANDOMNESS, and SWING settings.
Features:
2 monophonic step sequencers

Up to 64 steps per sequence
Note, velocity and gate time settings per step
Note tie

16-track drum sequencer (one track per pad)

MIDI controller mode
Fully customizable for knobs, step buttons and velocity and pressure sensitive pads
Send MIDI CC, note data, program changes

16 Projects, each with 16×2 sequences, 16 drum sequences and a controller map.
Performance controls
Randomizer with Amount and Probability settings
Real-time looper/roller touch strip
Independent swing amount per sequence
Touch sensitive knobs
Tap Tempo
Connectivity

CV/GATE outputs (1 volt per octave CV, 10 volt gates)
8 drum gate outputs
Clock sync with multiple standards
MIDI In/Out with supplied MIDI adaptors
USB class compliant

Kensington lock
BeatStep Pro will be shipping in Spring 2015 and available for €249.00 EUR/$299.00 USD. See the Arturia site for details.
Sequential is back! 100% analog signal path with discrete voltage controlled oscillators, filters, and amplifiers. More info at www.sequential.com
Vintage with a Modern Twist
The Prophet-6 is Dave Smith's tribute to the poly synth that started it all—the Sequential Prophet-5. But it's not simply a reissue of a classic. Rather, as Dave puts it, "It's the result of our effort to build the most awesome-sounding, modern analog poly synth possible." The Prophet-6 takes the best qualities of the original Prophet-5—true voltage-controlled oscillators, filters, and amplifiers—and adds enhancements such as studio-quality effects, a polyphonic sequencer, an arpeggiator, and more. The result is pure, unadulterated analog tone with the stability and reliability of a state-of-the-art modern synth.
Classic Tone, Classic Vibe
Central to the warm, punchy sound of the Prophet-6 are its two newly-designed, discrete voltage-controlled oscillators (plus sub-oscillator) per voice. Continuously variable waveshapes provide the tonal palette with triangle, sawtooth, and variable-width pulse waves. There are two discrete filters per voice—a four-pole, resonant, low-pass inspired by the original Prophet-5 filter, and a two-pole, resonant, high-pass filter. Voltage-controlled amplifiers complete the all-analog signal path.
Dual Effects
The dual effects section provides studio-quality reverbs, delays (standard and BBD), chorus and phase shifter. While the effects themselves are digital, with 24-bit, 48 kHz resolution, a true bypass maintains a full analog signal path. There's also an independent stereo distortion effect, which is 100% analog.
Poly Mod and Poly Step Sequencing
Also present from its classic predecessor is a Poly Mod section, with enhancements. True to the original, modulation sources are filter envelope and oscillator 2 (both with bi-polar control). Destinations include oscillator 1 frequency, oscillator 1 shape, oscillator 1 pulse width, low-pass filter cutoff, and high-pass filter cutoff. Another welcome reprise is Unison mode, which features configurable voice count (1-6 voices) and key modes. The polyphonic step sequencer allows up to 64 steps and up to 6 notes per step. You can create sequences polyphonically, with rests and sync to an external MIDI clock. The full-featured arpeggiator can be synced to external MIDI clock as well.
Easy to Program
The knob-per-function front panel offers instant access to virtually all Prophet-6 functions. Included are 500 permanent factory programs in 10 banks of 100 programs. In addition to these, you can create and save up to 500 user programs of your own. Toggling off the Preset button enables live panel mode, in which the sound of the Prophet-6 switches to the current settings of its knobs and switches. In this state, what you see is what you hear.
Easy to Play
All of this awe-inspiring sound is packed into a four octave, semi-weighted keyboard with velocity and channel aftertouch that's an ideal combination portability and power for the project studio or the gigging musician.
Here's a presentation and demo of the Sequential Prophet 6 by Dave Smith himself at the NAMM Show 2015.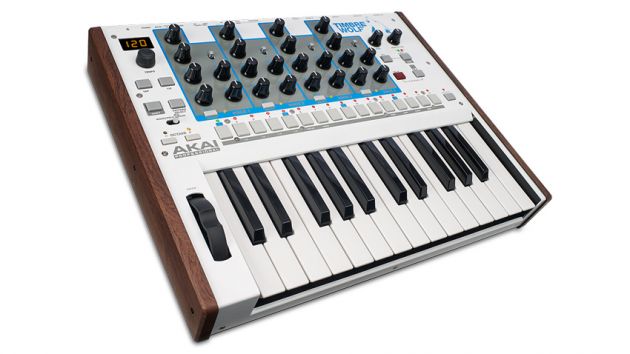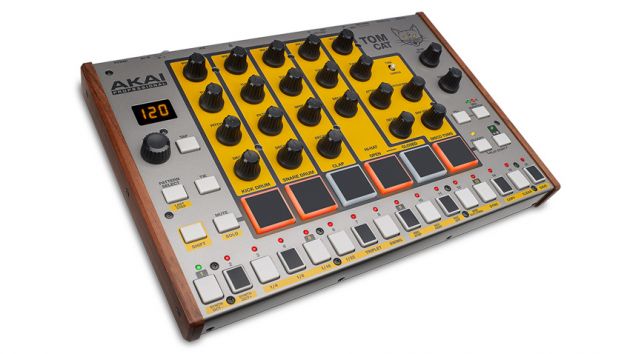 The Timbre Wolf looks particularly bold: a 4-voice polyphonic synth that's set to retail for £300. It can be used as four monosynths, in 4-voice unison mode or as a 4-voice polysynth. Each voice has its own 32-step sequencer, and there's a full-size 25-note keyboard.
Tom Cat, meanwhile, offers kick, snare, hi-hat and clap sounds and chromatically-tunable disco toms. You can adjust the tuning, amplitude envelope and volume of each voice independently.
There are also six pads and a 32-step sequencer, along with swing, pattern select and tempo controls. It's said that you can 'dirty up' your beats using the 'Maul' circuitry. Tom Cat will sell for £150
Sweet

Here's a presentation of Tom Oberheim's Two Voice Pro synthesizer at the NAMM Show 2015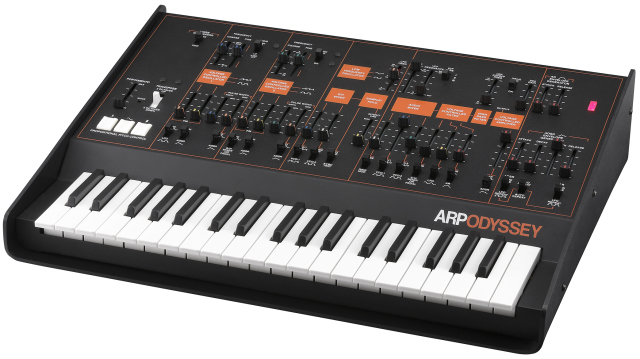 Originally produced in 1972, the ARP Odyssey was updated with several improvements throughout its history and was manufactured until 1981, due to economic hardships and the rise of cheap polyphonic digital keyboards.
The new Korg Odyssey has a compact body, highly operable sliders, and a 37 note slim keyboard. In addition, a new 'DRIVE' switch is provided and connectors include MIDI and headphone output as well as Patch cables have been added.
According to the company, "Korg has brought back the ARP Odyssey for today, while preserving the basic design of the original".
The New ARP Odyssey
"Together the engineers at Korg and Arp were able to nail the sound and feel of the original. Under the advisory assistance of David Friend, the co-founder of ARP Instruments, every detail was adjusted to replicate the original unit's distinctive synthesis," says James Sajeva, Brand Manager for Korg products. "Every aspect has been carefully considered to stay true to the quality of the original, down to the sophisticated semi-hard case."
Korg has completely reproduced the original circuitry for artists looking to recreate classic sounds and explore new ones. The ARP Odyssey has been downsized to 86% of the original. Carefully selected parts are used in the familiar slider section, providing an operating feel that's even smoother than the original.
Product Specifications:
Keyboard: 37-note (Slimkey, No velocity sensitivity, No aftertouch)
Maximum Polyphony: 2 voices for duophonic; normally monophonic
Controllers: Transpose Positions: 2 octaves down, normal, 2 octave up
Proportional Pitch Control: b (Pitch down) Pad: about -2 / 3 octave – (Modulation) Pad
# (Pitch-up) Pad: about +2 / 3 octave
Noise Generator: Noise Spectrum Types (white and pink)
Portamento: Maximum Speed: about 0.01 msec./oct
Minimum Speed: about 1.5 sec./oct
VCO (Voltage Controlled Oscillator): Waveforms: Sawtooth, Square, Pluse (Dynamic Pluse)
Frequency Range: VCO-1 in low freq. mode, 0.2 Hz – 20 Hz: VCO-1 and VCO-2 (audio range) about 20 Hz – 20 kHz
Warm Up Drift: 1/30 semitone from turn on max
Pulse Width: 50 % – 5 %
Pulse Width Modulation: ADSR, +45 %; LFO, +15 %
Voltage Controlled Response: 1 V/oct
Maximum Frequency Shifts: LFO sin wave, +1/2 oct.; LFO square wave, +1.5 oct.; ADSR, +9 oct.; S/H, +2 oct.
* VCO-1 is low note priority, VCO-2 is high note priority.
VCF (Voltage Controlled Filter): Types: Low pass (I: 12 dB/oct., II III: 24 dB/oct.)
Frequency Range: 16 Hz – 16 kHz
Maximum Usable Q: 30
Resonance: 1/2 – self oscillate
Voltage Controlled Response: C3 key (left edge): 0 V, C6 key (right edge) 3 V
VCA (Voltage Controlled Amplifier): Dynamic Range: 80 dB
Ring Modulator:
Type: Digital
Input Signal: VCO-1, VCO-2 (square wave)
Sample & Hold:
Command Sources: Keyboard or LFO trigger
Sampled Signals: VCO-1 sawtooth wave and square wave, VCO-2 square wave and pink noise
ADSR Envelope Generator:
Attack Time: 5 msec. – 5 sec.
Decay Time: 10 msec. – 8 sec.
Sustain Level: 0 – 100 % or Peak
Release Time: 15 msec. – 10 sec.
AR Envelope Generator:
Attack Time: 5 msec. – 5 sec.
Release Time: 10 msec. – 8 sec.
Control Input Jacks:
Pedal: ?6.3 mm monaural phone jack
Portamento Foot Switch: ?6.3 mm monaural phone jack
Audio Output Jacks:

LOW:
Connector: ?6.3 mm monaural phone jack
Maximum Output Level: -20 dBu@ 10 k? load
Output Impedance: 10 k?
HIGH:
Connector: XLR connector
Maximum Output Level: +4 dBu@ 1 k? load
Output Impedance: 330 ?

Headphones Jack:
Connector: ?6.3 mm stereo phone jack
Maximum Output Level: 50 mW + 50 mW@ 33 ? load
Output Impedance: 10 ?
* Controllable by volume knob.
External Audio Input (Ext Audio Input) Jack:
Connector: ?6.3 mm monaural phone jack
Maximum Input Level: -10 dBu
Input Impedance: 22 k?
MIDI Connector:
IN
USB Connector:
Type B
CV IN/OUT Jacks:
Keyboard CV (IN/OUT): 1 V/oct.
Connector: ?3.5 mm monaural phone jack
GATE IN/OUT Jacks:
GATE IN: +3 V (minimum)
GATE OUT: +10 V, key down; 0 V all keys up
Connector: ?3.5 mm monaural phone jack
TRIG IN/OUT Jacks:
TRIG IN: +3 V pulse min., 10 ?sec. Duration minimum
TRIG OUT: +10 V pulse on key depression, 10 ?sec. Duration
Connector: ?3.5 mm monaural phone jack
Power Supply: AC adapter jack (DC 9 V)
Power Consumption: 6.5 W
Dimensions (W x D x H):  502 x 380 x 120 mm / 19.76″ x 14.96″ x 4.72″
Weight: 5 kg / 11.02 lbs
Accessories:
AC adapter, phone cable, mini-phone cable, owner's manual, dedicated semi-hard case
Options:
VP-10 Volume Pedal, PS-1/PS-3 Pedal Switch
Pricing and Availability.
The new Korg ARP Odyssey has an MSRP $1400. Availability is TBA.
NAMM 2015: Roland\'s New JD-XA – Big Daddy Of JD-Xi Now this looks interesting too
Waldorf has announced a range of new products which will be shown during the upcoming NAMM show in Anaheim this week.
nw1 is our debut product for the popular Eurorack format. It includes an advanced wavetable engine with independent control of spectral envelope and noisiness – just like Nave.

Wavetable scanning is cyclic with optional modulation of travel speed, position, spectrum and more. By providing the worshipped Waldorf wavetable set from the classic Microwave and Wave synthesizers, nw1 will enrich your Eurorack modular system as a potently powerful sound source.
nw1 Wavetable Module will be shipping Q2 2015 for SRP 329 EUR.
We have migrated our virtual drum and percussion synthesizers Attack to the iPad. Its impressive sound engine is cleverly complemented by an integrated 16-step sequencer that is as fun to use as it is useful.

Attack offers 24 instruments – each entirely programmable through a stunning, touch-optimized user interface. Its oscillators are fat, the filter flexible, and envelopes lightning fast.
Attack for iPad for ship approx. Q2 2015, priced at 17.99 EUR.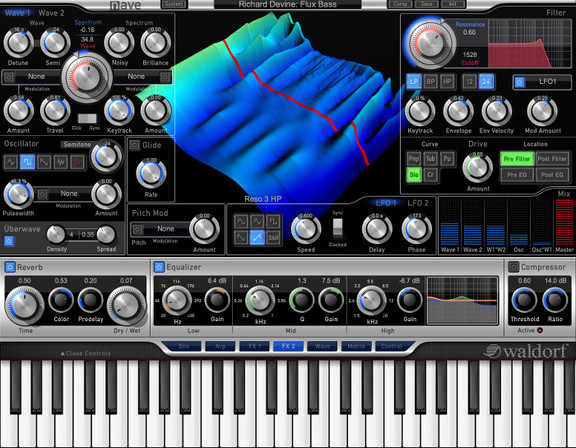 The award-winning Nave has succeeded in changing perceptions of what a serious iOS instrument can be, thanks to unique sounds simply unachievable with any other synthesizer.

We have often been asked when Nave would be available on other platforms. This new Nave brings that notable Nave sound engine to your favourite DAW.
NAVE for VST/AU/AAX will be available for purchase Q2 2015 for 149 EUR.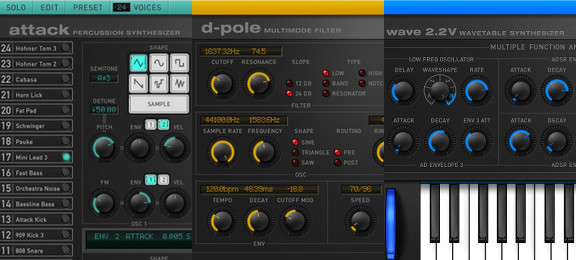 Tellingly, the classic Waldorf Edition has had a visual makeover, but its core values remain unchanged and unchallenged: the holy trinity of inspiring software instruments! Get your groove on with a slamming drum synth providing plenty of powerful percussion voices. Flex your sound-sculpting muscles with a real – and really assertive – Waldorf filter.

The new Waldorf Edition 2 version also brings an exceptionally expanded effects section (with Delay, Equalizer, Drive, Phaser, Flanger, Chorus, and Reverb)
Waldorf Edition 2 will be available Q2 2015 for 69 EUR. All owners of a Waldorf Edition will be able to update for 10 EUR only.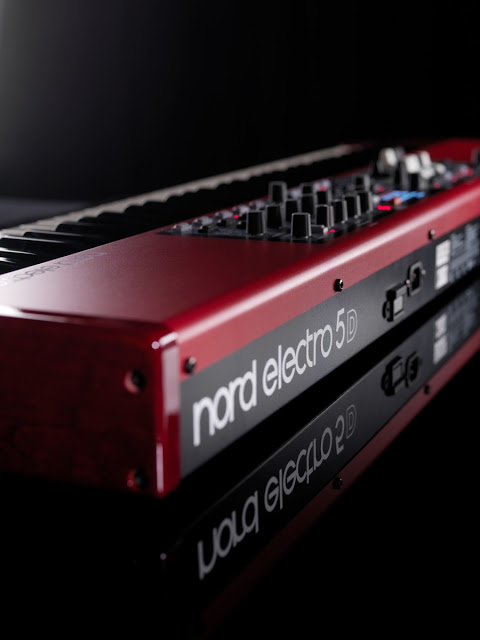 The Nord Electro 5 will be shown for the first time at the NAMM Show 2015, Anaheim, California, January 22-25th in the Nord Booth #6464
"With enhancements to every area of the instrument, the Electro 5 redefines Nord's legendary live keyboard.
Nord Keyboards are proud to present the new Electro 5 Series – the latest incarnation of our famous keyboard for the performing musician. Since its introduction in 2001 the Nord Electro has been the natural choice for musicians in need of authentic emulations of classical electro mechanical and acoustic instruments in a portable and easy to use package. With enhancements to every sound-generating section, to its user-interface, and to its functionality, the Electro 5 is more refined, more live-focused, and more flexible than ever.

HIGHLIGHTS
General
Splits and Layers – Piano/Organ, Piano/Sample, Sample/Organ
1 GB memory for Nord Piano Library
256 MB memory for Nord Sample Library
OLED Display for excellent overview and readability
6 Split Points with LED indicators
Redesigned Program section with Set List feature
E-E key range for 5D 73 and 5 HP
Piano Section
Sympathetic String Resonance
Sample Synth
Dedicated Sample Synth section with Attack/Release and dynamic controls
Organ
Physical Drawbars on 5D 61 and 5D 73 models
Principal Pipe Organ model
B3 Tone Wheel Bass
Leslie 122 simulation from Nord C2D
Mount for Half-Moon Switch for Rotary Speaker control (5D 61/73)
Effects
All effects now in Stereo
Tube overdrive simulation
Vibe effect
Separate Reverb/Delay effects
Tremolo, Pan, Ring-Mod and Wah-wah can be controlled with Control Pedal
PIANO SECTION
The new Electro 5 series all feature 1GB of Piano Sample memory, allowing you to bring even more of our unique sampled acoustic and electric pianos on stage. The subtle but effective Sympathetic String Resonance technology derived from the Nord Piano is now implemented in the Electro 5 delivering an unprecedented degree of realism to your performance when using our Grand or Upright pianos.
The piano section of the Electro 5 contains acoustic and electric pianos from the ever-expanding, and freely downloadable Nord Piano Library. Expertly sampled and brimming with unique character, the Grand and Upright Acoustic Pianos, legendary Electric Pianos, Clavinet and Harpsichord, provide a stunning sound palette.
ORGAN SECTION
The Electro 5 Organ section features a new Principal Pipe Organ mode as well as the classic Tone Wheel simulation and the highly acclaimed Rotary Speaker simulation of a vintage 122 unit from the award winning Nord C2D Combo Organ.
A new B3 Tone Wheel Bass feature gives you the classic 16" and 8" bass drawbars in the left hand and can even be used with the Piano and Sample section for a thick and meaty bottom. Both the Electro 5D 61/5D 73 feature physical Drawbars and can accommodate the Nord Half-Moon switch with stop/slow/fast modes (optional accessory).
SAMPLE SYNTH SECTION
The new Electro 5 features a dedicated Sample Synth section with expanded memory for the Nord Sample Library (256 MB) and additional controls for attack, decay/release and dynamics (filter/velocity). The Nord Sample Library features a broad selection of free sounds from acclaimed sample producers as well as exclusively licensed sounds of the legendary Mellotron and Chamberlin.
EFFECTS
Electro 5 also features new improvements in the Effect section – all effects are now in Stereo, the Delay and Reverb are now separate effects. The Modulation effects now include a Vibe effect and the Amp section features an added Stereo Tube overdrive. Tremolo, Pan, Ring-Mod and Wah-wah effects can all be controlled with a Control Pedal.
SPLIT AND LAYERS
The Nord Electro 5 has two sound slots that can be combined in a layer or split over the keyboard (Organ/Piano, Piano/Sample Synth or Sample Synth/Organ). Each of the sound slots can have specific effects and separate Control Pedal and/or Sustain Pedal assignments. For example chorus and Sustain Pedal on the Piano and some Delay and a Control Pedal on the Sample Synth. The split function includes 6 split points, indicated with LED lights for obvious identification on stage.
Each of the effects sections can be assigned freely to either Upper or Lower parts.
NEW DISPLAY
The super clear new OLED display offers excellent overview when selecting sounds and editing programs.
SET LIST FEATURE
The Electro 5 features a new Set List mode that lets you easily organize a group of Programs for each specific song in the list. Each song can consist of up to 4 different Programs, freely assignable from your existing Programs. You can create unique Set Lists for different bands or situations and the names and order can be easily customized on the fly without connecting it to a computer.
ELECTRO 5 MODELS
Three Electro 5 models will be available:
The Electro 5D 61 and Electro 5D 73 feature semi-weighted waterfall keybeds with 61 notes (key-range C-C) and 73 notes (key-range E-E) respectively. Both feature physical drawbars for the Organ section.
The Electro 5 HP 73 features a Hammer Action Portable 73 note keybed (key-range E-E) with Nord's electronic LED drawbars.
The Electro 5D 61 and Electro 5D 73 weigh just 7 kg and 8 kg respectively, whilst the Electro 5 HP 73 weighs just 11 kg even with its Hammer Action Portable keybed.
PRICING AND AVAILABILITY
All models will be shipped in April 2015 with pricing to be announced. Like all Nord keyboards, the Electro 5 is handmade in Sweden with meticulous attention to detail and quality control."