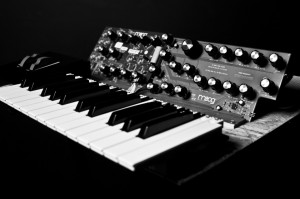 Moog Music shared a few teaser images today of their new synthesizer, to be released at the 2013 NAMM Show, that just might be called the Sub Phatty.
Features of the Sub Phatty are expected to include:
Two stable oscillators
A suboscillator
Noise generator
Twin ADSRs envelope generators
Multidrive circuit
Traditional Moog VCF
25-note keyboard
Pitch bend & mod wheels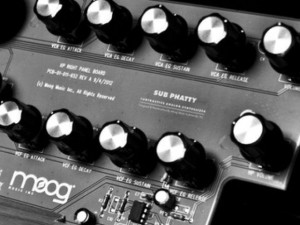 Note: Official specs, pricing and availability are expected to be announced at the NAMM Show.
Professor Herb Deutsch, synth pioneer and collaborator of Bob Moog, visited the Moog Machine Shop during Moogfest 2012. While here, Professor Deutsch explored Moog's next generation analog synthesizer, while still in it's research & design phase. In the past, Bob Moog always tested his ideas, instruments and sounds with musicians and colleagues. This spirit of collaboration continues at the Moog factory to this day and is essential to our work. It is a key part of the product development process, as it furthers our ideas and helps us shape better tools for musicians.
Making its official debut at NAMM 2013, the first 24 of these new instruments are being handcrafted at the Moog Factory this week. Until you get a chance to see it in its final form at NAMM 2013, please enjoy this video. Love, your friends at Moog.
IK Multimedia has announced iRig Recorder for the Android operating system.
iRig Recorder is a simple to use audio recording app that can start recording immediately when it is launched making it a perfect "on the spot" field recorder. Users simply launch the app and hit the record button, or can also configure the app to start recording audio immediately upon launch.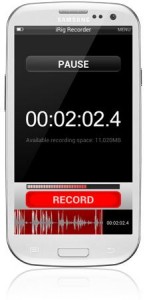 The app automatically groups recordings by date, tags them with geographic location information, and saves the original file as a backup. Recording time is limited only by the available memory on the device.
iRig Recorder also provides a waveform editor, which allows for selecting, cutting, and cropping of the audio content. Automatic onboard audio processing options can optimize recording levels and tone, remove background noise and more. The app can also speed up or slow down a recording without changing the timbre.
Export Options
Finished recordings can be shared by e-mail and FTP, over Bluetooth, through USB cables, from an SD card, or via apps installed on the device. Files can be exported as CD-quality WAV files, or as compressed .ogg files, ranging from 64 to 192 kbps.
A free version of iRig Recorder is also available, which provides the same recording, level-optimization and export features as the full version, and users can add the editing and additional processing via in-app purchase.
Pricing and Availability
iRig Recorder will be available at the end of January on the Google Play Store, and is priced at $4.99.
Video description:
See it all NOW at CES!!! More information: http://www.ikmultimedia.com/news/events/?item_id=1983
iRig HD: http://www.ikmultimedia.com/news/events/?item_id=1978
See latest IK products, photos and more happening at this year's CES
The best and the brightest come to CES to display their new innovations for the year and at the IK Booth you'll see no one rocks the world of Mobile Music Accessories like we do!
Get latest product announcements, images and more by visiting the CES Show Report. Also follow us on Twitter, Facebook and YouTube for more CES coverage. Or check back here on the IK site for new IK product announcements that will rock CES socks off!
Show attendants can also come by the IK Booths for hands on demonstrations of current and upcoming products.
Consumer Electronic Show (CES)
Las Vegas, Nevada
January 8-11, 2013
10am-6pm
North Hall, Booth 5625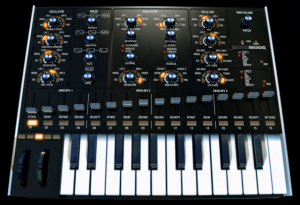 As we are well accustomed to rumors are starting to spread on what will be released at the NAMM show, only three weeks away now. Expectations are high for a new synth from Moog Music – perhaps something like this MonoMoog, which likely comes from the special category of Photoshop synths.
NAMM is soon upon us again and just as always rumors are beginning to flourish. The first comes from KORG regarding two new products from Korg, the King Korg and the MINI MS-20.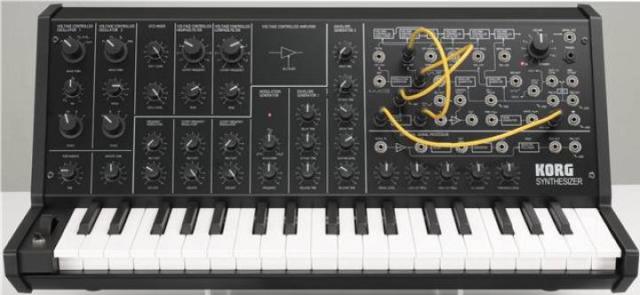 The MINI MS-20 is rumored to be a new version of their analog classic, the MS-20 in a smaller chassis and with mini keys.  The picture looks at first glance like the MS-20ic controller that came with the Korg Legacy collections, but some subtle details such as screw and LED locations appear to be different.  Will it be an actual analog synth, or just a repackaged, self-contained version of the Korg Legacy version? The other rumor is about the King Korg, which some believe to be a 3-oscillator analog synth.  But is it real analog or just another virtual analog?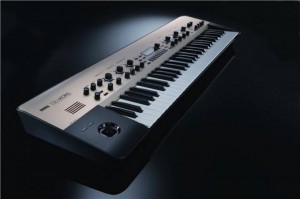 Soon we will know, but it seems that after the success of the Monotron series, this could be a logical direction Korg might take.  On the other hand, a higher price point would likely make these more niche products that would do smaller numbers than a company the size of Korg might bother with.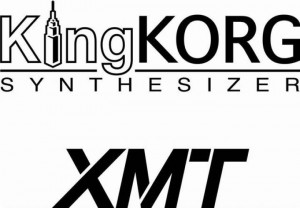 Fresh from Summer NAMM, here's a closer look at a new controller, the Samson Carbon 61
New from the floor of summer NAMM 2012 Samson introduced the new 61-key version of their popular Carbon MIDI controller series.

The new "Carbon 61″ even has an iPad dock! This is expected to be released in the next few months!
Richie Hawtin is a regular attendee of the NAMM trade event — which takes place in January in Anaheim, California. Its a rare opportunity to look behind the curtain of what makes the technology industry operate — which fuels the work of Richie Hawtin. Here Richie tours the event to provide this exclusive video report for his followers
NAMM Members represent every aspect of musical instrument manufacturing and retailing.
Edit by Barbara Klein
Camera by Jonni Rutkowski
Here's a guest post from one of our followers – S. Williams, enjoy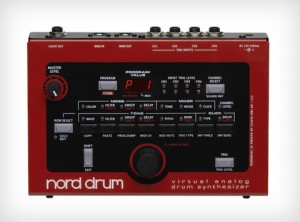 Looking back at NAMM 2012, there is much controversy in picking 'the best in show' but in terms of initiative and surprise we can all agree that the Nord Drum synthesiser is right up there. Nord cleverly created hype by releasing a few teaser pics a few days before NAMM but they may as well been pictures of a guitar as no one could of predicted what they had in store for us. It is not a drum machine in the traditional sense and is in-fact a virtual analogue drum synthesiser triggered by external devices. Nord promised that the virtual drum is " guaranteed to change your perception of what's possible with synthetic, sample-free percussion". And that's exactly what they have done, by creating a device that is totally brilliant and unique.
At the Nord stand at NAMM I was very much hoping to have a go on the drum but unfortunately I wasn't allowed. However I did get the best seat in the house and get a great view of a tutorial like the one below, but it's just not the same.
All it has done is make me desperate to play one and count down the days until its release date. Unfortunately I can't give you more information on a playing experience but I can forward what I know and my opinions.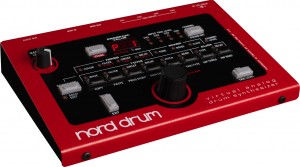 The Nord drum creates its sound through complex analogue waveforms and noise generators similar to that of a vintage Synth. It features lightening-fast triggering, and four trigger inputs allow MIDI equipped devices to connect. With this variety of connections we assume Nord intend to integrate the drum into an existing set-up or to be used as an electronic percussion module. With Nord making all the right noises describing the drum as 'retro-futuristic', it certainly ticks both boxes and is undoubtedly a great product. I can't really see it introduced in live sets just yet, but would certainly be useful in studio set-ups and home usage. It is due to be available very soon, so sign up to this newsletter for more information and to be kept posted.
When it is released I will certainly buy and review it again in more detail and give it a thorough test drive. So stay tuned to this blog and we'll see just what the Nord Drum is capable of.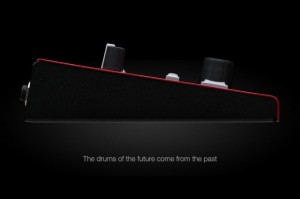 Checking out the Dewanatron Hymnotron instrument from Leon and Brian Dewan at winter NAMM 2012. The Hymnotron is a just intonation tone organ that uses a binary key arrangement.
The Dewans create unique handcrafted 'folk synthesizers' that explore areas ignored by the mainstream music industry.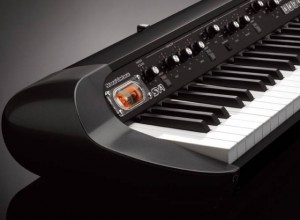 Korg has announced two new editions for its SV-1stage piano.
SV-1 Black: The Korg SV-1 Stage Vintage Piano has been given an elegant matte black stage finish; available with 73 or 88 keys.
SV-1 Reverse Key Limited Edition: The SV-1 Reverse Key is going to be available in a limited edition of 500 of each model.
While not a new keyboard design, the new Korg SV-1 are stylish variations on a stage piano that's proven to be popular.
Pricing & Availability:
The Black Stage Vintage Piano will be available mid January, 2012 priced $2,700 USD (SV-1BK73) / $3,000 USD (SV-1BK88).
The Reverse Key Stage Vintage Piano will be available May, 2012, priced $2,900 USD (SV-1R73) / $3,200 USD (SV-1R88).