See and hear Elektron's brand new Analog Rytm hybrid analogue and digital drum machine in this exclusive demo at NAMM 2014
Elektron Analog RYTM Drum Machine Analog drum synth with sample layer
Playing around with the new Moog Sub37 Analog Synth at NAMM 2014!
Here's a presentation of the new Moog Sub 37 at the NAMM Show 2014.
Enjoy
NAMM 2014: Nord Lead A1 – First look New VA on behind closed doors
About the synth:
Producing stand-out sounds for live or for the studio, the Lead A1 is ideal for all musical genres. Thanks to its carefully thought-out user interface, the Lead A1 encourages experimentation, allows for far speedier programming than would otherwise be possible, and ultimately delivers sensational sonic results. At the heart of the Lead A1 is our new analog modeling engine. Taking our virtual analog synthesis to a new level, this modeling recreates a total analog signal path with uncanny realism, and is capable of immense sonic variety. With 24-voice polyphony and four simultaneous synthesizer parts, the Lead A1 is a true synthesizer powerhouse that goes far beyond the current trend for limited capability analog reissues. Fundamental to the design of the Lead A1 is a brand new simple yet sophisticated front panel interface. The design is in fact the result of requests from professional players – even the most experienced programmers – who need to create the perfect sound as quickly as possible for today's live or studio time demands. The Lead A1 allows easy patch creation and experimentation thanks to a new and unique oscillator section, pre-programmed modulation matrix, and simplified ADR envelopes. Dive in and create incredible patches far quicker than would normally be possible with a synthesizer of such power.
Oscillators
Unique Oscillator concept
8 Oscillator Configurations
Pitch, Detune, Shape, Sync, AM, Noise, Dual Osc, FM
Traditional Analog and Digital Waveforms
Modulation
LFO with 5 waveforms
Mod Envelope
LFO as additional ModEnv
Filter
12, 24 dB low-pass filters
High-pass and Band-pass filters
Transistor and diode ladder filter simulations
of Mini and TB-303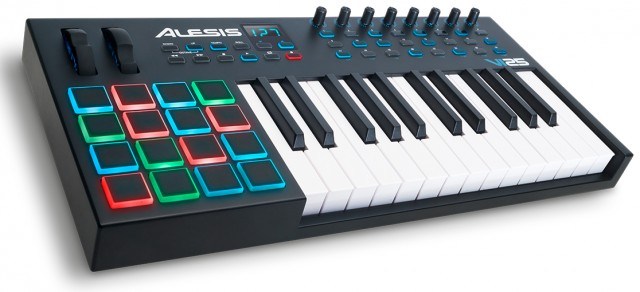 Alesis has introduced the new V Series and VI Series of full-size keyboard/pad controllers:
The new Alesis V Series (V61, V49, V25) combine velocity-sensitive keys with eight drum/trigger pads. Blue LEDs illuminate the pads, as well as the four assignable knobs and buttons. Assignments may be made quickly via the MIDI Learn feature. Octave shift keys provide access to the entire note range. A single USB cable provides both a power and data connection to nearly any computer.
The Alesis VI Series (VI61, VI49, VI25) add semi-weighted keys and aftertouch. The pad count has been increased to 16, with multi-color illumination. This layout provides intensive command over the clip trigger workflow of top DAW and compositional software. The internal clock offers drum roll, tempo, and sync capabilities. An optional power supply and a standard MIDI output allow for stand-alone use.

Alesis V Series Highlights:
Full size, flat-front keys (25, 49, or 61)
Pitch Bend and Modulation Wheels
8 Pads with blue LED illumination
4 Assignable knobs and buttons
Sustain pedal input
USB MIDI
Alesis VI Series Highlights:
Full size, flat-front keys (25, 49, or 61)
Semi-weighted keys with Aftertouch
Pitch Bend & Modulation Wheels
16 Pads with Multi-color LED illumination
VI25: 8 knobs, 24 buttons
VI49: 12 knobs, 36 buttons
VI61: 16 knobs, 48 buttons
Transport and Present up/down buttons
Sustain pedal input
USD MIDI, MIDI Out
Internal Clock for sync, tempo, rolls, etc.
The V and VI Series will have the following respective estimated street prices, V25 ($79.99 USD), V49 ($99.99 USD), V61 ($149.99 USD), VI25 ($169.99 USD), VI49 ($199.99 USD), and VI61 ($249.99 USD).
Here's a presentation of the new Dave Smith Instruments P12 at the NAMM Show 2014.
Dave Smith P12 Module LIVE Performance Demo at NAMM 2014 on BBoyTechReport.com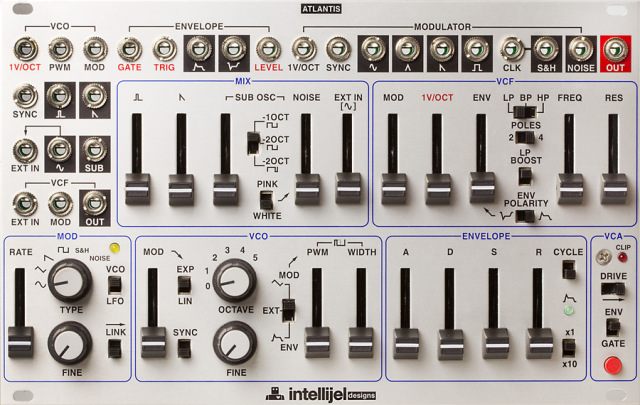 Intellijel has introduced the Atlantis – a fully patchable dual oscillator analog subtractive synth voice in Eurorack format.
The Atlantis is heavily inspired by the architecture and sound of the classic Roland SH-101. However, the Atlantis uses triangle core VCOs (based on the Dixie core) instead of Saw core, which respond much more musically to FM. The modulation oscillator can be used as an LFO or VCO (audio rate) and both track very precisely over 8 or more octaves.
The Intellijel Atlantis
In the mixer section you can adjust the balance of the primary oscillators waveforms including a sinewave which is normalled to the EXT IN jack. You could also patch in one of the modulation oscillators waveforms into this channel and be able to operate the Atlantis as a proper two oscillator synth. There is a switch labelled ?LINK? which enables the modulation vco pitch to be based as an offset of the primary VCO. This is useful when using it as a stacked dual vco or when you have the mod VCO acting as the linear FM source for the primary vco and wish to maintain the ratio.
The filter section is a Roland style cascaded 4 pole multimode filter with LP, BP and HP modes. The LP Boost switch engages a special mode useful for the LP that produces a much fatter and prominent sound that is not drowned out by resonance (unlike the original SH-101). The filter self-oscillates to produce a very clean sine wave which also tracks 1V/Oct. Between the Mod VCO, Primary VCO, Sub Oscillator and resonating filter it is possible to layer up to four different pitches at one time.
The envelope section is an ADSR with a dual range switch. It also can be set to a looping mode which can be gated on/off externally.
The output VCA feeds into a two level output clipping circuit that you can use to get a much ballsier/dirtier sound.
Features:
Modulation VCO: triangle core with Hard Sync and Link switch to connect pitch to primary
Primary VCO: triangle core with Hard Sync, Octave switches, Linear/Exp FM and PWM
Global modulation bus with four VCO waveforms, noise and S&H options
Cascaded 4-Pole multimode filter
Looping ADSR with range switch, manual gate, and external level (velocity) control.
Three position output clipping circuit
27 jacks for creative and complex patching options
Header on back of pcb that allows it to be linked (normalled) to the Intellijel Metropolis sequencer
Skiff Friendly
Summary of enhancements/differences over the SH-101 core:
Discrete triangle core vcos (with far better tracking and Hard sync) instead of CEM based IC.
Primary vco has linear FM (not just exp)
MOD VCO can be linked to the primary VCO pitch CV.
Modulation oscillator switchable from LFO to VCO
Filter is multimode, 2/4pole switchable and has a special LP boost mode
Filter allows for selection of inverted ADSR mod source
Mixer section includes and external source which is normalled to a sinewave
Filter has built in soft clipping
Envelope has looping option, re-trigger and selectable time range
Output VCA has two stage clipping circuit
Patch points for every synthesis section
The Intellijel Atlantis is priced at $699 and is available now.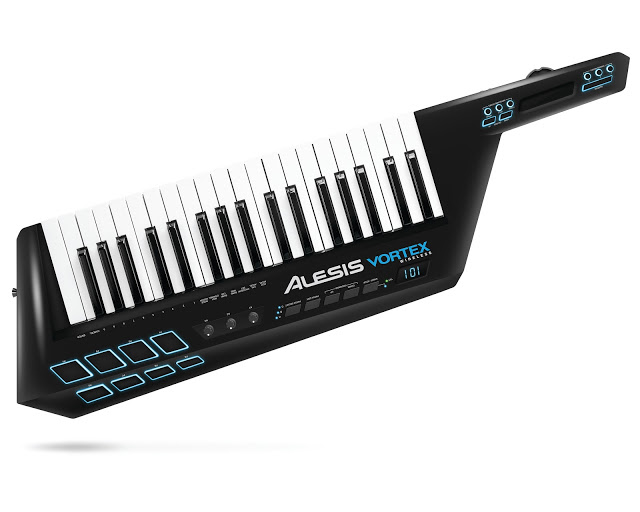 Alesis has introduced a $199 wireless Keytar controller, the Alesis Vortex Wireless, all the details below:
VORTEX WIRELESS
USB/Midi Keytar Controller With Accelerometer
Combines onstage mobility with expressive control
37 velocity-sensitive keys with aftertouch
8 velocity-sensitive trigger/drum pads
USB dongle creates a wireless connection to any Mac/PC
Volume slider, pitch wheel, ribbon controller, sustain pedal jack
USB, battery, or external power; USB/MIDI + MIDI outputs
Includes SONiVOX Vortex I DVI and Ableton™ Live Lite Alesis Edition
Press release:
"ALESIS VORTEX WIRELESS KEYTAR OFFERS TRUE ONSTAGE MOBILITY FOR ALL KEYBOARD PLAYERS
The popular Alesis Vortex has been updated with wireless USB MIDI
Cumberland, RI, USA – January 22, 2014. Alesis, a leading manufacturer of instruments and tools for today's musician, announces the new Vortex Wireless USB MIDI keyboard controller with accelerometer.
A keytar for the modern performer, Vortex Wireless delivers unprecedented control and expression by transmitting MIDI via a wireless USB connection for dynamic on-stage freedom, and includes the virtual synthesizer plug-in Vortex-I Digital Virtual Instrument from acclaimed software creator SONiVOX. In addition to 37 velocity sensitive keys with aftertouch—the keyboard features an assignable accelerometer (tilt-sensor) in the neck that can translate gestures into additional controls—adding vibrato when the neck is pulled up, for example. For additional control, Vortex Wireless provides 8 drum/trigger pads, 3 assignable knobs, a multi- mode ribbon controller, pitch bend wheel, and a volume slider.
Plugging the included USB receiver dongle into any MAC or PC establishes a live USB/MIDI link with the Vortex Wireless. There is also a standard MIDI output (5-pin) mounted in the Vortex Wireless for connecting to other MIDI-enabled equipment, such as a favorite hardware synthesizer. Vortex Wireless can run on batteries, USB bus power, or can be powered using an optional AC adaptor. Each Vortex Wireless also includes a USB cable with extension for the USB receiver dongle and 4 x AA batteries, so users can begin playing right away.
In addition, the Vyzex Vortex Patch Editor Software is also provided, making it easy to create, edit, and backup patches to your computer. AbletonTM Live Lite 8 Alesis Edition is also included.
Alesis Vortex Wireless Keytar Highlights:
'Nearly every keytar or remote keyboard has required a cable of one sort or another, be it power, MIDI, audio, or USB" said Nate Lane, Product Manager at Alesis. "With the Vortex Wireless, the player is truly free to move about at will. This onstage freedom allows the player to make the most of the onboard accelerometer and other extensive controls to create an original, expressive performance without the hassle of cables on stage.'
Combines expressive control with onstage mobility
37 velocity-sensitive keys with aftertouch
8 velocity-sensitive trigger/drum pads
USB dongle creates a wireless connection to any Mac/PC
Volume slider, pitch wheel, ribbon controller, sustain pedal jack
USB, battery, or external power; USB MIDI + 5-pin MIDI outputs
Includes SONiVOX Vortex I DVI and AbletonTM Live Lite Alesis Edition
Vortex Wireless will be available with an estimated street price of $199.99 USD
Alesis will present the Vortex Wireless at the 2014 NAMM Show in Hall A, Booth 6700, January
23-26 in Anaheim, California. For more information, visit: www.alesis.com/WNAMM2014"
M-Audio's Trigger Finger was one of the first MPC pad style controller only devices. Its been a while since M-Audio revisited that particular model. At the NAMM 2014 show, they are introducing the Trigger Finger Pro.
Its a nice looking machine with a large, three line LCD monitor, 16 pads and MIDI and USN connections while still being bus-powered.
Available in the Spring 2014 at $399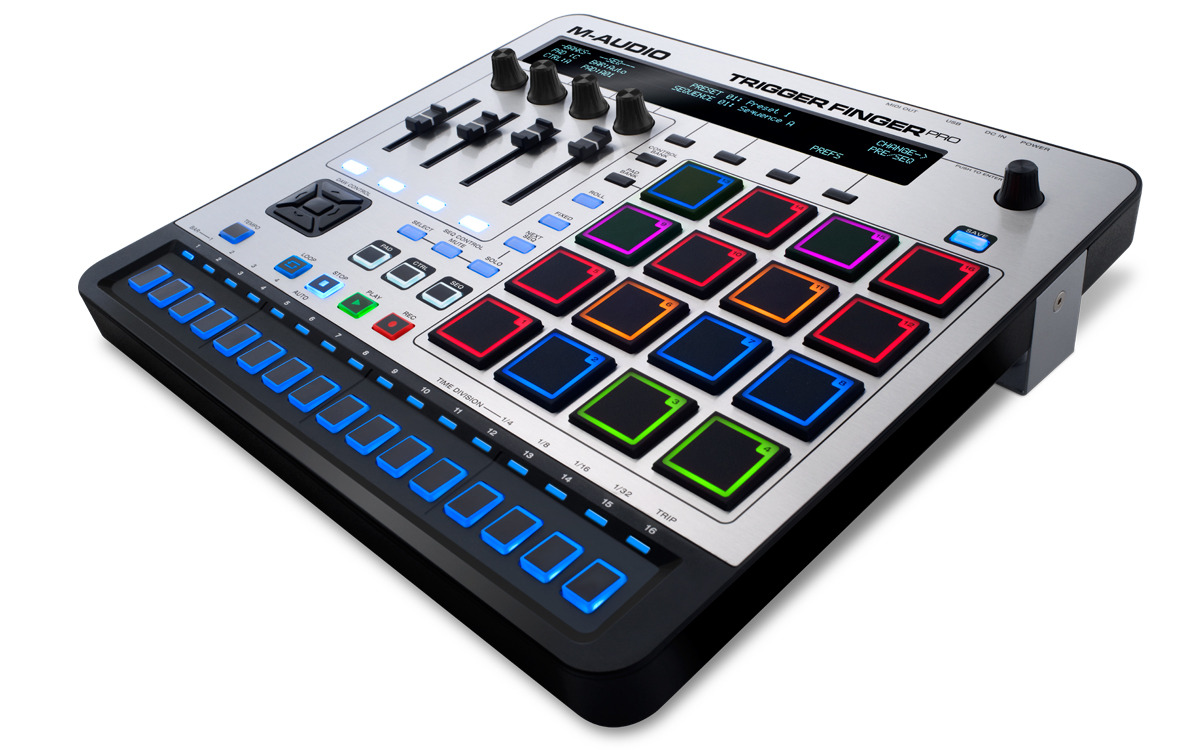 M-Audio unexpectedly brings out something that looks like NI Maschine but with 16-Step Sequencer Line – this is basically Drum Pads and a jam-type of sequencer like the Akai MAX49 has, so – this is still a controller not a groovebox or host or even a drummachine. that sequencer can not be reprogrammed but could be a cool tool if one could access it – it has built in midi as well to send the sequences somewhere. since M-Audio belongs to the Akai/Numark/Alesis Group (inMusic) this might be the same concept as the MAX Keyboards but as a pad controller. 4 memory banks – so really just for jamming.
More Information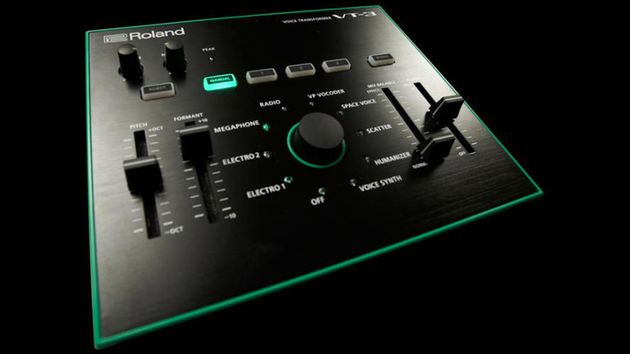 Much more than a standard drum machine like the TR-08
Designed to change the sound of your voice, it looks like this comes with a selection of presets and hands-on Pitch and Formant controls.
Unofficial details are below. Keep an eye on the Roland Aira website for updates.
Roland VT-3 unofficial specs
Features
Effects unit intended for the human voice
Quickly controlling pitch and formant
Various effects, subtle and extremely
User-friendly operation
Input peak indicator
Compact, easy to transport
Effects
Electro 1
Electro 2
Megaphone
Radio
VP-vocoder
Space Voice
Scatter
Humanizer
Voice Synth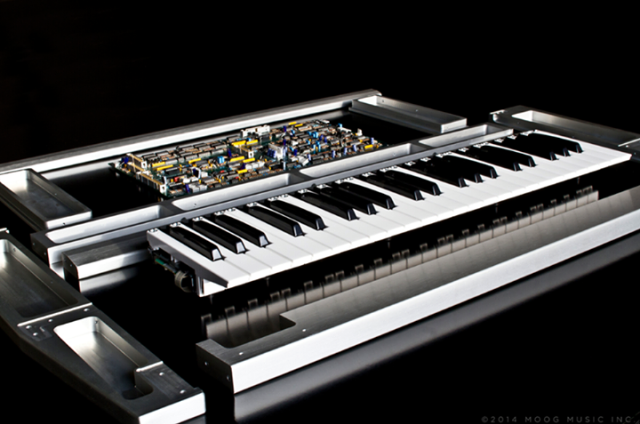 Moog Music will be introducing a limited edition aluminum Minimoog Voyager.
The only thing that they've released at this point is this teaser image of the components that make up the new synth.
Details on availability and pricing are to come at the NAMM Show later this week.