Here's a presentation of the new Roland FA-08 at the NAMM Show 2014.
NAMM 2014: Korg's New Keytar Korg reimagines their RK-100S Synth/Controller
Here's a presentation of the new Nord Lead A1 at the NAMM Show 2014.
Enjoy
KORG fully enters the realms of iOS with this powerful app, details below:
For every situation that creative minded people face, KORG's answer is "KORG Gadget."
KORG released the iELECTRIBE simultaneously with the appearance of the first-generation iPad in 2010, and ever since has maintained its position at the forefront of mobile music apps. And now we've brought you the ultimate all-in-one studio app for serious mobile music production.
KORG Gadget provides a collection of 15 different synthesizers and drum machines called "Gadgets", which can be freely combined to produce powerful electronic music. Users can take advantage of the simple and intuitive sequencer, and experience track-making in an environment that's been perfectly optimized for mobile use, while retaining professional quality in everything from the effects to the mixer. Also, songs created using KORG Gadget can be shared on "GadgetCloud," a music sharing site for KORG Gadget users worldwide.
There's a roadmap for future updates that will add new gadgets and support audio tracks, further perfecting the system as a mobile music production studio. KORG Gadget will continue to evolve in support of serious mobile music-making.
—————————————-
­—————
KORG Gadget is available on the App Store:
World: https://itunes.apple.com/app/korg-gad…
Japan: https://itunes.apple.com/jp/app/korg-…
—————————————-­—————
Learn more about Gadget at http://www.korg.com.
Music & Video produced and performed by Mee Zanook
– The ultimate mobile synth collection on your iPad –
KORG Gadget – the all-in-one music production studio
Arturia's Beatstep offers a new degree of functionality and performance for a portable pad controller. BeatStep is highly versatile, capable of triggering clips in such applications as Ableton Live, playing drums in conjunction with such applications as BFD or EZDrummer.
But BeatStep is also a 16-step analog sequencer for creating all kinds of musical phrases to be sent to analog synthesizers, MIDI drum machines, MIDI keyboard devices, or computer programs.
Its vast connectivity allows you to connect the BeatStep to a computer or iPAD using USB, a drum module using MIDI or an analog synthesizer equipped with CV/GATE.
more info:
http://www.arturia.com/evolution/en/p…
FM get a video demo of a new USB hardware step sequencer with CV and MIDI. Plus, see an update to the Spark software.
See and hear Elektron's brand new Analog Rytm hybrid analogue and digital drum machine in this exclusive demo at NAMM 2014
Elektron Analog RYTM Drum Machine Analog drum synth with sample layer
Playing around with the new Moog Sub37 Analog Synth at NAMM 2014!
Here's a presentation of the new Moog Sub 37 at the NAMM Show 2014.
Enjoy
NAMM 2014: Nord Lead A1 – First look New VA on behind closed doors
About the synth:
Producing stand-out sounds for live or for the studio, the Lead A1 is ideal for all musical genres. Thanks to its carefully thought-out user interface, the Lead A1 encourages experimentation, allows for far speedier programming than would otherwise be possible, and ultimately delivers sensational sonic results. At the heart of the Lead A1 is our new analog modeling engine. Taking our virtual analog synthesis to a new level, this modeling recreates a total analog signal path with uncanny realism, and is capable of immense sonic variety. With 24-voice polyphony and four simultaneous synthesizer parts, the Lead A1 is a true synthesizer powerhouse that goes far beyond the current trend for limited capability analog reissues. Fundamental to the design of the Lead A1 is a brand new simple yet sophisticated front panel interface. The design is in fact the result of requests from professional players – even the most experienced programmers – who need to create the perfect sound as quickly as possible for today's live or studio time demands. The Lead A1 allows easy patch creation and experimentation thanks to a new and unique oscillator section, pre-programmed modulation matrix, and simplified ADR envelopes. Dive in and create incredible patches far quicker than would normally be possible with a synthesizer of such power.
Oscillators
Unique Oscillator concept
8 Oscillator Configurations
Pitch, Detune, Shape, Sync, AM, Noise, Dual Osc, FM
Traditional Analog and Digital Waveforms
Modulation
LFO with 5 waveforms
Mod Envelope
LFO as additional ModEnv
Filter
12, 24 dB low-pass filters
High-pass and Band-pass filters
Transistor and diode ladder filter simulations
of Mini and TB-303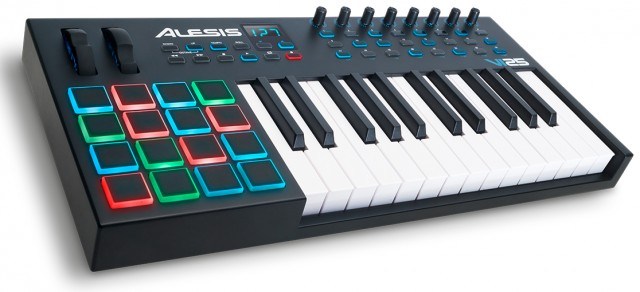 Alesis has introduced the new V Series and VI Series of full-size keyboard/pad controllers:
The new Alesis V Series (V61, V49, V25) combine velocity-sensitive keys with eight drum/trigger pads. Blue LEDs illuminate the pads, as well as the four assignable knobs and buttons. Assignments may be made quickly via the MIDI Learn feature. Octave shift keys provide access to the entire note range. A single USB cable provides both a power and data connection to nearly any computer.
The Alesis VI Series (VI61, VI49, VI25) add semi-weighted keys and aftertouch. The pad count has been increased to 16, with multi-color illumination. This layout provides intensive command over the clip trigger workflow of top DAW and compositional software. The internal clock offers drum roll, tempo, and sync capabilities. An optional power supply and a standard MIDI output allow for stand-alone use.

Alesis V Series Highlights:
Full size, flat-front keys (25, 49, or 61)
Pitch Bend and Modulation Wheels
8 Pads with blue LED illumination
4 Assignable knobs and buttons
Sustain pedal input
USB MIDI
Alesis VI Series Highlights:
Full size, flat-front keys (25, 49, or 61)
Semi-weighted keys with Aftertouch
Pitch Bend & Modulation Wheels
16 Pads with Multi-color LED illumination
VI25: 8 knobs, 24 buttons
VI49: 12 knobs, 36 buttons
VI61: 16 knobs, 48 buttons
Transport and Present up/down buttons
Sustain pedal input
USD MIDI, MIDI Out
Internal Clock for sync, tempo, rolls, etc.
The V and VI Series will have the following respective estimated street prices, V25 ($79.99 USD), V49 ($99.99 USD), V61 ($149.99 USD), VI25 ($169.99 USD), VI49 ($199.99 USD), and VI61 ($249.99 USD).
Here's a presentation of the new Dave Smith Instruments P12 at the NAMM Show 2014.
Dave Smith P12 Module LIVE Performance Demo at NAMM 2014 on BBoyTechReport.com