Moog launch new Minitaur Analog Bass Synth at NAMM 2012.
Minitaur is a powerful, compact Analog Bass Synthesizer that features a classic one knob per function design. It is the first instrument in the Taurus family that does not have foot pedals. At only 8.5″ x 5.25″ and less than 3lbs, the Minitaur puts legendary analog Moog bass into a package designed to fit seamlessly into today's performance and production environments. There are no confusing or convoluted menus to dig through. Plug in a MIDI controller or hook it up to your computer and start playing immediately.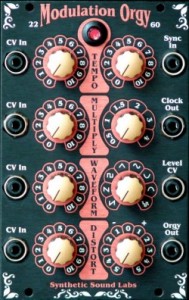 Synthetic Sound Labs has just released its first Euro rack format module, the Model 2260 Modulation Orgy, further expanding its line of 5U format synthesizer modules.  This new 16 HP width module contains a unique Low Frequency Oscillator (LFO) that offers unmatched modulation flexibility.
Synthetic Sound Labs has been in the analog synthesizer business since 1973, but the 2260 is the first Euro rack module and the sixth in SSL's continuing line of new analog synthesizer modules.
LFOs are typically used by analog music synthesists in conjunction with other analog sound producing devices for creating slow, undulating rhythms and sound patterns. The SSL 2260 Modulation Orgy features both manual and external voltage control over LFO Tempo (speed), tempo Multiplier, Waveform and Waveform Distortion.  A total of eight Waveforms are produced, including Sawtooth, Ramp, Rectangle, Triangle, Sine, Sweep, Lumps and Random.  All these (except Random) may be modified using the Wave Distort controls to vary waveform duty cycles.  Independent output jacks provide both normal and inverted LFO phases.

2260 'Modulation Orgy' Specifications at a glance:
Model  2260 Tap Tempo LFO
Function: Flexible Low Frequency Oscillator (LFO)
Tempo Adjust: .05 Hz to >50 Hz (approx)
Tempo Multipliers: Six (0.5, 1, 1.5, 2, 3, 4; overlapping) – Manual & voltage controlled
Waveforms: Saw, Ramp, Square, Triangle, Sine, Sweep, Lump and
Random – Manual and Voltage controlled
Wave Distortion: 10% to 90% (approx, except Random) – Manual and
Voltage controlled Inputs
Tempo CV, Multiplier CV, Waveform CV, Distort CV, Sync, Level CV.  0 to +5V nominal.
1/8" Phone jacks. 100k impedance.
Outputs: Clock (0 to +5 digital), LFO voltage (10V P-P;  +/-5V).  1K impedance.
1/8" Phone jacks.
Panel Indicators: LFO Rate – Red LEDs
Panel: High quality 0.062" aluminum. Durable black Metalphoto finish with
natural aluminum and copper graphics.  Complimentary Brass colored knobs.
Power: Euro rack standard 16 pin keyed header.
+5VDC @ 14ma, +15vdc @ 16ma, -15vdc 18ma
Size: 5.0" H x ~3.25" W x ~1.25" D (16 HP). Skiff ready.
Modulation Orgy Details
A unique feature allows the 2260 to synchronize to precise multiples of the musical beat permitting timed vibratos, tremolos, and clocking of external sequencers and sample & hold type devices.  Synchronization is accomplished by manually operating a front panel button, or supplying external clock pulses via the external Sync input.  Multiple 2260s may also be cascaded to provide complex polyrhythmic modulation patterns, which is aided by use of the Clock output jack.
The basic LFO Tempo (frequency) is adjustable from approximately 0.05Hz (a 20 second cycle) and 12.8Hz.  However, in conjunction with the Multiplier, this range is extended from 0.025Hz (a 40-second cycle) to over 50Hz in six overlapping tempo multiplication factors, ranging from 0.5 (1/2 note) to 4.0 (sixteenth note).
The external Level CV input responds linearly and is normalled internally to +5V so that with no input, the 2260 outputs are at maximum. This convenient input can frequently save a separate VCA when doing voltage controlled modulation depth.
A panel LED displays the LFO output rate.  Knobs are conveniently placed for ample room for manual adjustment.  Top quality 1/8" jacks permit smooth, effortless patching.
Quality, solder masked, fiberglass-epoxy printed circuit boards and meticulous hand-crafted assembly assure years of trouble-free service.
Pricing is $250 US and is available today from Synthetic Sound Labs and from distributors worldwide, including Analogue Haven, in whose booth the Modulation Orgy is being demo'ed at NAMM.
Casio has introduced two new keyboard synthesizers at the Winter NAMM, the XW-G1 Groove Synthesizer and the XW-P1 Performance Synthesizer, here are the full specs for both of them: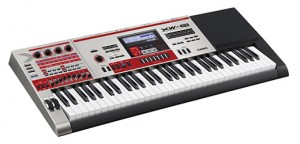 The Casio XW-G1 is a 'groove synthesizer' equipped with a keyboard and designed to offer the various kinds of digital equipment used by club DJs, including the ability to create and play back a variety of rhythm patterns and musical phrases.
Features:
Step Sequencer

100 different rhythm patterns are available for playback in the preset sequences
Up to 100 original rhythm patterns can be recorded as user sequences
Users can improvise using the set of 16 buttons while playing back rhythm patterns
Multiple rhythm patterns—as many as 99—can be connected in a sequence and played as loops using the Chains function

Phrase Sequencer

100 musical phrases can be readily played back using the preset phrases
Up to 100 musical phrases spontaneously played on the keyboard can be stored in memory as user phrases

Live performance functions

A multifunction keys enables users to assign essential functions for DJ performances to keys
420 preset tones including Solo Synthesizer and PCM tones can be quickly accessed in keyboard performances
The Arpeggio function can automatically play arpeggios just by pressing keys

Sample Looper

Sounds performed on the synthesizer as well as sounds input from external source can be sampled and played back in loops of up to 19 seconds long, allowing overdubbing
Sampled sounds that are saved as user tones can be played in keyboard performances

Other features

Wide variety of preset tones or internal PCM and Synth waves to create sounds
Various input and output terminals enable connection of audio equipment and MIDI-compatible devices, such a DJ gear and musical instruments
Portable MIDI devices or audio equipment can be placed on the designated rubber holding space
Specifications are available at the Casio site.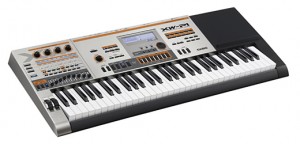 The XW-P1 is designed to be a true performance synthesizer that allows users to create a wide array of sounds from many preset tones, including Solo Synthesizer, Hex Layer, and Drawbar Organ tones, as well as numerous types of internal PCM and Synth waves.
Features:
Wide selection of preset tones ensures quick access in performances

100 Solo Synthesizer presets can reproduce vintage analog synthesizer sounds
50 Hex Layer presets layer as many as six tones for ensemble sounds
50 Drawbar Organ presets can reproduce traditional Drawbar Organ sounds
A total of 420 PCM Melody and PCM Drum presets have been produced from samples of various instrument sounds including pianos, guitars, and drums

Synth features

A total of 311 internal Synth waves reproduce vintage analog synthesizer sounds
A total of 2,158 PCM waves are built in, including wave data from the CZ series, Casio's best-selling digital synthesizers of the 1980s
Users can create integrated sounds by layering analog synthesizer waves and PCM waves
Users can produce original Hex Layer sounds by combining as many as six preset tones
Users can create their own Drawbar Organ sounds by using the nine sliders

Variety of functions useful for live performances

Users can assign performance setups for up to four designated keyboard zones by using the Performance function
The Phrase Sequencer lets users create and play back musical phrases to enhance their performances
The Step Sequencer allows users to create and play back a variety of rhythm patterns
The Arpeggio function can automatically play arpeggios just by pressing keys

Useful features for applications ranging from performance to music production

SMF data or audio data saved on an SD card can be played back while playing the keyboard
MIDI devices, microphones, audio players, and other equipment can be connected using the various input and output terminals
Portable audio equipment or MIDI devices can be placed on the designated rubber holding space
Specifications for the XW-P1 are available at the Casio site.
With the iOS race that started last year KORG may have a tough time convincing people to buy their new Kaoss Pad, since the iOS market is more or less flooded with various clones doing more or less the same thing. But hopefully their will be room for this little orange beauty as well.
Initial info:
"Specifications
Programs:
100
Program Categories:
Filter (15), Modulation (15), LFO (20), Delay (10), Reverb (5), Looper (20), Vocoder (5), Synthesizer (10)
Audio Demo Sample:
6 preset loops (House, HipHop, Electro, Breaks, Dubstep, D&B)
Sampling Frequency:
48 kHz
AD/DA Conversion:
24-bit linear
Input Connectors:
Line Input (stereo mini jack type)
Output Connectors:
Headphone Output (stereo mini jack type)
Data Storage:
microSD card (512MB – 2GB)
microSDHC card (2GB – 16GB)
*SDXC cards cannot be used.
Power Supply:
AA batteries (alkaline battery or Nickel-Metal Hydride battery) x 2
Optional AC adapter-ready (DC4.5V – available from Korg)
Battery Life:
Approx. 5 hours (with Nickel-Metal Hydride battery)
Dimensions (W x D x H):
76 mm x 128 mm x 25 mm / 2.99" x 5.04" x 0.98"
Weight:
105 g / 3.75 oz. (without batteries)
Options:
AC adapter-ready (DC4.5V – available from Korg)
Accessories:
Owner's Manual, AA batteries x2 (for verifying operation)
* Specifications and appearance are subject to change without notice for improvement.
As we reported on earlier this week AKAI are soon about to launch the MPC Fly, now we are treated with a new video:
MPC Fly merges unmatched Akai Professional technology with the power of your iPad 2, embodying legendary capabilities that have made the MPC an industry standard like real MPC pads, MPC Note Repeat and MPC Swing. Its multifunctional, double-hinged design gives you the flexibility to produce tracks anywhere, while also acting as a protective case between sessions and giving you total access to your iPad 2 for normal uses. MPC Fly transforms your iPad 2 into a professional beat-making powerhouse.
And here's their pitch: MAX49 from Akai Professional places revolutionary MIDI and CV control at your fingertips. With an intuitive layout and included AkaiConnect automatic-mapping software, MAX49 offers an instant, fully immersive experience with your favorite music software and virtually all VST plugins. From its 49 semi-weighted keys and 12 real MPC pads, to its groundbreaking LED touch faders and vintage CV & Gate outputs, MAX49 combines cutting-edge Akai Pro technology with classic capability to give you an unprecedented music-making experience.
BEHRINGER introduces three small format premium mixers that directly interface with the ever-popular iPad.
Drawing on the power of the most ubiquitous mobile digital device, the XENYX iX Series mixers are designed to handle live performance and provide state-of-the-art tools to create professional recordings. Users can also sync performances to video by utilizing the iPad's video out capability.
The new XENYX iX Series, which include the XENYX iX3242USB, iX2442USB and iX1642USB, feature a built-in iPad docking station designed to send signal to and from the iPad with a wide range of routing options.
The innovative feature set included in the new XENYX iX Series USB mixers makes it possible to record and mix on a professional level thanks to the built-in, stereo USB audio interface. Connect these mixers directly to a PC or Mac computer via a single USB cable to record any signal source connected to the mixer.
All iX mixers include the new dual-engine KLARK-TEKNIK FX processor with 32 editable, studio-grade presets such as reverb, chorus, flange, delay, pitch shifter and multi-effects. In addition to literally thousands of apps, the iX mixers use the iPad to control the new KLARK-TEKNIK FX Processor App, enhancing the mix by allowing the user deep control of EQ's, compressors and reverbs and a full spectrum analyzer.
The iX series mixers also feature high performance XENYX mic pre amps, which represent a major step in the evolution of audio technology. Comparable to far more expensive, stand-alone mic preamps, XENYX preamps offer a staggering 130 dB of dynamic range, with a bandwidth that extends from below 10 Hz to 200 kHz for transparent, crystal-clear performance.
XENYX mixers' 3-band channel EQ is based on the same circuitry used in British consoles that allows users to create signals with incredible warmth and detailed musical character. Additionally, 'one-knob' compression is available on all mono channels. Dial in the perfect amount of compression for instruments and vocals, creating powerful mixes with punch and clarity.
"The new XENYX iX mixers demonstrate the innovation that stems from our massive investment in Research and Development, says Mark Wilder, VP of Marketing Communications. "These are the first of many more ground-breaking products to be announced at NAMM 2012."
So Arturia has something new up their sleeves – we will know more during thecourse of today – so stay tuned
Feel free to post your guesses
Arturia NAMM 2012 Teaser
More information on Thursday January 19th
Weitere Informationen am Donnerstag den 19. Januar
http://youtu.be/hzThggo7wVk
More stuff from NAMM – this time a short teaser from Rob Papen:
Rob Papen Blade
First few presets ahead of the NAMM show 2012.
Visual is the XY display field
http://youtu.be/4CUMiBDwozQ
Marc Doty, Archive and Education Specialist for the Bob Moog Foundation, gets hands on with Moog's new synthesizer Minitaur and gives a run down of its features. For specs and purchasing info go to http://www.moogmusic.com/products/taurus/minitaur