Sound guru Ben Crosland has been hard at work creating another soundset for the Modal 002 to be released in Spring 2015.
Ford features Detroit techno pioneer Kevin Saunderson in this new promo, which follows Saunderson as he samples sounds at a Ford Assembly Plant.
From the sounds of the Detroit streets to the sounds of a Ford Assembly Plant, follow techno pioneer Kevin Saunderson as he searches for inspiration for the next groove to use in his iconic music.
The Ford Today channel is the hottest news and stories regarding Ford Motor Company. Get updates on the most current news stories or be wildly entertained with the latest about Ford and Ford vehicles.
Subscribe to the Ford Today YouTube channel: https://www.youtube.com/user/fordtoday
Follow Ford on Social:
• Facebook: https://www.facebook.com/ford
• Twitter: https://twitter.com/ford
• Instagram: http://www.instagram.com/ford
• Tumblr: http://gofurther.tumblr.com
• Ford Social: http://social.ford.com/
Ford Motor Company, a global automotive industry leader based in Dearborn, Michigan, manufactures or distributes automobiles across six continents. With about 175,000 employees and 65 plants worldwide, the company's automotive brands include Ford and Lincoln. The company provides financial services through Ford Motor Credit Company. For more information regarding Ford and its products worldwide, please visit http://corporate.ford.com.
Dream Audio Tools has announced the release of LFO Piano for Native Instruments Kontakt.

LFO Piano features a classic Rhodes MkII Electric Piano sampled using a true analog pedal rig, including a warm and raw sounding handmade analog tremolo and analog cabinet emulation pedals. This setup gives LFO Piano an unique timbre and a raw unpolished character. It is is designed to fit with many musical styles, including RnB, Hip Hop, Cinematic and Pop.
The library includes two complete sets, separately recorded with pedal tremolo on and off. There are controls to activate additional designed effects, including Phaser, Chorus, Delay Reverb and Rotary.
Introductory price: €19,90.
3 analog modules inspired by musical instruments pioneer Standa Filip, which form modular drum machine
Tea Kick (5HP) – kick drum and more
Noise Square (5HP) – analog, digital and square signal generator
Skis (5HP) – dual decay and vca
for more information go to: http://www.bastl-instruments.com/modu…
buy here: http://noise.kitchen/product-category…
plan here: https://www.modulargrid.net/e/modules…
Crypto Cipher has released Tabla Tarang for Kontakt 5.
Features:
Master Patch (14000+ samples) and Lite patch (Manual Mapping) and Multis.
Multisampled and Multivelocity Levels (Up to 20 RR each Velocity and 7 velocities).
13 Tabla Drums Sampled.
Ta, Tin and Tun Articulations performed on Tabla.
Ta is mapped first from (B-2 -F0), Tin is mapped after Ta from (B0- F2), In the last Tun is mapped from (B2 – G4).
Three Mic Types (Ribbon, Condenser, Dynamic).
Mic Types On/Off – Unload samples when Mic is at Off Position (saves more RAM).
Legato Articulation and Arpeggiator.
Drum Articulations Ruff, Flam, Roll and Drag .
Fine Tuning and ADSR control for each drum with "Reset" Option.
Velocity Curve Control (Linear Curve will have no change, Exponential curve will help in playing lower velocities easily and Logarithmic curve will help a user to play higher velocities more easily.
Mute, Heat, Doubler and wide are available on UI with other effects like compressor, EQ, Phaser and Reverb.
Sample Resolution: 44.1kHz/24-bit.
Tabla Tarang Library Size: 2.93 GB.
Price: $79.
Note: Free Kontakt player will only work for 30 minutes. Product works with Kontakt 5.4.2 or higher full retail version only. The "Add Library" import process do not support this standard format Kontakt library but a user can use the Kontakt file browser to load .nki Instruments.
This song is programmed entirely on KURZWEIL K2000, no external synths, samplers or FX processors used. Recorded directly from K2000 audio output to the PC line in.
Track is based on VAST engine programs (basses, pads, leads, percussions, sound effects) and loaded samples (drum loops, sound effects), using K2000's internal sequencer and FX processor.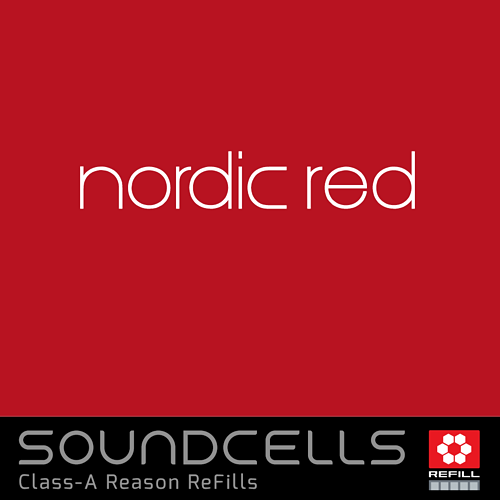 Nordic Red is a marvelleous sounding ReFill based on samples from the Nord Modular G2x synthesizer.
This ReFill pleases with "otherworldly" atmospheric stuff, great keys, "in-your-face" bass patches and wonderful pads when diving into this ReFill.The "self-playing" patches (called "Noodles" in the G2), for example, are great starting points to create some ultra-deep atmospheric textures – an ideal entry for composing film scores or game music. Or simply pitch down the samples to listen to the "hidden magic" inside these up to 90 seconds long 'Noodle' recordings.
As usual, the combinator buttons and knobs were carefully assigned to allow dramatic changes to the default sounds you´ll be hearing initially.
Nordic Red contains:
•  171 combinator patches.
•  
192 NNXT patches containing the basic patches which were used to build the combinators
•  
800+ samples, 1.65 GB uncompressed, 47 'self-playing' noodles.
•  
11 demo tracks in Reason format included.
Price per unit is 27.90 ,- EUR.
This update is free for owners of any previous full version!
For more information please visit the product page:
http://www.synthrotek.com/products/ms…
Check out the new MST Eurorack Modules from Synthrotek
1. Dual Envelope
2. Stereo Mixer
3. Buffered Multiple
Synthrotek is pleased to offer a complete line of eurorack synthesizer modules, power, cases and accessories in both complete units and kits. We now offer a very complete analog modular monophonic voice with many accompanying utility modules. This new complete voice is the product of a collaboration with synth guru George Mattson, who now joins us in releasing our new MST (Mattson – Synthrotek) line of premium modules. The Stereo Output Mixer was designed by Scott Rise of Division 6.
Mickey Mouse Toy Phone
Green LED
Switched mono mini jack output
Pitch Up/Down Control
Sequencer Pitch trigger jack for my sequencer to warp the sounds more!
Bill Mitsakos' real-time touchscreen editor for the vintage Six-Trak synth. CORRECTION: Guy Taylor is formerly of Swithced-On music; now he has his own Bay Area modular webstore called I/O Music Technology: http://io-mt.com
The Sequential Circuits Six-Trak is a basic six-voice, 1 DCO/voice synthesizer. It is slow to create patches on, because it was designed to use just 1 shared knob for all patching, to keep costs down.
Mitsakos' editor adds visual patch editing for the Six-Track, patch management and cloud patch backup.
Pricing and availability for the Six-Trak editor are to be announced.