Animation by The Brothers McLeod
TWITTER: @BROTHERSMCLEOD
WEBSITE: http://www.brothersmcleod.co.uk/
'Warszawa' by David Bowie appears on the album 'Low' (1977). It's a tremendously great album.
Here's one of the places you can buy it: https://itunes.apple.com/gb/album/low…
Written and voiced by Adam Buxton
TWITTER: @AdamBuxton
WEBSITE: adam-buxton.co.uk
Waveshaping Synthesis is a type of distortion synthesis that can create dynamic spectra in a controlled way. In waveshaping, it is possible to change the spectrum with the amplitude of the sound. A simple example of this method is the clipping caused by overdriving an audio amplifier.
https://itunes.apple.com/us/app/micro…
The Beatles Day Tripper
arranged by YMO
KORG DS-10 cover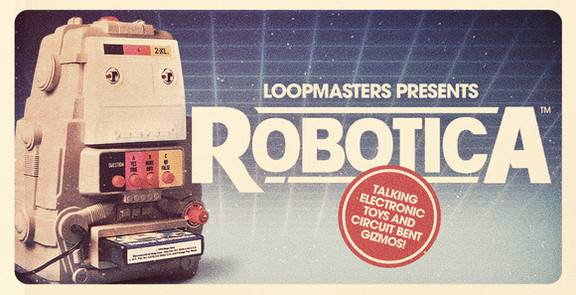 Loopmasters has launched Robotica, a sample pack featuring a collection of twisted and abused electronic talking toys by extreme samplist MIDI Error.
Mr Error is back to his old tricks tormenting innocent inanimate objects, this time armed with a PZ2 insulated screwdriver and a wet finger he has managed to coax strange garbled electronic noises and words from a collection of dusty electronic toys and games for your listening pleasure.

Every sound in this collection has come from genuinely abused toys mic-ed and hardwired to a chain of devastating audio effects including Bitcrushers, Watkins Tape Delay, Mooger Fooger Pedals and then plumbed into a vintage Reel to Reel tape machine for some warm Analog saturation.

During the last moments of their inevitable death and whilst under heavy interrogation these battery operated kid's companions spat out their entire vocal range and then some, luckily our sample hero was there to capture it all to tape.
The sample pack is available for purchase for £19.95 GBP.
Vintage synthesizer track featuring the Oberheim OB-Xa
all sounds: Oberheim OB-Xa Analog Synthesizer (1981)
drums: LinnDrum (1982)
recording: multi-track
fx: a bite reverb and delay
Here's the first chapter from a series of video that 'gattobus' is going to make about Korg MS-20.
"I'm going to show you some of the most cool and classic tricks you can do by patching cables in the right way

In this episode we talk about paraphony: how to play it duophonic, controlling each VCOs independently, using the keyboard and the trig button."
Paraphonic synthesizers are synths that allow polyphonic control over the oscillators, but not polyphonic synthesis, because the oscillators run through a single, shared synthesis path. It's like throat singing, where a single person sings two different pitches, but only has one throat and mouth, vs multiple people singing, with individual, independent voices.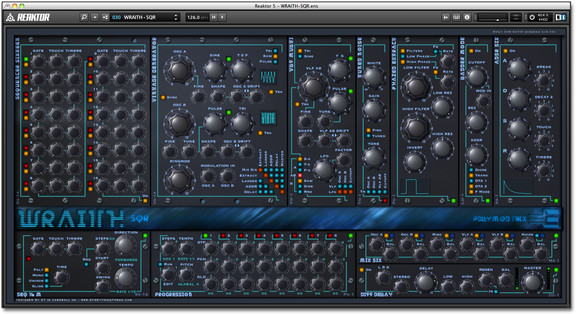 EverythingTurns has announced the release of Wraith, a PolyMod Rack series polyphonic modular analog synthesizer instrument for Native Instruments Reaktor.
Wraith is available in two form factors, the larger Wraith SQR has two built-in sequencers that can run independently to each other, Wraith Mini has all the same synthesis capabilities and is better suited for smaller screens.
PolyMod features
PolyMod is more of a template than an ensemble and has features built-in that will make the whole process of building new ensembles at ET better in so many ways.
All PolyMod ensembles have a consistent user interface making the learning curve for new designs greatly reduced.
PolyMod has skins built in – 22 to choose from and they are saved with each snapshot, having different colours for different tracks in a sequencer makes a lot of sense, red for bass and blue for pads, etc.
All PolyMod ensembles are pre-order only, this means no instant downloads, when an order is placed the instrument will be sent to you within a day or so and you will have the only copy, the original encrypted version is kept on the server as a backup if needed.
Each Ensemble is Unique to you.
Wraith is available for purchase for £18 GBP (SQR)/£14 GBP (Mini), or £28 GBP for a bundle of both. Requires Reaktor version 5.8+.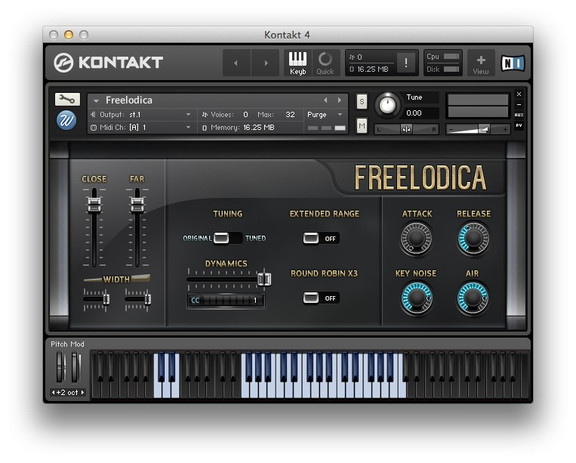 Wavesfactory has announced the release of Freelodica, a free sampled 32 keys Hohner Melodica for Native Instruments Kontakt.
2 microphone positions with stereo width controls. Envelope, key-noise and air volume control. 3x optional round robin and extended range. Original tuning and perfect tuned samples. Dynamics controlled by any CC. Breath noises included for more realism.

We also modeled the imperfect behaviour of the instrument so there is no either sonic or playable difference between The Freelodica and the real thing.
Freelodica features
Stereo WAV files, 44.1KHz 24bit.
3x optional round robin.
120Mb downloaded.
2 microphone positions with stereo controls.
Original tuning and digitally tuned versions.
Envelope, key noise and breath controls.
Dynamics controlled by any CC.
Real behaviour modelled.
The download is available for free exclusively at Wavesfactory.com. Requires Kontakt full version 4.2.4 or higher.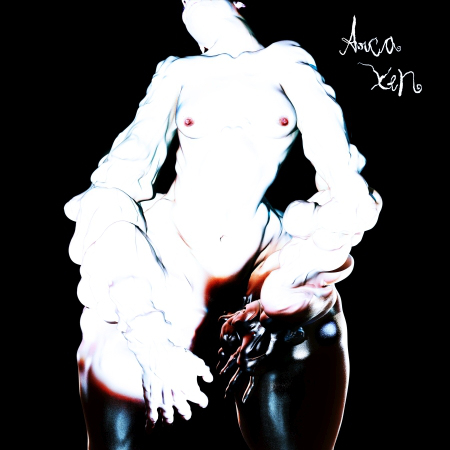 Xen is the latest in a line of uncompromising, forward-thinking releases from the 24 year old Venezuelan artist – aka Alejandro Ghersi – who first started turning heads with his Baron Libre, Stretch 1 and Stretch 2 EPs in 2012, before further wowing with his work on FKA twigs's EP1 (and then subsequent work this year's LP1), Kanye West's Yeezus and his own blistering &&&&& mixtape the following year.
Xen will be available on CD, LP, limited LP edition with bonus 10″ and download, and features stunning artwork from long time Arca visual collaborator Jesse Kanda. A limited edition vinyl format will also be available. Limited to just 500 copies, this special format will be hand-numbered and sealed in black PVC and will also include a bonus 10" record of unreleased Arca material that won't be available anywhere else, continuing Arca's tradition of producing highly sought-after vinyl recordings (the recent vinyl version of his &&&&& mixtape sold out within days of going on sale).
Meanwhile, Arca is set to perform a series of North American dates later this month. Tickets for all shows are on sale now, with UK and European shows due to be announced later this year.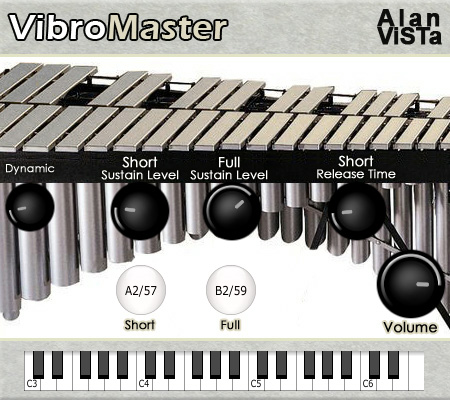 VibroMaster is a sampled vibraphone containing 42 stereo samples from the
University of Iowa Electronic Music Studios public domain library.
You can use a sustain pedal to play with full release notes,
but if you don't have one, you can switch from Short to Full release
with the midi notes A2 (57) for short and B2 (59) for full.
These 2 notes can be triggered from the GUI.
– 42 stereo 24 bit samples.
– 2 groups: Short / Full release.
– Release time control for the short group.
– Sustain levels for each group.
– Amplitude dynamic range control.
– Main volume.
-Ugly GUI.
Available in :
VST 32 and 64 bit for Windows
VST for Mac
Audio Unit for Mac