Aphex Twin – Live @ Osmoze, Paris, France 24.04.1993
A demonstration of some of the sounds available from the legendary Wasp synthesiser.
The Wasp is a quirky little synthesizer that, despite its toyish look, is a quality instrument capable of fun and funky analog sounds. It really is black and yellow too, just like the insect it is named after. Probably its most distinguishing feature is the 2-octave keyboard which uses non-moving touch-sensitive keys. The flat little keys are sensitive only to your electro-static touch. It's a nifty technology for 1978, but in reality they are unreliable and difficult to play. Other unique touches include a little speaker built-in to the synth and EDP's own pre-MIDI connector ports for linking it to other Wasps and EDP gear.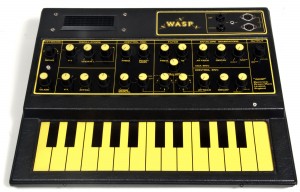 A look under the hood, however, reveals some nice surprises. The WASP is monophonic and powered by two digital oscillators supported by analog filters, envelopes and controls. This makes it one of the earliest compact digital/analog hybrid mono-synths, and it sounds great! The Wasp offers flexible subtractive synthesis. It's pretty easy to dial up some cool bass, synth, and other classic monophonic sounds. Its designer, Chris Hugget, also designed the Oxford Synthesizer Company's venerable OSCar Synthesizer.
Later versions of the Wasp included the Wasp Deluxe (released 1979) which had all the features of the original plus a standard 3-octave keyboard, wood panels, an oscillator mixer, an external audio-input, a larger built-in speaker, and battery operation. It was definitely redesigned for the practical musician. There was also the Wasp Special (released 1981) which also came with wood panels, a black and gold color scheme, and an internal power supply, but no built-in speaker and a return to the 2-octave touch-sensitive keyboard design. EDP also produced a heavily modified Wasp that was built into a guitar-form called the Keytar. It had a 2-octave keyboard with transpose and portamento buttons on the neck. However, only two Keytars were ever made as far as we know.
The rest of EDP's wild world of synthesis includes the Spider, a 252-note step, or 84-note real time digital sequencer designed to control the Wasp. The Caterpillar which is a 3-octave master keyboard for controlling up to four inter-connected Wasps played polyphonically. The Gnat which is a smaller, single-oscillator version of the Wasp that could also be linked to another Wasp to form a makeshift triple-oscillator synth playable from either keyboard (the Gnat also came in three versions similar to the Standard, Special and Deluxe models of the Wasp). All EDP instruments could be inter-connected via their own pre-MIDI style connection interface. While the Wasp and it's fellow insects may seem quirky and even toy-like, their sound, technology, flexibility and portability make them surprisingly good instruments that can still be found in use today.
.
First video from Fever Ray's self titled debut album:
feverray.com
Video directed by Mikel Cee Karlsson.
Directed by Andreas Nilsson
Music: Fever Ray & Van Rivers & The Subliminal Kid 'Stranger Than Kindness' taken from the new 'Fever Ray Special Edition CD/DVD' originally by Nick Cave & The Bad Seeds

Kuassa has announced the release of EVE-AT1 and EVE-AT4 classic british equalizers, two new Rack Extension plug-ins for Propellerhead Reason 6.5 and later.
Offered at $39 $29 (Anniversary Sale, 25% discount still applies until April 21st) each, both AT1 and AT4 were inspired by the design of the legendary Neve* 1081 and 1084 that are known for their clear, smooth, and very musical characteristics.

We are thrilled by the sound and present these EQs as a modern tribute, designed with simplicity and clarity in mind for immediate productivity. Although they share certain tonal characteristics, the EVE-AT1 and EVE-AT4 reveal their differences in the details.
EVE-AT1/AT4 features
EVE-AT1: is a 4-band parametric equalizer with an additional high-pass and low-pass filter. Inspired by the EQ section of a renowned British Classic –the Neve* 1081 –this equalizer delivers a clear, smooth, and musical sound to shape your tracks. The EVE-AT1 posseses an additional parametric band with expanded Q bandwidth selection in the low-mid and high-mid frequency ranges as compared to the EVE-AT4. In addition, the AT1 impelements a different high-pass and low-pass filter, giving the AT1 a slightly more conventional frequency response in these areas. These characteristics mean the EVE-AT1 is suitable for a broad range of musical applications, offering flexibility, versatility and all-round utility.
EVE-AT4: EVE-AT4 is a 3-band equalizer with an additional high-pass and low-pass filter. Designed as a tribute to the EQ section of the Neve* 1084, which was created as the successor to the legendary Neve* 1073. Although the EVE-AT4 possesses fewer bands, a smaller frequency selection palette, and less Q bandwidth selection options as compared to the EVE-AT1, its strength lies in its unique filter implementation, producing an idiosyncratic frequency response not present on the EVE-AT1. The result is a particular tonal character; the sound and tonal shape of its original incarnation is a hallmark of many classic recordings from the 70s.
The EVE-AT series Rack Extensions are available from the Propellerhead shop.
Former Code 64 members Hasse Mattsson and Bjørn Marius Borg has a new act called Xenturion Prime and this is the video to their first single.
Official Video for Xenturion Prime for the single "Rise". (c) 2014 Progress Productions // All rights reserved.
www.facebook.com/progresspro // www.facebook.com/xenturionprime
Video filmed, directed, edited and produced by Espen Geitsund
Music written and produced by Bjørn Marus Borg & Hans-Olof Mattsson (Xenturion Prime)
Background video description:
waldorf rocket sequenced by roland aira tb3 effects come from the mc808 in the beginning i used a little reverb later some more effects
this is just an example nothing special tb3 volume is turned down so all you hear is the waldorf rocket damn i really love the rocket great little synth
From the sophomore album Joyland, available now from Arts & Crafts.
Buy Joyland: galleryac.com/trust-joyland.html
Director: Will Joines
Producer: Jess Cohen
Production Company: Coco Collective
Director of Photography: Zoë White
VFX Artist: Cory Livengood
VFX Artist: Deejay Forte
Editor: Will Joines
Editors: Karrie Crouse & Drew Blatman
Production Manager: Naomi Wells
Production Designer: Dru Prentiss
Stylist: Kate Stein
1st AC: Sharif El Neklawy
2nd AC: Emily Allen
DIT: Jonathon Bernstein
Gaffer: Masseo Davis
Grip: Malik Salem
Swing: Connor Lawson
PAs: Brendan John Allan, Marina Cukeric, Danny Horner
Color Grade: Josh Kanuck at CVLT Production
Girl: Kyle Beechey
Dancer: Flannery Houston
ttrustt.com
twitter.com/TR_ST
facebook.com/dressedforspace
arts-crafts.ca
Close-up Unboxing video of the new Roland TR8 (AIRA) Rhythm Composer. What's in the box, the manual, questions on DAW integration. And as always: how does it feel ?
70′s Wow Keys
EDIT SELECT 1
Voice – Synt , sgl , ply ,___ , ___
Pitch – 0 , 0 , 0 , 2 , 5
Os1 – Dig , ___ , 37 , —- , —-
Os2 – SQu , rng , 12 , -6 , —-
Mixer – 127 , 46 , 0 , —- , —-
Filter – Bpf , 36 , 54 , 14 , 0
Filter EG – 23 , 56 , 47 , 47 , Off
Amp – 127 , cnt , off , 0, —-
AmpEg – 16 , 52, 51 , 45 , On
LFO 1 – S-H , off , off , 72 , —-
LFO 2 – Sin , Off ,off , 28 , —-
EDIT SELECT 2
Patch 1 – LFO1 , LFO2 , 25 , —-
Patch 2 – LFO2 , Cut , -23 , —- , —-
Patch 3 – LF.1 ,2tn , 6 , —- , —-
Patch 4 – VEL , Nos , 5 , —- , —-
ModFx – Ens ,46 , 45 , —-, —-
Delay – Str, off , 82 , 52 , —-
EQ – 420 , 6 ,11 , -7 , —-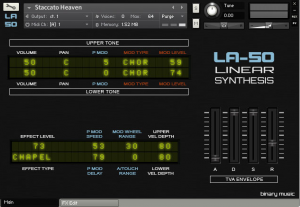 Binary Music has released LA-50, a new virtual instrument based on the classic Roland D-50 keyboard.
The upper and lower tones of each patch were sampled separately and their levels, pans and modulation can be adjusted independently. In total there are 100 instruments made from 2,486 samples – 2GB uncompressed.
The samples were recorded dry, then carefully matched reverb impulses were created using a Roland SRV3030. All samples were recorded in 24 bit at 44.1 kHz.
Released in 1987, the D50 was Roland's answer to the Yamaha DX7. Although much easier to program, many of the presets found their way unedited straight onto hits during the late '80s and early '90s. Sounds such as Digital Native Dance, Soundtrack, Pizzagogo, Staccato Heaven and Fantasia, (all included in LA-50) became staples of many producers. The D50 features on albums by artists as diverse asMichael Jackson, Seal, 808 State, Duran Duran, Foreigner, Enya and Vangelis.
The D50 used a combination of PCM samples and a form of synthesis called Linear Arithmetic, which was actually quite analogue sounding. It was also the first synth to include an onboard digital reverb. On the D50 the reverb had to be switched off on a per patch basis, but on the rack mount D550 it could be switched off globally. By recording the tones dry, it's possible to use a third party reverb instead of the included impulses.