Bitwig Managing Director, Placidus Schelbert takes the floor for the Microsoft Keynote at Summer NAMM to shed light on a special project after seeing the potential between Bitwig Studio and Microsoft Surface Pro 3.
Filmed in collaboration with Microsoft and A3Exchange during the Microsoft Keynote at Summer NAMM in Nashville, TN.
Live performance – YMO cover
Background video description:
I'm sure some people are wondering what the heck the MIDI controller versions of my iPad apps are for.
Well, this…
Everything you hear is being produced by the iPad itself, using ThumbJam as the MIDI synthesizer and MIDIPipes as the controller. I was working on a update to the app this morning, figured it was time for a demo video since its been probably a couple of years since I did the last one.
The DreadBox Erebus is a desktop analog semi-modular synth from Greece
The DreadBox Erebus offers what is essentially a monophonic synth architecture, but that allows for independent control of its two oscillators. This means you can play (or sequence) two different pitches, but the pitches will go through a shared VCF, VCA, etc.
Features:
Full Analog Paraphonic Synthesizer
Full Analog 2-voice Paraphony or Unison sounds
2 x VCO with separate glide controls
Two pole (12dB/ocv) resonating VC Low Pass Filter
VC LFO with additional VC Depth
2 x Envelope Generators (1xADSR and 1xAR dedicated to the AMP)
VC Delay/Echo
14 patches for an astonishing Modular experience
CV Outputs: LFO, Envelope, Modulation Wheel, Gate, Osc1 pitch (1V/ocv), Osc2 pitch (1V/ocv)
CV Inputs: Osc1, Osc2, Echo time, VCF, LFO rate, LFO depth, CV/Gate
MIDI interface: Pitch note/gate on-off, retrigger function (on-board), Mod wheel (patched on-board), Pitch wheel, MIDI Channel select 1-7 or Omni (DIP switch)
Paraphony CV/GATE outputs allows you to turn monophonic devices into Paraphonic, or even combine 2 monosynths into a paraphony orgy
The Dreadbox Erebus is priced at US $539. See the Dreadbox site for details.
Full throttle!


Please use headphones for maximum SID induction!


Video made with a DIY 1800 watts Y6 hexacopter.

Synths Used:
MIDIbox MB6582 – 8580 SID x 2 (Bassline)
Alesis Andromeda (Lead #1)
Roland V-Synth (Lead #2)
Kawai K5000 (Ambient Pad)
Elektron Machinedrum (Drums)
Sequenced by the fantastic MIDIbox SEQ V4!

Thanks for watching and listening!
Hawkeye/Maelstroem Records
This video only shows the sound of the analog section in the Roland JD-Xa. This is not a musical statement, review, or patch demo.
First exploration of the Kilpatrick Audio Phenol synth, a remarkable instrument. No additional instruments, processing or effects. Everything you hear was recorded live, two tracks, directly from this machine.
The voices are boys fighting outside my window a few months ago, darkly disguised and distorted.
Putting the new Yamaha Reface CP electric piano mini keyboard, head-to-head against a vintage Wurlitzer electric piano and a Fender Rhodes.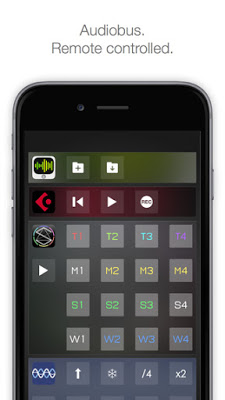 With Audiobus Remote, transport your Audiobus-compatible music apps' controls onto a second iPad or iPhone: it's a second screen for your Audiobus session, powered by Bluetooth LE and Apple's iBeacon technology.
Start Audiobus Remote for the first time, then simply hold it near your other iPad or iPhone running Audiobus: the two devices will pair immediately, and you'll see the apps running on your Audiobus device appear on Audiobus Remote's control surface. You will see all the Audiobus Connection Panel controls you're used to, including app switching, transport and record controls.
Apps can also define Remote Triggers, providing access to app-specific functions within Audiobus Remote. For example:
Record or toggle individual loops in Loopy HD.
Trigger drum samples in DM-1.
Move between presets in Bias FX and JamUp.
Change presets and adjust effect controls in Holderness Media's effects apps including Johnny and Caramel.
Trigger individual sections in Sector, and switch modes.
Play a mini version of SoundPrism Electro in Audiobus Remote.
All this on a second screen, while you can stay focused in one app on your main device.
Audiobus Remote. More space for play.
Discover apps with Remote Triggers on our compatible apps directory at http://audiob.us/apps
Audiobus Remote requires the Audiobus app and two Bluetooth Low Energy-compatible iOS devices: iPhone 4S, iPad 3 or iPad Mini, iPod Touch 5th gen, and newer.
Audiobus Remote is priced at $4.99 on the app store