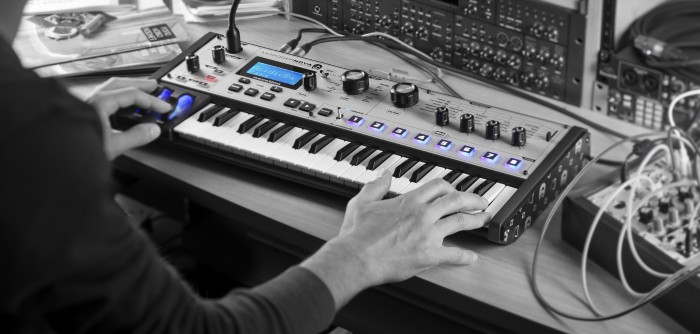 Novation has introduced the MoroderNova, a signature edition version of the MiniNova synthesizer in collaboration with Giorgio Moroder.
Over an incredible five-decade career, Giorgio Moroder has been nothing less than a beacon of influence in electronic music. Thanks to his pioneering work in the mid-70s with Donna Summer, among others, disco simply wouldn't sound the same. In the '80s, his blisteringly modern approach to producing the unforgettable soundtracks to movies including Scarface, Top Gun and Flashdance — using the synthesizer as his main instrument — captivated an entire generation of movie fans. More recently, Moroder has shot back into the popular consciousness, thanks to a universally acclaimed collaboration with Daft Punk in 2013, and his 2015 album Deja Vu, which features Britney Spears, Kylie Minogue and Sia as guest artists.

It's his fascination with electronic sounds that is at the heart of his collaboration with Novation. Giorgio Moroder is nothing less than a god in the synth world, he's been responsible with creating some of the most recognisable sounds across numerous genres, and we're honored to create an instrument bearing his name. The collaboration came about after Giorgio began to use the Novation Mininova, taking it on tour all over the world. With MoroderNova, Novation and Giorgio Moroder have made a piece of synth history. Not only is it Novation's first signature model, it's the first and only synth with Giorgio's name on it, a fact that we're really proud of. What's more, there are only 500 of them, each numbered and supplied with a certificate of authenticity.
MoroderNova features
Instantly-rare, signature version of the MiniNova which pays homage to Giorgio Moroder.
Branded with Giorgio's 'moustache and shades' insignia, and with a distinctive silver/black colourway, the unit is a stand-out piece of synth heritage.
The signature sounds identify some of Giorgio's most seminal moments in music. From the timbres of his disco classics with bands such as Sparks and Donna Summer, to the incredible sounds of the Top Gun and Scarface soundtracks, and his recent work with Daft Punk, Novation's sound designers have matched each and every one to the original. With access to these you'll be able to draw inspiration from the works of one of the most influential producers alive today.
Limited edition, numbered one of 500 units with certificate of authenticity.
Sign up at the MoroderNova website to stay informed.
"Picture frame eternity" taken from 2015 album "Garmonbozia".
Release-date 15/06 2015
http://www.analoguetrash.co.uk/
Pre-order:
http://trashdigital.co.uk/album/garmo…
Credits:
Video made by:
Petter Duvander
Allan Bank
Johan Jonasson
Jean-Michel Jarre with M83 "Glory" is a new track from Jean-Michel Jarre's forthcoming album.
Available on iTunes. Order it now:
http://po.st/JMJxM83
http://jeanmicheljarre.com/
https://www.facebook.com/jeanmicheljarre
https://instagram.com/jeanmicheljarre/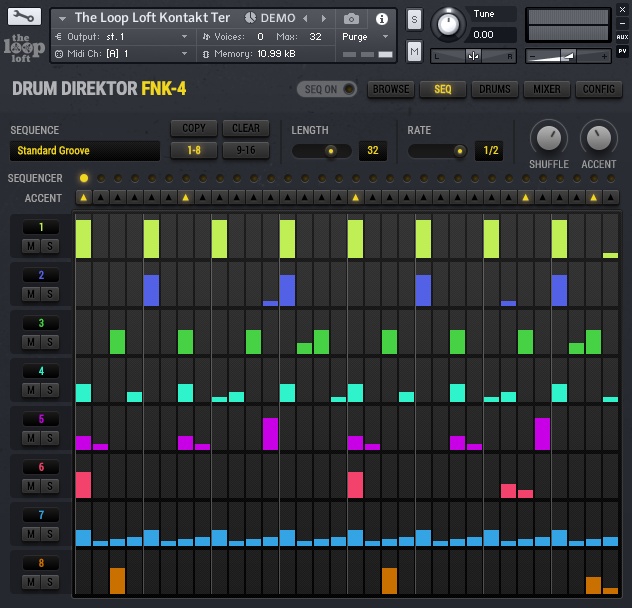 The Loop Loft has released Drum Direktor FNK-4, revolutionary loop player, step sequencer, drum pad player, effects unit and mixing station for Native Instruments Kontakt.
Drum Direktor FNK-4 is the first release in a series of instruments designed from the ground up to give you complete, hands-on control over Loop Loft loops and samples.

From "playing" live loops directly from the drum pads, to quickly creating intricate rhythms with the step sequencer, to tweaking effects and producing professional mixes, Drum Direktor is the ultimate all-in-one solution for creating beats.
Drum Direktor FNK-4 features
Internal 32 Step Sequencer with 8 recallable patterns that allow for the simultaneous sequencing of loops and samples within a single instrument. Shuffle, Global Accent, Step Dynamics, Per group Sequencer Precedence and a convenient layout of Solo, Mute and Drum Loop auditioning all make sequencing patterns within Drum Direktor a natural and fast process.
Flexible grouping architecture which allows for sophisticated organization and structure of drum loops and samples with easily identifiable colors and workflow features usually reserved for dedicated hardware workstations.
Powerful Drum Pad infrastructure which allows for 16 simultaneous loops or samples from a collection of over 300 to be played and sequenced simultaneously with a clear waveform overview and playback positioning.
A feature rich tools set of tools for processing each individual Drum Pad. Users have the ability to set playback quantization, playback speed, sampler mode, slice start time, pitch, stereo width, randomization, filtering, distortion, velocity, volume and pan on each of the individual 16 Drum Pads.
A dedicated mixer for processing each of the 8 individual drum groups with high quality internal effects which include a Transient Shaper and Compressor/EQ modelled after a famous Solid State Console.
Global Effects for Delay, Reverb and a powerful Tape Machine which allows for quick and powerful tone shaping. The Drum Direktor Tape Machine matches the quality and workflow of mixing drums to a multi-track tape machine in a fast and easy to use custom design.
Internal master bus processors including EQ, Compression, Filtering and Distortion for a polished mix ready sound without ever having to use external effects or plugins.
Powerful MIDI mapping controls for configuring Drum Direktor to behave exactly the way you want to work with your existing MIDI controllers.
Highly customizable group options including user definable colors, choke times and external output for further processing and mixing within your favourite DAW software.
Low RAM and CPU usage options for compatibility with a wide range of systems.
Drum Direktor FNK-4 is available for purchase for the introductory price of $79 USD until May 21st, 2015 (regular $99 USD).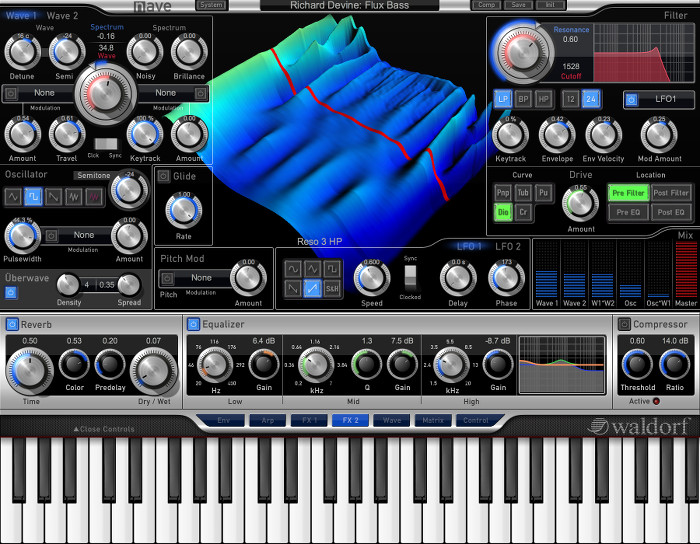 Waldorf has released Nave for VST/AU/AAX, an advanced wavetable synthesizer instrument for Windows and Mac.
Nave, our award winning next generation wavetable synthesizer, comes pre-packed with superb sounds, ranging from spatial pads to vivid wavetable scans and cutting leads to solid basses, but, above and beyond that, also an abundance of incredibly imaginative sound worlds – many of them professionally produced by some of the top sound designers around.

As a synthesizer thoroughbred at heart, Nave really represents a phenomenal playground for sound creation creativity. Its oscillators offer expanded wavetable functionality with elaborate editing facilities and an extremely effective speech synthesizer.
Nave features
Two independent advanced wavetable oscillators.
Osc module with (up to) 8-oscillator Überwave with saw, triangle, PWM, white and pink noise.
Two ring modulators.
Multimode filter with LP/BP/HP, 12dB and 24dB.
3 envelopes, 2 LFOs.
10 Modulation Matrix entries.
Drive with adjustable curve, depth, and position.
Modulation effect with either Chorus, Flanger or Phaser.
Reverb, Modulation Delay.
Three-Band Parametric Equalizer, Compressor.
Blades with musical scales and optional chord mode.
Polyphonic Aftertouch.
Up to 3 X/Y control pads.
Arpeggiator.
Polyphonic unison.
Speech synthesizer for wavetables, 3D wavetable editing.
Generation of wavetables from external audio files.
Patch management with user banks and patch categories.
Sound Patches can be exchanged with Nave iPad version.
Supporting 32bit & 64bit VST, VST3 and AudioUnit hosts.
Supporting ProTools 11 with AAX64 native.
Nave for VST/AU/AAX is available for purchase for 149 EUR.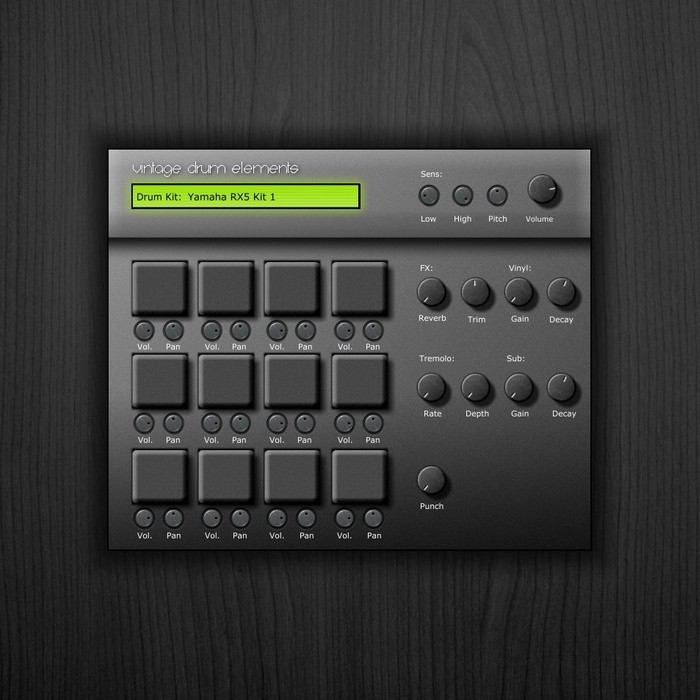 Single Cycle Audio has launched Vintage Drum Elements, a virtual drum machine featuring the sound of the Yamaha RX5.
This seminal drum machine of the eighties is the perfect companion to any synthwave, vaporwave, synthpop and chillwave enthusiast who seek that eighties vibe in their drum patterns. The RX5 has been use by such artist as the Cocteau Twins, Bomb The Bass, Masters At Work, Orchestral Manoeuvres in the Dark, Louie Vega, Chromeo, Vangelis, Depeche Mode, The Pet Shop Boys among many other professional producers.

The plugin drum machine comes with 4 drum kits, 1 FX set and 4 instruments.
The plug-in is available as a free download for Windows and Mac (VST/AU).
Synthesizer demo of the analog synthesizer Roland Alpha Juno(1) from 1985.
The Alpha Juno has a similar voice architecture to the earlier Junos – but on the Alpha some things were enhanced: backlit display, variable chorus speed, a more complex envelope, the envelope can be routed to the pitch, additional waveforms for DCO and sub oscillator, the PWM has its own dedicated LFO, key velocity and aftertouch (can be routed to filter or/and volume).
The Prophet 6 is Dave Smith's tribute to the poly synth Sequential Prophet-5. The Prophet-6 takes the best qualities of the original Prophet-5—true voltage-controlled oscillators, filters, and amplifiers—and adds enhancements such as studio-quality effects, a polyphonic step sequencer, an arpeggiator, and more. The result is 'pure, unadulterated analog tone', with the stability and reliability of a state-of-the-art modern synth.
Background video description:
Rate! Subscribe! Comment! (if you're polite and cool). Sonic tour of the not-yet-released Dave Smith Instruments Prophet 6! This was sent to me to do some factory patches and I got the official Okay to create a video. So here it is – enjoy! This is one really SWEET sounding analog synthesizer.
Intellijels Metropolis running Kraftwerks Franz Schubert
The Metropolis is a unique and powerful musical sequencer inspired by the Ryk M-185 (a Roland System 100m format sequencer.) but with many additional enhancements and functions.
The Metropolis comprises eight "STAGES", each with its own assignable gate mode, pulse count and pitch value. Each stage can also have a special slide or skip function activated too. The slide functionality is a constant time portamento very similar to the Roland TB303 (unlike most synths/sequencers that use constant rate portamento) which produces a very musical and interesting result.
In addition to the base sequencer settings set with the sliders and switches there is a full menu of controls and auxiliary modifiers that allows the user to control and manipulate the sequence in many powerful ways including sequencer direction modes, pitch quantization and scale manipulators, clock dividers, shuffle and much more.
Some of the features :
Sequencer modes:
Forward, Forward-fixed, Reverse, Reverse-fixed, PingPong, PingPong-Fixed, Random, Random-fixed, Brownian, Brownian-fixed
TB-303 style slide (constant time portamento) with adjustable time
Stage skipping (double click slide buttons)
Internal quantizing in any key and a choice of 30 different scales
Can act as a master clk with tap tempo BPM control or slave to an external clock (with BPM detector)
SAVE/LOAD panel settings to EEPROM
Shuffle
Internal clock divider with odd/even/all modes and can also be used to sync stage changes
Sync output (sets output pulse on the first or last clock step of a sequence, used to slave other sequencers via reset)
Two assignable AUX inputs which can control: gate length, transpose, key shift, root shift, sequence length, step divisor and octave offset.
Config menu to set slider pitch range, clock div type, sync type and reset type
All menu actions are one level deep. i.e. press the menu button and spin the encoder. There are no hidden levels or sub menus (except for the CONFIG menu_
All the core original RYK m185 functions are there too. Read more about the original project here andhere
User replaceable firmware chip
Link header on back to connect to other select Intellijel modules
Skiff friendly
*Current firmware v1.04
Using the on-board timing facilities of the Erbe Verb, Echophon and Clouds (in time-stretch mode) to mimic the shifting rhythms of a gamelan ensemble.
Bell voice: Braids
Bass voice: Shapeshifter
Drone: EHX Ravish Sitar