Teenage Engineering Pocket Operator PO-12 PO-14 PO-16 を同期させて即興演奏してみました。
Here comes the first PPG WAVE on the market, the PPG Wave 2.
A fantastic digital-analog hybrid using wavetable synthesis for the OSC section and analog filters, envelopes and amps.
Only 8-OSCs instead of 16 in the 2.2 and 2.3. 8bit in the Wave 2 and 2.2, 12bit in the 2.3. 8-track sequencer onboard along with a arpegator. CEM 3320 VCFs for the 2 against SSM 2044 in the later ones.
This unit however has 2 issues:
– 2 faulty VCA's (I guess)
– a horrible keyboard nearly unplayable
This unit has no retrofit, so I'm using an arpeggio and mostly long release times to hide the distorted VCAs or try to use it as an effect.
So no deep exploring here – but this lovely synthesizer has something hypnotic and sounds rarely especially digital, more than that it's warm and organic.
Be the waveforce with you…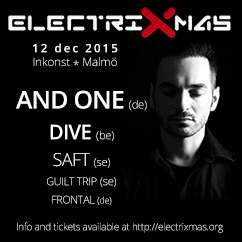 So, we've kept you all waiting long enough but finally the lineup for this years electriXmas is complete! We're delighted to welcome AND ONE back to the electriXmas stage and Sweden after 9 years! In addition, filling the final slot is FRONTAL bringing some classic old-school EBM vibes.
Don't have your tickets yet?? What are you waiting for!?
AND ONE (de)
DIVE (be)
SAFT (se)
GULT TRIP (se)
FRONTAL (de)
Since they both have a healthy amount of Control Voltage connectivity, it is easy to use the oscillator in a Moog FreqBox as a 2nd oscillator on an Arturia MicroBrute. It is also possible to mute the MicroBrute oscillator and just use the FreqBox oscillator. Things really take off when the Freqbox effect and the sequencer are engaged. Learn more at www.experimentalsynth.com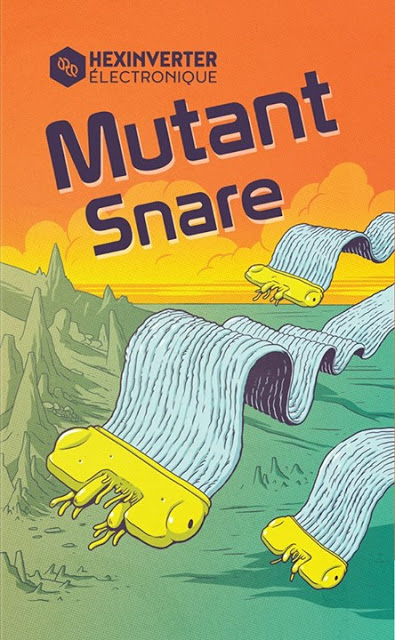 Introducing the Hexinverter Électronique MUTANT SNARE!
This newest module in the Mutant Drum series brings dynamic snare drum synthesis to the eurorack format, with plenty of modulation and sound-sculpting capabilities to make it at home in the contemporary modular system.
Available from eurorack dealers all around the world this fall!
Stay tuned for video demos. For now, here are some audio demos created by our pal Dr. Snarold [above]
////MODULE DESCRIPTION////
From classic electro snares to warping, alien percussion, the Mutant Snare is a feature-rich departure from the static sounds of the 808!
=MIX and DRIVE=
• MIX lets you blend between the SHELL and SNAPPY tones that make up the overall snare drum
• turn up the DRIVE to get overdriven snare tones with intense harmonics. The purple LED indicates when the snare begins to overdrive
• like the other Mutant Drums, signal levels have been normalized for modular level input and output (up to 20Vpp)
=SHELL synthesizes the drum skins=
• analog bridged-t sinewave oscillators, for those organic-sounding tones we've come to love from the 808
• TONE control blends between the two sinewaves of different frequency
• SHELL PITCH lets you tune one of the sine waves, to change the pitch of your snare drum
=SNAPPY adds some noise to the snare=
• an analog white noise generator feeds the SNAPPY circuit
• an external input lets you patch any sound source you like into the SNAPPY generator
• voltage control of SNAPPY decay
• SNAPPY feeds into an analog selectable high-pass or band-pass filter
• voltage control of filter cutoff frequency
• when nothing is plugged into the cutoff CV input, the SNAPPY envelope OR the adjustable sinewave from the SHELL generator normalize through the CV attenuverter for cutoff CV. A jumper on the back of the module allows you to select which of these internal modulation signals are routed here
• filter has three resonance settings: classic 808 (low resonance), high resonance, and self oscillation
• bipolar attenuators (aka: 'attenuverters') on CV inputs"
This week playing an improvisation together with Marius Leicht. Check out another improvisation we played on Marius' channel:https://youtu.be/w4LMArnQV3E
Using the following instruments:
Moog Prodigy (1980) with
Roland Space Echo (produced 1973-1988)
Sequential Circuits Prophet 5 Rev 3.3 (1982) with
Strymon Timeline (2014) dTape Maschine and
Moog MP-201 pedal controlling the filter cutoff frequency
Moog Etherwave Pro theremin (2006) with
Boss Digital Delay DD-7, Harmonist PS-6 and Loop Station RC-50
—
To take part in this video project, comment or send me your suggestions for an improvisation. This can be:
a) a word or sentence
b) a photo, a drawing/sketch or painting of yours
c) a recording of you playing your instrument
d) a video of you playing your instrument
I choose one suggestions every week to play an improvisation in the end of the video.
Looking forward to your ideas!
—
Previous Video "Kate Bush – Babooshka (Cover)": https://youtu.be/raM8Lp0aGCk
Marius' channel: https://youtube.com/mariusleicht
WEBSITE: http://carolinaeyck.com
FACEBOOK: https://facebook.com/carolinaeyck
TWITTER: https://twitter.com/CarolinaEyck
INSTAGRAM: https://instagram.com/carolinaeyck
Check out Keith as he puts CARBON through its paces. CARBON is controlling an electric piano, Roland Juno 106, Yamaha S612 sampler, and syncing a Korg volca beats, as well as modulating the filter on a Korg MS-20 Mini for some pulsating effects. The entire tune including arpeggiators were recorded in a single take.
Find out more about CARBON: http://store.kilpatrickaudio.com/carbon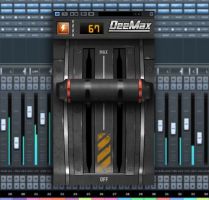 Dotec-Audio has released the DeeMax maximizer / VST plug-in for Windows and Mac OS X.
Features:
A user can add loudness without disturbing the taste. Only one slider will control everything.
Can get fat saturation when a user increases the slider.
Can be used in LIVE situation since DeeMax is designed to run fast and works gracefully.
Price: $49.00 USD with special introductory pricing of $29.00 until December 31th, 2015.
Sound Demo:
An ACB emulation of the Jupiter 8, one of the most iconic polysynths ever made. A tall order. We take a look at the new Boutique JP-08
Wolfgang Palm demonstrates his vocal synthesizer
for more info go here:
http://wolfgangpalm.com/phonem.html
Wolfgang Palm has introduced PPG Phonem – a new software synthesizer, for OS X & Windows, designed for expressive vocal synthesis. The human voice is a very complex system, which can produce a wide range of sounds. It is however restricted by natural physical dimensions. Phonem does not impose limits, letting you create all the filter configurations and sweeps you could only ever have dreamed of.
The heart of the Phonem system is a multi resonator filter with 12 individual resonators, which can produce vocal sounds as well as all kinds of filter sweeps and effects. This is combined with a very flexible excitation source which can work as a simulation for the human vocal source (the glottis) but also use wavetables and time-corrected-samples (TCS) to drive the filter.
Although the PPG Phonem was originally designed to do just vocal synthesis, it turned out that the system is also capable of producing a wide range of synthsizer sounds. So Palm extended the parameter ranges and made everything accessible to the user, to take advantage of this fact.
Features:
Create your own singing style
Create your own expressions
Large Phoneme inventory – 46 english/american plus 5 german plus 4 french phonemes
Versatile excitation generator/oscillator
Working with typical voice source or wavetable and time-corrected-samples (TCS)
Extreme time stretching, freezing and reversing
Pitch track – let your robots sing
Control track – let it cry and shout
Song mode – making it easy to compose your synthesized text
Wave page – create your own wavetables and modify time-corrected-samples
All internal parameters available to the user – give your voices a special dialect or individual character
Versatile matrix system – allowing 19 sources to control 40 parameters
Two X/Y control pads freely routable to 40 parameters
6 Envelopes, for control of filter sweeps, waveform, noise and many modulations
4 LFOs plus Vibrato, Flutter and Growl generators
Fully programmable resonator filter – allowing production of new sound effects
Delay/Reverb effect
Overdrive/Distortion effect
Directly accessible context help for each module
Freely configurable schematic keypad, with extremely expressive modulation options
Ribbon controller to bend the pitch to variable intervals
5 Keyboard Modes including mono, legato and voice-per-channel.
Import WTS and TCS files from WaveGenerator or WaveMapper 2
PPG Phonem is scheduled for release Nov 18, 2015, priced at 119 €. See Palm's site for details.