Beats in your pocket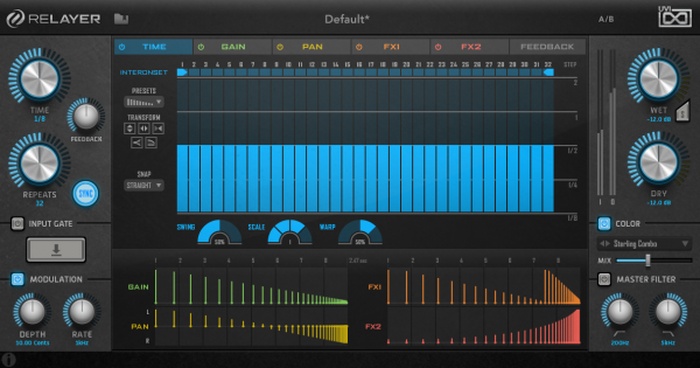 UVI has announced the release of Relayer, a precision creative delay effect plug-in for Windows and Mac.
Designed from the ground-up to provide an efficient and inspiring workflow, Relayer lets you dial in everything from basic delays to radical rhythmic multi-effects with speed, precision and natural musicality.

Both an efficient utility and powerful creative mangler, Relayer is a versatile and inspiring musical effect. Its unique combination of features, incredible sound quality and easy to master interface help to make it an indispensable tool, both live and in the studio.
Relayer features
Variable multi-tap delay (up to 32 lines) with extensive shaping controls.
Per-tap modulation editors for Time, Gain, Pan, and 2 Multi-Effects.
Visualizer helps you understand important settings at-a-glance.
Intuitive interface for lightning-fast workflow.
Input Gate for expressive playability.
Relayer for Windows and Mac (VST/AU/AAX) is available for purchase for the introductory price of $79 USD until July 31st, 2015 (regular $129 USD).
This is an improvised session demonstrating my workflow with Microbrute and Maschine. All audio from Microbrute is sampled in real time into Maschine. Noise drums are from Maschine. No MIDI was used.
Background video information:
I describe how I made a stop motion animation of a phonograph needle in an LP groove using an electron microscope. I also show electron micrographs of other recording media.
Support Applied Science: https://www.patreon.com/AppliedScience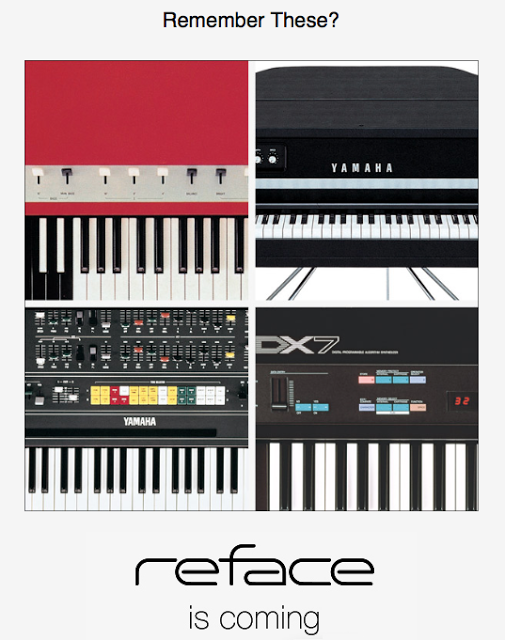 While official details are still to be announced, the Yamaha Reface appears to be a new keyboard synth line, inspired by Yamaha classics like the CS80, DX7, YC-10 and CP70
Exciting times indeed

http://www.irigmicstudio.com for more information
Make professional studio-quality recordings
on the go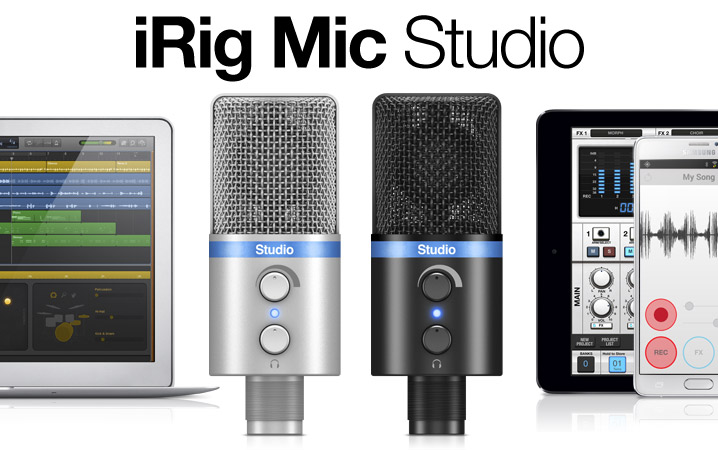 Introducing iRig Mic Studio, IK Multimedia's ultra-portable large-diaphragm digital condenser microphone for iPhone, iPad, iPod touch, Mac, PC and Android. It packs a 1" diameter condenser capsule into an ultra-compact enclosure that can be used to make professional-quality recordings anywhere. Great for musicians, vocalists, home producers, podcasters, broadcasters, voice-over artists and more, it puts the superior power of a large-diaphragm microphone into the palm of your hand.
Superior portable performance
iRig Mic Studio has been created to provide the best sound quality possible in every recording situation. It features a large 1″ diameter back electret condenser capsule, a 24-bit audiophile-grade A/D converter (with 44.1/48 kHz sample rate) and a built-in low-noise high-definition preamp. These, combined with its 133dB SPL rating, allow for optimal audio capture at any sound pressure level – it can record everything from the subtle and nuanced dynamics of the human voice to the full-on bombast of an amplified electric guitar, and everything in between.
And while these features are excellent on their own, what's truly remarkable about iRig Mic Studio is that it fits its components into a compact enclosure so small that it makes other microphones seem supersized and cumbersome by comparison.
Comprehensive control
In addition to its high-end components, iRig Mic Studio also sports a comprehensive set of monitoring and level control features. It comes with a gain control knob and a multicolour LED level indicator that allow for on-the-spot adjustment. It also has a headphone output jack with its own level control for monitoring directly from the microphone itself. For better positioning while recording, iRig Mic Studio comes with a sturdy and portable tabletop tripod stand. And for improved portability, it comes with its own protective travel pouch.
It's all about the connections
iRig Mic Studio is compatible with nearly every popular mobile and desktop platform. It comes with a female micro-USB port and an assortment of cables: Micro-USB to Lightning for iPhone, iPad and iPod touch; micro-USB to micro-USB OTG for Android (requires either an Android 5 or Samsung Professional Audio device); and micro-USB to USB for Mac and PC.
A world of professional microphones
Though iRig Mic Studio sounds great on its own, its tonal character can also be customized thanks to IK's new Mic Room app for iPhone, iPad and iPod touch. Mic Room is a microphone-modelling app that works seamlessly with iRig Mic Studio to give it the sonic characteristics of some of the most famous microphones in history: tried-and-true dynamics, velvety tube condensers, smooth ribbons and a whole lot more. Now producers, musicians, podcasters and anyone else who wants great sound on the go can have access to an all-in-one microphone that can mimic a full treasure trove of classics.
The Mic Room App is available from the App Store at
www.appstore.com/microom
Record with the power of apps
For immediate recording, iRig Mic Studio comes with a powerful suite of vocal apps. VocaLive™ is an expandable, powerful effects processor and multi-track recording app that's perfect for professional singers. EZ Voice™ for iPhone, iPad and iPod touch and EZ Voice™ for Android are streamlined and easy-to-use sing-along apps that make it easy for vocalists to practise with any song in their music library.iRig® Recorder for iPhone, iPad and iPod touch and iRig® Recorder for Android are straightforward audio capture apps that are great for everyone from journalists who need to make recordings in the field to podcasters who want to broadcast while on the go, and everyone in between.
The VocaLive App is available from the App Store at www.appstore.com/vocalive
The EZ Voice App is available from the App Store at www.appstore.com/ezvoice
The iRig Recorder App is available from the App Store at www.appstore.com/irigrecorder
EZ Voice is available for Android via Google Play and the Samsung GALAXY Apps store. iRig Recorder is available for Android on Google Play.
iRig Mic Studio is also fully compatible with a wide variety of third party apps and software, like Cubasis, ProStudio Vocal FX, MultiTrack DAW and more. It's also compatible with Apple's GarageBand and Logic Pro X apps, and iOS Voice Memo.
Pricing and availability
iRig Mic Studio comes in silver or black and is available now from music and electronics retailers worldwide and from the IK online store for only $/€179.99 (excluding taxes).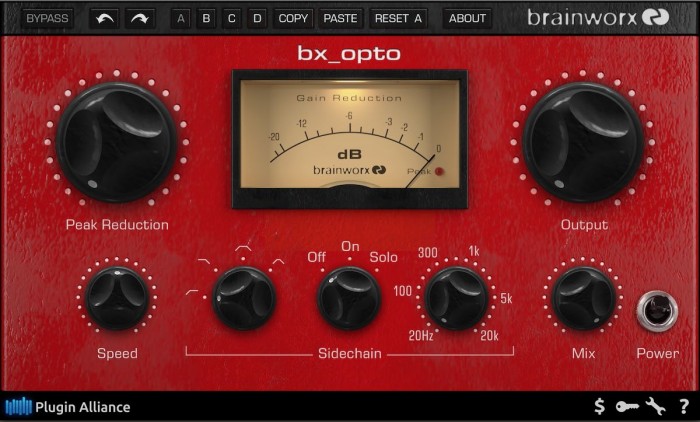 Plugin Alliance has launched bx_opto, a compressor effect plug-in by Brainworx.
The Brainworx bx_opto compressor combines some of the best colors, character and features from what Brainworx has learned modeling the optical circuits of some of the world's best-loved compressors. Rather than recreating a hardware product in software, the bx_opto takes the best aspects and anomalies from these legendary light-dependent circuits to create a software compressor you'll wish you could buy a hardware version of. The result is a beastly little dynamics processor, teeming with character and spitting out sounds no analog optical compressor can.

Most optical compressors are appreciated for their musical, program dependent character introduced by anomalies in the light dependent circuitry of the sidechain; the general speed of compression is cemented by the given behavior of the compressor's Light Dependent Resistor (LDR). Hardware opto-compressors can only allow users the ability to adjust the effect of this character by introducing a separate resistance circuit that gives some control over the compression envelope.
bx_opto features
Analog, optical compression colors with more control.
Content-dependent peak reduction / compression with one knob.
'Speed' knob controls the coefficient of Light Dependent Resistor, creating unique transient response.
Fully sweepable (20 Hz – 20 kHz) LP/HP/BP (wide)/ BP (narrow) sidechain filter .
Wet/Dry mix for parallel compression .
Accurate metering for reading amount of gain reduction.
NOT a transparent compressor; gently level or completely raze your sound with harmonically pleasant results.
bx_opto for Windows and Mac (VST/AU/RTAS/AAX/AudioSuite) is available for purchase for $149 USD.
Overview of the features and functions of the Future Retro Mondovox polyphonic MIDI processor. Play up to 16 monophonic synthesizers polyphonically. Or play multitimbral synthesizers in new ways.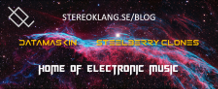 Attempting to reimagine electronic music through acoustic means
Klavikon represents an entirely new approach to the piano, drawing on the experimental work of Tudor and Cage to transform the instrument into a factory of haunting, percussive textures. With the use of bolts, screws and assorted electric toys, Klavikon reimagines 'electronic' music without the use of conventional processes.
Indebted both to the American experimental tradition and to the postwar European innovations of Stockhausen and Ligeti, the album comprises a suite of brand new, visceral compositions.
Leon Michener studied classical piano and composition at Trinity College and the Royal Academy of Music. His recordings have been broadcast on BBC Radio 3 and recent performances include Stockholm Museum of Modern Art, The Roundhouse and Kings Place.
Premiered by Hudson Mohawke on his takeover of Benji B's BBC Radio 1 show, 'Scud Books' is the next track revealed from the album 'Lantern' – http://s.warp.net/lantern
The track will be available to download with pre-orders from the links below.
iTunes – http://smarturl.it/lantern-itunes
Bleep – http://smarturl.it/lantern-bleep
Amazon – http://smarturl.it/lantern-amazon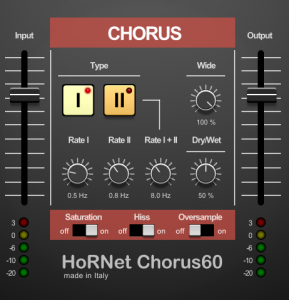 HoRNet Plugins has announced the release of HoRNet Chorus60, an emulation of a famous vintage chorus found in an 80's iconic keyboard.
When this particular keyboard was released it only had one oscillator per voice and to make the sound thicker the manufacturer used this particular kind of chorus that became the signature sound of many hits like "Sweet Dreams".

We took the original schematic, analyzed, simulated and recreated it in a plugin, and also added control for the internal chorus parameters like the LFO rate, Dry/Wet control and the chorus wideness. The analog characteristics are reproduced, both in saturation and hiss but can be enabled or disabled independently.
HoRNet Chorus60 features
Smooth fat and wide chorus.
Mode I, Mode II and Mode I+II available as in the original unit.
LFO rate adjustable for each of the three modes.
Chorus stereo wideness control.
Dry/Wet control
Analog saturation and hiss with separate controls
2x oversample mode for best quality
Input and output faders with VU meters
Mac OS X (>=10.5 Intel only) and Windows support.
64-bit compatibility both on Mac and Windows.
Audio Units VST2.4, VST3, RTAS and AAX (mac only) format.
HoRNet Chorus60 is available for purchase for 10.99 EUR.