Rop Papen shows off their Raw software at the NAMM Show 2015.
NAMM 2015: Elektron Ovwerbridge Progess Audio routing and a sneak of the UI for the editor
Elektron's Overbridge was announced last year, its a technology that allows Elektron instruments – Analog Four, Analog Rytm and Analog Keys to feed their audio and MIDI over USB and into a host plugin that will run inside the host DAW and route discrete inputs and outputs.
Addtionally MIDI can be routed and more interestingly given the complexity of these instruments, an editor to access the voice and setup parameters for each instrument – this would certainly make the editing process more pleasurable – one of my criticisms was that the screen is just too small to see enough detail for serious editing and my tired eyes.
Cenk (aka Dataline) gives us the headsup on where the Overbridge technology is, the seamless integration of audio streams in and out of the DAW is impressive.
With a pair of trademarked DiscretePRO mic preamps, high-quality 24-bit AD/DA conversion, sample rates up to 192kHz and accurate clocking, the AudioFuse is an intriguing proposition.
When it comes to connectivity, the AudioFuse is well equipped and has been designed with musicians in mind. As such, it has two pairs of speaker outs, a pair of headphone outputs, each with 1/4-inch and 3.5mm sockets, and USB ports for connecting or powering other devices. On top of that, there's ADAT connectivity, MIDI, phono, S/PDIF, Word Clock, XLR/ balanced 1/4-inch combo connections.
The AudioFuse could easily form the centre of a small studio, providing a talkback function for communicating with recording talent, and insert points for adding line-level devices (EQ and compression for instance) between the preamps and the converters. Direct monitoring is also possible as well, to avoid the timing issues associated with recording latency.
Arturia's new audio interface is also road-ready with a sturdy aluminium chassis, and an accompanying box to protect it from knocks during transport and also to stop undesirables from messing with your settings! It is set to retail for around $549 and should become available in the Summer.
Via SOS
Amos Gaynes takes us through the new features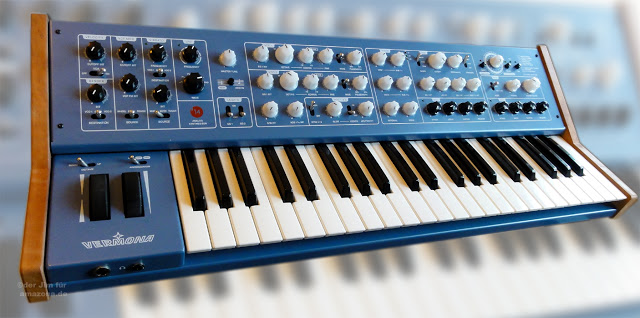 Info below from a German magazine:
Vermona '14 – an unconventional name. Just before the Vermona team departed for NAMM, offered, quasi in passing, the opportunity to take a quick look at the new synthesizer. Here are the first impressions.
The analog synthesizer is a full-blown version of the Lancet module. The 3½-octave keyboard (44 keys) has a pleasant synth-action keyboard and the housing and the controls make a solid, reliable impression. The large panel promises a safe handling on stage.
structure
Vermona '14 is monophonic, a duophoner mode as it is presently just hip is not provided. The sound production have two identical VCOs with sine, sawtooth and square (PWM) and two sub oscillators, with a sinus, with a rectangle that can be mixed to the mixer. In the mixer, signals can override what appears roughly three LEDs. The VCO can be synchronized and also provide, if necessary on a fixed pitch. Noise and External In enhance the sound sources.
The filter is not a multi-mode, but only a low-pass, but corresponds to the most common applications.
The slope can be switched between 12, 18 and 24 dB. Also filter FM is possible. Two fast ADSR envelopes and LFO accept the modulation
Featuring audio import, many more waveforms, wavetable and granular synthesis, new sounds and FX and enhanced browsing features, it certainly looks like a chunky upgrade, and one that's been many years in the making.
"Our biggest goal with Omnisphere 2 is to offer more freedom to create for every type of person using it," states Spectrasonics' Founder and Creative Director Eric Persing. "This is the first 'version 2′ of any of our software instruments, and it's monumental! We had a blast creating all the features and sounds over many years and we can't wait to see what our users are inspired to do with Omnisphere 2."
You can check out Omnisphere 2's specs below – it'll be released on 30 April priced at $499/€399. The standard upgrade price will be $249/€199. Find out more in the video above and on the Spectrasonics website.
Spectrasonics Omnisphere features
Vast New Synthesis Possibilities
Audio Import – Use your own audio file as a soundsource in Omnisphere
Over 400 New DSP Waveforms for the Synth Oscillator – an increase of 100X
Wavetable Synthesis – Each Waveform is now a Morphing Wavetable
Powerful New Granular Synthesis algorithm
Deeper FM/Ring Mod capabilities for aggressive timbres
8 New Filter Types – New Power Filters, Vowel, Resonators
New Unison Drift models Analog Polysynth behavior
Expanded Modulation with new sources and many more targets
Polyphonic LFO and Modulation Envelope options
Soundsource Reversing
Now includes over 10,000 sounds
More than 3,000 New patches and soundsources from acclaimed Spectrasonics Sound Design Team
New Omnisphere EDM library with cutting-edge, modern sounds
New Exclusive Soundsources from Diego Stocco's Custom Built Instruments
New category of Phrase-based Soundsources for granular synthesis
Hundreds of new Circuit Bent Soundsources
Many Innovative new Psychoacoustic Soundsources
New Melodic Cave Stalactites Soundsources
…and much, much more!
New Interface:
Redesigned Wider User Interface with many improvements
New Show Modulation pane opens modulation routings/sources on left side
New Mini-Browser available at all times
Larger Full Browser Design
Enhanced Browsing experience:
Sound Match™ feature instantly locates any related sounds in the library
Sound Lock™ allows endless useful variations by locking sound aspects while you browse
Easy Sound/Project Sharing for collaborators and third party libraries
Greatly Improved sound organization system
Fast Auto Preview/Progressive Loading allows rapid browsing
Browse Patches by Mood
Expanded Genres
Browse by Oscillator type
Boolean search options
New Arpeggiator Features:
Note transposition for step seq-style patterns
Arp pattern lock while browsing
Speed Offset control allows slow down/speed up effects
New modulation capabilities
25 New FX Units:
Innerspace
Quad Resonator
Thriftshop Speaker
Classic Twin
Bassman
Hi-Wattage
Rock Stack
Brit-Vox
Boutique
San-Z-Amp
Stompbox Modeler
Metalzone Distortion
Toxic Smasher
Foxxy Fuzz
Analog Phaser
Analog Flanger
Analog Chorus
Analog Vibrato
Solina Ensemble
Vintage Tremolo
Envelope Filter
Crying Wah
Stomp-Comp
Precision Compressor
Studio 2-Band EQ
Flexible New FX Features:
16 FX units per patch
Full matrix modulation of every FX slot
New Aux FX rack per patch with Pre/Post fader sends
Hundreds of New FX Presets and Racks
Lock FX while browsing
Improvements/Special Features:
Live Mode with key splits
Enhanced Orb with Attractor mode
Trilian Custom Controls compatibility
Global Clock Speed (Halftime, Doubletime, etc)
…and much more.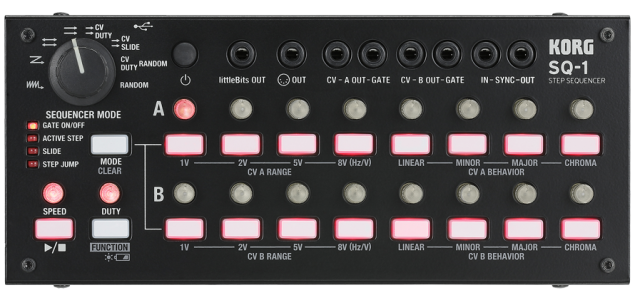 Korg has introduced the SQ-1 step sequencer, an updated take on the classic Korg SQ-10 step sequencer.
The Korg SQ-1 is a compact step sequencer with 2 x 8 steps. Its wealth of connection jacks allows it to be connected to the MS-20 and a variety of other synthesizers.
Both vintage analog synths and the latest compact synths can be controlled from the SQ-1.
Specifications:
Sequencer Mode – ALTERNATE, ORDER, PARALLEL TURN, PARALLEL ORDER, CV/DUTY, CV/SLIDE, CV/DUTY RADOM, RANDOM
Step Mode – GATE ON/OFF, ACTIVE STEP, SLIDE, STEP JUMP
Sequence Step Resolution – quarter notes, eighth notes, sixteenth notes
CV OUT Pitch – Linear, Minor, Major, Chromatic
CV OUT Voltage – 1V, 2V, 5V (Oct) 8V (Hz/V)
GATE OUT Polarity: + (positive polarity), – (negative polarity)
SYNC IN/OUT Polarity + (rise), – (fall)
Connectors

littleBits OUT jack (mini monaural phone jack)
OUT (MIDI OUT) jack (mini stereo phone jack)
CV – A OUT – GATE jack (mini monaural phone jack, CV OUT : Output Level 1V, 2V, 5V, 8[Hz/V], GATE OUT: output level 10V)
 CV – BOUT – GATE jack (mini monaural phone jack, CV OUT : Output Level 1V, 2V, 5V, 8[Hz/V], GATE OUT: Output Level 10V)
- IN – SYNC – OUT jack (mini monaural phone jack, SYNC IN: Max Input Level 20V,

SYNC OUT: Output Level 5V)
USB jack (type B, USB MIDI)
Power Supply – Two AA batteries (alkaline batteries recommended), or USB power
Battery Life – approximately 5 hours (when using alkaline batteries)
Dimension (W x D x H) – 93 x 84 x 63 mm/7.60″ x 3.31″ × 2.48″
Weight – 641 g/1.41 lbs.
Included Items – Two AA batteries for checking operation, mini plug – DIN cable
Options – Patch cable MS-CABLE-18
Pricing and availability for the Korg SQ-1 are to be announced.
NAMM 2015: Casio XW-PD1 Up Close First look at the new hardware from Casio
Now introducing the new Buchla Mini Systems!
Available soon from
http://www.analoguezone.com/
http://www.analoguezone.com/internati…
LET'S CONNECT!
Google+ ► https://plus.google.com/+Analoguezone/
Facebook ► http://facebook.com/analoguezonehungary
Twitter ► http://twitter.com/analoguezone
AnalogueZone ► http://www.analoguezone.com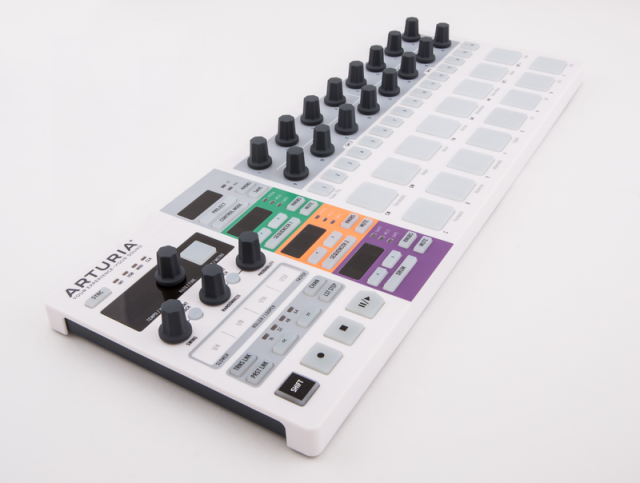 Arturia has introduced the BeatStep Pro — a flagship controller and dynamic performance step sequencer that they call 'a sequencing powerhouse'.
BeatStep Pro has been designed from the ground up to provide a hands-on hardware sequencing experience. It offers 16 touch-sensitive knobs, for entering of pitch, gate, velocity amounts, and timing shifts per step.
It includes two independent (colour-coded) monophonic step sequencers, each with dedicated displays to show the current playback position and bank length of the currently selected sequence. SEQUENCER 1 and SEQUENCER 2 have been greatly expanded with up to 64 steps per sequence, 16 sequences per project, and 16 projects, making BeatStep Pro one of the more powerful step sequencers ever made. each sequencer has its own 1V/Oct CV (Control Voltage) and (10V) GATE outputs to connect to suitably-equipped analogue synthesizers, together with a separate VELO (Velocity) output to allow for even more possibilities when working with a modular synth system setup.
An additional DRUM sequencer allows for 16 separate tracks of sequencing. Record in quantised realtime via the 16 pressure sensitive pads or use the 16 step buttons for a classic drum machine workflow. when working in SEQ1 and SEQ2 mode, the pads can control pitch transposition as well as accessing various musical scales — such as Chromatic, Major, Minor, Dorian, Mixolydian, Harm Minor, Blues, and also a User setting — while the DRUM sequencer itself also has eight DRUM GATES at its disposal (to send gate outputs from the corresponding pads for triggering external devices).
BeatStep Pro is also a controller. Switching from PROJECT to CONTROL MODE means users can trigger clips in their favourite DAW (Digital Audio Workstation), play drum sounds from an external module, or adjust parameters in their favourite plug-in. Possibilities are (almost) endless, limited only by (lack of) imagination.
Beatstep Pro also offers performance effects, including a realtime ROLLER/LOOPER touch strip; PROBABILITY, RANDOMNESS, and SWING settings.
Features:
2 monophonic step sequencers

Up to 64 steps per sequence
Note, velocity and gate time settings per step
Note tie

16-track drum sequencer (one track per pad)

MIDI controller mode
Fully customizable for knobs, step buttons and velocity and pressure sensitive pads
Send MIDI CC, note data, program changes

16 Projects, each with 16×2 sequences, 16 drum sequences and a controller map.
Performance controls
Randomizer with Amount and Probability settings
Real-time looper/roller touch strip
Independent swing amount per sequence
Touch sensitive knobs
Tap Tempo
Connectivity

CV/GATE outputs (1 volt per octave CV, 10 volt gates)
8 drum gate outputs
Clock sync with multiple standards
MIDI In/Out with supplied MIDI adaptors
USB class compliant

Kensington lock
BeatStep Pro will be shipping in Spring 2015 and available for €249.00 EUR/$299.00 USD. See the Arturia site for details.