BRUNO ENDER LEE – "Klangspiel" – performed live, December 7. 2013
Korg MS-20 Mini (sequence with Doepfer MAQ 16/3), MiniMoog Voyager OS, Roland Juno-106, Synthesizers.com Studio-88, Analogue Solutions Vostok, Korg MS2000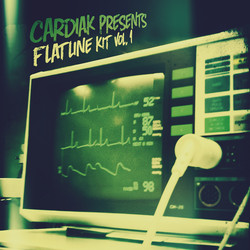 The Drum Broker has released Flatline Kit Vol. 1, a drum kit sample pack by Cardiak.
Fresh from the lab at HeartFelt Productions Platinum Producer Cardiak brings you the official "Flatline Kit Vol. 1″.

Well known in the production world for massive amounts of hits with the hardest drums and neck snapping snares, Cardi has given you gold. Cardiak's actually library of his own snares and claps are sure to have you pushing out bangers that slap hard in no time. This kit is a great selection of 808′s that will quake your neighbor's neighbor and trademark stabs from some of your favorite tracks.

Forget the rest, this is the official kit straight from Cardiak himself.
Flatline Kit Vol. 1 features
4 808′s.
11 Claps.
13 Fills.
38 Kicks.
7 Loops.
13 Percussive Elements.
6 SFX Transitions.
58 Snares.
5 Stabs.
The sample pack is available to purchase for $24.99 USD.
Giorgio Moroder shared this new remix, by JAIA, of the classic theme, The Chase, from his Midnight Express soundtrack
JAIA remix of GIORGIO MORODER's "The Chase", from the soundtrack Midnight Express.
Courtesy of : EMI publishing & Giorgio Moroder
Label : Tribal Vision Records
Check out the JAIA Minight remix too http://youtu.be/u0spdSuXyoE
Get it on Beatport http://www.beatport.com/release/the-c…
Giorgio Moroder links:
http://www.facebook.com/GiorgioMorode…
http://www.giorgiomoroder.com/
http://www.twitter.com/GiorgioMoroder
http://www.soundcloud.com/giorgiomoro…
In summer 2013, at Stanford University's Bing Concert Hall, keyboardist and jazz pioneer Herbie Hancock rolled out a concept he has been fascinated with for over 20 years. Using a multichannel surround system from Meyer Sound, Hancock brought the surround sound of movie theatres to a one-of-a-kind live concert experience that cannot be heard elsewhere.
To realize Hancock's vision, Meyer Sound set up a system with 45 loudspeakers and 28 channels. The heart of the system was the SpaceMap® multichannel surround panning technology, which allowed Hancock to pan sounds around the 800-seat concert hall in real time, controlling movement via a touch-screen tablet.
Watch Hancock and Jason Rauhoff, senior digital audio products specialist for Meyer Sound, discuss the artist's vision of surround sound in a concert setting and the technology that helped bring it to life.
Learn more about SpaceMap:
http://www.meyersound.com/products/d-…
Herbie Hancock official website:
http://www.herbiehancock.com/
Promo video for the new Floodlights EP from Shatoo, coming out 13.12.2013
Preorders can be made at http://www.emmo.biz/en/Emmobiz-Record…
Video edited by Roy Julian Digre
Photos [C] Ixtlan
A few Kawai K5000S pads from the ASL4 library
About the synth:
The K5000 was Kawai's top of the line music workstation digital synthesizer when it was released back in 1996. It's a bold and elegantly designed synth with a large LCD display, realtime controls and incredible sounds! The look and functionality is rivals the competition from the time…the Korg Trinity and Kurzweil K2500
Programming sounds with the K5000 can be a breeze (once you learn how) although it has over 1,000 parameters per patch! That's plenty to play with. It combines additive synthesis and PCM sampled waveforms for you to layer and combine to design a whole range of sounds. Plenty of LFO modulation, filters and envelope controls allow you to shape and morph your sounds further. On-board multi-effects add the final touch of life to your sounds.
Once you've created some sounds, there's the on-board sequencer (K5000W only) for creating songs or loading Standard Midi File sequences (via disk-drive). It has a 40,000 note capacity and 40 tracks. Real-time record and step-edit modes are available and the sequencer is pretty straight forward.
The K5000S (pictured above) adds 12 dedicated knobs for hands-on control of filter, LFO and envelope parameters. There are 4 user-definable knobs and 2 assignable switches. The K5000S also has a 40-pattern arpeggiator on-board with 8 user-definable patterns too! K5000′s have been used by Kraftwerk.
.
FM percussion patch on the Tinysizer. Using Waveshaping + linear FM (Frequency Modulation). No filtering. Pattern made with Max for Live mono-sequencer (Ableton 9) controlled with nanoKontrol2
Background video description:
In this video I am using the Arturia Spark Vintage drum machine along with the Sonic Projects OP-X PRO-II. This is part of one of my original compositions that is still in the making. Thanks for taking the time to check it out!
Music video by David Bowie performing I'd Rather Be High. (C) 2013 ISO Records, under exclusive license to Columbia Records, a Division of Sony Music Entertainment
How to make drum sounds with the Arturia MicroBrute, including a kick/bass drum, high hats and a sort of "hand clap". Pause the video on the stills to check out the positions of all the controls required to recreate these sounds.