Sync Audio With Video
By Exit Bar
HQ Audio
Sound effects created with a Micro Moog from 1975 and an Ibanez AD-80 Analog Delay pedal from 1979.
https://www.facebook.com/engstrandrobert
Micro Moog: http://www.vintagesynth.com/moog/micr…
Ibanez AD-80 Analog Delay: http://www.tonehome.de/ibanez-effects…
Background video description:
so, my second try with future pop, hope i got it now…


used gear:
Sub37, Pro2, BS II, Leipzig-S, GrooveAgent
download: https://soundcloud.com/the-trooper-1/…
The first of a trio of music videos released by ESA to celebrate the first ever attempted soft landing on a comet by ESA's Rosetta mission.
Vangelis, the world-renowned musician, has composed this piece of music specially for ESA and inspired by the Rosetta mission. Vangelis's music is often linked to themes of science, history and exploration, and he is best known for his Academy Award–winning score for the film Chariots of Fire, composing scores for the films Antarctica, Blade Runner, 1492: Conquest of Paradise and Alexander, and the use of his music in the documentary series Cosmos, by Carl Sagan.
Vangelis said: "Mythology, science and space exploration are subjects that have fascinated me since my early childhood. And they were always connected somehow with the music I write."
Video copyright: ESA/Vangelis
Original music: Vangelis
Follow the Rosetta mission at: http://www.esa.int/rosetta
Also watch:
Part 2: "Philae's journey" by Vangelis
http://youtu.be/W8bVOGN9jSg
The second of a trio of music videos released by ESA to celebrate the first ever attempted soft landing on a comet by ESA's Rosetta mission.
The third of a trio of music videos released by ESA to celebrate the first ever attempted soft landing on a comet by ESA's Rosetta mission.
XMH track The Blind from the album In Your Face.
Get yours from https://alfamatrix.bandcamp.com/album…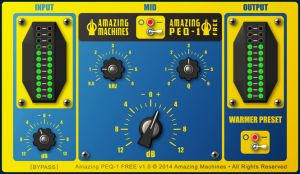 Amazing Machines has released the Amazing PEQ-1 Free. The Amazing PEQ-1 Free is a tone shaping tool capable of drastically changing an audio source with its 1-Band Mid-Range Equalizer and Preset Warmer.
Features:
1 Reaktor Ensemble.
1-Band Parametric Equalizer.
Preset Warmer.
Price: Free – Requires Native Instruments' Reaktor or the Free Reaktor Player, version 5.8 or newer.
taken from the single 'Where In This World'. (c) & (p) ECHOZONE/ BOB-MEDIA GmbH & Co.KG.
Regie: Alexander Braun, Manfred Thomaser & Rick Prokein
Cut: Alexander Braun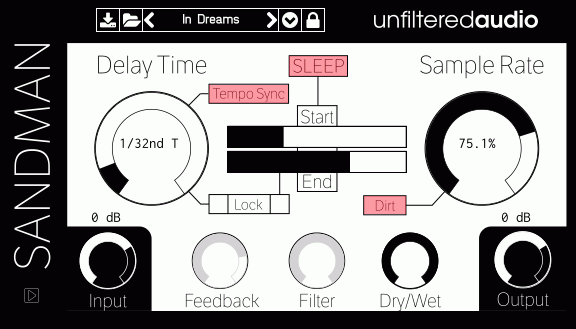 Unfiltered Audio has launched Sandman, a delay and loop-mangler capable of creating beautiful, dreamlike ambient textures or busy, hyper-stuttered glitch beats.
Sandman blends many time-manipulation paradigms into one inviting interface, giving you the ability to use it as a traditional delay, a flanger, a granulator, a wavetable oscillator, or something completely different.

A feature-packed modulation system keeps everything animated, while a special de-clicking algorithm ensures that your loops are mix-ready.
Sandman features
"Sleep" mode freezes your delay buffer, creating locked loops. Loops can be further manipulated by changing the start and end points or manipulating the buffer size.
Variable Sample Rate expands your delay times (up to eight minutes!) while enabling amazing creative possibilities. Use it to repitch a frozen buffer, add a bit of grittiness and warmth to a delay line, or simply decimate everything.
Wide-ranging tempo-syncable delay times (down to 5 milliseconds). At its smallest settings, you can use Sandman as a flanger, a wavetable oscillator, a micro-delay, or to turn percussion into string tones.
Dual LFOs with bipolar modulation destinations. Keep your loops from going stagnant and explore some wild modulation opportunities.
Optional de-clicking algorithm makes your loops invisible. You can automate this algorithm's state, giving you glitchy clicks and cuts when you want them.
Feedback filtering helps you control more intense patches or add a bit of murk to your loops.
Intelligent "Lock" modes keep your delay length and loop lengths intact, even with a modulated sampling rate.
"Dirt" switch adds some nastiness to the heart of the delay line for that extra-vintage feel.
Preset locks allow you to keep specific parameters frozen on preset change.
DRM Free. When you buy it, you own it. No serial numbers, dongles, or forced internet connections.
Steam Cloud Support means that if you use G8 Gate through Steam, all of your presets will be automatically backed up to the cloud and synced between your computers. Every purchase of G8 includes a Steam Key. If you are unfamiliar with Steam, please see Steam's homepage.
Sandman for Windows and Mac (VST/AU) is available for purchase for the introductory price of $14.99 USD until November 21st, 2014 (regular $19.99 USD).
I just eliminated the iPad from my STEM kit by integrating the M3000 Oscillotron code – or a tweaked, more optimized version of it – into PIANA, so it has oscilloscope functionality.
Background video description:
Here is a video of some friends and I recording our version of "Just like Heaven" by The Cure. We all three used to play together in high school and decided to reunite a couple of months ago to do an 80's reunion. It's such a great pleasure to play with these guys after 27 years. Being in a band with great friends, rather than just other musicians, means everything to me! I played drums and obviously keyboards on this recording, and covered all backing vocals. Drums used were a Roland TD20SX set. Recorded using a Yamaha AW4416 Digital Recorder. We are "A Buck Twenty-Five".
Curtis Ryan – Lead Vocals
Jimmy Pound – Keyboards, Vocals, Drums
Wesley Garner – Guitar
Jason Terry – Bass
Thank you for watching!