Stunning analog drum machine with parameter locks, two kicks and 2 Step Sequencer Tracks.
Programming a Pattern on the MFB TANZBÄR. I could be easier, honestly. Since ethere is no display you must observe and read the red, yellow and green states of the LED carefully!!!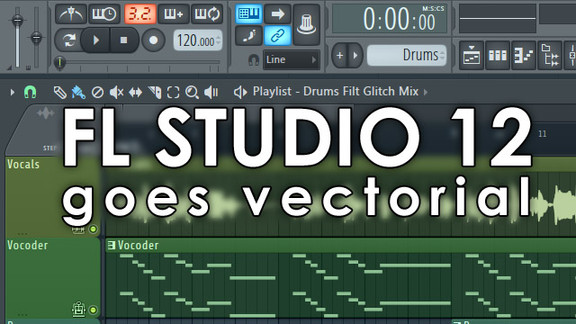 Image-Line has announced the release of an alpha preview version of FL Studio 12, the music production software for Windows.
FL Studio customers you can now download the FL Studio 12 ALPHA-PREVIEW to give us feedback about the extensive workflow changes.

What's this for?

We are looking for feedback about some of the major changes in workflow that have been made so far. Please try it out and let us know what you think of how it works. We're not really looking for bug reports, at this time.
Changes in FL Studio 12 (alpha preview)
Browser – The Browser has changed (now with category tabs and the ability to delete content on right-click).
Channel Menu – The Channel Options Menu has moved from the Toolbar Menus to the Channel rack.
Channel settings – Have been integrated into the Plugin Wrapper.
Interface – Vectorial user interface. See Options > General Settings > GUI display.
Per Channel Swing – The Channel Settings now has a 'swing multiplier' amount.
Pattern Menu – The Pattern Menu has moved from the Channel rack to the Toolbar Menu and Pattern Selector.
Piano roll – Piano roll Auto-zoom can now we deselected from Settings > General > Auto zoom in piano roll.
Playlist – Multiple drag and drop for audio files onto Playlist (from a Windows file browser).
Stepsequencer – Stepsequences are now interchangable with Piano rolls.
VST Plugins – VST plugin installation has changed.
The alpha preview version (currently only 32-bit) is available to download to registered Image-Line users.
Torn Sub has released Byron, a VA-style organ synth for Windows that offers 3 oscillators with a 50 waveforms sound engine in each. Each sound engine has a secondary engine which gives the ability to morph the driving waveform to another one and to combine the whole 3 oscillators together, so that method can create a wide range of organ sound combinations.
Apart from the engine, each oscillator has its own sound engine designing section, envelope, powerful 5 states filter (low pass, high pass, band pass, band reject, peak) with its own envelope, 2 LFOs (one for the amp, one for the filter) and 3 built-in effects: equalizer, tube and bass tube, so in fact, every oscillator can perform as a complete instrument. Each oscillator also has its own ability to send itself to each of the global effects directly from the synthesis section, with only a single button press.
Byron reduces the use of the mouse to the necessary minimum as it has been built according to the "one click" approach and is suitable for touch screens. No matter if it comes to choosing a new preset or just leaping to another section, everything is bright and clear and done with only one click. This approach is particularly evident in the preset manager section: In addition to the traditional method, every preset gets its own knob on the panel with its name on it, and will help to find sounds easily and efficiently, with only on one single click.
Byron is equipped with 8 master effects (tube, bass tube, overdrive, phaser, chorus-flanger, reverb tremolo and delay) alongside a wide MIDI section.
The MIDI section contains some new features like "octaver" effect, MIDI limiter (limits the maximum velocity gain to a specific value), Fixed velocity (plays any note with a specific velocity), a separate "MONO MODE" with portamento effect for each oscillator, "MIDI learn" possibility for every Significant knob and "MIDI split" that splits the user's keyboard into 2 ranges, low and high, allows the user sending each of the 3 oscillators to a selected keyboard range with only one button press.
Byron gives the possibility to combine the beloved drawbars method and obtain an organ playing experience with 9 drawbars that divide the frequency spectrum into 9 frequency ranges. The user may choose to turn on\off sending each oscillator's signal via drawbars separately from the oscillator's synthesis section with only one button press.
Pricing: For 39$, customers will get licenses for three computers on the first purchase for both Windows VSTi and stand-alone versions. Each extra license for both versions will cost 13$.
Find out more at www.tornsub.com
Background video description:
Known for the world's fastest mobile network speed,
Korea marks its 30 years of mobile history this year.
Now the orchestra of 30 cell phones and 4 pagers is celebrating
the 30th year anniversary in a way that you never imagined.
Enjoy it now!
For more information see:
http://www.division-6.com/products/mo…
The Morpheum is a VCA / morphing ring modulator, details below:
Use it as a standard voltage-controlled amplifier. Run your audio into the Audio In, hook your envelope generator (mod wheel, pressure controller, whatever) to the Master CV In, and Morpheum does what any standard VCA does.
Want to test out your signal without having to have a CV present or let a little bleed through all the time? Turn up the Drone Level control to manually increase the gain of the amplifier.
The real fun comes when you add a modulation signal into the Mod Input. As you turn the Mod Amount knob, Morpheum transforms the modulation from none, through amplitude modulation and on to ring modulation. What makes this module truly unique is that the morphing (Mod Amount control) is voltage-controllable!
'UncertainMusicCorps' explores the synthesis capabilities of the Nord Drum 2.
First serious session with Nord Drum 2. Using Vermona fourMulator quad LFO to trigger 4 channels with Stoichea picking up the remaining 2. Using S/H waveforms from the Vermona via attenuators (matrix mixer) for timbral variation on the Nord Drum.
Bent melodic drone comes courtesy of Braids with rhythmic wavetable modulation.
Live at the Library – Alba Ecstasy & Nord in concert, Sfintu Gheorghe, April 27th, 19:30h.
Electronic music, synth presets & many more on:http://www.albaecstasy.ro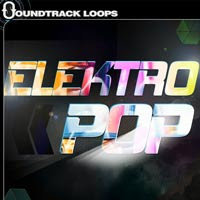 Soundtrack Loops tells us that Elektro Pop will add a bit of a mainstream, radio friendly, pop element to your tunes. They say that Elektro Pop is a set of 11 royalty free construction kits suitable for K Pop, EDM, Dance, Pop, and Dubstep. In total there 175 loops. Sounds include drums, subs, leads, pianos, melodies, pads, risers, snare rolls, and SFX. Tempos range from 120 to 140 BPMs. 24 bit 44.1kHz Stereo files.
Zipped Contents (505 MB)
11 Construction Kits
175 Loops
1 Album "Mental Drug" MP3 Download
1 Single "Tidal Wave" MP3 Download
24 bit 44.1 kHz Stereo.
Available in Universal .Wav, .Aiff Format and Ableton Live Pack.
Pricing and Availability:
$25
Aphex Twin – Live @ Osmoze, Paris, France 24.04.1993
A demonstration of some of the sounds available from the legendary Wasp synthesiser.
The Wasp is a quirky little synthesizer that, despite its toyish look, is a quality instrument capable of fun and funky analog sounds. It really is black and yellow too, just like the insect it is named after. Probably its most distinguishing feature is the 2-octave keyboard which uses non-moving touch-sensitive keys. The flat little keys are sensitive only to your electro-static touch. It's a nifty technology for 1978, but in reality they are unreliable and difficult to play. Other unique touches include a little speaker built-in to the synth and EDP's own pre-MIDI connector ports for linking it to other Wasps and EDP gear.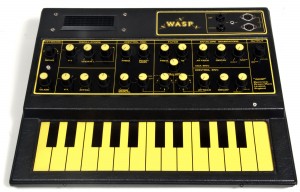 A look under the hood, however, reveals some nice surprises. The WASP is monophonic and powered by two digital oscillators supported by analog filters, envelopes and controls. This makes it one of the earliest compact digital/analog hybrid mono-synths, and it sounds great! The Wasp offers flexible subtractive synthesis. It's pretty easy to dial up some cool bass, synth, and other classic monophonic sounds. Its designer, Chris Hugget, also designed the Oxford Synthesizer Company's venerable OSCar Synthesizer.
Later versions of the Wasp included the Wasp Deluxe (released 1979) which had all the features of the original plus a standard 3-octave keyboard, wood panels, an oscillator mixer, an external audio-input, a larger built-in speaker, and battery operation. It was definitely redesigned for the practical musician. There was also the Wasp Special (released 1981) which also came with wood panels, a black and gold color scheme, and an internal power supply, but no built-in speaker and a return to the 2-octave touch-sensitive keyboard design. EDP also produced a heavily modified Wasp that was built into a guitar-form called the Keytar. It had a 2-octave keyboard with transpose and portamento buttons on the neck. However, only two Keytars were ever made as far as we know.
The rest of EDP's wild world of synthesis includes the Spider, a 252-note step, or 84-note real time digital sequencer designed to control the Wasp. The Caterpillar which is a 3-octave master keyboard for controlling up to four inter-connected Wasps played polyphonically. The Gnat which is a smaller, single-oscillator version of the Wasp that could also be linked to another Wasp to form a makeshift triple-oscillator synth playable from either keyboard (the Gnat also came in three versions similar to the Standard, Special and Deluxe models of the Wasp). All EDP instruments could be inter-connected via their own pre-MIDI style connection interface. While the Wasp and it's fellow insects may seem quirky and even toy-like, their sound, technology, flexibility and portability make them surprisingly good instruments that can still be found in use today.
.