Sample Magic has announced the release of Bloq, their début virtual instrument in Kontakt, Ableton Live Rack and Logic Pro EXS24 / Ultrabeat versions.
Featuring 2.6GB of sample data and presented in carefully collated and customised presets, Bloq has been made using some of the most iconic and revered synthesisers and drum machines of all time.
Over a year in the making, Bloq is the results of months of carefully crafted sound design and meticulous sampling by Sample Magic's co-founder Sharooz and his extensive personal archive of vintage instruments.
Drawing from an enviable line of 17 synthesisers and 13 drum machines including the Roland TR-808, TR-909, TB-303, Jupiter 8, Jupiter 6, SH-101, Arp Odyssey, Sequential Circuits Pro-One, Prophet 5, Clavia Nord Lead 4 and Akai MPC 60 to name but a few, every key of every patch was sampled through a variety of high quality preamps at 24-bit resolution via the Prism Orpheus Soundcard.
The samples were further processed with the SSL G-series and DBX 160 compressors, Empirical Labs Distressor, Focusrite ISA430 and Neve 1073 channel strip.
Bloq contains two GUIs complete with retro-styled knocks, switches, LEDs, wooden side panels and a unique fader-style step sequencer.
Features:
Over 7300 unique samples at 24-bit resolution, with every key, velocity, pitch, decay and tone setting of every patch faithfully represented.
Includes customised Rack for Ableton Live 9 and Logic Pro EXS24 / Ultrabeat version with extensive treatments of every patch as presented in the Kontakt version. With numerous smart macro assignments including filter cutoff, reverb time, delay time, release time and various other commonly used creative control assignments, Bloq pushes compatibility and performance to the limit.
Drawing on Kontakt's extensive scripting engine, features an expressive 32 step sequencer, 3-band EQ, chord memory functionality, 8 track drum pattern composer with shuffle and randomise controls, powerful FX engine including reverb, delay, chorus, phaser, 3 tempo-syncable LFOs, tremolo, auto-pan, pitch mod, unison voice stacking, multiple hi-pass and low-pass filter types, tape drive, vintage modelled compression and the ability to instantly decimate and bit crush sounds to 12-bit quality.
Split into two modules, Bloq Drum and Bloq Synth, Bloq Drum allows each pad to be individually treated with transient shaping, ADSR, HPF and LPF filters, FX sends, tuning and the ability to assign each hit to up to 16 separate outputs.
97+ synth patches, 35 drum kits and 140 inbuilt unique drum patterns by sound designer, producer and Sample Magic's co-founder Sharooz, showcasing the beast sounds from each kit.
Lossless audio compression makes switching between patches a breeze, regardless of processing power or RAM.
Vintage sampler mode allows for instant emulation of the iconic EMU SP1200 12-bit sampling drum machine.
Customised script programmed by Matt Fudge, creator of the Transistor Revolution Series.
Featured Sampled Instruments
Synthesisers:
Roland Jupiter 6.
Roland Jupiter 8.
Dave Smith Prophet '08.
Clavia Nord Lead 3.
Clavia Nord Lead 4.
Teenage Engineering OP-1.
Roland MC-202.
Roland SH-101.
Elektron Analog Four.
Roland TB-303.
Yahama DX7.
Korg DW8000.
Korg Poly 800.
Korg Poly 61.
Arp Odyssey.
Sequential Circuits Pro One.
Roland Juno 106.
Drum Machines:
Roland TR-808.
Roland TR-909.
Roland TR-707.
Roland TR-606.
Roland TR-626.
Roland CR-68.
Sound Master SR 55.
Nord Drum.
Sequential Circuits Drumtraks.
MXR 185.
EMU Drumulator.
Akai MPC 60.
Korg Super Drums.
Download Contains:
2 x Kontakt instruments.
2 x Ableton Live 9 Drum and Synth Racks.
1 x EXS-24 instrument.
1 x Ultrabeat instrument.
Requirements:
Bloq requires a working version of Kontakt 5 with either Ableton Live 9 or Logic Pro 10.1.1 as the software is not included in the package.
Bloq for Ableton requires Live 9
Bloq for EXS24 requires Logic Pro X.
Price: £44.90.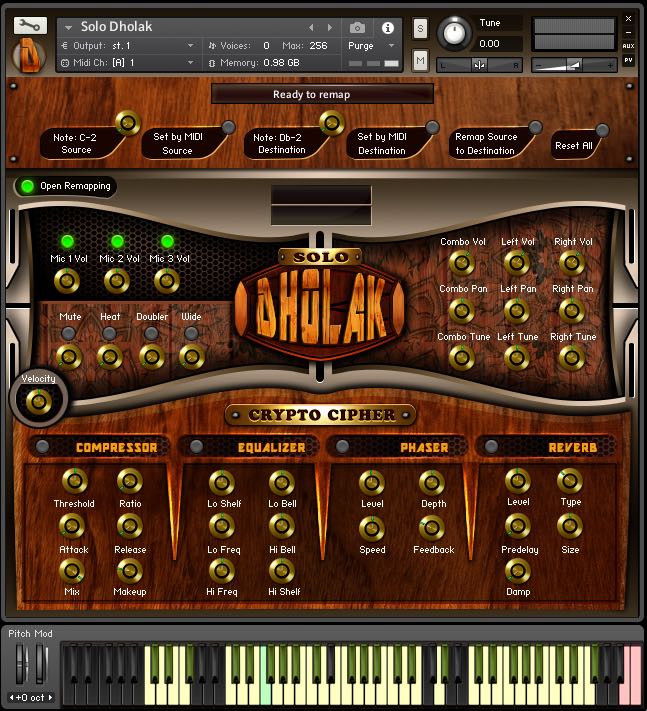 Crypto Cipher has released Solo Dholak, an instrument library for Native Instruments Kontakt.
This is the first and most advance playable "Solo Dholak" sampled instrument released till now with over 12,900 samples recorded with high quality equipments. Sampled Dholak was a always a great need of producers working in film industry and keeping their requirement in mind we started working on the concept and finally developed playable dholak instrument with the modern sound design capabilities.

You have fine control over each sound as well each side of dholak drum. Solo Dholak is recorded with Sontronics apollo (a Blumlein X/Y stereo ribbon microphone), Royer 122, Lewitt mics and bodied mic. Mic mix settings can controlled via mic mixer given on UI.
Solo Dholak is available for purchase for $79 USD. Requires full version of Kontakt.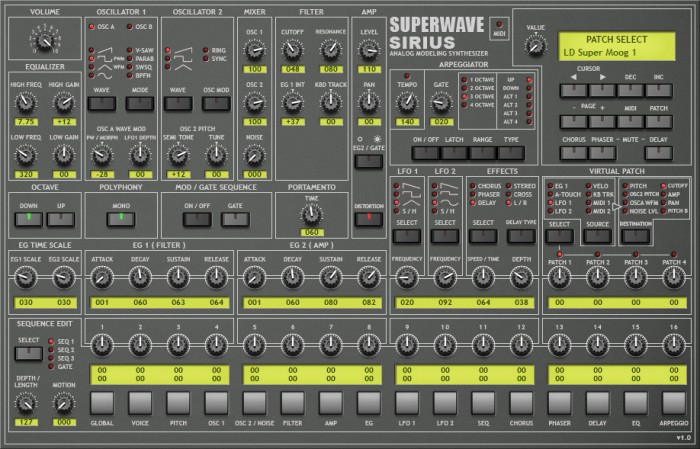 Amazing Machines has released WRECKER, a Multi-function Effects Processor Ensemble for use with Native Instruments' Reaktor.
With focus on Wave Folding Effects WRECKER also includes a Pulse Modulator, a State Variable Filter, a Pan Modulator and an Oscilloscope.
Features:
1 Reaktor Ensemble.
16 Stages Wave Folder (With Curve Control which Crossfades between Stepped and Linear Modulation Curves).
16 Stages Pulse Modulator (With Curve Control which Crossfades between Stepped and Linear Modulation Curves).
2-Pole State Variable Filter (Band Pass, High Pass and Low Pass Filter Modes / Builtin Filter Mode Crossfader).
Pan Modulator.
4X LFO (Built-in Waveform Crossfader / Built-in Slew Limiter).
Oscilloscope.
Price: $19.99 from the Amazing Machines' Online Store. Requires Native Instruments' Reaktor 5.8 or newer (Full Version).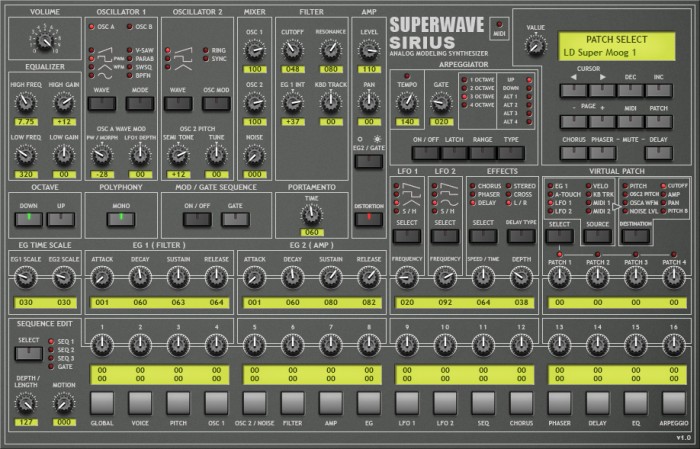 SuperWave has announced the release of Sirius, a powerful virtual analogue synthesizer incorporating a Moog Filter for that nostalgic warm and fat analogue sound.
If you're looking for a synthesizer capable of huge leads, pads, strings and basses, then you must check out the Sirius. The Sirius features much of the technology used in the Tarkus synthesizer, but has a Moog 4-Pole 24dB Filter instead of a State Variable Filter. In short, think of the Sirius as a Mini Moog Synthesizer using the Korg MS2000 Block diagram for the sound structure.

The Sirius features four sixteen step Sequencers, Arpeggiator and Multi-Effects which include Chorus, Phaser, Delay, Distortion and EQ. If you're lucky enough to own a Korg MS2000, then you can use the MS2000's control surface to edit most of the Sirius's common control parameters.
Sirius for Windows (VST) is available for purchase for £14.99 GBP.
Sculptor / programmer / interactive interface designer, Chas Llewellyn, explores the form and function of a large-scale light sculpture he designed using Moog Music's Animoog app as the control source. From his former Wedge Studios workspace in Asheville's River Arts District, Chas details the multiple electronic communication protocols that he integrated into the final working installation.
A new Episode of 7 Minutes with an Ipad Synth. This week I jam on Elastic Drums. This amazing app is a modular drum synthesizer and drum sequencer in one. Personally the automation of the parameters during the sequence is a fantastic way to make some crazy drum actions.
Available here and if you want to support my channel and work please use this link
https://geo.itunes.apple.com/lu/app/e…
Roland V-Synth 2.0 "Essential Preset Pads & Strings"
by Rik Marston 100% No Talking!
Roland V-Synth Virtual Analog Sampling Synthesizer
audio demo recorded dry with no effects except for the
internal FX from the V-Synth itself. These are just presets,
but they are great to show off the sound engine power &
how multi-dimensional this synth can sound. I just love it!
I turn to this synth often because it can just do so much!
It has been used by Nick Rhodes of Duran Duran on tour
and can be seen in many great studios around the world.
Truly a great inspiring instrument, it should deserve a real
"classic" title in the near future because it truly is a monster!
Rik
8/17/2015
The MXR 185 drum machine sounds and looks much like the Linn LM-1. It uses 8-bit samples and is super fun to play with.
This basic video shows how to program it. It's important to set the LENgth of the pattern (1 – 99) before trying to record. You can erase the pattern by choosing a LENgth of 00 and then entering a new number.
Separate outputs for each of the 12 sounds. Overall pitch control.
The Atmegatron is an 8-bit MIDI synthesizer. This video gives an overview of what it can do.
Music by _ensnare_ and created entirely on the Atmegatron. Hear the full track hear: https://soundcloud.com/ensnare-1/ensn…
From the 24th August, the Atmegatron will be back in stock here: http://soulsbysynths.com/buy/ and at dealers all around the world.
All the synth lines are coming from the HBS-100 – hybrid bass synthesizer to demonstrate it's capabilities and analog features with wavetable forms.
Drums are coming from other sources.
Reverb and delay has been added externally.
AVP Synth is a Russian brand manufacturing synthesizers and drum machines, as well as other audio related products.
In this demo you can see and hear the HBS-100 – a hybrid monophonic bass synthesizer which is capable of reproducing a wide range of aggressive, tight bass sounds.It is simple and quite intuitive to use.
HBS-­‐100 is operated via MIDI. It has9 knobs, 5 switches and 1button,
which allows you to control the parameters of the sound in real time.
Specification
HBS-100 is optimized for producing beautiful and sculptured bass sounds.
– Method of synthesis: Digitally controlled oscillators (DCO)
– Controlled oscillator (DCO): two unique digital oscillators (saw, rectangle, PWM) with Wavetable options
– Controlled filter (VCF): one active, aggressive, 100% analog 12db low-pass filter
– Envelope generator (AR/ASR): one
– Low frequency oscillator (LFO): one; triangle
– MIDI Interface: MIDI In, 4 channels
– Audio output: mono jack 6.3 mm
– Controls: 9 knobs, 5 switches and 1 button
– Power supply: adapter 9 V DC (included)
For more info including pricing please follow and inquire on our Facebook group at:
https://www.facebook.com/groups/avpsynth