January 22, 2016 · Posted in
Uncategorized
·
Comments Off

on NAMM 2016: More info on the Korg Volca FM 6 op Synth
We talk to the designer about the latest Volca
zZounds: http://www.zzounds.com/lp/zzounds-bac…
January 22, 2016 · Posted in
Uncategorized
·
Comments Off

on All the specs and video – Arturia presents MatrixBrute – analog avant-garde
MatrixBrute is arguably the most powerful analog monophonic synthesizer ever ! As flexible as a modular system but offering presets, MatrixBrute is a dream machine for everyone interested in creating a sound palette of their own.
More info:
http://www.arturia.com/products/hardw…
The heart of the MatrixBrute is its unique modulation matrix that allows you to create your own routings. You can invent a sound palette of your own that will be sure to be heard in any mix !
The matrix can also be used to recall your presets. So go on stage, and select any of the 256 presets instantly! No menus or awkward selection screensscreens, everything is at your fingertips.
As if it was not enough, the matrix is also made to program and play sequences. This is no ordinary step-sequencer. With its ability to also be used as a modulation source, sounds evolve in melody and texture, just the way you want.
Offering a audiosignal path that is is 100% analogue, MatrixBrute also features true analogue effects. The MatrixBrute gives you the sonic quality and power of a vast modular synthesizer but with the flexibility of presets along with a great arpeggiator and an advanced sequencer.
MatrixBrute is a truly empowering instrument!! It offers tons of connections so you can work in any set-up. It brings a quality keybed and a solid chassis.
No endless menus or screens to navigate or multi-function buttons to remember. Forget about connectivity issues. This is you in control. This is you inventing sounds. This is analog avant- garde.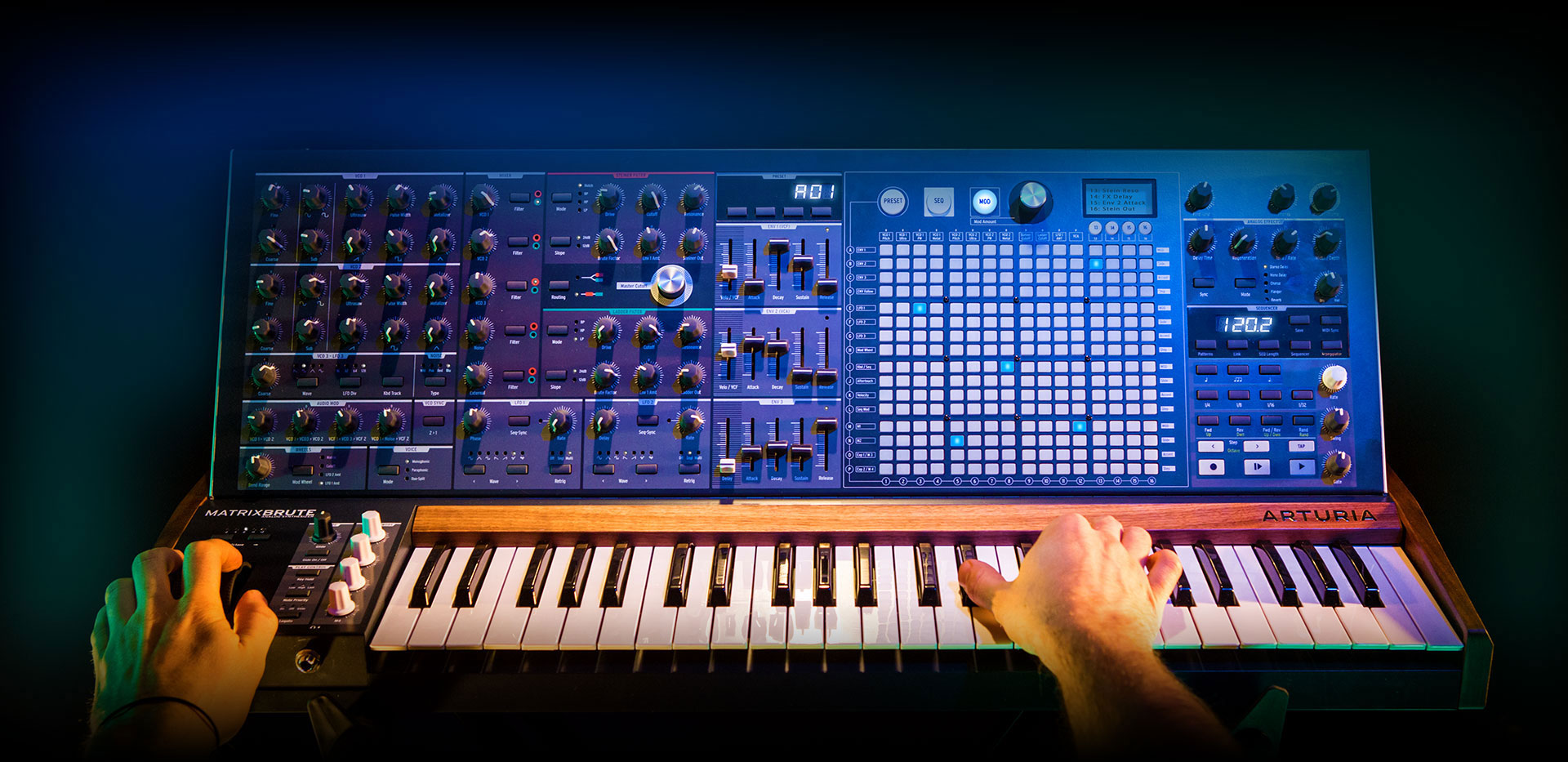 1. Three Analog Oscillators:
Sawtooth, Pulse, Triangle, waves with the unique waveshapers that have become the trademark of the 'Brute' sound. There is also a sub-oscillator on each of the two Brute oscillators.
2. Combination VCO/LFO oscillator:
The third Osciallator can be used for both audio signals and LFO modulation at the same time. You do not have to choose either operation here so you can always have that big 3 oscillator sound.
3. Noise Generator:
Noise generator with White, Pink, Red and Blue noise types. The most versatile on the market.
4. Audio Mod:
The AUDIO MOD section allows for complex oscillator and filter FM possibilities bringing whole new tonalities to your sound.
5. Performance Controls:
Pitch bend and mod wheels and 4 Macro encoders which can be assigned to any of the modulation destinations for instant hands on performance playing.
6. Voice Modes:
Multiple keyboard modes for mono, paraphonic and duo-split modes. Split oscialltors for paraphonic mode or use the duo split mode to play a sequence while playing notes over the top of it.
7. Three LFO's:
Two standalone LFO's with 7 waveforms and trigger modes allow for complex modulations. The combination VCO/LFO adds a 3rd LFO in the system.
8. Mixer:
Mix and blend Oscillators 1, 2, 3, as well as the noise generator and EXTERNAL input sources. Route each mixer input to the filter of your choice using the FILTER assign buttons.
9. Steiner-Parker filter:
We have upgraded our Steiner Parker filter to support both 12db per octave and 24db per octave slopes as well as a DRIVE control for making thicker sounds. The 4 modes, Low pass, band pass, high pass, and notch allow for a vast array of sound making possibilites.
10. Ladder Filter:
We have included a traditional beefy Ladder filter with both 12db and 24db per octave slopes as well as Low Pass, High Pass & Band Pass modes and a Drive control. This filter design is known for making punchy bass and thick lead sounds.
11. Filter routing:
The two filters can be patched in series or in parallel configurations.
12. 3 Envelope Generators:
The two ADSR envelopes and the 3rd DADSR envelope give you plenty of sound sculpting tools.
13. 256 Memory locations:
Store and recall your favorite sounds at the touch of a button. You can organize, save and load new banks of sounds using the free MIDI Control Center editor application. We deliver MatrixBrute with 128 factory presets.
14. The Matrix
The matrix is the heart of Matrixbrute. It allows for complex modulation routing, step-sequencing and instant preset recall.
Modulation Routing: You can assign any of 16 modulation sources to any of 16 mod destinations. 4 destinations are user programmable and can be seen in the e-ink display. Set amounts of each modulation routing using the data encoder.
Step Sequencer: The matrix can be used as a 64 step sequencer with separate STEP, ACCENT, SLIDE and MODULATION steps.
Preset Recall: In Preset mode the matrix allows you to recall any of 256 presets at the touch of a button.
15. True Analog Effects.
To enhance your sonic pleasure we have added an analog and Delay/ Chorus/ Flanger to the output. Choose from any of 5 operation modes. And YES! the controls in the analog effects can be set as modulation destinations in the Matrix.
16. Sequencer/Arpeggiator controls
The sequencer and arpeggiator add to the playability of the Matrixbrute. Multiple modes of both the seq and arp allow for unlimited musical ideas to be realized.
17. Keyboard
The 49 note keyboard features both velocity and aftertouch for a musical feel with plenty of expression.
18. Master Audio Outputs:
Stereo ¼" jacks for your master audio outputs.
19. Control Voltage Interfacing:
12 CV Inputs and 12 CV Outputs allow the Matrixbrute to interface with your standard 1V per octave modular synth gear.
20. Audio Input:
Line and instrument levels allow for adding an external oscillator from your favorite modular synth or processing a guitar or bass through the filters, VCA and analog effects.
21. Gate I/O:
The Gate inputs and outputs allow you to trigger external gear or trigger the internal envelopes remotely.
22. Sync in and out
This allows you to synchronize the MatrixBrute's sequencer and arpeggiator with external devices.
23. Pedal Inputs
Experssion and Sustain pedal inputs give you real-time control to expand on your expressive capabilities control.
24. MIDI Interfacing
Standard MIDI in, out and thru will connect you to both modern and vintage gear alike.
25. USB
USB I/O allows you to interface to a computer DAW directly. This is also the link to use our free editor/librarian software provided for the MatrixBrute.
January 21, 2016 · Posted in
Uncategorized
·
Comments Off

on ZOOM ARQ: Wireless Bluetooth Control // NAMM 2016
Music is a voyage of discovery. One that now goes much further with the creation of the ZOOM ARQ Aero RhythmTrak. ARQ is a drum machine, sequencer, synthesizer, looper, and MIDI controller with a built-in accelerometer. Even more, ARQ is freedom. With its wireless Bluetooth Ring Controller, you can escape the booth, move the music, and get in front of the crowd.
In stores April 2016.
https://zoom-na.com/ARQ
Here's Zoom's own description…
The ARQ consists of two powerful components–the Base Station (AR-96) and the detachable Ring Controller (AR-96c).
The Base Station
The ARQ Base Station houses 468 drum/instrument sounds ("one-shot" sampled waveform sounds), 70 types of synthesizer sounds, and dozens of digital effects. Dual 1/4″ line-level audio inputs enable phrase recording and looping. There are also stereo 1/4″ line-level outputs, as well as a dedicated 1/4″ headphone jack with its own volume control. A USB port allows connection to your computer, and an SD card slot lets you save patterns and loops, import prerecorded audio, and update firmware.

The Ring Controller
The detachable Ring Controller communicates with the Base Station, as well as DAWs, via wireless Bluetooth. It offers 96 velocity- and pressure-sensitive pads for clip launching and playing drum sounds, instrument sounds, and sequences. Phrases and sounds can be played chromatically, or you can choose from dozens of preset scales in any key. Its unique Grip Detection automatically prevents accidental triggering of the pads under your hand.  There are dedicated buttons at the top and bottom of the Ring for REC/PLAY/STOP, as well as Filter/Delay/Reverb/MASTER FX on/off. An onboard 3-axis accelerometer generates MIDI control messages to alter sounds and effects in real time. Its internal Lithium-Ion battery automatically charges when the Ring is placed on the Base Station.
The Only Drum Machine for Performers
Not only does ARQ allow you to create incredible drum parts and patterns, you can also use the Ring Controller as a live instrument. Play it while mounted to the Base Station, or remove it to take your performance to the front of the stage. ARQ comes with a multitude of editable PCM drum and instrument sounds organized into 50 genre-specific kits, and you can also develop 50 kits of your own, complete with effects. Once you perform with ARQ, you'll never use another drum machine again.
It's a Circular Sequencer–No Computer Necessary
Traditional devices take a linear approach to sequencing, but ARQ is anything but traditional. For the first time, you can visualize your music as a true loop, up to 5 parts at a time.
Individual patterns or complete songs can be constructed one step at a time or by recording a real-time performance, with an onboard mixer for setting volumes, muting, and soloing. Instruments can be assigned to single or multiple pads and up to 3 parts can be created at a time. Up to 33 parts can be played back simultaneously, and the timbre or note of each part can be changed with the touch of a button. 400 patterns can be combined in any order to form a complete song, then flattened into an audio loop that can be played back from a single pad–all without the use of a computer.

It's a Comprehensive Synthesizer
ARQ's powerful sound engine offers 70 preset "one-shot" sounds–sampled waveforms that can be pitch-shifted as they are played over multiple pads–as well as an onboard synthesizer that allows you to build completely original timbres. Choose from 531 different oscillator types for sonic variety, then add digital effects such as filtering, delay, and reverb, along with sound-shaping controls like envelope generators and stepped or smooth modulation.
It's a Loop(er)
ARQ allows you to create completely original loops from onboard sounds or patterns, or by capturing external audio. Set start and end points, change the pitch if desired, choose between forward or reverse playback, then assign each loop to a different controller pad. Up to 32 loops can be played simultaneously and synchronized to the same tempo. ARQ makes creating loops a lot more fun.
It's a Wireless MIDI Controller
Use the Ring for wireless control of all your MIDI instruments and devices connected to your computer–samplers, synths, and drum machines, as well as MIDI-enabled effects processors. Its 96 pads are velocity-sensitive and can also send aftertouch (MIDI messages generated based on the pressure applied to the pads once they are being held down).
Accelerate your Performance
The Ring's onboard 3-axis accelerometer can be used to change sounds and effects in real time. Wave and tilt it to alter onboard effects parameters and to generate MIDI control messages. You can even link it to your digital mixing console and use the accelerometer to fly sounds around the room. ARQ utilizes wireless Bluetooth LE for low power consumption, giving you lots of performance time between battery charges.
Break Out. Break Free. Break Away.
Take your performance to places you've never been before. Express yourself and get closer to your audience. Open up a world of new options for music production. Create in ways that were simply not possible until now.
The Zoom ARQ–see how instrumental an instrument can be.
Features At A Glance
Drum machine, sequencer, synthesizer, looper, clip launcher, and MIDI controller in one device
Includes 468 drum/instrument sounds ("one-shot" sampled waveform sounds), 70 types of synthesizer sounds, and dozens of digital effects
Ring Controller can be used wirelessly as a handheld aerial instrument and to launch audio clips from DAW software
96 velocity- and pressure-sensitive pads and 160 programmable color LEDs
Grip Detection to automatically prevent accidental note triggering
3-axis accelerometer for altering effects parameters and sending MIDI control messages
Dedicated buttons for sequence REC/PLAY/STOP and for effects on/off
Use up to 5 effects simultaneously, applied to overall drum kit or individual drum sounds
Split mode allows one instrument to be assigned to multiple pads for ease of input
Onboard mixer for setting volumes and muting/soloing parts
Flexible precount, quantize, swing, and beat settings
Audible and/or visual click
Dual 1/4″ inputs for phrase recording and loop creation
Audio capture from patterns and songs, from SD card, or from incoming audio signal
Create up to 99 mono or stereo loops, play up to 32 simultaneously
Loop start and end points can be set on the fly or adjusted manually
Loop tempo synchronization, pitch change, and reverse playback functions
Programmable synthesizer engine
531 oscillator types and 16-voice polyphony
Sound-shaping controls include effects, envelope generators, and stepped and smooth modulation
Play sounds chromatically, or choose from dozens of preset scales in any key
Adjustable pad velocity and pressure sensitivity
Dedicated tap tempo button for synchronization
Selectable LED light-show animations
Dual 1/4″ line outputs and separate 1/4″ headphone output with dedicated volume control
USB port and SD card slot
Bluetooth LE for low power consumption and extended usage times
January 21, 2016 · Posted in
Uncategorized
·
Comments Off

on More exciting stuff from NAMM – KORG VOLCA FM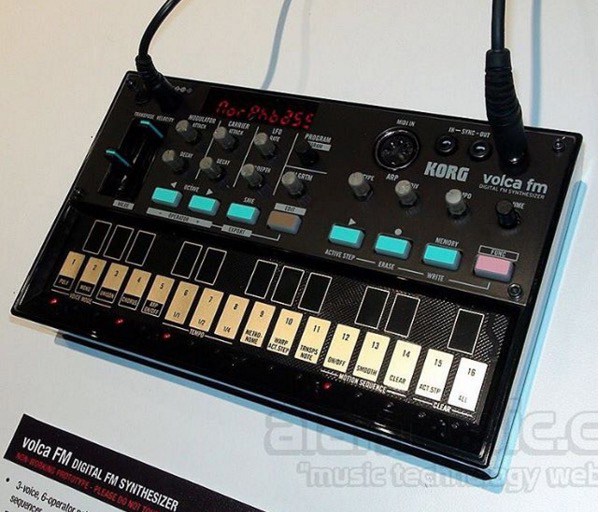 January 21, 2016 · Posted in
Uncategorized
·
Comments Off

on Korg has announced the nanoKONTROL Studioand nanoKEY Studio, light-weight battery operated mobile MIDI controllers
Korg has announced the nanoKONTROL Studioand nanoKEY Studio, light-weight battery operated mobile MIDI controllers that provide users the freedom to create music more intuitively than ever before.
nanoKONTROL Studio provides transport keys and a mixer section, allowing for control of DAW or DJ software. The nanoKEY Studio, mobile MIDI keyboard, provides a velocity-sensitive keyboard, knobs, trigger pads, and a Kaoss-style touch pad, allowing for instant conversion of inspiration into sound. Both the nanoKONTROL Studio and the nanoKEY Studio can connect via USB or wirelessly via Bluetooth to iPhone/iPad or Mac/Windows for more music production freedom.
The efficient size and wireless power of the nanoKONTROL Studio and nanoKEY Studio make these controllers ideal for mobile or desktop use, are slim enough to travel alongside a laptop computer or tablet, and can easily connect to iPad/iPhone music apps such as KORG Gadget and Apple GarageBand, or Mac/Windows music production software. The simple, refined, and stylish designs of these mobile MIDI controllers feature illuminating white LEDs.
nanoKONTROL Studio provides all the controllers needed to operate DAW; sliders that feature generous spacing and stroke, plus a convenient jog wheel. The nanoKONTROL Studio is compatible with any software that supports MIDI input, and includes the Korg KONTROL Editor software allowing users to freely customize the settings of their nanoKONTROL Studio. In spite of its compact size, this controller provides generous power and a solid feel, making it a convenient and versatile MIDI controller, and due to careful tuning, users can enjoy low latency and high stability.
The 25 velocity-sensitive keys of the nanoKEY allow for easy step-recording and the Scale Guide function illuminates the keys to show recommended notes in the scale, making it easier to play. With a variety of performance modes that allow users to produce musical phrases using any keys, the eight trigger pads, and touch pad inherited from the KAOSS series, nanoKEY Studio delivers all-purpose music production power.
The nano Studio series come with a bundle of mobile and desktop music software and the sounds and functionality of iPad/iPhone apps can be expanded by connecting them to a nano Studio series unit.
Each unit is priced at $149.99 and will be available in March of 2016 and will be on display at the Korg USA NAMM booth #6440, Hall A.
For more information visit www.korg.com.
January 21, 2016 · Posted in
Uncategorized
·
Comments Off

on Arturia has announced the MatrixBrute, a new massive analog synthesizer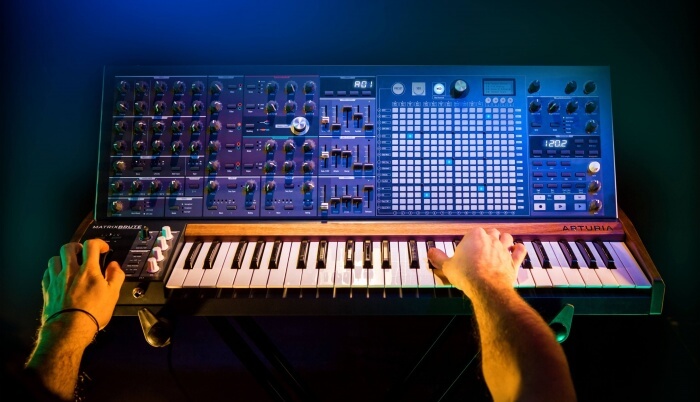 When was the last time your heart started racing at the thought of making music? How long has it been since you heard sounds that were entirely new? When did you last find an instrument that truly inspired you? Arturia actively posed such challenging questions to itself when readily rising to the challenge of designing the MatrixBrute Analog Synthesizer. So here's the answer: an astonishing programmable monophonic/duophonic analogue synthesizer set to start your heart racing and serve up entirely new sounds as a truly inspirational instrument… meet MatrixBrute Analog Synthesizer! As a massive-sounding and highly-specified beast of analogue avant-garde-era synth technology, it is fit for reaching the outer limits of truly 21st Century sonic exploration, thanks to the trademark sound of its three 'Brute' oscillators, superb-sounding Steiner-Parker and ladder filters, three ultra-fast envelope generators, amazing analogue effects, and — the pièce de résistance — its incredible modulation matrix. Modular… without the painful patching practice of going modular, in other words!

What makes the massive-sounding MatrixBrute Analog Synthesizer so state-of-the-art, then? Matrix by name, matrix by nature, that namesake modulation matrix is at the heart of MatrixBrute, making the most of each 'module' through a matrix that offers thousands of potential modulation routings. Assign any of 16 modulation sources to any of 16 modulation destinations (in MOD mode) and set the amounts of each modulation routing using the dedicated data encoder; four such destinations are user programmable and can clearly be seen in the eye-catching E Ink (Electronic Ink) display. Don't be afraid to invent a sound palette of your own and make your musical mark!

That multifaceted matrix also allows presets to be recalled quite literally at the touch of a (dedicated) button (in PRESET mode). Go grab one of the 256 pioneering, pre-programmed professional presets or recall one of your own original sound creations… instantly! Indeed, MatrixBrute packs the power of a modular synth system with an all-important ability to save each patch. No need to worry about recording a sound straight away for fear of losing it forever!

Furthermore, the matrix can also be pressed into action as an awesome 64-step sequencer with separate STEP, ACCENT, SLIDE, and MODULATION options (in SEQ mode). Make musical moves directly on your analogue synthesizer. Sounds can evolve in melody and texture… exactly the way you want them to!

To help maintain a 100% analogue signal path, MatrixBrute also adds true ANALOG EFFECTS to its stereo output — choose from chorus, delay, and flanger with five operational modes… and, yes, any ANALOG EFFECTS controls can be set as modulation destinations in the matrix! When was the last time you worked with analogue effects and a great arpeggiator? Ask no more. MatrixBrute has got you well and truly covered. Multiple modes of both the Arpeggiator and Sequencer allow almost unlimited musical ideas to quickly and easily flow forth for instant inspiration!

It's a given that any analogue synthesizer only sounds as good as its VCFs (Voltage-Controlled Filters) and VCOs (Voltage-Controlled Oscillators). The MatrixBrute Analog Synthesizer sounds superb, markedly making the most of its four-mode STEINER FILTER (upgraded to support both 12dB/oct and 24dB/oct slopes alongside a dedicated Drive control for creating thicker sounds) and three-mode LADDER FILTER (known for creating punchy bass and fat lead sounds with 12dB/oct and 24dB/oct slopes alongside another dedicated Drive control). The three VCOs are each equipped with a sub-oscillator as well as Saw, Pulse, and Triangle waveforms with the unique wave-shapers that are the trademark of the beloved 'Brute' sound of the MatrixBrute Analog Synthesizer's smaller siblings, the award-winning and amazingly compact and bijou MiniBrute and MicroBrute monosynths (both boasting MIDI, USB, and CV connectivity together with a host of unique features). But by pairing a 49-note (full-size) keyboard (featuring both velocity-sensitivity and aftertouch for a musical feel with plenty of expression) with a beautifully-designed, solid chassis (featuring a helpfully-hinged, hands-on capacious control panel), the road-ready MatrixBrute Analog Synthesizer is both bigger and better, boasting more connections than an airport… well, almost!

As such, you can comfortably work with any setup — cue control voltage interfacing in abundance (12 CV inputs and 12 CV outputs to interface with any standard 1V/oct modular gear); AUDIO IN (line and instrument levels allow for adding an external oscillator from a favourite modular synth or processing a guitar or other instrument through the filters, VCA, and analogue effects); GATE In and Out (to trigger external gear or trigger the internal envelopes remotely); SYNC In and Out (to synchronise the internal sequencer and arpeggiator with external devices); standard MIDI In, Out, and Thru (to connect to both modern and vintage gear alike); USB I/O (to interface to a computer-based DAW directly and also use the free editor/librarian software); and PEDALS (Expression 1, Expression 2, and Sustain inputs to provide realtime control) — not forgetting, of course, MASTER OUT (stereo master outputs on 1/4-inch jacks).

As a phenomenal source of inspiration and a truly empowering instrument, MatrixBrute is easy to understand. Forget drop-down menus and dualfunction controls. Forget connectivity issues. Forget imitations. This is you in control. This is you inventing sounds. This is analogue avant-garde!
The MatrixBrute analog synthesizer is showcased at Arturia's booth (#6920) in Hall A at The NAMM Show 2016, January 21-24 in Anaheim, California.
The synth is expected to ship in Spring 2016.
January 21, 2016 · Posted in
Uncategorized
·
Comments Off

on Lurssen Mastering Console – a totally new mastering tool from IK Multimedia
IK Multimedia has announced the Lurssen Mastering Console, a totally new mastering tool developed in collaboration with multi-Grammy Award winning world-renowned mastering engineer Gavin Lurssen, Reuben Cohen and the team at Lurssen Mastering in Los Angeles, CA.
Designed to be an effortless mastering tool for musicians and producers of all skill levels, it faithfully digitally recreates the unique "whole is greater than its parts" approach used in the studio.

It provides a top of the line mastering processor chain with parameters that can be recalled as 20 different "Styles" that have been created by Gavin, Reuben and the team to reflect the settings they've developed in their decades of combined experience mastering hip-hop, rock, pop, Americana, country and more.

Now, with Lurssen Mastering Console, musicians can make great sounding masters both at home and on the go when a trip to Lurssen Mastering just isn't in the budget.
Lurssen Mastering Console features
Created with Grammy Award winning Mastering Engineer Engineers Gavin Lurssen and Reuben Cohen.
Accurately reproduces Lurssen Mastering's unique philosophy, studio workflow and signal chain.
iPad, Mac & PC versions available.
Mac/PC version works as a standalone application or as a plug-in for your DAW.
20 pre-made "Styles" created by Gavin Lurssen and team that reproduce the settings and gear used to master pop, hip-hop, rock and more.
3 easy-to-navigate displays: A Studio view with controls, a Wave waveform view and a Chain view for individual processors.
Input Drive knob.
5 band EQ with fixed frequency.
"PUSH" Knob to subtly enhance selected song passages via uniform EQ adjustment.
Full automation of audio content adjustment.
Linkable Input Drive control for stereo balance tweaks.
Input/Process assignable VU metering.
Stereo/Mono monitoring capability.
88.2/96kHz DSP processing.
Audio import from iPad music library.
Lurssen Mastering Console for iPad is available now as a free app with a functional demo mode. All content can be unlocked via a one-time in-app purchase of 99.99 EUR/USD.
A standalone and plug-in version for Windows and Mac is available for preorder for 199.99 EUR/USD. Lurssen Mastering Console for Windows and Mac will be available in February, 2016 for 299.99 EUR/USD. Prices excluding taxes.
January 21, 2016 · Posted in
Uncategorized
·
Comments Off

on KORG Kronos Platinum has been introduced at NAMM
The KRONOS, KORG's flagship synth, is now available in a platinum color panel with real ebony wood end. Make a bold visual statement with the Kronos Platinum.
Music Production by Greg Phillinganes
Like/Follow us:
https://www.facebook.com/korgusa
https://www.twitter.com/korgusa
http://instagram.com/korgofficial


Announcing a limited-edition platinum-colored model of the KRONOS-88.
Since its launch at the end of 2014, KORG's flagship KRONOS music workstation has been acclaimed worldwide by many notable musicians for its sound and advanced capabilities. Now, as an expression of our gratitude to all KRONOS aficionados, we announce a special limited- edition of the 88-key model.
With a platinum-colored panel and dark colored side panels, this new model shines beautifully on stage under the spotlight. For serious musicians, this instrument emanates a special aura of superior quality.
* All specifications other than color are identical to the conventional model of the 88-key KRONOS.
January 21, 2016 · Posted in
Uncategorized
·
Comments Off

on NAMM2016 Introducing the New Waldorf kb37 Eurorack Keyboard and the New Eurorack Modules
Now introducing the New Waldorf kb37 Eurorack Keyboard and the New Eurorack Modules!
kb37 Kontroller Keyboard
nw1 Wavetable Module
mod1 Modulator Module
dvca1 Dual VCA Module
cmp1 Compressor Module
Available soon from
http://www.analoguezone.com/
http://www.analoguezone.com/make-noise
January 21, 2016 · Posted in
Uncategorized
·
Comments Off

on SuperAnalog909 – TR-909 sample set
The SuperAnalog909 is available now: http://www.goldbaby.co.nz/superanalog…
Super punchy, warm, analog drums with Round Robin Layering. Using high-end outboard and a compulsive attention to detail… this 909 sample set is pure analog drum heaven.
Why have I created another TR-909 sample set?
I thought I could offer something a little different. This sample pack has been recorded at a higher sampler rate and has extensive Round Robin treatment to recreate the feel and movement of an analog drum machine (Maschine can't utilise round robin yet). The Tape909 used tape to give it extra mojo… this time I have used some rather tasty outboard, including: The Thermionic Culture Fat bustard II valve mixer, ez1073-500 pre/eq, A-Design EM-PEQ, Moog 500 series ladder filter, DIYRE 500 series Colour Palette, SPL TwinTube, UBK Fatso. Plus various guitar pedals.