Check out Keith as he puts CARBON through its paces. CARBON is controlling an electric piano, Roland Juno 106, Yamaha S612 sampler, and syncing a Korg volca beats, as well as modulating the filter on a Korg MS-20 Mini for some pulsating effects. The entire tune including arpeggiators were recorded in a single take.
Find out more about CARBON: http://store.kilpatrickaudio.com/carbon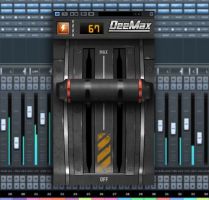 Dotec-Audio has released the DeeMax maximizer / VST plug-in for Windows and Mac OS X.
Features:
A user can add loudness without disturbing the taste. Only one slider will control everything.
Can get fat saturation when a user increases the slider.
Can be used in LIVE situation since DeeMax is designed to run fast and works gracefully.
Price: $49.00 USD with special introductory pricing of $29.00 until December 31th, 2015.
Sound Demo:
An ACB emulation of the Jupiter 8, one of the most iconic polysynths ever made. A tall order. We take a look at the new Boutique JP-08
Wolfgang Palm demonstrates his vocal synthesizer
for more info go here:
http://wolfgangpalm.com/phonem.html
Wolfgang Palm has introduced PPG Phonem – a new software synthesizer, for OS X & Windows, designed for expressive vocal synthesis. The human voice is a very complex system, which can produce a wide range of sounds. It is however restricted by natural physical dimensions. Phonem does not impose limits, letting you create all the filter configurations and sweeps you could only ever have dreamed of.
The heart of the Phonem system is a multi resonator filter with 12 individual resonators, which can produce vocal sounds as well as all kinds of filter sweeps and effects. This is combined with a very flexible excitation source which can work as a simulation for the human vocal source (the glottis) but also use wavetables and time-corrected-samples (TCS) to drive the filter.
Although the PPG Phonem was originally designed to do just vocal synthesis, it turned out that the system is also capable of producing a wide range of synthsizer sounds. So Palm extended the parameter ranges and made everything accessible to the user, to take advantage of this fact.
Features:
Create your own singing style
Create your own expressions
Large Phoneme inventory – 46 english/american plus 5 german plus 4 french phonemes
Versatile excitation generator/oscillator
Working with typical voice source or wavetable and time-corrected-samples (TCS)
Extreme time stretching, freezing and reversing
Pitch track – let your robots sing
Control track – let it cry and shout
Song mode – making it easy to compose your synthesized text
Wave page – create your own wavetables and modify time-corrected-samples
All internal parameters available to the user – give your voices a special dialect or individual character
Versatile matrix system – allowing 19 sources to control 40 parameters
Two X/Y control pads freely routable to 40 parameters
6 Envelopes, for control of filter sweeps, waveform, noise and many modulations
4 LFOs plus Vibrato, Flutter and Growl generators
Fully programmable resonator filter – allowing production of new sound effects
Delay/Reverb effect
Overdrive/Distortion effect
Directly accessible context help for each module
Freely configurable schematic keypad, with extremely expressive modulation options
Ribbon controller to bend the pitch to variable intervals
5 Keyboard Modes including mono, legato and voice-per-channel.
Import WTS and TCS files from WaveGenerator or WaveMapper 2
PPG Phonem is scheduled for release Nov 18, 2015, priced at 119 €. See Palm's site for details.
Watch the teaser for David Bowie's new track ★ made exclusively for The Last Panthers…
Blackstar will premiere on Sky Atlantic on Thursday 19th November at 8:45pm.
http://www.sky.com/watch/channel/sky-…
Watch more on YouTube: https://youtube.com/user/SkyAtlantic
Like us on Facebook: https://facebook.com/SkyAtlantic
Follow us on Twitter: https://twitter.com/skyatlantic
Another quick Moog Sub 37/Eventide H9/DSI Pro 2 combo, this time with the Borderlands app in the background. Also this time, sending a MIDI clock synced S&H LFO from the Pro 2 to modulate the Sub 37 filter cutoff. Kind of subtle, but it adds a nice extra bit of rhythm to what is otherwise a pretty floaty piece. The multi-tap delay on the H9 is also synced to the same clock. Really enjoying the "Stryngth" preset on the 37. Very rich… learn more at www.experimentalsynth.com
A quick and ragged spin on a Moog Sub 37. It sounds great, and sounds really, really great run through an H9, and really, really, really great paired with a Pro 2.
Virtual vocalist Hatsune Miku has 'announced' plans for a 2016 US concert tour. Hatsune Miku – whose name translates to 'sound of the future' –  is a anime vocalist, with a voice synthesized using Yamaha's Vocaloid. Vocaloid works by combining text with note and performance information, entered on a piano roll interface.
In performances, Hatsune Miku's animated image is presented as a hologram-style projection, with its movements synchronized with the synthesized vocal track.
Announced dates:
April 23 in Seattle, WaMu Theater
April 30 in San Francisco, The Warfield
May 6 in Los Angeles, Microsoft Theater
May 14 in Dallas, The Bomb Factory
May 20 in Toronto, Sony Centre for the Performing Arts
May 28 in New York, Hammerstein Ballroom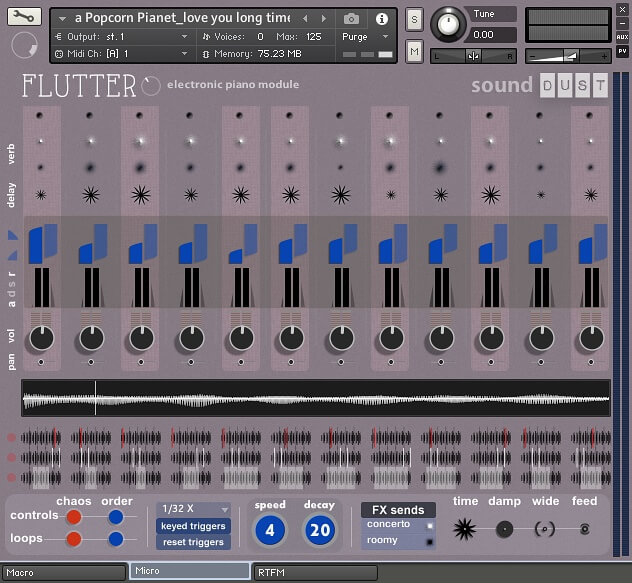 Sound Dust has launched Flutter EP, an electric piano instrument library for Native Instruments Kontakt.
Flutter EP is an electronic piano like you'e never heard before.

She is packed to the brim with specially devised samples made from a variety of slutty analogue hardware synths and keyboards. All sample sets morph and loop through various transitions for a mind boggling selection of unique but Wurly-ish, Rhodes-y, organ-esque, DX like electric piano type sounds….but of course there is a twist.

Think Radiohead, Jon Hopkins, Nils Frahm, Ólafur Arnalds or maybe Steve Reich in a fist fight with Trent Reznor.
Flutter EP features
1.2GB (compressed) 24bit stereo samples.
120 presets created from 12 imagined electric piano and organ multisample sets.
Sample sets made from cunning variations of Hohner Pianet T, Moog Voyager, Nord Modular, Nord Wave, Soulsby Atmegatron, Waldort Wave XTand DSi Pro2 all recorded through a stereo pair of Warm Audio Tone Beast preamps.
Macro page -for quick access to master controls of volume envelope, filter, effect sends and tube/transistor distortion..
Macro page -instant shape presets for volume envelope and filters.
Micro page -individual control on a per note basis of volume envelope, pan, low and highpass filters and effects sends.
Micro page -individual control on a per note basis of sample start, loop position and loop length.
Micro page -individual per note trigger settings for BPM synced note repeats.
Micro page -chaos and order controls for instant parameter randomisation.
Flutter control – modwheel hard wired to unique 'flutter' effect -wiggle it and you'll soon find out what it does.
20 custom reverb convolution impulses.
RTFM tab -so you can't lose the manual.
Flutter EP for Kontakt 5.5.1 or above (full version) is available for purchase for £35 GBP. Until November 30th, 2015, a 20% discount is available with coupon code PSEUDCASE at checkout.
Taken from the BABYLONIA album MULTIDIMENSIONAL
Written by M. Giunta, R. Rosa
Directed by Gianluca Miotto
www.babyloniamusic.com
Subscribe to Babylonia's free e-mail newsletters : info@babyloniamusic.com
Follow Babylonia also on Facebook and Twitter
Italian electropop / rock act.
The single holds 3 tracks, the radio edit, a Spyne e Palmieri remix and a minimalversion of the album track "Love Is Healing". You can get it right here on iTunes.
"I breathe" is the second song to be released from the album and follows on the heels of the first single "Love Is Healing" from a few months ago, a song that was played by various national and regional radio stations and even appeared on MTV's playlist over the past summer.
The song was produced by Marco Barusso, who has worked in the past with Nek ("Fatti Avanti Amore"), Eros Ramazzotti, Modà and Lacuna Coil. The mastering was in the hands of Ted Jensen of the Sterling Sound Studio in New York.
Babylonia also release a video for the track, that one was directed by Gianluca Miotto, who has directed videos for Andrea Nardinocchi and others.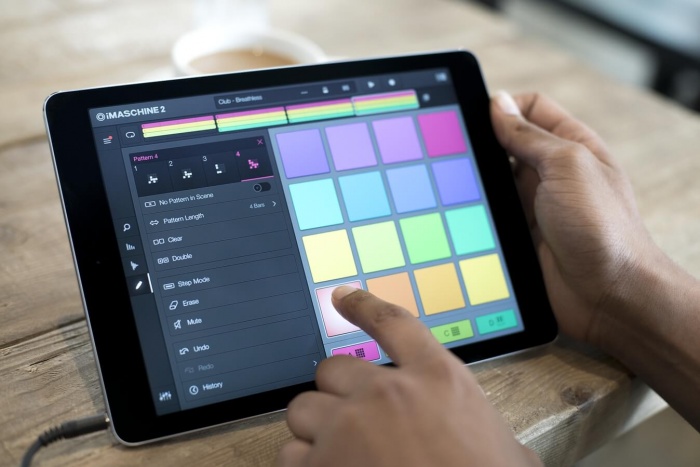 Native Instruments has announced the release of iMaschine 2, the follow up to the beat making sketchpad for iOS.
iMASCHINE 2 expands on the original with a new set of powerful features, including the Arranger, Step Mode, and Smart Play functionality. It is also the first music production app to include optimizations for the new 3D Touch features on iPhone 6s and 6s Plus.

iMASCHINE 2 adds new, powerful features to the acclaimed simple workflow of the original. The Arranger allows producers to turn loops and scenes into full tracks by creating different patterns per group, and then adding, moving, and deleting song sections. Step Mode facilitates drum programming with no finger drumming skills required – users can use the
4×4 pad grid as a step sequencer to produce loops. The new Smart Play keyboard introduces Scale, Chord and arpeggiator functionality to iMaschine 2, allowing users to play chords, melodies, and basslines that are always in-key. Scale mode offers users to select from a variety of traditional and non-traditional scales, while Chord mode will turn a single key stroke into a full chord, which is especially useful when working on a mobile device. Within Chord Mode, the new Chord Sets present ready-to-play progressions to inspire and augment compositions.

Furthermore, a powerful arpeggiator makes it easy to add dynamic motion to a track. Projects created with the original iMASCHINE open effortlessly in iMASCHINE 2, allowing producers to use these new features on all their tracks.

iMASCHINE 2 introduces color coding for fast visual organization of projects. Users can now find sounds and groups by color and navigate through songs with ease. For users of iPhone 6s and 6s Plus, iMASCHINE 2 makes creative use of 3D Touch – Apple's latest interactive feature. For example, when using the Note Repeat feature, 3D Touch adjusts playing dynamics based on how hard users press a pad, mirroring the functionality of MASCHINE hardware. In the same mode, users can also adjust the rate – the harder a user presses a pad, the more rapid the rate is played. Producers can accelerate their workflow further with 3D Touch Quick Actions for entering Step Mode, muting pads, or erasing notes, and even to open up a new project or directly enter the field recording function from the home screen of their iPhone.

iMASCHINE 2 includes the Mixer page, effects, and sample editor from the original software. The Mixer page allows for level balancing of each of the four groups in iMASCHINE 2. The effects section lets users quickly and easily add space, motion, and additional sound shaping to a track with professional effects. A convenient sampling feature allows producers to import music directly from their iTunes music collection, or create their own sample library. Once finished, projects created in iMASCHINE can be exported and opened in the full MASCHINE software for further adjustments and finalization, or uploaded directly to Soundcloud.

For users who have created music with the sounds in iMASCHINE Expansions or those looking to expand their sound palette further, Native Instruments have created the ULTIMATE COLLECTION – a specially priced bundle of 36 iMASCHINE Expansions available for $0.99 until December 1, 2015 – the price of just one iMASCHINE Expansion.
iMaschine 2 is available for the introductory price of $4.99 USD until December 1st, 2015. The Ultimate Collection is available at the Expansions Store for $0.99 USD, also until December 1st, 2015.