This Model DJ claims to be using Traktor, not overly convinced we must say
Background video information:
Label: BOD Music
Großer Dank geht an:
Marcel (Livedrums), Sandra (Back-Vocals),
Guido Henning (Mastering),
Nicki, Alex und natürlich Elroy für eure
Schauspielerische Leistung im Video sowie natürlich
an alle Fans und Freunde für eure super
Unterstützung!
VIELEN DANK!
A little jam with Teenage Engineering OP-1 Synthesizer, a Korg Volca Bass and a Bastl Instruments MicroGranny 2.0 Granular Sampler.
The OP-1 is playing drums and a synth part. Most are on effects send to the MS-70CDR for reverb/space effect. The Volca bass is also running through the Kaoss Pad.
Everything is synced via a Kenton USB Midi Host – so that when play is pressed on the OP-1 the Volca starts too and the Midi clock is also sent to the MicroGranny 2.0 so if I was playing with the knobs it would stay in time.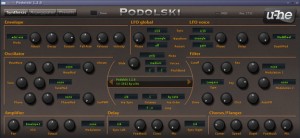 u-he has announced a Linux version of Podolski, a free synthesizer instrument previously released for Windows and Mac.
Thanks to the enthusiasm of KVR member abique, we now have *native* Linux VST2 x64-bit builds of our plug-ins.

Needless to say, this is first steps. Hence, we figured we'd throw out a nice freebee to get as much feedback as we possibly can from the Linux audio community.
The plug-in is available for download from the u-he forum at KVR Audio.
'Were You There' Diamond Version with Neil Tennant
This is the first single from Diamond Version's debut album CI and features Neil Tennant from Pet Shop Boys on vocals.Diamond Version's debut album, CI, is released on Mute on 2 June 2014 (30 May Germany/Australia/Benelux; 3 June USA)
DIAMOND VERSION ON TOUR:
25 April – Caixa Forum, Barcelona, Spain (Live)
24 May – The Button Factory, Dublin, Ireland (Live)
30 May – Institut Fuer Zukunft, Leipzig, Germany (Live)
31 May – Kilbi Festival, Bad Bonn, Switzerland (Live)
06 June – RBMA Festival, Warschau, Poland (Live)
19 June – Lux, Lisboa, Portugal (DJ Set)
27 June – Manga, Coimbra, Portugal (DJ Set)
28 June – Gare, Porto, Portugal (DJ Set)
Tickets info: http://diamondversion.info/dates/
Website: http://www.diamondversion.info
Facebook: http://www.facebook.com/pages/Diamond…
Twitter: http://twitter.com/Diamond_Version
Subscribe to the Diamond Version YouTube Channel: http://www.youtube.com/user/DIAMONDVE…
Music composed for testing some new instruments from 2013 – 2014.
For more music please visit https://nordmusic.bandcamp.com and www.nordmusic.ro.
The instruments are provided by www.soundria.ro.
Main sequences are made with Arturia Micro Brute, rhythm track using a Roland Aira TR-8 with some acid bass using a Roland Aira TB-3 and vocal processing with Roland Aira VT-3. Pad, piano and electric piano tracks are made with a Kurzweil Forte. Stab sound comes from a Nord Lead 4 and some effects from Moog SubPhatty and Access Virus TI2. Delay and reverb effects are made using a Strymon Time Line and Strymon Big Sky units.
MIDIbox MB6582 in 64 Seconds. Basic PWM patch setup, with two oscillators and drum part.
A remake of The Prodigy – Smack My Bitch Up.
Only hardware used.
Gear used:
Elektron Octatrack
Elektron Analog Four
Roland Aira TR-8
Roland Aira TB-3
www.facebook.com/nerwrak
Thanks Liam Howlett and "jimpavloff" for the inspiration

Take it up a notch! http://tinyurl.com/lctm7ra
…by request!
*Watch in HQ for best video/audio quality!
Here's a recreation of the classic bass line from Depeche Mode's "Enjoy the Silence" (Violator!) using DM-style methodologies.
By utilising a step sequencer and a flexible analogue synth (Analogue Solutions Oberkorn & Telemark respectively), you can produce the moving / transitional effects inherent in a complex bass sequence such as this one.
Given the timing of the pattern, the Oberkorn was MIDI-stepped manually (see Midi-Stepping an Analogue Sequencer video for more information) and the pitch transposition was handled via MIDI as well. Alternatively, the pitch could be played live via MIDI.
The key is to take advantage of the precise opening and closing of the filter via Oberkorn CVB.
All settings will ultimately be approximate, as analogue synths will differ from machine to machine. Use the settings as starting points and then tweak away!
Enjoy (the Silence).
Vintage synthesizer demo track featuring the Juno 60
supported by UVI: http://www.uvi.net
synthesizer sounds: Roland Juno-60 Analog Synthesizer (1982)
drums: LinnDrum (1982)
bass: SCI Pro-One (1981)
recording: multi-tracking without midi
fx: a bit reverb and delay