Promotional video about Antresol showing some key features of the plug-in.
Here's what they have to say about it:
The original, conceived in the mid-70s, quickly became a benchmark for flanger-type effects by offering a uniquely rich character defined by luxuriously harmonious interacting resonances, and has been heard ever since on countless classic recordings. That's why D16 couldn't resist the opportunity to resurrect the soul of this classic in a thoroughly modern incarnation with Antresol, our newest effect in the SilverLine Collection!

Features:
True emulation of BBD based analog delay line
Optional independent parameter control for each stereo channel
Selectable L/R or M/S stereo processing modes
'Mistress mode' allows the whole unit to work the same as the classic flanger
LFO can be synchronized with your host application
3 different LFO-to-BBD clock curves
Ultra-low aliasing output
Highly musical and pleasant sound
Tag-based browser
Two alternative GUI sizes
MIDI-learn functionality throughout
64bit internal processing
Antresol is available now for US $49/39 Euro. A demo version is also available.
Music and lyrics by Chamaeleon.
Mixed and mastered at Lunatech Sounds Studios by Dimitris Douvras.
Filmed and edited by Darren Casey.
Directed by Chamaeleon.
Make up by Maria Xoniki.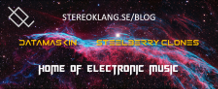 (the famous "monster synth" by Siegfried Brückner; https://www.youtube.com/channel/UCwCG…) at the first "Schwingungen am Wasserfall" festival in Schladern, Germany, on 20 June 2015 – see https://www.facebook.com/media/set/?s… for pictures andhttps://diary4dan.wordpress.com/2015/… for context!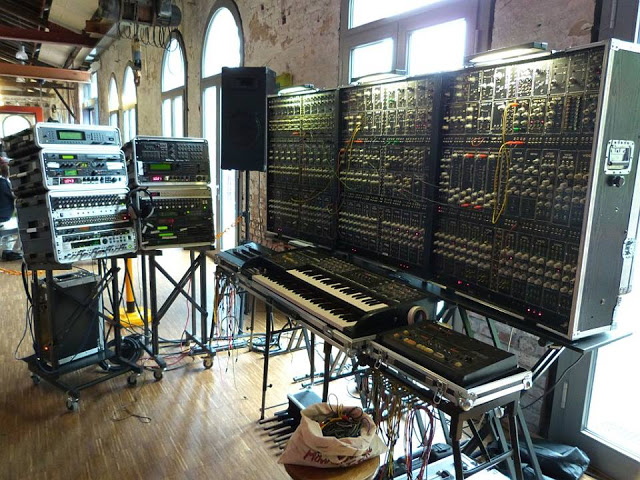 Stay tuned with E.D. Music Channel
More interviews and gear demos are coming…
Copyright: E.D.Music Co.
Special thanks: Peter Zinovieff, Isao Tomita, Wolfgang Flür, Hideki Matsutake, CEvin Key, Russell Haswell, Hisashi Saito, Galcid, Doravideo, Risa, Dave Skipper, Kenichi Hata
Googlish:
"Ralph Baumgartl visited the Synthesizerstudio Bernd-Michael Land. http://www.ralphbaumgartl.com code
Bernd-Michael country showing his vintage analog modular synthesizer systems and other analog and digital keyboards Moog, Roland, Arp, Korg, EMS, Solina, Oberheim, Elka, Yamaha, Alesis, Waldorf and many other musical instruments.
All show notes and links on this video can be found here: http://www.ralphbaumgartl.com/2015/06…
The podcast interview with Bernd-Michael Land, in which he speaks with Ralph Baumgartl about his life, can be found here:http://www.ralphbaumgartl.com/2015/04…"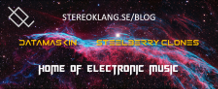 Get this cool new exciter by Fine Cut Bodies for free at http://finecutbodies.com
Fine Cut Bodies has released La Petite Excite – a free exciter plugin that they say 'can lead you into a brighter future.'
The video demonstrates how to use La Petite Excite. You can also reference the manual, included in the download.
Specifications:
OS – Windows XP or newer / OSX Leopard (10.5) or higher
Host – 32bit or 64bit
Format – VST2.4 / VST3 / AU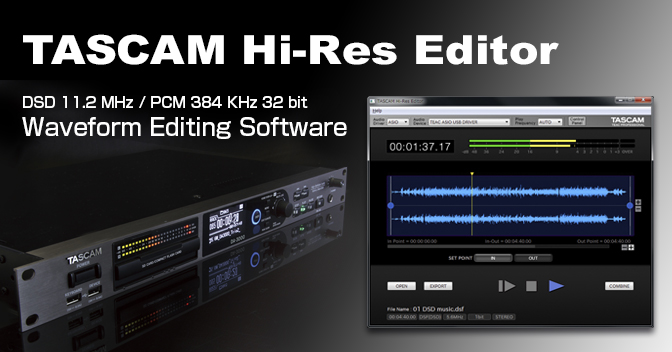 TASCAM has released TASCAM Hi-Res Editor – a free audio editing application for Windows that supports editing files up to 11.2MHz DSD files or 384k WAV.
The software allows playback and export of DSD files without intermediate conversion to PCM audio.
DSD Audio can be played natively through USB devices that support it, such as the TEAC UD-501 and HA-P90SD. In cases where a PCM interface is used, or even the computer's built-in audio, the software automatically plays DSD back through the interface at any available sample rate. A section of the DSD file can be exported as a new file, either in DSD or WAV format, to separate one long recording into individual tracks.
Ideal for users of TASCAM's hi-resolution recorders like the DA-3000, this free Hi-Res Editor software is currently one of the few ways to edit native DSD master recordings.
Features:
Native DSD audio editing and playback, at sampling rates from 2.8MHz to 11.2MHz
WAV file editing and playback support up to 384kHz/32-bit
Uses standard ASIO 2.1 audio drivers
Set in and out points with waveform audio display for trim/export
Set overall gain of file (PCM files only)
Split long files into multiple tracks
Combine function joins two audio files into one
Convert audio files from DSD to PCM or vice-versa
Convert PCM sampling frequency and bit depth
Runs on Windows (using Windows Standard audio driver or ASIO 2.1)
Free download from TASCAM.com
See the TASCAM site for details.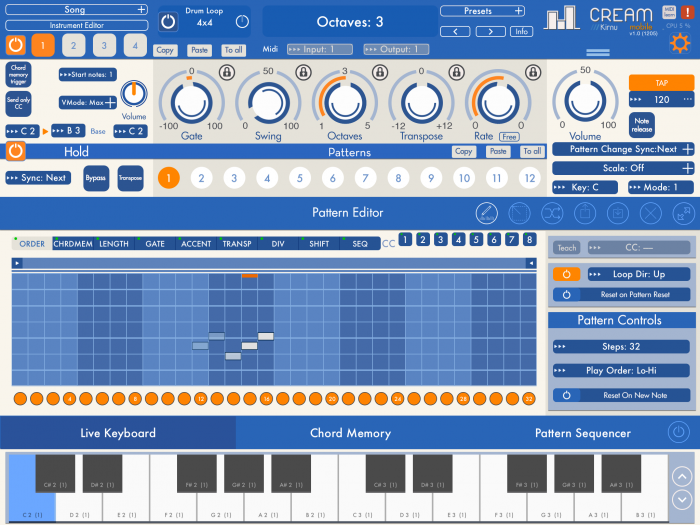 Kirnu has announced Cream Mobile, a new arpeggiator application for iPad devices.
Cream Mobile is an arpeggiator intended to be used with external keyboards or sequencers to control its internal synth or external synths.

Cream Mobile can also be used as a scratch pad for creating new songs using arpeggios and phrases.

It is described as a very powerful application with very precise audio/MIDI engine. It includes all necessary technologies every music app should have these days: Audiobus (generator), network, virtual MIDI ports, MIDI sync with host and slave mode, MIDI learn.
Cream Mobile features
4 independent tracks which can be assigned to different key range and MIDI in/out.
12 patterns per track.
Drum track with 50 high quality drum loops from Sample Magic.
Very powerful internal 2 OSC synthesizer for every 4 tracks.
Two different views: Classic and quick edit view.
Control Zone for changing most important parameters via external keyboard or MIDI events.
Many different scales to choose from. When scale is chosen every note played belongs to that scale.
Free rate tweaking. Now rate can be changed also in hertz.
Chord memory with 16 independent memory slots.
Pattern sequencer for automated sequencing.
Sample accurate MIDI engine.
MIDI learn for all knob controls.
Note release functionality which enables more smooth live playing.
Copy/paste functionality.
Easy to use note hold mode.
Presets are compatible with the plugin version.
Pattern step data section:
Tool section enables easy data editing.
All data sections are independent from each other.
Data sections can be looped with several different loop modes.
Chord memory section enables different chords to be used in every step.
Sequencer section enables sequencing the notes.
Accent, order, gate, accent, transposition, note divide, note shift.
8 CC controls in each pattern.
And lots of more…
The app is scheduled for release in Q3 2015, priced at $10.99 USD / 10.99 EUR
Yamaha is teasing a new synth product. In this video a couple of musicians reveal what they think of it:
It's reminiscent of 'one of the main synthesizers in techno';
It's a keyboard synth that feels 'like a piano player made the keys';
The Yamaha Reface is 'a new take on a classic concept'; and
It has some connection with the classic Yamaha CS synths of the 70s.
The new IAMX song 'Happiness' from the upcoming sixth IAMX album 'Metanoia'
Buy on iTunes http://smarturl.it/Happiness_sg
Metanoia Tour 2015 dates and tickets http://www.iamxmusic.com
10.6 Costa Mesa/CA U.S.A – Constellation Room
10.7 San Diego/CA U.S.A – The Casbah
10.9 Los Angeles/CA U.S.A – Fonda Theater
10.10 San Francisco/CA U.S.A – Great American Music Hall
10.12 Portland/OR U.S.A – Wonder Ballroom
10.13 Seattle/WA U.S.A – Neumo's
10.16 Salt Lake City/UT U.S.A – Urban Lounge
10.17 Denver/CO U.S.A – Marquis Theater
10.19 Minneapolis/MN U.S.A – Varsity Theater
10.20 Chicago /IL U.S.A – Bottom Lounge
10.22 Detroit/MI U.S.A – The Shelter
10.23 Toronto/ON, CANADA – Lee's Palace
10.24 Montreal/QC, CANADA – Virgin Mobile Corona Theater
10.26 Boston/MA U.S.A – Brighton Music Hall
10.27 Philadelphia/PA U.S.A – Underground Arts
10.29 Washington/DC U.S.A – U Street Music Hall
10.30 New York/NY U.S.A – Webster Hall
Released by Metropolis Records in US/CAN and Orphic Music outside US/CAN.
Cover pic by Laurence Demaison http://www.laurencedemaison.com