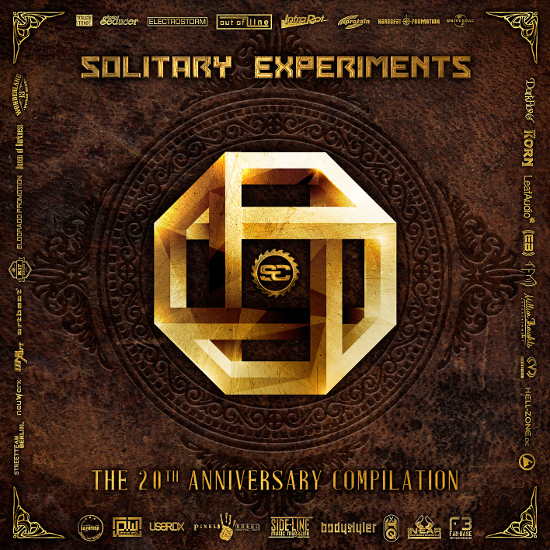 Special occasions are best celebrated among friends, which is why Solitary Experiments have asked a number of friends to put their own spin to the biggest hits from the latest outing "PHENOMENA." "The 20th Anniversary Compilation" does not online contain the resulting remix work, but also the three best mixes to come out of the remix battle that the Berliners had initiated via Facebook. Also included is a smashing cover version of the Bronski-Beat-classic, which the band has treated to the trademark "Solitary-sound" with loving care. The original tune was a massive influence on the group and pretty much the initial spark for trying to put together a music project. With a total playing time of 80 minutes, this release utilizes the maximum capacity of a standard Compact Disc and delivers almost one and a half hours of smashing, club-compatible remixes of some of the most popular Solitary-Experiments-tunes. Those that will be attending the event in Berlin and are there early enough might be in luck to receive a giveaway copy of this release at the door… for all the rest, "The 20th Anniversary Compilation" is released as a Digital Download at a special bargain price and as a strictly limited pressing on CD.
Track List:
1. Smalltown Boy (30th Anniversary Tribute)
2. Beg Your Pardon (SoliT.O.Y.ry Mix)
3. Now Or Never (NamNamBulu Remix)
4. No Salvation (Torul Remix)
5. Steering Wheel (The Saint Paul Remix)
6. Stars (Patenbrigade Wolff Remix)
7. Epiphany (BeyOnd the Sugarcake Remix)
8. Game Over (Nobody Is Perfect Remix by Final Illusion)
9. No Salvation (Modcube Remix)
10. Epiphany (Attacke Remix)
11. Steering Wheel (MRDTC Version)
12. Game Over (Nin-Tendo-Mix by Eisfabrik)
13. No Salvation (ES23 Remix)
14. Epiphany (Hypervisor Remix)
15. Stars (DJ Thommy's Stardust Mix)
"Off The Rails" is the newest single from Billie Ray Martin featuring Hercules and Love Affair singer Aerea Negrot. The single is available in all digital stores worldwide since Sunday and via Bandcamp.
Included on the 11-track single are remixes by Napoleon, Aerea Negrot and Ray Grant. The track was produced and co-written by Waterson.
4DSOUND presented their system with artists like Vladislav Delay, Max Cooper, an evening with artists from the Raster Noton label, and various talks and workshops.
4DSOUND is a new immersive system which allows for evolving changes in three-dimensional positioning of sound. An expansive array of speakers, a Max-based core, and custom Max for Live devices allow for sound to be positioned anywhere within the system's space (and beyond).
In the video above, learn about the conception of 4DSOUND from founder Paul Oomen, plus follow musician Stimming as he prepares a custom performance for the system.
In the second video, learn how Ableton Live and Max for Live facilitate an artist's control over 4DSOUND: https://www.youtube.com/watch?v=DMWEE…
More about 4DSOUND at Ableton.com: https://www.ableton.com/en/blog/4dsou…
Laplace is a new Resonator Synthesizer, from iceGear the developer of Cassini.
"I explain what "Resonator Synthesizer" actually means as I poke around at it to create an ensemble of bells and strings in a single patch. If you enjoyed this please consider supporting this series by sponsoring them on Patreon: http://www.patreon.com/user?u=107612
Be sure to visit http://discchord.com for the latest music app news!"
Laplace is a physical-modeling synthesizer based on resonator synthesis that makes it easy to create bowed string, plucked string, blown pipe and metallic sounds.
Specifications:
* Inter-App Audio
* MIDI
* CoreMIDI / Virtual MIDI Input
* MIDI Controller Mapping with MIDI Learn mode
* External Midi sync
* Arpeggiator
* 16 step sequencer – On/Off, Glide, Octave, Accent, Staccato
* Exciter
* Click – Stiffness, Color, Decay, Damper Noise
* Noise – LPF, HPF, ENV
*Resonator
*Flavor, LPF, ENV, Pitch ENV
*Sine – Pitch, FM, ENV
*HPF
*Effectors
*Chorus
*Delay
*Reverb
Akai MPC60 VHS training video featuring Roger Linn
Background video description:
download the new single free at www.soundcloud.com/themysticunderground
like the facebook page at
www.facebook.com/themysticunderground
lyrics:
this is not the way we act
this is not the way we dress
button up
fix your face
be the man
become the lie
define success in gross excess
change your life
discard the wife
strike the pose
your and your boys
clothes seal the deal
you're in demand
no time to talk
sleep when you're dead
in sex we trust
in love with lust
white lies with no regrets
no storm, no stress
jump another train
towards success
no muss, no fuss
onto something else
we want acclaim
no storm, no stress
brittle, fleeting fame
dry your eyes
no sweat, no tears
carry on, young men
what's yours is mine
this much is known
we want the pomp
no circumstance
so shelve the claims
we've lost the lead
you can't replace the civilised
written by valette/socci
produced/mixed by the mystic underground
directed by william murray
featuring kai irina hahn (https://www.facebook.com/thesedonaeffect)
www.themysticunderground.net
An interesting documentary presenting the Belgian synth-pop trio Telex at work in their amazing analogue studio.
Hannah Peel performs Tainted Love as heard on FX Channel's "American Horror Story." No Alibis Bookstore in Belfast, Northern Ireland. Filmed by Paul McParland.
http://www.mojofilmsbelfast.com/
Headphones highly recomended
An afternoon improvisation.
Gear used: Waldorf Blofeld and MicroQ, Arturia Microbrute through Eventide H9, Elektron Machinedrum, Akai mpc500 as main sequencer, Korg Ms2000, Clavia Nord Modular G2 and DSI Tetr4. Hardwire DL7 and RV8 were used on the Tetra.
A funky moog jam. Drums are 100% Tempest, I also added a moog bass line, some rhodes sounds off the nord, and a clav type patch off the prophet 08. The main moog lead is going through an MXR carbon copy.