This is "IN TRUTINA" from CARMINA BURANA by Carl Orff. The "Carmina Burana" is a collection of poems mostly in medieval Latin written in the 11th 12th and 13th centuries. They were discovered in 1803 in the Benedictine monastery of BENEDIKTBEUERN, in Bavaria. That is why I chose the chapel of the monastery as an appropriate place to play this piece.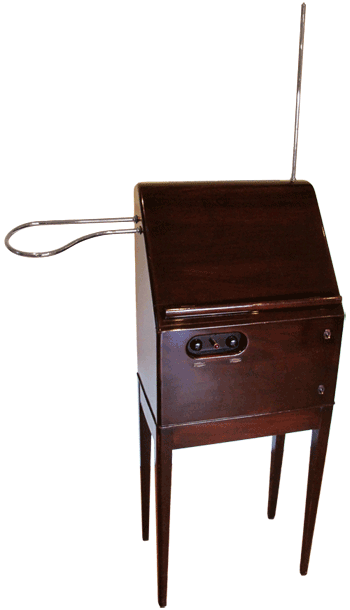 The RCA Theremin holds a place in history as the first manufactured electronic musical instrument, and is credited with laying the foundation for all electronic music to come.
Further distinguishing the theremin from the traditional world of mechanical musical instruments (reeds, woodwinds, horns, strings, percussion, etc.), the theremin is the only instrument that is played without the performer ever touching it. To quote period advertising literature from RCA: Simple and graceful movements of the hands produce and control the tone.
The theremin is named for its inventor, Lev Sergeyevich Termen, anglicized as Leon Theremin (born St. Petersburg, Russia, August 1896, died Moscow, November 1993). Theremin demonstrated his first working model of the instrument that bears his name in 1920 as the Etherphone, soon to be known as the Termenvox, or literally, Voice of Termen.
When properly adjusted and voiced, the RCA Theremin has a pitch range of 3.5 to 4 octaves, and a timbre that is somewhat like a cello at the low end and somewhere between violin and voice at the high end.
Quoting Dr. Robert Moog, the creator of the Moog synthesizer,The theremin specifically, and Leon Theremin's work in general is the biggest, fattest, most important cornerstone of the whole electronic music medium. That's where it all began.
Test of Roland System 1 with 3 covers of famous Vangelis songs:
– Blade Runner End Titles, where System 1 is used for pads / leads (CS80)
– Chariots of Fire (suite), where System 1 is used for lead (CS80)
– Soil Festivities Movement 4, where System 1 is used for lead (Prophet 5/10?)
Other instruments used in the covers:
– Xils-lab V+ for VP330
– U-He Diva, for different parts (for example the "blades" in B.R.)
– Steinberg The Grand 3, for piano parts
The patches used for Roland System 1 in this demo can be downloaded for free here:
http://purebits.com/system1.html
* NOTICE *
All played music composed by Vangelis. The above music is property and copyright of its rightful owners and there is no claim nor ownership of the music. This is a video made for demonstrating and testing musical instruments purposes only.
NO COPYRIGHTED SAMPLES were used in this video, all sounds are recorded live from musical instruments
October 12, 2014 marks the 50 Year anniversary of the unveiling of the Moog modular synthesizer at the Audio Engineering Society's (AES) New York convention. On that day in 1964, Dr. Robert Moog introduced the world to a completely new type of instrument that would go on to change the course of music history and influence decades of future instrument design. Told by a Moog engineer, Moog Historian, and Bob Moog himself, this mini-documentary explores Moog Music's quest to resurrect the original methods, materials and designs used in the foundational modular synths. Through recreating Keith Emerson's modular system, Moog Music rediscovers the power, elegance, and enduring legacy of its first instruments.
Find out more at www.moogmusic.com
Testing more DIY "Retro 100″ modules.
Excerpt of the a/v work Morpheme by Electric Indigo and Thomas Wagensommerer, original duration 28 minutes.
All sounds are derived from a 9 seconds long audio recording of one phrase:
"To let noise into the system is a kind of fine art in both cybernetic terms and in terms of making music, too." [Sadie Plant]
The source text is deconstructed and reassembled on a sonic, musical, linguistic and graphical level.
Morpheme can be performed as a multichannel audiovisual concert.
Great mesmo's Kraftwerk Klone,Roboticx (pronounced robotics).
Made in the late 90's with an Atari 1040ste and an Akai So1.Recorded onto a Tascam 8 track through a Spirit Soundcraft mixer (16:8:2) with effects from my rack.Drums were from my Korg 01/WR
Biologik has created 150 highly inspirational and 100% royalty free Sounds for Analog Four/Keys.
Download from http://www.elektron.se/support-and-do…
Biopads consists of 150 harrowing, beautiful, alien, and lush pad oriented sounds for the Analog Four/Keys. All Sounds are 100% royalty free.
Vintage synthesizer demo track
all sounds: YAMAHA DX7 II FM Synthesizer (1987)
drums: LinnDrum (1982)
recording: multi-track without Midi
fx: reverb and delay
The virtual pop star makes her Late Show debut on October 8, 2014.
Her vocals are created using Yamaha's Vocaloid vocal synthesizer, a technology that lets you create virtual vocals, based on phonemes and pitches. The original samples are from a human vocalist, but the actual vocal is completely synthesized.
Out via Bureau B by early November is the soundtrack for Fatih Akin's new film "The Cut". Out on vinyl (including a CD withextra tracks) the release is the third and last part of famous German director Fatih Akin's triology "Liebe, Tod und Teufel".
The score for the film was produced by Einstuerzende Neubauten's Alexander Hacke. Since 1992 Hacke has been composing film music, including the score for Fatih Akins "Gegen die Wand" and countless other movies.
You can order this vinyl gem right here.