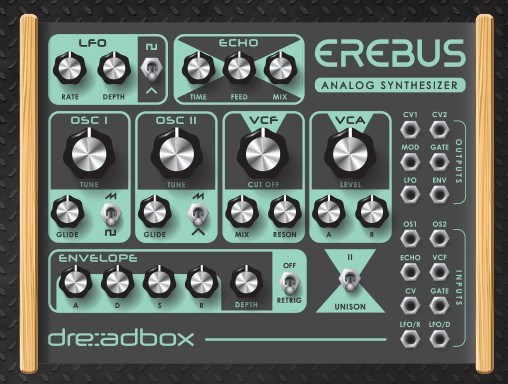 Dreadbox has introduced the Erebus, a new semi-modular paraphonic analog synth module.
It offers what is essentially a monophonic synth architecture, but that allows for independent control of its two oscillators. This means you can play (or sequence) two different pitches, but the pitches will go through a shared VCF, VCA, etc. 
Features:
Full Analog Paraphonic Synthesizer
Full Analog 2-voice Paraphony or Unison sounds
2 x VCO with separate glide controls
Two pole (12dB/ocv) resonating VC Low Pass Filter
VC LFO with additional VC Depth
2 x Envelope Generators (1xADSR and 1xAR dedicated to the AMP)
VC Delay/Echo
14 patches for an astonishing Modular experience
CV Outputs: LFO, Envelope, Modulation Wheel, Gate, Osc1 pitch (1V/ocv), Osc2 pitch (1V/ocv)
CV Inputs: Osc1, Osc2, Echo time, VCF, LFO rate, LFO depth, CV/Gate
MIDI interface: Pitch note/gate on-off, retrigger function (on-board), Mod wheel (patched on-board), Pitch wheel, MIDI Channel select 1-7 or Omni (DIP switch)
Paraphony CV/GATE outputs allows you to turn monophonic devices into Paraphonic, or even combine 2 monosynths into a paraphony orgy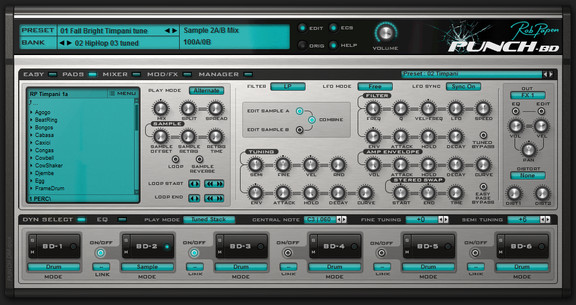 Rob Papen has introduced Punch-DB, a bass drum synthesizer and sample player plug-in based around the BD module of the multi award winning Punch virtual drum synthesizer.
Stacking bass drums is a popular technique used by today's music producers and Punch-BD gives you the ability to stack up to 6 in total. Divide the 6 BD pads over the keyboard or use them 'stacked' in tuned mode to produce creative new BD sounds for all styles of contemporary music.

Punch-BD delivers synthesized drums in the finest audio quality or you can choose to load in your own samples for complete flexibility. Each pad has its own distortion module with several distortion types as well as its own 3 band graphic EQ. What's more, each individual pad also has its own preset section next to the overall 'BD kit'.

Like its big brother, Punch-BD features four FX units each with many 31 types of top quality FX plus further filters, envelopes, modulation routings and more for crafting your own unique sound.

From Electronic Dance and Hip Hop to Soundtrack projects, Punch-BD provides a solid speaker-busting sound for your productions.
Punch-DB will be available soon for Windows and Mac (VST/AU/AAX), priced at 49 EUR / $59 USD.
Shows an SH101 being controlled via MIDI after having a Kenton MIDI Retrofit kit fitted
More videos available on their channel >>
The SH-2 PLUG-OUT Software Synthesizer is a total reproduction of the classic SH-2 synthesizer from 1979. Renowned for its raw vintage tone, the SH-2's dual VCO plus sub oscillator configuration dishes out devastatingly fat basses, edgy leads and wild effects. With or without a SYSTEM-1, this VST3 and AU plug-in support multiple instances and can be used in any compatible DAW. SYSTEM-1 owners get a dedicated controller and can take advantage of the SH-2's PLUG-OUT capability and turn their SYSTEM-1 into a stand-alone, hardware SH-2 that can go anywhere and doesn't require a computer. And this is just the beginning. More synthesizers based on Roland's acclaimed Analog Circuit Behavior are on the way.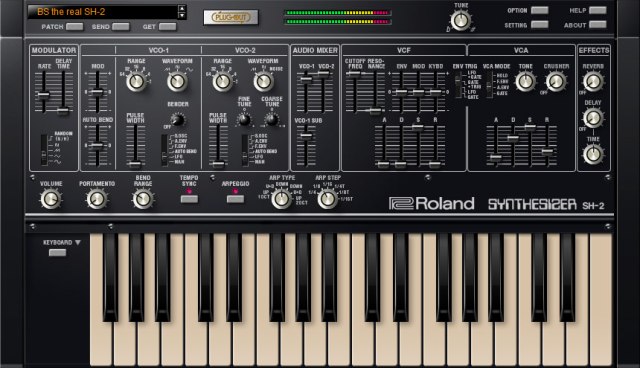 Everything has been reproduced exactly, from the VCF which is capable of self-oscillation to the attack and long decay characteristics of the steep envelope. The unique harmonic makeup and pitch wavering are present as are the complex interactions between parameters that result from the original analog circuit design.
Even behaviors that occur only in analog circuitry are accurately reproduced, like the subtle effect on tonality when the user tweaks parameters unrelated to the actual tone being produced.
There are even some new features that were not available on the original. This new SH-2 has a VCO range that is expandable to 64′, two envelopes, reverb, delay and crusher effects, Autobend with support for reverse actions, and a tempo-syncable arpeggiator.
Dance music pioneer A Guy Called Gerald talks about the culture of technology in electronic music and how new tools like TRAKTOR DJ for iPad changed how he performs and creates.
We're giving you the chance to win a VIP weekend in Berlin – just record your own rooftop mix with TRAKTOR DJ for iPad and iPhone and upload it to Mixcloud.
Don't have TRAKTOR DJ? No problem. Just share your best Spotify playlist below and tag #WHATWOULDYOUPLAY
More details here:
http://www.native-instruments.com/en/…
Thanks to:
BASEMENT London and The New British
Music:
A Guy Called Gerald – Voodoo Ray
A Guy Called Gerald – 28 Gun Bad Boy
More on TRAKTOR DJ:
http://www.native-instruments.com/tra…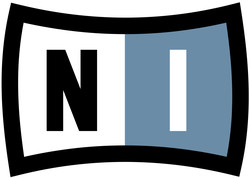 Native Instruments has released updates for Battery, Kontakt & Kontakt Player, and Reaktor & Reaktor Player.
Changes in Battery v4.1.4
Added advanced Komplete KONTROL integration.
Fixed an issue with kits being replaced when loading a host session with the kit-preview button enabled.
Other minor fixes.
Discontinued Mac OS X 10.7 support with this update.
Discontinued RTAS support with this update.
Changes in Kontakt v5.4.1
Added advanced Komplete KONTROL integration.
Added Snapshot system for Instruments.
Added load_array mode 2, nka files can now be stored in the resource container.
Fixed crashes.
Improved CPU performance in certain scenarios.
Discontinued Mac OS X 10.7 support with this update.
Discontinued RTAS support with this update.
Changes in Reaktor v5.9.2
Support for Komplete KONTROL S-SERIES.
Automation Module.
HW Control Module.
Various improvements and bug fixes.
Moog's new analog synthesizer sounds terrific and features a lot of hands on controls for easy sound tweaking during performance. In addition to monophonic sounds, it's duo mode allows you to play two notes at once. Also, it's simple but powerful arpeggiator/sequencer, LFOs, and looping envelopes can all be locked to a master clock for exciting rhythm effects.
Anthony Rother : first contact with the new Moog Synthesizer SUB37
First release from their upcoming 5th studio album, El Pintor
Background video information:
Director: Paul Banks
DP: Carlos Veron
Producer: Carlos Puga
Colorist: Damien Van Der Cruyssen
Special Thanks To:
Francisco Mendez, Jason Lee, Bernie Lanahan and Mendez Boxing
And To The Fighters:
Jill Bliss
Lonnie Bradley
Akil Frederick
Ronica Jeffrey
Livingstone Joseph
Carson Joseph
Jason Lee
Gledwin Ortiz
Sebastian Rivas
Edgar Santana
Melissa St-Vil
Welley Wallo
Sebastian Rivas
Jill Bliss
From the new Interpol album "El Pintor", available now: http://smarturl.it/ElPintor
http://www.interpolnyc.com/
https://www.facebook.com/interpol
https://twitter.com/interpol
http://instagram.com/interpol
http://www.matadorrecords.com/
http://pias.com/
Buy from iTunes: http://smarturl.it/ElPintor
Buy from Amazon: http://smarturl.it/El_Pintor
Buy from Interpol Store: http://smarturl.it/q4mlia
Buy from Matador Store: http://smarturl.it/mata.elpintor
Buy from Pias: http://smarturl.it/elpintor.ltdedition
Buy from Google Play: http://smarturl.it/ElPintorGP
Interpol at Spotify: http://open.spotify.com/artist/3WaJSf…
Sneak preview of Max 7 – 'a tool to bring mushrooms alive and into our everyday lives'.